Axios AM
December 01, 2017
Good Friday morning, and welcome to December. Exodus awareness: The White House faces "significant turnover at the one-year mark," with senior departures expected in coming weeks, per the Wall Street Journal. Secretary of State Rex Tillerson looks certain to go. Other possibilities: economic adviser Gary Cohn and Deputy Chief of Staff Rick Dearborn.
1 big thing: Trump's media manipulation machine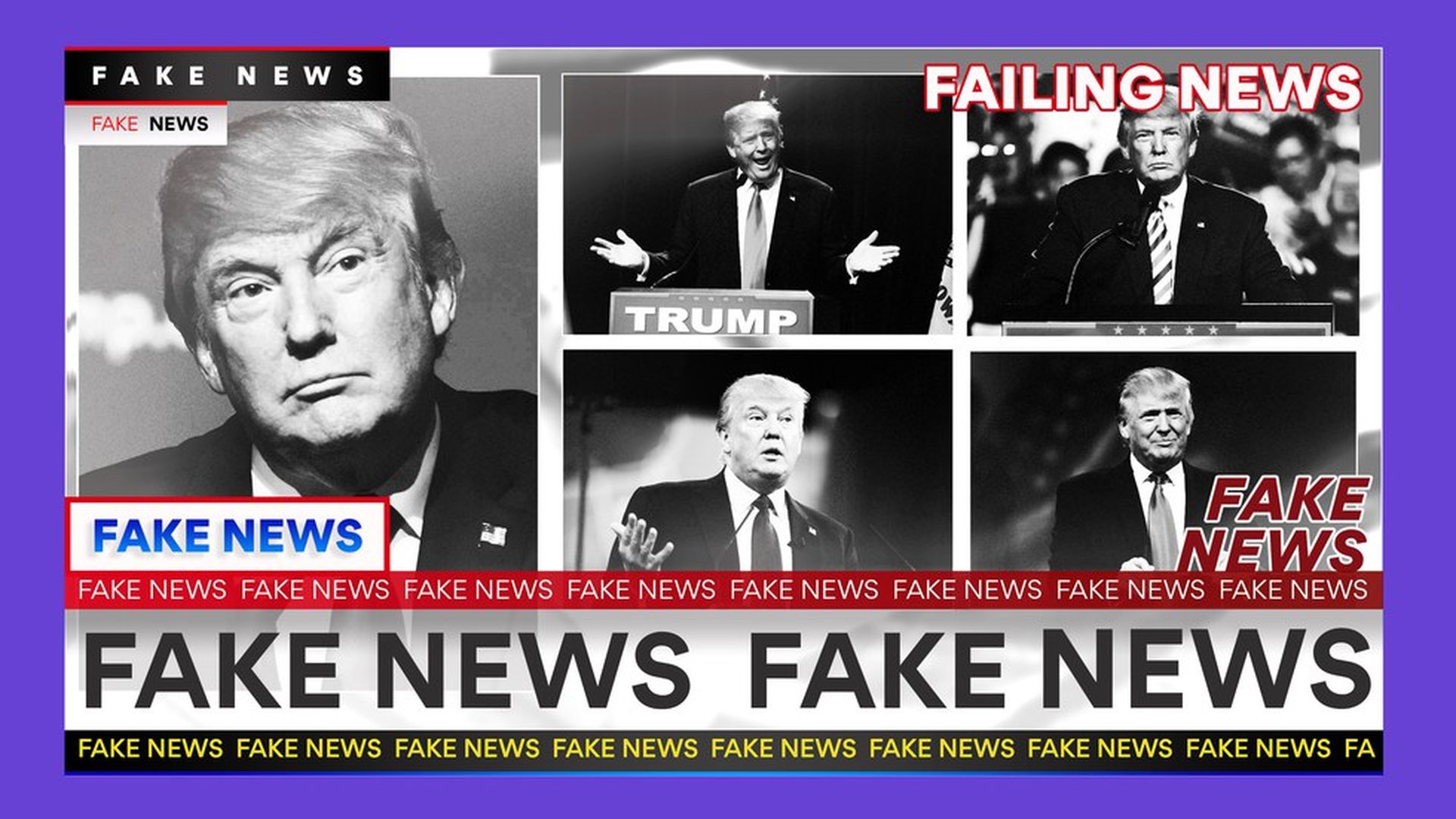 There is a very specific — and dangerous — formula for manipulating the media and hijacking the Twitter/cable/conventional media industrial complex, Axios CEO Jim VandeHei writes.
Trump sets this formulaic trap increasingly often. And news organizations keep falling for it.
Step 1: Throw an early morning Twitter bomb, usually but not always timed to "Fox & Friends" fodder or reinforcement. The Tweet-bomb frequently hits "fake news" or some social topic with racial undertones.
Within minutes, thousands of Trump's Twitter followers retweet it, and the sparks fly.
The data: As president, Trump has tweeted about fake news 124 times, mostly before 9 a.m., and his tweets about fake news average more retweets and likes
Step 2: The outrage machine kicks in. The first hour of "Morning Joe" is consumed by reaction. But the real action unfolds on Twitter, with scores of journalists and activists howling in protest.Step 3: The cable beast awakens. MSNBC/CNN/Fox are basically 24/7 politics now, and the reporters who uncorked on Twitter sit alongside the hosts to dissect/condemn the Twitter bomb. They tweet the highlights. The rage builds. The cycle speeds.
Step 4: The fringes foment. Breitbart belts out a stream of stories, usually supporting Trump or mocking cable hysteria on the left. It pumps its greatest hits through Facebook, where both sides game the algorithm to play to their team's emotional response. Twitter wars usually ensue.
The data: Many of the most engaging politics and news pages on Facebook are hyper-partisan political pages, according to social analytics company NewsWhip.
The most popular reaction to them is the "angry face" emoji.
Step 5: Opinions fly. By nighttime, MSNBC goes hard left, Fox hard right, peaking with their highest-rated champions (Maddow on the left and Hannity on the right) tucking like-minded people in with soothing stories of why they were so right today.
We go to bed, sleep poorly, wake up and do it again.
Sound smart: We are all amplifying and participating in this endless sideshow. There is no easy solution, other than clinging to reality and clinically exposing Trump's make-believe. Check the facts, pay attention, but ignore the pure crap.
P.S. Must-read column ... N.Y. Times' Bret Stephens, "We're All Part of Trump's Show": "The Trump news is scarier, funnier, more salacious and more relevant than anything else on TV. ... The truth about Trump is not that he's crazy. He's a narcissist and a neurotic with a feral talent for attracting the attention he craves. ... [C]itizens can deprive Trump of his political oxygen simply by turning off and tuning out."
2. Next week's big announcement
President Trump "is considering recognizing Jerusalem as Israel's capital, ... a highly charged declaration that risks inflaming tensions across the Middle East but would be a way to offset a likely decision delaying his campaign promise to move the U.S. Embassy there" from Tel Aviv, AP's Matt Lee writes.
"Trump's announcement is expected next week and follows months of internal deliberations."
Officials "described the president as intent on fulfilling his pledge to move the embassy but also mindful that doing so could set back his aim of forging a long-elusive peace agreement between Israel and the Palestinians, who claim part of Jerusalem as the capital of an eventual state."
An administration official tells Axios' Jonathan Swan: "The law passed in 1995 states that the Embassy should be in Jerusalem. As the President has made clear, it is a matter of when, not if."
Swan tweets: "If this happens, VP Pence will have been a central figure in it happening. No admin official more passionate about this decision."
What to watch, from Swan and Barak Ravid of Israel's Channel 10 News, an Axios contributor: If Trump declares Jerusalem the capital, it will likely cause an angry response from the Palestinians and some Arab states, including Saudi Arabia and Jordan.
The big picture: The status of Jerusalem is one of the core issues of the Israeli-Palestinian conflict. A presidential announcement that Jerusalem is the capital of Israel will make it harder for the Trump administration to promote the peace initiative it has been working on for the past few months.
3. The reckoning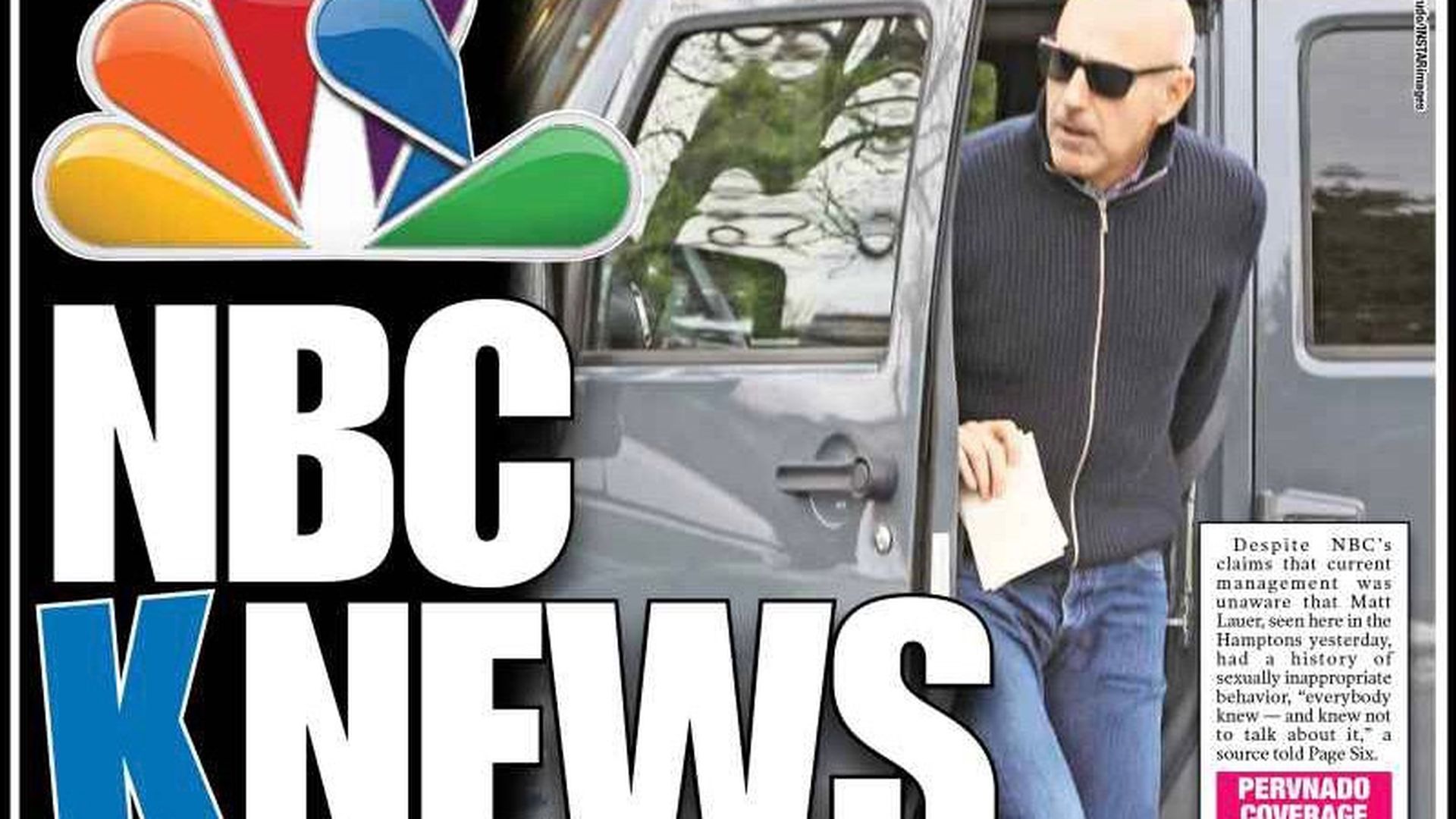 New pressure from Dems for Al Franken to quit, per the WashPost front page: "A move by top Democrats to force out [Rep. John Conyers] showed a growing eagerness to immunize the party on an issue that is turning into a social movement."
"Harassment long tolerated in world of big business," declares USA Today's lead story:
"For many firms, paying fines for sexual harassment has been treated as a cost of doing business."
"In the past seven years, U.S. companies paid more than $295 million in public penalties over sexual harassment claims, according to Equal Employment Opportunity Commission records."
"That sum does not count all the private settlements."
Coming debate: "The wave of sexual allegations ... has left many U.S. colleges weighing whether to revoke honorary degrees and other accolades awarded to prominent men accused of misconduct. ... Dozens of schools have bestowed honors upon men who now face accusations." (AP)
N.Y. Times Quote of the Day ... The Times front-pages a story saying playwright Israel Horovitz has been accused by nine women of sexual misconduct. Jocelyn Meinhardt, who said she was raped at 19 when she began a summer fellowship with Horovitz in 1989: "He was a good mentor, until he was the worst, probably most nightmarish mentor you could have."
Bonus: Pic du jour
President Trump and first lady Melania Trump light the 2017 National Christmas Tree, on the Ellipse.
4. If you read only 1 thing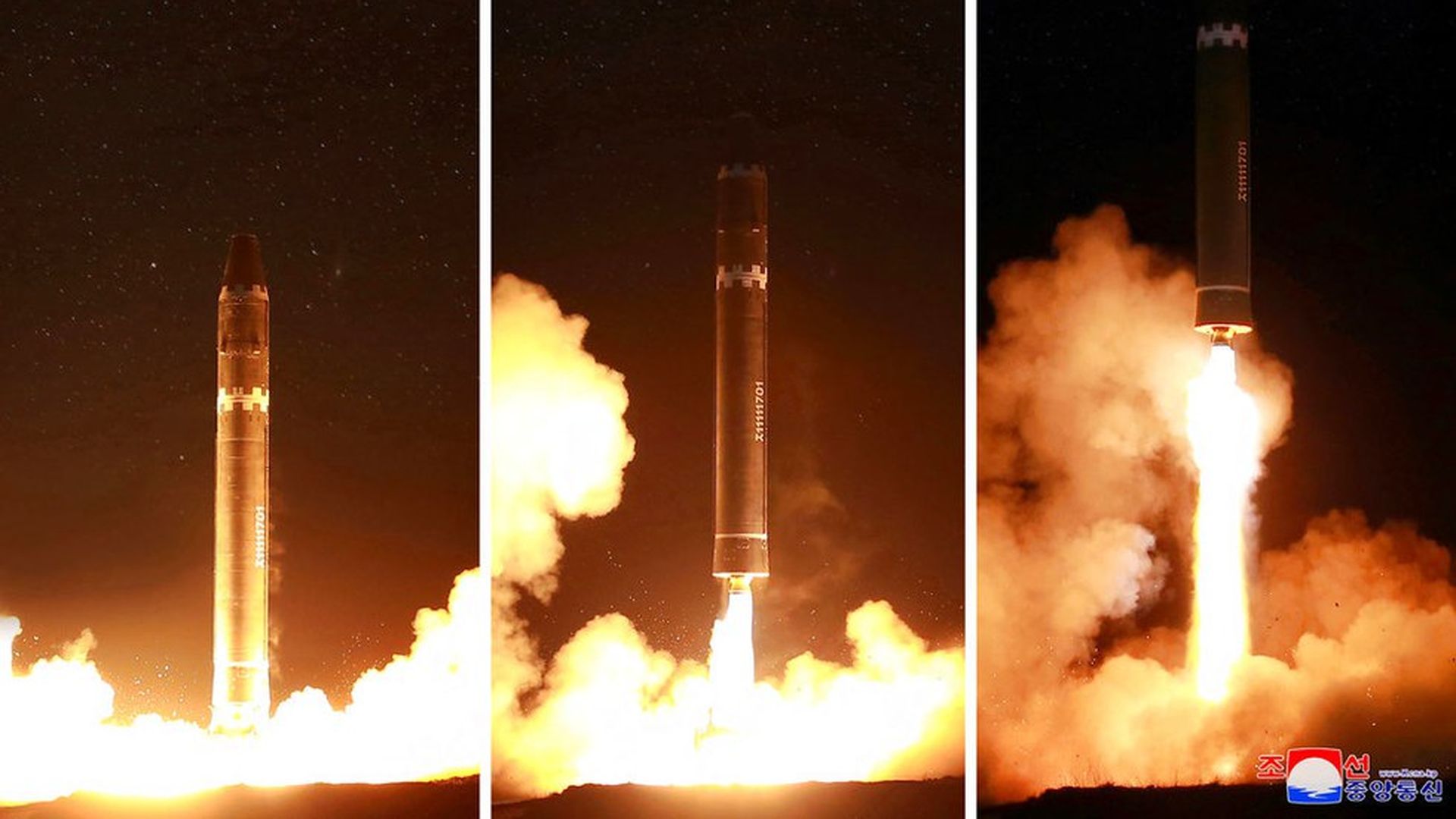 The real danger with North Korea, according to CFR President Richard Haass, author of "A World in Disarray" (out in paperback Jan. 2), talking to Joe Scarborough and Mika Brzezinski on "Morning Joe":
"I think the possibility of an incident between American and North Korean either aircraft or ships is significant. And what worries me is ... if there were to be some kind of an incident — say, North Korea puts radar on an American B-1 bomber, and ships collide or get too close to one another at sea."
"Does anyone seriously think that these two governments, given the level of vitriol, are in a position to manage a crisis — say, in the way that Kennedy and Khrushchev managed to do at the Cuban missile crisis?"
"So, it's not necessarily the bolt from the blue that either side introduces — long-range missiles. What worries me is more that something would escalate out of an incident, that simply we don't have the diplomatic capacity and the relationship to control. It's one of the many reasons we should be talking with North Korea."
"[P]eople say: Well, you can't just start a war with North Korea, because there's South Korea to worry about, there's Japan, there's Congress."
"But if something grows out of an incident, then it allows you to bypass the question of who started [it], because you're reacting to a situation. It becomes tactical. It becomes self-defense."
"And, as a result, that's the scenario that concerns me most. Again, not the out-of-the-blue cold attack, but something that grows out of things which allows us to bypass the normal checks we'd have to make on our ability to use military force."
5. This'll be some conference committee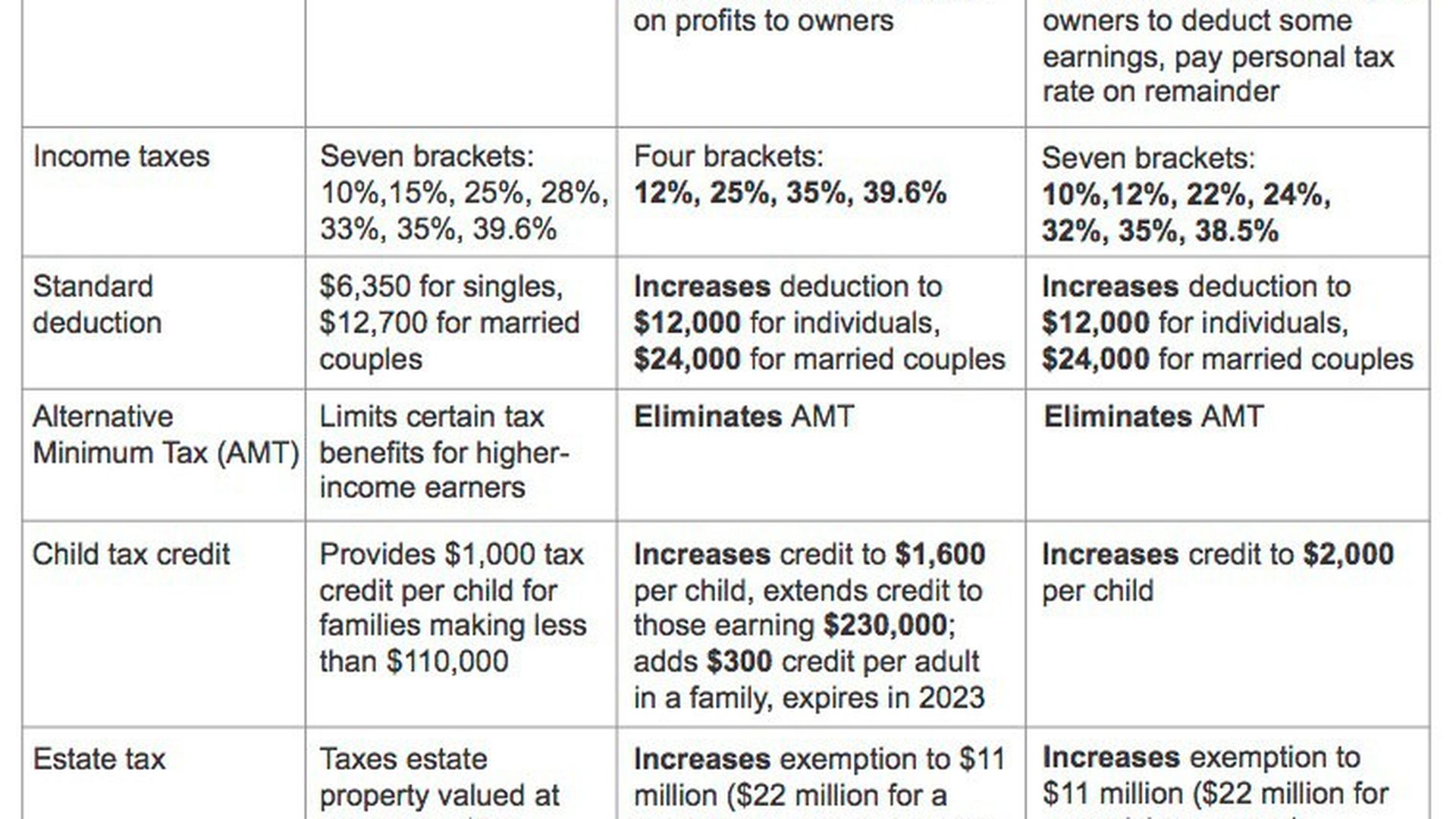 "The Senate tax bill is headed for a round of marathon votes [today] with the goal of holding a final vote by the end of the work week," per Bloomberg:
"Senate Republicans are struggling to salvage sweeping tax legislation .. amid an intra-party squabble over deficits."
"Majority Leader Mitch McConnell called off a planned series of votes on the tax measure until [this] morning as he and other leaders negotiated their way around objections from three GOP senators that the measure, cobbled together in a matter of weeks, would explode federal budget deficits and add to the national debt."
"Some of the solutions that were debated late [last] night — including letting some taxes rise for individuals and corporations within six or seven years — threaten to dissolve the precarious Republican majority for the legislation."
"They also risk creating a stalemate with the House, where hardline conservatives could throw up roadblocks to reconciling differences if the Senate version waters down tax cuts for businesses and individuals."
The Joint Committee on Taxation, Congress's official scorekeeper, concluded that the Senate bill would leave a shortfall of roughly $1 trillion over a decade.
6. Trump's "highly unusual intervention"
"President Trump over the summer repeatedly urged senior Senate Republicans, including the chairman of the Senate Intelligence Committee, to end the panel's investigation into Russia's interference in the 2016 election, according to a half dozen lawmakers and aides," according to N.Y. Times triple threat of Jonathan Martin, Maggie Haberman and Alex Burns:
"Trump's requests were a highly unusual intervention from a president into a legislative inquiry involving his family and close aides."
"Senator Richard Burr of North Carolina, the intelligence committee chairman, said ... Trump told him that he was eager to see [the] investigation ... come to an end."
Burr: "It was something along the lines of, 'I hope you can conclude this as quickly as possible.'"
John Heilemann, on "Morning Joe," points out how stunning it is for Burr to say this on the record.
FBI Director Christopher Wray tells the House Homeland Security Committee that the FBI has a "foreign influence task force" to deal with election interference by outside actors, per TPM's Tierney Sneed:
Wray: "We have a foreign influence task force inside the FBI that brings together difference disciplines of the FBI, because it's a multidisciplinary problem ... You've got a counterintelligence dimension, a cyber dimension, a criminal dimension."
"We can learn from what Russians and others are trying to do with other elections, in terms of tradecraft, etc. ... We're trying to get in front of it and be on the lookout for efforts to interfere."
7. Hawks are ascending at State
David Ignatius column: "Mike Pompeo, the feisty and politically ambitious CIA director who is likely headed to State, is the un-Tillerson. He's flamboyant where Tillerson is guarded, sharp and sometimes snarky where Tillerson is reticent."
"He's a far better communicator than Tillerson, and he'll probably do better conveying to Congress, the public and U.S. allies his version of diplomacy than does Tillerson, whose dislike for his job is palpable."
Why it matters: "The atmospherics will be a more activist, hawkish, extroverted U.S. foreign policy."
8. Data du jour: The "Santa rally" is real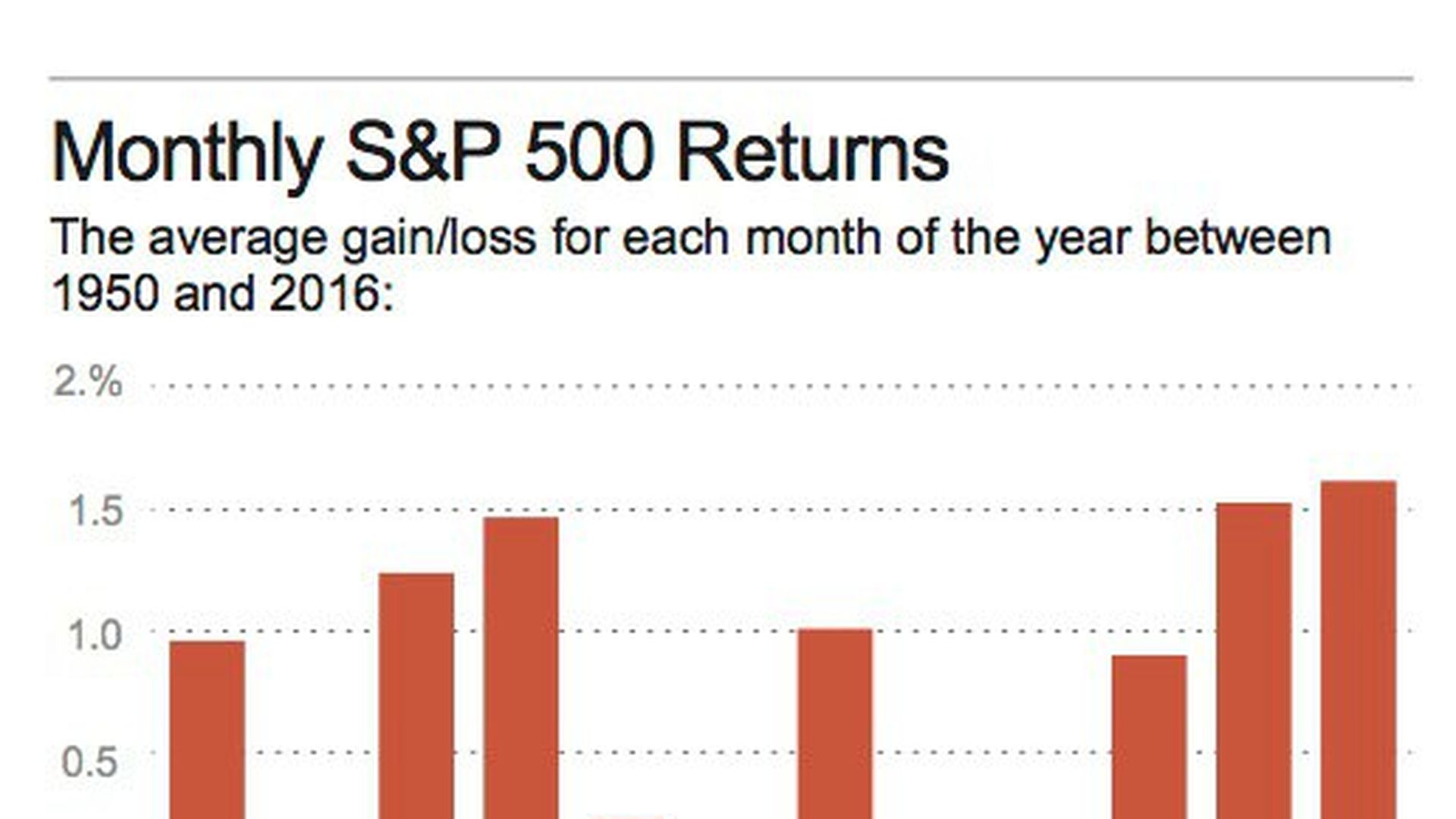 "Dow rockets past 24,000, building on incredible post-election surge" — CNN's Matt Egan:
"The latest market milestone occurred barely a month after the Dow hit 23,000."
"It's yet more evidence of excitement among investors about the strengthening economy and record corporate profits that could be bolstered by the GOP plan to slash corporate taxes."
"The Dow has spiked nearly 6,000 points since President Trump's election last year, notching 80 daily record highs since then."
9. "The worst humanitarian crisis in the world"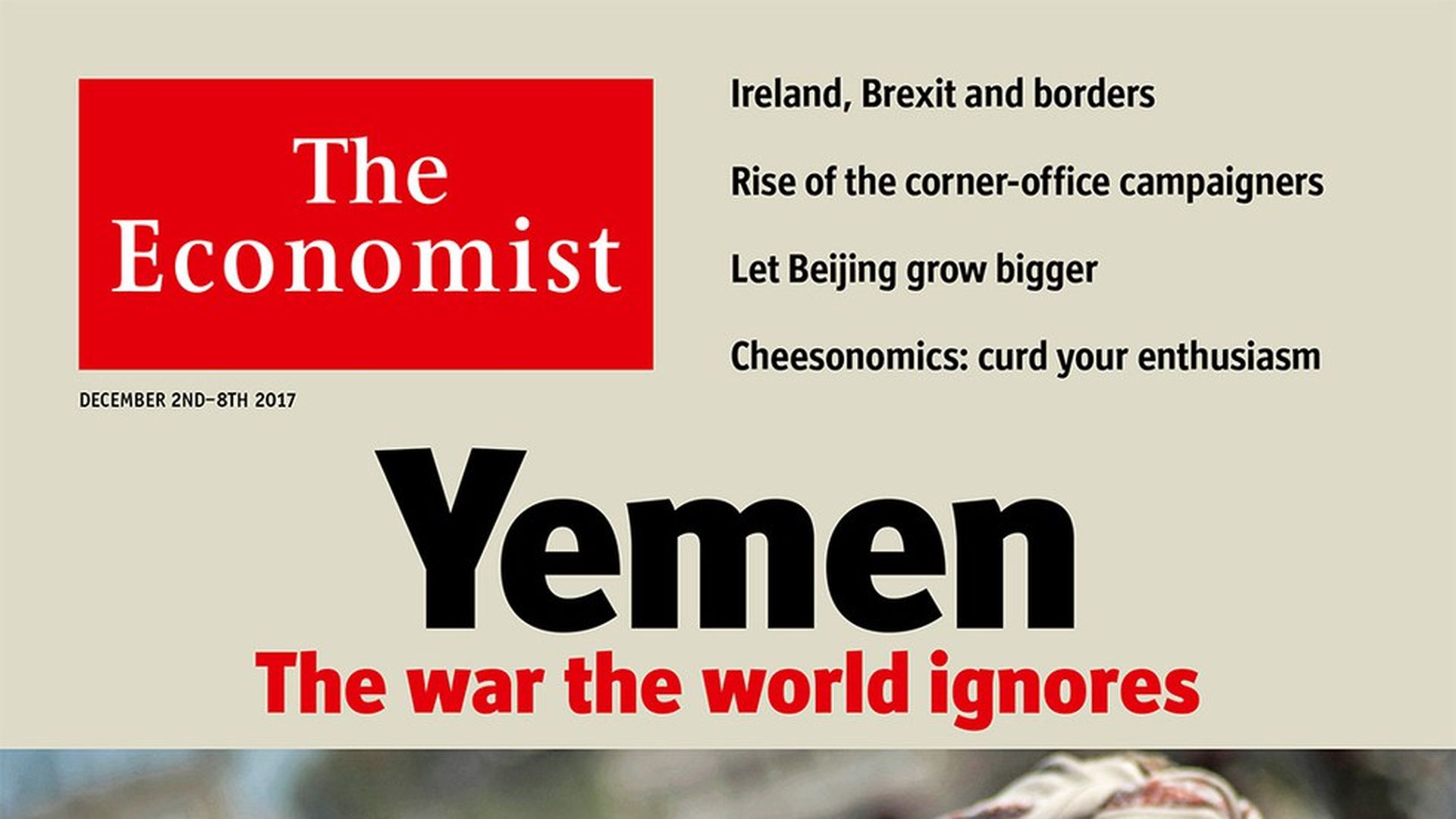 "A pointless conflict ... How — and why — to end the war in Yemen," between a Saudi-led coalition and the Houthis, a Shia militia backed by Iran— The Economist's cover editorial:
"The UN reckons three-quarters of Yemen's 28m people need some kind of humanitarian aid. Mounting rubbish, failing sewerage and wrecked water supplies have led to the worst cholera outbreak in recent history."
Why it matters: "[F]ar from halting the spread of Iran's influence, the war has deepened the Houthis' reliance on Iran, which has an easy and cheap means of tormenting the Saudis. And because Saudi Arabia is bogged down in Yemen, Iran has a freer hand to set the terms of a settlement in Syria."
"The war is a drain on the Saudis at a time of austerity and wrenching economic reforms at home. They should therefore learn another lesson from Israel's experience of fighting Hizbullah."
The takeaway: "If wars are to be fought at all, they should be short, and have limited aims. Deterrence is better than debilitating entanglement."
10. One fun thing: Jimmy Kimmel v. Roy Moore
"The host of ABC's "Jimmy Kimmel Live!" got into a Twitter spat with ... Alabama Republican [Roy Moore] over a stunt that Kimmel's show had orchestrated on Wednesday at a Moore event," per CNN's Frank Pallotta:
Moore tweeted: "@jimmykimmel If you want to mock our Christian values, come down here to Alabama and do it man to man."
Kimmel read the tweet during his opening monologue: "And I responded, and he responded back, and I responded again. It's all on Twitter, but the bottom line is this: I accept the invitation. I will come down there. ... We'll have a little Panda Express, and we'll talk about Christian values."