November 12, 2018
🇺🇸 Good Monday morning. On Veterans Day, make it a point to thank or surprise someone who has served our country.
D.C. readers: You're invited! Wednesday morning, join Axios' Evan Ryan for a business-leader-stacked conversation on the private sector's role in advancing gender equality.  
The lineup: Arne Sorenson, Marriott CEO; Anne Pramaggiore, Exelon Utilities CEO; Tony West, Uber Chief Legal Officer; and Lilly Ledbetter, namesake of the Lilly Ledbetter Fair Pay Act. RSVP here.
1 big thing ... Democrats load "subpoena cannon": 85+ Trump targets
House Democrats plan to probe every aspect of President Trump's life and work, from family business dealings to the Space Force to his tax returns to possible "leverage" by Russia, top Democrats tell us. 
One senior Democratic source said the new majority, which takes power in January, is preparing a "subpoena cannon," like an arena T-shirt cannon. 
⚡ Just posted ... The Democratic hit list: Based on our reporting and other public sources, Axios' Zach Basu has assembled a list of at least 85 potential Trump-related subpoena targets for the new majority. (See the list.)
Incoming House Intelligence Chairman Adam Schiff (D-Calif.) told "Axios on HBO" that he expects Trump to resist the committees' requests, demands and subpoenas — likely pushing fights over documents and testimony as far as the Supreme Court.
Why it matters: The fight will test the power of the presidency, Congress and the Supreme Court.
Top Democrats, who had largely avoided the subject during the campaign, now tell us they plan to almost immediately begin exploring possible grounds for impeachment. A public report by Robert Mueller would ignite the kindling.
Tom Steyer, the liberal activist who spent more than $100 million during the campaign to build support for impeachment, said establishment leaders who are trying to postpone talk of impeachment are "the outliers": "80 percent of registered Democrats think ... we're right."
Two of the most powerful incoming chairs tell "Axios on HBO" that they are plotting action far beyond Russian interference in the 2016 elections.
1) Schiff, the top Democrat on the intelligence committee, told us he wants to help special counsel Robert Mueller, and plans to release — with some redactions of classified material — transcripts of dozens of interviews the committee conducted during its own Russia probe.
Schiff says these transcripts contain numerous possible contradictions with other testimony and facts that have come to light, meaning possible legal jeopardy for the witnesses, who have included White House officials and alumni.
"I want to make sure that Bob Mueller has the advantage of the evidence that we've been able to gather," Schiff said. "But equally important: that Bob Mueller is in a position to determine whether people knowingly committed perjury before our committee."
Asked if there are real questions about contradictions between the testimony of Roger Stone, a close ally of the Trump campaign, and emails that have surfaced since then, Schiff said: "That is certainly the case."
Schiff said: "We're going to want to look at what leverage the Russians may have over the president of the United States."
2) Incoming House Appropriations Chair Nita Lowey of New York, a close ally of House Democratic Leader Nancy Pelosi, said "yes" to each of a long list of possible investigative targets, including the Space Force, hurricane relief in Puerto Rico, White House security clearances, White House use of personal email and more.
"We have our boxing gloves on," Lowey said. "I'm ready. And so is Nancy."
See the clip of her answers.
We reminded Lowey and Schiff of a Jonathan Swan scoop from August, "Republicans secretly study their coming hell," reporting that House Republicans had built a spreadsheet of potential investigation targets, based on Democrats' public complaints and statements.
Both Lowey and Schiff made it clear that the GOP list is just a starting point.
So look for probes of James Comey's firing; Attorney General Jeff Sessions' ouster; the Muslim travel ban; family separation policy at the border; discussions of classified information at Mar-a-Lago; administration dealings with North Korea and Saudi Arabia; and so much more.
Trump is already signaling confrontation, saying at his post-election news conference that if Dems investigate him, the result will be "a warlike posture."
Asked if he'll investigate the Democrats back, he replied: "Oh, yeah. Better than them."
Be smart: For 225+ years, federal courts have upheld the Constitution's mandate of Congress as an equal branch of government, providing checks and balances on the executive. So House Democrats have a high hand as they assume power.
2. Exclusive poll: Most Democrats see Republicans as racist, sexist
Many Americans think people in the other party are ignorant, spiteful, evil and generally destroying the country, according to a new Axios poll by SurveyMonkey, aired on HBO on Sunday night.
It's this bad: 61% of Democrats see Republicans as "racist/bigoted/sexist." 31% of Republicans say they view Democrats in the same light.
The suspicion runs so deep, Axios managing editor Kim Hart writes, that a third of all Americans say they'd be disappointed if a close family member married someone whose party didn't match their own.
About half of Democrats think Republicans are ignorant (54%) and spiteful (44%). Likewise, about half of Republicans think Democrats are ignorant (49%) and spiteful (54%).
21% of Democrats think Republicans are evil, and about the same share of Republicans (23%) think Democrats are evil.
Good news! A handful of people think their fellow Americans are OK.
4% of both parties think the other side is fair.
3-4% of both parties think the other side is thoughtful.
2-3% of both parties think the other side is kind.
The catch: The share of Americans who have such generous impressions is roughly equal to the poll's margin of error, which is 3%.
3. If you watch only one post-midterm video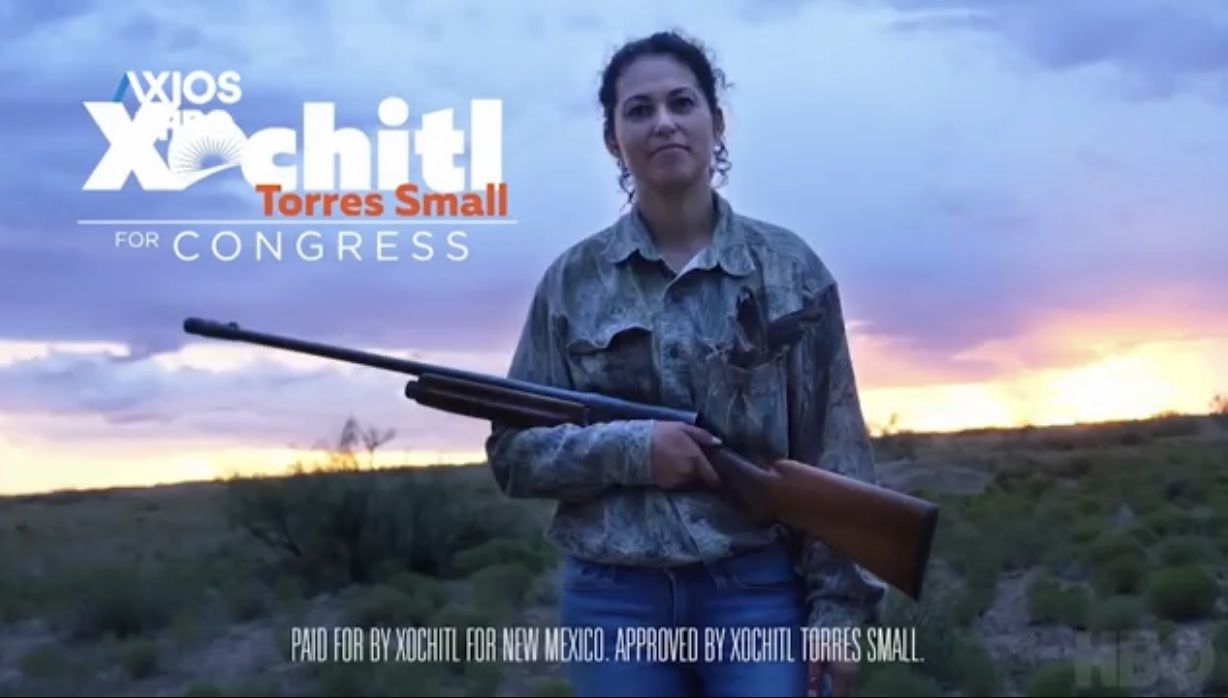 "Women Campaigning for Office: Then vs. Now" ... This inspiring video by Perri Peltz and Matthew O'Neill, co-directors and co-producers of "Axios on HBO," shows the new way women ran — and won — in the Trump era.
In the past, battling to be taken seriously, women candidates often focused their ads on policy and government experience.
This cycle, the establishment was out; personal experience was in. Women embraced protest and raw determination. And in the #MeToo era, talking about sexual assault was no longer taboo.
4. Pics du jour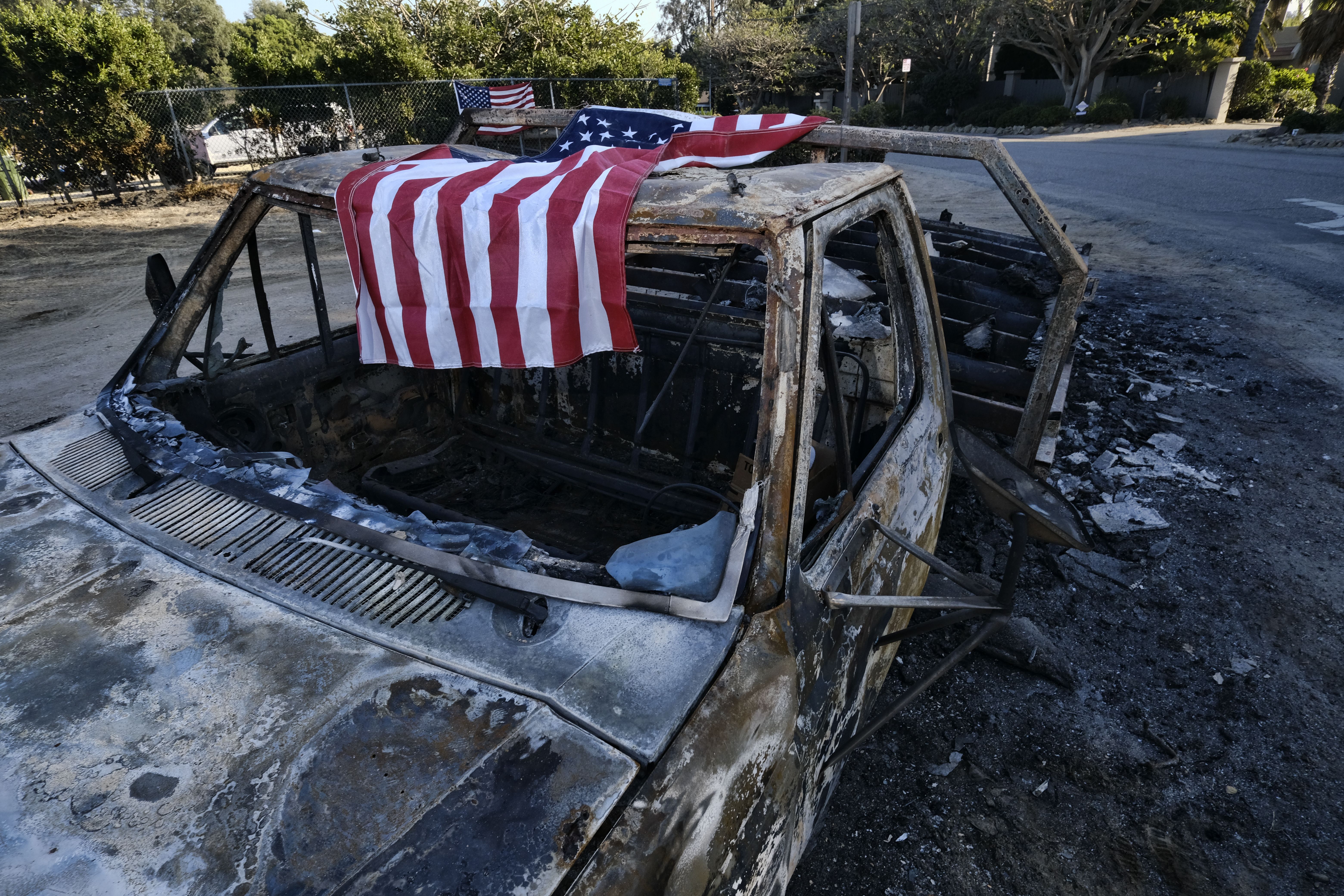 Above: Charred remains of an old pickup truck at Point Dume, along the Pacific Coast Highway in Malibu, Calif.
Below: Santos Alvarado (right) and his son Ricky recover a safe deposit box from their destroyed home at Seminole Springs Mobile Home Park in Agoura Hills, Calif.
And in Northern California ... "PARADISE, Calif. — The death toll from the Camp fire raging in Butte County rose to 29 ... with more than 200 unaccounted for. The number of fatalities is expected to increase further as officials make their way through thousands of burned homes." (L.A. Times)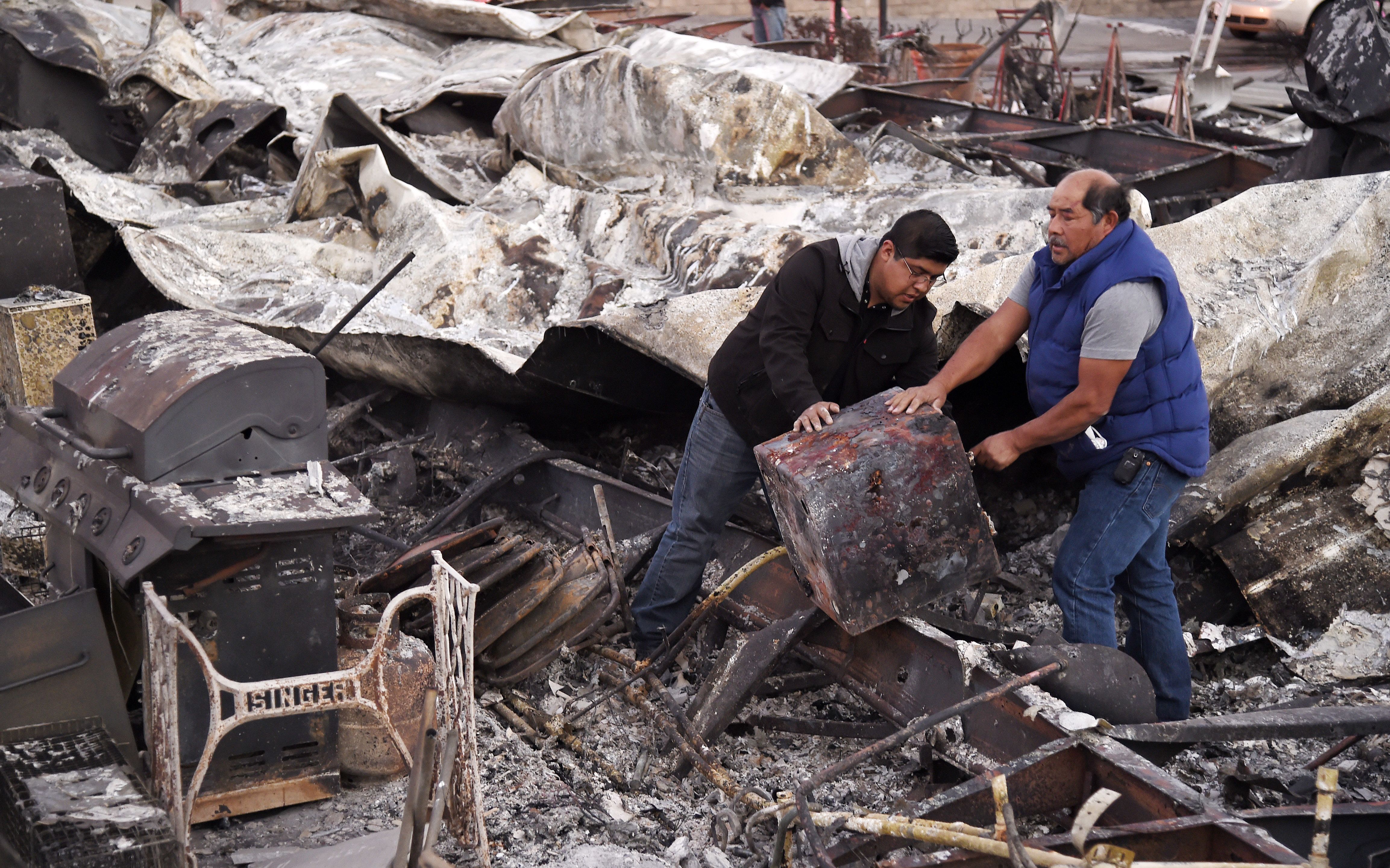 5. "Grumpy" Trump rebuked on world stage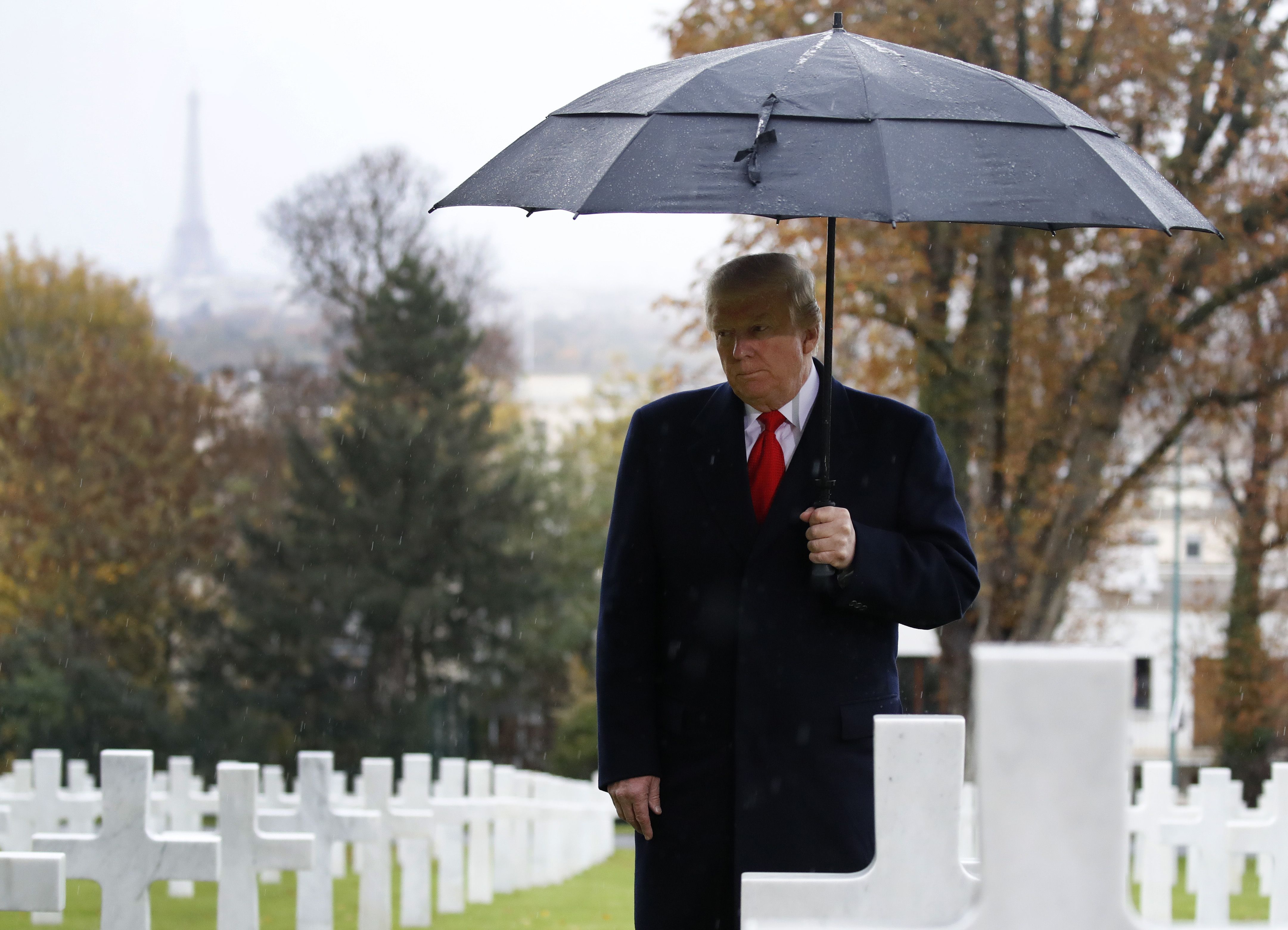 At yesterday's commemoration of the 100th anniversary of the end of World War I, "the president who proudly declares himself a 'nationalist' stood apart, even on a continent where his brand of populism is on the rise," AP's Darlene Superville and Jill Colvin report from Paris:
French President Emmanuel Macron "warned that the 'ancient demons' that caused World War I and millions of deaths were once again making headway."
"Patriotism is the exact opposite of nationalism: Nationalism is a betrayal of patriotism," Macron said to Trump and dozens of other leaders at the Tomb of the Unknown Soldier at the base of the Arc de Triomphe.
Macron told CNN's Fareed Zakaria: "I always prefer having direct discussion or answering questions [than] making my diplomacy through tweets."
"Trump was terse during some of his private conversations with world leaders, according to people with direct knowledge of his visit. One of the people described the president as 'grumpy.'"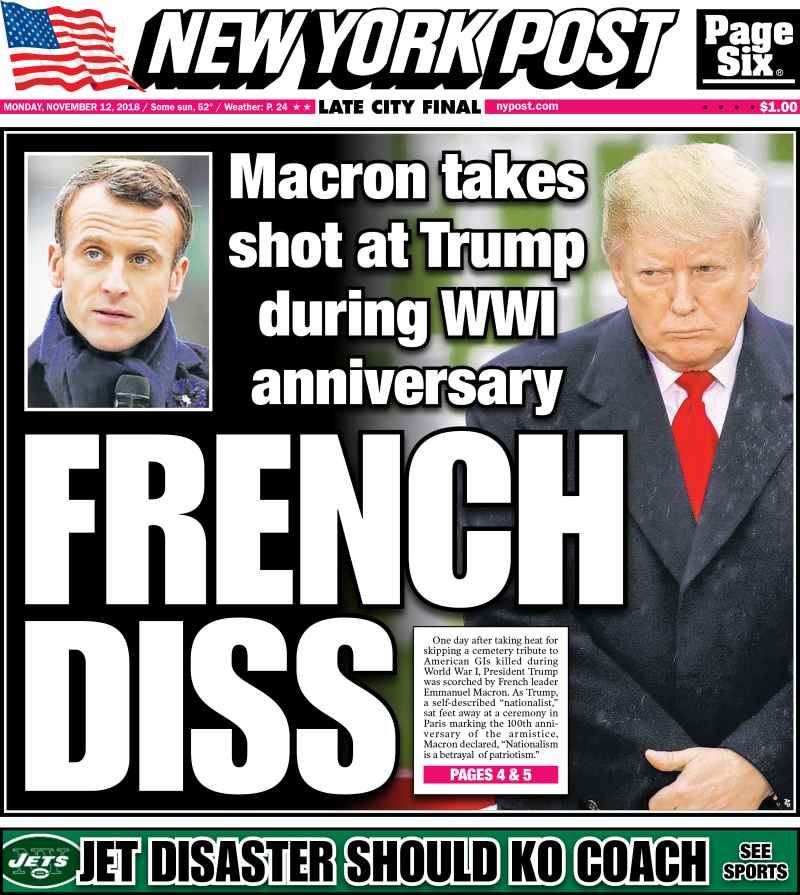 6. Climate change is getting too big and divisive to solve
America's divisive politics and the sheer math of cutting heat-trapping emissions indicate the world's prospect of substantively tackling climate change is getting out of reach, Amy Harder writes in her "Harder Line" energy column.
Why it matters: We often talk about this issue as though big solutions are coming sooner or later. But in fact, it's a big "if," not "when," America and the world will do anything close to what scientists say is needed to avoid the worst impacts of a warmer world.
The math is a big problem. It's like if you had a marathon in one direction, and instead you turn around and start running in the other direction.
The politics are another big problem. Among all the topics Americans disagree about, Amy writes that she considers climate change the most divisive. With other policies, like health care and immigration, people generally agree the topic at least exists.
On the world's ambition, rhetoric far outpaces action.
7. How we voted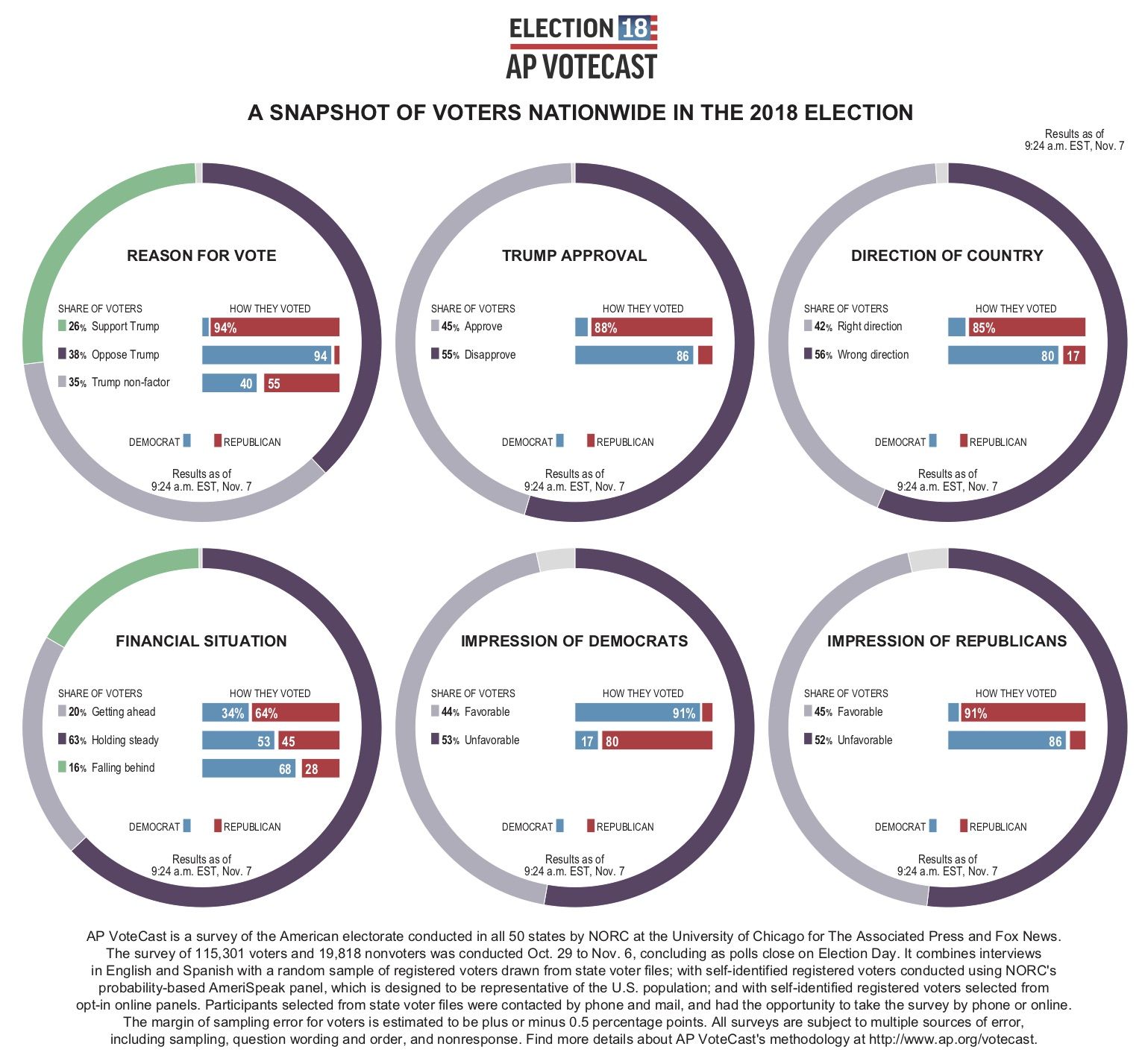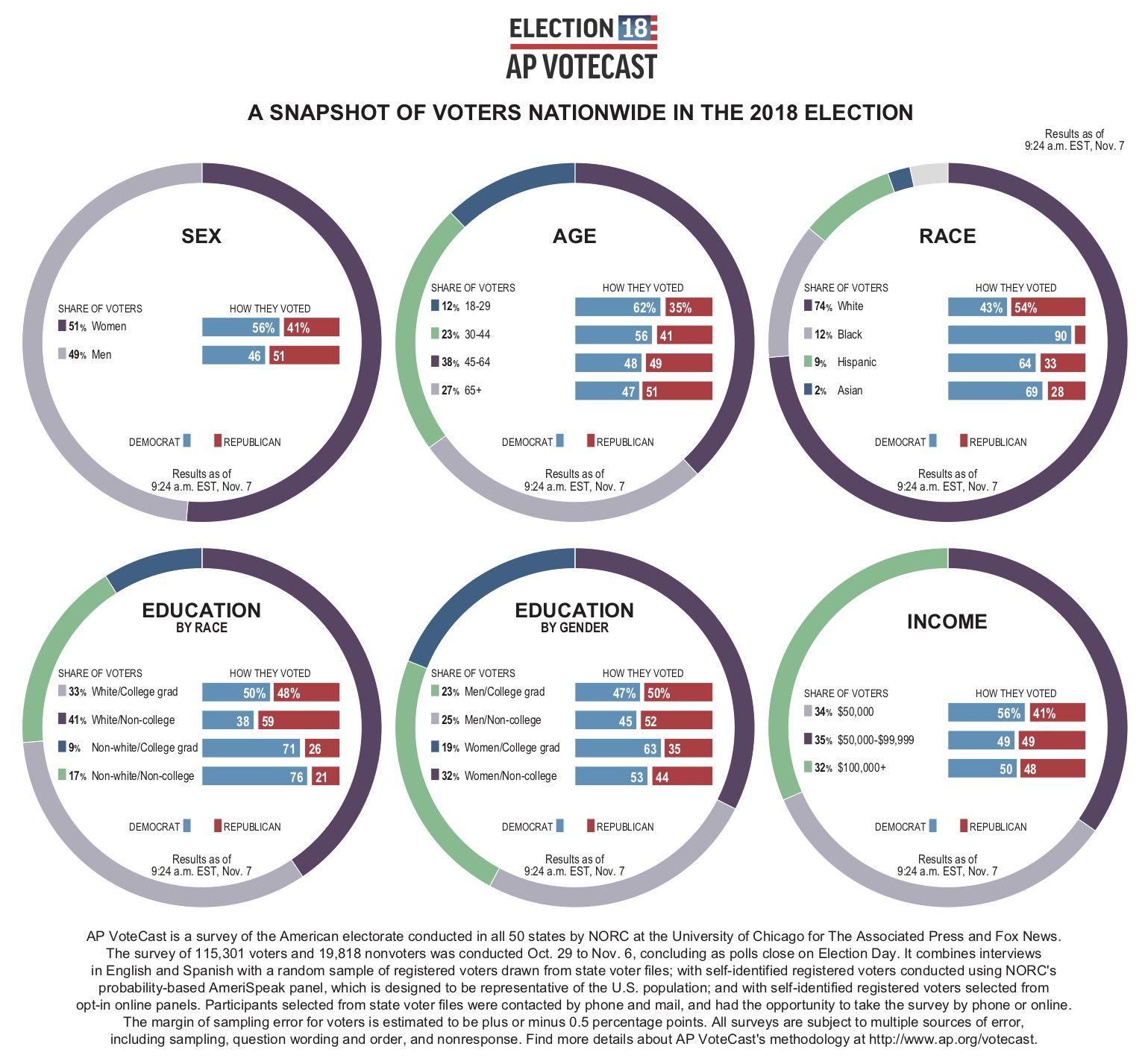 Go deeper ... "VoteCast: How AP's survey of the US electorate was conducted."
8. "Can an Obama acolyte be elected after Trump?"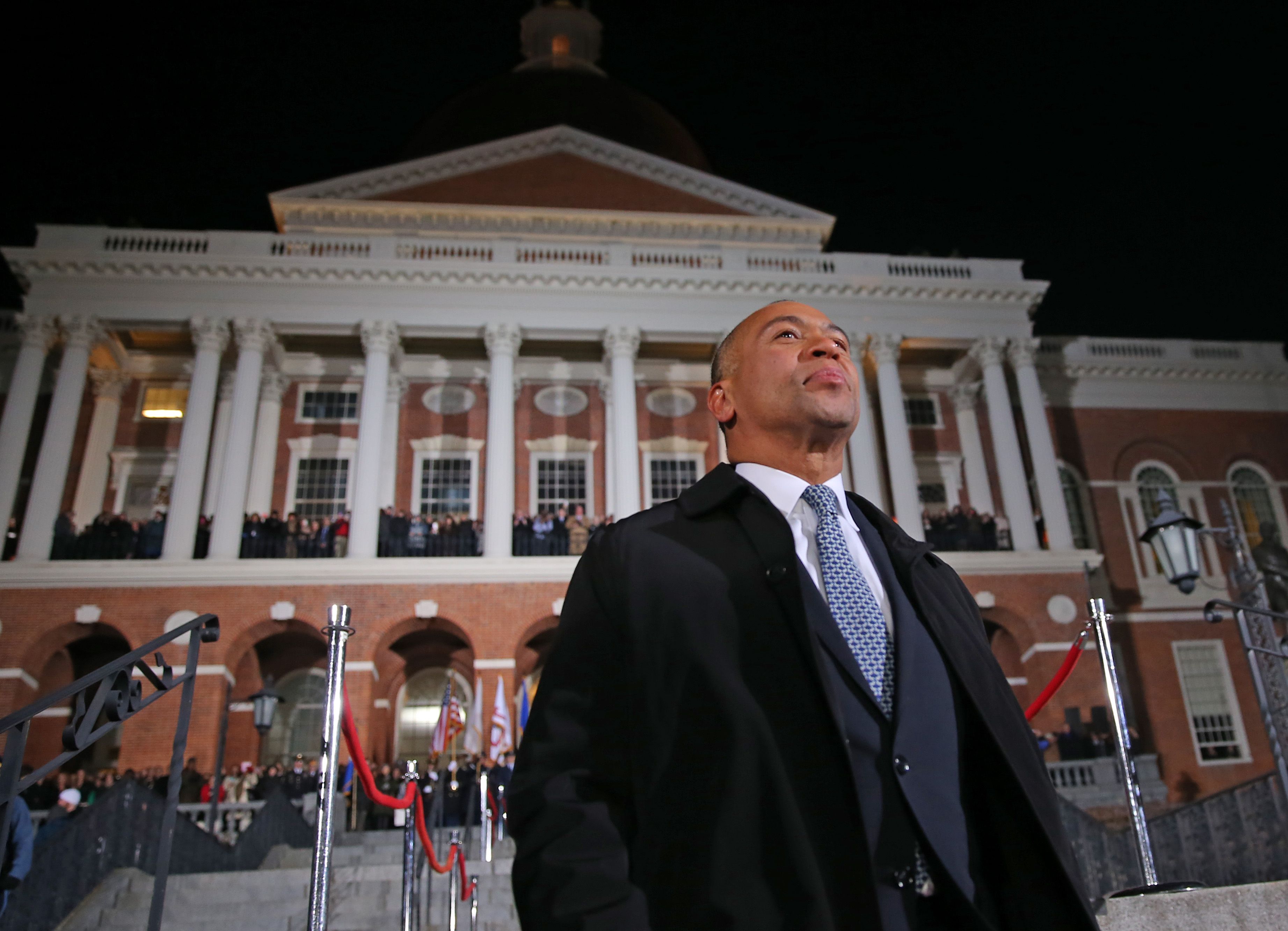 Deval Patrick, the former governor of Massachusetts, "travelled to a dozen states, to campaign for Democratic candidates in the midterms, and, in the process, to generate the kind of good will and name recognition that could help him if he chooses to run for President in 2020," The New Yorker's Jeffrey Toobin writes:
Check out the 2020 field! "Compared with Joe Biden, Bernie Sanders, and Elizabeth Warren, he is practically a nobody. He is African-American, but so are Senators Cory Booker, of New Jersey, and Kamala Harris, of California. In 2020, Steve Bullock, of Montana, John Hickenlooper, of Colorado, and Terry McAuliffe, of Virginia — all possible candidates — will, like Patrick, be former governors. Patrick is a businessman, but so are Michael Bloomberg (Bloomberg L.P.), Howard Schultz (Starbucks), and Tom Steyer (venture capital in San Francisco). Even within his own state, he is one of five potential candidates, along with Warren, John Kerry, and Representatives Joe Kennedy III and Seth Moulton."
"Still, Patrick would enter the race with one significant distinction: he is a kind of political heir to Barack Obama, and enjoys broad support from people close to the former President. Valerie Jarrett, Obama's former senior adviser and still a close friend, told me, 'Deval would make an outstanding President. He'd make a terrific candidate.'"
9. Facebook increases news firepower
First on Axios ... Facebook names Anne Kornblut — an alumnus of the Boston Globe, New York Times and Washington Post who has been at the company for three years — to the new position of Director of News, New Initiatives.
Per Facebook: "Anne will lead the expanded news partnerships out of our Menlo Park office. She will focus on new initiatives across the entire family of Facebook apps and services, and work across the many teams that touch news on Facebook: products, partnerships, policy, communications."
10. 1 🐶 thing
The new thing: "dog hikers" ... "Rich New Yorkers who feel bad about keeping their dogs inside all day are paying dog hikers to let them run free in the country," the N.Y. Times' Kate Dwyer reports:
For $85 to $130 a day, the new services will put city dogs in a van, then take them "hiking in beautiful places like

Harriman State Park

and

South Mountain Reservation

, while their owners are cooped up in cubicles."
"For an extra charge, the dogs even get a post-hike bath."