Axios AM
April 10, 2018
1 big thing: Inside the West Wing with Trump enraged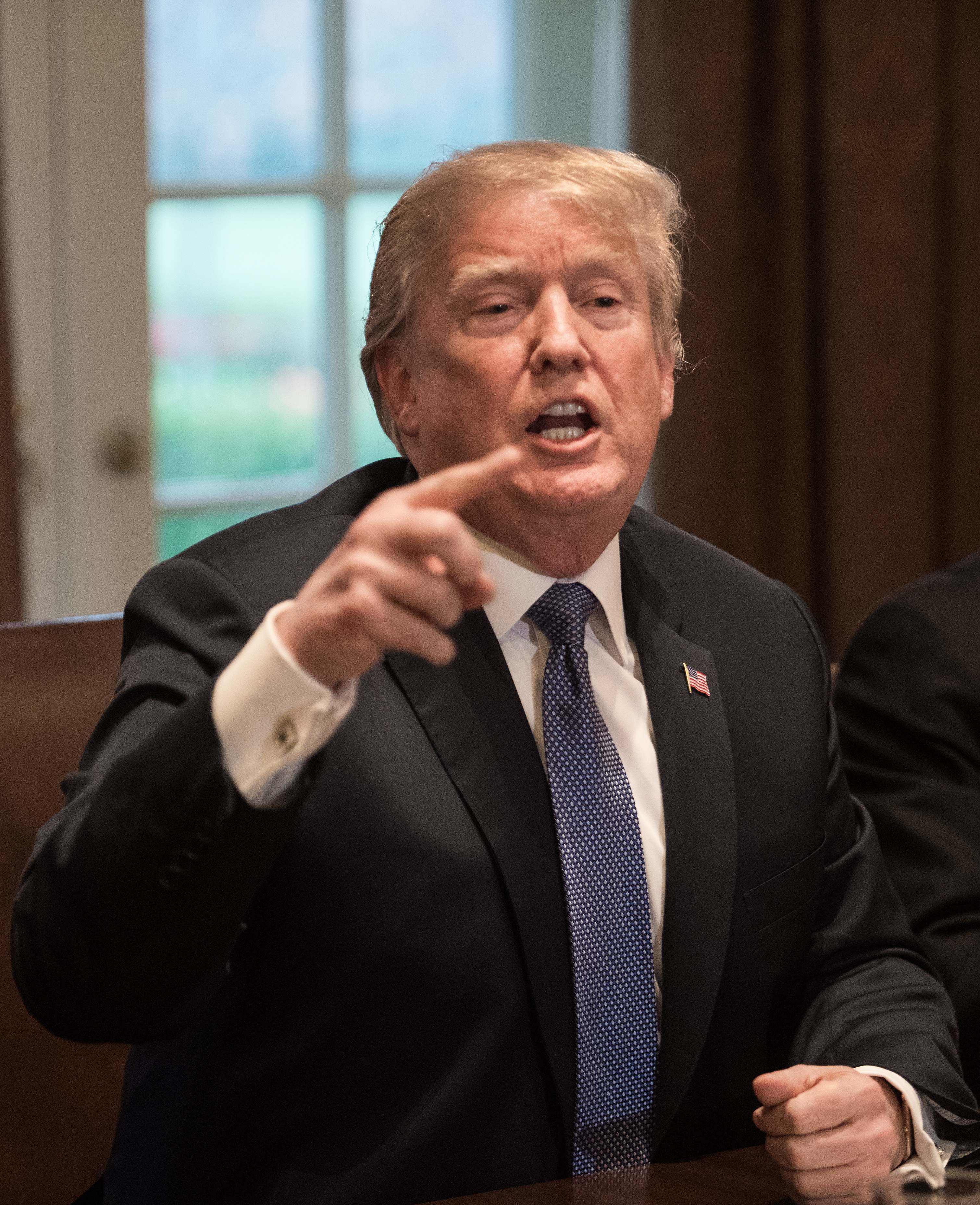 Sources close to the president say that a political dispute with special counsel Robert Mueller has turned visceral and personal after the feds' raid on the New York offices of Michael Cohen, Trump's personal lawyer and fixer.
One of the sources said: "Mueller's investigation has been drip, drip. This was a giant leap forward ... a personal hit. ... They were moving in inches. Today, they moved a mile."
Until now, when storms hit, Trump could turn to Hope Hicks to explain things to him, suggest wording, simmer him down. With her departure from the White House, we saw the president working out his fury in real time.
The source continued: "This is the first crisis post-Hope Hicks. ... This was different: I've never seen him like this before. ... This is the president you're going to see more of from here on out: unvarnished, untethered."
Another source close to Trump said: "He takes the Russia stuff as a political hit job. This was a personal affront. This was the red line" of intrusion into personal financial matters.
The president — arms crossed defiantly — held a stunning on-camera venting session during an appearance with his senior military leadership where a potential strike on Syria took second billing to Michael Cohen ("With all of that being said, we are here to discuss Syria tonight").
The WashPost cites three sources as saying Cohen "is under federal investigation for possible bank fraud, wire fraud and campaign finance violations."
A statement from Cohen's lawyer, Stephen Ryan, said: "The US Attorney's Office for the Southern District of New York executed a series of search warrants and seized the privileged communications between my client, Michael Cohen, and his clients."
During the 10-minute rant, Trump ...
... used "disgrace" seven times and "disgraceful" twice.
... fumed about an action by agents of the government he heads: "I just heard that they broke into the office of one of my personal attorneys — a good man. ... It's a total witch hunt."
...accused those agents of his government of "an attack on our country, in a true sense. It's an attack on what we all stand for."
... said, repeating back a question: "Why don't I just fire Mueller? ... Well, I think it's a disgrace what's going on. We'll see what happens. But I think it's really a sad situation when you look at what happened. And many people have said, 'You should fire him."
... referred to the investigation as "the most conflicted group of people I've ever seen. The Attorney General made a terrible mistake ... when he recused himself.  ... [W]e would have ... put a different Attorney General in."
... quadrupled down on firing FBI Director James Comey: "One of the things they said: 'I fired Comey.'  Well, I turned out to do the right thing, because if you look at all of the things that he's done and the lies, and you look at what's gone on at the FBI with the insurance policy and all of the things that happened — turned out I did the right thing."
Be smart: Close aides are recommending against firing Mueller. But that means little these days.
The big, surreal picture: Take a minute to think about the history unfolding before our eyes. You have the president's top lawyer getting raided by the FBI, prompting the president to warn of an epic attack on government and signaling he might try to can the special counsel investigating him.
This is on the eve of the arguably most powerful and well known CEO of our generation getting grilled by Congress, in part because the Russians used his platform to try to elect the man at the center of it all.
History books will be written about this — and you were there to see it all unfold.

2. The raid: Reading between the lines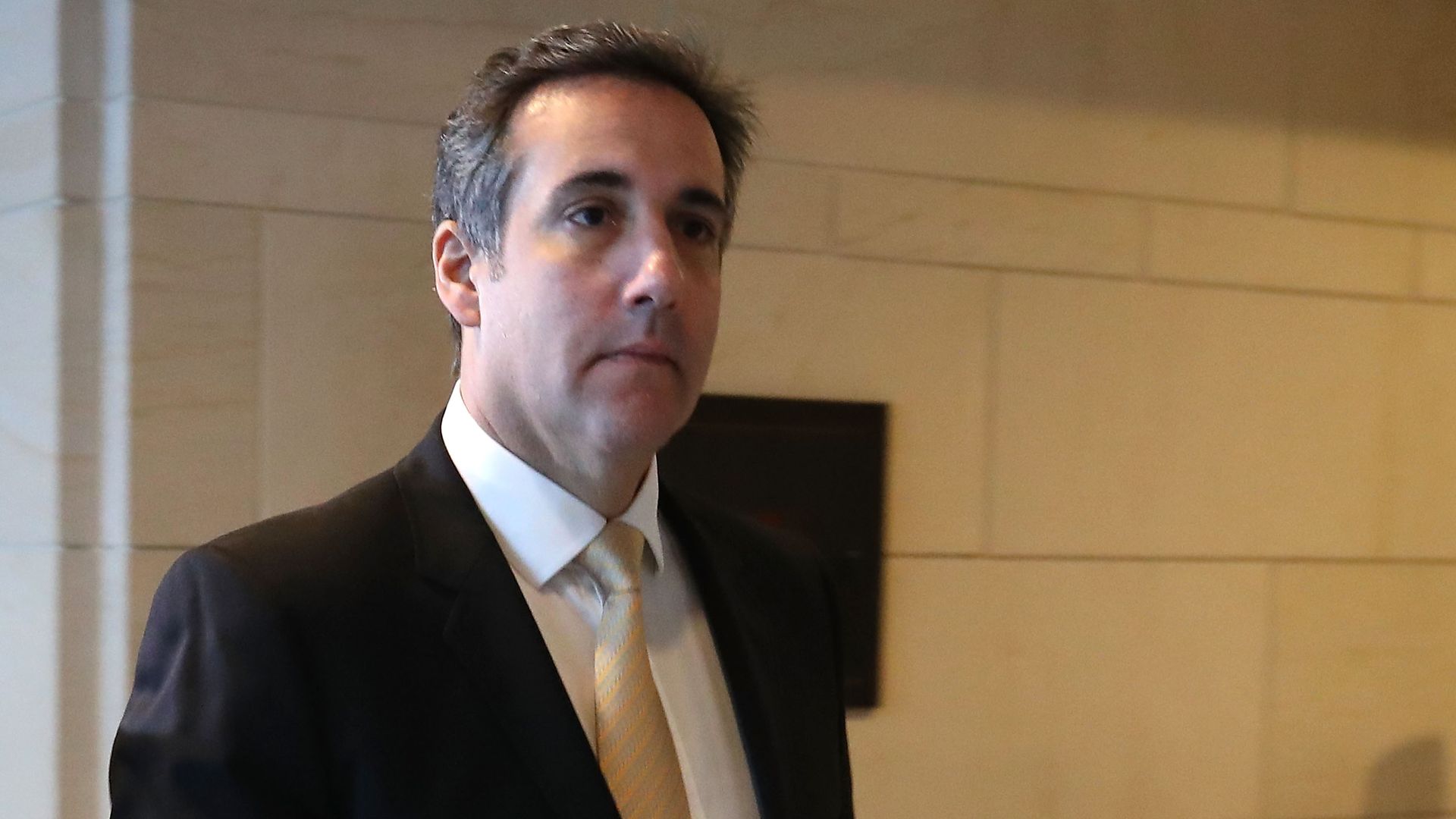 A former U.S. attorney helps Axios readers interpret the raid:
"Here's what must have happened: Mueller bumped into evidence of criminal conduct that was beyond his scope, so he referred it to the Rod," Deputy Attorney General Rod J. Rosenstein.
"Rod had the option of expanding Mueller mandate or sending it to the [U.S. attorney for the Southern District of New York] — he sent it to the SDNY."
"The SDNY then looked at the evidence, decided to open an investigation, and ultimately decided that Cohen would have documents relevant to the investigation."
"The SDNY then decided that Cohen could not be trusted to produce the documents pursuant to subpoena — or else they would've just subpoenaed the docs.
"So they consulted with DOJ, as required — probably Rod — and obtained a search warrant."
"Which meant they had probable cause to believe that a crime was committed and that Cohen had evidence that was fruit, instrument or evidence of the crime."
"HUGELY important:  Stormy is almost certainly just the tip of the iceberg.  Cohen's lawyer said the [search warrant] was based 'in part' on referral by Mueller. I expect that after getting the initial referral, the SDNY started poking around and developed independent interest for obtaining the SW."
"And with all of what they seized — including electronic evidence — Katie bar the door. Any evidence of any crime they now find is fair game."
3. Paragraph of the day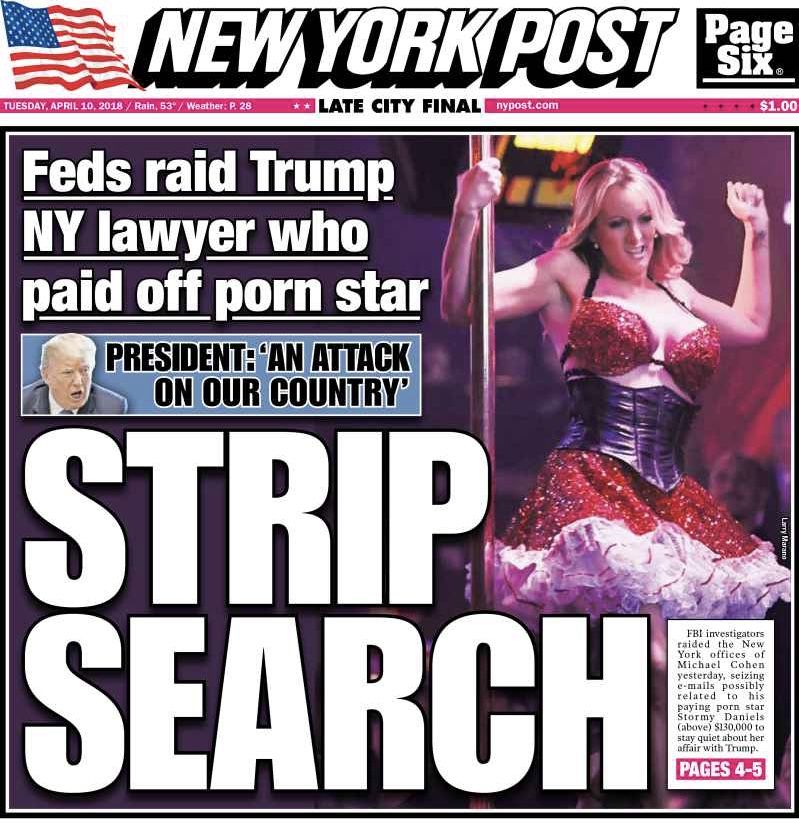 "The searches open a new front for the Justice Department in its scrutiny of Mr. Trump and his associates: His longtime lawyer is being investigated in Manhattan; his son-in-law, Jared Kushner, is facing scrutiny by prosecutors in Brooklyn; his former campaign chairman is under indictment; his former national security adviser has pleaded guilty to lying; and a pair of former campaign aides are cooperating with Mr. Mueller. Mr. Mueller, meanwhile, wants to interview Mr. Trump about possible obstruction of justice."
4. Big Tech's new era begins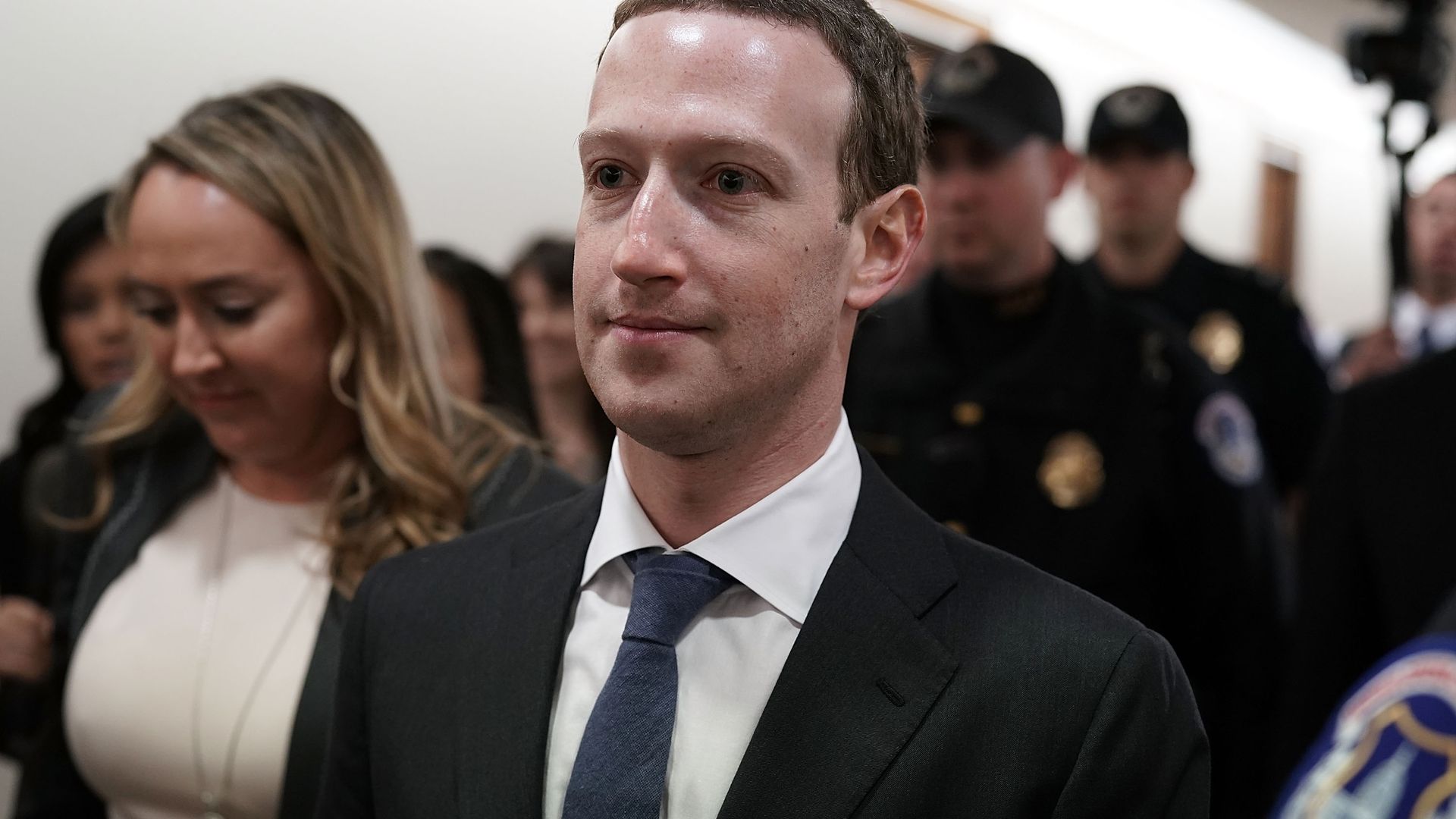 For a decade-plus, Washington worshiped the power of the tech giants because they were cool and had coin.
When Facebook CEO Mark Zuckerberg is sworn in on Capitol Hill today around 2:15 p.m., it'll mark the official start of a new era that will be defined by skepticism, regulation and constant collision.
Silicon Valley, after dismissing Washington, now plans constant engagement. Uber CEO Dara Khosrowshahi will speak in Washington tomorrow, and Axios has learned that LinkedIn CEO Jeff Weiner has booked a visit.
Be smart ... A longtime Washington maestro texts me: "The next titanic political struggle will be over regulating tech/social media. The government often interrupts the aggregation of economic power over time. These companies have economic and political power. Politicians do not often ignore that combination."
The conversation ... The CGCN Group, a well-wired lobbying firm, says in a memo to clients headlined, "Tariffs, Populism and Mark Zuckerberg":
"Zuckerberg's appearance is just one flashpoint in a larger political fight. These companies must come to terms with the reality that they are politically homeless — facing harsh rhetoric, tough questioning and policy differences from critics on both sides of the aisle."
"[A] victory for Zuckerberg under these circumstances is to stop the bleeding and do no further harm."
"These companies should take a page from the trade fight by emphasizing how their products are helping workers and businesses between the coasts."
Go deeper: David McCabe, "Capitol Hill's early reviews for Mark Zuckerberg" ... See Zuck's prepared testimony for Congress.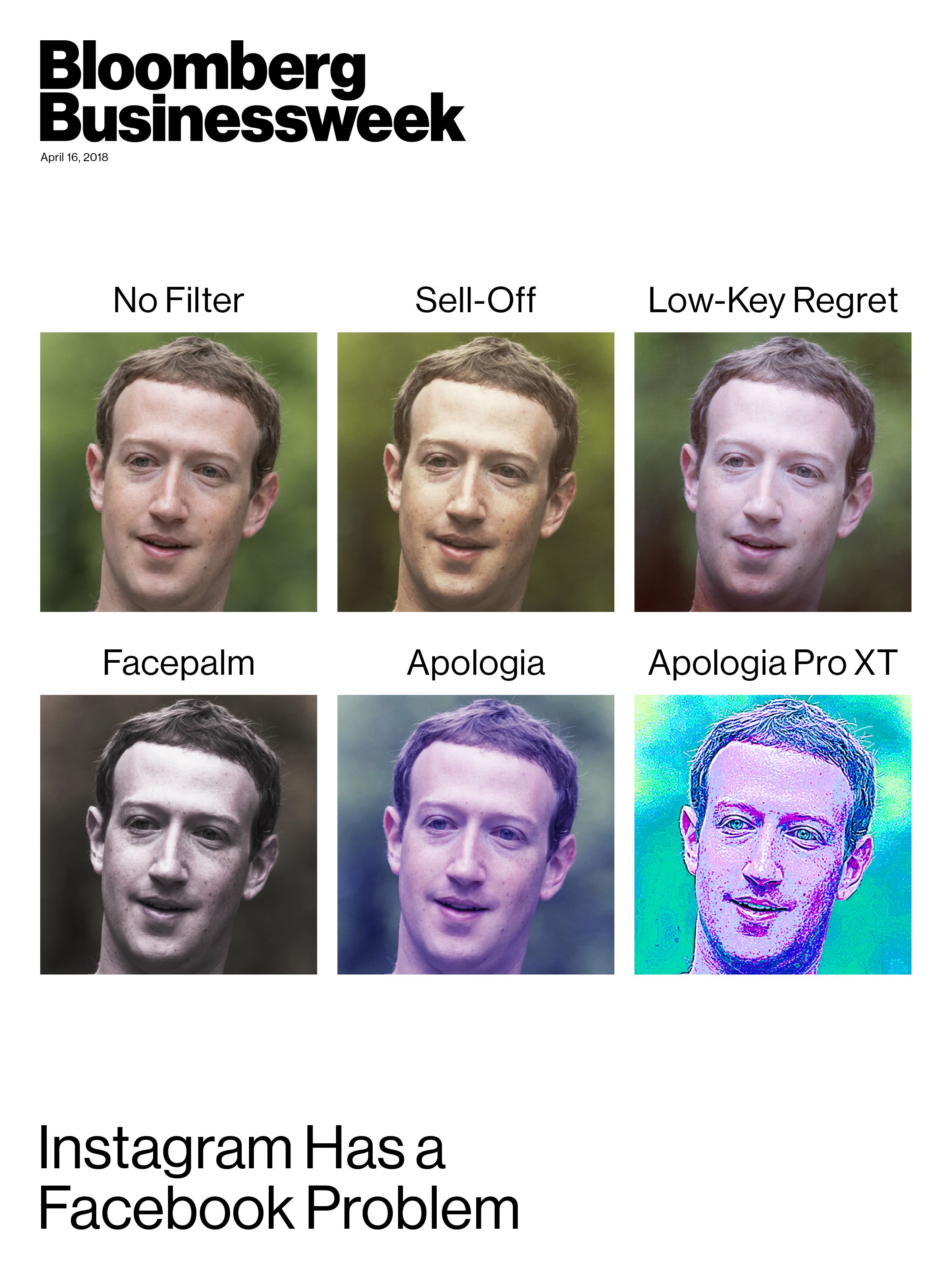 "Instagram, in all its trivial glory, might be the best hope for Facebook's future" — Bloomberg Businessweek cover story by Sarah Frier:
"Instagram relied on Facebook for its success, but now Facebook may depend on Instagram for its longevity."
"Instagram's audience is younger than Facebook's ... And unlike Facebook, which reported its first decline in users in North America in its most recent quarter, Instagram is still growing in its home market."
"The idea that Instagram might bail out Facebook has likely been in the back of Zuckerberg's mind. He often says that Facebook should disrupt itself before someone else does, and he regularly celebrates Instagram at Facebook's weekly staff meetings."
5. Don't forget Syria
Shot ... Sen. Tom Cotton (R-Ark.), the senator Trump listens to most closely on national security: "As the sparrow cannot fall without the Father, so too Assad cannot launch chemical attacks without Iran and Russia. All three should pay for their barbarism."
Chaser: President Trump, in the Cabinet room session with his military leadership: "We have a lot of options, militarily. And we'll be letting you know pretty soon. Probably after the fact."
6. Pay attention to this
"Poised to Balloon to $1 Trillion, U.S. Deficit Fuels Fear of Crisis" — N.Y. Times' Thomas Kaplan, on A1:
What's new: "The national debt, which has exceeded $21 trillion, will soar to more than $33 trillion in 2028 ... By then, debt held by the public will almost match the size of the nation's economy, reaching 96 percent of gross domestic product, a higher level than any point since just after World War II and well past the level that economists say could court a crisis."
Why it matters: "The fear among some economists is that rising deficits will drive up interest rates, raise borrowing costs for the private sector, tank stock prices and slow the economy, which would only drive the deficit higher."
N.Y. Times Quote of the Day ... Keith Hall, director of the Congressional Budget Office, which said the annual federal budget deficit is set to widen significantly, topping $1 trillion in 2020:
"The longer you wait the more draconian the measures have to be to fix the problem."
7. Stunning fact
AP's Ken Sweet: "In the 135 days since the Trump administration took control of the nation's consumer watchdog agency [the Consumer Financial Protection Bureau], it has not recorded a single enforcement action against banks, credit card companies, debt collectors or any finance companies whatsoever."
8. First look: Harvard poll sees wave of young voters
"A new national poll of America's 18- to 29-year-olds by Harvard's Institute of Politics (IOP), located at the Kennedy School of Government, finds a marked increase in the number of young Americans who indicate that they will 'definitely be voting' in the upcoming midterm Congressional elections":
"37 percent of Americans under 30 indicate that they will 'definitely be voting,' compared to 23 percent who said the same in 2014."
"Young Democrats are driving nearly all of the increase in enthusiasm; a majority (51%) report that they will 'definitely' vote in November, which represents a 9-percentage point increase since November 2017 and is significantly larger than the 36 percent of Republicans who say the same."
"At this point in the 2014 election cycle, 28 percent of Democrats and 31 percent of Republicans indicated that they would 'definitely' be voting."
The poll includes 2,631 18- to 29- year-olds, and was organized with undergraduate students from the Harvard Public Opinion Project. (Margin of error: 3 points.)
Go deeper: Poll details will post here soon.
9. First look: Data du jour
Courtesy of Bruce Mehlman of Mehlman Castagnetti Rosen & Thomas: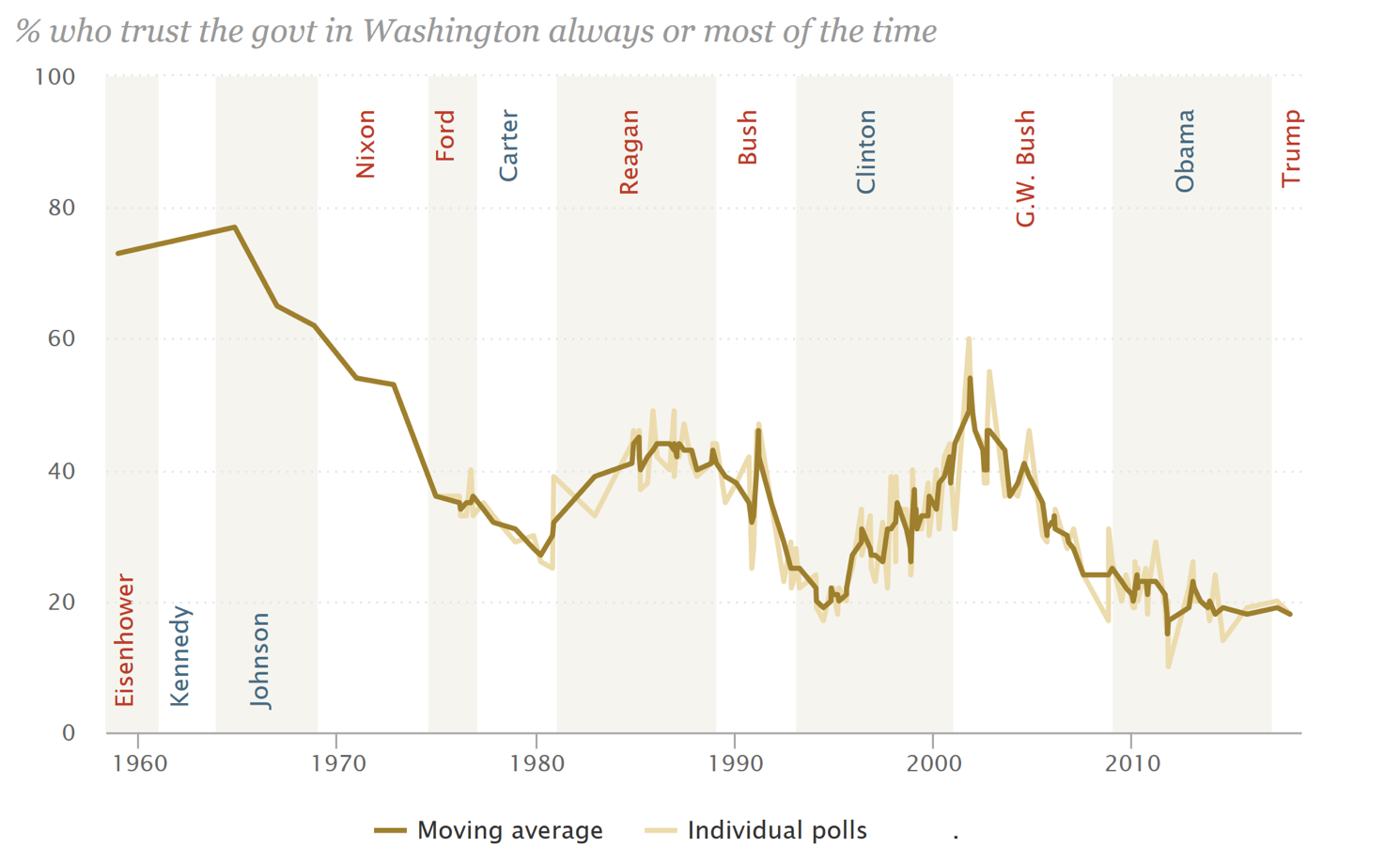 See the full deck, "Empowered America."
10. 1 fun thing: Candidates in cars getting casual
"Video ads of political candidates driving are a popular campaign gimmick, intended to show they are regular folks," the Wall Street Journal's Reid Epstein writes (subscription):
A "bipartisan convoy of more than 40 incumbents and challengers ... gab and grip the wheel in campaign ads, enough drivers to field a lineup for the Indianapolis 500."
"The driving gimmick is meant to convey a sense of accessible authenticity—someone caught by the camera in a workaday moment. The idea is to evoke trust and familiarity, a common touch."
Why it matters: "No candidate wants to make the same mistake as Hillary Clinton, a former first lady, U.S. senator and secretary of state, who acknowledged just before launching her 2016 presidential campaign that she hadn't driven since 1996."