Good Saturday morning. Situational awareness: The Washington Free Beacon, a conservative website funded by a major Republican donor, New York hedge-fund billionaire Paul Singer, in 2015 hired the research firm, Fusion GPS, that produced for Democrats the salacious dossier alleging ties between Trump and Russia, per N.Y. Times' Ken Vogel and Maggie Haberman.
https://www.axios.com/newsletters/axios-am-641314f6-5bd3-4de6-9c92-9607276d12b3.html?chunk=0#story0
1 big thing: What Mueller's move means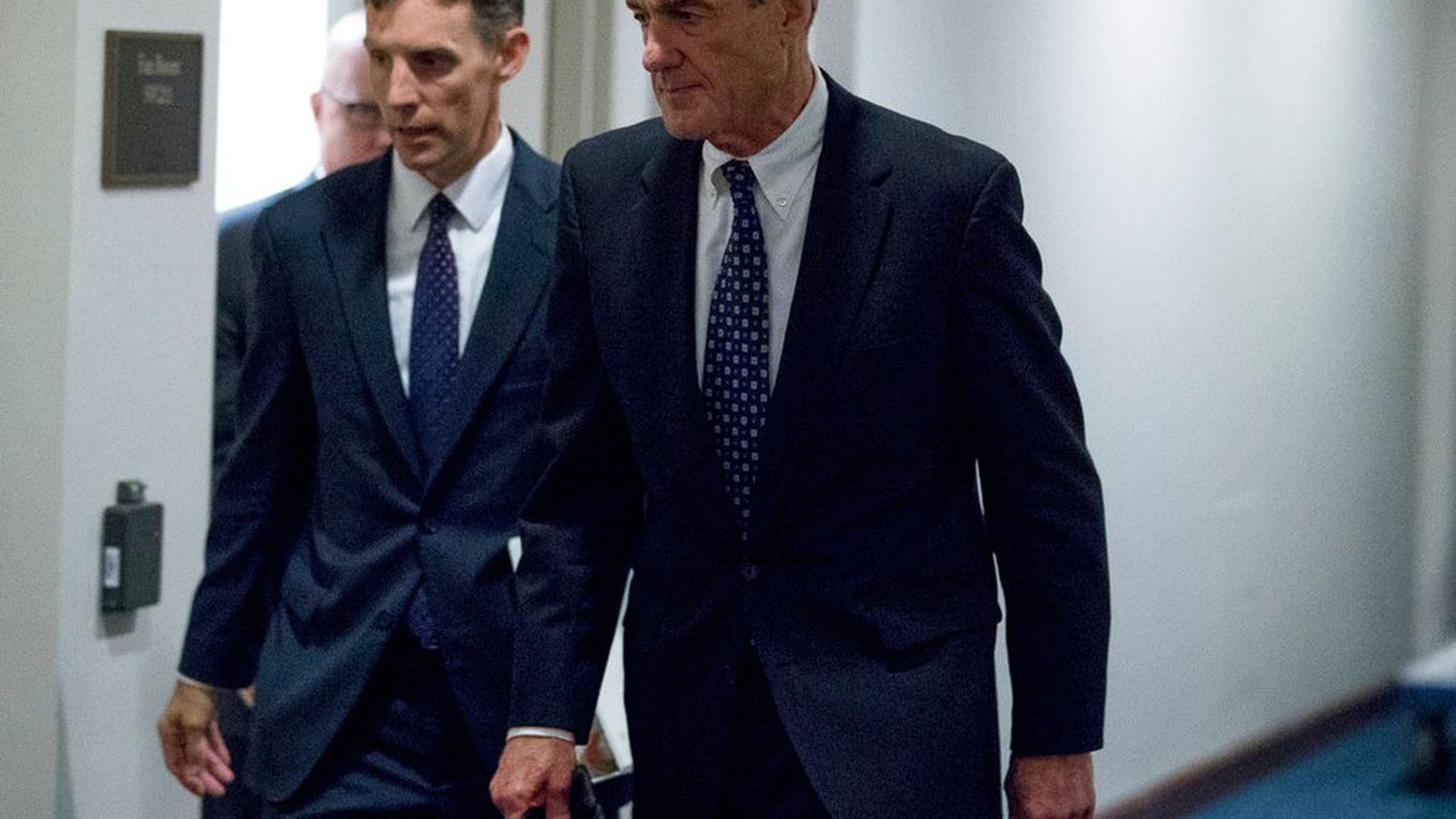 As soon as Monday, the Mueller investigation begins a new phase that moves it from background music in national politics to center stage, with massive stakes for President Trump and both parties.
What's new: "A federal grand jury in Washington [yesterday] approved the first charges in the investigation led by special counsel Robert Mueller," CNN scoops. "The charges are still sealed under orders from a federal judge. Plans were prepared Friday for anyone charged to be taken into custody as soon as Monday."
Why it matters, from MSNBC's Ari Melber: "[W]e're moving away from a political fight, where everyone can see it the way they want, and into ... a legal process — where there are rules of evidence, facts are established. ... Bob Mueller is known to be a pretty careful prosecutor."
Be smart ... Matt Miller — former Obama Justice Department official, and close Mueller watcher, emails me: "I think it means this will be a rolling investigation. Rather than conduct his entire investigation and then wrap things up with indictments and possibly a report at the end, he is doing it in stages, the way the Justice Department might attack a drug cartel or a mafia family."
Miller adds that this "is a watershed moment for the politics surrounding the investigation. In less than six months on the job, Mueller has already returned indictments.
"This isn't a fishing expedition or a witch hunt — it's an investigation that's already born fruit with a grand jury of regular Americans finding probable cause that a crime was committed."
https://www.axios.com/newsletters/axios-am-641314f6-5bd3-4de6-9c92-9607276d12b3.html?chunk=1#story1
2. Is Capitol Hill next?
"Congress makes its own rules about the handling of sexual complaints against members and staff, passing laws exempting it from practices that apply to other employers," the WashPost's Michelle Ye Hee Lee and Elise Viebeck write in a front-pager, "The high risk of reporting sexual harassment in Congress":
Why it matters: "The result is a culture in which some lawmakers suspect harassment is rampant. Yet victims are unlikely to come forward, according to attorneys who represent them."
"Like Hollywood, ... Capitol Hill ... is dominated by powerful men who can make or break careers. Congress has resisted efforts that could improve the culture such as making anti-harassment training mandatory in their offices."
Around the nation ... Boston Globe top of front page, "BEACON HILL'S DIRTY LITTLE SECRET ... Women describe climate of harassment at Mass. State House" — Commentary by Yvonne Abraham: "A dozen women who have worked in and around the State House over the past two decades described a climate of harassment and sexual misconduct."
L.A. Times A1 above fold, from Sacramento, "CAPITOL GROPING CLAIM LED TO REBUKE: Assemblyman [Raul Bocanegra], who was then a staffer, was disciplined in 2009."
P.S. CNN: "Four more women accuse Mark Halperin of harassment, bringing total to at least a dozen."
https://www.axios.com/newsletters/axios-am-641314f6-5bd3-4de6-9c92-9607276d12b3.html?chunk=2#story2
3. The nation's mood: "It's just messed up"
In Sunday's Post ... "Seven in 10 Americans say the nation's political divisions are at least as big as during the Vietnam War, according to a [Washington Post-University of Maryland] poll, which also finds nearly 6 in 10 saying Donald Trump's presidency is making the U.S. political system more dysfunctional," the WashPost's John Wagner and Scott Clement write:
Nine months into Trump's presidency, the poll "reveals a starkly pessimistic view of U.S. politics, widespread distrust of the nation's political leaders and their ability to compromise, and an erosion of pride in the way democracy works in America."
Why it matters: "Seven in 10 Americans say the nation's politics have reached a dangerous low point, and a majority of those believe the situation is a 'new normal' rather than temporary."
This is big: "Americans are feeling frustrated not only with the country's politics but their ability to talk about politics in a civil way."
https://www.axios.com/newsletters/axios-am-641314f6-5bd3-4de6-9c92-9607276d12b3.html?chunk=3#story3
4. The only story that matters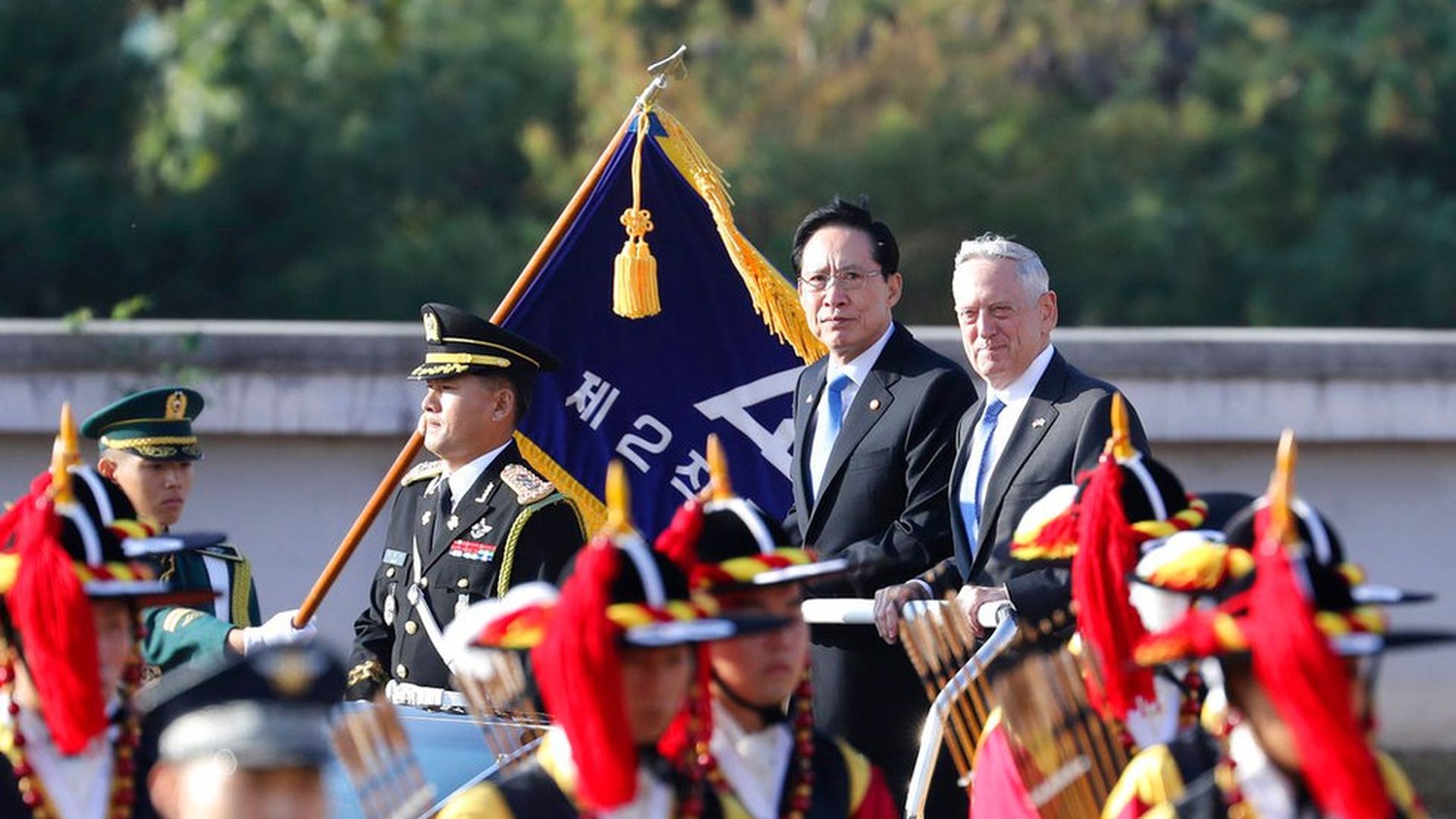 "Defense Secretary Jim Mattis said [today in South Korea that] the threat of nuclear missile attack by North Korea is accelerating," AP's Bob Burns reports from Seoul:
With "South Korean Defense Minister Song Young-moo at his side, ... Mattis said North Korea engages in 'outlaw' behavior and that the U.S. will never accept a nuclear North."
Mattis: "North Korea has accelerated the threat that it poses to its neighbors and the world ... I cannot imagine a condition under which the United States would accept North Korea as a nuclear power."
More Mattis: "[A]ny use of nuclear weapons by the North will be met with a massive military response that is effective and overwhelming."
https://www.axios.com/newsletters/axios-am-641314f6-5bd3-4de6-9c92-9607276d12b3.html?chunk=4#story4
5. Inside the JFK trove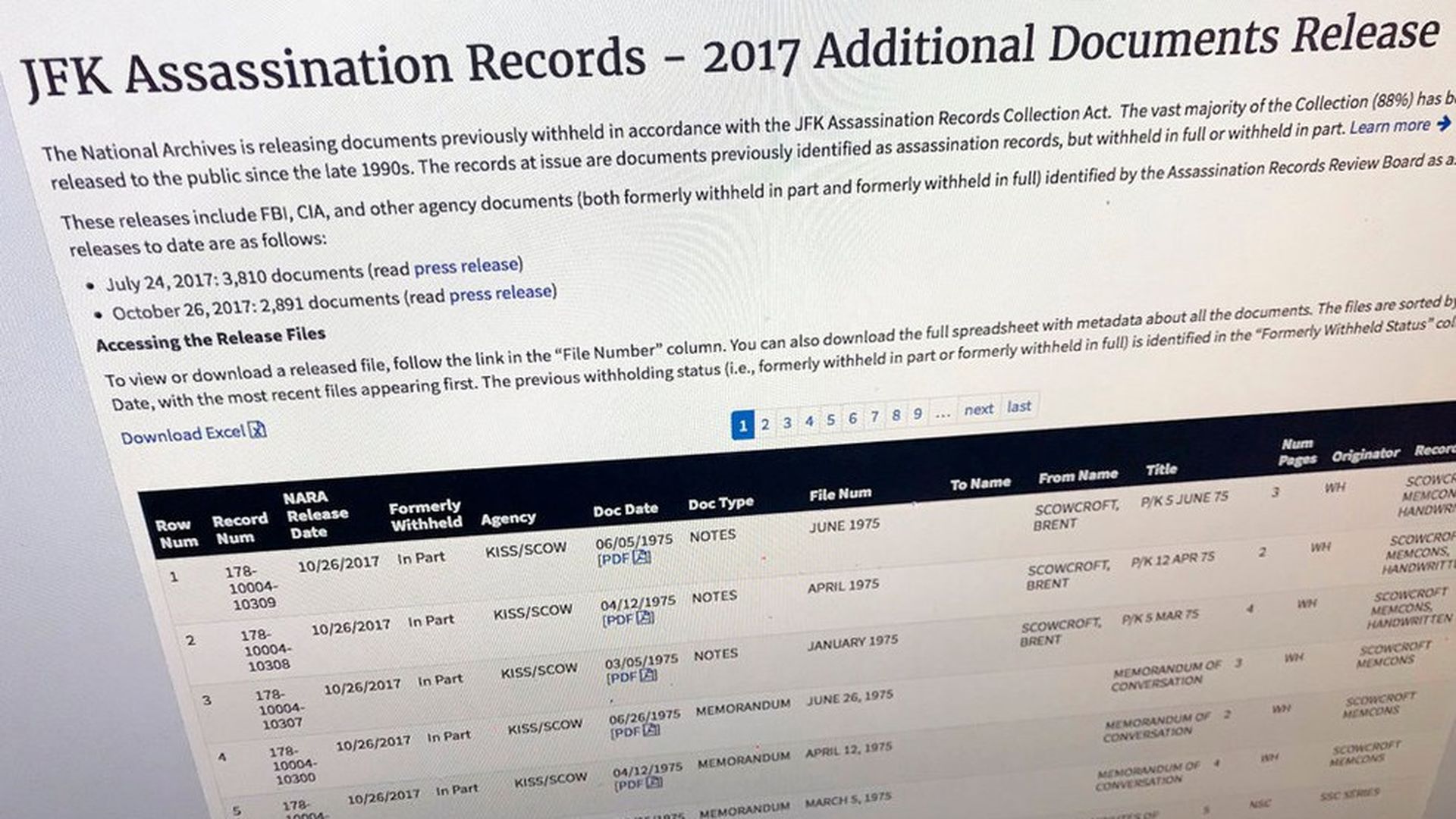 "Cuban assassination plots involving exploding seashells and poisoned swimsuits. Bounties on the heads of high-profile communists. A secretive investigation that tracked John F. Kennedy's assassin into Mexico." But, but, but ... "few if any major plot twists about what happened that day in Dallas in 1963."
That deft distillation is from the L.A. Times' Matt Pearce, who writes on A1: "[T]he files — which include secret FBI memos, handwritten notes from top White House officials, and CIA field reports — tell the story of America's paranoid underworld in the 1960s, where shadowy figures chased secrets at home and abroad and hatched plots to change the course of history."
"The newly released records shine a light on America's covert operations at a time when America was deeply suspicious of its Cold War adversaries, combating Soviet influence around the globe and engaging in disastrous attempts to overthrow communist revolutionaries in Cuba."
Go deeper ... "What we know from the JFK files," by Axios' Stef Kight and Haley Britzky.
https://www.axios.com/newsletters/axios-am-641314f6-5bd3-4de6-9c92-9607276d12b3.html?chunk=5#story5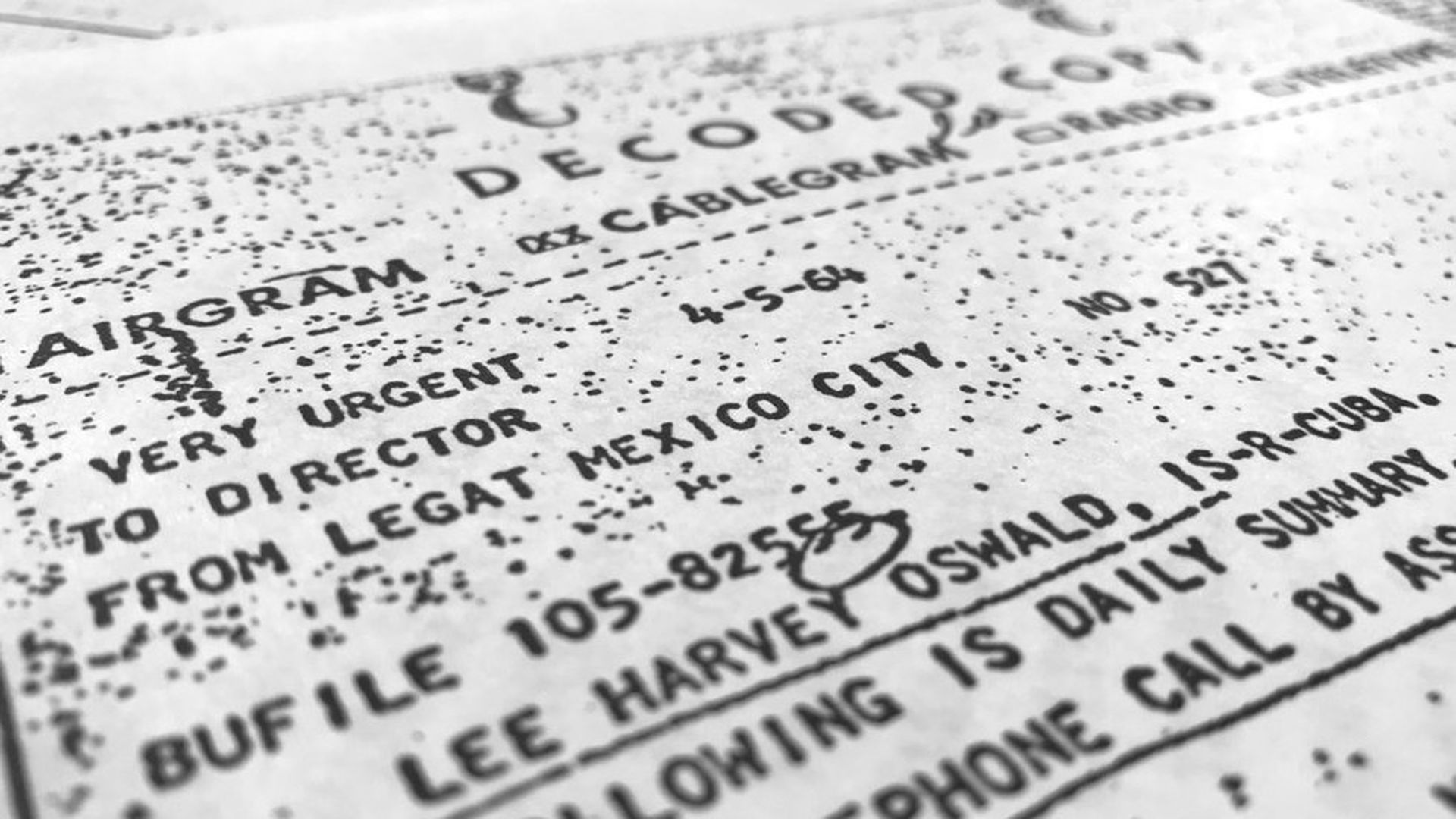 A file — dated April 5, 1964, and released Thursday — details efforts to trace Lee Harvey Oswald's travel from Mexico City back to the U.S.
https://www.axios.com/newsletters/axios-am-641314f6-5bd3-4de6-9c92-9607276d12b3.html?chunk=6#story6
6. Reality check
Shot ... Trump tweet this morning: "Very little reporting about the GREAT GDP numbers announced yesterday (3.0 despite the big hurricane hits). Best consecutive Q's in years!"
Chaser:
Wall Street Journal banner, "U.S. Economy Picks Up Steam: Despite hurricanes, U.S. consumers and businesses drove a six-month expansion ... U.S. economy has posted two consecutive quarters of growth above 3%."
N.Y. Times front page, "Economy's 3% Spurt Emboldens Tax Cut Supporters (and Critics)."
WashPost front page, "Economy shows strong growth, could provide GOP momentum."
https://www.axios.com/newsletters/axios-am-641314f6-5bd3-4de6-9c92-9607276d12b3.html?chunk=7#story7
7. Pic du jour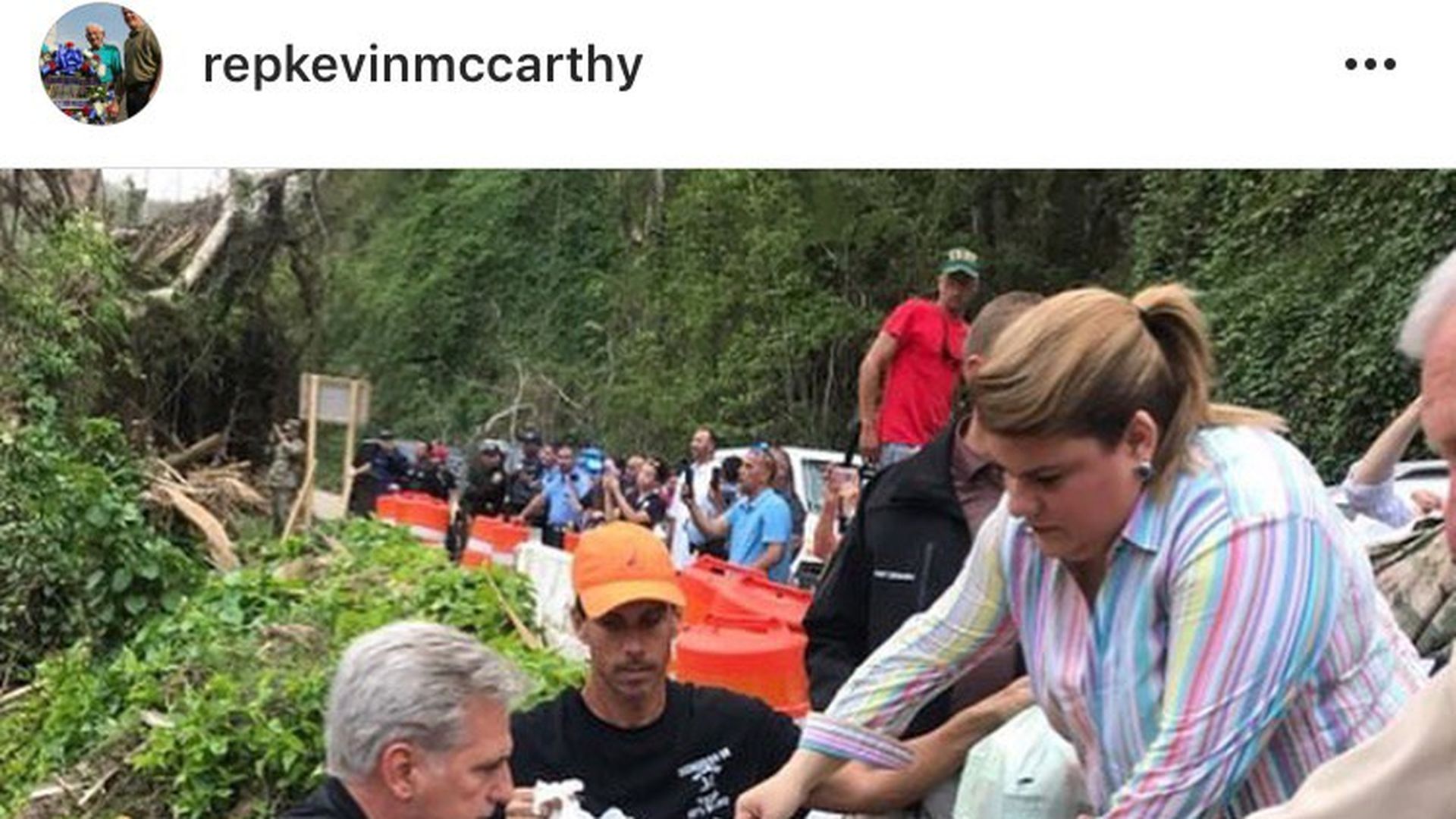 House Majority Leader Kevin McCarthy (R-Calif.) and House Democratic Whip Steny Hoyer (D-Md.), handing McCarthy the bag from top right, visited Utuado, Puerto Rico, yesterday with Jenniffer González-Colón, Puerto Rico's resident commissioner and the island's representative in Congress.
It's the first congressional delegation to visit the island's mountainous interior since hurricanes struck.
https://www.axios.com/newsletters/axios-am-641314f6-5bd3-4de6-9c92-9607276d12b3.html?chunk=8#story8
8. Column of the week
N.Y. Times' David Brooks, "The Week Trump Won":
"One hundred years ago on Friday, John Reed was in St. Petersburg watching Lenin, Trotsky and the rest of the Bolsheviks take over Russia. It was interesting to read his account, 'Ten Days That Shook the World,' this week — the week when Donald Trump and Steve Bannon solidified their grip on the Republican Party and America's national government."
"The Republican senators greeted Trump on Capitol Hill and saw a president so repetitive and rambling, some thought he might be suffering from early Alzheimer's. But they know which way the wind is blowing. They gave him a standing ovation."
Why it matters: "This is like 1917, a clash of political, moral, economic and social ideologies all rolled into one."
https://www.axios.com/newsletters/axios-am-641314f6-5bd3-4de6-9c92-9607276d12b3.html?chunk=9#story9
9. If you click only 1 thing: "How to Be a C.E.O."
The N.Y. Times' "Adam Bryant has interviewed 525 chief executives through his years writing the 'Corner Office' column. Here's what he has learned":
'[T]hey share a habit of mind that is best described as 'applied curiosity.' They tend to question everything. They want to know how things work, and wonder how they can be made to work better. They're curious about people and their back stories."
"C.E.O.s seem to love a challenge. Discomfort is their comfort zone."
"They focus on doing their current job well, and that earns them promotions. ... [M]any people can seem more concerned about the job they want than the job they're doing."
https://www.axios.com/newsletters/axios-am-641314f6-5bd3-4de6-9c92-9607276d12b3.html?chunk=10#story10
10. 1 fun thing: What pirates watch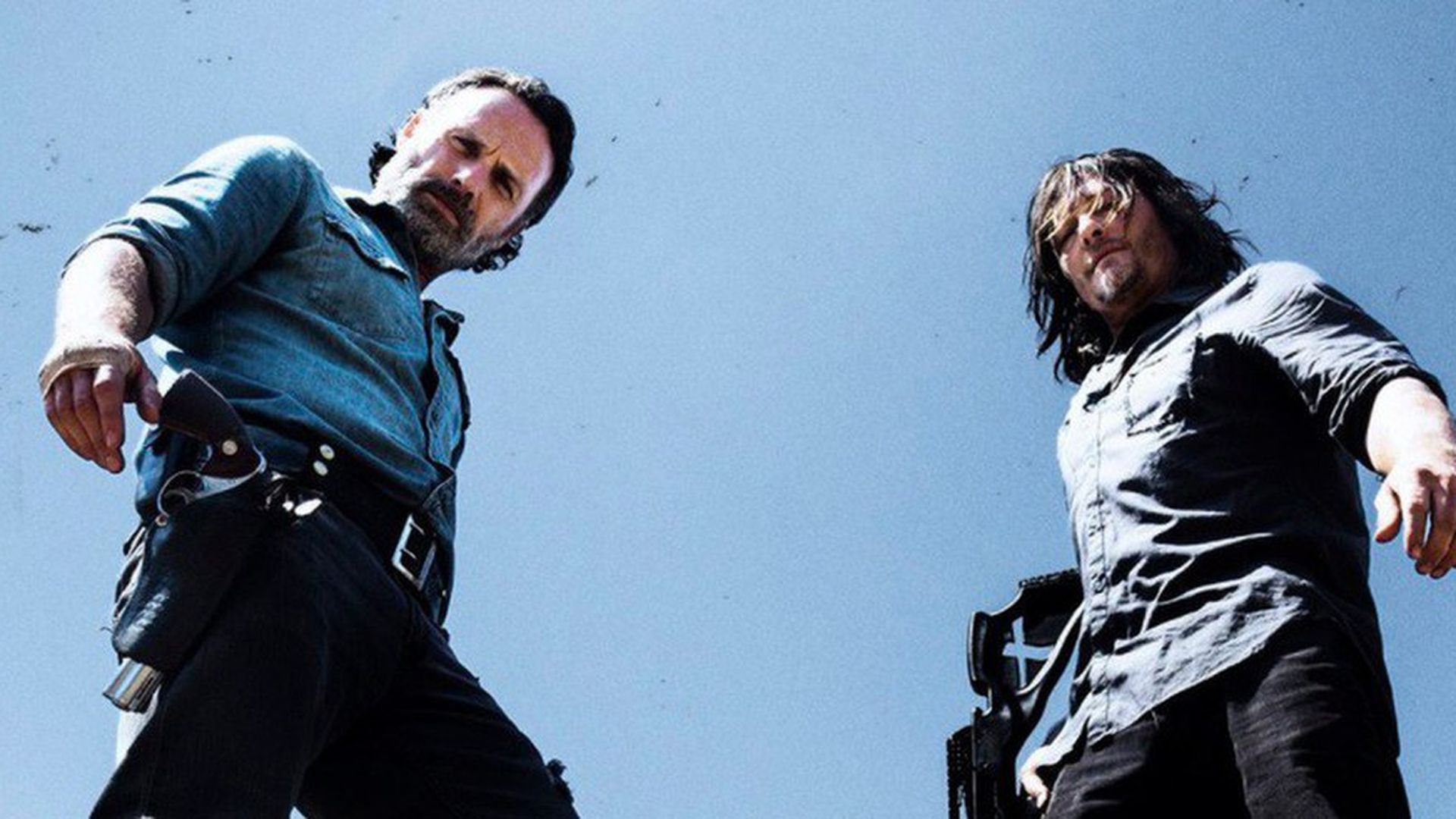 When the eighth season premiere of "The Walking Dead" aired last weekend to a five-year ratings low, AMC's zombie series also sustained a severe dip in online piracy, Axios' Shane Savitsky writes:
Users torrenting this year's premiere were down 42% from last year, according to piracy measurement service TECXIPIO.
Inside the numbers: A 2013 Columbia University study indicated that pirates are overwhelmingly likely to be younger and more technologically savvy — exactly the target audience a network would desire for driving a zeitgeisty television series.
State of play: According to TorrentFreak, "The Walking Dead" was the second most-torrented show of last year — though it fell far behind "Game of Thrones" in the top spot.
"Dead" spot: At 16 episodes per season, the show is already super-sized when compared to other prestige shows, which tend to include 10 to 12 episodes in each season.
Why it matters: In an age of seemingly endless entertainment options, engaged viewers demand an experience that will have some sort of payoff for their time investment. That puts "The Walking Dead" in an awkward position as some of its most acclaimed competitors — like "Game of Thrones" and "The Americans" — will soon kick off their long-planned final seasons.
Next for "Thrones": HBO announced last year that the seventh and eighth seasons of "Game of Thrones" would be the last — and would be shortened to single-digit episode orders to condense the show's action and maximize its budget. The seventh season finale, aired in August, was the network's highest rated episode ever.
Stunning stat: The "Thrones" seventh season as a whole was pirated over a billion times.