January 04, 2019
🏈🏀⚾️🏒🎾 ⛳ Beginning Monday, Axios brings Smart Brevity to sports.
Sports Internet founder Kendall Baker has joined us to write Axios Sports, a concise daily newsletter featuring the top stats, highlights, athletes and storylines.
Kendall, who'll be joined by Axios veteran Michael Sykes, says: "When I launched Sports Internet, the description I wrote in my notepad read: 'Axios but for sports.' ... I've been inspired by their formatting, style and brevity since day one."
1 big thing: Why 2020 should be different for women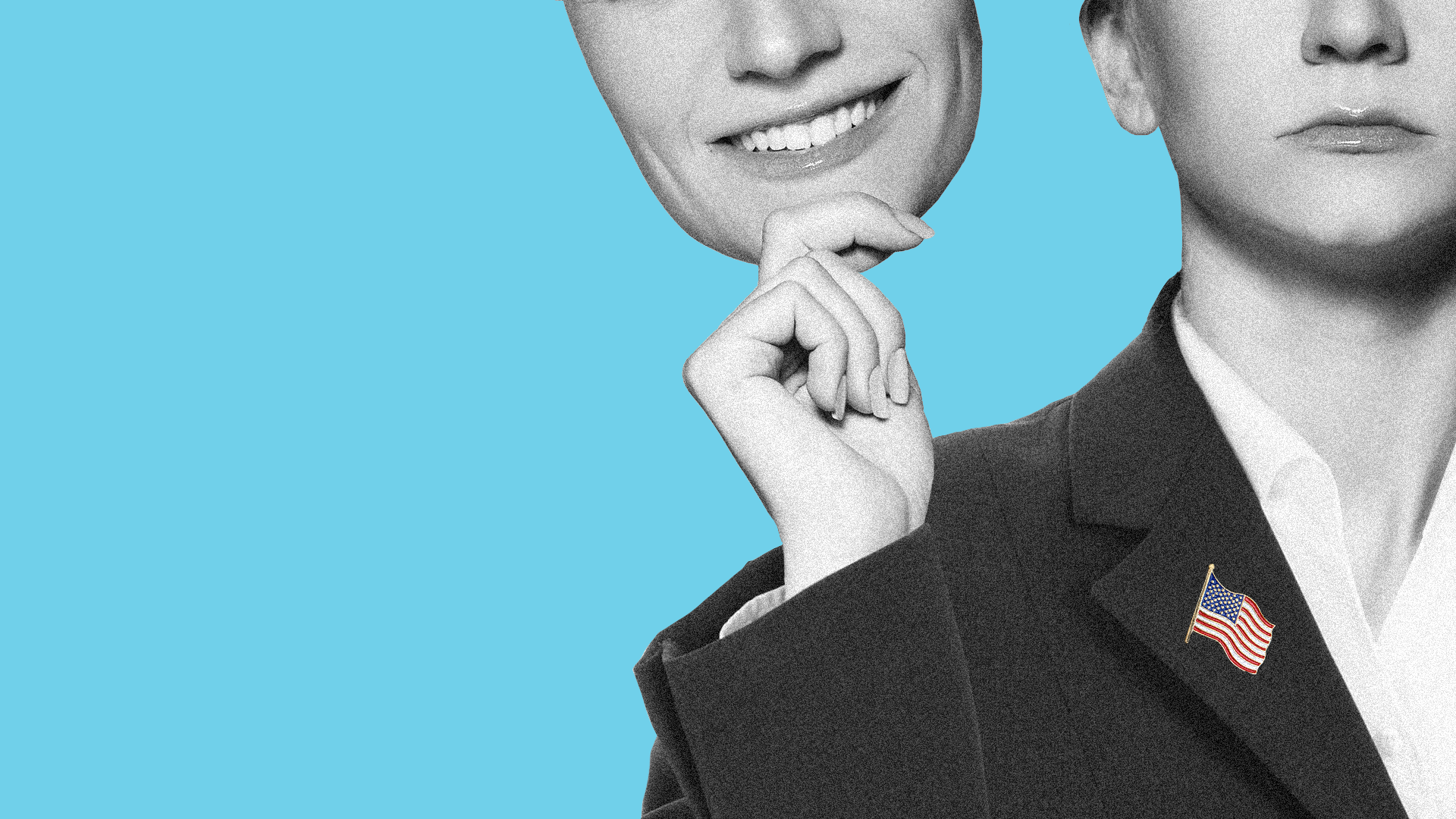 For the first time in a presidential election, 2020 could see multiple women running for the White House — and that could finally break the cycle of gender-based criticism that plagued Hillary Clinton in 2016, Axios' Alexi McCammond writes:
Why it matters: We're fresh off the 2018 "Year of the Woman," Nancy Pelosi just re-claimed the gavel as House speaker, and there could be as many as four Democratic women (Sens. Elizabeth Warren, Kamala Harris, Amy Klobuchar and Kirsten Gillibrand) running for president in 2020.
Although female candidates will certainly face some sexist tropes this time around, the political landscape and conversation around women running for higher office has changed since '16.
Safety in numbers: "With more women in the race," said Jennifer Palmieri, Clinton's former communications director and White House communications director under Barack Obama, "you're less likely to become a caricature of ambition and more likely to have your qualities come to the fore."
Why it matters: Jennifer Lawless, politics professor at the University of Virginia, said the 2020 election will not be about "one woman versus the male presidency we've always had." Instead, "It's going to allow for a really serious conversation about the extent to which Americans are sexist."
The thinking goes that if multiple women are running and voters still throw out intangible criticisms like, "There's something about her I just don't like," then it's not just a Clinton problem.
Between the lines: The change isn't complete. The same day that Warren announced she's exploring a run for president, a debate emerged over whether she's vulnerable to the same criticisms Clinton faced — that she's cold and unlikable.
Warren has mostly dealt with the issue by ignoring questions about it, telling reporters this week that she'll "keep fighting the issues because I think that's what matters most."
But she did poke fun at the criticisms by tweeting: "I hear women candidates are most likable in the quiet car!"
The challenge: Because people aren't as used to seeing women in executive positions, especially as president, female candidates have had to remain likable and friendly, while demonstrating the competence to be commander-in-chief.
"I don't think we appreciate how deeply set our expectations of how women are meant to behave are set," said Palmieri. "[W]e're pushing against all of human history here."
"The expectations are just so much higher in terms of what the public wants from a woman," said Adrienne Elrod, former director of strategic communications for Clinton's campaign in 2016. "They want someone warm, friendly, grandmother-like, and also a hard-charger who can go into a meeting with 10 male foreign leaders and crush the meeting."
Clinton campaign operatives considered Warren one of their most effective surrogates in '16 because of her ability to get under Trump's skin. Now they say she should take a page out of his playbook when dealing with the attacks.
"Trump never lets anything go unanswered," said Philippe Reines, a former Clinton adviser who has worked with her since 2002. "If you don't stand up for yourself, I'm not exactly sure why you'd expect people to vote for you thinking you'd stand up for them."
2. Madame Speaker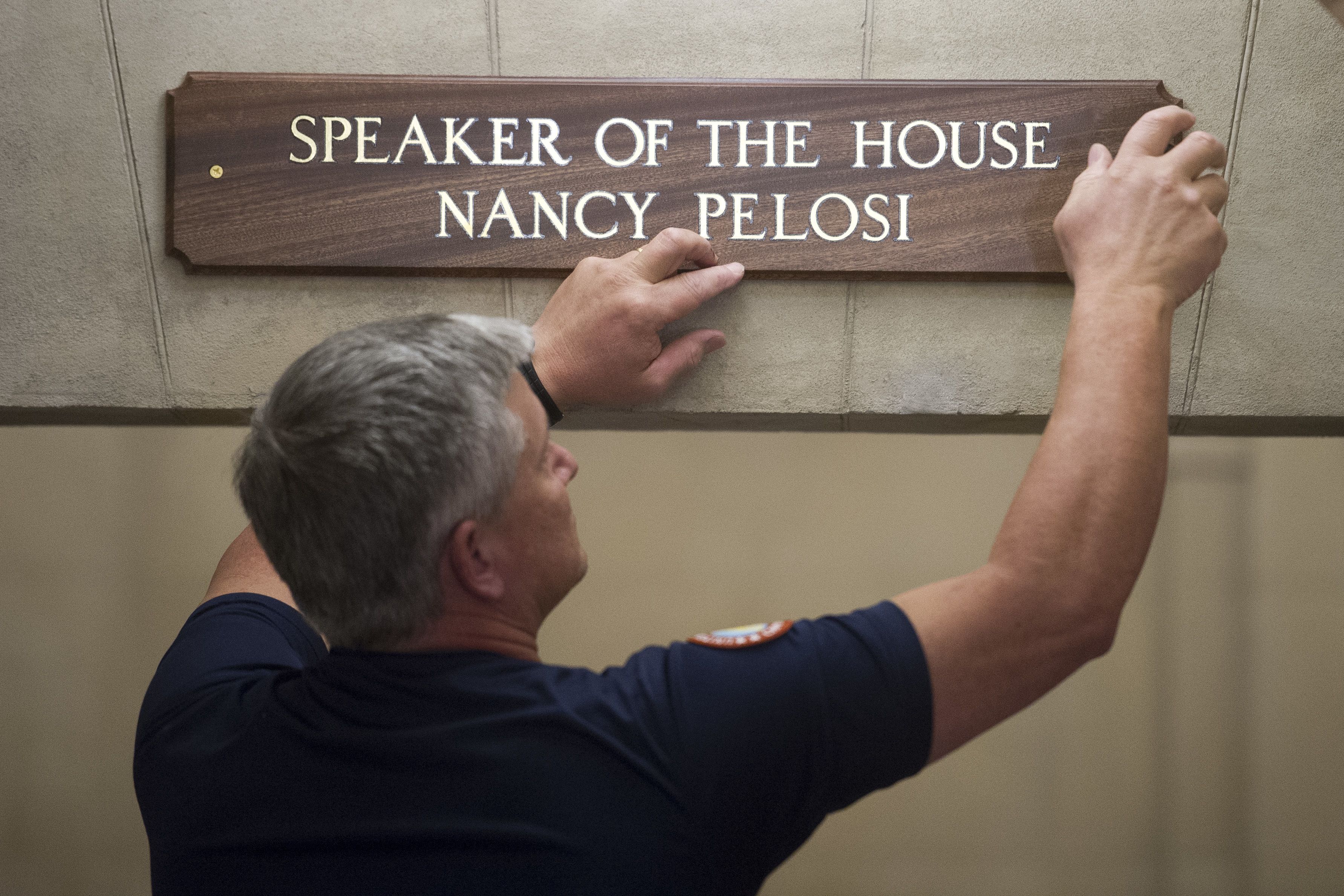 Divided government returned to America with a day of celebration for Democrats that swept Capitol Hill with new diversity and determination.
"We've had so little joy in politics in these last months," historian Doris Kearns Goodwin said on MSNBC. "So, to see families together at this moment, to see the joy of new people thinking that maybe things will be different — that maybe there something will change and this fever will break."
But reality bites. Seven and a half hours after Pelosi took the gavel, the newly empowered Democrats passed a plan to re-open the government without funding for President Trump's wall — a measure that's already dead because the Republican-controlled Senate won't take it up.
Pelosi told reporters at a news conference last night: "We're not doing a wall. Does anyone have any doubt that we're not doing a wall?"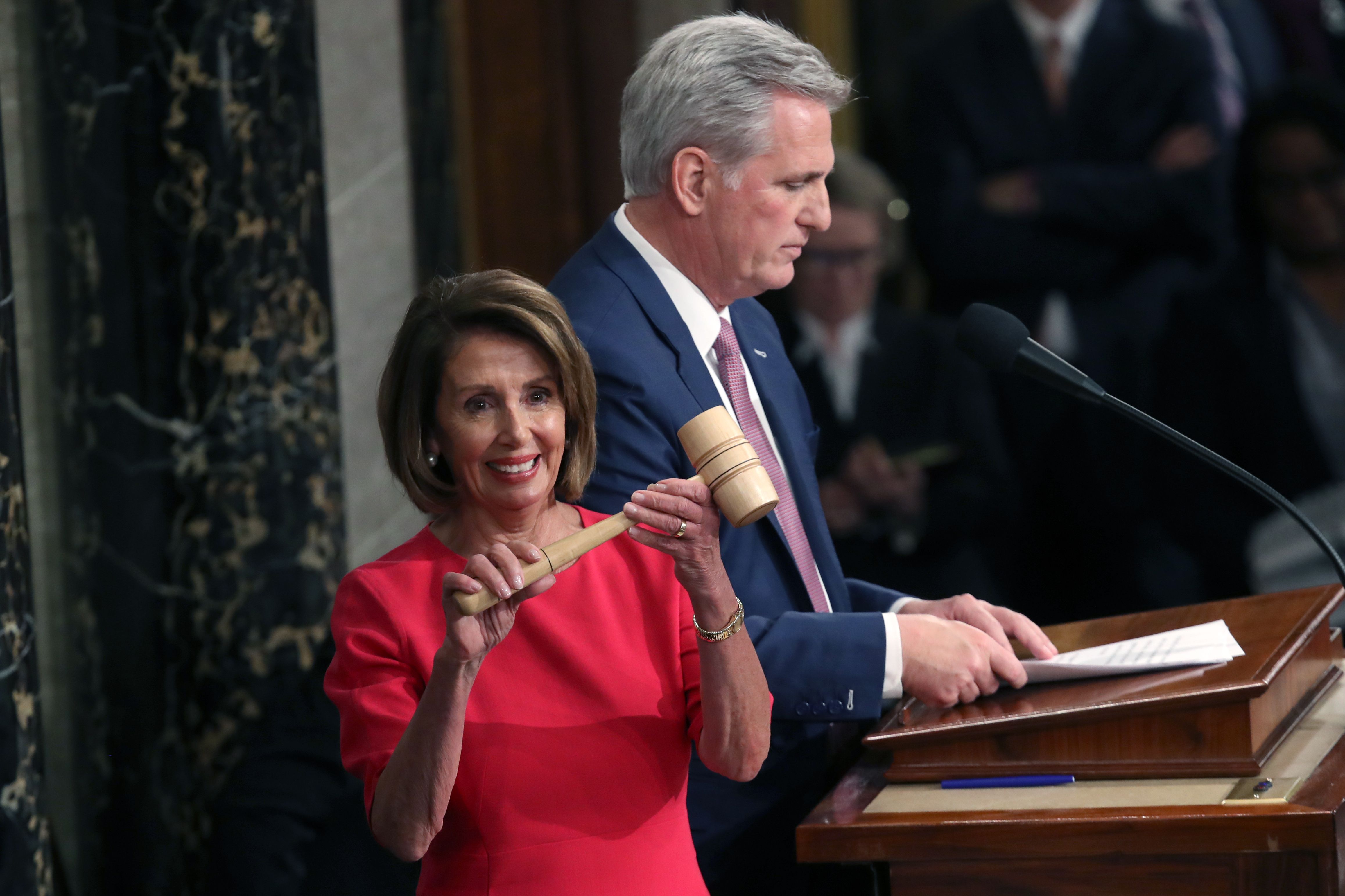 Above, Pelosi and a fellow Californian, Rep. Kevin McCarthy, the new leader of the House Republicans.
N.Y. Times Quotation of the Day ... McCarthy: "To the speaker of the House, Ms. Pelosi, I extend to you the gavel."
Below, Pelosi celebrates with her grandchildren and other kids in the chamber.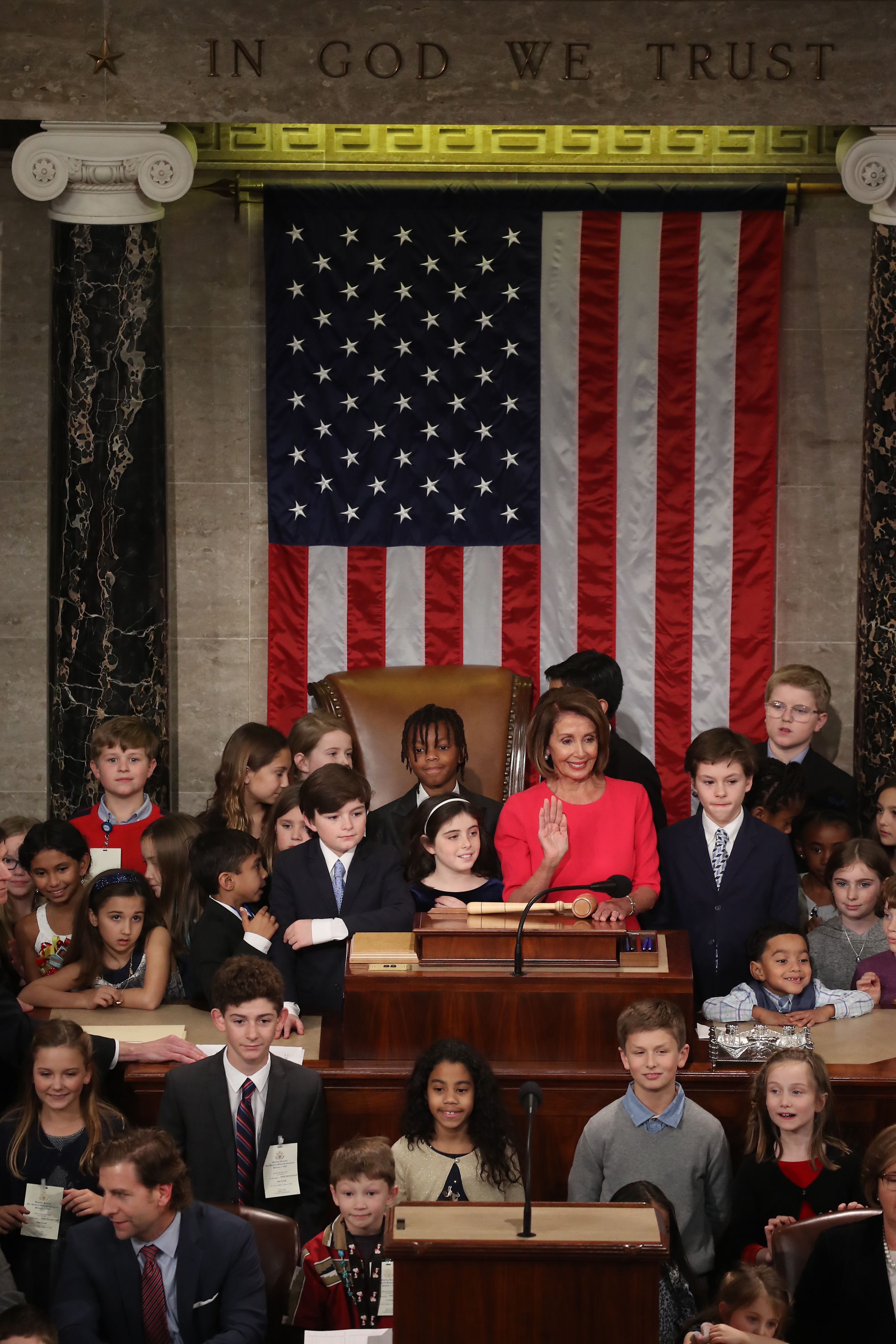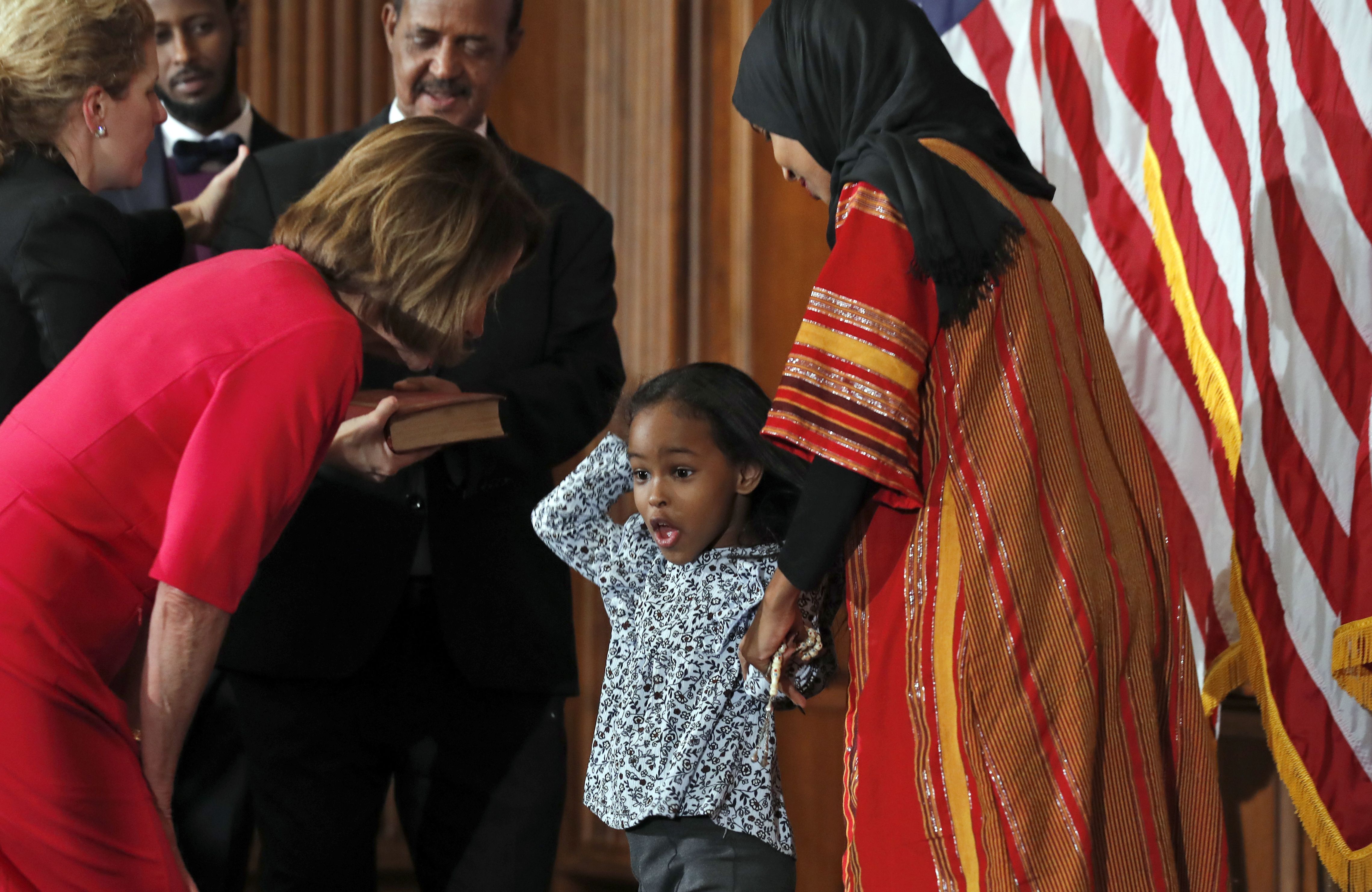 Above, Pelosi greets a child with Rep. Ilhan Omar (D-Minn.), the first Somali-American elected to Congress, during a ceremonial swearing-in.
Below, Rep. Alexandria Ocasio-Cortez (D-N.Y.) takes a selfie with Rep. Ann McLane Kuster (D-N.H.) and Rep. Barbara Lee (D-Calif.).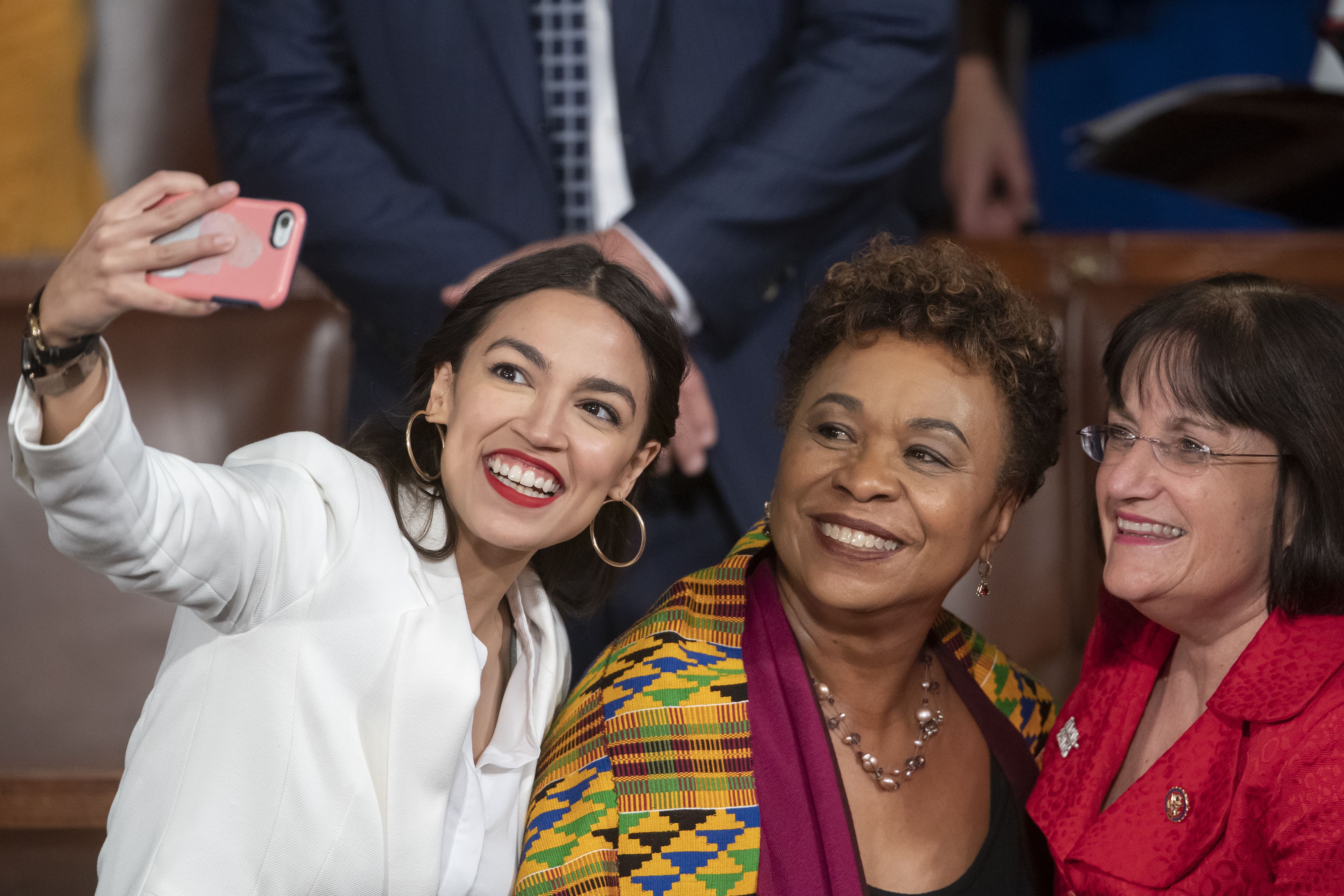 3. Scoop: Courting Hillary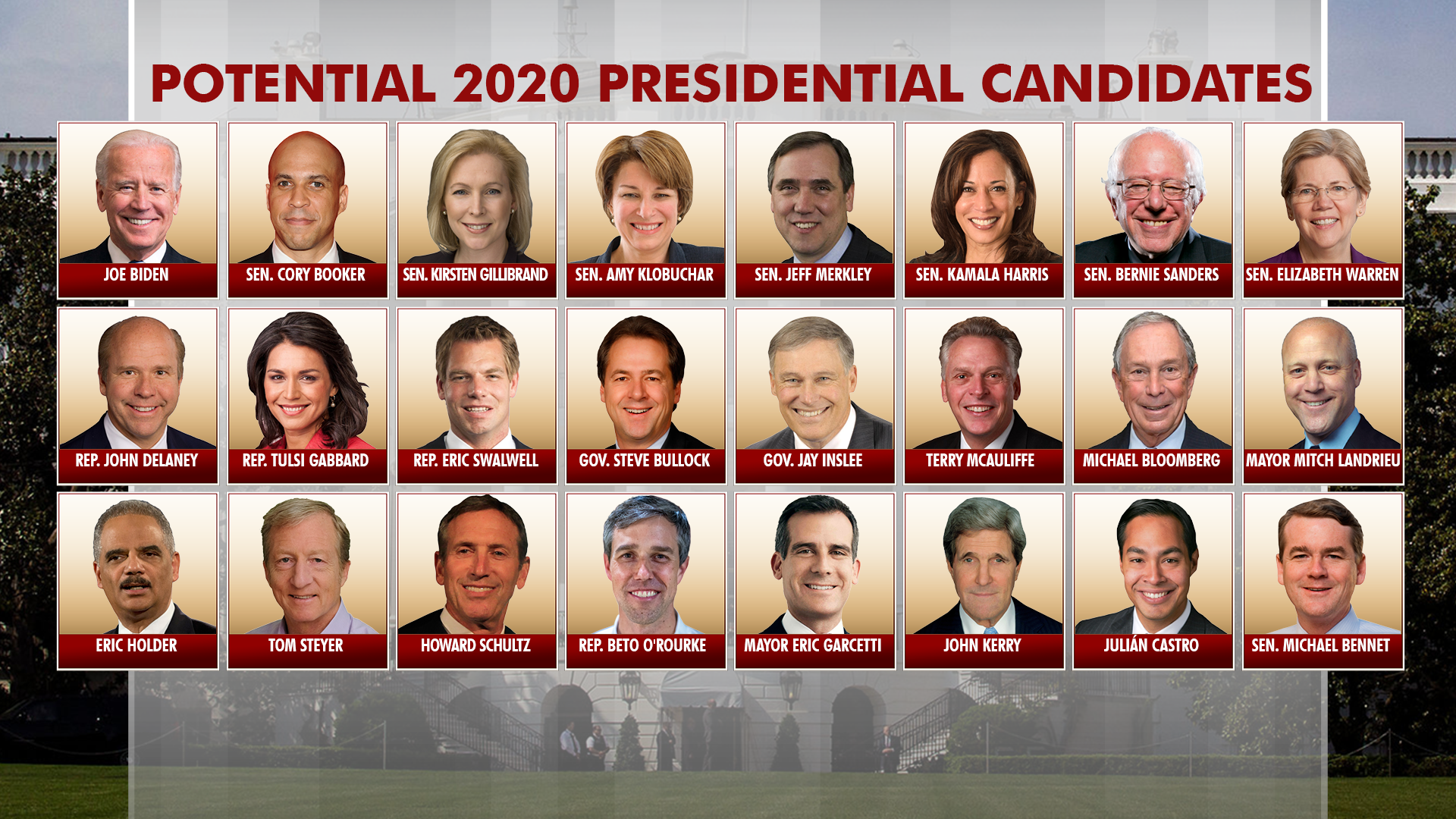 Several possible 2020 candidates have sought advice from Hillary Clinton, and she has meetings scheduled with additional hopefuls.
"A bunch have picked her brain," a longtime Clinton confidant said.
Clinton discussed the next presidential race with Sen. Elizabeth Warren, Sen. Cory Booker, Colorado Gov. John Hickenlooper and L.A. Mayor Eric Garcetti, according to the confidant.
I'm told this has been going on for months and will continue, since Clinton will talk to any Democrat who wants to talk. (Plus, she sees people incidentally all the time.)
"Hillary wants Trump gone," the confidant said. "She doesn't know who's best able to beat him, but she knows about grueling nomination fights."
The potential candidates "know tens of millions of Democrats love Hillary and want her to try again."
"The savvy ones know she's the most valuable endorser in the party not named Obama."
Nick Merrill, Clinton's spokesman, told me: "I won't comment on private discussions she's had except to say that she's more than happy to talk to anyone considering a run about the challenges (as well as the great things) that go with it, and lessons learned on what to watch for in this next cycle (aside from Vladimir)."
4. Pic du jour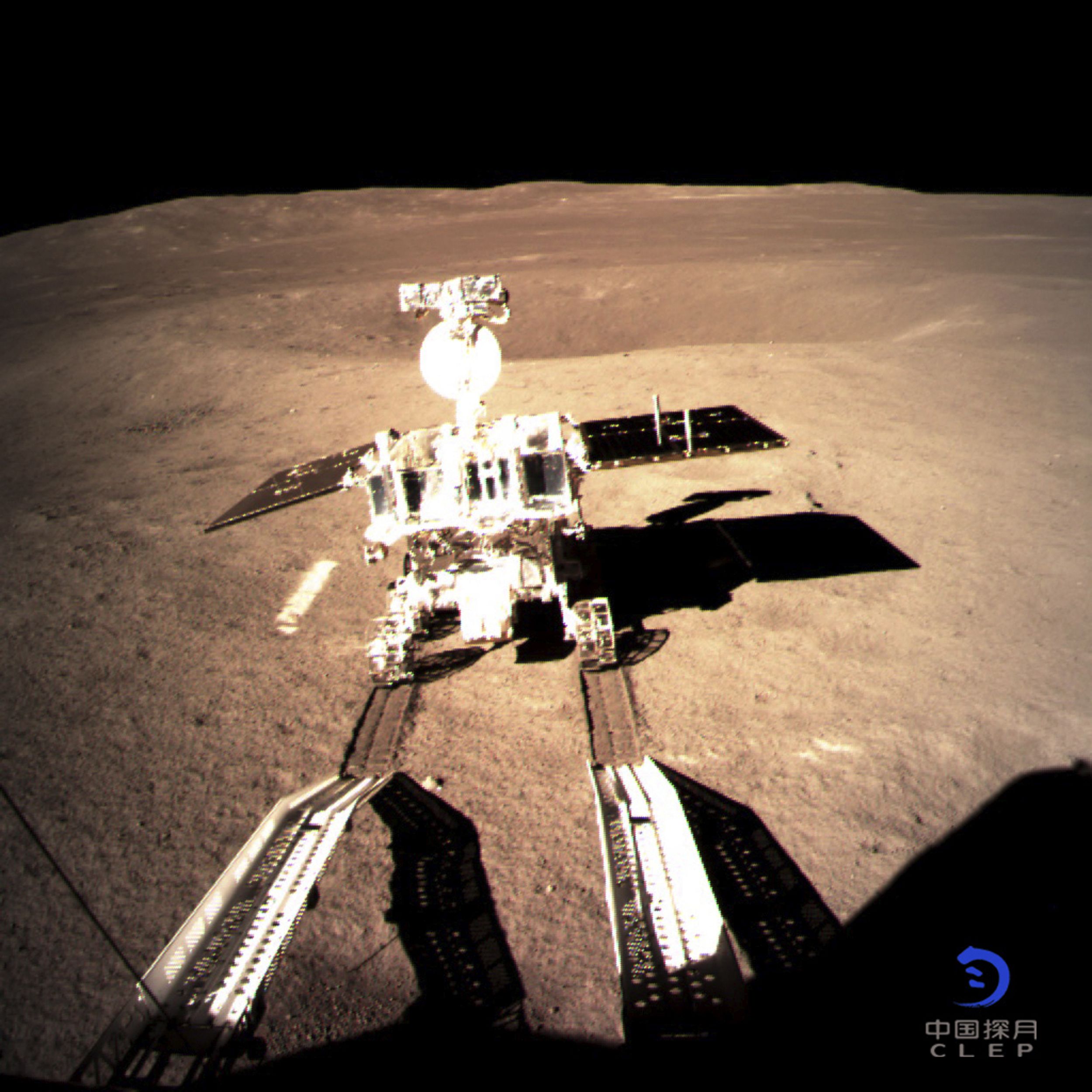 Yutu-2, China's lunar rover, leaves wheel marks after leaving the lander that touched down on the surface of the far side of the moon.
"It's a small step for the rover, but one giant leap for the Chinese nation," Wu Weiren, the chief designer of the Lunar Exploration Project, told state broadcaster CCTV. "This giant leap is a decisive move for our exploration of space and the conquering of the universe." (AP)
5. Day 14: Shutdown could break record
A week from tomorrow, the partial government shutdown would break the 21-day record set in 1995 under Bill Clinton, Axios managing editor David Nather points out.
With congressional leaders headed to the White House for an 11:30 a.m. meeting (in the Situation Room again), there's no sign of a solution.
6. Stat of the day, sentence of the day (both Apple)
"Apple just lost a Facebook: Market value decline since peak exceeds value of nearly any US company," per CNBC's Michael Sheetz:
"Apple has lost $452 billion in market capitalization since Oct. 3," down 39%.
"With its market cap down to about $674 billion, those losses are larger than individual value of 496 members of the S&P 500 — including

Facebook."

"Microsoft, Amazon, Alphabet and Berkshire Hathaway are the only S&P 500 members with larger market caps than Apple's loss since its recent high."
The big idea ... Kara Swisher writes for the N.Y. Times: "The last cool set of companies — Uber, Airbnb, Pinterest and, yes, Tinder — were created many years ago, and I cannot think of another group that is even close to as promising."
"Well, rental scooters."
"Where is that next spark that will light us all up?"
7. Respite for unskilled workers
The unemployment gap between skilled and unskilled workers has been shrinking, Axios' Courtenay Brown writes:
In fact, the unemployment rate in November dropped for those without a high school diploma and high school dropouts, and edged higher for people who were more educated.
What's going on: The recovery is consistently helping less-educated workers find jobs. But cracks are beginning to show in industries like manufacturing, which are likely to hire them.
The tightest labor market since 1969 is forcing companies to consider workers they may have overlooked when the unemployed pool provided more options.
Walt Disney and Yum Brands are offering upfront college tuition for their less-educated employees, "reversing the norm that requires workers to get the degree before launching a career," the Wall Street Journal reports.
Our Markets newsletter debuts Monday. One-click sign-up here.
8. U.S. warns Americans in China
U.S. citizens living in China got an ominous travel advisory yesterday from the State Department with the subject line, "China — Level 2: Exercise Increased Caution":
"Exercise increased caution in China due to arbitrary enforcement of local laws as well as special restrictions on dual U.S.-Chinese nationals."
"Chinese authorities have asserted broad authority to prohibit U.S. citizens from leaving China by using 'exit bans,' sometimes keeping U.S. citizens in China for years."
Here's the backstory, from the N.Y. Times' Liam Stack: "The rights of foreign nationals in China have received renewed focus because of public concern over the fate of an American family barred from leaving the country, Sandra Han and her two adult children, Victor and Cynthia Liu."
"The travel advisory issued by the State Department [yesterday] was a routine renewal of a similar warning issued in January 2018."
"The arrest in Vancouver last month of Meng Wanzhou, an executive of the Chinese tech giant Huawei, has also raised the specter of potential retaliatory arrests of Americans or Canadians in China."
9. "ICE came for me"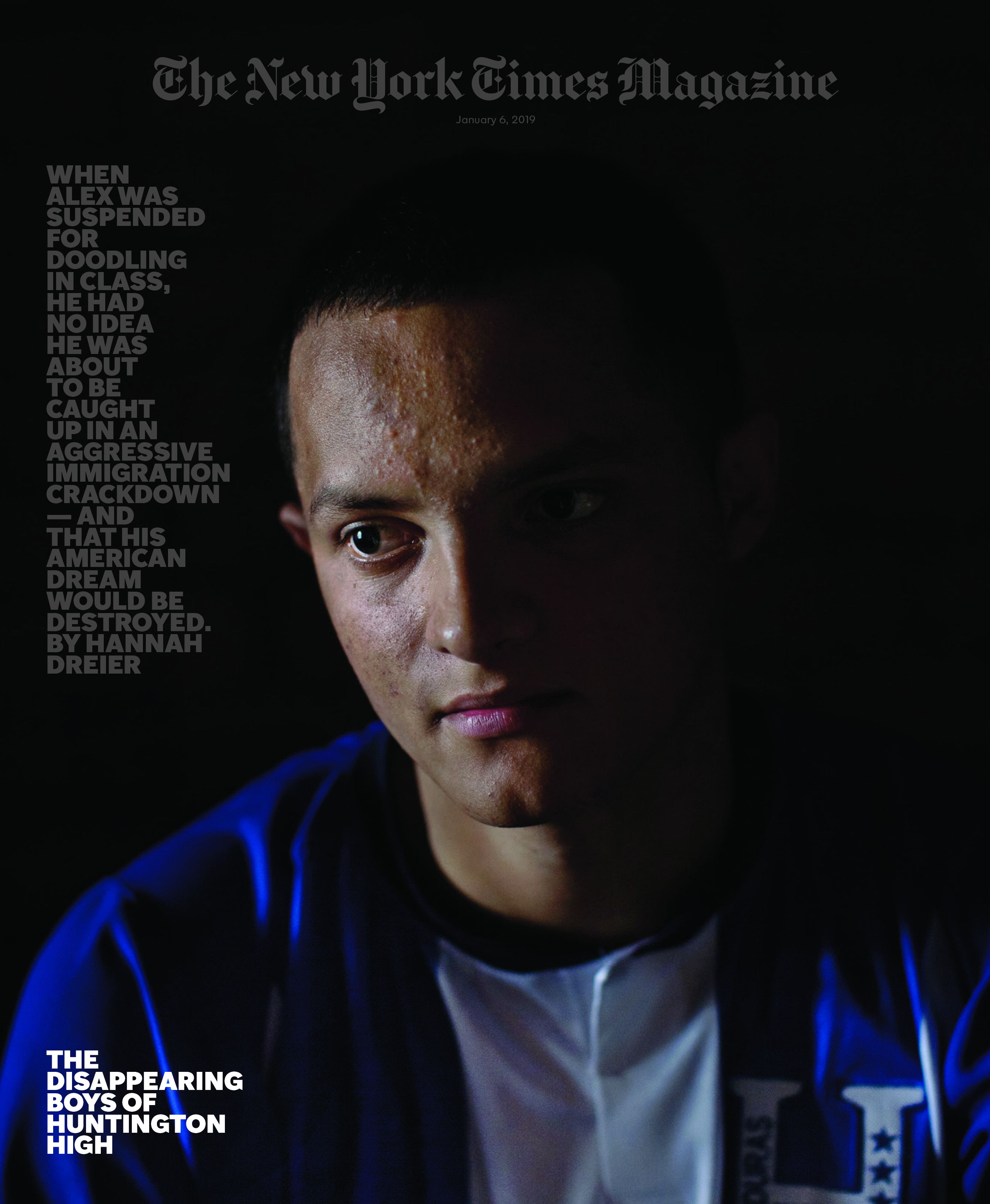 "How a Crackdown on MS-13 Caught Up Innocent High School Students: The Trump administration went after gang members — and instead destroyed the American dreams of immigrant teenagers around the country," by Hannah Dreier (a collaboration between The Times and ProPublica):
"Gang affiliation on its own is not a crime, but it can be grounds to detain undocumented immigrants or people legally seeking asylum."
"ICE began using what are called 'administrative arrests' to pursue known gang members and 'gang associates,' who had no criminal records but who, ICE argued, were dangers to the community."
"To identify them, ICE agents met with police commissioners around the country and asked them to pass on names from databases that they used to track people they believed were involved with gangs."
10. 1 dating thing
New frontier for online dating, from Mandy Ginsberg, CEO of Match Group Inc., which includes Tinder, Hinge, OkCupid, PetPeopleMeet.com, Plenty of Fish and LDSPlanet.com (via Wall Street Journal):
"Video is going to play a role. Whether people ultimately meet face to face, which I hope they do, even having that connection and that video connection ... is going to be really important. We need to look in each other's eyes, and we need to be able to share each other's lives, even if it's for five minutes."