Axios AM
March 29, 2018
🌞 Good Thursday morning!
Breaking ... North and South Korea will hold their first summit in more than a decade on April 27 in the border truce village of Panmunjom.
Situational awareness: 365 days till Brexit, when the U.K. officially leaves the European Union after 46 years.
1 big thing: How to thrive in Trumpland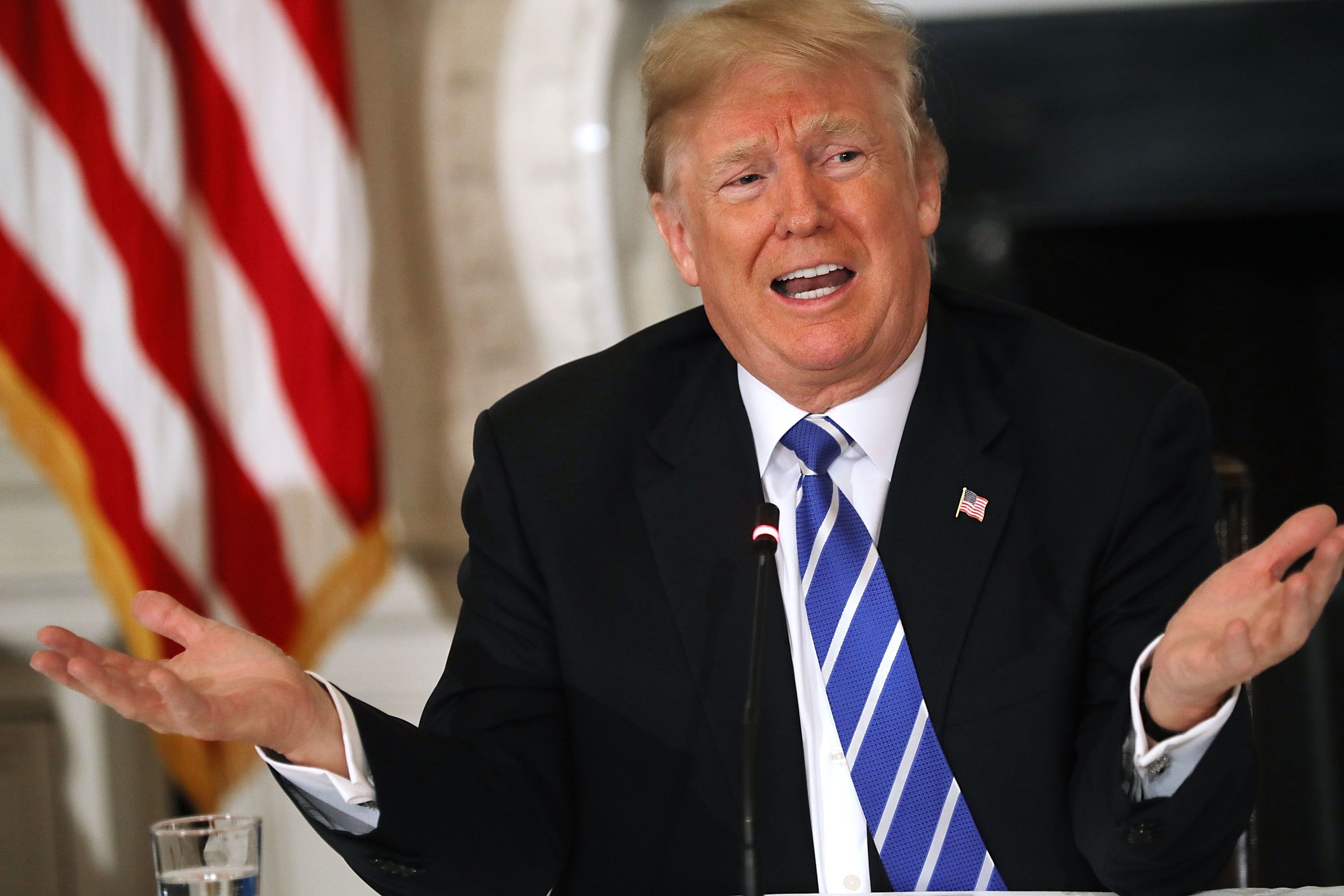 It's no secret what it takes to get booted from the Trump administration:
Annoy the president with wordy, nagging disagreements. (Ask outgoing national security adviser H.R. McMaster.)
Call him a moron. (Ask outgoing Secretary of State Rex Tillerson.)
Or make it seem like you are the puppet master. (Ask former senior strategist Steve Bannon.)
The real mystery: How does anyone survive in the wild West Wing? Based on countless conversations that Jonathan Swan and I have had with aides past and present, here's how: 
1. Flatter and defend the boss.
Even better if you do it on TV. Stephen Miller is the master of this genre. He rarely appears on TV. But when he does, he deploys Trumpian hyperbole. When the media and courts were undercutting Trump's initial botched travel ban, Miller told CBS that the powers of the president to protect the country "will not be questioned."
More recently, Miller told CNN: "The president is a political genius."
Kellyanne Conway is another master of this genre, and she gets extra points from Trump for appearing on combative shows like Brian Stelter's "Reliable Sources" on CNN.
Cautionary note: Too much media exposure — especially when the aide becomes the story — can be deadly. The Mooch went from Air Force One to unemployed in 11 days.
2. Work on esoteric topics.
"I guess there's also the approach of not getting close enough to him that he knows who you are or you become a perceived threat to someone else," one White House official said when we asked how to survive in this administration.
Out of Trump's sight and out of Trump's mind is the safest place to be in his administration. Energy Secretary Rick Perry deliberately took a low-key, low-media approach when he arrived in Trump's Washington. The result: Trump doesn't see him as a headache the way he does some of the other cabinet secretaries who are constantly in the news for the wrong reasons.
Chris Liddell led an office that West Wingers privately mock as ineffectual — Jared Kushner's Office of American Innovation. And yet Chief of Staff John Kelly recently promoted Liddell to the potentially powerful role of deputy chief of staff for policy coordination. Liddell is a quiet, serious man, who has made few, if any, enemies in the building.
3. Bash trade and China — and believe it.
First, the globalists tried to get rid of trade adviser Peter Navarro. Then they sidelined him — hoping they could leave him with his arcane anti-China charts in the bureaucratic Siberia of the Eisenhower Executive Office Building.
Even Navarro's friends thought he was cooked when he was forced, under Kelly's regime, to endure the humiliation of copying Gary Cohn on all his emails. But Navarro survived and is now ascendant.
Why? Because Trump likes to hear from somebody who agrees with him, especially on the issue on which he has the most hardwired beliefs.
When the topic of trade would come up in an Oval Office discussion, if Navarro wasn't in the room, Trump would ask: "Where's Peter?" Now, Trump is exorcising his tariff demons and Navarro has outlasted Cohn.
4. Be family — either literally (like Ivanka) or figuratively (like Hope Hicks).
"Never bet against the children," one source close to Trump told us. And while Jared and Ivanka have taken a drubbing internally and in the press, still they survive. They outlasted Corey Lewandowski. They outlasted Paul Manafort. They outlived Reince Priebus and their most bitter internal enemy Steve Bannon.
And while investigative clouds continue to hang over Kushner, it's hard to imagine Trump forcing his daughter and son-in-law to go back to Manhattan, no matter how happy that might make Kelly or some of their other West Wing colleagues.
Other staff who become like family are untouchable. The only one of the campaign originals who's left, after Hicks had her last day yesterday, is social media director Dan Scavino. He answers to nobody but POTUS, and tweets without restraint.
5. Look and play the part.
Trump treats his top jobs like a casting agent would. Defense Secretary Jim Mattis, a four-star Marine general, looks to Trump like someone who should be running the Pentagon.
Indeed, he loves to say that people are "straight out of Central Casting" — and he means it as a compliment.
2. Media v. Facebook: This time, it's personal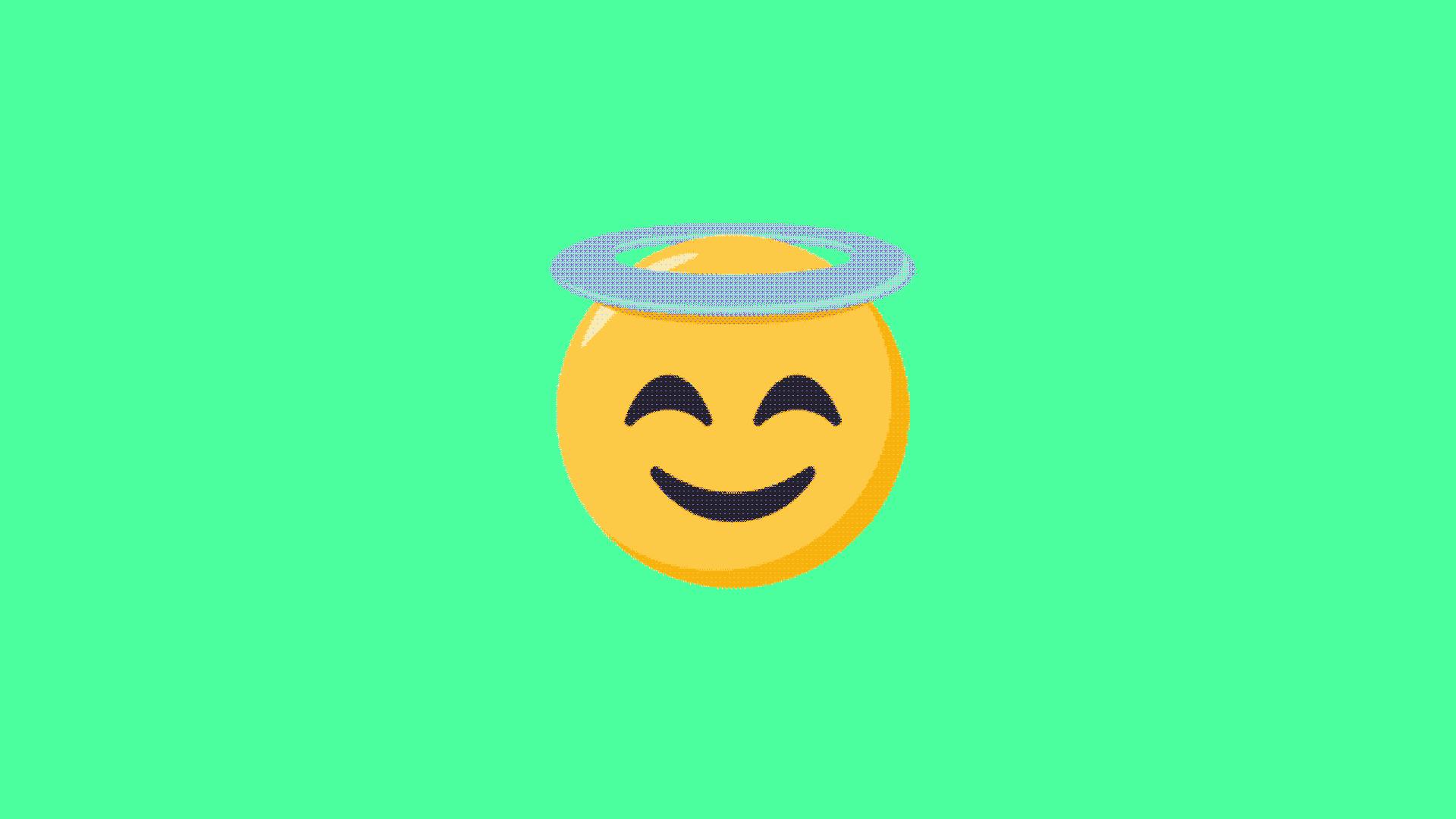 Facebook and Google execs privately complain about the barrage of critical coverage they face, charging that media companies have a financial incentive to attack them and that media execs are settling scores.
They're right, our new tech editor, Scott Rosenberg, writes from San Francisco in his Axios debut:
Be smart: Outrage over Facebook's misuse of user data and failure to rein in election fraud is real. But the zeal that media outlets bring to their Facebook coverage is personal, too.
Journalists, individually and collectively, blame Facebook — along with other tech giants, like Google, and the internet itself — for seducing their readers, impoverishing their employers, and killing off their jobs.
Media companies stand to gain from regulation of social media: Facebook and Google control roughly 60% of digital ad spending.
See Scott's "Between the lines."
3. Tim Cook fillets Facebook: "I wouldn't be in this situation"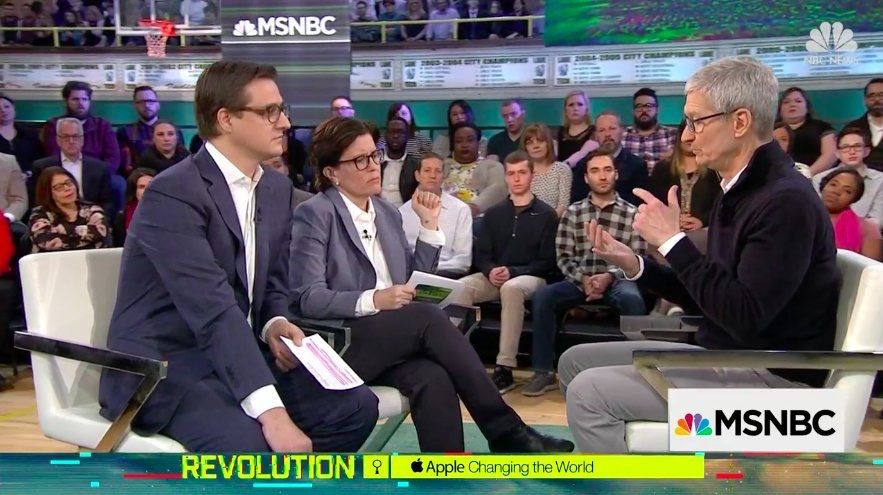 Apple CEO Tim Cook, in an interview taped in Chicago yesterday with Recode's Kara Swisher and MSNBC's Chris Hayes, airing as an MSNBC special on Friday, April 6, at 8 p.m. on MSNBC:
Asked what he'd do if he were Mark Zuckerberg, Cook replied, to applause from the audience: "What would I do?  I wouldn't be in this situation."
"We're looking at every app in detail: What is it doing? Is it doing what it's saying it's doing? Is it meeting the privacy policy that they're stating? ... Should we raise the bar even more?"
"[W]e don't subscribe to the view that you have to let everybody in [to the App Store] that wants to or if you don't, you don't believe in free speech."
"[W]e're like the guy [at] the corner store: What you sell in that store says something about you. And if you don't want to sell that other thing, you don't sell it."
"It doesn't mean that you can't use an iPhone to go to your browser and go to some porno site, if you want to do that ... I'm not making fun of it. ... But I'm just saying that it's not what we want to put in our store."
"We want kids to go to the store, right, because kids — there's a lot of learning, education apps in the store. ... We make sure all the movies are coded in such a way where you can say, 'I only want my child looking at G movies.'"
"The truth is we could make a ton of money if we monetized our customer. ... We've elected not to do that. (Applause.) Our products are iPhones and iPads and Macs and HomePods and the Watch, et cetera. And if we can convince you to buy one, we'll make a little bit of money, right?"
"But you are not our product. ... You are our customer. You are a jewel ... And we're not going to traffic in your personal life. I think it's an invasion of privacy. ... [P]rivacy, to us, is a human right."
"This is not something that we just started last week when we saw something happening. We've been doing this for years."
Cook took a shot at Amazon for its HQ2 search: "That contest is set up as a win-lose and not something I want Apple to be a part of."
On Dreamers: "The DACA situation is not an immigration issue. It's a moral issue."

4. Trump skips process, picks who he wants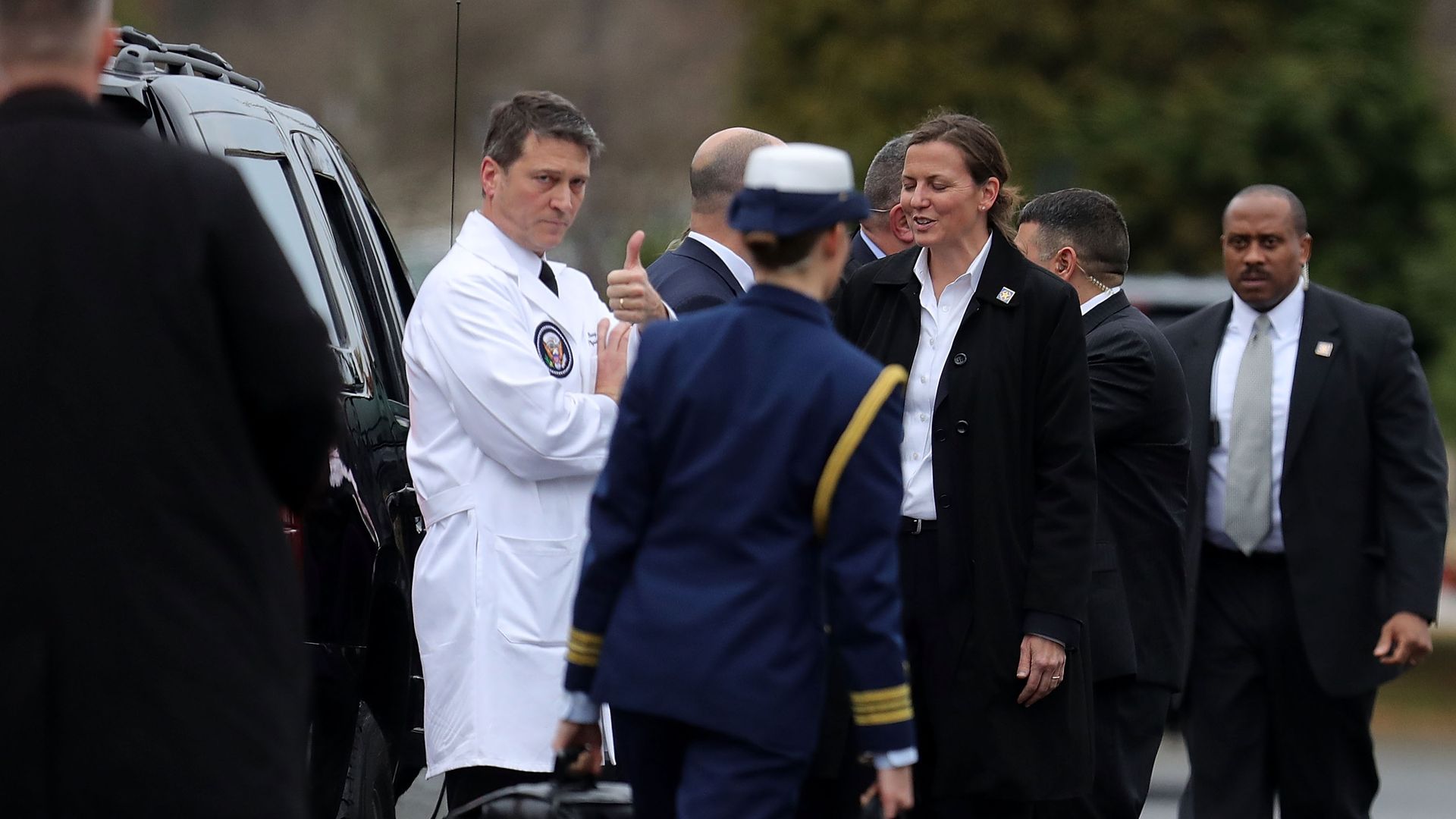 Even close aides to President Trump were baffled by his selection yesterday of Ronny Jackson, the physician to the president, to replace Veterans Affairs Secretary David Shulkin, who got the presidential boot on Twitter.
Why it matters: Trump is taking personal instinct and disdain for normal preparation and expertise to its extreme conclusion. This appointment reflects the reality that for Trump, personal relationships are the whole ballgame.
Nobody in the White House that Jonathan Swan has spoken to can satisfactorily answer the question of how his personal White House physician is qualified to run the second largest agency in the federal government, and one of the most consequential and dysfunctional institutions in America.
The most anyone seems to be able to offer is that Trump loves him, thinks he's generically "great," and did a fabulous job on TV presenting a rosy picture of Trump's health to the country. 
The buzz ... One longtime Republican lobbyist offered a two-word prediction for Dr. Jackson's chances of Senate confirmation: "Harriet Miers" — the George W. Bush nominee for Supreme Court who withdrew amid doubts about her qualifications.
Buh-bye ... The day after the Veterans Affairs secretary was fired, the N.Y. Times posts an online op-ed from him, "Privatizing the V.A. Will Hurt Veterans":
"[A]dvocates within the administration for privatizing V.A. health services ... saw me as an obstacle to privatization

who had to be removed

."
5. Pardon?
John Dowd, at the time a lawyer for President Trump, "broached the idea of Mr. Trump's pardoning two of his former top advisers, Michael T. Flynn and Paul Manafort, with their lawyers last year," the N.Y. Times reports in its lead story.
Why it matters, from the WashPost lead story: "Legal experts said prosecutors could view floating the idea of a presidential pardon to people under investigation as a criminal effort to obstruct justice."
P.S. "Mueller: Trump campaign's [Rick] Gates knew he was speaking to Russian intel agent," per NBC: "A court filing from Special Counsel Mueller's team says Gates stated he was aware 'Person A' was linked to Russian intelligence."
6. 📺 Trump phones Roseanne Barr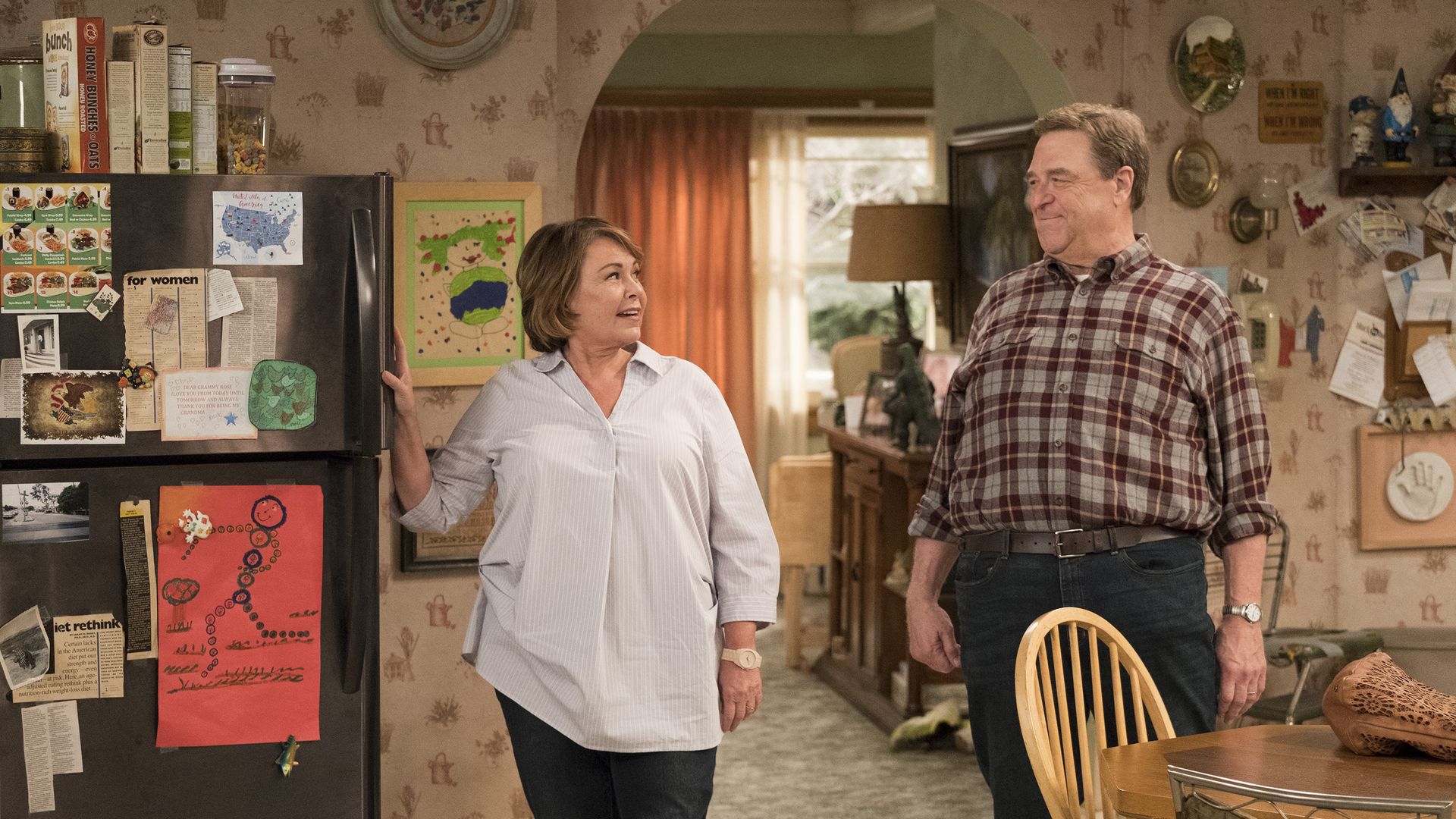 President Trump telephoned supporter Roseanne Barr yesterday to congratulate her on the return of her sitcom "Roseanne" on ABC and — what really impressed him — the huge ratings.
The series' return on Tuesday drew 18.4 million viewers, more than doubling ABC's internal estimates. It was the highest rating among adults age 18-49 for any comedy since CBS' "The Big Bang Theory" season opener in 2014.
The president reminded Barr of a time they had crossed paths in his New York days, a source familiar with the call told Axios.
The show is back for nine episodes with the full original cast from the series that left the air 11 years ago, in May 1997.
On the show, as in real life, Roseanne is a Trump supporter. Her sister, Jackie Harris (played by Laurie Metcalf) is a staunch opponent.
Barr, now 65 and living in Hawaii, told N.Y. Times politics editor Patrick Healy that she "wanted to have that dialogue about families torn apart by the election and their political differences of opinion and how we handle it."
What's next: The first episode involved sparring over strains after the election, but the rest of the run isn't about politics. Topics include the opioid crisis, guns in the home, and medical-care problems faced by blue collar families.
7. Saudi Crown Prince schmoozes USA's A-list
After stops in Washington, Boston and New York, Saudi Crown Prince Mohammed bin Salman heads for the West Coast tomorrow as he continues his remarkable marathon of meetings with America's powerful.
An outdated draft of the crown prince's schedule leaked yesterday. A source filled Axios in on the latest plans:
A meeting with former President Bill Clinton is likely today. He talked earlier with Henry Kissinger and Michael Bloomberg.
In the Seattle area, the crown prince will land at Boeing, take a tour, and confer with CEO Dennis Muilenburg.
His Royal Highness will eat lunch with Bill Gates, and meet with Amazon CEO Jeff Bezos, Microsoft CEO Satya Nadella and perhaps Starbucks CEO Kevin Johnson.
In Los Angeles, the crown prince will meet with Oprah Winfrey, Walt Disney CEO Robert Iger, and other studio heads and industry chiefs about the kingdom's push into live music.
Talent mogul Ari Emanuel will host a dinner that includes blockbuster producer Brian Grazer.
An L.A. dinner with Rupert Murdoch is possible.
In Silicon Valley, the crown prince will meet with Apple CEO Tim Cook, top Google executives, and venture capital investors.
At his final American stop, in Houston, His Royal Highness will visit Aramco and meet with President George H.W. Bush and former Secretary of State James Baker.
President George W. Bush hopes to join, depending on a conflicting commitment. That would bring the crown prince to four presidents in 19 days.
8. Sessions on Trump's "certain issues"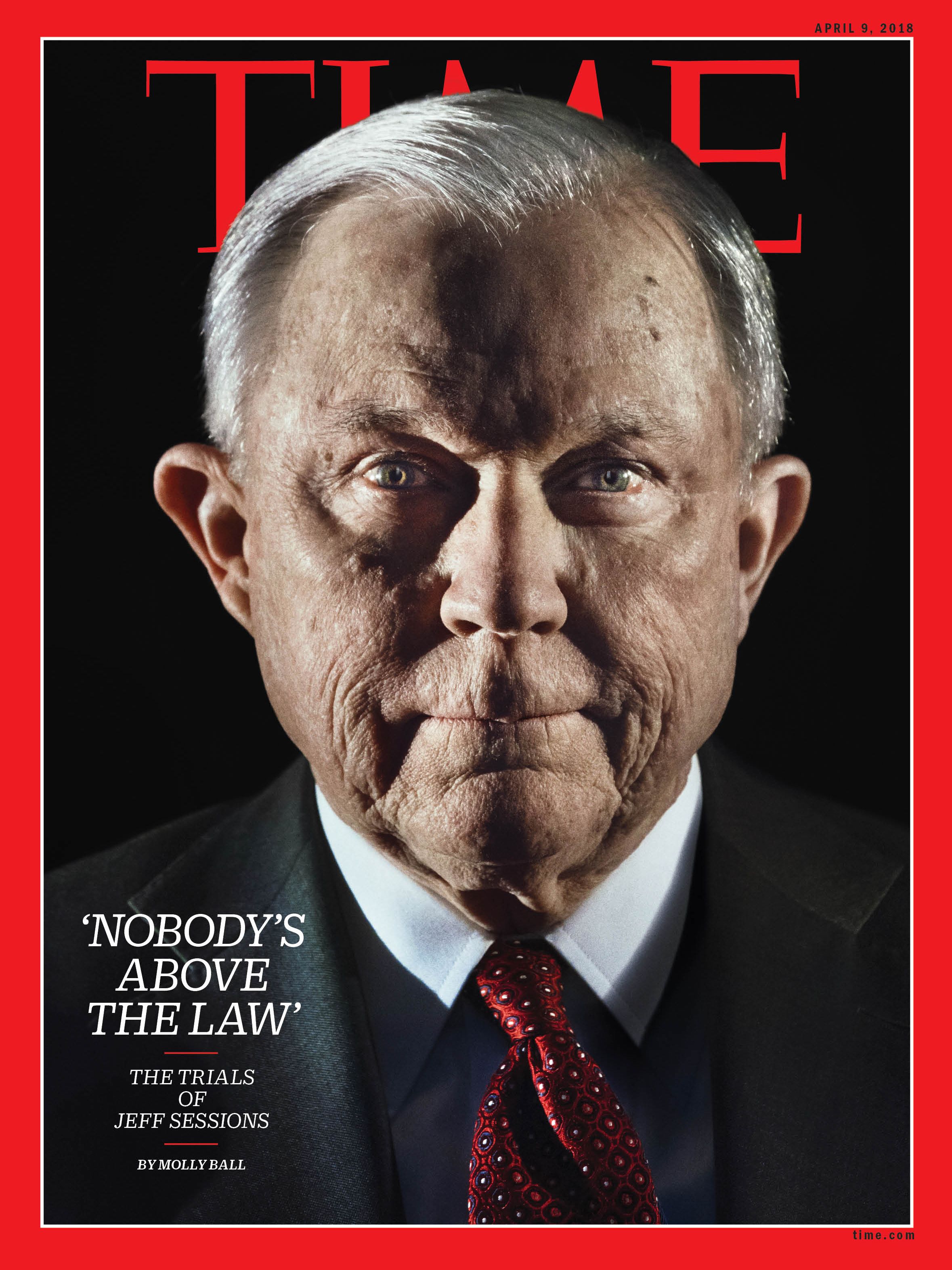 In the new TIME, Molly Ball writes that the "broken relationship" between President Trump and Attorney General Jeff Sessions "has turned the job of a lifetime into an exercise in humiliation." From her interview with Sessions:
On working in the White House: "I want to do what the president wants me to do ... But I do feel like we're advancing the agenda that he believes in. And what's good for me is it's what I believe in too."
On Trump: "He does get frustrated ... He's trying to run this country, and he's got to spend his time dealing with certain issues."
On recusing himself from the Russia investigation: "I think I did the right thing. I don't think the Attorney General can ask everybody else in the department to follow the rules if the Attorney General doesn't follow them."
On his policies: "I'm on the victims' side, and overwhelmingly the victims are minorities."
9. Scoop: What actually happened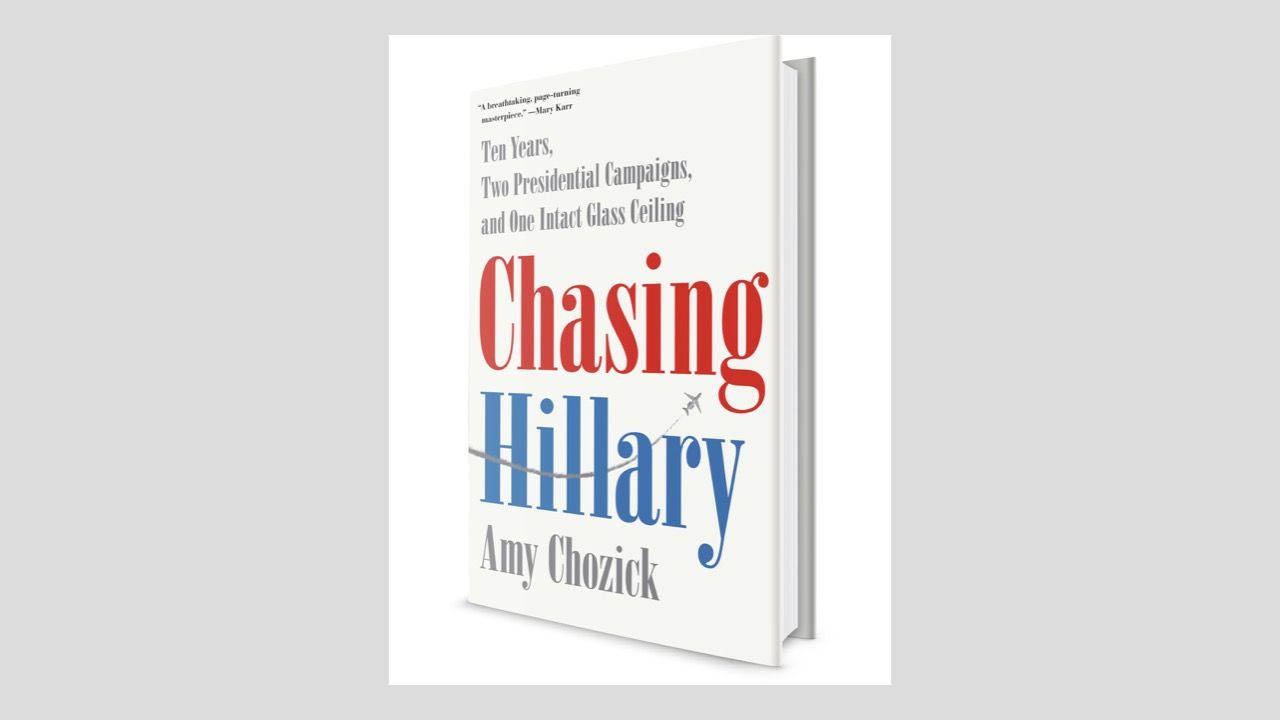 A new guessing game for Washington ... Axios has learned that the N.Y. Times' Amy Chozick uses pseudonyms to identify top Clinton aides in her memoir, "Chasing Hillary: Ten Years, Two Presidential Campaigns and One Intact Ceiling," out April 24.
We're told that only HarperCollins publisher Jonathan Burnham (who published "Game Change") and executive editor Jonathan Jao (who edited "Hillbilly Elegy") initially knew Chozick had inked the deal in 2014.
Secrecy about the project has left the main characters (Clinton hands and top Democrats) wondering what their pseudonyms are.
I haven't seen the book, but one reader called it "'Almost Famous' meets 'Game Change'" and "'Julie & Julia' but with politics instead of cooking."
From Chozick's Author's Note: "I changed some names and identifying details, and gave lots of people pseudonyms, sometimes to protect the innocent but usually to protect the story — I think having to remember the names of dozens of political operatives who all essentially perform the same purpose is boring."
One reader told me: "Hillary's press guys are like a tragicomic Greek chorus."
10. ⚾️ 1 fun thing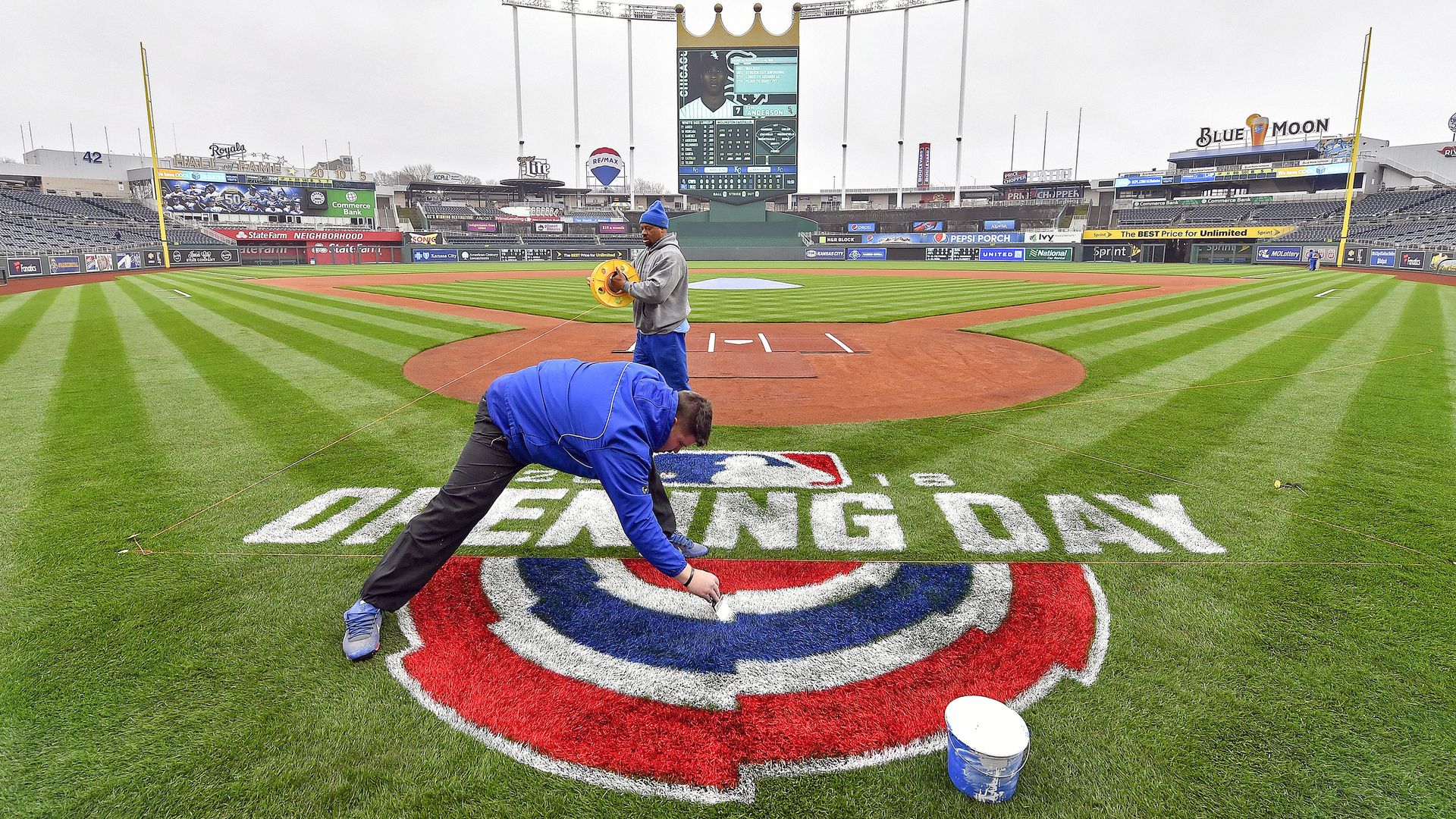 Today is Major League Baseball's Opening Day — the first time since 1968 that every team has opened on the same day.
What's next: After today, your team has 161 games till postseason.
USA Today Sports ranks the 30 teams:
1. Houston Astros ... 2. Dodgers ... 3. Cleveland Indians ... 4. Nats ... 5. Yankees ... 6. Chicago Cubs ... 7. Red Sox ... 8. Milwaukee Brew Crew ... 9. Arizona Diamondbacks ... Tie for 10: Colorado Rockies and L.A. Angels.
12. St. Louis Cardinals ... 13. Minnesota Twins ... 14. Mets ... 15. S.F. Giants ... 16. Toronto Blue Jays ... 17. Seattle Mariners ... 18. Texas Rangers ... 19. Tampa Bay Rays ... 20. Atlanta Braves.
21. Phillies ... 22. Orioles ... 23. San Diego Padres ... 24. Pittsburgh Pirates ... 25. Chicago White Sox ... 26. Oakland A's ... 27. Kansas City Royals ... 28. Cincinnati Reds ... 29. Detroit Tigers ... 30. Miami Marlins.
☕️ Thanks for reading. Updates all day on Axios.com ...