Axios AM
December 21, 2018
🔥 Happy Friday!
⚡ VATICAN CITY (AP) — Pope Francis vows Catholic Church will "never again" cover up clergy sex abuse.
1 big thing ... Pre-Christmas Trump: rebuked, rampaging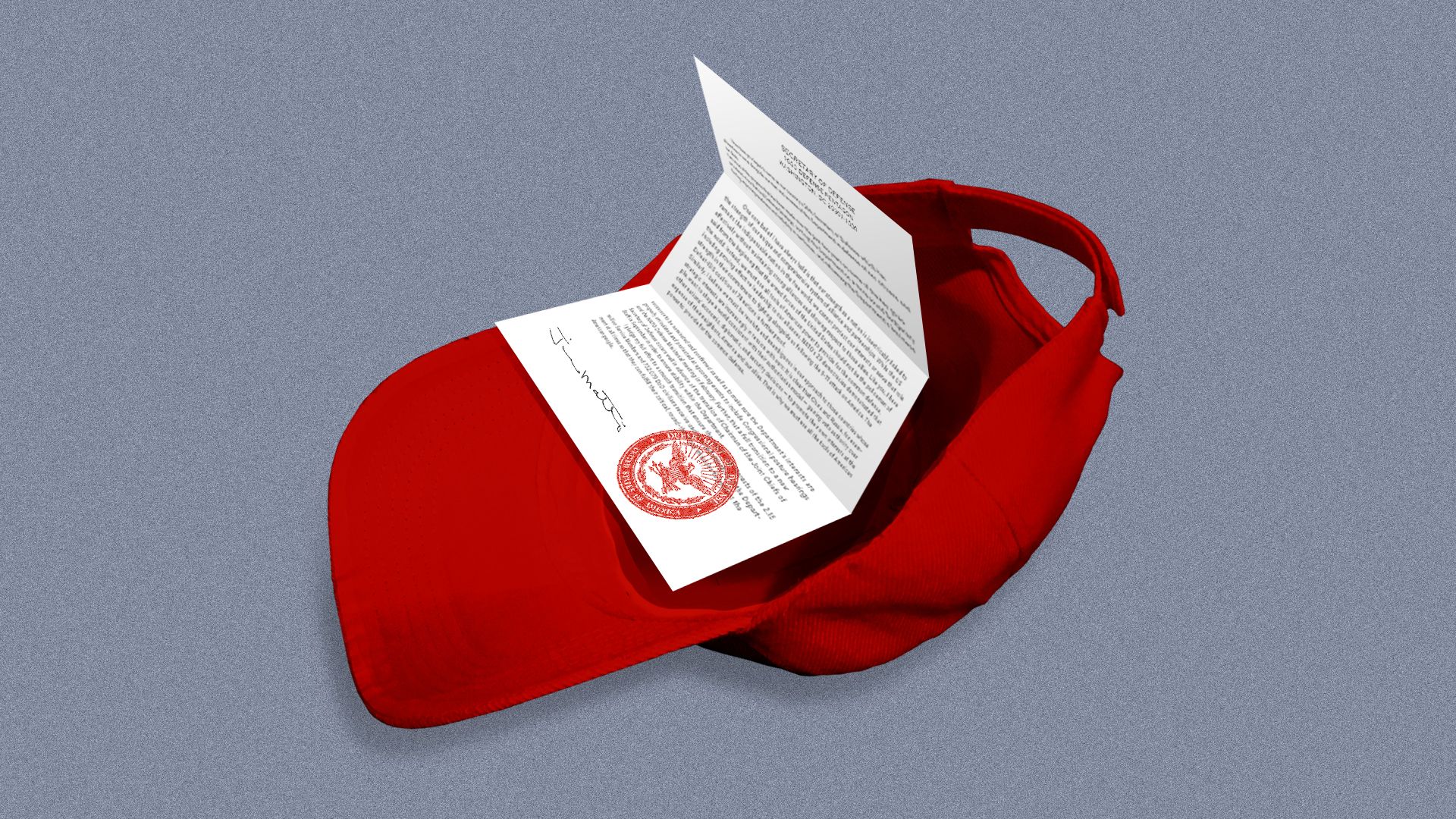 The last member of an informal alliance of top Trump officials with enough swat or stature to stand up to President Trump — the Committee to Save America, as Jim VandeHei and I called these officials 16 months ago — resigned in epic fashion.
It was a historic letter and a historic moment capping a historic day, one you could easily see filling a full chapter of future books on the Trump presidency. 
The wheels felt like they were coming off the White House before Mattis quit. 
The backdrop ... Spooked by Trump's actions and statements, Wall Street is on track for its worst year in a decade — since the financial crisis of 2008.
Scoop: As a sign of the mood inside, officials at both ends of Pennsylvania Avenue tell us that Trump is complaining about his incoming chief of staff, Mick Mulvaney, in conversations inside the West Wing and with Capitol Hill.
An outside adviser to Trump told me as the president's "landmark day of chaos" unspooled: "He is straddling the political precipice."
Reality check from Jonathan Swan: Trump was never going to adopt the establishment consensus that a strong U.S. military presence would be required for the foreseeable future in Afghanistan and Syria. Trump has never felt that.
Be smart: Thursday was one of the most remarkable days, tucked inside one of the most remarkable weeks, capping one of the most remarkable months in modern presidential history. 
2. What should worry Trump most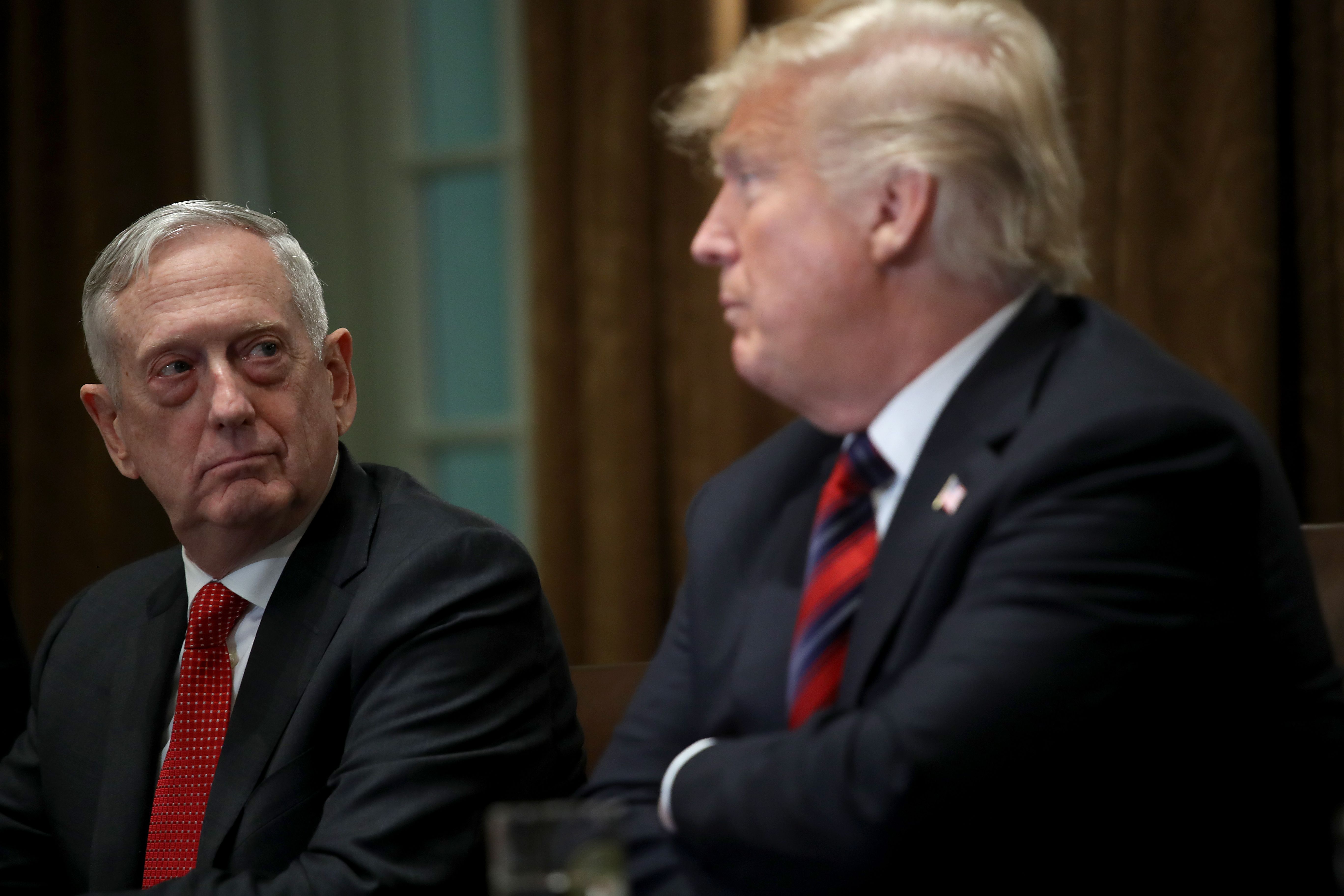 Another reason this is a historic week — and what President Trump should really worry about — is that lots of different Republicans have been turning on him over different topics.
In an unusually harsh statement, Senate Majority Leader Mitch McConnell said he was "distressed" about Mattis' departure: "It is regrettable that the president must now choose a new Secretary of Defense. But I urge him to select a leader who shares Secretary Mattis's ... principles."
Sen. Ben Sasse (R-Neb.) said after the Mattis announcement: "This is a sad day for America."
A former Trump aide who asked to be described as "a Trump ally" told me that the sudden wave of criticism from the Hill over Syria and Mattis should scare the president because he would desperately need these lawmakers' support during a possible impeachment battle.
"Once Republican lawmakers start rebuking the president publicly like this over policy, it makes it easier for them to say: 'It's not just Mueller or ethics. There are other concerns.' Then it's a slippery slope."
Bloomberg columnist Eli Lake: "Donald Trump may not know it yet, but his presidency is collapsing."
"As long as [Mattis] served the president, reluctant Republicans could point to the Pentagon and say: If Mattis supports Trump, then so do I. They can no longer do that."
Be smart: We talked all day yesterday with Republican officials, operatives and advisers who are truly scared for America.
But it's telling that few have the courage to say it publicly.
What to watch: There's a working assumption inside the White House that Trump will be impeached by the House. He would then need a rock-solid base of 34 Republican senators to refuse to remove him from office (which takes 67 votes).
So nothing matters more to Trump than keeping his base happy and loyal. 
3. Thirty-five down ...
4. Pics du jour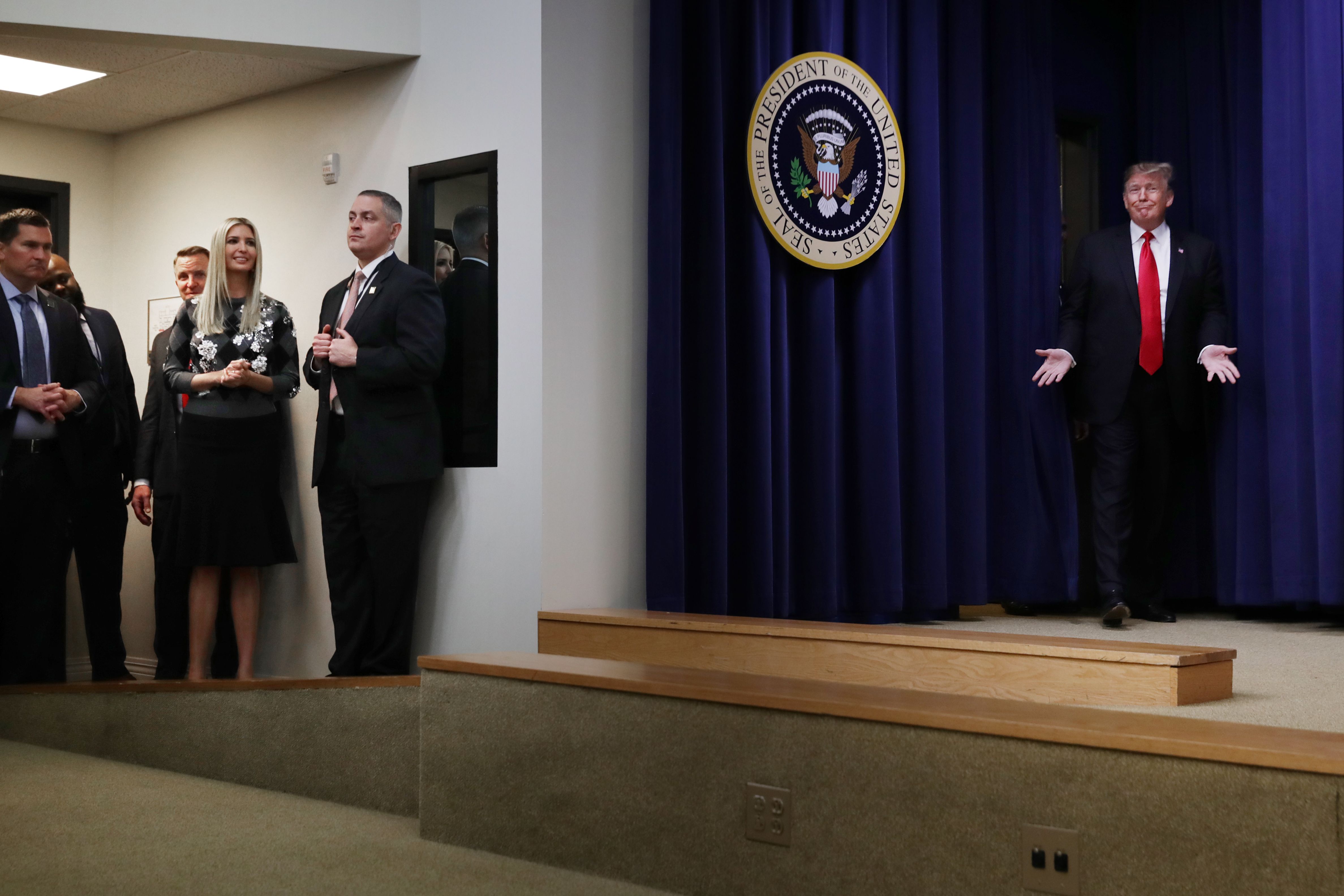 Ivanka Trump applauds as President Trump takes the stage in the South Court Auditorium of the Eisenhower Executive Office Building to sign the farm bill.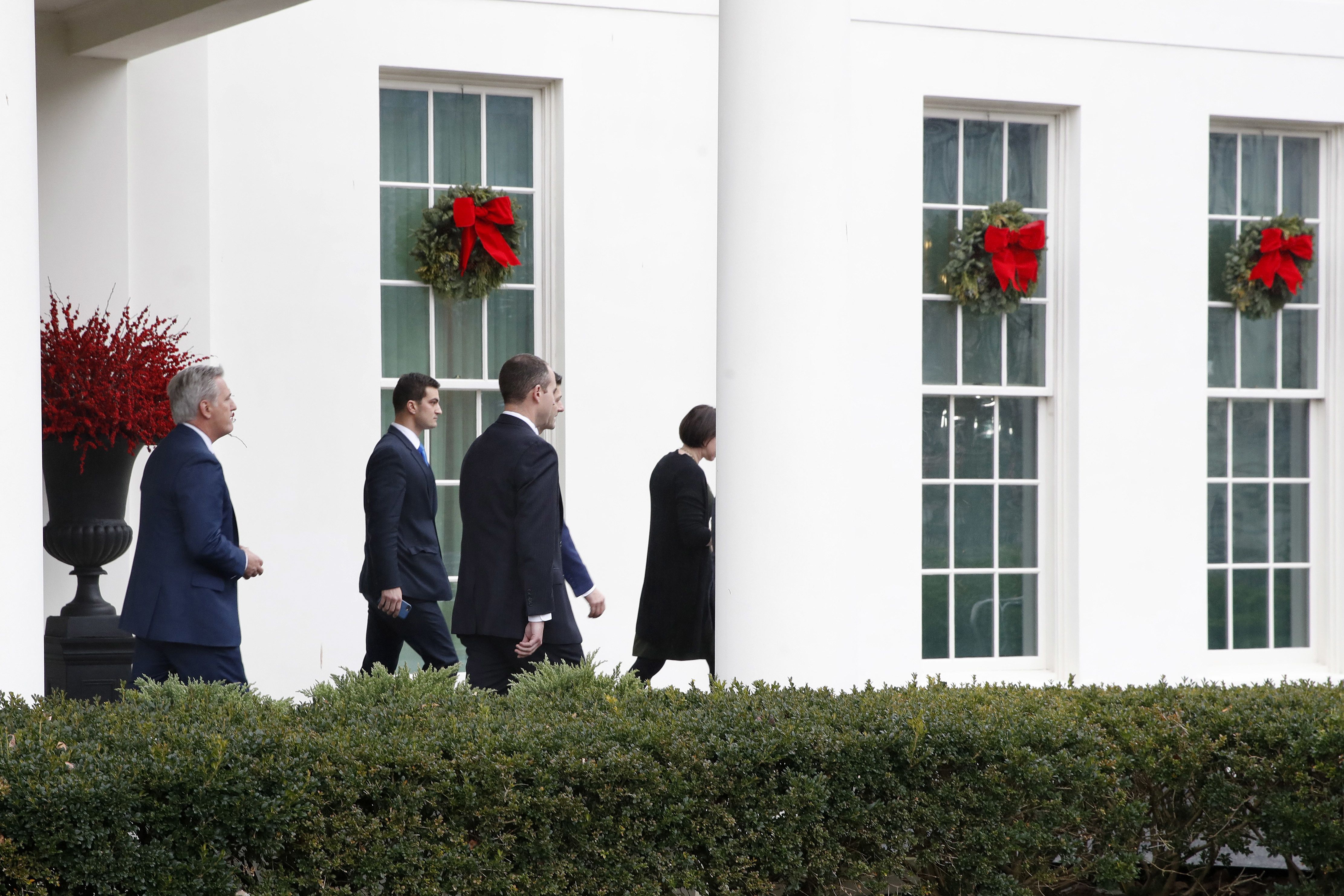 House Majority Leader Kevin McCarthy and House Speaker Paul Ryan leave the West Wing after talking briefly to reporters about their meeting with Trump.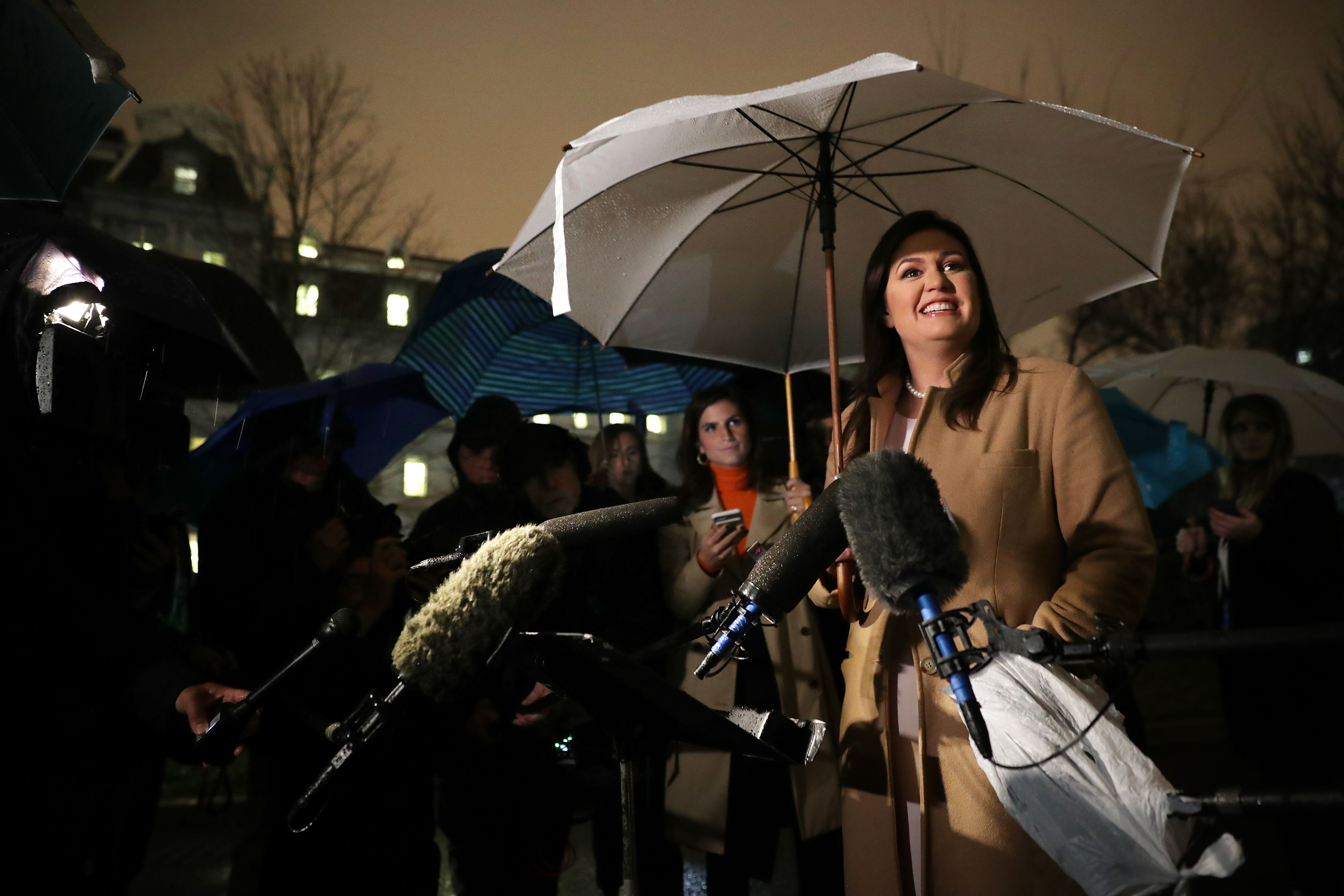 In the rain outside the West Wing, Sarah Huckabee Sanders talks to reporters about a possible shutdown.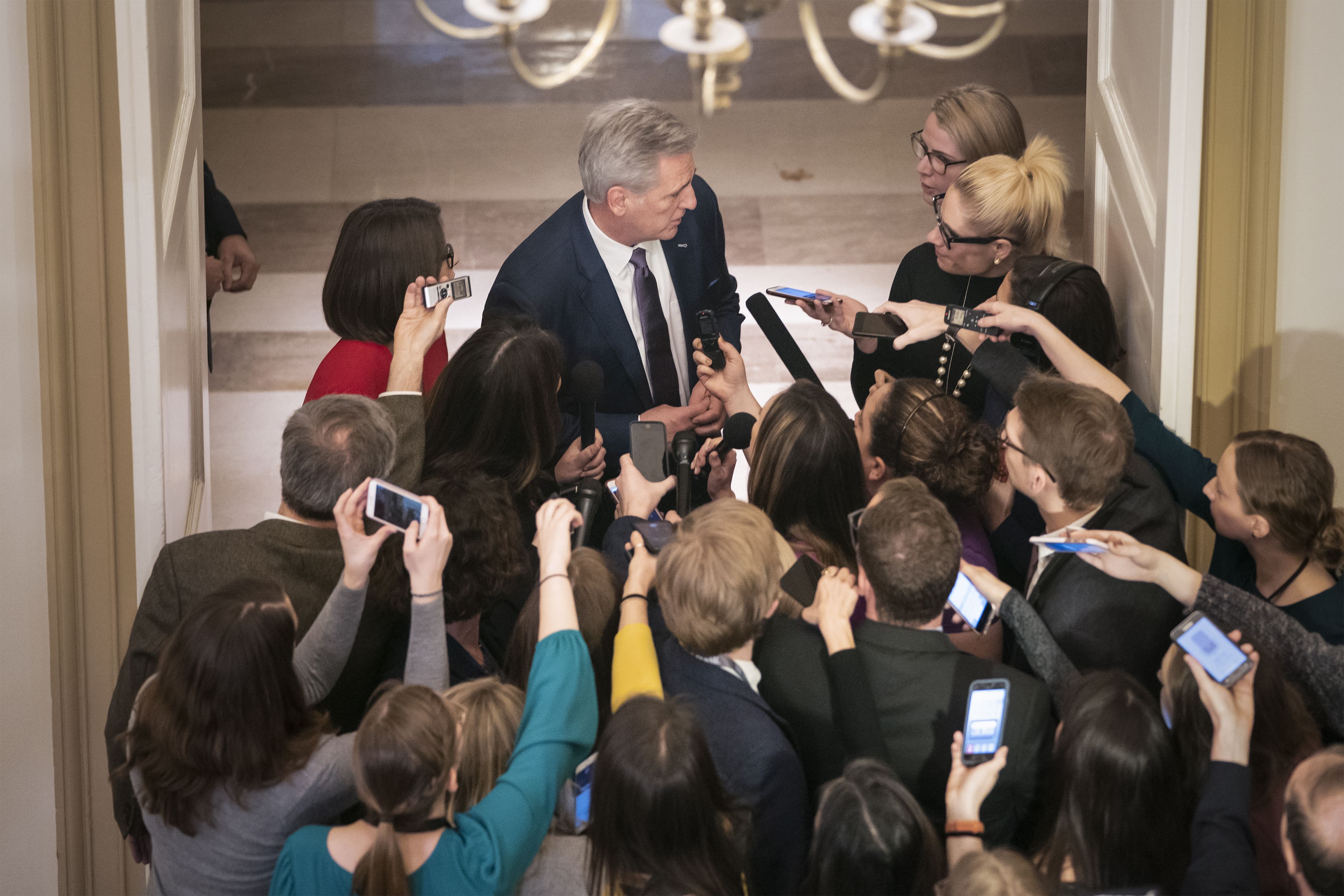 Kevin McCarthy is met by reporters at the Capitol after he returned from the White House.
5. How it's playing
6. Whitaker rejects advice to recuse himself
"A senior Justice Department ethics official concluded acting attorney general Matthew G. Whitaker should recuse from overseeing special counsel Robert S. Mueller III's probe, ... but advisers to Whitaker recommended the opposite and he has no plans to step aside," the WashPost's Devlin Barrett and Matt Zapotosky report:
Late yesterday, "the Justice Department formally notified Congress of Whitaker's decision not to recuse, writing in a letter that while an ethics official felt he should do so to avoid to appearance of a conflict, that official could not identify a precedent for such a recusal."
Why it matters: "The advice to stay away from the Mueller probe underscores the ... deep distrust — within Congress and in some corners of the Justice Department — surrounding Whitaker's appointment ... until the Senate votes on the nomination of William P. Barr to take the job."
7. Volatility rages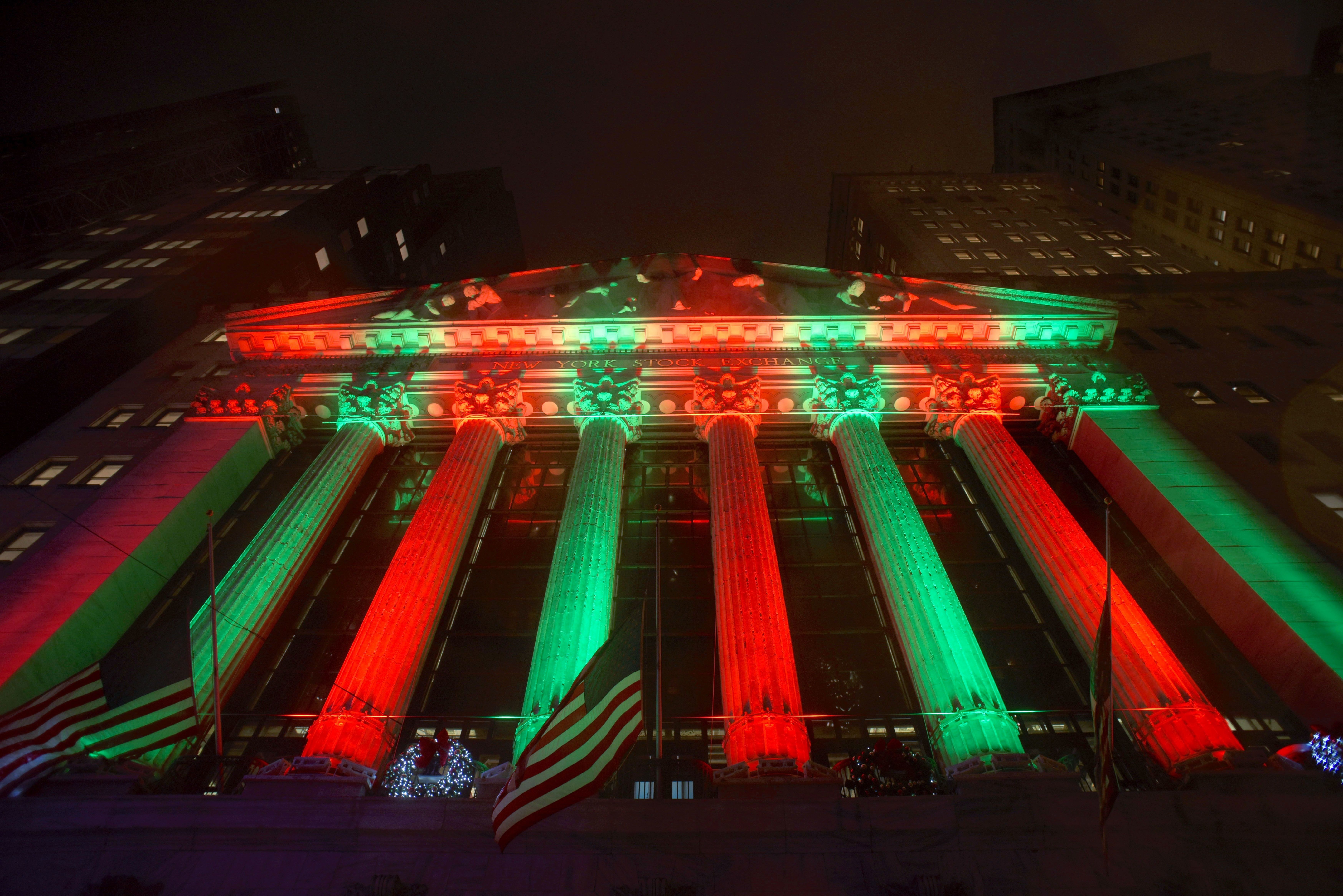 The VIX — Wall Street's top measure of volatility (stock swings) — is set for its biggest annual surge on record, per Bloomberg:
"Fears that growth in corporate earnings and the global economy are slowing have beset investors globally."
"One consequence of this resurgence of volatility: it's brought more stock trading. Volume on U.S. exchanges has climbed to an average 7.2 billion shares daily this year, up 11 percent from 2017."
8. AP's top 10 stories of 2018
AP's top 10 stories of the year, as voted by U.S. editors and news directors in a poll first conducted in 1936, when editors chose the abdication of Britain's King Edward VIII:
Parkland school shooting
Trump-Russia probe
MeToo
Mass shootings, including Pittsburgh
Midterms
Immigration
Kavanaugh hearings
California wildfires
Climate change
Khashoggi killing
9. Top papers staff up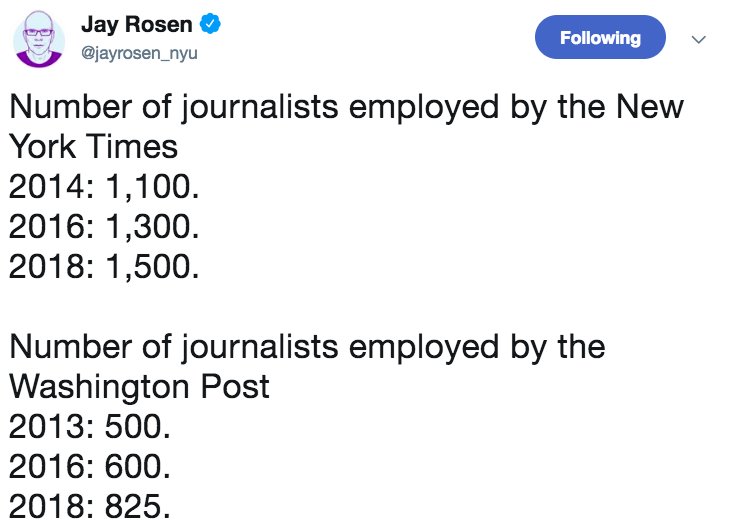 10. 1 fun thing
Digital detox: No-cell hotels ... "Can you take a vacation from your cell phone? A growing number of hotels will help you find out. Some resorts are offering perks, like snorkeling tours and s'mores, to guests who manage to give up their phones for a few hours," AP's Dee-Ann Durbin writes:
"Some have phone-free hours at their pools; others are banning distracting devices from public places altogether."
"On Oct. 1, Wyndham Grand's five U.S. resorts began offering prime spots by the pool, free snacks and the chance to win return visits when guests put their phone in a soft, locked pouch. The phones stay with the guests, but only hotel staff can unlock the pouches."
"Hotels that limit cellphone use risk losing valuable exposure on Instagram or Facebook. But they say the policies reflect their mission of promoting wellness and relaxation."