Axios AM
September 03, 2018
☕️ Happy Labor Day! Thanks to those of you laboring today — and to all of you who labor in quiet but vital ways: packing lunches, driving to practices, taking scouts on outings, mentoring a struggling colleague, giving a smile to someone who needs it.
Today, Steve LeVine's popular "Future" newsletter — covering innovations in automation, genetics, blockchain and more — goes to five times a week. This is a conversation you'll want to be in. Please sign up free here.
1 big thing ... Scoop: Confident Dems plan detailed 2019 agenda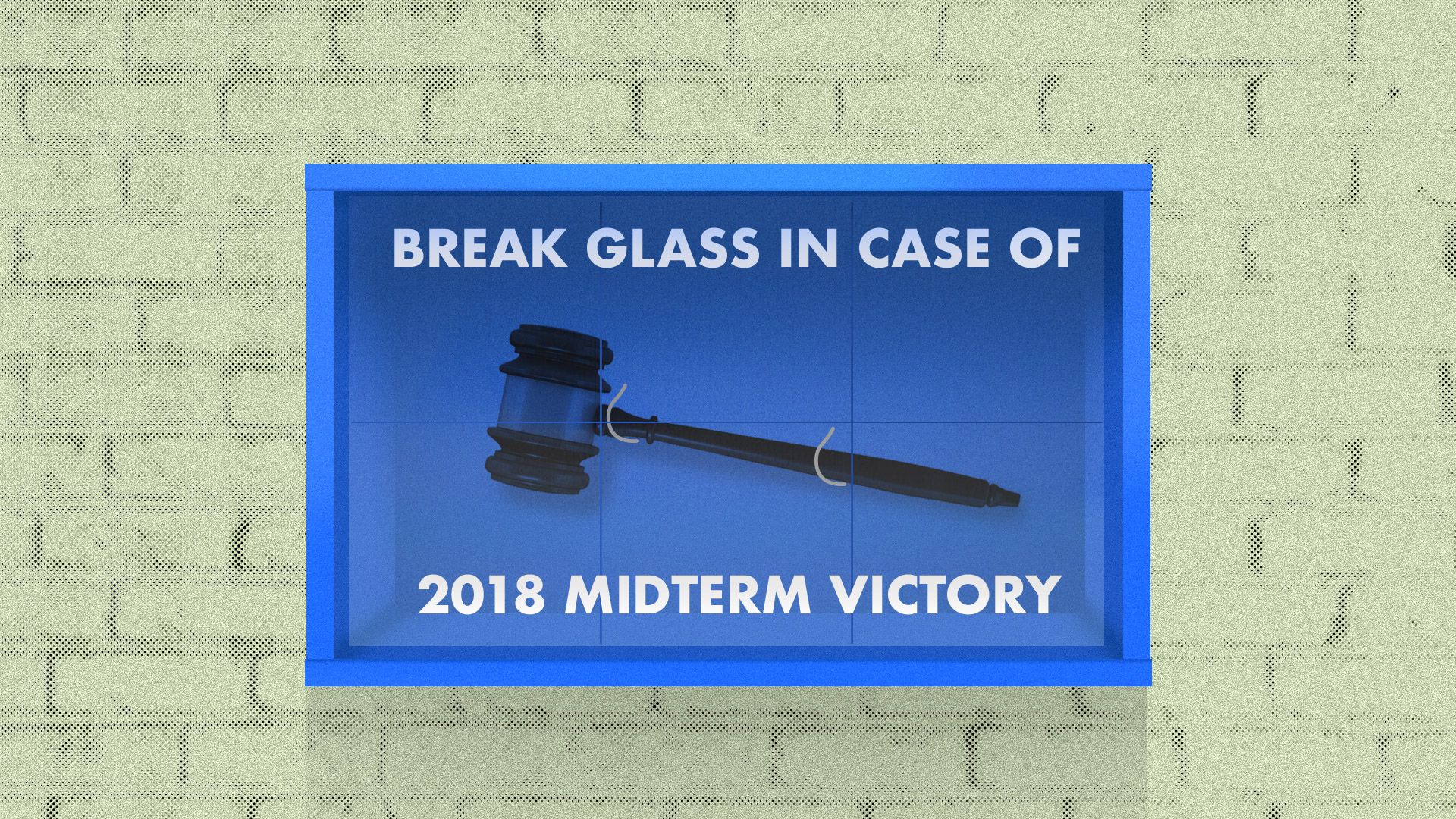 Like the quiet planning by presidential candidates for their hoped-for transition to office, House Democrats are already choreographing their opening moves if — as looks likely — they get the gavel back in the midterm elections.
The strategy is being driven by House Democratic Leader Nancy Pelosi, the likely speaker if her party regains the majority.
The first three legislative packages will cover health-care costs, $1 trillion in federal infrastructure investment, and ethics and lobbying reform.
"We're ready from Day 1 to fight for the people," said an aide involved in the planning. "These priorities took months and months of conversation with members to boil down."
The top Democrats on House committees are prepping to launch oversight hearings and investigations of the Trump administration, and have begun the initial steps of coordinating their opening topics to avoid conflicts and overlaps.
Democrats are playing down talk of impeachment. But depending on the contents of Robert Mueller's report, that could well become a transcendent issue for the new Congress.
Democratic leaders claim impeachment won't happen unless it's bipartisan — that Mueller's findings are definitive, and Republicans voice support.
The three legislative packages are also centerpieces of House Democrats' "For the People" national campaign theme, distilled from the larger "A Better Deal" platform.
Dems say these are all issues where Trump has promised action and failed to deliver. (Remember "drain the swamp"?)
Polls show that health care and wages are voters' top concerns:
Health care would be divided into two buckets: cost containment, including reining in premiums, and lowering the cost of prescription drugs.
The $1 trillion in infrastructure spending would be sold as a way to boost jobs and wages.
The reform package would include efforts at "voter empowerment," including voting rights and campaign ethics.
Democrats promise sweeping lobbying reform, rivaling changes made in 2007, when they last took back the majority.
House Dems also plan to change some of their in-house rules. Per Pelosi, Rep. Jim McGovern of Massachusetts is soliciting ideas from members.
And Pelosi, despite opposition from some progressives, is committed to reviving the "pay-go" (or pay as you go) rule she had during her previous run as speaker, requiring that new spending be paid for by budget cuts or revenue offsets.
2. Rudy beats the drum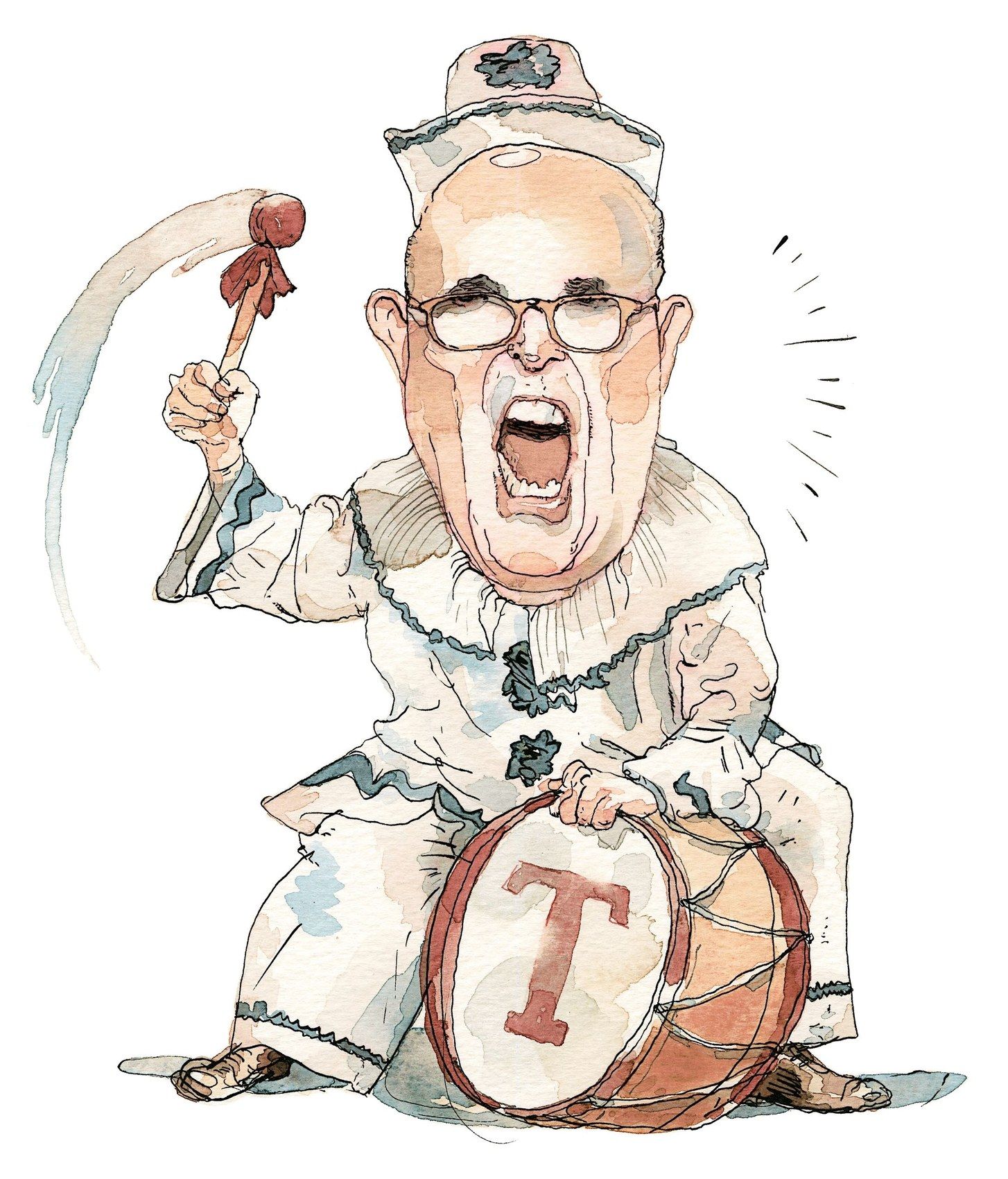 If you read one long thing today ... Jeffrey Toobin in The New Yorker, "The former mayor's theatrical, combative style of politics anticipated — and perfectly aligns with — the President's":
"Before Giuliani joined the defense, [Trump's former lawyer John] Dowd and Mueller came close to an agreement for the President to voluntarily testify. They even scheduled a date and a location: January 27, 2018, at Camp David. ... Talks between the Trump and the Mueller teams later broke down. ...
"If the negotiations over a voluntary interview fail, as now seems likely, Mueller may decide to subpoena the President. Giuliani has weighed in on the legality of Presidential subpoenas in the past.
"In 1997, a unanimous Supreme Court ruled that President Clinton was legally obligated to submit to a deposition in Paula Jones's sexual-harassment case against him. As the special prosecutor Kenneth Starr's investigation of Clinton intensified, the following year, Charlie Rose put the question to Giuliani in an interview: Would the President have to obey a grand-jury subpoena for his testimony? 'He's gotta do it. He doesn't have a choice,' Giuliani responded. 'Under the criminal law, everyone should be treated the same. ... As far as the criminal law is concerned, the President is a citizen.'"
3. Funding cuts blamed as icon nearly destroyed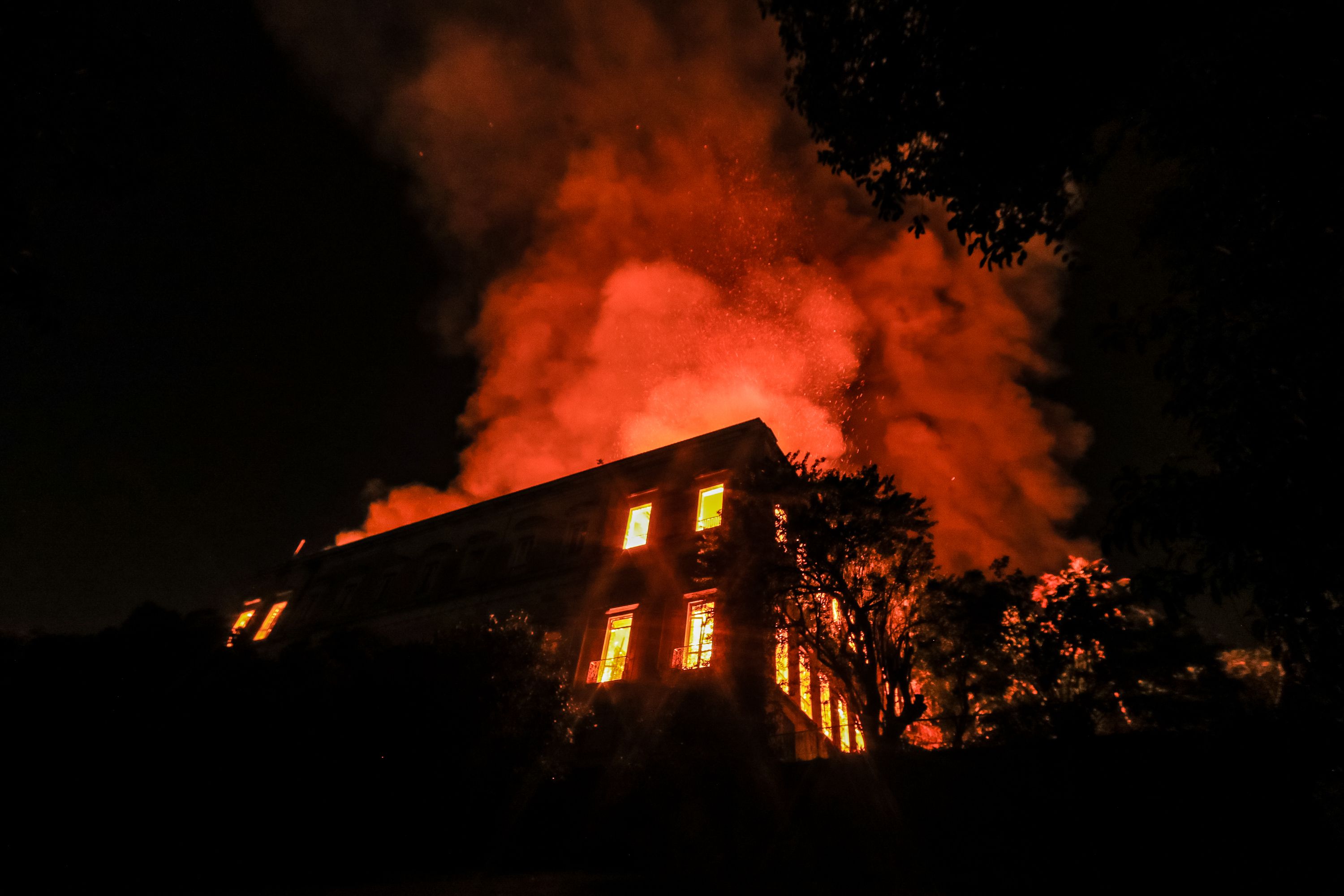 Officials in Brazil blame lack of funding for a huge fire that has ravaged the country's National Museum last night, BBC reports:
"One of the largest anthropology and natural history collections in the Americas was almost totally destroyed in Sunday's fire in Rio de Janeiro."
"[M]ost of the 20 million items the museum contained, including the oldest human remains ever found in the Americas, went up in flames."
"The fire started ... after the building — a 19th-Century former royal palace — had closed for the day. The cause is not known."
"There had been complaints about the dilapidated state of the museum":
"A deputy director at the museum, Luiz Fernando Dias Duarte, expressed 'immense anger" ... 'We fought years ago, in different governments, to obtain resources to adequately preserve everything that was destroyed today.'"
"A third of the 30 exhibition halls were closed because of budget cuts."
4. Pic du jour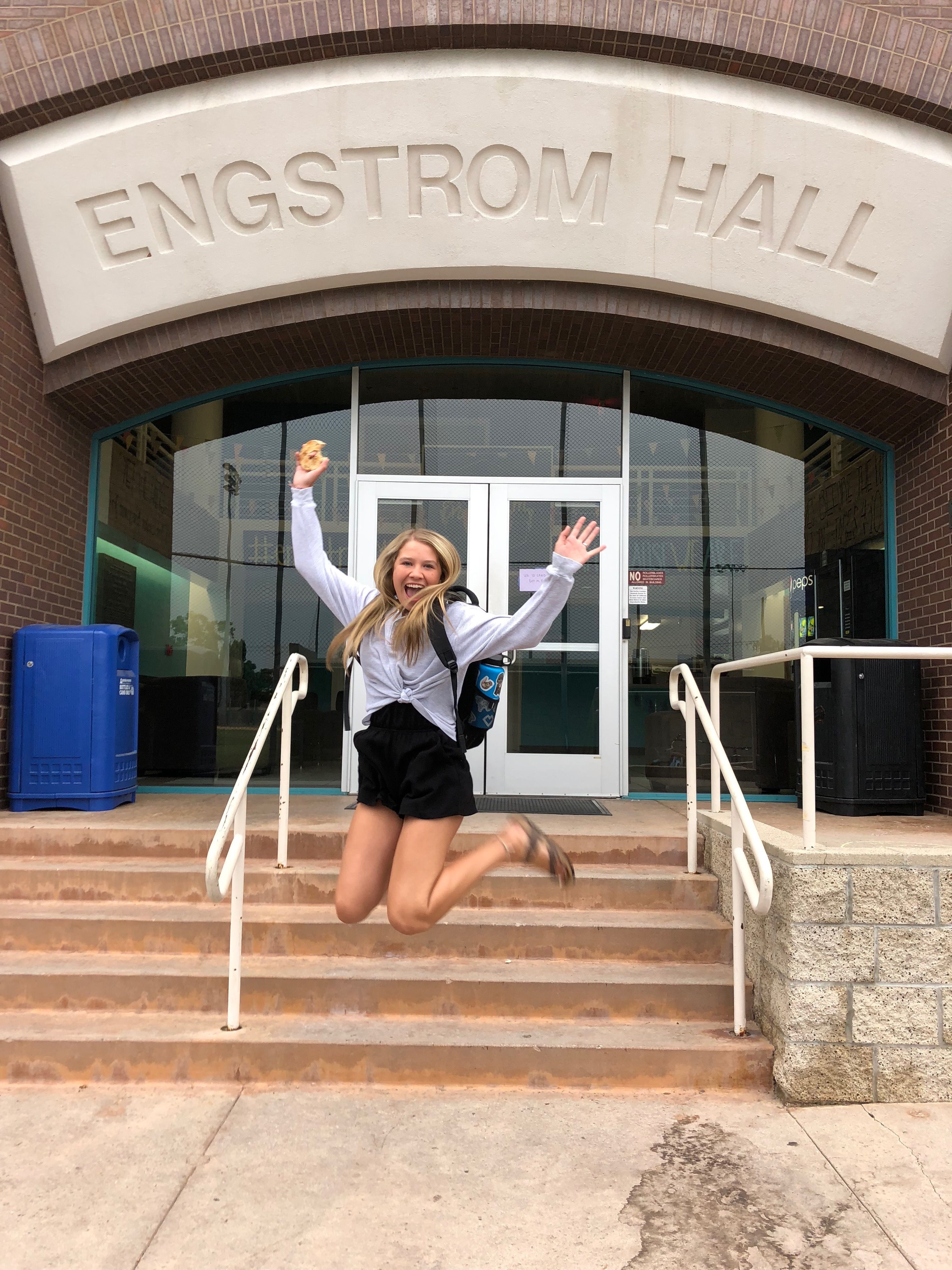 Remember the joy of the first day of college?
Congrats to Abbie, the oldest niece of my three siblings' 11 amazing young people.
Savor those "firsts"!
🚀 5. The new space race
"One of the big winners from President Trump's push for a new military service called 'space force' may be one of his least favorite places — California," the L.A. Times' David Cloud and Samantha Masunaga report:
"Once the launchpad of the nation's aerospace industry, Southern California stands to see a surge in government and industry jobs and billions of dollars in contracts for satellites and other technology if Congress approves the space force when it takes up the proposal next year."
"Colorado and Florida, which also boast extensive civilian and military aerospace facilities, could be big winners too."
6. Breaking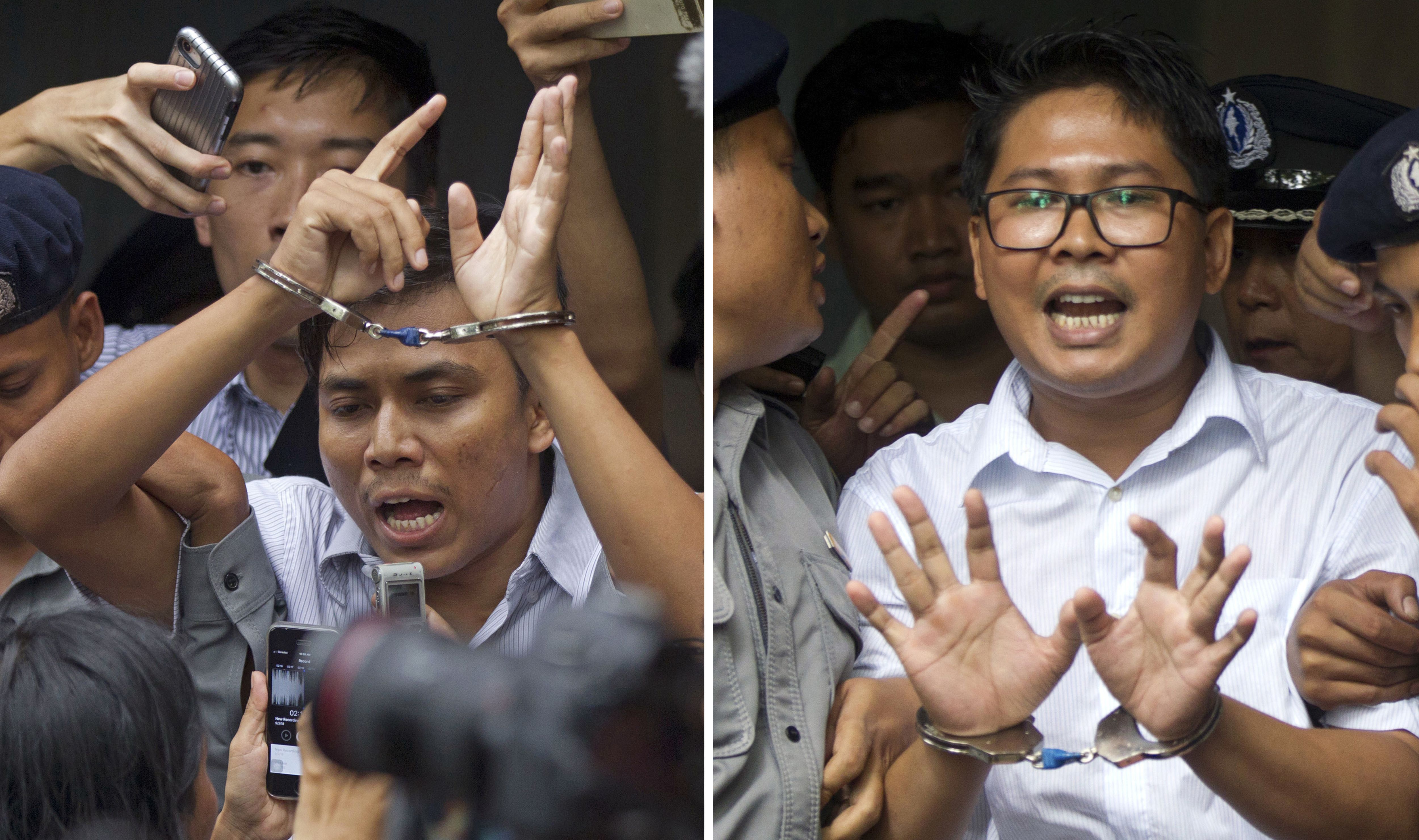 "A Myanmar judge [today] found two Reuters journalists guilty of breaching a law on state secrets and jailed them for seven years, in a landmark case seen as a test of progress toward democracy in the Southeast Asian country," Reuters' Shoon Naing and Aye Min Thant report from Yangon:
The judge said "Wa Lone, 32, and Kyaw Soe Oo, 28, breached the colonial-era Official Secrets Act when they collected and obtained confidential documents."
"The reporters had told the court two police officials handed them papers at a restaurant in ... Yangon moments before other officers arrested them."
"One police witness testified the restaurant meeting was a set-up to entrap the journalists to block or punish them for their reporting of a mass killing of Rohingya Muslims."
7. Tweet du jour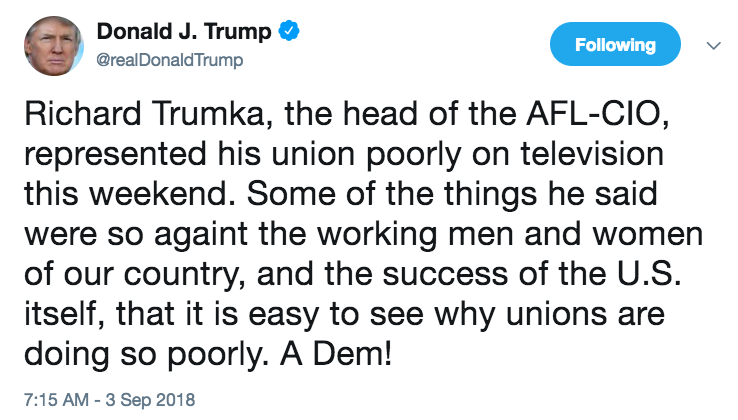 President Trump celebrates Labor Day by attacking the head of the nation's largest union federation, who said on "Fox News Sunday" that new NAFTA deal must include Canada.
Later, Trump added: "Happy Labor Day! Our country is doing better than ever before with unemployment setting record lows. The U.S. has tremendous upside potential as we go about fixing some of the worst Trade Deals ever made by any country in the world. Big progress being made!"
8. Trump's pollution rules rollback to hit coal country hard
"West Virginia coal country will be ground zero for increased deaths and illnesses from the rollback on regulation of harmful emission from the nation's coal power plants," AP reports from Grant Town, W.Va.
"An EPA analysis says ... pollutants would increase under Trump's plan, when compared to what would happen under the Obama plan. And that, it says, would lead to thousands more heart attacks, asthma problems and other illnesses that would not have occurred."
"Clean-air controls since the 1980s largely turned off the columns of black soot that used to rise from coal smokestacks. ... These days pollutants rise from smoke stacks as gases, before solidifying into fine particles ... small enough to pass through lungs and into bloodstreams."
"Nationally, the EPA says, 350 to 1,500 more people would die each year under Trump's plan."
"But it's northern two-thirds of West Virginia and the neighboring part of Pennsylvania that would be hit hardest, by far, according to Trump's EPA."
9. Tracking power
WPP has chosen company veteran Mark Read as the new CEO of the world's largest ad firm, following the departure of founder Martin Sorrell, The Wall Street Journal's Nick Kostov reports (subscription):
"Read inherits a globe-spanning colossus that has struggled in an industry now defined by the dominance of Facebook Inc. and Alphabet Inc.'s Google in digital advertising.
"WPP is under pressure from investors and big clients ... to make the process of buying, creating and measuring the effectiveness of ads more transparent and simple."
"That means Mr. Read needs to consolidate the firm's disparate services, from data science to the creation of TV ads, into more of a one-stop-shop for advertisers."
10. 1 work thing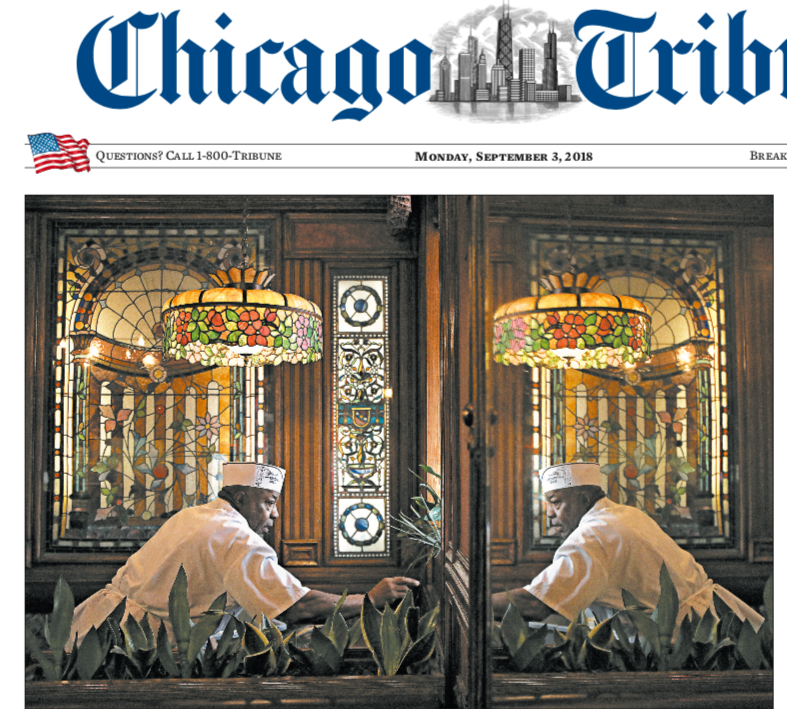 "He's worked at the same pancake house for 54 years — and still makes minimum wage," by Chicago Tribune's Christopher Borrelli:
"Othea Loggan came to Chicago and got a job bussing tables and washing dishes at Walker Bros. Original Pancake House in Wilmette. ... He started March 30, 1964. [He was 18.] ... Loggan's starting salary was $1.15 an hour, the federal minimum wage, but enough, he recalls now, to save up and buy a small house, if you got lucky.
"On a muggy July morning, Othea Loggan walked into the kitchen at Walker Bros. Original Pancake House. He arrived as he had for decades, through a side door, at 5:50 a.m., a headlong wave of motion among a staff still getting adjusted to the hour. ... Loggan ... was still a busboy. He was 72 now.
"He had never left, never graduated to serving tables, never became a manager or a chef — he says he never asked to do anything else. So, he had stayed a busboy, for 54 years. The title had evolved since 1964; he was now a 'busser.'
"But he still wore the kind of throwback paper hat that a busser wore in 1964.
"He had seen generations of customers and co-workers pass through; he'd been there so long he watched Bill Murray go from neighborhood kid to superstar to venerated elder. When he squinted, the same teenagers were still curled into the same booths, the same infants tossed crayons under the same tables, the same captains of industry put away the same post-workout pancake stacks."
Read about his commute: two hours, each way.
Thanks for sharing some holiday time with us — excited for the historic fall ahead.