https://www.axios.com/newsletters/axios-am-5996a368-989c-4016-9097-72b00ce53d51.html?chunk=0#story0
The 1 thing: Trump's 2020 speech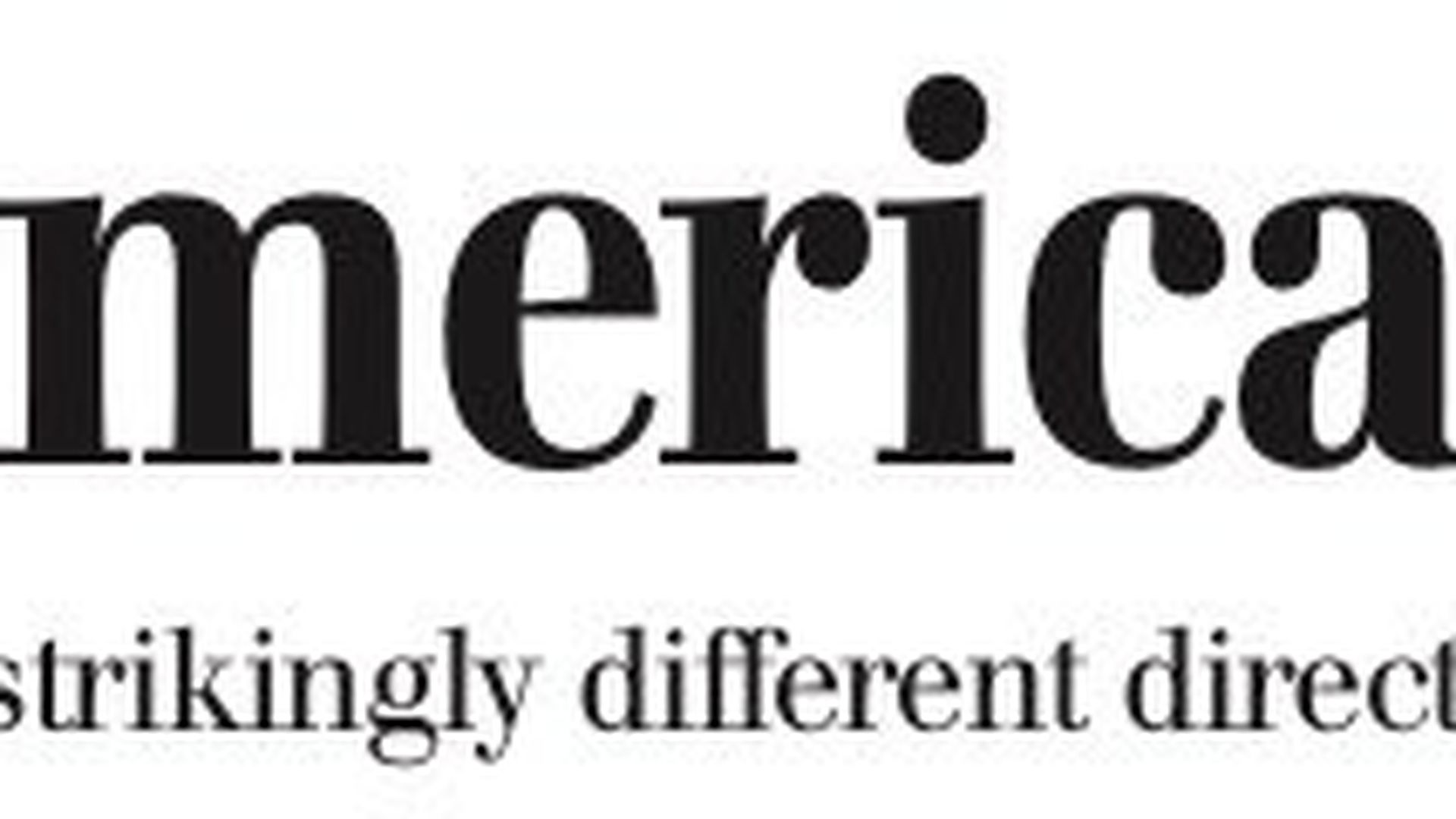 The new president's 16-minute address tipped his hand — in ways both subtle, and stunningly blunt — about his political plan for the coming years. Yes, he plans to pound his America-first, Washington-sucks message that the establishment and media hate. But it was telling how much time he spent talking about infrastructure and jobs for ALL Americans, twice sounding racially inclusive notes.
Stephen Miller, the speech's principal writer, and Steve Bannon, whose worldview dominated and who helped with the prose , see a huge infrastructure bill as a way to attract voters, especially minorities, who opposed Trump in 2016. They argue privately they will shake up voting coalitions if they run new roads, repair tunnels and provide web access to other classes or regions of forgotten Americans. They also believe tariffs and bullying of corporate-outsourcers will change some minds, too.
The coastal bubbles hated the speech. But, like the campaign, it wasn't aimed at them.
Bannon told Bob Costa the address was "an unvarnished declaration of the basic principles of his populist and kind of nationalist movement. … I don't think we've had a speech like that since Andrew Jackson came to the White House."
Between the lines: Bannon is usually press-shy, so it's important and telling that he went public to not just defend the speech, but double down and contrast it with Xi's speech at Davos.
Bannon suggested: "I think it'd be good if people compare Xi's speech ... and President Trump's speech in his inaugural. Axios' enterprising Jonathan Swan did just that, and you can see his findings in the Axios STREAM.
Why it matters: Trump advisers see confrontation with China over trade, territory and now the merits of globalism as a fight they WANT to define their presidency.
What's next? We have a fair idea of how Trump's nationalism will affect immigration and trade policy. But something that's brewing under the surface — and seriously troubling business leaders — is the extent to which Trump will interfere in corporate America (think mergers, regulations) in what he believes is the service of the American worker. In other words: How Bernie will Donald get?
Speech first ...
Framer for Steves Miller and Bannon … Via WashPost, "Words Donald Trump said for the first time in any U.S. inaugural address": bleed … carnage … depletion … disagreements … disrepair … flush … infrastructure … Islamic … lady … landscape … overseas … ripped … rusted … sad … solidarity … sprawl … stealing … stolen … subsidized … tombstones … trapped … trillions … tunnel … unrealized … unstoppable … urban … wind-swept.
Breakdown of speech topics, per WSJ: 58% nationalist themes … 16% role of government … 15% U.S. role in world … 9% equality.
https://www.axios.com/newsletters/axios-am-5996a368-989c-4016-9097-72b00ce53d51.html?chunk=1#story1
2. The world Trump inherits
Russia signed an agreement yesterday giving it a much greater ability to deploy military forces in Syria for at least the next HALF CENTURY.
The winner: Syrian President Bashar al-Assad, who has slaughtered hundreds of thousands of his people during the six-year war to hold power.
"As the clock wound down on Barack Obama's presidency, an Air Force B-52 bomber carried out a punishing airstrike against a training camp of al Qaeda in Syria, the Pentagon said Friday. "The attack, which took place west of Aleppo, killed more than 100 fighters."
British Prime Minister Theresa May, the first leader Trump mentioned in our interview when asked about his top allies, told the Financial Times she would be very frank about the need for a strong NATO and EU when she visits him in D.C., as early as Thursday. Trump has very critical of both.
https://www.axios.com/newsletters/axios-am-5996a368-989c-4016-9097-72b00ce53d51.html?chunk=2#story2
​3. Media agog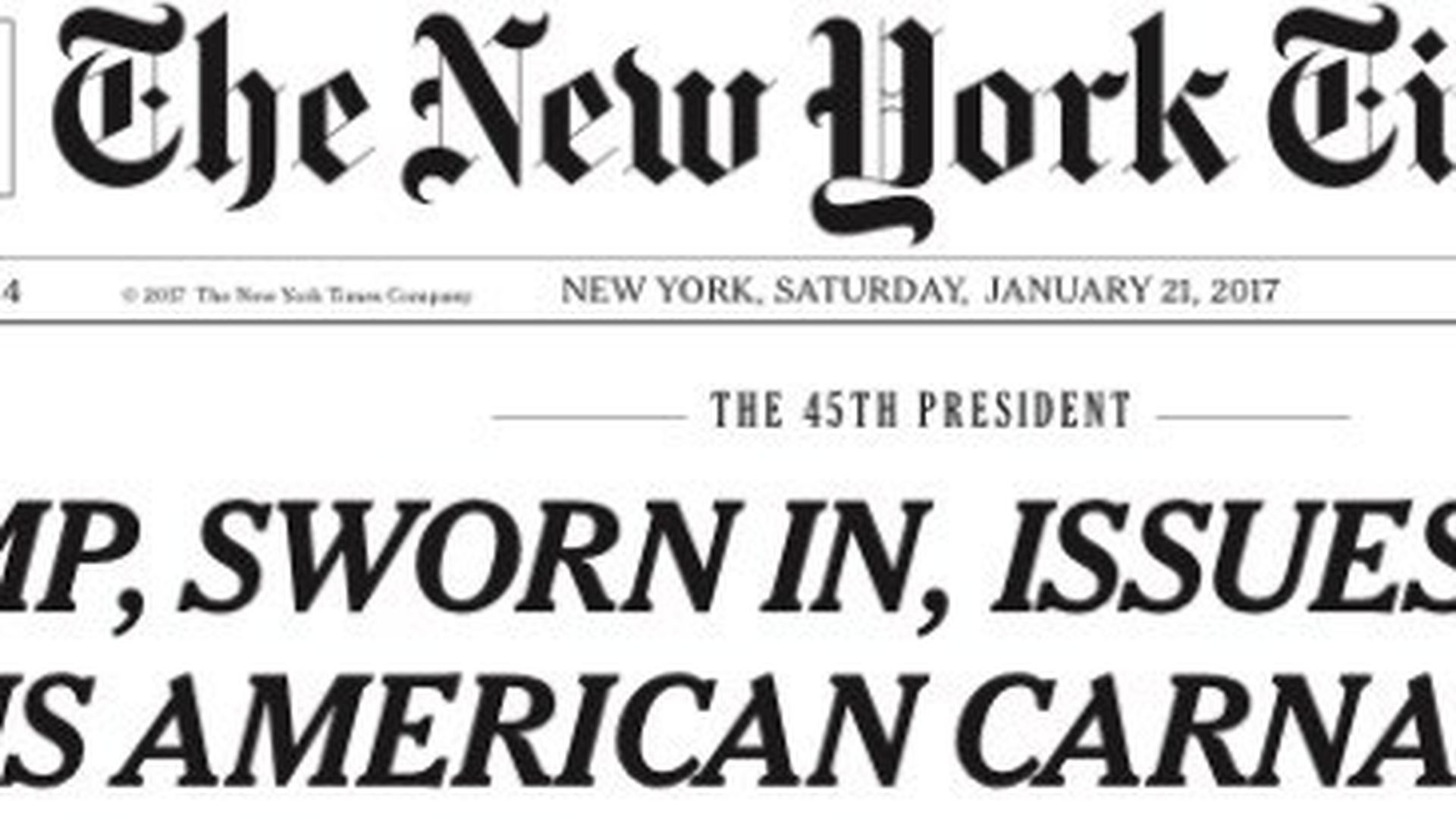 The address made "dark and dystopian" great again …
Business Insider's Josh Barro: "Trump just set a very high bar for himself … Trump is making big promises and will suffer if he does not keep them."
Chuck Todd: "I thought it shockingly divisive. … I was surprised, because i thought it was unnecessarily divisive. … What's interesting here is that this was intentional … It was a call to arms to his supporters … The message was we're going to be a little bit of a confrontational presidency. We were a confrontational campaign — that's what populist campaigns are … He … at points insulted almost every living president that was there to witness his inaugural … This is a risk. He has got DEPTH of support. He did not go for any breadth today."
Tom Brokaw: "Short on elegance; long on bombast. … It didn't have the poetry."
Jake Tapper: "I think it's fair to say this is one of the most RADICAL inaugural speeches we've ever heard. … It attacked Washington while standing inside the center of Washington, D.C., surrounded by Washington insiders. There was nothing really particularly conservative about this Republican president's speech. It was pure populism."
Clickers:Split screen compares Mall crowd for Trump and Obama inaugurals. Full text of address, with NYTimes annotations.
https://www.axios.com/newsletters/axios-am-5996a368-989c-4016-9097-72b00ce53d51.html?chunk=3#story3
​4. Bleak house
One of the underpinnings of the Trump team's plans is the notion that the quislings in the establishment fail to see the world as it actually is. This is nasty, brutish and short, applied to governing. There's plenty of delusion among the establishment, but Trump's speech overcorrects. An AP Fact Check ticks off three ways he overshot:
"The American economy is a lot healthier than the wreck Trump describes. Jobs have increased for a record 75 straight months. The U.S. unemployment rate was 4.7 percent in December, close to a nine-year low and to what economists consider full employment."
"The U.S. military … remains the world's most advanced, expensive and far-flung fighting force. American military spending is nearly three times that of second-place China."
"Quelling radical Islamic terrorism worldwide is a heavy lift in which the U.S. has been engaged for years, and Trump has offered no plan for how he will deliver on" the promise in his speech to "unite the civilized world against radical Islamic terrorism, which we will eradicate completely from the face of the Earth."
https://www.axios.com/newsletters/axios-am-5996a368-989c-4016-9097-72b00ce53d51.html?chunk=4#story4
​5. Good gets: Reporting tidbits
ABC's Jon Karl said on "World News" that Trump will visit major agencies, with the CIA one of the first stops.
Maggie and Glenn: "[S]ome [aides] are urging him to forgo his personal Twitter account … to use only the official @POTUS handle created by Mr. Obama's team and controlled by staff members. Mr. Trump is resisting it, the friend said.".
NBC's Cynthia McFadden in the second half hour of an extended "Nightly News": "Surveillance drones and armed aircraft will be added to the mix when [Trump] is in New York."
https://www.axios.com/newsletters/axios-am-5996a368-989c-4016-9097-72b00ce53d51.html?chunk=5#story5
​6. Day 1
In the Oval Office, Trump signs a poster-sized executive order rolling back Obamacare. An Axios AM reader notes that on the new White House website, "there's no health or ACA section in the issues section, … indicating they're still at square one on the replacement plan.
Obama and Bush 43 each had seven nominees confirmed on Day 1. Trump had two, both retired generals: Defense Secretary James "Maddog" Mattis, who was sworn in by Pence just ahead of last night's balls, and Homeland Security Secretary John Kelly.
https://www.axios.com/newsletters/axios-am-5996a368-989c-4016-9097-72b00ce53d51.html?chunk=6#story6
​7. Sneak peek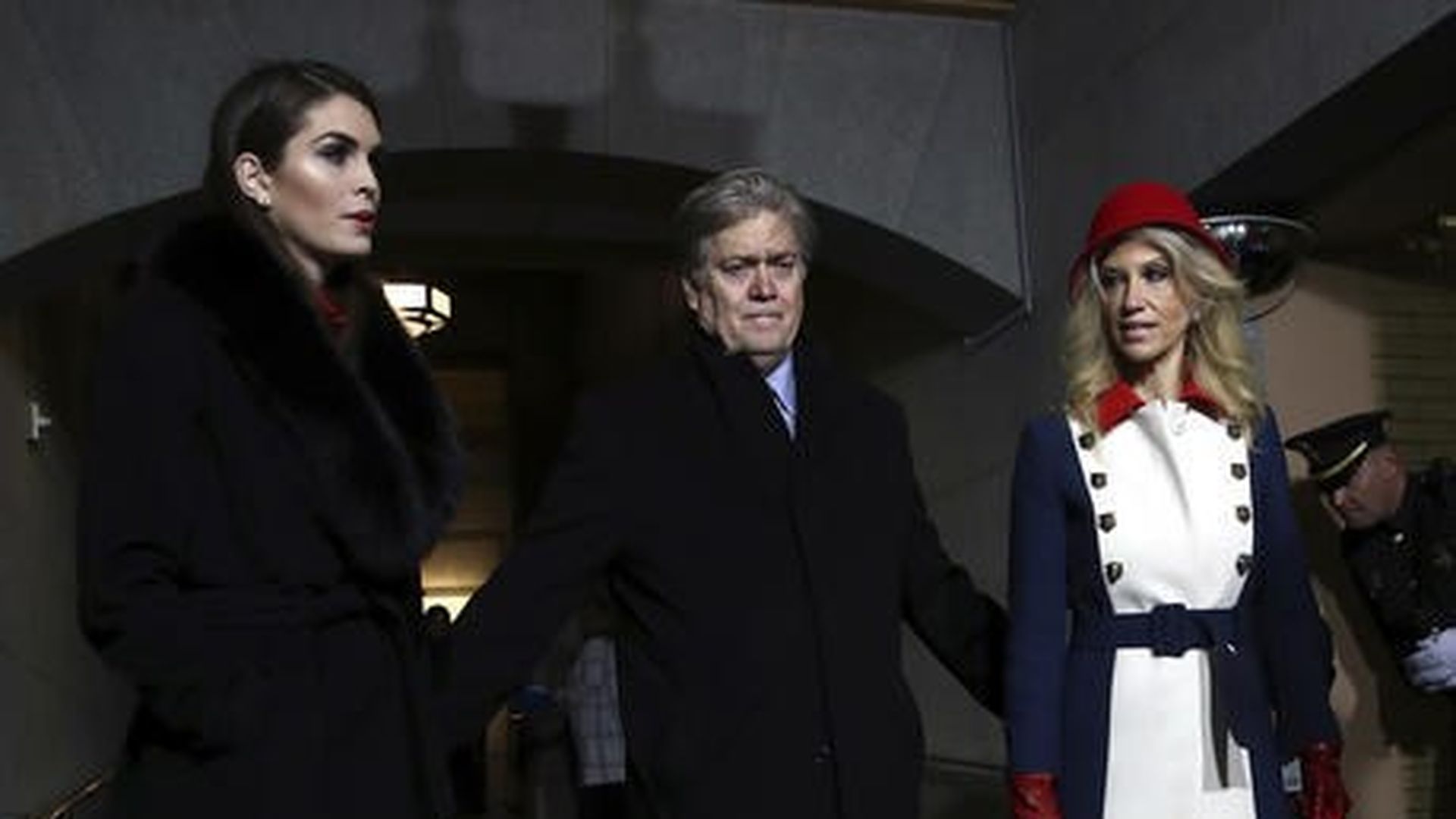 Kellyanne Conway (seen above in what she calls "Trump revolutionary wear," with Hope Hicks and Steve Bannon) to Willie Geist on "Sunday Today," about SNL's spoof of her: "If you're going to be mocked it might as well be that affectionately. It was adorable."
YouTube of our fave of the many "SNL" Kellyanne portrayals: "'A Day Off' with Kellyanne Conway"
https://www.axios.com/newsletters/axios-am-5996a368-989c-4016-9097-72b00ce53d51.html?chunk=7#story7
​8. Both sides will feast on this
Usually the N.Y. Times Public Editor opines, but Liz Spayd broke news yesterday afternoon while the parade was lining up: Times reporters last fall prepared a story delving into evidence of "a covert connection … between Donald Trump and Russian officials trying to influence an American election." But the draft "never saw daylight" because of internal "doubts about the material and with the F.B.I. discouraging publication."
Reporting is sure to continue on this part: "The most damning claim was that Trump was aware of Russia's efforts to hack Democratic computers, an allegation with implications of treason. Reporters Eric Lichtblau and Steven Lee Myers led the effort, aided by others."
Liz's bold conclusion: "I have spoken privately with several journalists involved in the reporting last fall, and I believe a strong case can be made that The Times was too timid in its decisions not to publish the material it had."
Executive Editor Dean Baquet, who made the call, claims to have no second thoughts: "We heard about the back-channel communications between the Russians and Trump. … We reported it, and found no evidence that it was true. We wrote everything we knew — and we wrote a lot. Anybody that thinks we sat on stuff is outrageous. It's just false."
https://www.axios.com/newsletters/axios-am-5996a368-989c-4016-9097-72b00ce53d51.html?chunk=8#story8
​9. Obama's third term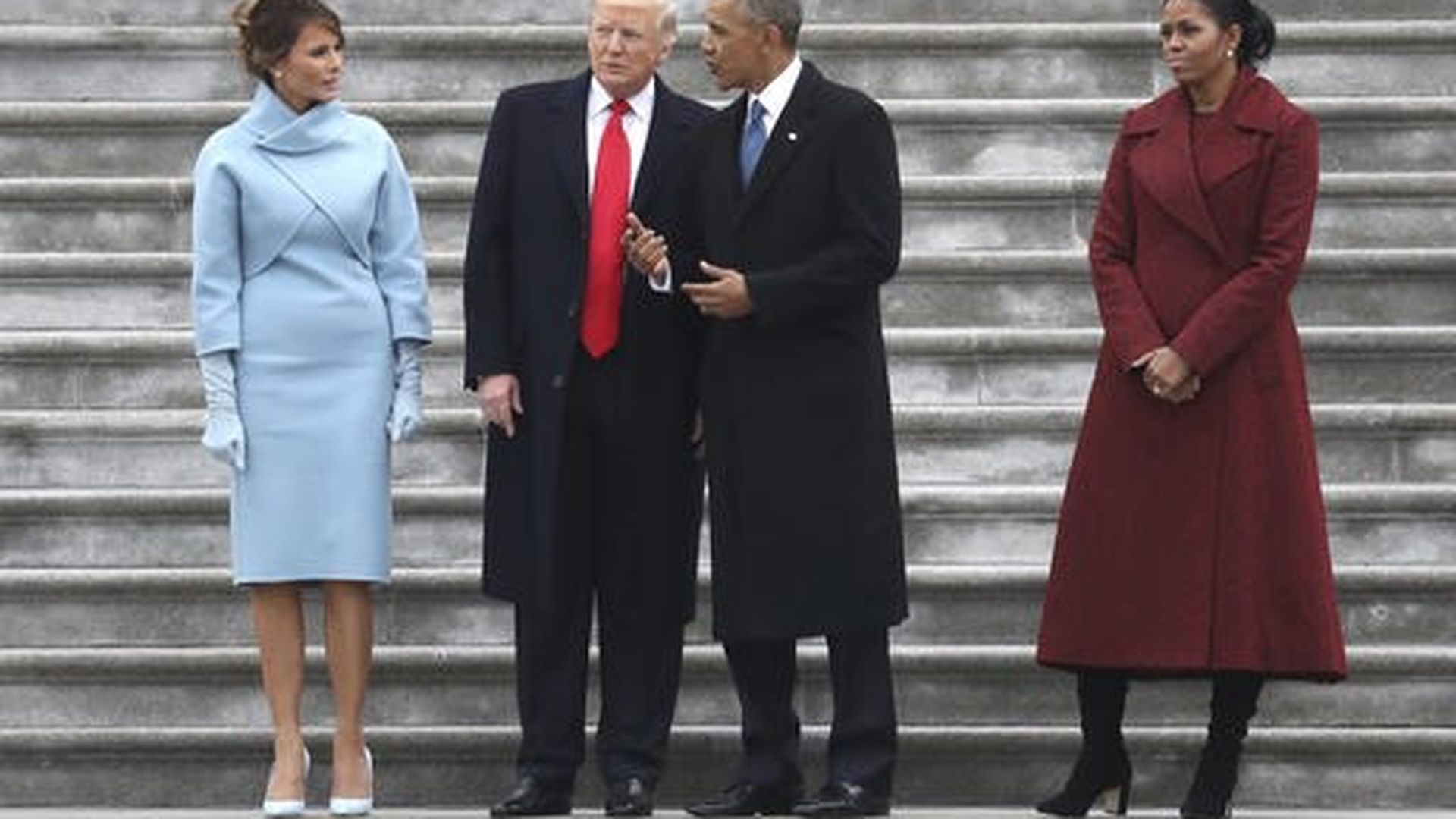 GQ's Jason Zengerle quotes Obama alumni who hope he "will break with the tradition of deference and support that outgoing presidents typically offer their successors": "Obama, who was grateful to George W. Bush for retreating from the public arena and not commenting positively or negatively on his actions, recognizes that with Trump as his successor, he will likely not have the luxury of standing on custom."
An Obama White House staffer: "Barack Obama today is the most popular politician in America, on either side of the aisle … He has standing. He has vehicles to communicate."
Dan Pfeiffer: "Barack Obama will hold the biggest and most influential megaphone in the world, even when Donald Trump is president, because his popularity at home and abroad will be much greater than Trump's."
Anita Dunn: "The last time he faced this momentous a choice … was when he was deciding whether or not to run for president." http://www.gq.com/story/barack-obama-preparing-for-third-term
https://www.axios.com/newsletters/axios-am-5996a368-989c-4016-9097-72b00ce53d51.html?chunk=9#story9
​10. 1 fun thing to tell your kids
Rory Smith, N.Y. Times chief soccer correspondent, finds the Adidas scouting network in England is more sophisticated than that of the Premier League's giants: "Matches involving 8- and 9-year-old players are scouted [by the clubs] … While smaller-scale players on the scene — such as Puma, Under Armour and New Balance — still prefer to focus on securing contracts with established stars, Adidas and Nike both have established talent identification departments, an approach they have honed in America in … basketball and football."
WHAT DID YOU THINK of the inauguration? Just reply to this email to send your insights, leaks and links.