Axios AM
January 23, 2017
​The 1 thing: Trump's first acts
We have been leaked a list of the top executive order priorities for the Trump administration. The Trump folks wanted to get these done immediately, but our Jonathan Swan is told the process is proving to be a little slower than some might have whimsically thought. Trump's team is working to clear the actions through legal counsel to get language right.
One of our best-wired GOP sources says Trump's early executive orders speak volumes about what to expect from his presidency. "What Peggy Noonan wrote about the inaugural speech was exactly right," our source says. "There will be not a shred of difference between campaign rhetoric and how he plans on governing."
The list, circulating at the top levels of GOP congressional leadership, with each bucket tied to a Trump campaign promise:
Hiring freeze for Executive Branch, and 5-year lobbying ban on transition and administration officials.
Mexico City policy, which prevents foreign NGOs from getting U.S. family planning money if they provide abortions with non-U.S. funds.
Task the Defense Secretary and Joint Chiefs to come up with plan to eviscerate ISIS.
Something on cyber-security.
Something on sanctuary cities; expand E-Verify; an extreme-vetting proposal.
Withdraw from TPP and a thorough review of NAFTA (campaign: constant denigration of trade deals).
​2. Big plans for EPA
Super Swan got his hands on the Trump team's "Agency Action" plan for the EPA. It's a tightly-held document that fleshes out Trump's campaign promises to gut the agency. It's the handiwork of Myron Ebell, director of the Competitive Enterprise Institute's Center for Energy and Environment. Trump appointed Ebell, a prominent opponent of climate change activists, to lead the EPA transition.
Our takeaway: Environmental Protection Agency is set for an absolute hammering under Trump.
The deets:
—"Potential opportunities for budget reductions": A category that includes $513 million in cuts to the "states and tribal assistance grants" … $193 million in savings from terminating climate programs … $109 million in savings from "environment programs and management."
Listed as initiatives to stop: "Clean Air Act greenhouse gas regulations for new (NSPS) and existing (ESPS or the 'Clean Power' Plan) coal and natural gas power plants … [CAFE] Standards … Clean Water Section 404: Waters of the U.S. Rule (wetlands) … TMDL (Total Maximum Daily Load) for Chesapeake Bay.
"Key opportunities": "Issue an executive order barring EPA from overruling federal/state regulatory/permit decisions unless in clear violation of established law."
Changing the way the EPA uses science: "Unless major reforms of the agency's use of science and economics are achieved, EPA will be able to return to its bad old ways as soon as an establishment administration takes office."
​3. Trump 101
Our new series debuts, with first installment by VandeHei and Swan, "What he means by 'America first': "When you parse his Inaugural address — and watch the unmistakable prominence and power of deeper-thinking nationalists like chief strategist Steve Bannon, policy guru Stephen Miller and Attorney General-in-waiting Jeff Sessions — you see a Trump form of nationalism emerging."
Internal intrigue ... "Trump to add another Breitbart hire": "Breitbart's immigration reporter Julia Hahn is set to join the White House team … Steve Bannon recruited her and she'll likely work under him as an adviser on policy issues like trade and immigration and on the speechwriting team."
4. Inside Trumpworld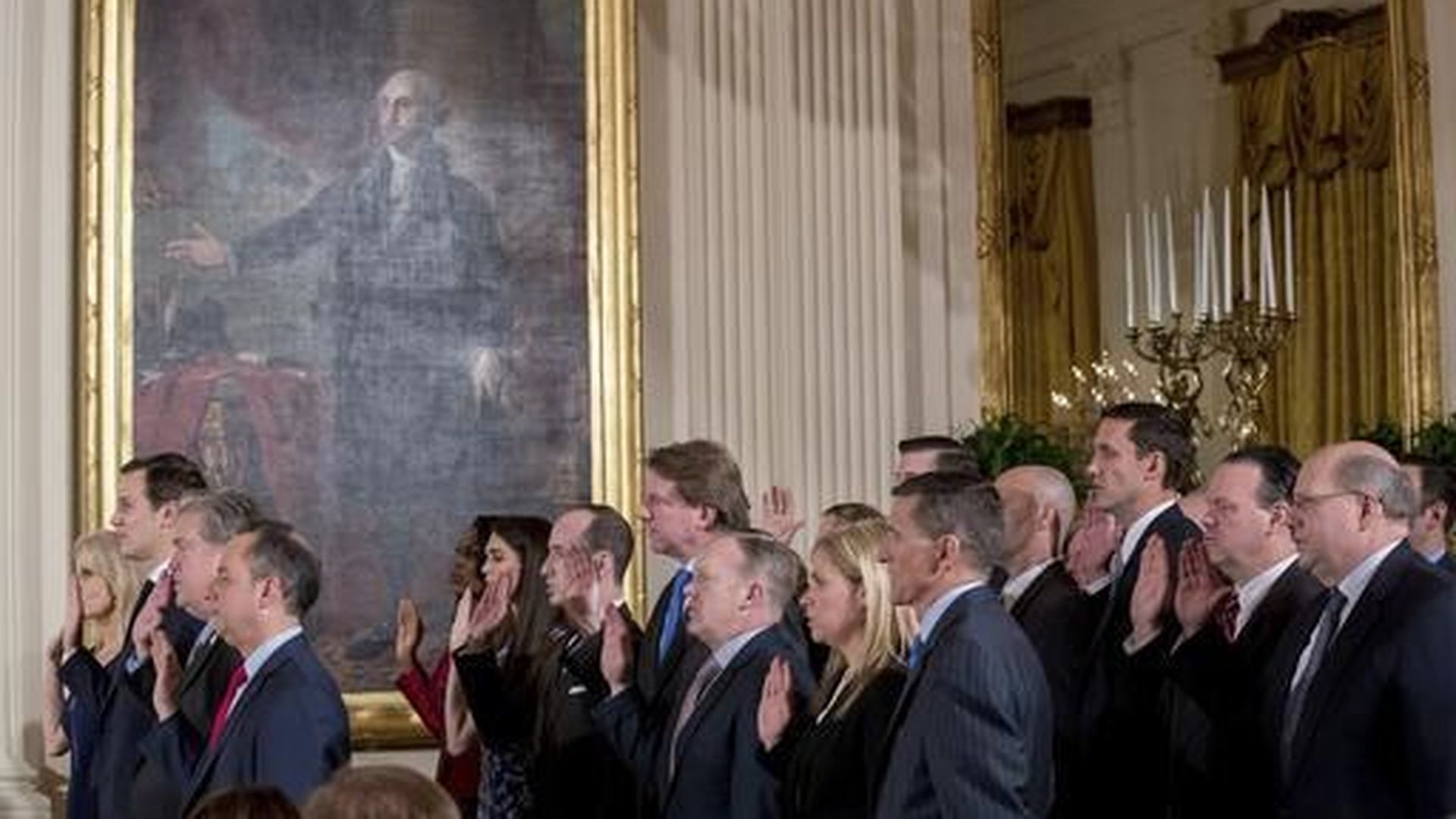 Anthony Scaramucci, the charismatic investment pioneer who now is a top White House official, is showing rising West Wing clout. In New York this afternoon, he'll hold two high-stakes meetings that reflect his internal juice: Mort Klein, close friend of Sheldon Adelson and national president of the Zionist Organization of America, will exchange views on Israel with Scaramucci, who has been a loyal friend to the pro-Israel community. Adelson wants to convey his views on Israel, including the movement of the embassy.
Scaramucci, a Bannon ally, also will meet with senior officials from Stephen Schwarzman's Blackstone Group to hear their views on tax and regulatory policy, foreign affairs and more. Schwarzman —chairman, CEO and co-founder of Blackstone — chairs Trump's new Strategic and Policy Forum, which includes some of the nation's top CEOs. "Mooch," as Scaramucci is affectionately known, is drector of the White House Office of Public Liaison and Intergovernmental Affairs, and will report today's findings to Jared Kushner.
​5. Trump v. China escalates
Bloomberg reports overnight: "China's state media used Donald Trump's inauguration ... to warn about the perils of democracy, touting the relative stability of the Communist system … Democracy has reached its limits, and deterioration is the inevitable future of capitalism, according to the People's Daily, the flagship paper of China's Communist Party. It devoted an entire page on Sunday to critiquing Western democracies, quoting former Chairman Mao Zedong's 1949 poem asking people to 'range far your eyes over long vistas' and saying the ultimate defeat of capitalism would enable Communism to emerge victorious."
Why this matters: "The unusual series of commentaries in the People's Daily mirrors Soviet efforts to promote an alternative political and economic system during the Cold War."
Across the pond … "Trump Era May Force Europe Into Deciding What Role It Wants" — Bloomberg: "The new U.S. president's barrage of criticism … prompted pledges to stick together and revive support for the European Union. … 'Europe has to decide very quickly what kind of Europe it wants to be,' Guntram Wolff, director of the Brussels-based Bruegel Institute, said … 'This is a big problem because we have to react now and there's a lot of denial.'"
Trump rally hesitates as markets await policy details — Financial Times second front: "The run-up in US equities has lost its momentum over the past few weeks. … Bank of America Merrill Lynch's economists said that a 'serious' escalation of US-China tensions are the biggest danger confronting the global economy in the coming year."
​6. 2 great voices on Trump, press
CNN's Brian Stelter in last night's Reliable Sources newsletter: "What a very plugged-in news exec pointed out on Sunday: 'Steve Bannon WANTS a grand divide between Trump and the mainstream media. He wants his world to never trust the media' … Trump has been trying to 'delegitimize' the mainstream media for some time. This weekend it seems like his aides are taking that word, flipping it around, and saying it's the press trying to 'delegitimize' him."
Ross Douthat, N.Y. Times columnist, warns against "alarmist journalism": "There is a large and frightened readership looking for confirmation of its darkest fears … The danger for the established press … is the same danger facing other institutions in our republic: that while believing themselves to be nobly resisting Trump, they end up imitating him."
​7. Worthy of your time
If you're going to curl up with one long article today, make it Evan Osnos' New Yorker dispatch (which included a hardship reporting foray to New Zealand), "Doomsday Prep for the Super-rich": "Reid Hoffman, the co-founder of LinkedIn and a prominent investor, recalls telling a friend that he was thinking of visiting New Zealand. 'Oh, are you going to get apocalypse insurance?' the friend asked. … New Zealand, he discovered, is a favored refuge in the event of a cataclysm. … I asked Hoffman to estimate what share of fellow Silicon Valley billionaires have acquired some level of 'apocalypse insurance,' in the form of a hideaway in the U.S. or abroad. 'I would guess fifty-plus per cent,' he said, 'but that's parallel with the decision to buy a vacation home.' …
"Even financiers who supported Trump for President, hoping that he would cut taxes and regulations, have been unnerved at the ways his insurgent campaign seems to have hastened a collapse of respect for established institutions."
​8. Tops in media trends
Facebook deal with top athlete … NFL. com's Ian Rapoport: "Steelers receiver Antonio Brown's much-publicized use of Facebook Live last week wasn't an accident or a random event.The star pass-catcher, who drew the public ire of coach Mike Tomlin … after opening up his team's postgame locker room to hundreds of thousands of people via a live stream video. … Brown actually has a big-time marketing deal with Facebook, sources say, part of his lucrative off-the-field portfolio. The deal is worth in the high six-figures."
​9. Hot in tech
Robots will make tech gender gap WORSE, per Bloomberg: "The so-called Fourth Industrial Revolution, the rise of automation and artificial intelligence, is projected to be far more destructive globally to jobs currently favored by women than to jobs favored by men … Three of the top growth areas -- management, computer and math, and architecture and engineering -- have low female participation with little expectations of significant increases."
Sound smart: Benoit Hamon, the left-wing candidate who won early polling to represent Socialists in France, wants to tax robots and provide universal basic income to combat automation.
​10. 1 fun thing: Brady's revenge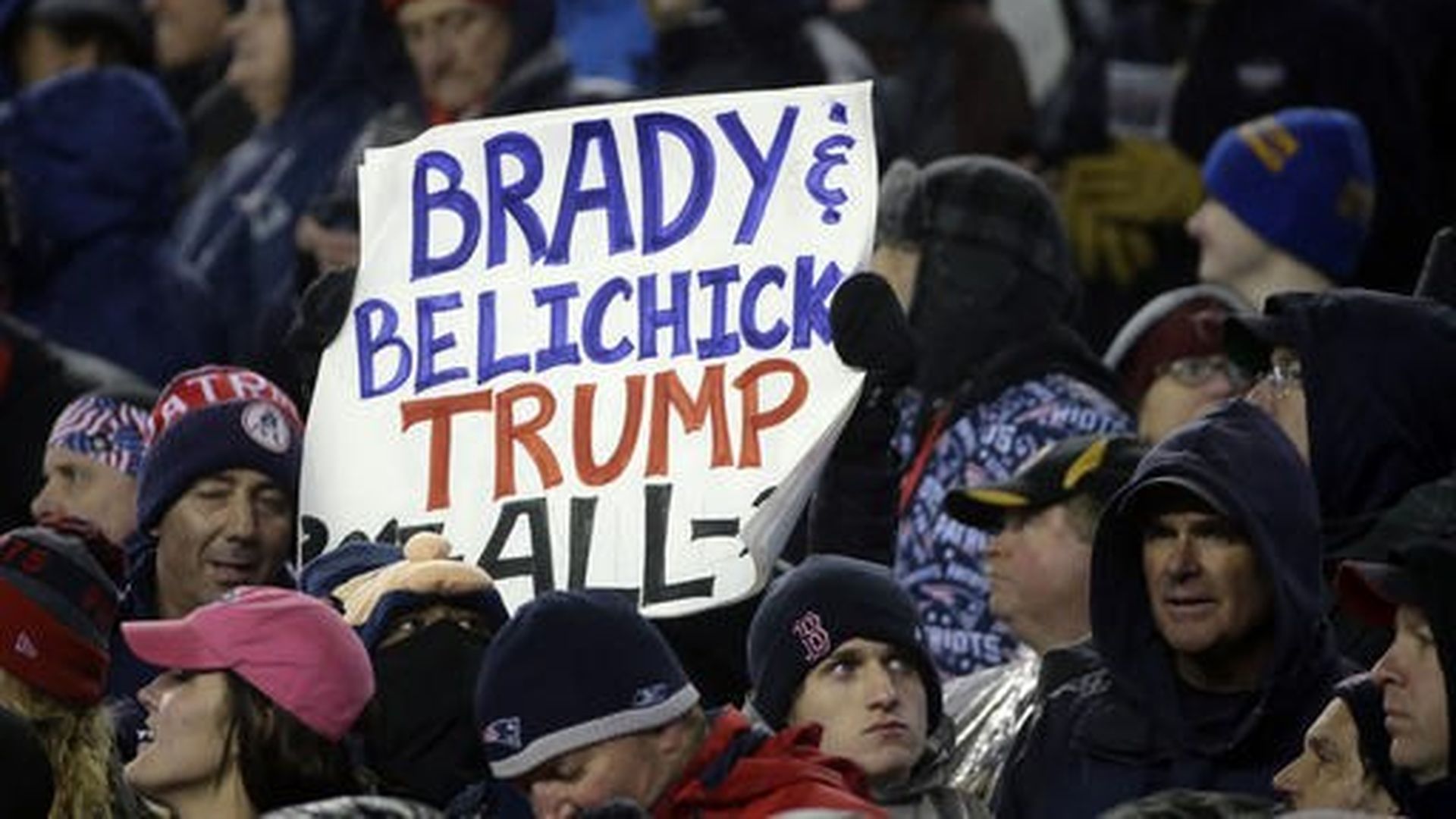 Primack's New England Patriots are favored by a field goal over the Atlanta Falcons in Super Bowl 51, in Houston on Feb. 5:
Boston Globe columnist Dan Shaughnessy: "This Super Bowl will be a showdown with Roger Goodell": The NFL commissioner "would not come to Foxborough after he dropped the Deflategate hammer on the Patriots. We have not seen him in two full years. But the commissioner won't be able to avoid the fury of Kraft, Belichick, and Brady in Houston, where the Patriots are 3-point favorites to win their fifth Super Bowl of this century."
Oddsmakers didn't even wait for the final whistle in last night's Patriots-Steelers beatdown (36-17) to announce the line: "Most are also expecting an offensive showdown, with an over/under of 59 at some sports books the biggest ever in Super Bowl history. … [Total legal betting] on the game could exceed the record $132.5 million bet on last year's Super Bowl."
HAVE A GREAT WEEK. Just reply to this email to send me your links, tips, dope.