Axios AM
March 25, 2017
1 big thing: Inside the meltdown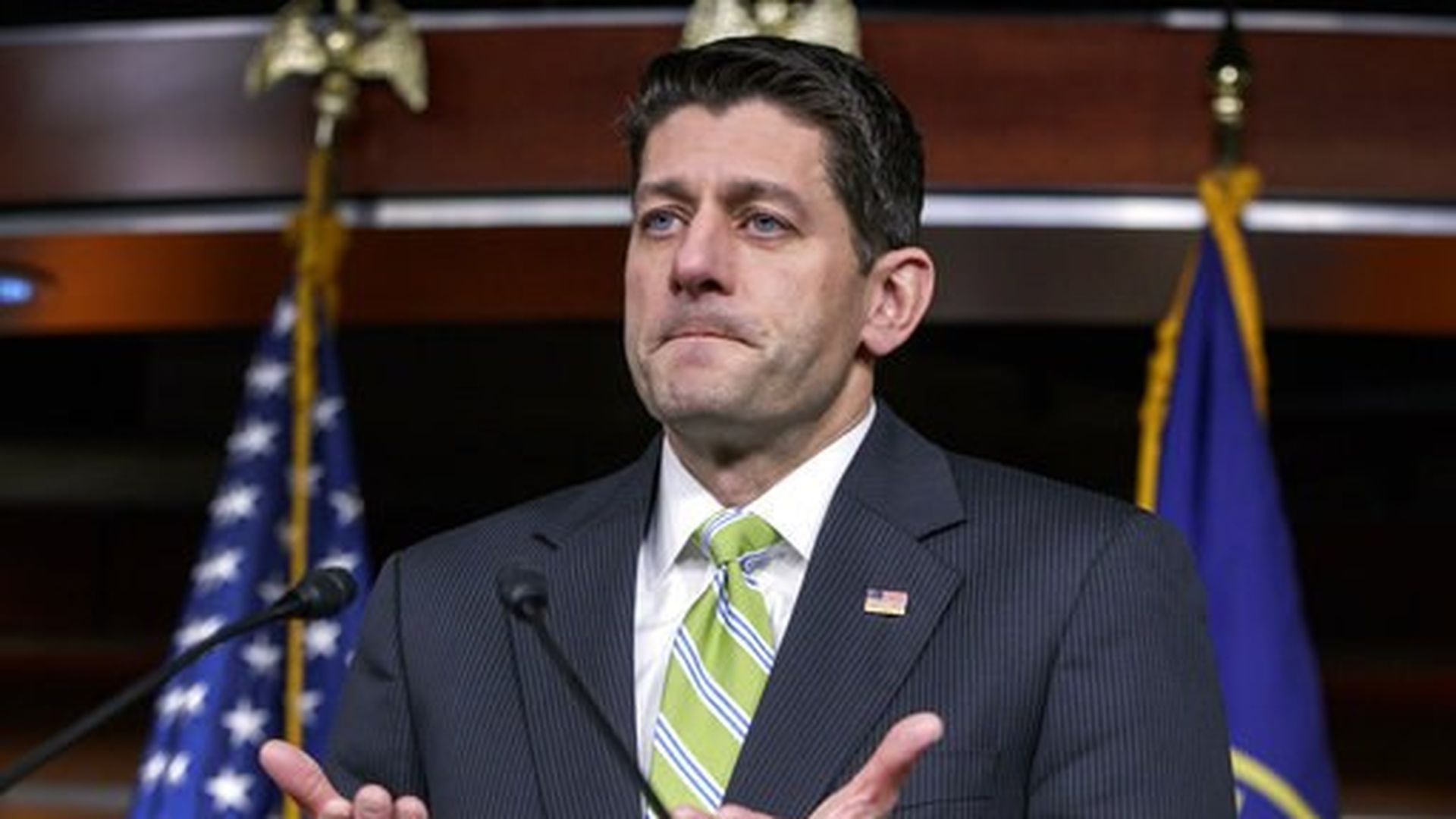 When the balky hardliners of the House Freedom Caucus visited the White House earlier this week, this was Steve Bannon's opening line, according to people in the conference room in the Eisenhower Executive Office Building:
"Guys, look. This is not a discussion. This is not a debate. You have no choice but to vote for this bill."
Bannon's point was: This is the Republican platform. You're the conservative wing of the Republican Party. But people in the room were put off by the dictatorial mindset.
One of the members replied: "You know, the last time someone ordered me to something, I was 18 years old. And it was my daddy. And I didn't listen to him, either."
Started on the wrong foot: Repeal-and-replace was always snakebit. Ryan had begun the process before Trump's inauguration. "He boxed us in," said one person close to the fight. "We didn't have any choice."
Was always wobbly: Trump relied too long on assurances from Chief of Staff Reince Priebus and HHS Secretary Tom Price that they had the process in hand. And "Ryan was telling him it was fine, and they'd bring it together at the end." Instead, the bottom fell out.
What's next: White House officials plan to plunge ahead with ambitious tax reform, but they know it'll be harder now. As one of the lessons learned, look for the White House to drive the truck on tax reform – to set the policy and work the members from the beginning, undercutting Ryan. So the border adjustment tax, a favorite of Ryan but viewed skeptically at best by the White House, is less likely to be part of Trump's tax reform bid.
What happens today: Aides say Trump was calm yesterday. But as the vicious post-mortems piled up, friends — knowing he would hate-read them — feared for today's Twitter feed.
Perspective: It's hard to overstate the magnitude of the Day 64 defeat. President Trump, who made repeal-and-replace a central theme of his campaign, and House Republicans, who made it the central theme of every campaign since 2010, lost in a publicly humiliating way despite controlling every branch of government and enjoying margins in the House rarely seen in the past century.
This virtually guarantees no substantive legislative achievements in the first 100 days. And it creates rifts and suspicions and second-guessing that make governing much harder.
2. The policy aftermath
Reality check from Axios' David Nather:
"There's really no such thing as 'leaving Obamacare in place' under a Republican administration that hates it. The law has needed a tremendous amount of implementation funding and support from the Obama administration, and it's not going to get it under Trump and [HHS Secretary Tom] Price. And some of the problems in the insurance market have been caused by the loss of 'risk corridor' payments for health plans with expensive customers — which were cut because of Republican opposition."
3. Postgame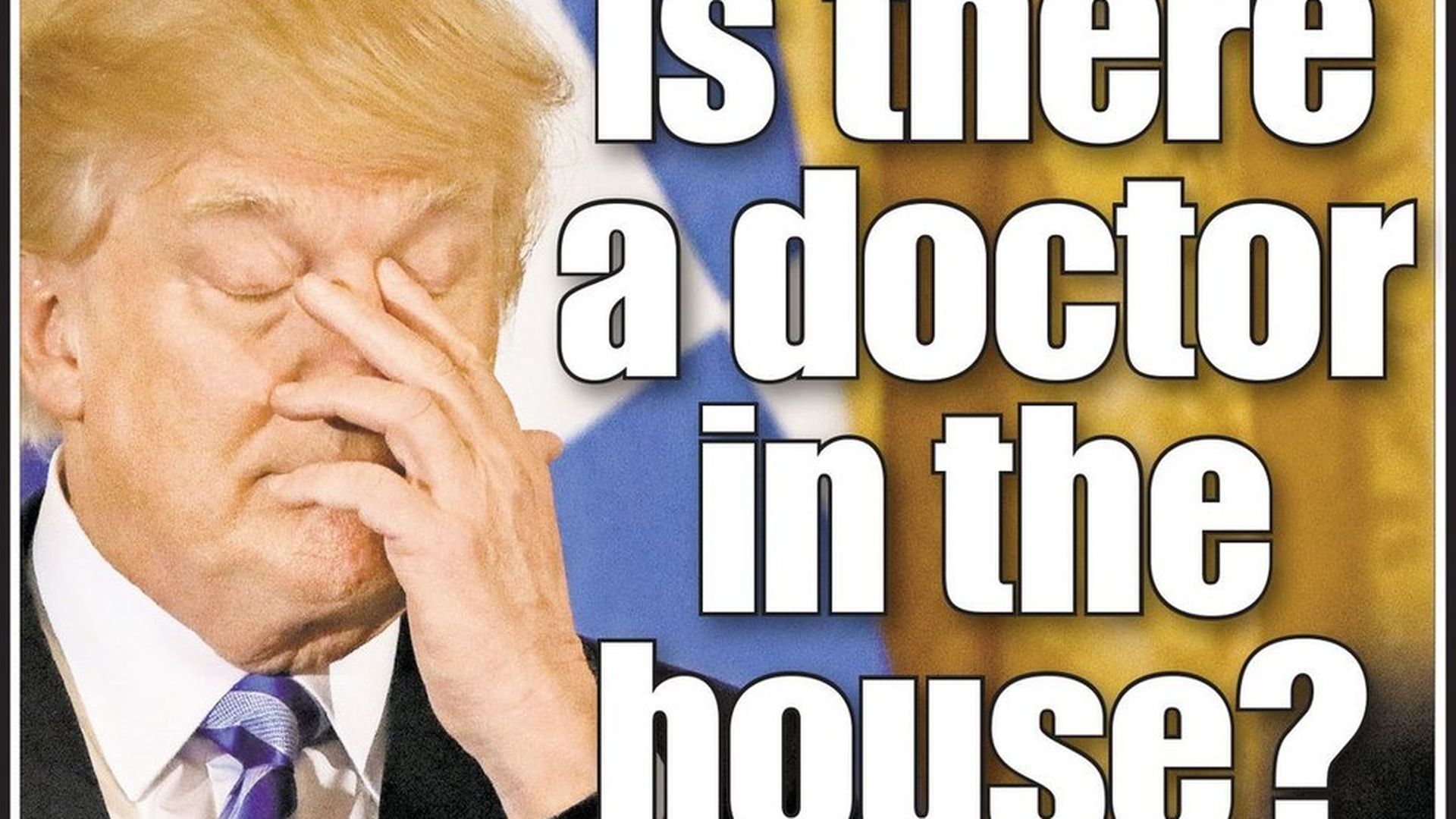 Tiles in a mosaic that'll be studied and talked about, as long as people talk about politics:
NBC's Chuck Todd to Lester Holt on "Nightly News": "If you read between the lines, he's trying to blame Democrats. But then he also is quietly admitting: He cannot do big things in Congress ... without the help of Democrats."
NY. Times' Maggie Haberman to CNN's Anderson Cooper: "We do know, based on history, that he has a habit of kind of stewing for a little while. ... On Saturday — he lives alone. He will be alone in the White House residence, watching television — possibly right now. ... I think he was a little gobsmacked."
WashPost's Bob Costa, Ashley Parker and Phi Rucker: "Still in a suit jacket and striped red tie Wednesday evening, the president dialed Rep. Joe Barton, a wavering Republican from Texas, and placed the call on speakerphone. He put his finger to his lips to shush the clutch of advisers that always surrounds him. The president listened as the congressman ticked through his concerns, sipping from a glass of Diet Coke and jotting down notes with a thick, black Sharpie."
Politico's Tim Alberta: "It was Thursday afternoon and members of the House Freedom Caucus were peppering the president with monkish concerns ... 'Forget about the little shit,' Trump said ... 'Let's focus on the big picture here.' ... For many of the members, the 'little shit' meant the policy details that could make or break their support for the bill."
N.Y. Times Quote of the Day ... Speaker Ryan: "We're going to be living with Obamacare for the foreseeable future."
See the front pages ... WashPost, "Trump and Ryan meet defeat" ... N.Y. Times, "G.O.P. REVOLT SINKS BID TO VOID HEALTH LAW" ... Wall Street Journal, "Divided GOP Drops Health Bill" ... L.A. Times, "REPUBLICAN REPEAL OF OBAMACARE IMPLODES" ... Orange County (Calif.) Register, "Obamacare still law of land."
5. Lead of the week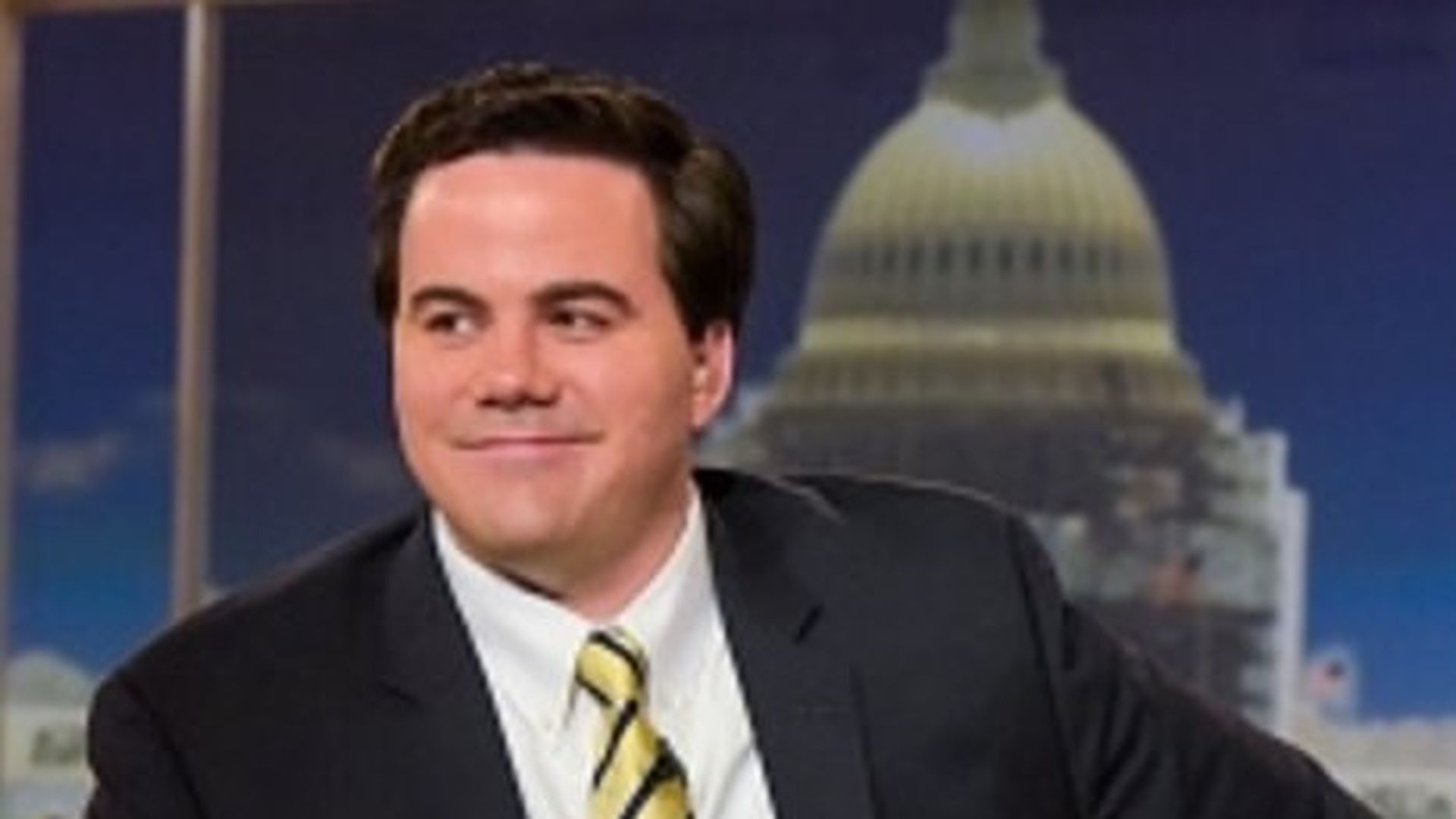 WashPost's Bob Costa: "President Trump called me on my cellphone Friday afternoon at 3:31 p.m. ... [I]t was a blocked number. ... [I]t was the president calling from the Oval Office. His voice was even, his tone muted. He did not bury the lead. 'Hello, Bob,' Trump began. 'So, we just pulled it.'"
Costa live-Tweeted his scoop: "Still on phone. ... 'I don't blame Paul,' Trump tells me ... What a convo. I'll type it up quick."
Axios' Jonathan Swan had reported shortly before noon that Ryan was considering pulling the bill: "What leadership keenly understands is that the bottom falls out on a vote like this. ... If GOP leaders put the bill on the floor without the votes to win, it won't lose by a handful, it will lose badly."
But Trump broke his own news that he had agreed.
Trump told Costa: "I never said I was going to repeal and replace in the first 61 days."
"Turning to an aide, Trump asked, 'How many days is it now? Whatever.' He laughed. ... 'I would say [we were] within anywhere from five to 12 votes,' Trump said ... Does Trump regret starting his agenda this year with health care? 'No, I don't ... But in a way I'm glad I got it out of the way.' ...
"As Trump tried to hang up the phone and get back to work, I asked him to reflect ... on lessons learned. ... 'Just another day,' Trump said, flatly. 'Just another day in paradise, okay?' He paused. 'Take care.'"
6. Lookahead to tax reform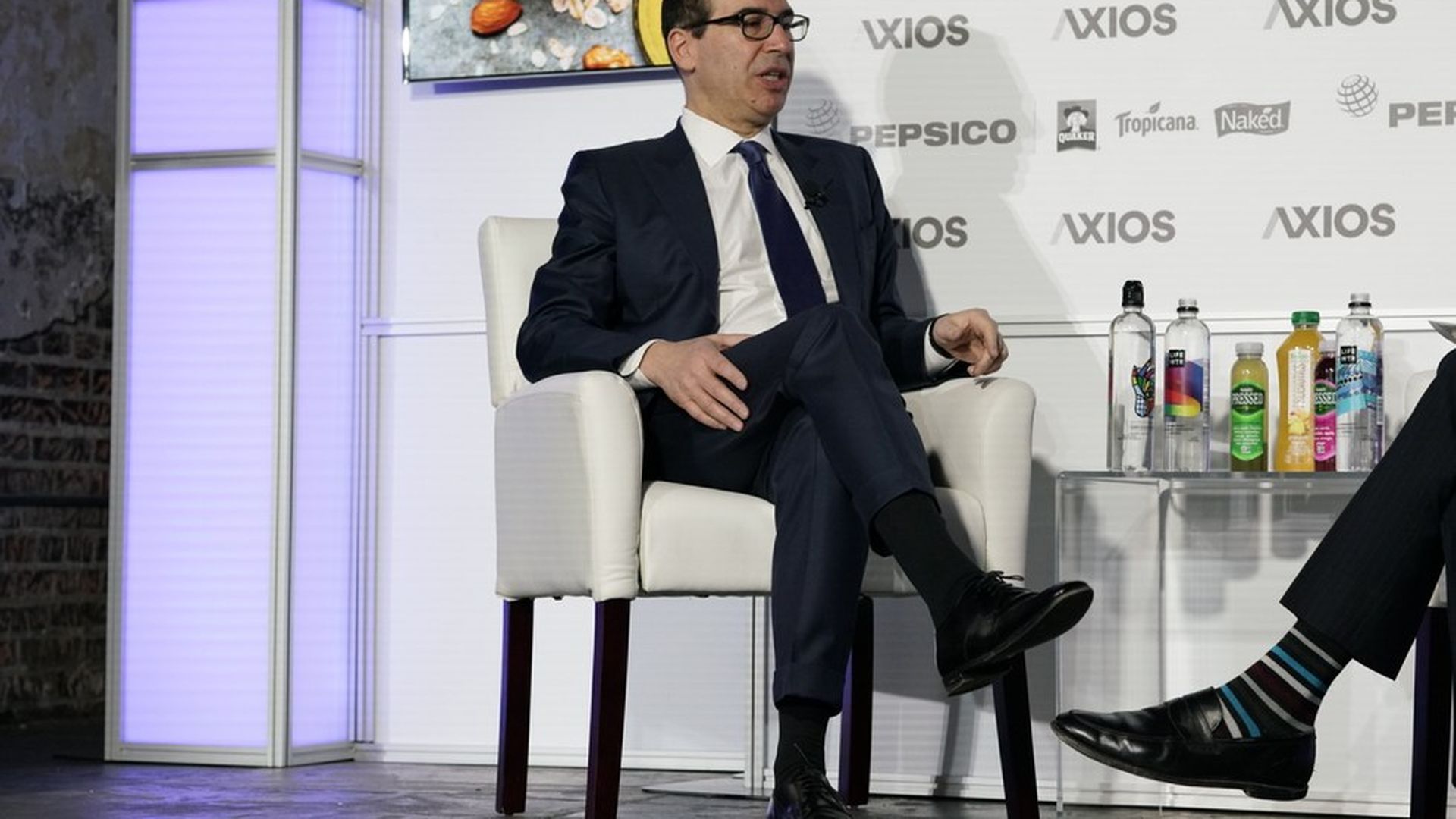 Treasury Secretary Steve Mnuchin, in a conversation with me yesterday morning at the debut Axios News Shapers event, said the administration will plunge into whole-hog tax reform: "We're reforming both the personal and the corporate side. We're not cutting this up and doing little pieces at a time."
Mnuchin slid a bit on his earlier vow to finish tax reform by the August recess, saying that's always been the optimistic goal: "And if we don't, we'll get it done right afterwards." When I asked him if that meant it'd be done by fall, he replied: "Absolutely."
On tackling another complex issue after health care: "In a way, it's a lot simpler. It really is. It's a lot simpler because the goals of tax reform ... creating a middle-income tax cut, about creating personal tax simplification, and making U.S. businesses competitive. ... I think there is very, very strong support."
I asked him: "Pretend that I shop or work at Walmart. Make the case to me that the border adjustment tax is good for me." He didn't: "[T]here's certain aspects of that tax that are attractive, and there's certain aspects ... that are concerning. ... [O]ne of our concerns about it is that if the currency moves, then the Walmart shopper shouldn't be impacted. OK. But if the currency moves, that has an impact for our exporters."
7. Rising CEOs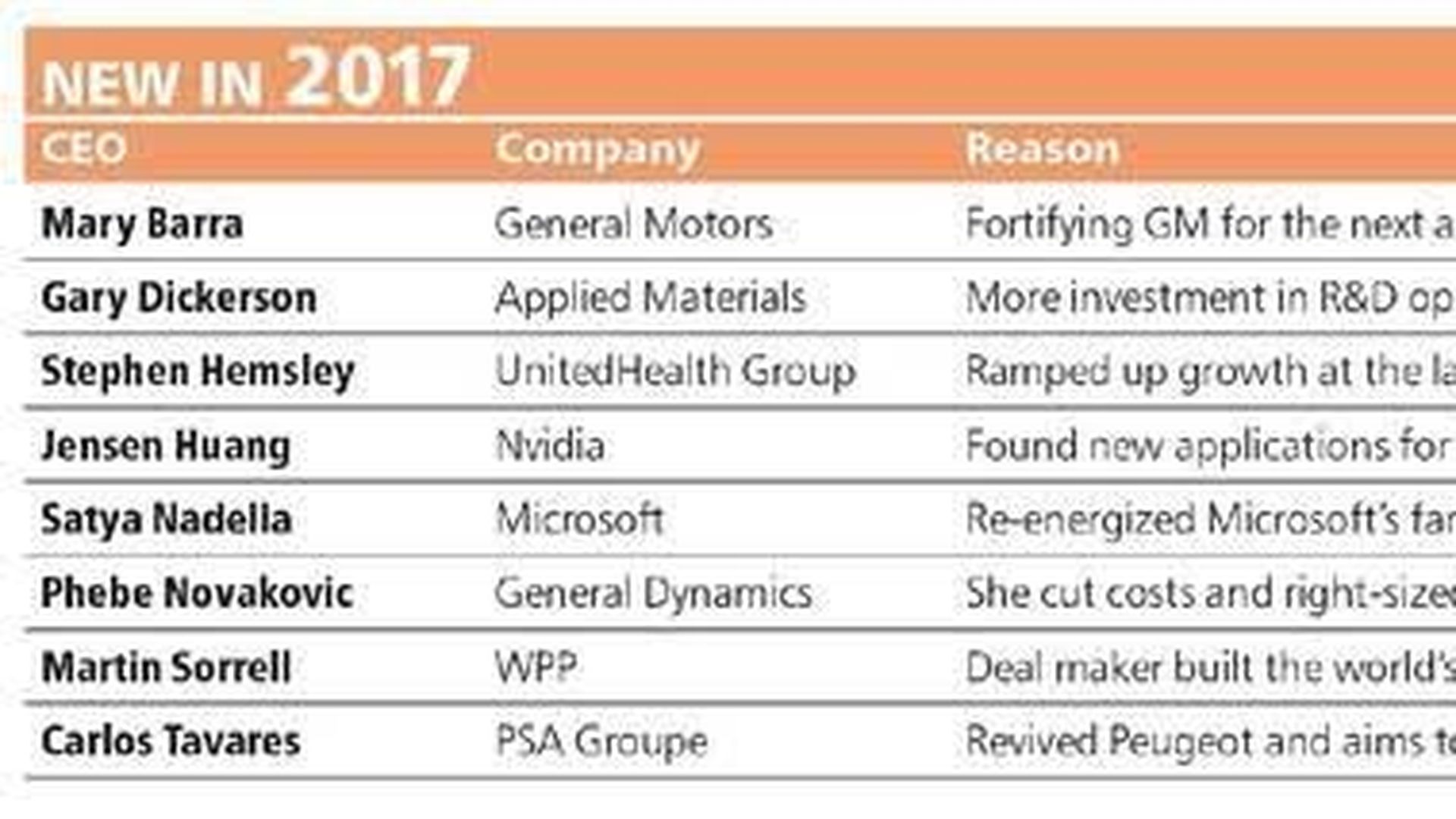 "The World's Best CEOs: An Exclusive Barron's List — GM's Mary Barra and Microsoft's Satya Nadella join this year's roster of 30 outstanding corporate leaders":
"One newcomer this year, Mary Barra at General Motors, who graces our cover this week, exemplified traits that impressed us. Barra slashed the car maker's costs by $4 billion, but GM hasn't cut corners; last year, Chevrolet won the most J.D. Power Initial Quality awards of any automotive brand."
"Barra also has made an impression in Washington, where she sits on the president's Strategic and Policy Forum of economic advisors. She recently won plaudits from the administration for keeping some manufacturing jobs in Michigan."
"OTHER CEOS NEW to the list this year are Gary Dickerson at Applied Materials, Stephen Hemsley at UnitedHealth Group, Jen-Hsun 'Jensen' Huang at Nvidia, Phebe Novakovic at General Dynamics, and Martin Sorrell at WPP."
8. Europe is 60 today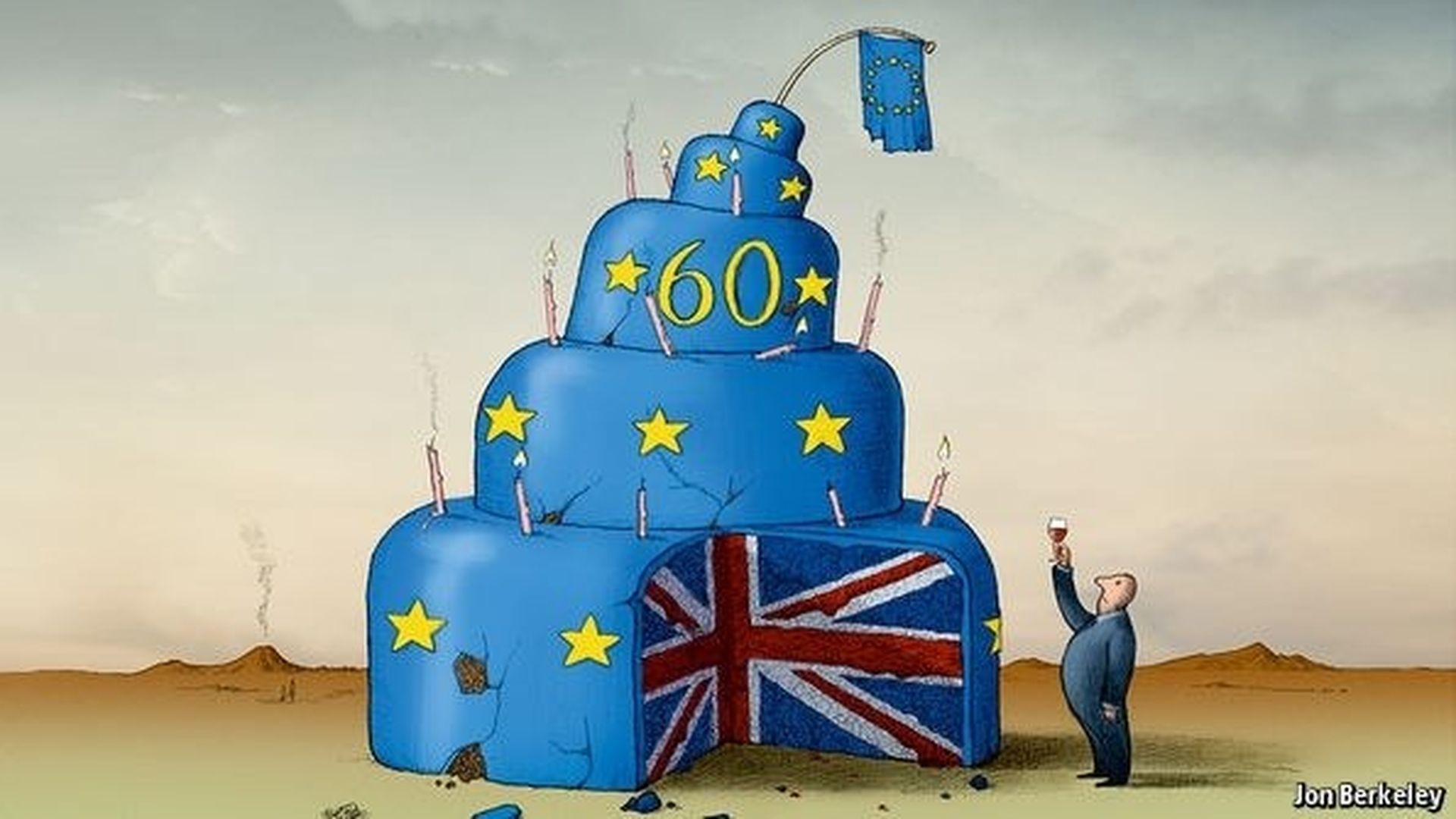 "Troubled EU renews vows in Rome on 60th anniversary" — AFP: "Meeting without Britain just days before it triggers its divorce from the EU, the other 27 countries signed a new declaration on the Capitoline Hill where six founding states signed the Treaty of Rome on March 25, 1957."
The Economist, "Europe at 60 ... Can Europe be saved? If it is to survive, the European Union must become a lot more flexible": "A newly aggressive Russia under Vladimir Putin and, in Donald Trump, an American president who is unenthusiastic about both the EU and NATO, make this a terrible time for Europe to be weak and divided. That a project set up to underpin Europe's post-war security should falter at the very moment when that security is under threat is a bitter irony."
9. "The Monster That's Eating Hollywood"
Wall Street Journal front page, "THE NEW HOLLYWOOD VILLAIN: Netflix is hogging talent and pushing up prices to create shows, spurring pushback," by Joe Flint and Shalini Rakmachandran:
"Netflix's spending on original and acquired programming this year is expected to be more than $6 billion, up from $5 billion last year, more than double what Time Warner Inc.'s HBO spends and five times as much as 21st Century Fox's FX or CBS Corp.'s Showtime."
Why it matters: "Its shock-and-awe spending — combined with that of Amazon and other new players — is driving up costs industrywide and creating a scarcity of people and equipment."
10. 1 fun thing: Watch those stairs!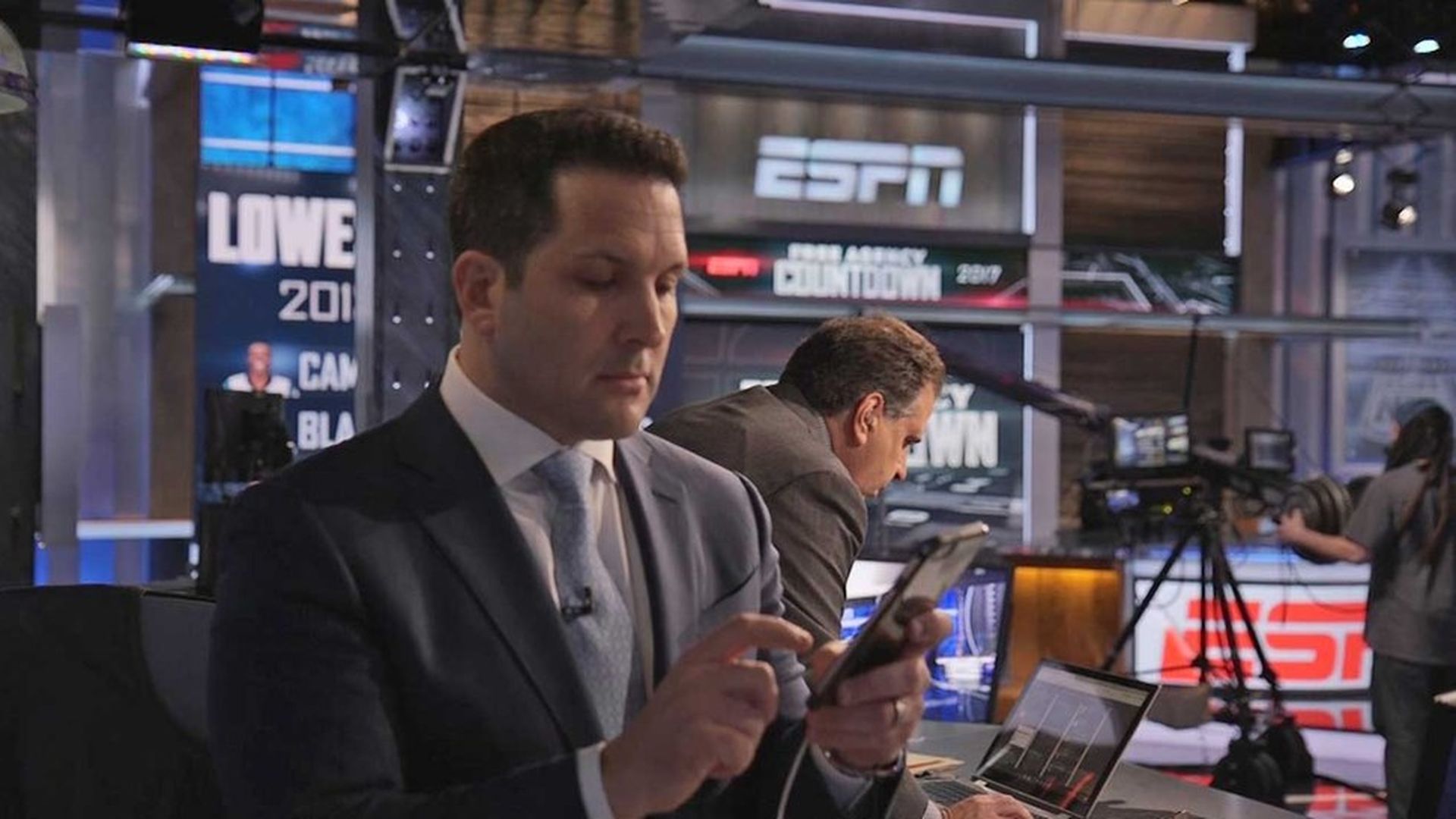 If you love your work, you'll love this piece from Sports Illustrated ... "24 Hours ... With Adam Schefter: What's life like for the NFL's top news-breaker on his biggest day of the year? We went behind the scenes with ESPN's Adam Schefter for the whirlwind first day of 2017 free agency as he chased scoops."
"Schefter, 50, has been with ESPN for eight years, and has become the gold standard in the increasingly competitive 24/7 business of NFL news. In December he signed a five-year, multimillion-dollar contract extension that is thought to make him the highest-paid information man in the business and will keep him with ESPN through 2021. ... As The MMQB's Tim Rohan followed Schefter through the first day of free agency, one source of Schefter's said when stories get hot, 'I don't call the team; I call Schefter.''"
"A few years ago, Seth Markman, the senior coordinating producer who oversees ESPN's NFL coverage, decided that Schefter shouldn't drive anymore. Markman thought his reporter should be freed up to call and text at all times, so he could break more stories and avoid the hazard of texting while driving."
"Schefter's so locked into his phone that producers have had to warn him at times when he's approaching a staircase."