Good Monday morning from the Big Easy, and hap-PY 2018!
Times Square was 9°, the second coldest ball drop on record, per N.Y. Times: The iciest, in 1917, was 1°.
https://www.axios.com/newsletters/axios-am-53de4c92-e241-464d-80ee-20642ce2731c.html?chunk=0#story0
1 big thing: Starting 2018 right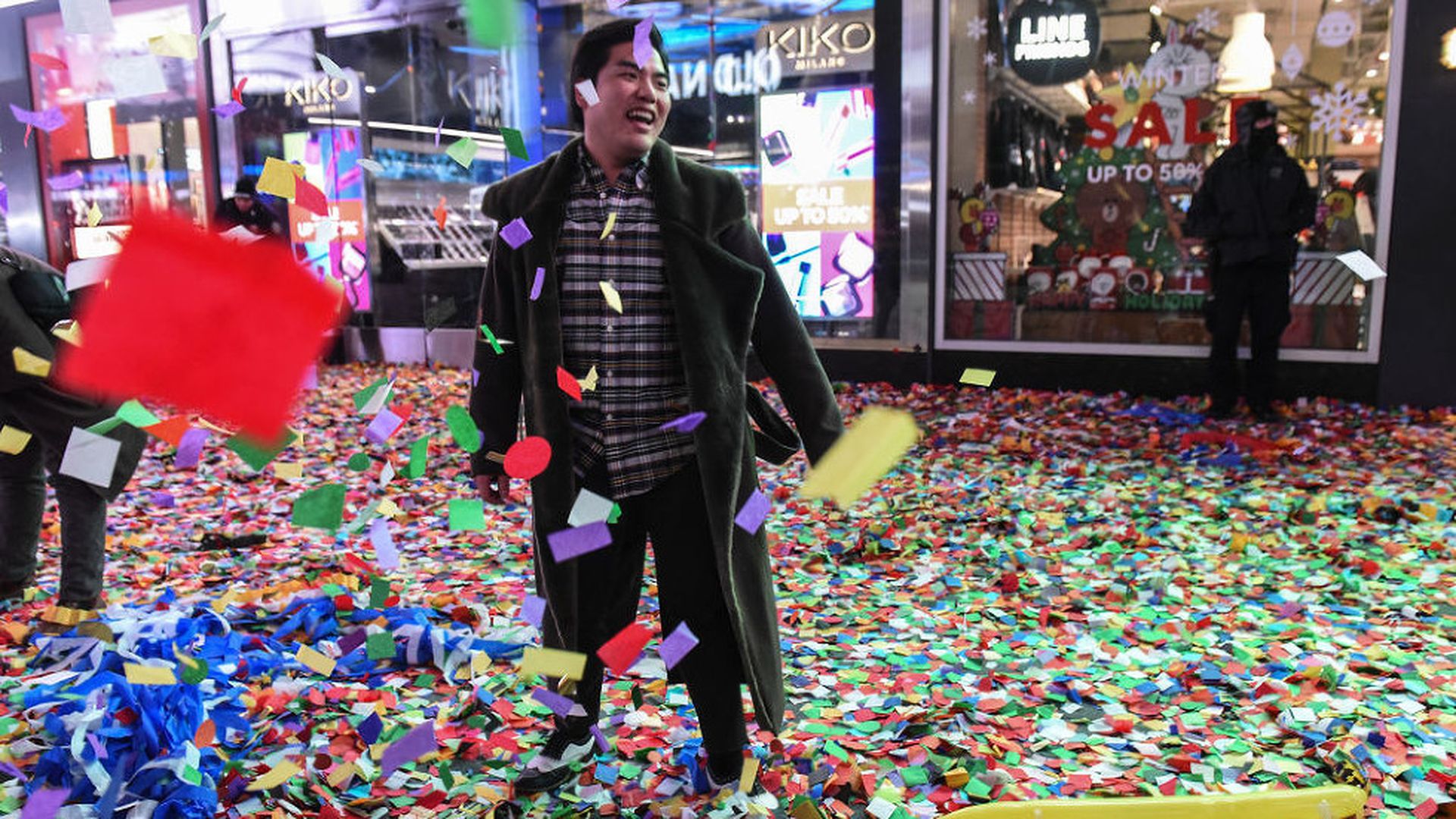 I got an email out of the blue yesterday from someone I like very much, but see only sporadically.
"As we head into the new year, I'm making a point of reconnecting with old friends and people I admire," my friend wrote. "You fit both categories."
What a nice email. I'm copying his idea. I hope you will, too.
That's an email that makes both sides feel good. One of the "Mikey Rules for Living" is that at any given moment, you can make someone feel good, or feel bad:
It costs nothing more, and is no more trouble, to just make 'em feel good. Why not?
They're late. You can act like you're being magnanimous in saying it's fine, or you can assure them in advance that you're getting work done and are grateful, like Tom Friedman, for the moments of peace.
And the truth is, you'll feel better. Any time I give someone a hard time, especially over something stupid, I'm the one who winds up feeling bad, and distracted by the pointless friction.
And about those resolutions ... I have to be clear-eyed with myself that at this point, I'm not going to change in multiple ways, just because I write a worthy list.
So I'm doing "30 Days of Focus" — a couple about health, a couple about lifestyle, a couple about being a better friend and colleague.
On Feb. 1, I'll check in with someone I trust and see where I've improved, and where I could use more focus.
And after enough month-at-a-time checklists, maybe some of those goals will become habits.
If you're one of our readers who's serving abroad today, or is working today to serve others, thank you.
And thank you to all the AMers who encourage me, make me smarter, and share their rants, tips and gripes.
If you have friends who'd enjoy the world's best breakfast conversation, they can sign up free here.
https://www.axios.com/newsletters/axios-am-53de4c92-e241-464d-80ee-20642ce2731c.html?chunk=1#story1
2. Today's 1 read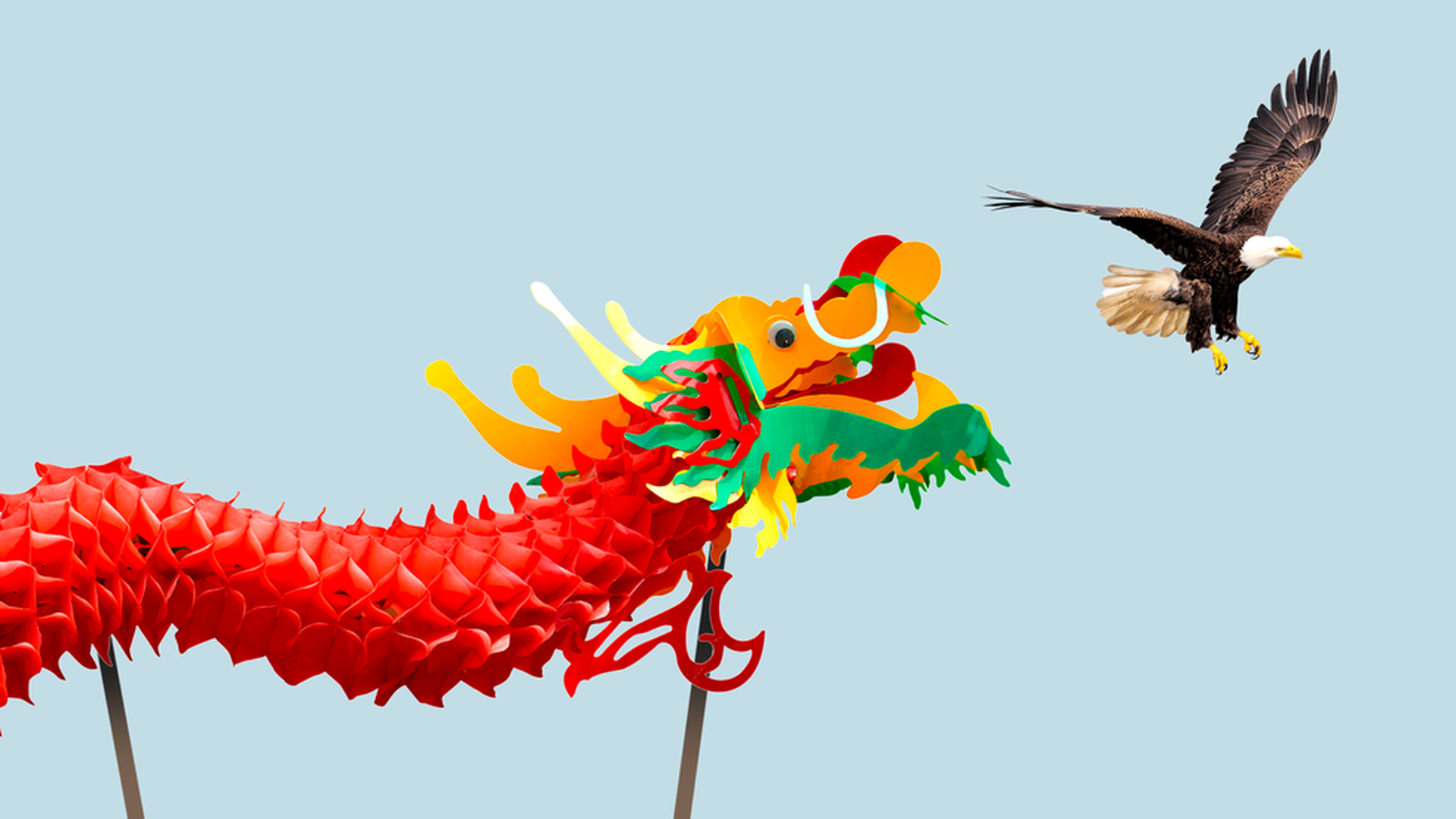 Amid repeats and rehashes, The New Yorker has a fresh issue ... "A Reporter at Large: Making China Great Again — How Beijing learned to use Trump to its advantage," by former Beijing man Evan Osnos:
"Obama's foreign policy was characterized as leading from behind. Trump's doctrine may come to be understood as retreating from the front."
"Xi Jinping has the kind of Presidency that Donald Trump might prefer. Last fall, he started his second term with more unobstructed power than any Chinese leader since Deng Xiaoping, who died in 1997. The Nineteenth Party Congress, held in October, had the spirit of a coronation, in which the Party declared Xi the 'core leader,' an honor conferred only three other times since the founding of the nation (on Mao Zedong, Deng, and Jiang Zemin)."
Xi "enjoys total dominion over the media: at the formal unveiling of his new Politburo, the Party barred Western news organizations that it finds troublesome; when Xi appeared on front pages across the country, his visage was a thing of perfection, airbrushed by Party 'news workers' to the sheen of a summer peach."
Why it matters: "China has never seen such a moment, when its pursuit of a larger role in the world coincides with America's pursuit of a smaller one."
https://www.axios.com/newsletters/axios-am-53de4c92-e241-464d-80ee-20642ce2731c.html?chunk=2#story2
3. Scoop du jour ... New in Hollywood
"[A] nonprofit group founded by the Democratic activist David Brock ... secretly spent $200,000 on an unsuccessful effort [by lawyer Lisa Bloom] to bring forward accusations of sexual misconduct against Mr. Trump before Election Day," the N.Y. Times' Ken Vogel reports in the paper's lead story:
Why it matters: The group, American Bridge 21st Century Foundation, "is considering creating a fund to encourage victims to bring forward similar claims against Republican politicians."
Breaking ... "Powerful Hollywood Women Unveil Anti-Harassment Action Plan," by N.Y. Times' Cara Buckley:
"300 prominent actresses and female agents, writers, directors, producers and entertainment executives have formed an ambitious, sprawling initiative [Time's Up] to fight systemic sexual harassment in Hollywood and in blue-collar workplaces nationwide."
"A legal defense fund, backed by $13 million in donations, [will] help less privileged women — like janitors, nurses and workers at farms, factories, restaurants and hotels — protect themselves from sexual misconduct and the fallout from reporting it."
Includes a "request that women walking the red carpet at the Golden Globes speak out and raise awareness by wearing black."
P.S. "Chief Justice John G. Roberts Jr. announced an initiative [yesterday] to ensure there are proper procedures ... to protect law clerks and other court employees from sexual harassment, saying it is clear that the federal judiciary 'is not immune.'" (WashPost's Bob Barnes)
https://www.axios.com/newsletters/axios-am-53de4c92-e241-464d-80ee-20642ce2731c.html?chunk=3#story3
Bonus: Poll du jour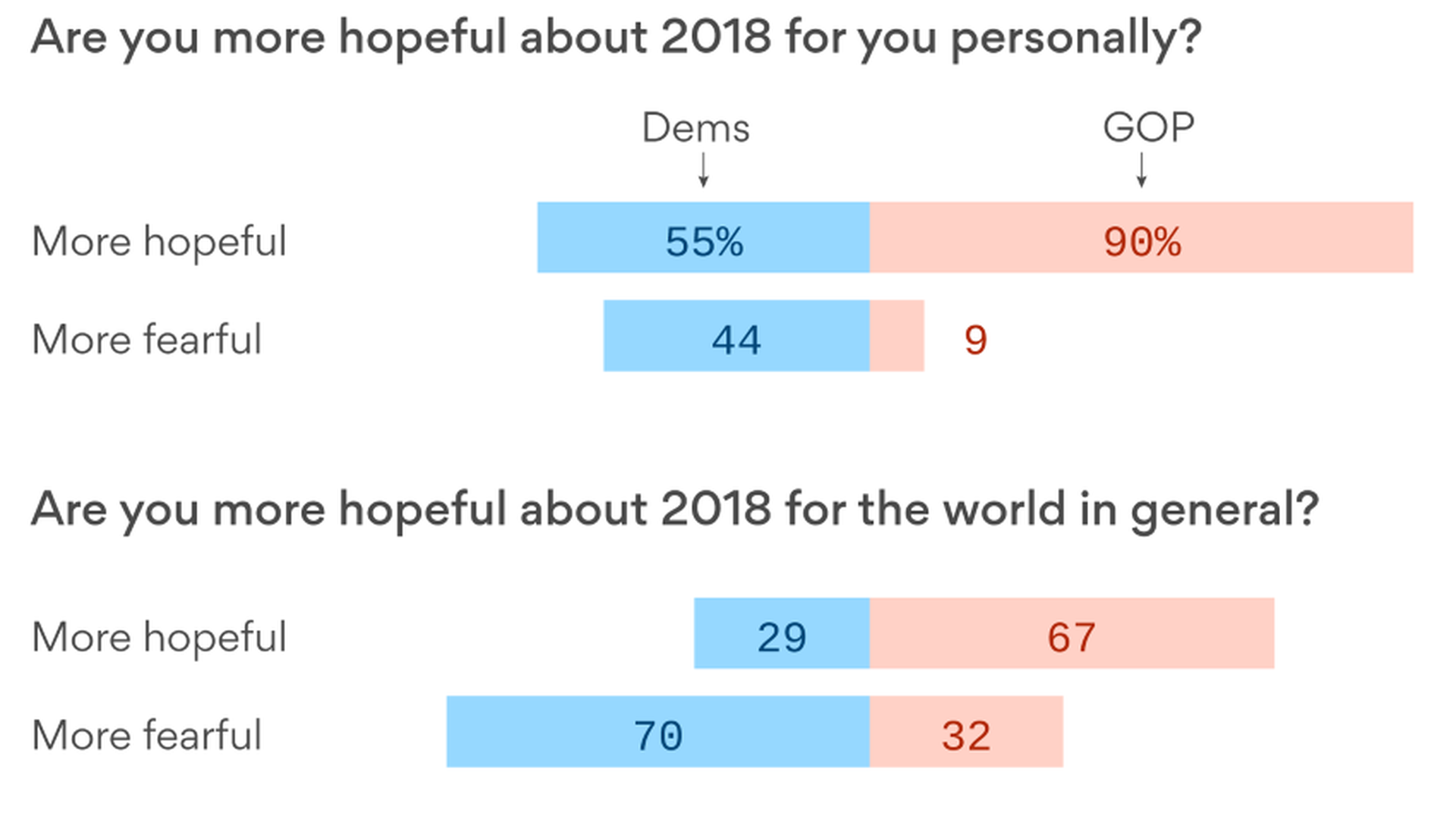 In this poll for Axios by SurveyMonkey, Republicans are more hopeful and Democrats are more fearful.
https://www.axios.com/newsletters/axios-am-53de4c92-e241-464d-80ee-20642ce2731c.html?chunk=4#story4
4. 9 ways America is crushing it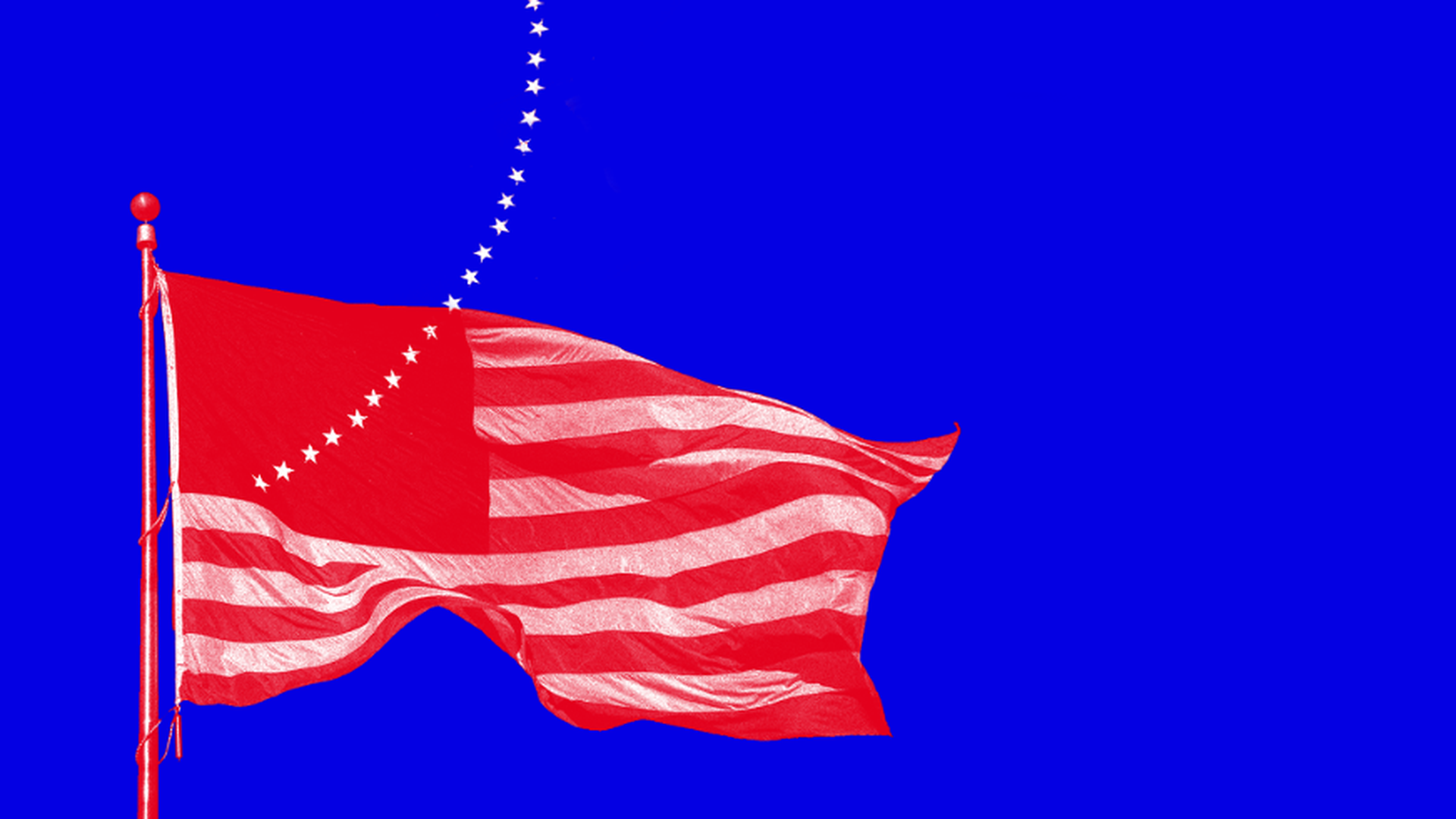 Americans are pulling together every day to help one another; and we're enjoying medical advances that will help millions, Axios' Haley Britzky writes:
Teen birth rates hit a new low in 2016, dropping 9% since 2015 and 67% since 1991.
We're more environmentally friendly.
Tech helps: North Carolina police department used a drone to find a missing 81-year-old woman with dementia within 25 minutes of her disappearance.
The FDA cleared an earpiece that may help block symptoms of opioid withdrawal. And Portal Instruments, a private medical device company licensed from MIT, has made a needle-free drug injection device.
The economy is booming: 13 states saw record-lows of unemployment this year; nationally, the unemployment level is at the lowest it has been since 2000.
We're becoming more tolerant.
Space exploration: Vice President Pence said in October that the U.S. "will return...to the moon not only to leave behind footprints and flags but to build the foundation we need to send Americans to Mars and beyond."
Neighbors are looking out for one another: More than 6,000 Texas inmates decided to donate $53,863 of their commissary funds to Hurricane Harvey victims.
American philanthropy is reaching beyond the country's borders.
Go deeper, and share the list.
https://www.axios.com/newsletters/axios-am-53de4c92-e241-464d-80ee-20642ce2731c.html?chunk=5#story5
5. 10 ways America is falling behind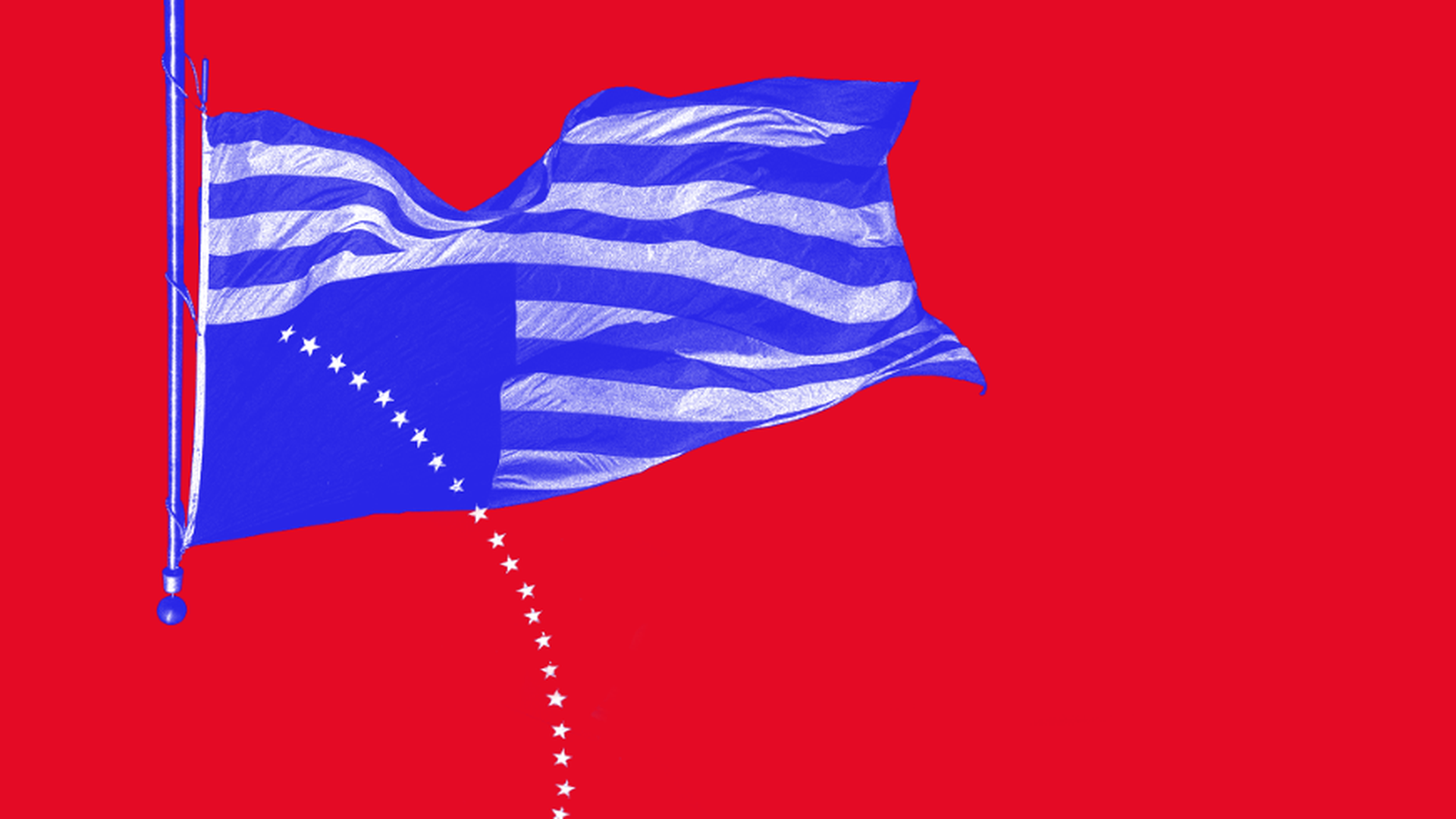 From health care to education, the U.S. is starting to see notable declines in areas that matter most to regular citizens, per Axios' Shane Savitsky:
We're dying sooner.
Student debt is piling up.
Homes are out of reach for the youths.
Mass shootings result in a shrug.
The opioid crisis is staggering.
Our education system is middling.
Our infrastructure is falling behind.
The United States is still the only developed country — and just one of a handful overall — that doesn't guarantee paid maternity leave.
We drink too much.
Fewer people want to visit.
Go deeper, and share the list.
https://www.axios.com/newsletters/axios-am-53de4c92-e241-464d-80ee-20642ce2731c.html?chunk=6#story6
6. 10 killed in Iran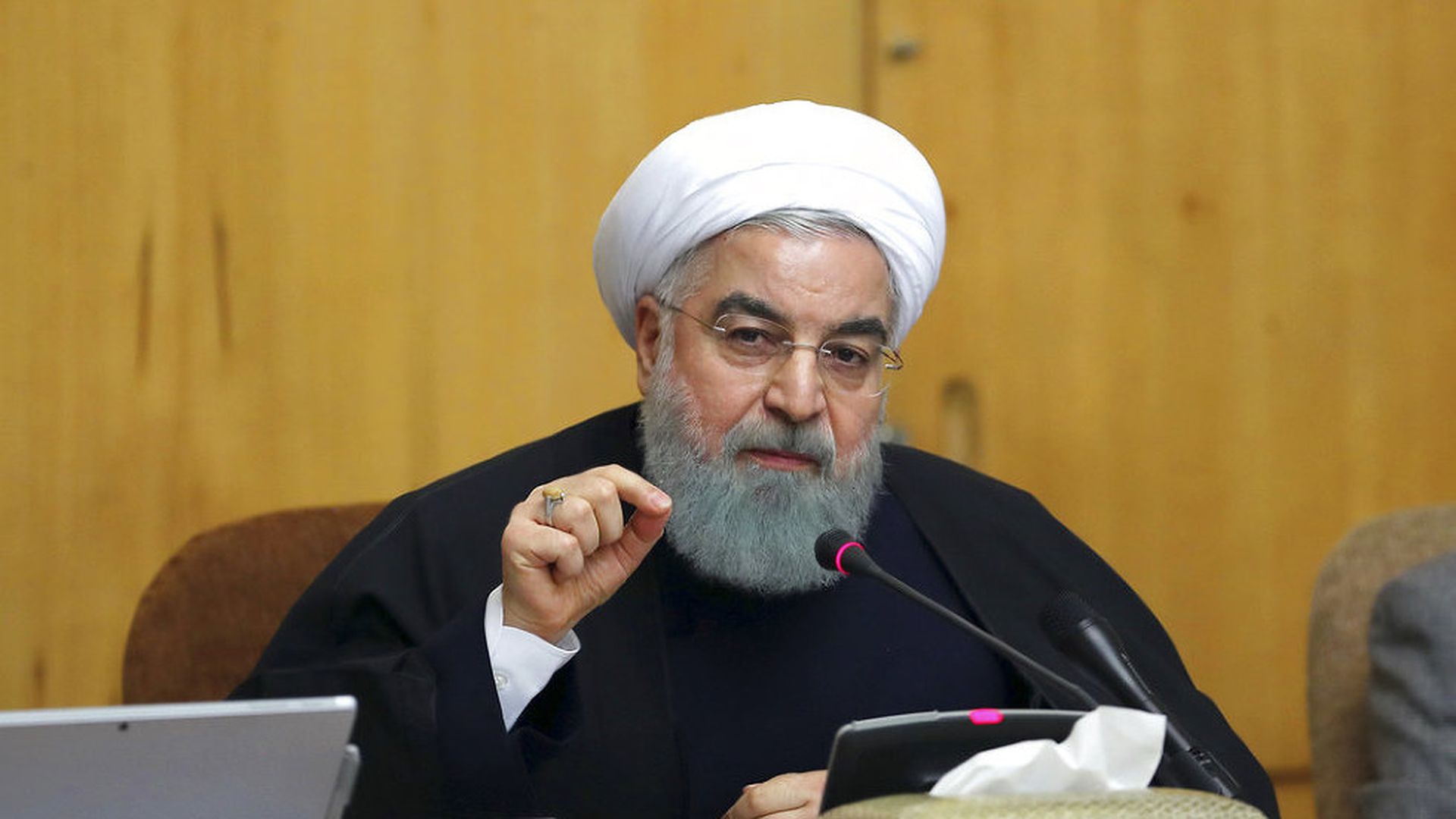 Ten people were killed overnight in anti-government protests sweeping Iran, according to state TV (via BBC):
The unrest continued despite a call for calm from President Hassan Rouhani. In his first intervention, Rouhani warned yesterday that violence would not be tolerated.
Rouhani acknowledged grievances over Iran's economic situation, a lack of transparency and corruption, but defended his record.
The Iranian president said that citizens were "completely free to express their criticism of the government or stage protests... in a way that would lead to the improvement of the country's conditions" but warned against violent acts.
How it's playing ... L.A. Times lead story, "TRUMP TWEETS AS IRAN CRACKS DOWN President's support of protests may backfire as Tehran points to his 'rogue nation' insults at earlier U.N. event."
https://www.axios.com/newsletters/axios-am-53de4c92-e241-464d-80ee-20642ce2731c.html?chunk=7#story7
7. Trump: "We'll see"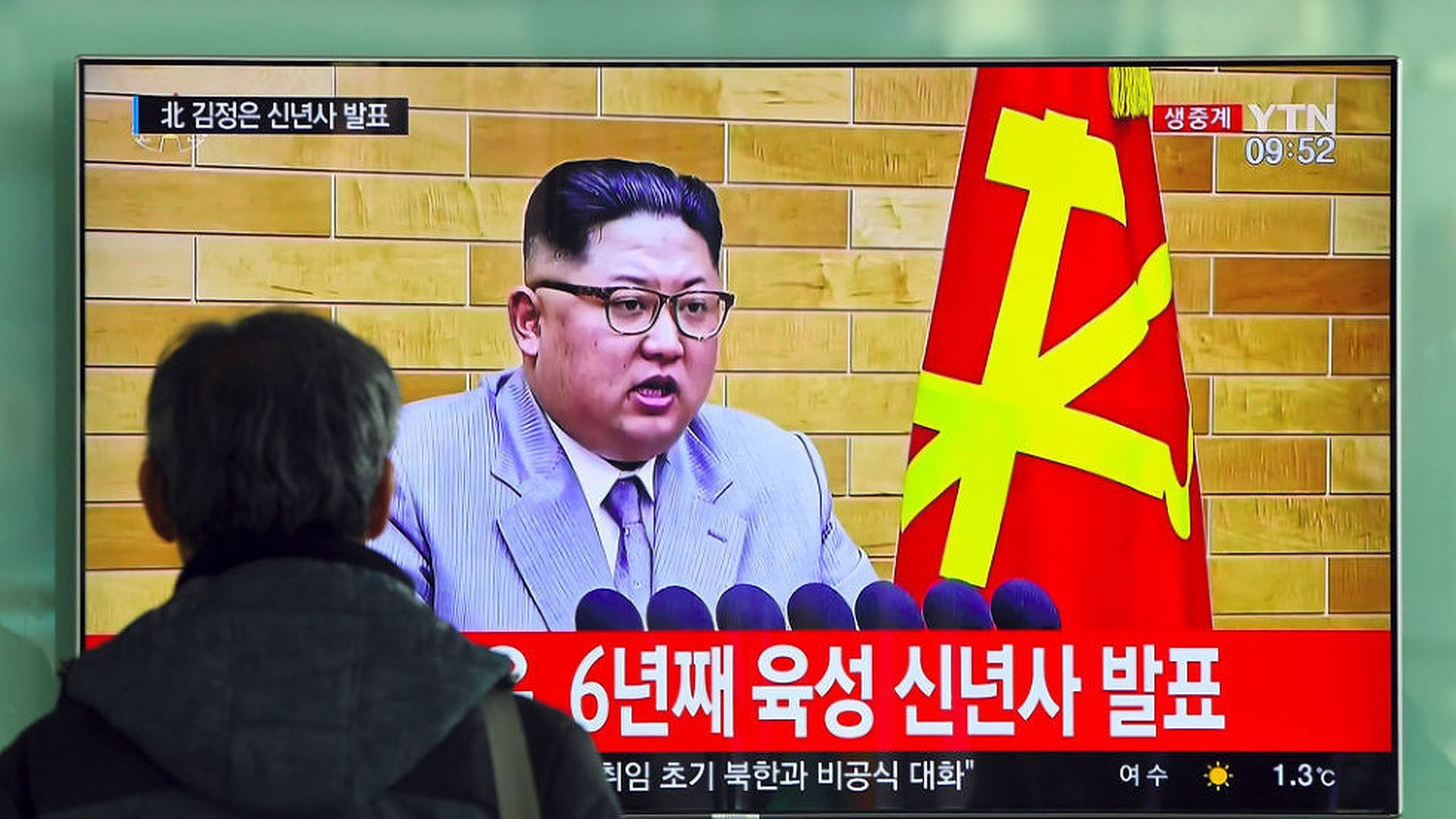 "North Korean leader Kim Jong-un called for urgent talks with South Korea to make the Winter Olympics next month a success even while repeating claims that he could strike the U.S. with a nuclear bomb," per Bloomberg.
Kim, in an annual New Year's Day speech: ""It's reality, not a threat, that the nuclear button is always on my desk ... The U.S. can never start a war against myself and our nation now."
A tuxedoed Trump, strolling past the media pool at his Mar-a-Lago New Years' Eve party, replied when asked about Kim's "button" claim: "We'll see, we'll see. Come on inside."
Bite of the day ... Admiral Mike Mullen, chairman of the Joint Chiefs of Staff under Presidents George W. Bush and Barack Obama, to Martha Raddatz on ABC's This Week:
"We're actually closer, in my view, to a nuclear war with North Korea and in that region than we have ever been. And I just don't see how — I don't see the opportunities to solve this diplomatically at this particular point."
https://www.axios.com/newsletters/axios-am-53de4c92-e241-464d-80ee-20642ce2731c.html?chunk=8#story8
8. Obama's list: Jay-Z, J Balvin, Harry Styles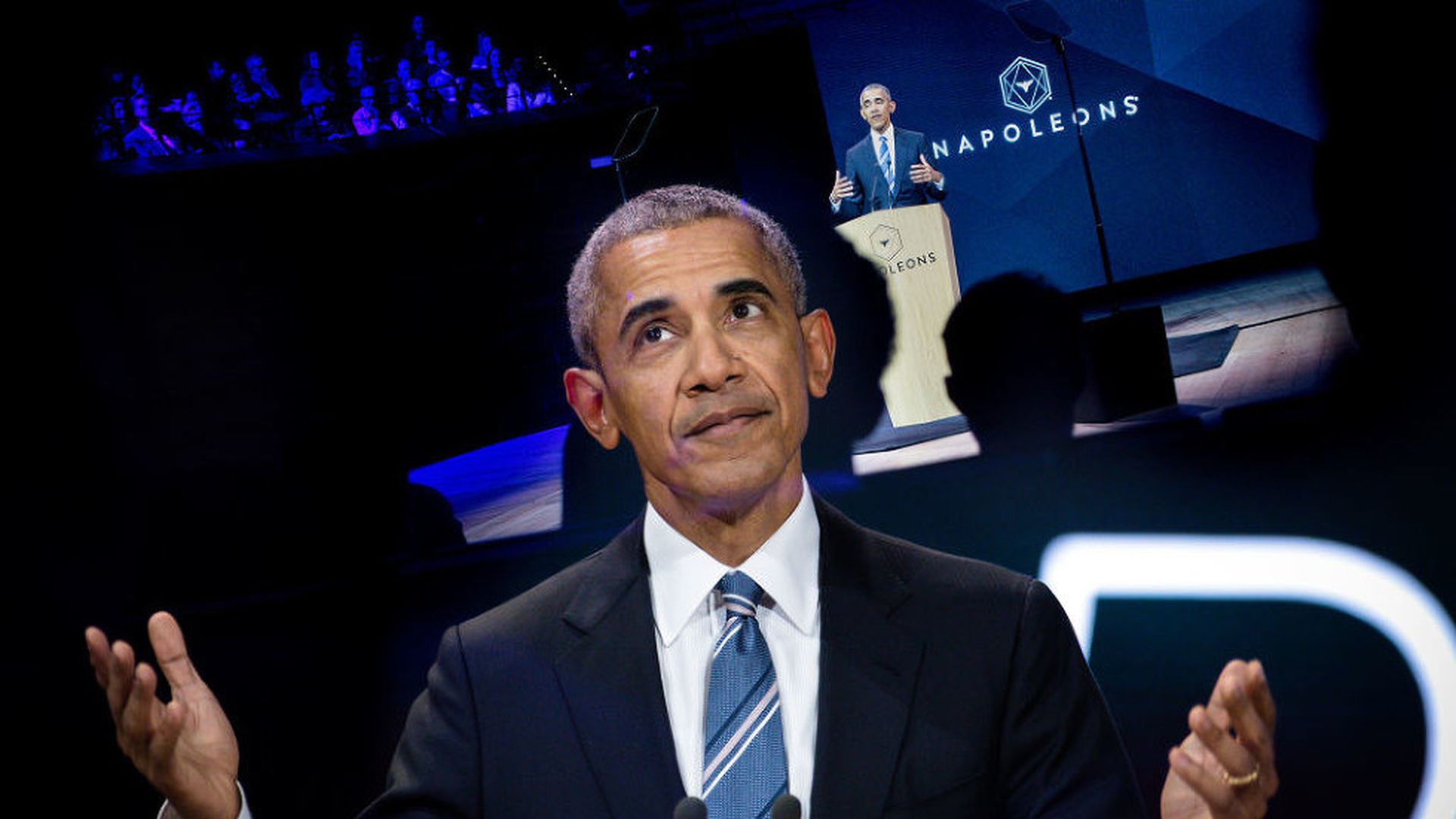 Noting that he has "some extra time on my hands this year to catch up," President Obama used this Facebook post to continue his tradition of releasing reading lists and playlists:
The best books I read in 2017:
The Power by Naomi Alderman
Grant by Ron Chernow
Evicted: Poverty and Profit in the American City by Matthew Desmond
Janesville: An American Story by Amy Goldstein
Exit West: A Novel by Mohsin Hamid
Five-Carat Soul by James McBride
Anything Is Possible, a novel by Elizabeth Strout
Dying: A Memoir by Cory Taylor
A Gentleman in Moscow: A Novel by Amor Towles
Sing, Unburied, Sing: A Novel by Jesmyn Ward
Bonus for hoops fans: Coach Wooden and Me by Kareem Abdul-Jabbar and Basketball (and Other Things) by Shea Serrano
My favorite songs of 2017:
Mi Gente by J Balvin & Willy William
Havana by Camila Cabello (feat. Young Thug)
Blessed by Daniel Caesar
The Joke by Brandi Carlile
First World Problems by Chance The Rapper (feat. Daniel Caesar)
Rise Up by Andra Day
Wild Thoughts by DJ Khaled (feat. Rihanna and Bryson Tiller)
Family Feud by Jay-Z (feat. Beyoncé)
Humble by Kendrick Lamar
La Dame et Ses Valises by Les Amazones d'Afrique (feat. Nneka)
Unforgettable by French Montana (feat. Swae Lee)
The System Only Dreams in Total Darkness by The National
Chanel by Frank Ocean
Feel It Still by Portugal. The Man
Butterfly Effect by Travis Scott
Matter of Time by Sharon Jones & the Dap-Kings
Little Bit by Mavis Staples
Millionaire by Chris Stapleton
Sign of the Times by Harry Styles
Broken Clocks by SZA
Ordinary Love (Extraordinary Mix) by U2
Bonus: Born in the U.S.A. by Bruce Springsteen (not out yet, but the blues version in his Broadway show is the best!)
https://www.axios.com/newsletters/axios-am-53de4c92-e241-464d-80ee-20642ce2731c.html?chunk=9#story9
9. An epic year: 30 of 30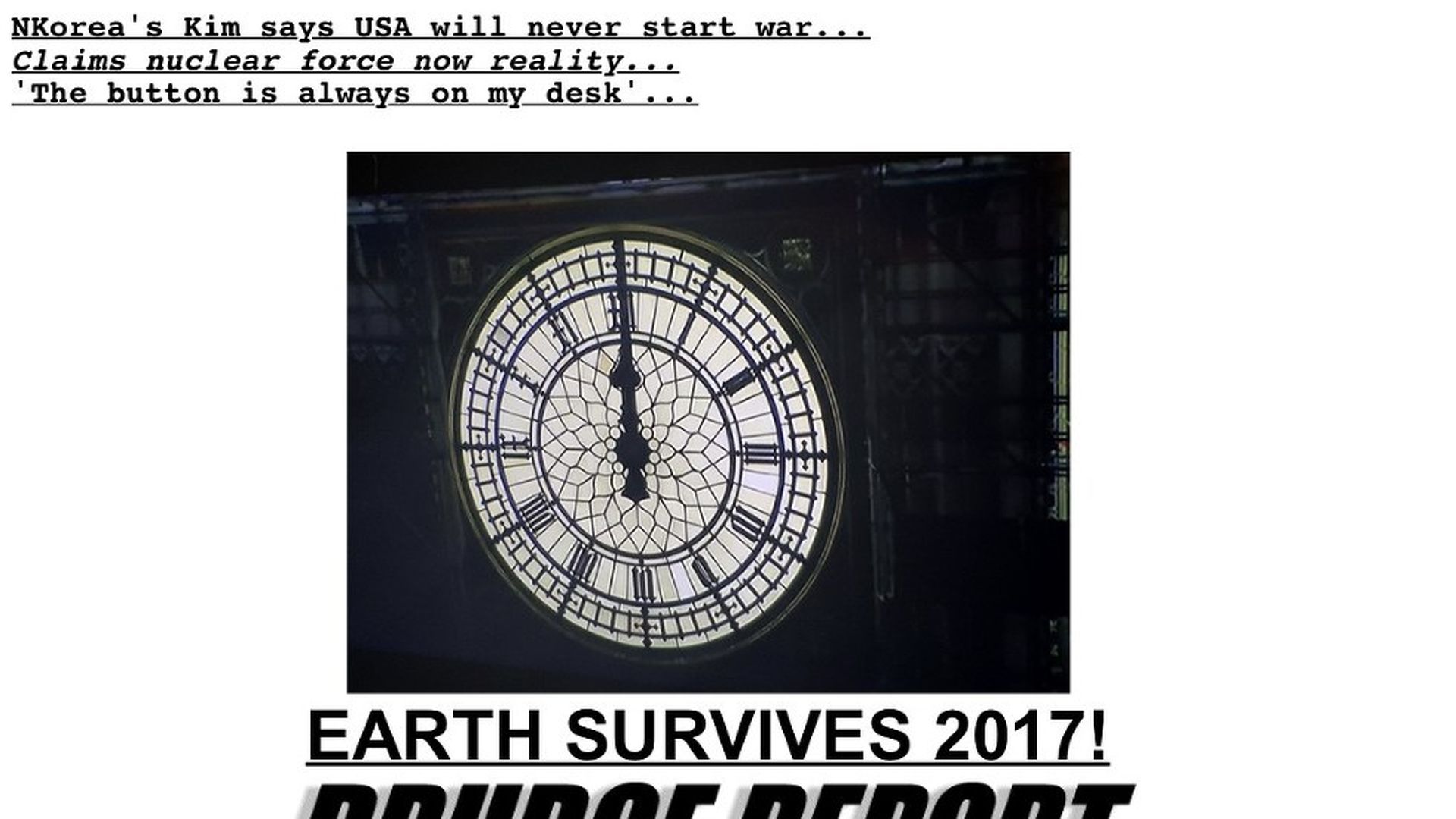 Reliving 2017 in 30 images ... Drudge's final homepage of the year captures the apocalyptic undertone of so much of the coverage in a year of media upheaval:
CNN's Brian Stelter: "The media world's digital transformation has been accompanied by a seemingly endless string of transitions. In 2017, if you worked at a newsroom or a startup or a movie studio, odds are you had a new boss, or some of your friends did. There were an unusual number of hand-offs and sales and straight-up firings."
"[T]he year when TV roared back," per N.Y. Times' Michael Grynbaum and John Koblin: "A cable-news-obsessed president turned TV journalists into household names. A nationwide reckoning on sexual harassment ended the careers of some of television's best-known personalities. And Americans ... turned to networks like Fox News and MSNBC in record numbers."
https://www.axios.com/newsletters/axios-am-53de4c92-e241-464d-80ee-20642ce2731c.html?chunk=10#story10
10. 1 green thing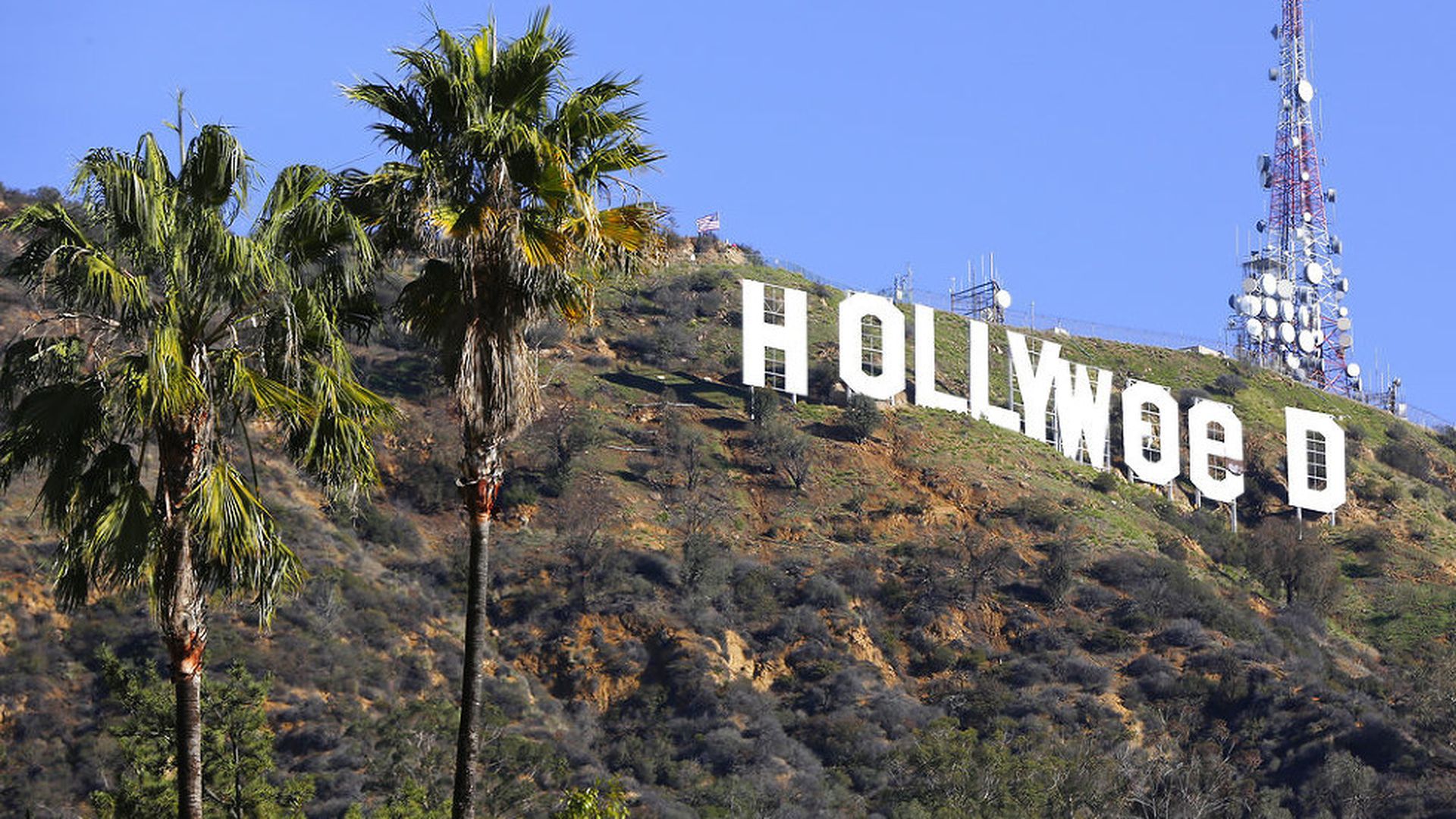 "California pot shops prepare for their first day of legal recreational marijuana sales," by L.A. Times' Angel Jennings and Sarah Parvini:
The nation's largest state today marks its first day of legal recreational marijuana sales, after voters approved legalization in 2016.
Robert Taft Jr., founder of the medical marijuana dispensary 420 Central in Santa Ana, "brought in five new cash registers and hired six additional 'budtenders.'"
"To sell cannabis commercially in January — for recreational or medical use — marijuana businesses must have local approval and a state license."
Per AP: In general, the state will treat cannabis like alcohol, allowing people 21 and older to possess up to an ounce of pot and grow six marijuana plants at home."
Bummer: "Los Angeles has delayed accepting applications for legal sales until Jan. 3, and it will be weeks before any shops open."