Axios AM
February 22, 2018
Happy Thursday. 🏒 Bulletin: For the first time since 1998, Team USA won the women's hockey gold medal. (Details at #9.)
You're invited ... If you're in D.C. tomorrow, join me for and several of the nation's governors at 8 a.m. for breakfast and "Raising the Bar: A Conversation on Education in America," on opening day of the National Governors Association winter meeting. (RSVP)
1 big thing: Why Trump won't use his superpower on guns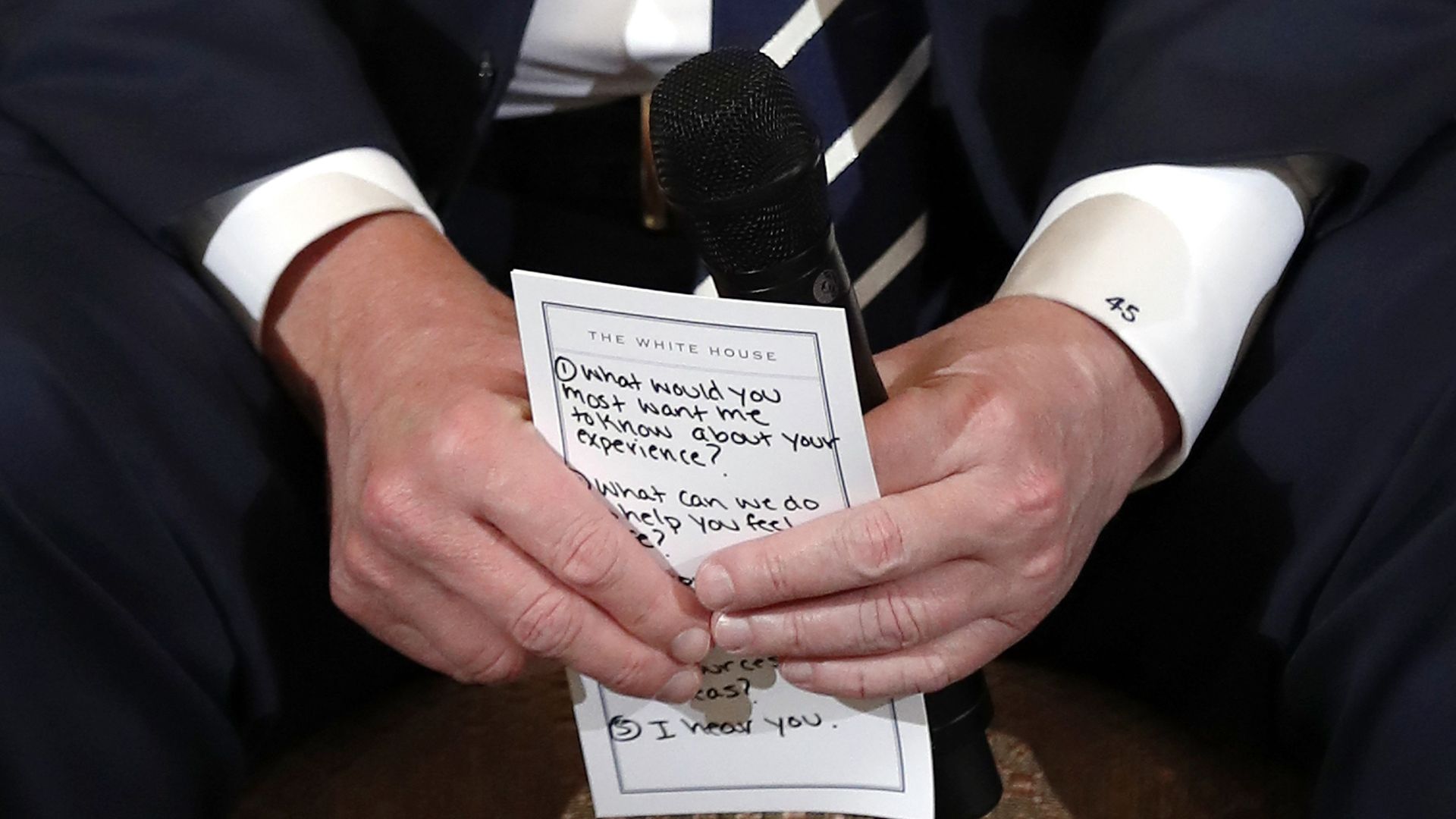 President Trump has a rare political superpower — he can get Republicans to do what seems like the impossible:
He used this superpower to soften their opposition to Vladimir Putin, to instantly stir their distrust of the FBI, and embrace trillion-dollar deficits. 
Every few months, friends, family and advisers like Ivanka Trump, Rupert Murdoch and Gary Cohn fantasize Trump will tap his superpower as a force for good — to pass a big infrastructure bill, fight global warming, strike an epic immigration deal.
Now, they dream of new gun controls to protect schools, kids and the innocent. 
He could. No politician can move Rs to unthinkable places and provide more cover in the toughest of states or districts.
But he almost certainly won't. 
Listening to distraught students, teachers and parents at the White House yesterday, he proposed more guns — arming teachers.
Given what Trump has openly mused about internally, he could push for quick action on higher minimum age for rifle purchases + better background checks + longer waiting period + bump stock ban.
What Trump is thinking: He may not fully understand the cultural significance of guns in middle America. But he believes that it's cultural, not political, issues that truly move the needle.
People who know Trump well say he is trying to thread the needle between the cultural flash point of school shootings and the cultural bedrock of middle America's attachment to the Second Amendment.
What the White House says ... Raj Shah, White House principal deputy press secretary, tells Axios' Jonathan Swan: "Leading by working across the aisle to forge compromise is what [Trump is] actually doing."
White House Press Secretary Sarah Sanders added: "He is reaching across the aisle on infrastructure, immigration and now on school safety."
Indeed, Trump got a lot of praise for actually listening during yesterday's "listening session."
WashPost's Aaron Blake tweeted: "Much credit to the White House: This is not a photo-op. It's an actual discussion."
The bottom line: Top Republicans see possible legislation on bump stocks and background checks, but think anything more significant is unlikely.
2. "9/11 happened once, and they fixed everything"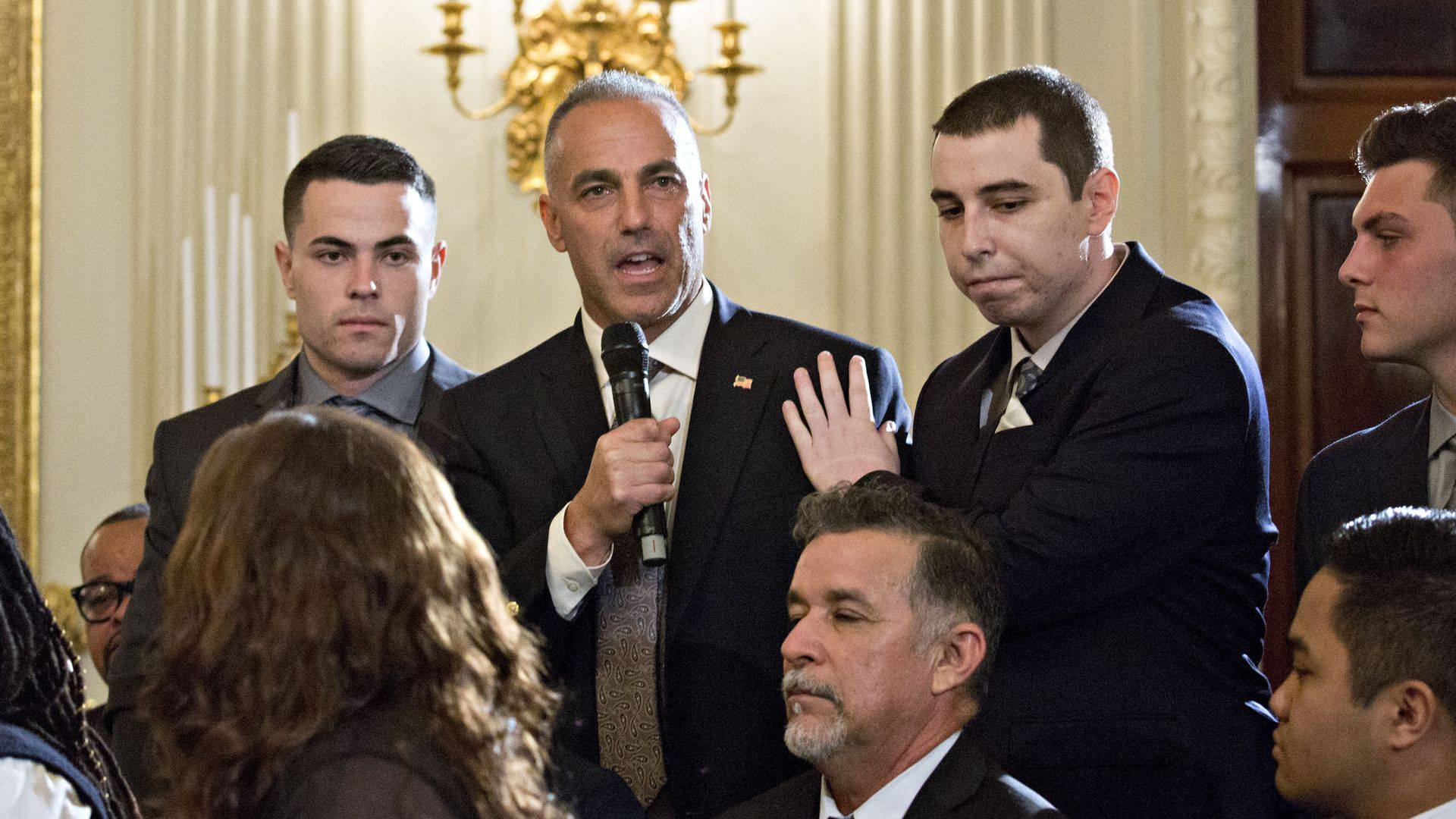 Key quote from listening session ... Andrew Pollack, whose daughter, Meadow, 18, was killed at the high school:
"We protect airports. We protect concerts, stadiums, embassies, the Department of Education that I walked in today that has a security guard in the elevator. How do you think that makes me feel?  In the elevator, they got a security guard."
"9/11 happened once, and they fixed everything. How many schools, how many children have to get shot?"
Go deeper: Excerpts from comments by parents and students.
Key Trump quote: "[I]t's called concealed carry — and it only works where you have people very adept at using firearms, of which you have many, and it would be teachers and coaches."
"If the coach [who died protecting students] had a firearm in his locker when he ran at this guy — that coach was very brave. Saved a lot of lives, I suspect.  But if he had a firearm, he wouldn't have had to run: He would have shot, and that would have been the end of it."
"[I]n addition to what we're going to do about background checks, we're going to [look] very strongly [at] ... age [to] purchase [a rifle], and we're also going to go very strongly to the mental health aspect of what's going on."
"[T]his person was sick, very sick. And people knew he was very sick. ... I really learned a lot from this."
P.S. N.Y. Times Quote of the Day ... Joel Myrick, a former assistant principal who used his Colt .45 pistol to detain a 16-year-old gunman who had killed two students at a high school in Mississippi in 1997, on moves to arm teachers:
"Teachers have to teach, and that's what they should be doing. It doesn't matter what a pistolero you are, or think you are. You don't need to be in school in charge of protecting children."
3. Wild town hall previews Hill gun debate ahead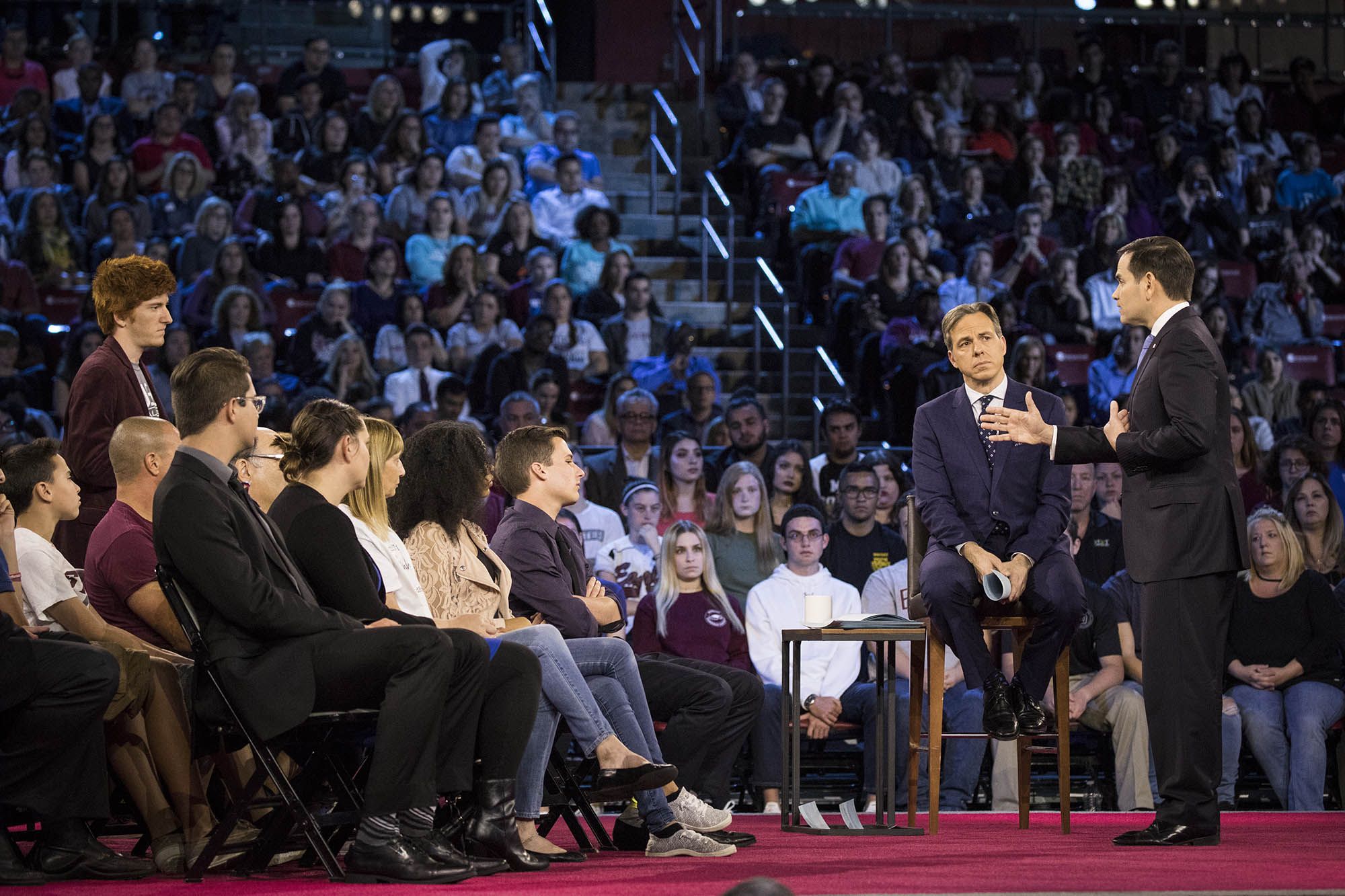 It was an amazing cultural moment: At a CNN town hall in Florida, parents and kids sat onstage before 7,000 in the arena, and millions around the world, and debated lawmakers with raw, informed and highly personal arguments.
The outlets for their anger included a longtime opponent of stricter gun laws, Sen. Marco Rubio (R-Fla.), who at times was booed and bullied.
Who knows if it makes a difference? But it was terrific TV, and a nice format for important and at times deeply substantive discussion.
Rubio admitted changes in his views on access to firearms, per CNN's Daniella Diaz (Video):
Rubio was booed at one point by the audience, which included family members of those killed in the shooting.
Rubio said he supports raising the age to buy rifles (currently 18): "I absolutely believe that in this country if you are 18 years of age, you should not be able to buy a rifle, and I will support a law that takes that right away."
He said he's open to reconsidering the size of gun magazines.
He disagreed with President Trump's suggestion of arming teachers.
He was sharply grilled over NRA contributions and responded: "People buy into my agenda."
Why it matters: "Rubio showed up for the CNN town hall knowing there would be a heated debate on guns and he'd likely get booed often. He answered questions directed to him and defended his stances on the gun debate, and many of the event's participants, even those who seemed frustrated with his answers, thanked him for being there."
Great Rubio quote: "American politics is the only part of our lives where changing your mind based on new information is a bad thing."
Bonus: The president's front page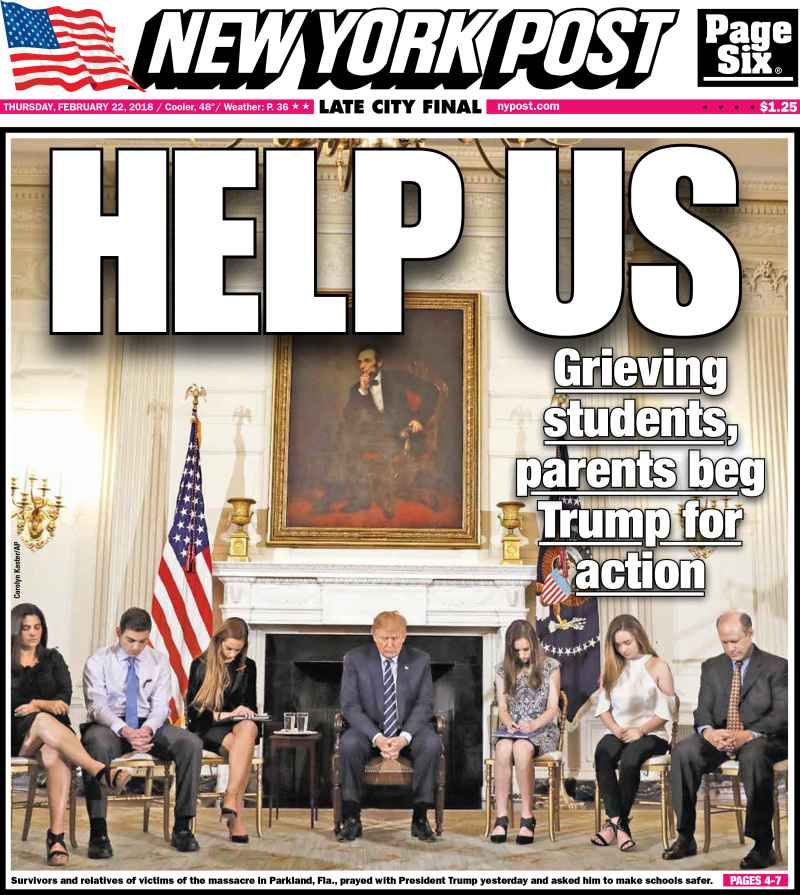 What President Trump is reading ... Ivanka Trump, "who will arrive in South Korea on Friday to watch the closing ceremony of the Games, could smooth some of the tensions that flared during the vice president's visit," per N.Y. Times' Mark Landler:
"The decision to send Ms. Trump grew out of a conversation between Mr. Trump and" South Korea's president, Moon Jae-in.
"Trump turned down Mr. Moon's invitation to go himself."
"Ms. Trump will travel with the White House press secretary, Sarah Huckabee Sanders, and Allison Hooker, a National Security Council official who specializes in Korean affairs, among others."
👻 4. Snapchat: United States of school walkouts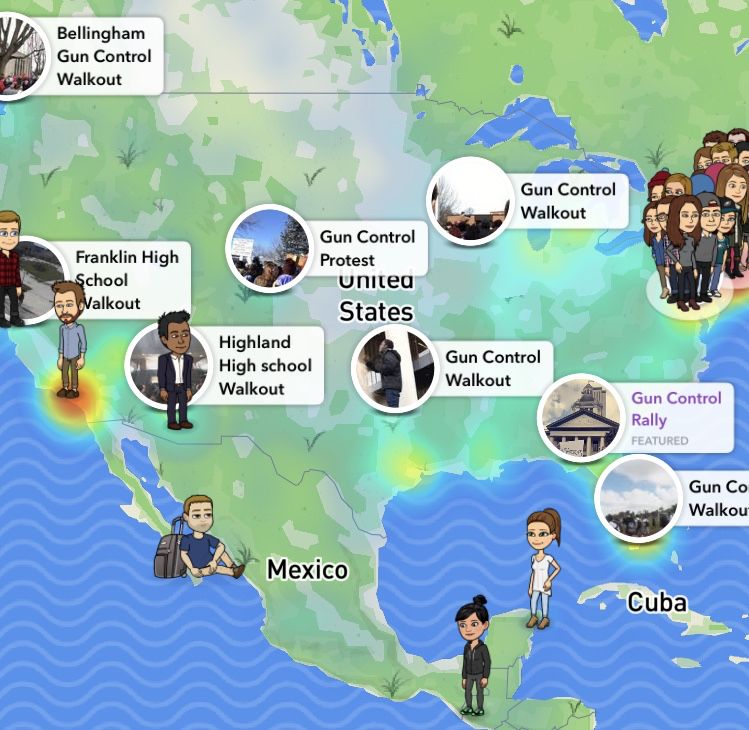 "In a wave of demonstrations reaching from Arizona to Maine, students at dozens of U.S. high schools walked out of class [yesterday] to protest gun violence and honor the victims of last week's deadly shooting in Florida," per AP:
Why it matters: "The protests spread from school to school as students shared plans for their demonstrations over social media."
"Many lasted 17 minutes in honor of the 17 people killed."
Peter Hamby, host of Snapchat's "Good Luck America," tweeted:
"What America is finally understanding is that young people, teens especially, talk through pictures. Images are the vernacular. They're so good at this because it's how they've been communicating most of their lives."
"We are witnessing a political case study unfold in real time. Everyone in Washington should be paying attention."
Here's how yesterday looked on Snapchat's "Snap Map," which shows Snaps (videos) from around the world: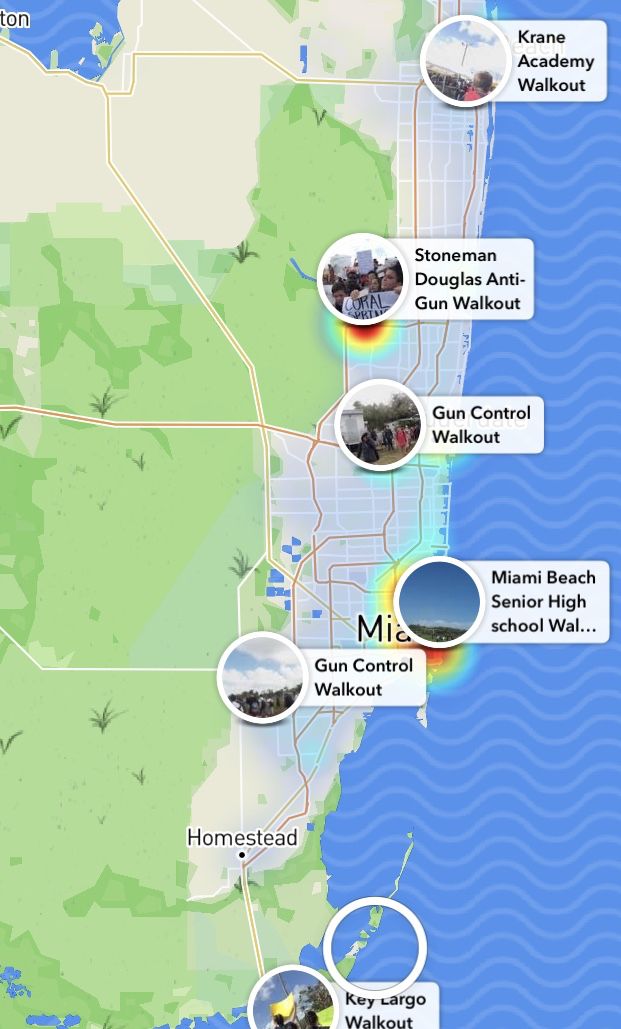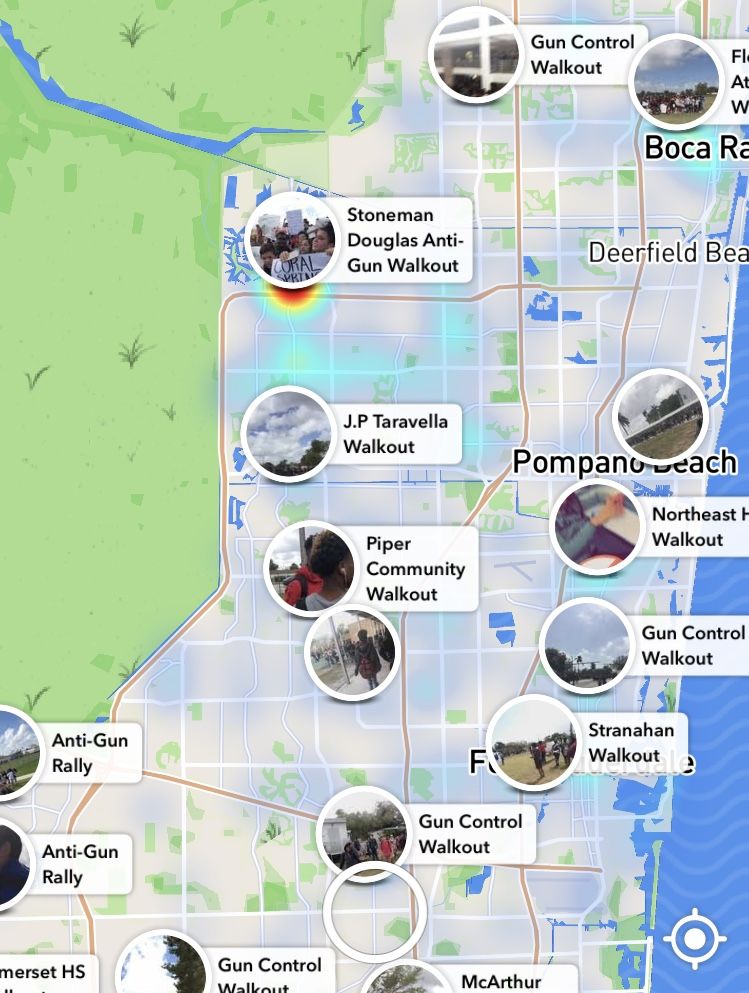 5. Video, radio problems added to school chaos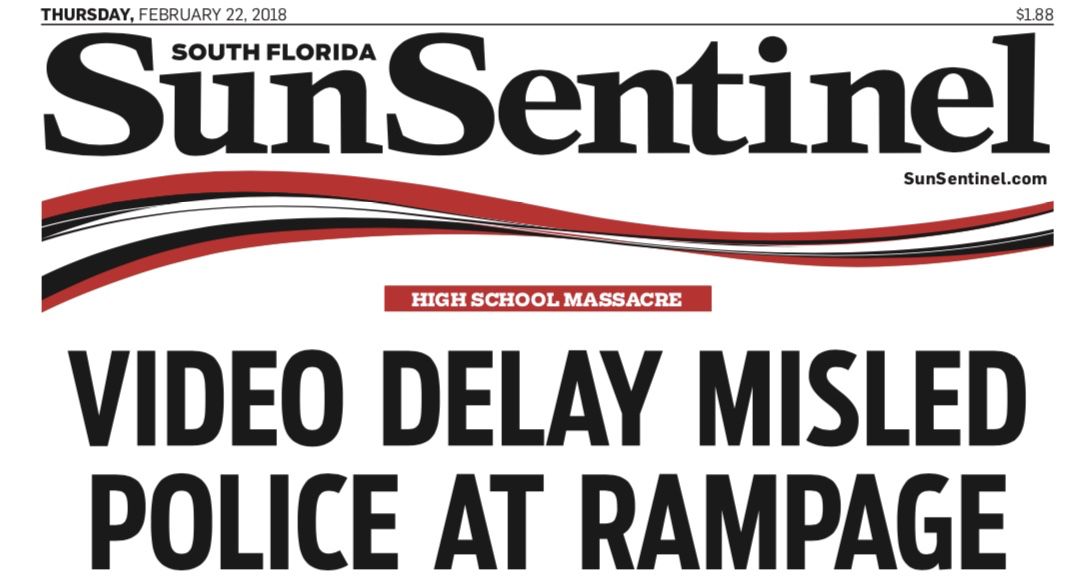 "Nearly a half-hour after Nikolas Cruz dropped his rifle and fled Marjory Stoneman Douglas High School, police thought they were seeing him live on security cameras [but the] images were tape-delayed" by 20 minutes, reports the Fort Lauderdale Sun Sentinel:
Why it matters: "The Broward School District's security cameras did not provide real-time video for police, complicating their efforts to track and pin down the shooter."
Coral Springs Police Chief Tony Pustizzi: "Somebody would say: 'He's on the second floor,' and we had guys on the second floor saying: ... '[W]e don't see him.' That's when we figured out there's a tape delay."
"Once inside the freshman building, police ... watched Cruz on camera, seeing him drop his bag near the stairway as sirens blared in the background. ... But by then Cruz was gone, sitting at a McDonald's about a mile away."
"Police communication was hampered by outmoded radios that left some transmissions inaudible. ... Broward County Commissioners in May approved $59.5 million to replace the more than 25-year-old radio system, but it won't be ready to use until the end of this year."
A reminder of the chaos:
"[A]n armed sheriff's deputy — called a school resource officer — is assigned to the school."
"[P]olice were looking for that officer, Scot Peterson, because he 'would be the one to have access to where the cameras are,' according to the police radio broadcast."
"Peterson was on the 45-acre campus during the attack but not in the targeted building."
6. Fake news plague: bogus Parkland claims
YouTube, Facebook and Twitter were caught flat-footed when conspiracy theories about survivors of the Parkland school shooting were unintentionally elevated on their sites through algorithms that promote trending topics and popular content, Axios' Sara Fischer writes:
Why it matters: Pressure is building on social media companies to better manage the spread of misinformation during breaking news. But they're struggling to contain the problem without compromising openness, which can also help get facts out quickly.
How it happens ... Breaking news is a prime opportunity for misinformation campaigns:
Uncertainty around developing stories allows bad actors to game algorithms and avoid editorial scrutiny.
They often capitalize on emotionally-driven and politically-divisive stories.
They take advantage of the ability to create fake or bot accounts that can quickly amplify fake stories through engagement, retweets, shares or likes.
Go deeper ... See how the platforms responded.
7. The worst addiction epidemic in U.S. history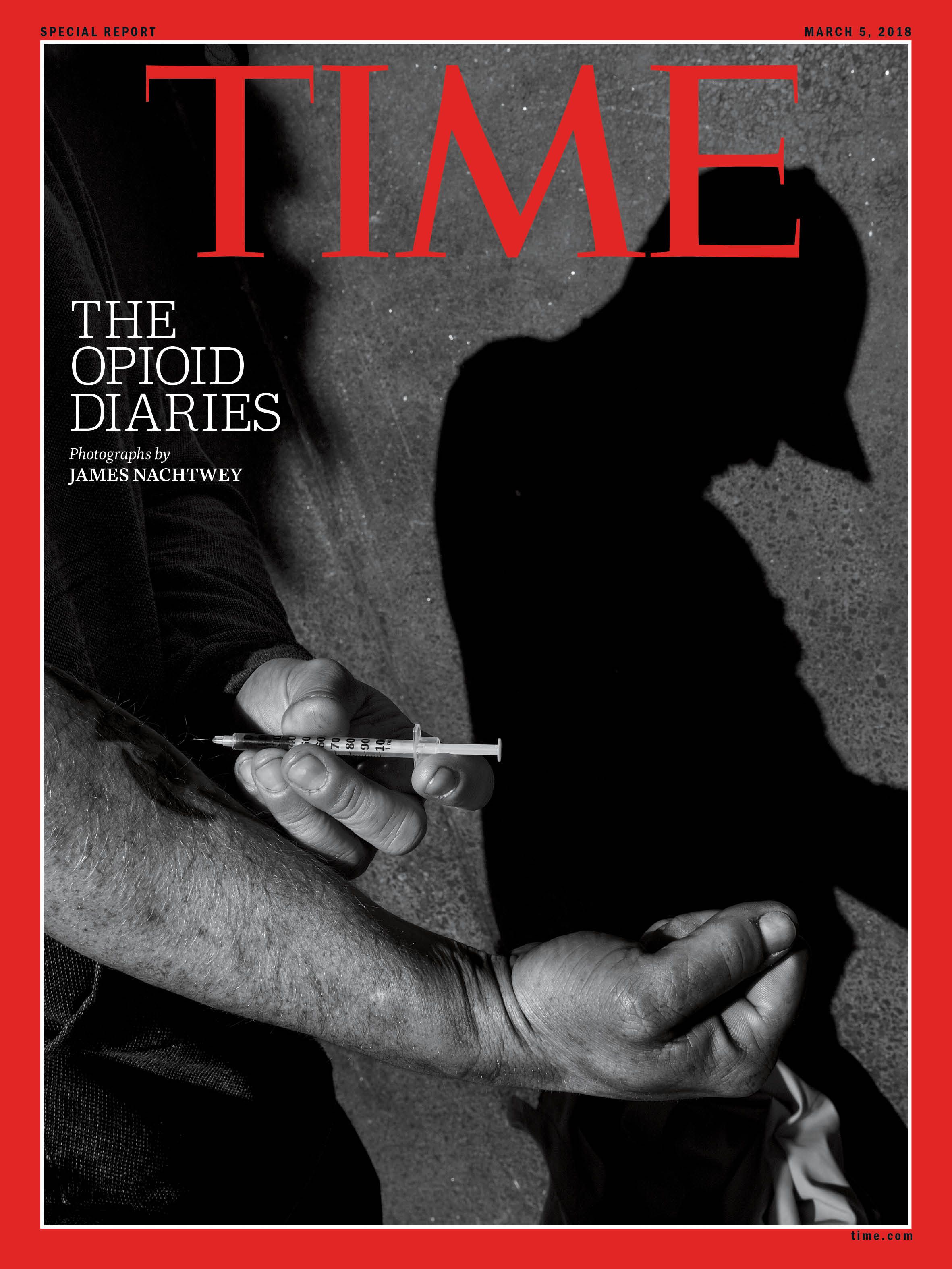 "The Opioid Diaries" is the first issue in TIME's 95-year history devoted entirely to one photographer's work:
"Over the past year, TIME commissioned acclaimed photographer James Nachtwey to document this crisis through the people on its front lines."
"Working closely with TIME's Paul Moakley [who wrote the issue's text], the pair traveled the country, spending months on the streets of Boston and San Francisco, on patrol with first responders in Ohio, New Mexico and West Virginia, visiting clinics in New Hampshire, in jail cells in Kentucky and at prayer meetings in Massachusetts."
Please read this ... In a first-person piece that opens the issue, Nachtwey writes:
"Over the past 35 years, my work as a photojournalist has taken me to other countries to document wars, uprisings, natural disasters and global health crises."
"In revisiting my own country I discovered a national nightmare."
"But the people living through it aren't deviants. They are ordinary citizens, our neighbors, our family members. I don't think I met one user whom I would consider to be a bad person. No one wants to be an addict."
8. Billy Graham on presidents: "loved 'em all"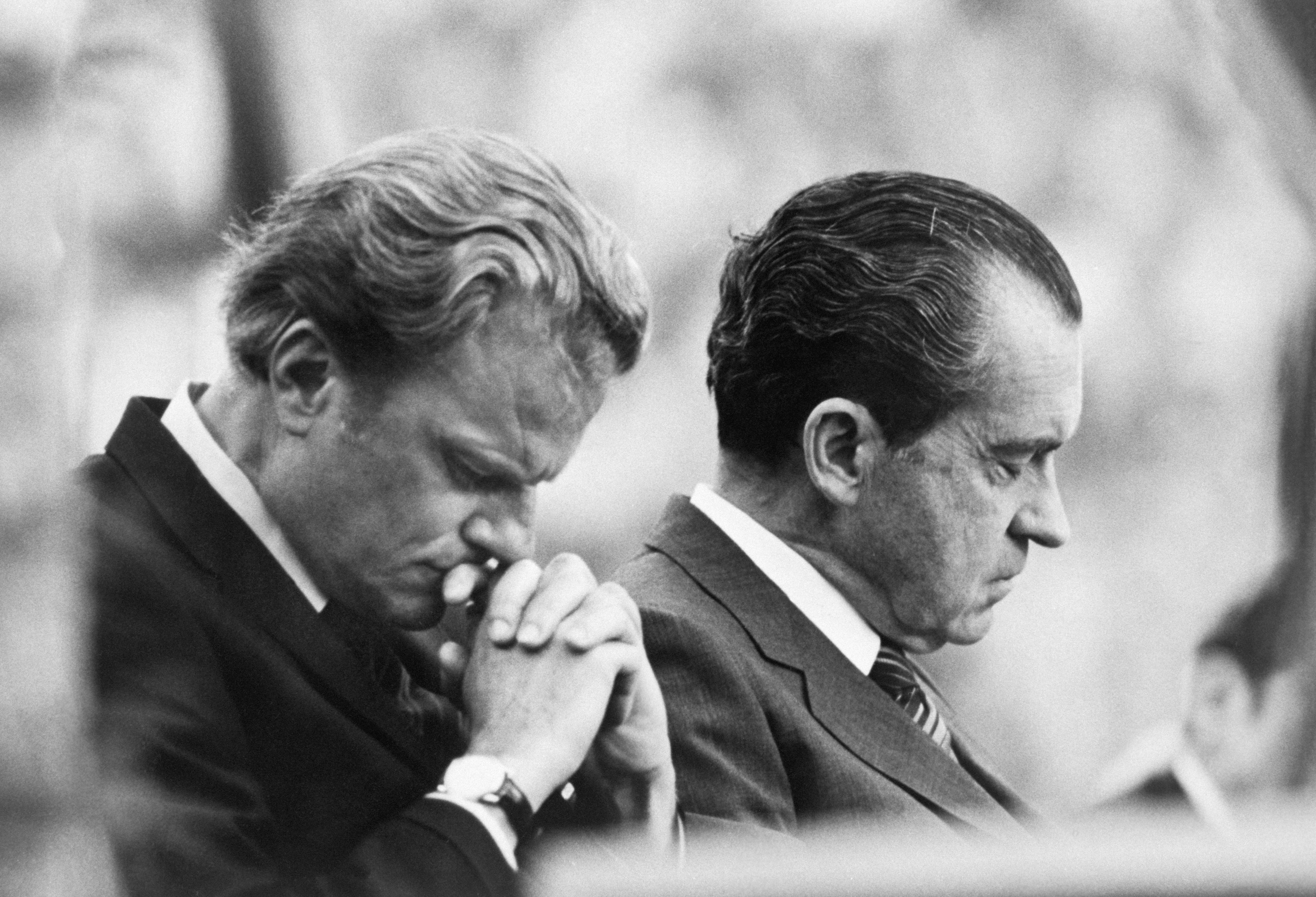 A crusader with staggering reach ... Adapted by TIME from the N.Y. Times bestseller, "The Preacher and the Presidents: Billy Graham in the White House," by Nancy Gibbs and Michael Duffy:
"[N]o one in history has known so many [presidents] so well, every president since the war [12 plus Trump, who met him before taking office], starting with Harry Truman who didn't like him much, on through Eisenhower who liked him immensely, then one after another after another, most of whom he met ten or twenty or thirty years before they got anywhere near the White House."
"Once when [Graham] was in Washington and Reagan heard he was in town, he called up and said 'You're staying at the wrong hotel.' He and Ruth went over to the White House in their PJs."
"Nixon was very reserved. Reagan was the merriest, most optimistic, wore the burdens of office most lightly; Clinton impressed him, so smart, so well informed, so apparently … spiritual."
Last earthly journey ... Graham, who died yesterday at 99 (less than nine months from 100), was moved from his home in Montreat, N.C., to a funeral home in Asheville, according to spokesman Mark DeMoss, whose clients include the Billy Graham Evangelistic Association (AP):
Graham's body "will be taken from Asheville to Charlotte on Saturday in a procession expected to take 3 ½ hours and ending at the Billy Graham Museum and Library. "
"He will lie in repose Monday and Tuesday in the Charlotte house where he grew up, which was moved from its original location to the grounds of the Graham library."
"A private funeral for Graham will be held on Friday, March 2, in a tent at the library site and he will be buried next to his wife."
"Invitations to the funeral will be extended to President Donald Trump and former presidents."
The best cause of death ... DeMoss quoted Graham's longtime personal physician, Dr. Lucian Rice, as saying, "He just wore out."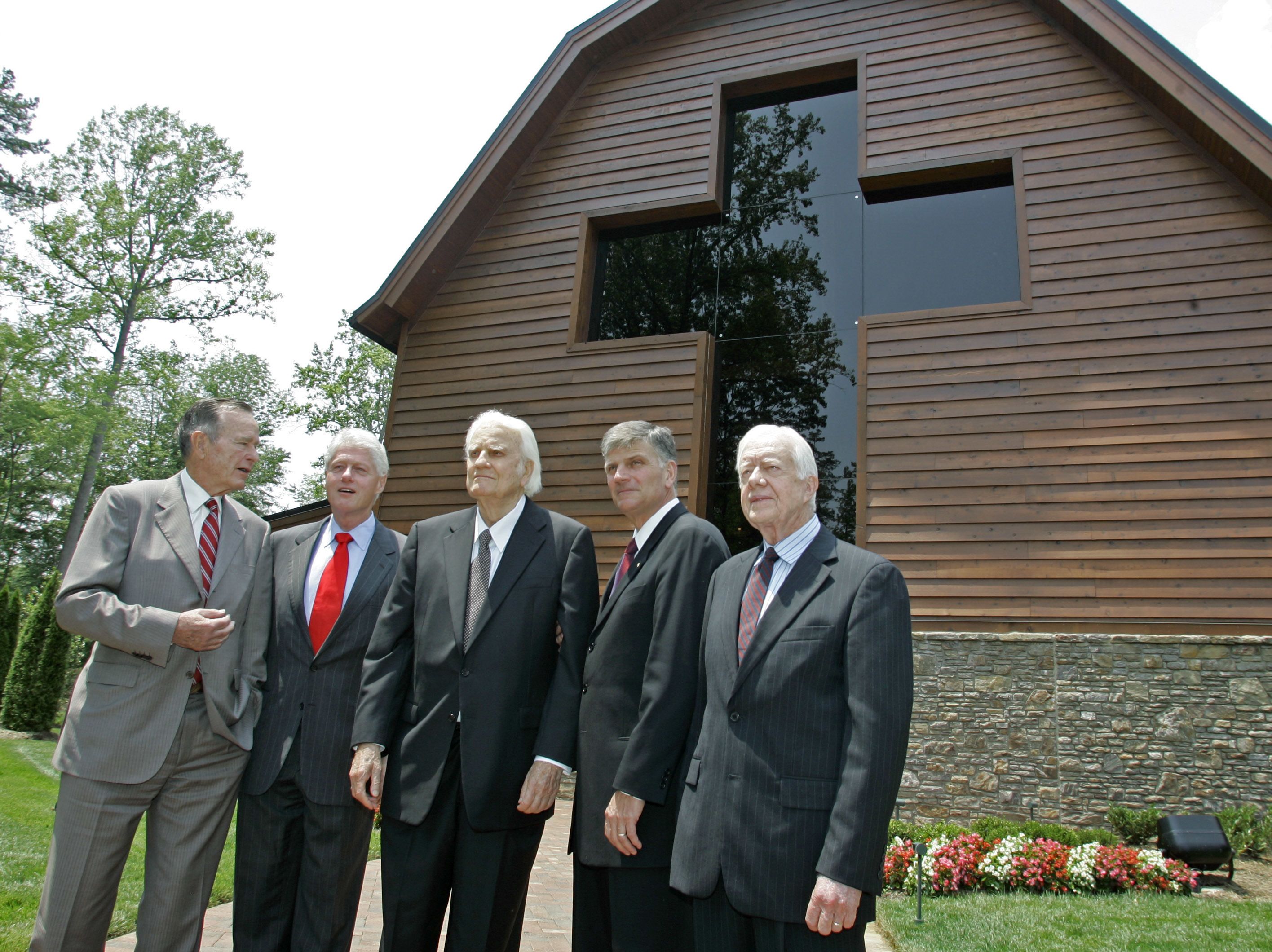 9. 38 years to the day after "Miracle on Ice"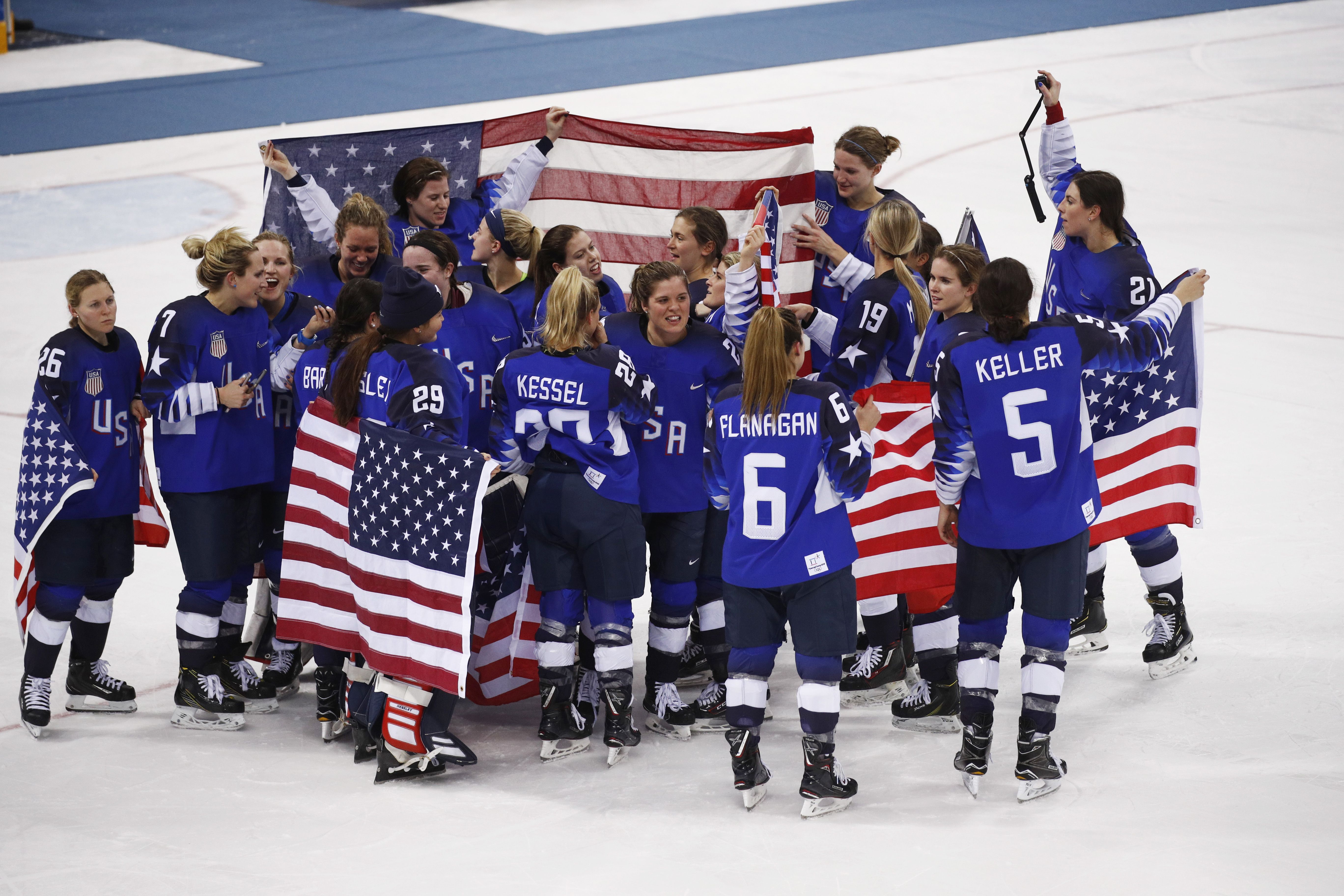 "The United States erased the horrors of past Olympic performances with a 3-2 shootout win against Canada to capture the women's hockey gold medal," per NBC Olympics:
"Jocelyne Lamoureux-Davidson pulled off an incredible deke in the sixth round, while Maddie Rooney closed the door on Meghan Agosta as the U.S. won gold for the first time since the '98 Nagano Games."
"The 2018 team openly spoke about how the members of the '98 squad fueled their desire to win a gold medal. Now, there is another moment in women's hockey history to motivate the next group of players."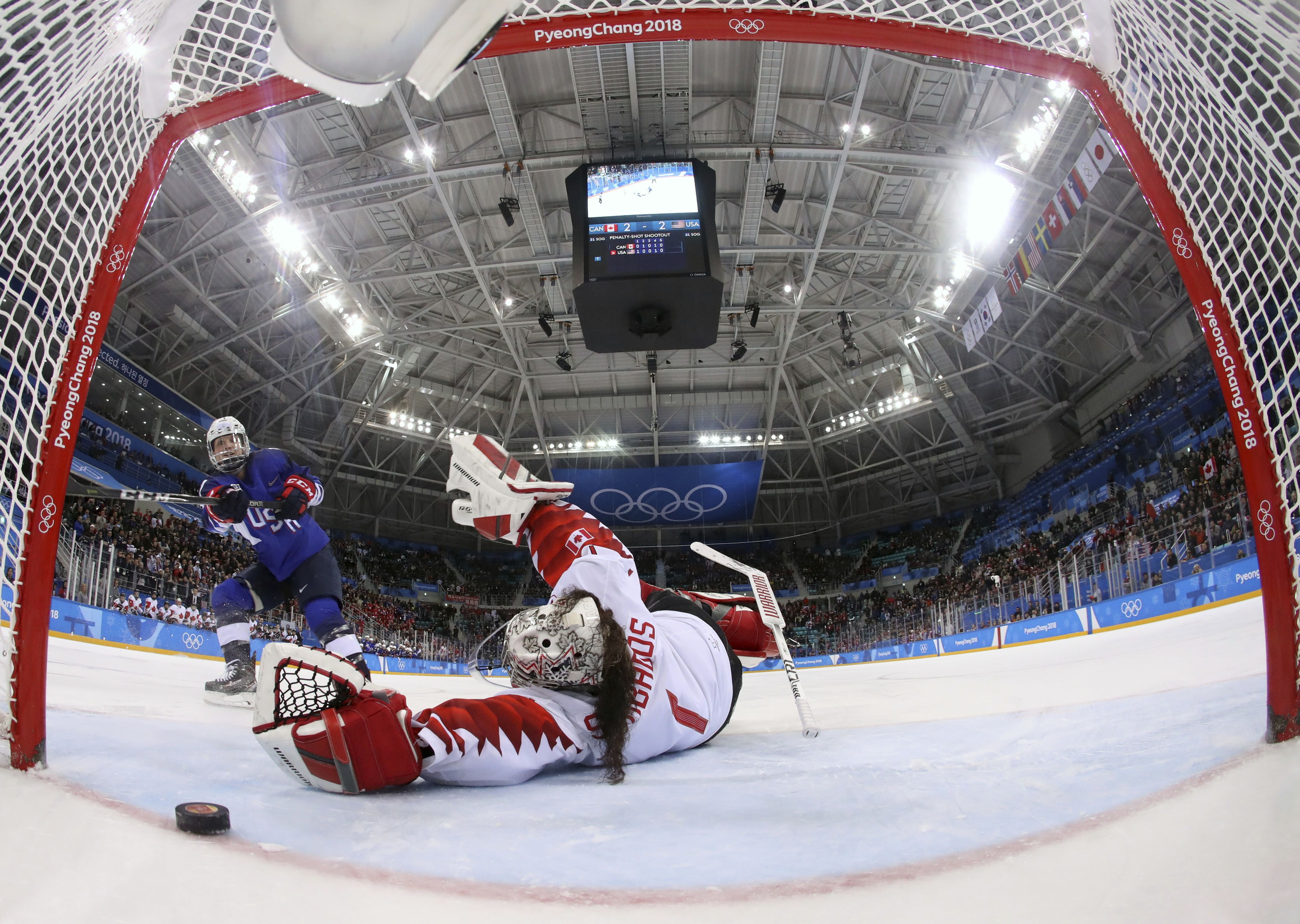 10. 1 fun thing: Apple plan to count yoga calories
Ever wonder how many calories you're burning doing yoga? Apple has applied for a patent to do just that, Axios' Ina Fried reports:
Apple's proposal suggests using a heart-rate sensor and a thermometer.
From Apple's filing: "A motion sensing module can collect user's motion data. In some embodiments, a hot yoga session can be detected based on measured ambient temperature. In some embodiments, a yoga type can be detected based on the motion data. In some embodiments, an energy expenditure model can be applied based on the determined yoga type."
☕️ Thanks for reading. Updates all day on Axios.com ...