☀️ Good Tuesday morning!
Situational awareness: "Trump administration officials said they're crafting a new legislative package aimed at closing immigration 'loopholes' following the president's calls for Republican lawmakers to immediately pass a border bill using the 'Nuclear Option if necessary.'" (AP)
We'd love to have your friends, relatives, and colleagues join the world's best breakfast conversation: 1-click sign-up here.
https://www.axios.com/newsletters/axios-am-5028e0f0-887e-460a-8da6-315fafa1d809.html?chunk=0#story0
1 big thing: Why Trump thinks he's winning his war on media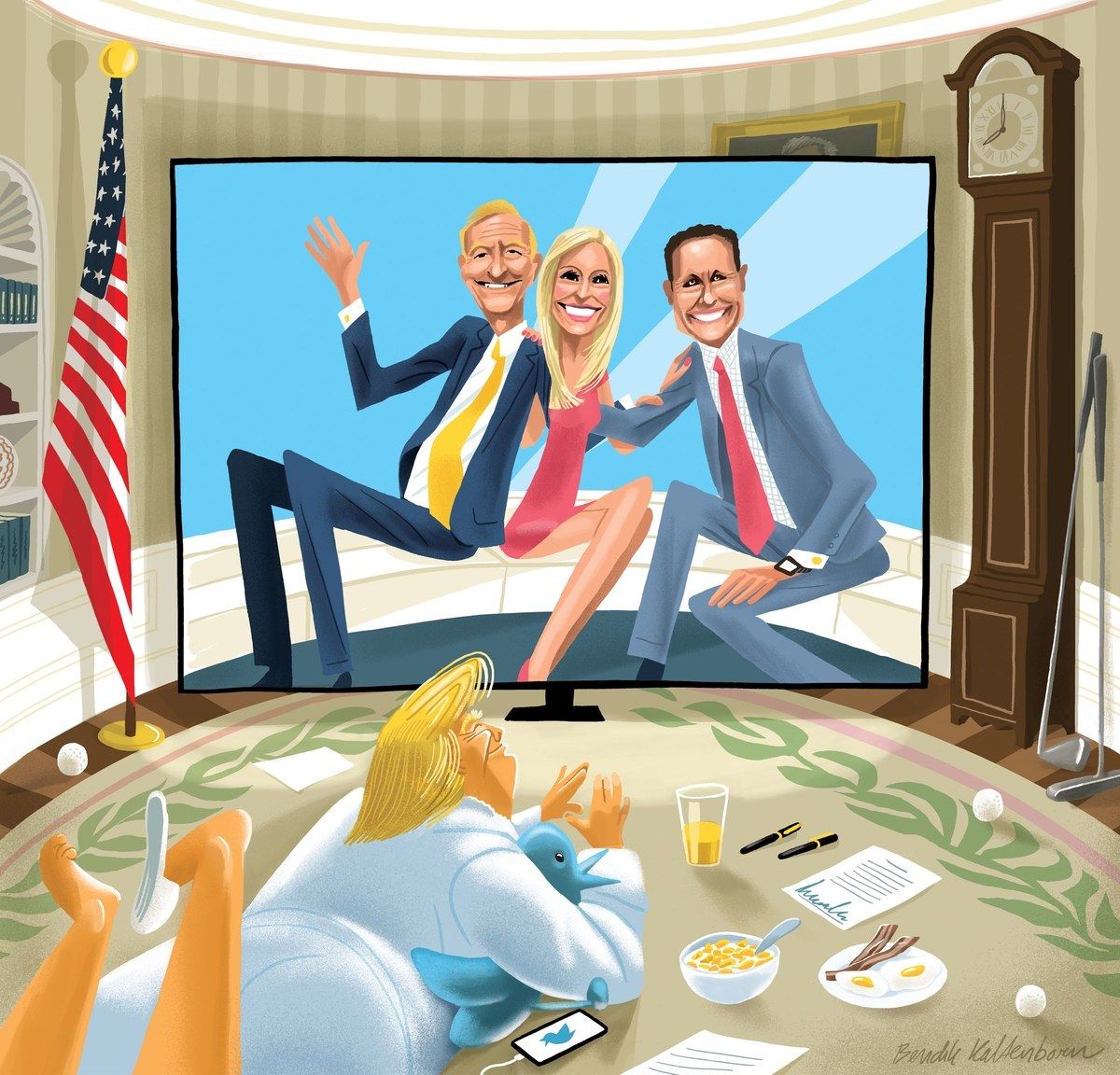 Illustration by Bendik Kaltenborn / The New Yorker, from "How 'Fox & Friends' Rewrites Trump's Reality." Used by permission.
The rising power of Trump TV ... Nothing helps President Trump more — or tightens his hold on his base more securely — than his cozy, mutually beneficial relationship with conservative TV. The two key players:
1. Fox News — especially the morning show, "Fox & Friends." It's no exaggeration to say that the "Fox & Friends" anchors and commentators have become de facto policy advisers.
Axios' Jonathan Swan wrote in October about the special hold that Fox Business anchor Lou Dobbs has on Trump, who has followed Dobbs' business coverage going back to his CNN days. Now The Daily Beast reports that Trump "has patched in Dobbs via speakerphone to multiple meetings in the Oval Office so that he could offer his two cents."
Swan tells me: "Trump not only watches these folks religiously but consults them by phone + views Fox judges Jeanine Pirro and Andrew Napolitano as quasi legal advisers."
2. Sinclair Broadcast Group, the nation's largest owner of local broadcasting stations, with unabashed conservative leanings. Trump backed the company in a tweet yesterday after an embarrassing viral mash-up showed dozens of Sinclair anchors on at least 66 stations around the country reading a canned promo script denouncing "fake stories" on "some media outlets."
Trump's tweet: "So funny to watch Fake News Networks, among the most dishonest groups of people I have ever dealt with, criticize Sinclair Broadcasting for being biased. Sinclair is far superior to CNN and even more Fake NBC, which is a total joke."
Be smart: The mainstream media's skeptical-to-sneering coverage of Fox and Sinclair just endears those outlets to Trump, and causes his diehard supporters to dig in even deeper.
The loyalty of Trump's base is deepened by conservative media amplifying his complaints — even of other Republicans.
Trump's feedback loop — including cable-news coverage, and mainstream media squawking — convinces the president that he's winning his war on media.
Swan explains: "Trump demands instant gratification and the quickest way to do it is to kick a shared enemy of his media allies (WaPo being the one this week). He'll get instant feedback, phone calls from cable hosts and approving coverage on their shows. It's the modern version of call and response: his tweets, their chyrons."
A Trump aide told me that the president gravitates toward conservative outlets because "those seem to be the only options that aren't chronically negative or personally vicious toward him," and that voters "are weary from the constant and obsessive negativity elsewhere."
Fox and Sinclair are becoming more unabashedly pro-Trump in their commentary. And neither sounds chastened by recent controversies:
Sinclair Broadcast Group president and CEO Christopher S. Ripley told me in an email that his stations' "commentary offers a viewpoint that may be ignored by other organizations": "[O]ur critics are stretching to prove a non-business or sinister intent that just simply does not exist."
When I asked Ripley if he'd run this promo campaign again, or give local stations more flexibility next time, he replied: "The objective of the campaign was to increase viewership so it will either succeed in that regard or not and that is how I would determine if we would do this campaign again."
Jack Abernethy, co-president of Fox News, said in a statement to the L.A. Times that the network is backing host Laura Ingraham, who drew an advertiser boycott (and later apologized) after attacking David Hogg, Parkland shooting survivor and student activist.
"We cannot and will not allow voices to be censored by agenda-driven intimidation efforts," the statement said. CNN's Brian Stelter said that's a reference to the liberal Media Matters for America.
P.S. Two ironies:
Swan notes: "The nuance is he still craves mainstream approval, especially from his hometown paper, the NYT. It's the girl he can't get. One adviser told me recently that Trump spends more time reading newspapers than people realize. Then he scribbles on them and his notes fly around the building — often creating the need for additional briefings and meetings on the issues that grab his attention."
Axios media trends expert Sara Fischer: "While Sinclair is growing and local news is the most-consumed form of TV news, TV news consumption is also declining year over year. My sense is that Trump is penetrating these dying networks that mostly reach older consumers anyway."
https://www.axios.com/newsletters/axios-am-5028e0f0-887e-460a-8da6-315fafa1d809.html?chunk=1#story1
2. How to regulate Facebook
With growing signals that data privacy rules are on the way, Axios' Kim Hart and David McCabe tell us to look for proposals on data portability, transparency and new opt-in rules:
New privacy rules in Europe are also a template.
Ripple effects: Other online platforms won't get out of this unscathed. Regulatory proposals can be expected to drag in the likes of Google, Twitter, Snapchat, Amazon and Microsoft, who'll have to explain why they're different from Facebook.
Here's a cheat sheet on the top options:
Data portability: Giving consumers the ability to yank their data from any company at any time is getting some traction.
Transparency: Requiring companies to clearly disclose how they are collecting, using, and sharing consumers' data.
Opting in: Facebook has said it will give users more control over how information is shared with third-party apps and will clarify privacy settings.
https://www.axios.com/newsletters/axios-am-5028e0f0-887e-460a-8da6-315fafa1d809.html?chunk=2#story2
3. U.S. industry giants rebel against trade war
"Companies in technology, investment and other industries now say that the measures the administration is taking to help them may actually end up doing irreparable harm to supply chains they have built up over decades," the N.Y. Times' Ana Swanson reports:
"Any American company that wants to be a global player cannot afford to lose access to China's growing market, executives say."
"Technology companies argue that the restrictive measures the administration is taking to help protect them could end up penalizing American manufacturing, raising costs and making their companies less competitive globally."
"And industries most vulnerable to retaliation, like agriculture, are protesting about losing valuable export opportunities."
https://www.axios.com/newsletters/axios-am-5028e0f0-887e-460a-8da6-315fafa1d809.html?chunk=3#story3
4. 🏀 Pics du jour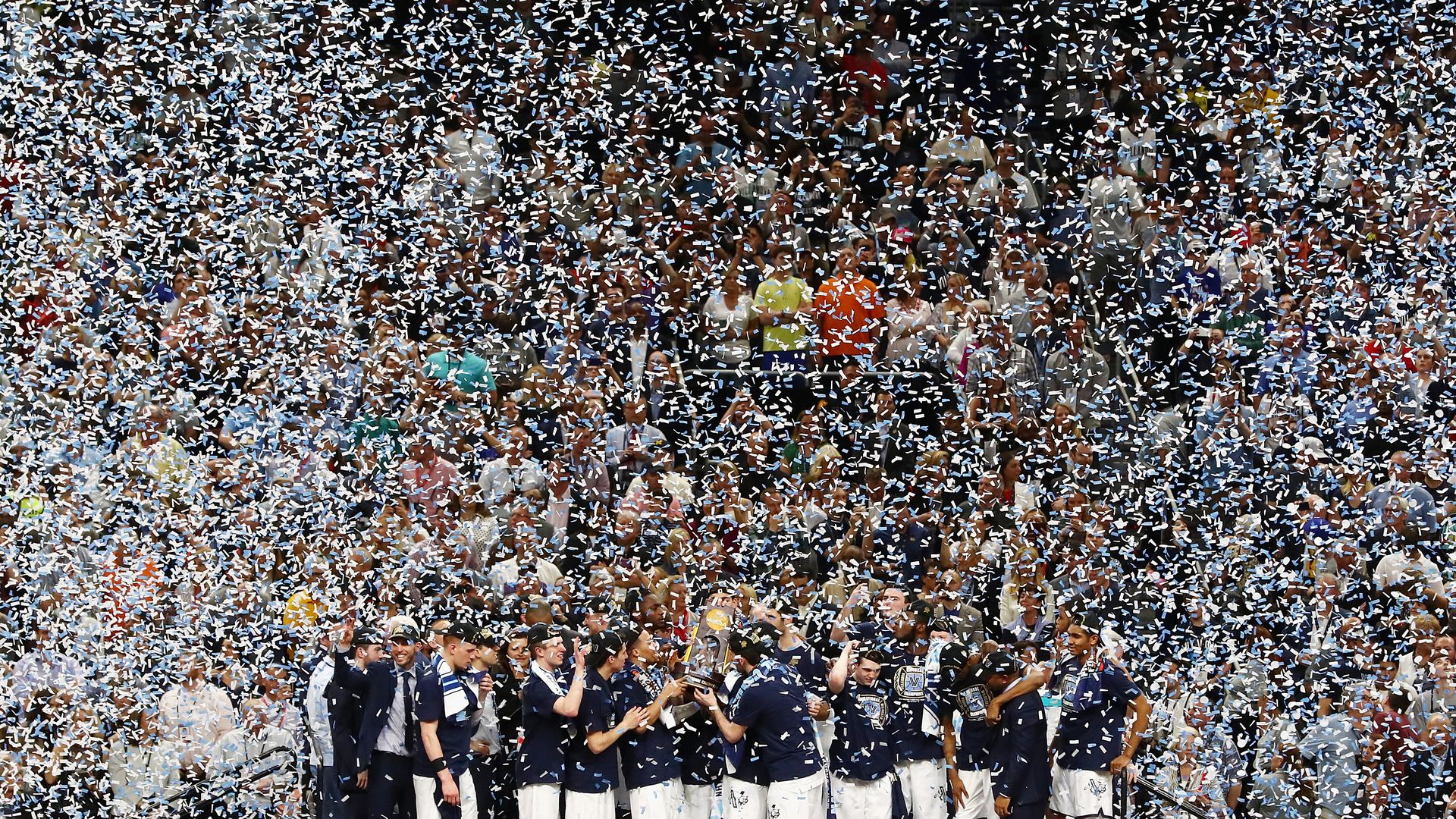 Confetti falls as the Villanova Wildcats celebrate after defeating the Michigan Wolverines, 79-62, in the NCAA men's basketball national championship in San Antonio.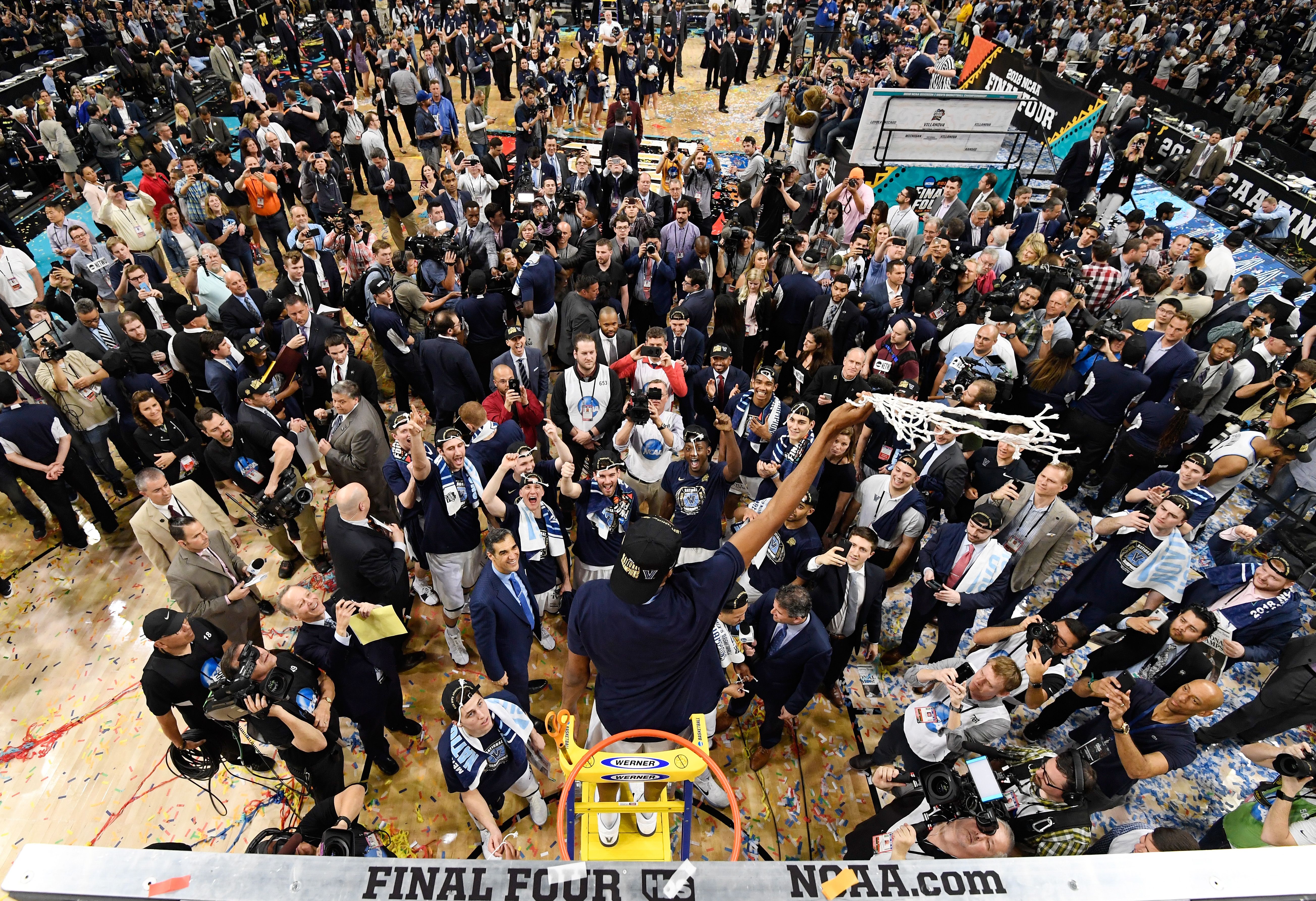 Brett Wilhelm / NCAA Photos via Getty Images
https://www.axios.com/newsletters/axios-am-5028e0f0-887e-460a-8da6-315fafa1d809.html?chunk=4#story4
5. Shot /chaser
Shot — The Times of London: "Moscow has said that relations with the West are now worse than during the Cold War in the aftermath of the Skripal poisoning."
"Sergei Lavrov, the Russian foreign minister, claimed that unwritten codes of conduct between the Soviet Union and the western powers during an era of mutually assured nuclear destruction no longer applied, suggesting that the modern relationship was more volatile and unpredictable."
Chaser — WashPost A1: "Trump proposed meeting Vladimir Putin at the White House in [his congratulatory] phone call [on March 20], the Kremlin said, ... a fresh revelation about a conversation that stirred controversy over Trump's friendly tone toward the Russian leader amid mounting tensions with the West."
https://www.axios.com/newsletters/axios-am-5028e0f0-887e-460a-8da6-315fafa1d809.html?chunk=5#story5
6. "As Wall Street sinks, Trump is his own worst enemy"
Stunning datapoint: "U.S. stocks had their worst April start since 1929." (Bloomberg)
"The president — who frequently touted Wall Street's rally following his 2016 election victory — was partly blamed for a sharp stock selloff ... that investors believe is likely to continue, deepening cracks in a nine-year-old bull run," per Reuters:
"The selling was sparked by escalating fears of a trade war ... and by Trump's renewed criticism of Amazon."
Doug Kass, president of Seabreeze Partners Management in Palm Beach: "The president's behavior is now beginning to impact the capital markets — both the averages and individual equities."
Michael Purves, chief global strategist at Weeden & Co. in New York: "Selling tech is not a sector rotation story, it's a sell-the-market story."
At the close yesterday, CNBC was rocking a red "MARKET SELL-OFF" graphic:
"Financials down 10.6% from Jan. 26th 52-week high."
"Dow, S&P and NASDAQ close in correction territory."
"20% of S&P's tech sector enters bear market territory."
https://www.axios.com/newsletters/axios-am-5028e0f0-887e-460a-8da6-315fafa1d809.html?chunk=6#story6
7. Musk back to sleeping at the factory
"Elon Musk, in a testy Twitter exchange, said he is 'back to sleeping at the factory' while trying to fix production delays with the Model 3 electric car," Bloomberg's Tom Randall reports:
"It's a move reminiscent of Tesla's last vehicle launch — the Model X — when Musk famously kept a sleeping bag near the production line so he could immediately address any hiccups."
"The posts ... came as investors await Tesla's first-quarter production numbers, which are expected to fall short of the company's forecasts."
Musk: "Car biz is hell."
https://www.axios.com/newsletters/axios-am-5028e0f0-887e-460a-8da6-315fafa1d809.html?chunk=7#story7
8. Trump wants to curb CFPB
"Acting Chief [Mick Mulvaney] Recommends Reining In Consumer Financial Protection Bureau," the Wall Street Journal reports on A1:
"Major CFPB rules would need congressional approval, ... and the CFPB's director would answer directly to the president, instead of being fully independent. Its funding, which currently comes from the Federal Reserve, would be handled by Congress."
Mulvaney in a report to Congress: "The bureau is far too powerful, and with precious little oversight of its activities."
Why it matters: "The changes would be a substantial departure from the CFPB's structure, which currently gives it wide latitude to oversee consumer financial products without interference from Congress or the White House, and make it less independent than other banking and markets regulators."
https://www.axios.com/newsletters/axios-am-5028e0f0-887e-460a-8da6-315fafa1d809.html?chunk=8#story8
9. Data du jour
Red-state revolt: "Many schools will remain closed for a second day in Oklahoma [today] as teachers continue to rally for higher pay and education funding in a rebellion that has hit several Republican-led states across the country," including West Virginia, Arizona and Kentucky. (AP)
Go deeper: Axios' Michael Sykes, "Why teachers are walking out of the classroom."
https://www.axios.com/newsletters/axios-am-5028e0f0-887e-460a-8da6-315fafa1d809.html?chunk=9#story9
10. 📱 1 phone thing
Cellphones gaining acceptance inside U.S. schools, AP's Carolyn Thompson reports:
"The percentage of K-12 public schools that prohibited cellphone use was about 66% in 2015-16, down from more than 90% in 2009-10, according to data from a survey conducted by the National Center for Education Statistics."
"Among high schools, the shift over the same period was especially striking — dropping from 80% with bans to 35%."
"The nation's largest school system, New York City, is among those that have abandoned strict bans, which had some students paying $1 a day to store phones in specialty trucks parked nearby before heading into school."