https://www.axios.com/newsletters/axios-am-4fb43c8f-9ab1-4c8a-89cb-4d21807cd685.html?chunk=0#story0
1 big thing: Trump's big day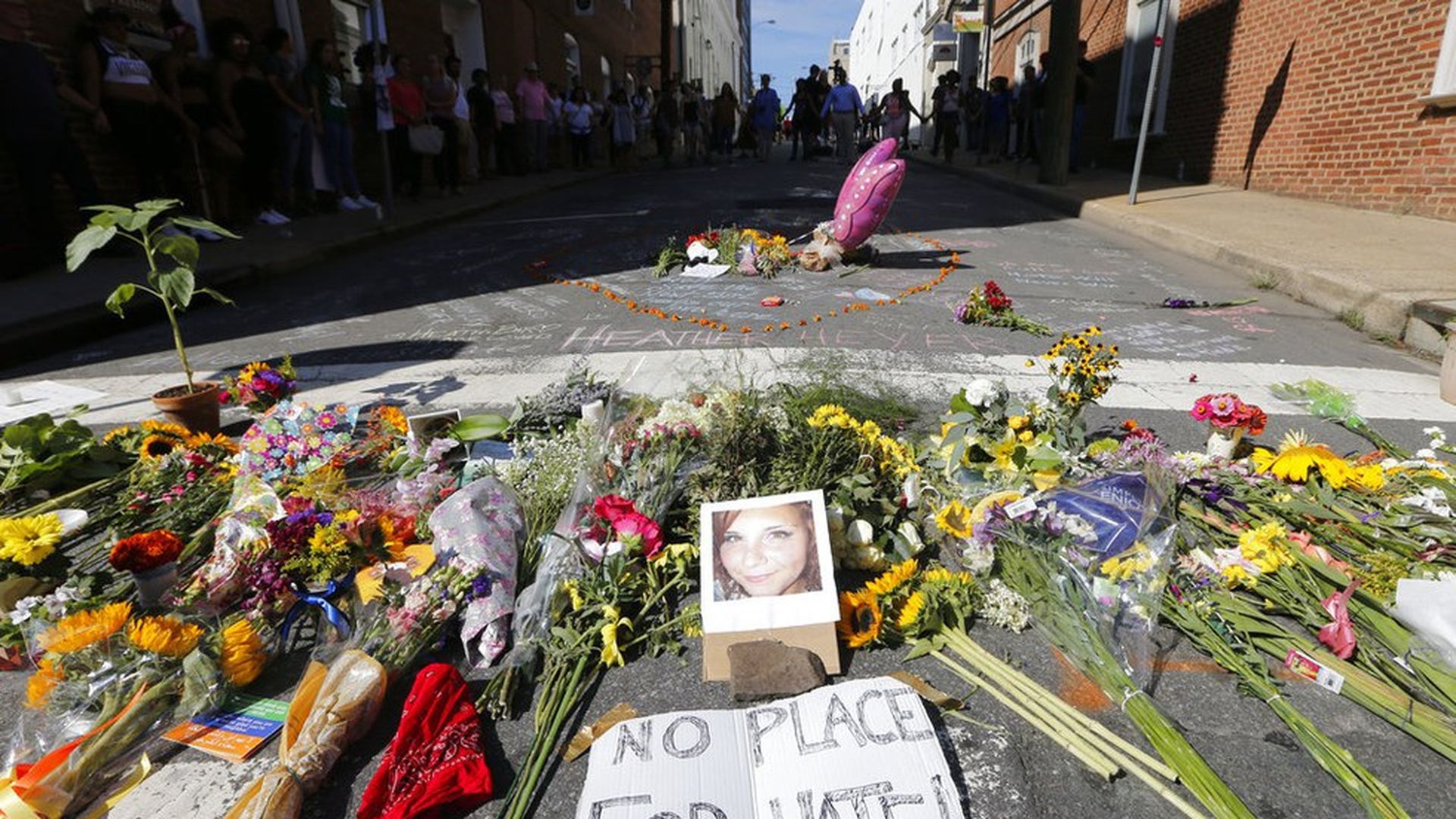 Look for President Trump to say more today about this weekend's racist pageant in Charlottesville, which resulted in three deaths but drew oddly measured condemnation from him.
Top Republicans, including some who have been trying to give Trump the benefit of the doubt, fear the damage may be done to the party, and to the president.
Yesterday's deafening presidential silence was underscored when Vice President Mike Pence told reporters in Cartagena, Colombia:
"We have no tolerance for hate and violence from white supremacists, neo Nazis or the KKK. These dangerous fringe groups have no place in American public life and in the American debate, and we condemn them in the strongest possible terms."
Trump, in New Jersey but on vacation in name only, returns to the construction-zone White House today for 8½ hours. He'll meet the cameras of the press pool at 3 p.m. in the Diplomatic Reception Room to sign a memo jabbing China on trade. We expect he'll amplify his "many sides" remark from Saturday.
He's on the defensive, when he could be soaring:
N.Y. Times' Glenn Thrush and Rebecca Ruiz: "As the gravity of the events on Saturday became clearer, the pressure on Mr. Trump to make a stronger statement came from his innermost circle of advisers and family."
"Trump consulted a broad range of advisers before speaking on Saturday, most of whom told him to sharply criticize the white nationalist protesters. ... Trump listened attentively ... but repeatedly steered the conversation to the breakdown of 'law and order,' and the responsibility of local officials to stem the violence."
NBC's Chuck Todd, on "Meet the Press": "It was almost as if the Republican Party was waiting to see what he would do. And then, it was a rush to say, 'Whoa.' He's on an island right now, I think, in his party."
Rich Lowry, National Review editor and proud U.Va. grad, to Chuck: "[T]his was a moment ... where the president could've elevated himself. Instead, he came up small. And that's one of the reasons ... you've seen such a premium on the statements from other Republicans on moral clarity, given the president's ambiguity."
CNN: "IS THIS A DEFINING MOMENT FOR THE REPUBLICAN PARTY?"
Front page of today's N.Y. Times: "A White House Statement on Virginia Is Also Found Wanting." And WashPost: "White House seeks to quell backlash over Trump remarks." And L.A. Times: "Criticism of Trump intensifies." And Boston Globe: "Division in the United States: Trump draws criticism for reaction to violence." And Guardian: "Trump under fire from all sides."
And the paper he'll see this morning, the N.Y. Post: "TRUMP SLAMMED FROM 'MANY SIDES.'"
Be smart: The truism that you only have one chance to make a first impression has been leavened by today's short attention spans. I've told you before that the biggest surprise of the Trump presidency is that he's done so little to reach out to the 54% of people who didn't vote for him.
Today's his chance to do that in a big way, on a subject that matters vitally to a fractured, fractious country. Trump's challenge is to lead the more extreme elements of his own coalition, and also resonate with America's great middle.
https://www.axios.com/newsletters/axios-am-4fb43c8f-9ab1-4c8a-89cb-4d21807cd685.html?chunk=1#story1
2. Wisdom from history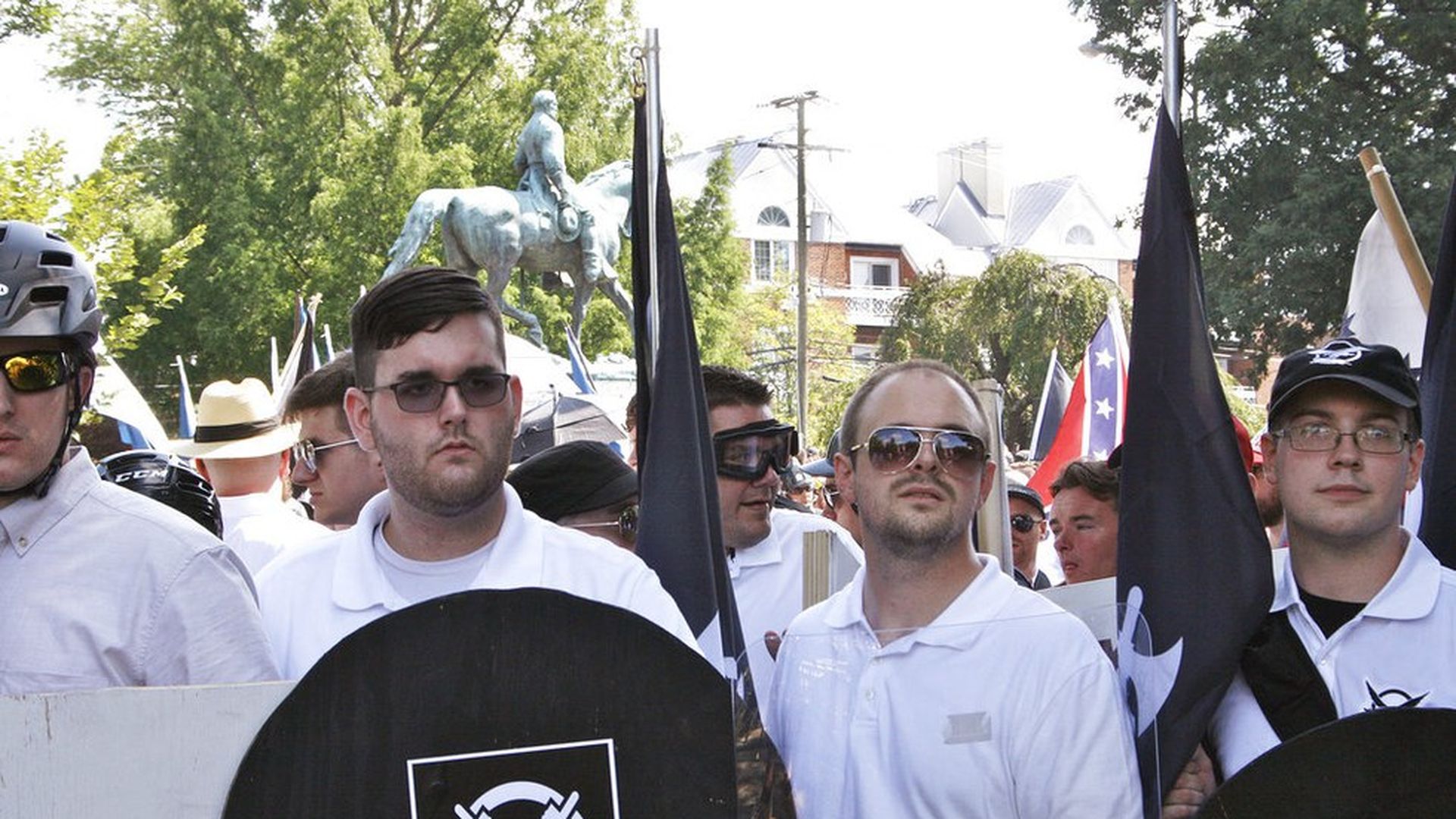 David Gergen, White House adviser to four U.S. presidents of both parties (Nixon, Ford, Reagan, Clinton), tells CNN that "for starters," Trump should call the families of the three who were killed:
"Martin Luther King was thrown into jail [just before the 1960 election], and the Nixon people remained quiet ... John Kennedy placed a phone call to ... Coretta Scott King, to express his great concern and support for her. And it made a difference. It sent a clear signal."
"I think the president's team ought to be devising a series of steps that would be healing and would show a recognition and an acceptance on his part that we're dealing with terrorists."
"[H]e has to denounce this ... to build up the moral authority of his presidency. ... [A]s Franklin Roosevelt once famously said, the presidency 'is preeminently a place of moral leadership.'"
"[R]epeatedly in American history, questions have come up about right versus wrong, and it's been up for the President, whoever is in that office, to identify what is morally right. ... President Trump needs to provide moral clarity on what we're facing."
https://www.axios.com/newsletters/axios-am-4fb43c8f-9ab1-4c8a-89cb-4d21807cd685.html?chunk=2#story2
3. From a Virginia park to a national canvas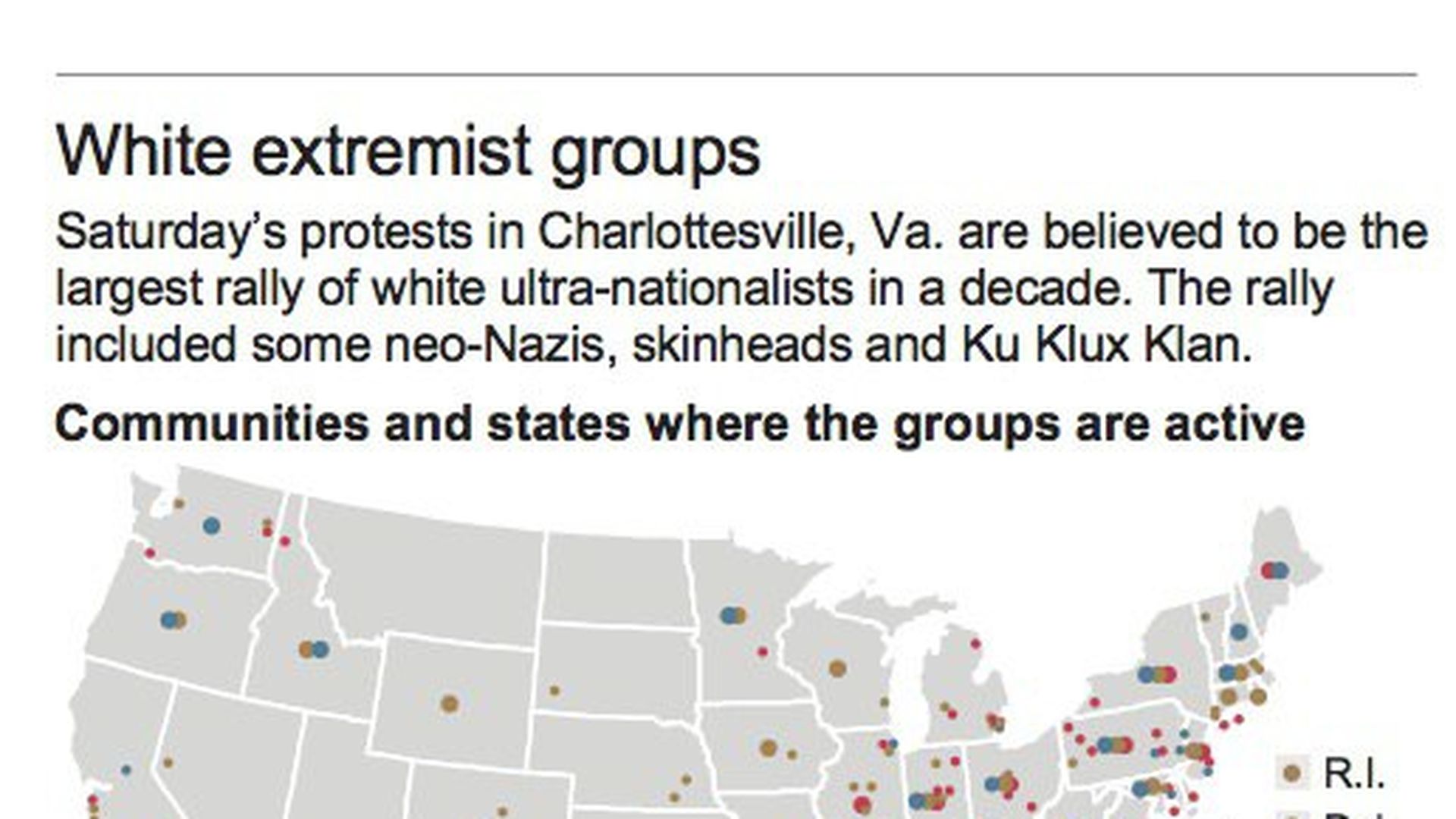 "Protesters decrying hatred and racism converged around the country, saying they felt compelled to counteract the white supremacist rally that spiraled into deadly violence in Virginia," AP reports:
"The gatherings Sunday spanned from anti-fascist protests in San Francisco to a march to President Donald Trump's home in New York."
"Some focused on showing support for the people whom white supremacists condemn. Other demonstrations were pushing for the removal of Confederate monuments, the issue that initially prompted white nationalists to gather in anger this weekend in Charlottesville."
"Still other gatherings aimed to denounce fascism and a presidential administration that organizers feel has empowered white supremacists."
Catch up quick: "Understanding the Charlottesville chaos," by Axios deputy news editor Alexi McCammond.
https://www.axios.com/newsletters/axios-am-4fb43c8f-9ab1-4c8a-89cb-4d21807cd685.html?chunk=3#story3
4. "Died standing up for what she believed in"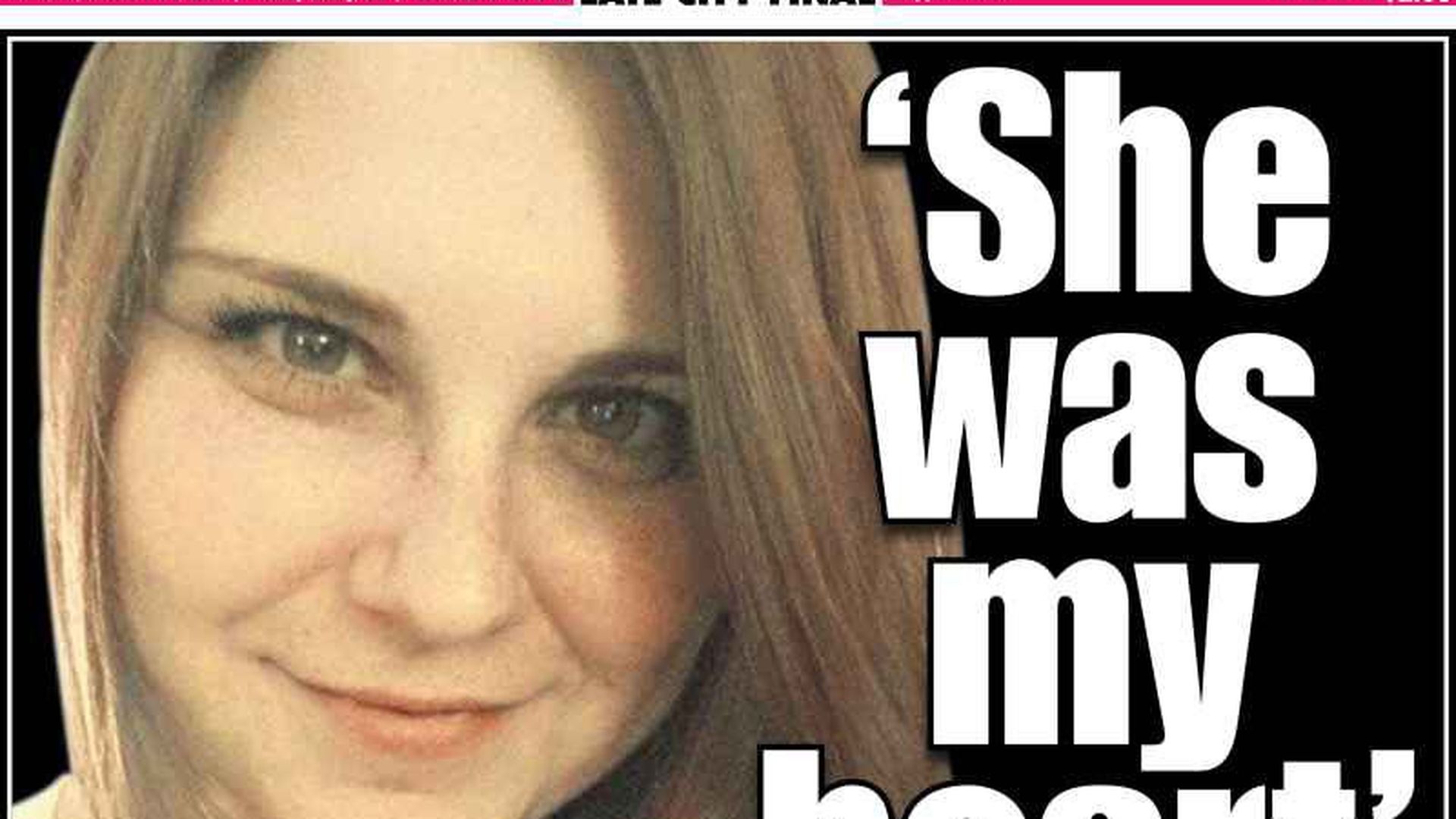 Mourning Heather Heyer, 32, a Charlottesville paralegal: "Friends described her as a passionate advocate for the disenfranchised who was often moved to tears by the world's injustices. That sense of conviction led her to join demonstrators protesting a rally of white nationalists." (N.Y. Times)
"She left behind a dog — and an approach to the world that those who love her say needs nurturing now that she's gone." (WashPost)
https://www.axios.com/newsletters/axios-am-4fb43c8f-9ab1-4c8a-89cb-4d21807cd685.html?chunk=4#story4
5. Thought for today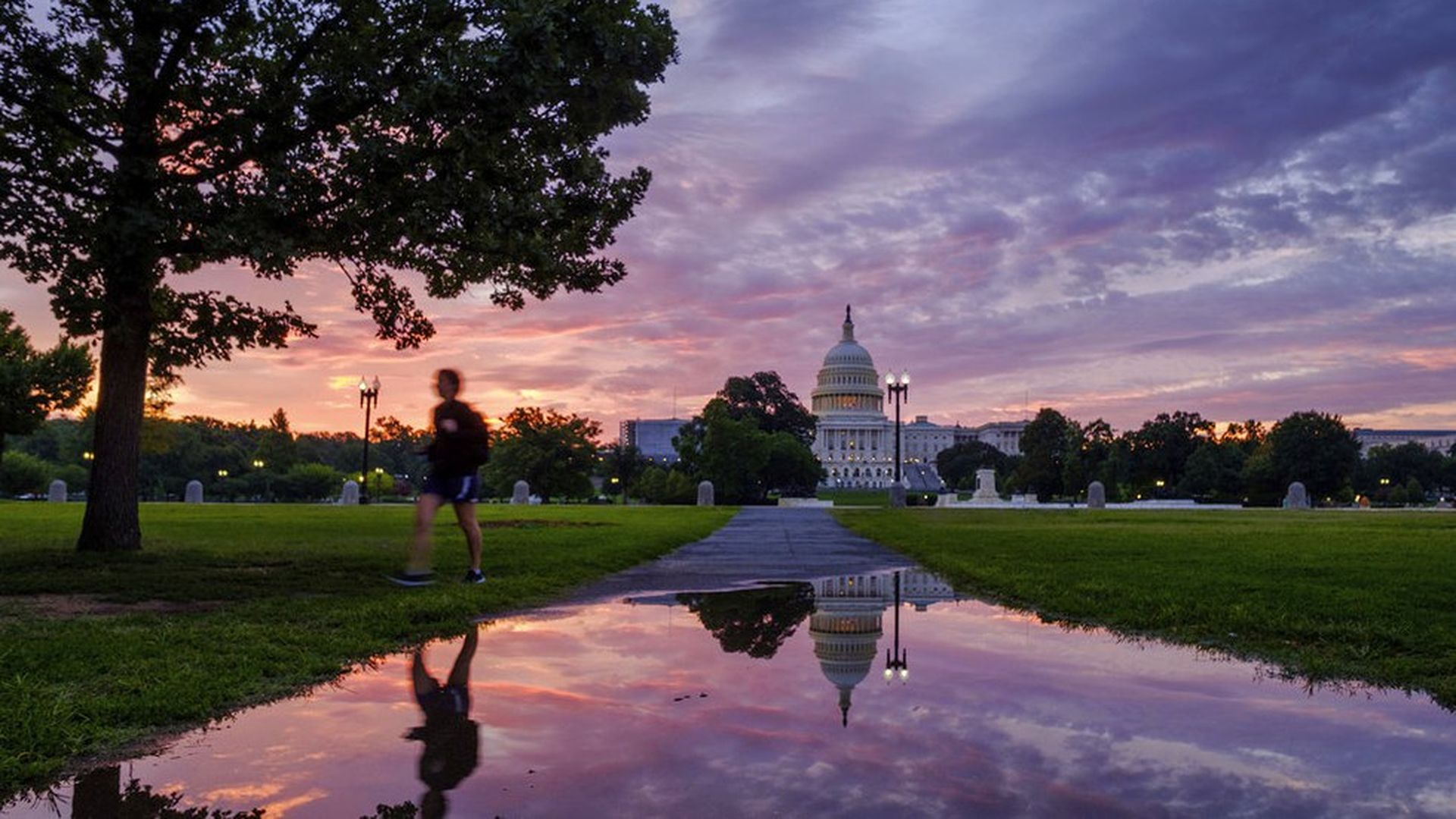 It's mid-August.
Congress is gone.
The president is supposed to be on vacation.
Can't we chill out?
P.S. Jonathan Swan scoop in his Sunday evening Sneak Peek newsletter, "Anti-McMaster campaign is about to get uglier": "A White House official told me 'McMaster has been made aware that the attack is likely coming, and prefers to focus on his work.'"
"For the nationalists making them, these attacks could backfire."
https://www.axios.com/newsletters/axios-am-4fb43c8f-9ab1-4c8a-89cb-4d21807cd685.html?chunk=5#story5
6. "A wave of eased rules"
Wall Street Journal lead story, "Agencies Pull Back The Rules On Wall Street," by Ryan Tracy and Dave Michaels (online: "Trump Chips Away at Postcrisis Wall Street Rules"):
"Efforts toward financial deregulation are beginning to take concrete shape on rules governing trading desks, bank boardrooms, corporations' financial disclosures and more. Nearly seven months into the Trump administration, regulators are setting the stage for a wave of eased rules."
Why it matters: "The moves show that while President Donald Trump is struggling to advance his legislative agenda in Congress, his administration has begun laying the groundwork to change some of the myriad rules that Wall Street has sought for years to overturn or water down."
P.S. Financial Times second front, "Big tech companies in short-seller crosshairs," by Robin Wigglesworth and Nicole Bullock in N.Y.: "[S]ome investors are sceptical the rising valuations can be sustained, and are ratcheting up their shorts — betting on share falls by borrowing shares to sell them and rebuy at a later date — on a host of big names," including Google, Apple, Netflix. (Subscription)
https://www.axios.com/newsletters/axios-am-4fb43c8f-9ab1-4c8a-89cb-4d21807cd685.html?chunk=6#story6
7. What GOP gets wrong about climate change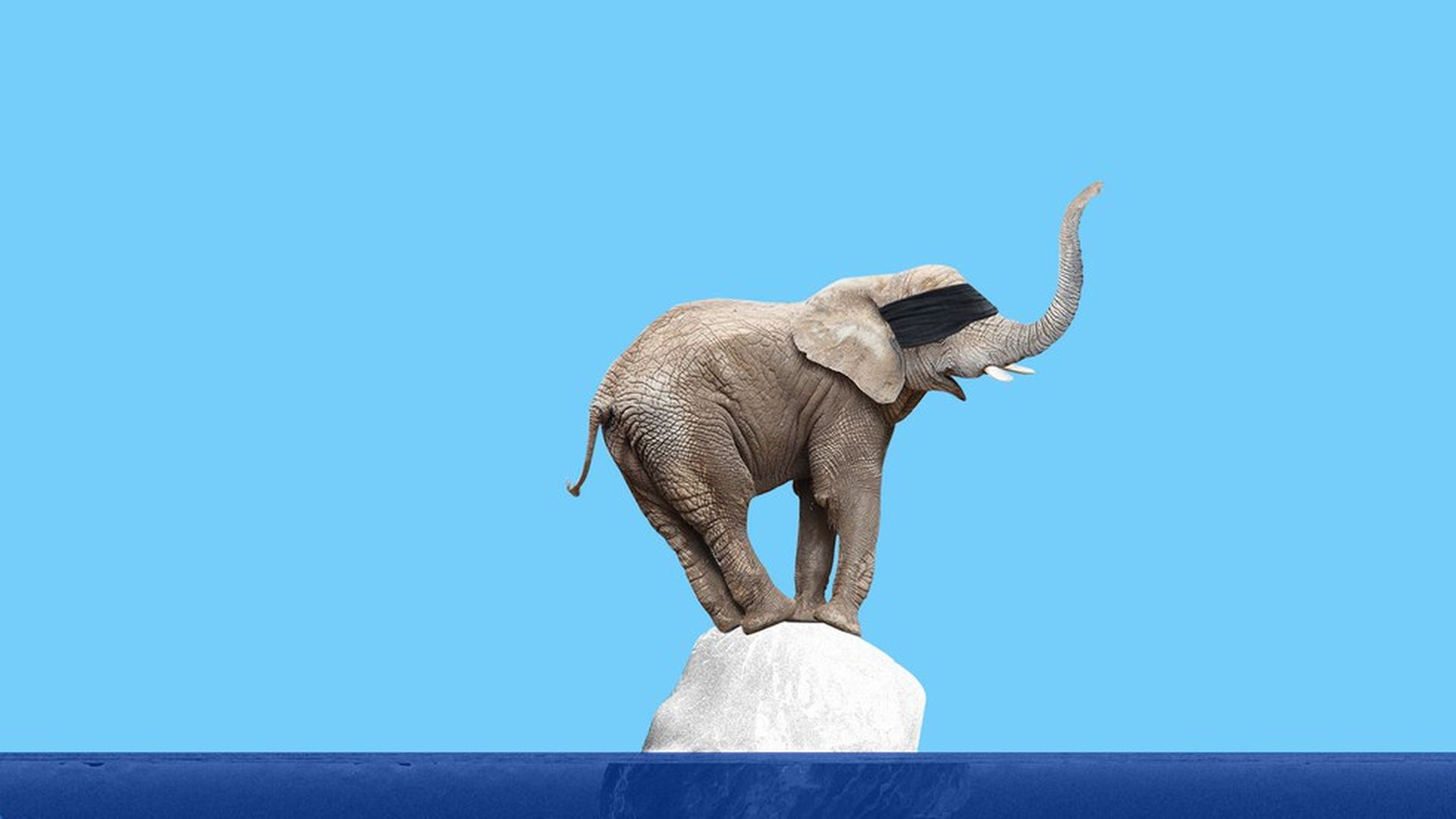 Weekly energy column by Axios' Amy Harder, "Harder Line": "Most Republicans in Washington refuse to publicly acknowledge a problem nearly all other political leaders on this planet realize is real: climate change caused by human activity."
Most Republicans who don't acknowledge climate change are "Passive watchers," with the rest split between "True skeptics" and "Quiet backers."
"Unlike other policy areas, like healthcare and tax reform, where politicians from both parties agree the government needs to do something, there is not even that basic agreement when it comes to climate change. Washington's GOP leaders refuse to address it at all, while some Democratic leaders say it's the greatest threat to humanity."
Plug in to the rest.
Next week: What Democrats get wrong about climate change!
https://www.axios.com/newsletters/axios-am-4fb43c8f-9ab1-4c8a-89cb-4d21807cd685.html?chunk=7#story7
8. Trump doctrine: "strategic accountability"
Joint byline by Defense Secretary Jim Mattis and SecState Rex Tillerson on lead Wall Street Journal op-ed, "We're Holding Pyongyang to Account:" The U.S., its allies and the world are united in our pursuit of a denuclearized Korean Peninsula":
"[T]he Trump administration, with the support of the international community, is applying diplomatic and economic pressure on North Korea to achieve the complete, verifiable and irreversible denuclearization of the Korean Peninsula and a dismantling of the regime's ballistic-missile programs. We are replacing the failed policy of 'strategic patience,' which expedited the North Korean threat, with a new policy of strategic accountability."
https://www.axios.com/newsletters/axios-am-4fb43c8f-9ab1-4c8a-89cb-4d21807cd685.html?chunk=8#story8
9. Meeting Assange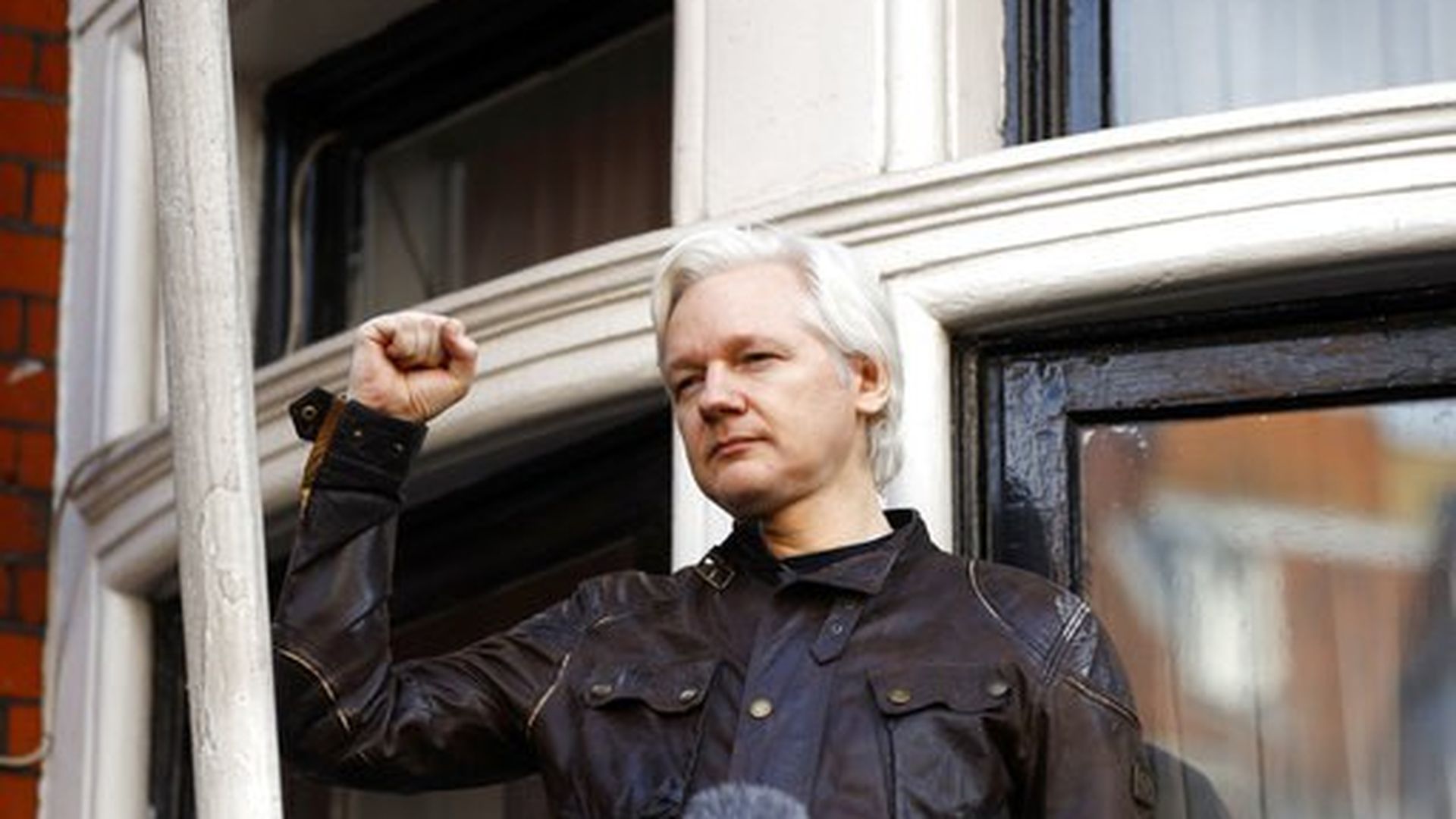 Huge New Yorker scoop ... "Julian Assange, a Man Without a Country: From his tiny sanctum in London, the founder of WikiLeaks has interfered with the world's most powerful institutions":
Raffi Khatchadourian, who has been covering Julian Assange, the publisher of WikiLeaks, since 2010, reports from the Ecuadorian Embassy in London, where, over the course of many hours of interviews, he comes to better understand how Assange runs WikiLeaks, how he has been living, how his political views have changed, and what role Russia has had in his operation.
In the five years since Assange arrived to the Ecuadorian Embassy requesting asylum, in June, 2012, he has not set foot beyond its doors. Shortly after Trump's Inauguration, Khatchadourian flew to London to visit Assange, the first of several trips.
Khatchadourian writes, "Whether you see Assange as a 'fallen man' depends on how you viewed him to begin with. He has detractors who believe that he is a criminal, or a maniac, or both, and supporters who consider him an immaculate revolutionary. There have been calls for his assassination, and for him to be given a Nobel Peace Prize."
https://www.axios.com/newsletters/axios-am-4fb43c8f-9ab1-4c8a-89cb-4d21807cd685.html?chunk=9#story9
10. 1 fun thing: Netflix rising
"Netflix Lures Shonda Rhimes Away From ABC Studios," by Variety Co-Editor-in-Chief Andrew Wallenstein:
"Netflix has signed Shonda Rhimes to a multi-year production deal, ending a 15-year relationship with ABC Studios that yielded hits from 'Grey's Anatomy' to 'Scandal.'"
"Her shingle, Shondaland, will begin producing new series for Netflix while she continues to stay involved in her current broadcast series."
Why it matters: "The Rhimes pact reflects Netflix's increasing interest in producing original series the company can own, as well as the arms race continuing to escalate between not only the streaming service and TV networks, but other subscriber VOD [video on demand] options like Amazon Prime and Hulu."