https://www.axios.com/newsletters/axios-am-4f36ab84-af9d-4bd4-8bd8-57911414dbe5.html?chunk=0#story0
1 big thing: ​Parallel universes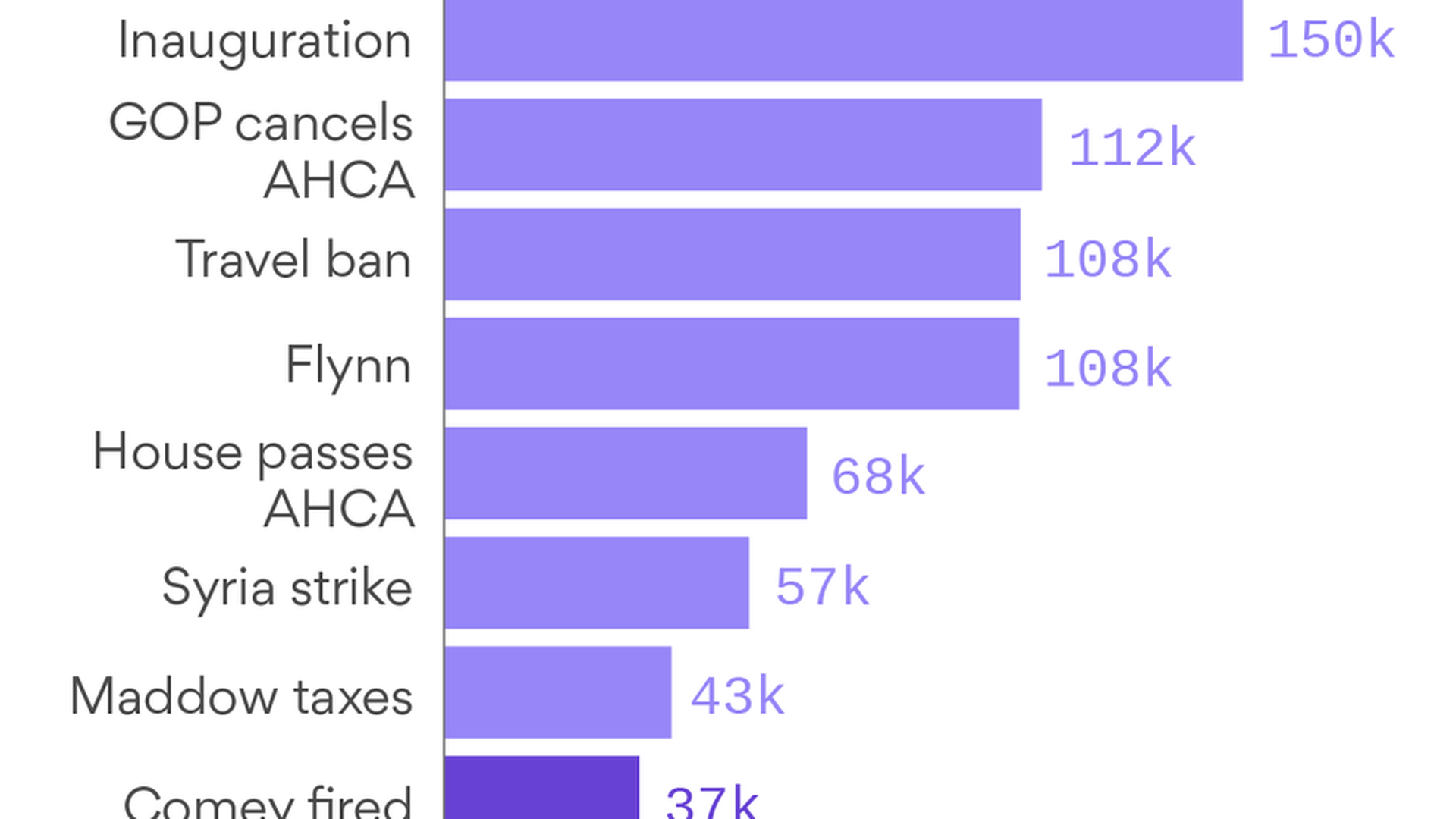 President Trump may wind up paying a huge price for the Comey debacle. But so far, it's playing out a bit like the "Access Hollywood" tapes where Trump bragged to Billy Bush about groping women: Washington freaks and Trump Country yawns.
Instead of getting caught boasting of groping a woman's genitals, Trump kneecapped the FBI's top man. This time, the stakes are even higher: Trump has raised the possibility of secret taping in the People's House. And by his own account, he crossed traditional lines of independence between the White House and the FBI.
Out in the country, though, the parallels in the public reaction are striking:
Trump stands accused of doing something that would sink most politicians, or at least elicit remorse.
Instead of lying low or backing off, Trump escalates.
His staff panics but sticks with him.
Democrats feel certain he's toast.
All of us in the media spring into 24/7 outrage.
And like Trump himself, the firing is broadly unpopular: In Gallup, 46% disapprove, while 39% approve.
But just like with the "Access Hollywood" tape, the vast majority of Republicans — and especially the Trump base — seem unfazed. For all the media/Democrat/Twitter histrionics, consider:
Be smart: Don't underestimate how much wiggle room Trump bought himself with his voters and conservatives by putting Gorsuch on the Supreme Court, enforcing the red line in Syria, and muscling a partial repeal of Obamacare through the House. He has a long leash with Trump Country.
See Axios' "The not-so-viral Comey firing," by Stef Kight.
https://www.axios.com/newsletters/axios-am-4f36ab84-af9d-4bd4-8bd8-57911414dbe5.html?chunk=1#story1
2. Inside the parallel universe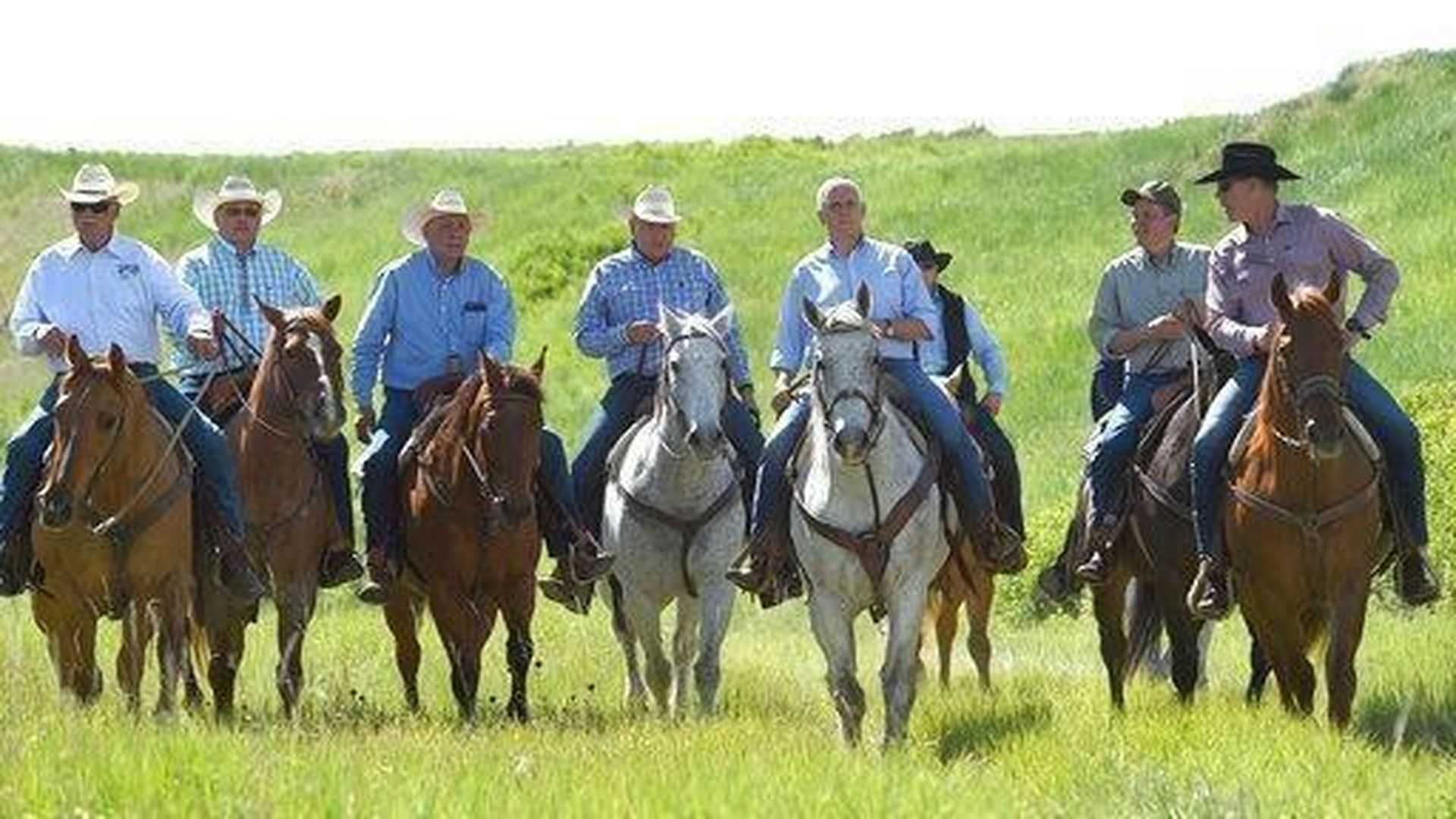 Elected Republican officials are publicly defending Trump but privately are dumbfounded, disgusted and demoralized by this turn of events.
We haven't had a single conversation with a top Republican that doesn't reflect this. The worries are manifold:
This kills momentum on legislating, and unifies Democrats in opposition to everything they want to do.
This makes it easier for Democrats to recruit quality candidates and raise money for the off-year elections.
It sours swing voters.
It puts them on the defensive at home. They want to talk tax reform and deregulation -- not secret tapes and Russian intrigue.
But mainly it reinforces their greatest fear: Trump will never change. They keep praying he'll discipline himself enough to get some big things done. Yet they brace for more of this.
Sound smart — CNN's Brian Stelter: "[T]he White House doesn't seem to be providing any spokespeople for the Sunday shows. 'Fox News Sunday' host Chris Wallace said: 'We can't even reach anybody' at the White House — 'they're not available, they're not answering the phone."
https://www.axios.com/newsletters/axios-am-4f36ab84-af9d-4bd4-8bd8-57911414dbe5.html?chunk=2#story2
3. Breaking: Global "ransomware" attack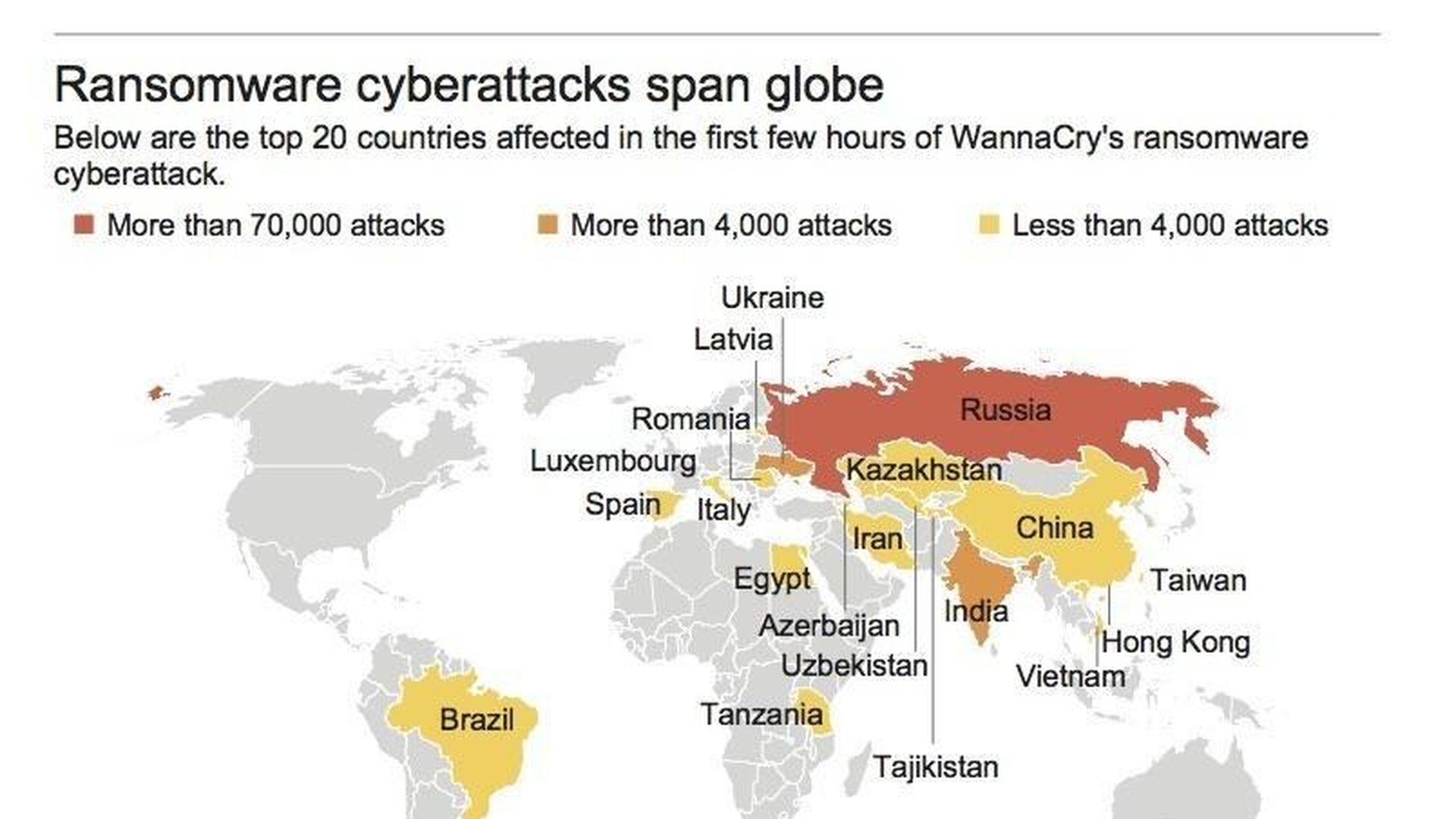 "The cyber-attack that spread rapidly around the globe was stifled when a security researcher disabled a key mechanism used by the worm to spread, but experts said the hackers were likely to return as many computers remain at risk," per Bloomberg's Jordan Robertson:
"More than 75,000 computers in 99 countries were compromised, ... with a heavy concentration of infections in Russia and Ukraine."
"Health-care organizations are notoriously slow to apply security fixes, in part because of the disruption caused by taking critical systems offline. That has made them a reliable victim of ransomware attacks, such as [yesterday's,] in which hackers encrypted data on infected computers and demanded $300 in bitcoin to unlock it."
"Ransomware is a particularly stubborn problem because victims are often tricked into allowing the malicious software to run on their computers, and the encryption happens too fast for security software to catch it. Some security expects calculate that ransomware may bring in as much as $1 billion a year in revenue for the attackers."
Story is the two-column lead of the N.Y. Times, "HACKERS USE TOOL TAKEN FROM N.S.A. IN GLOBAL ATTACK: A Digital 'Perfect Storm' Hits Hospitals, Businesses and a Russian Ministry."
https://www.axios.com/newsletters/axios-am-4f36ab84-af9d-4bd4-8bd8-57911414dbe5.html?chunk=3#story3
4. Shoes dropping everywhere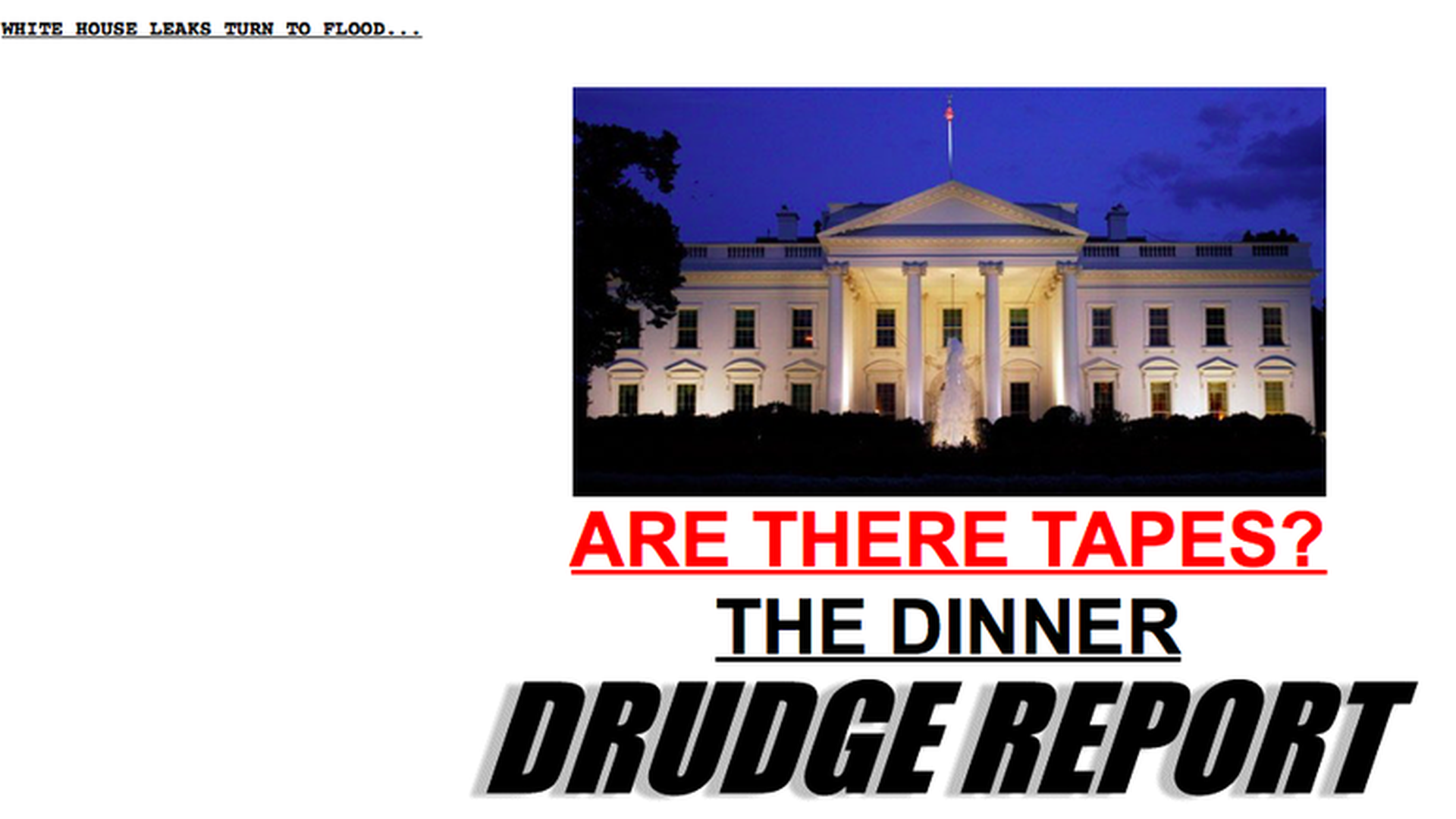 Trump tweet: "James Comey better hope that there are no 'tapes' of our conversations before he starts leaking to the press!"
Spicer, when asked at yesterday's briefing if Trump recorded conversations with Comey: "I've talked to the President. The President has nothing further to add on that."
Q: "Are there recording devices in the Oval Office or in the residence?"
Spicer: "As I've said for the third time, there is nothing further to add on that."
Top talker ... On WashPost front page, "Trump has long history of secretly recording calls, ex-associates say," by Marc Fisher:
"[T]he president's phone calls have been transmitted since 2011 using Voice over Internet Protocol (VoIP), an Internet technology that sends voice messages as packets of digitized data. The technology allows for retrieval of a text record of presidential conversations."
"Trump may have been referring to that technology when he put the word 'tapes' between quotation marks in his tweet. The president has sharply criticized people who take literally the words he surrounds with quotation marks in his tweets."
"Trump's fascination with recording his conversations reaches back to the early years of his real estate career, when he installed in his 26th-story office in Trump Tower a 'system for surreptitiously tape recording business meetings,' according to an eyewitness account in Harry Hurt's 1993 biography, 'Lost Tycoon.'"
"BuzzFeed News reported last year that Trump listened in on calls made by staff at ... Mar-a-Lago."
"Trump sometimes informed reporters who were interviewing him by phone that he was recording."
"Through the decades, Trump's top secretaries, Norma Foerderer and Rhona Graff, were upfront about the fact that they listened in on conversations taking place in Trump's office."
https://www.axios.com/newsletters/axios-am-4f36ab84-af9d-4bd4-8bd8-57911414dbe5.html?chunk=4#story4
5. Trump in his own words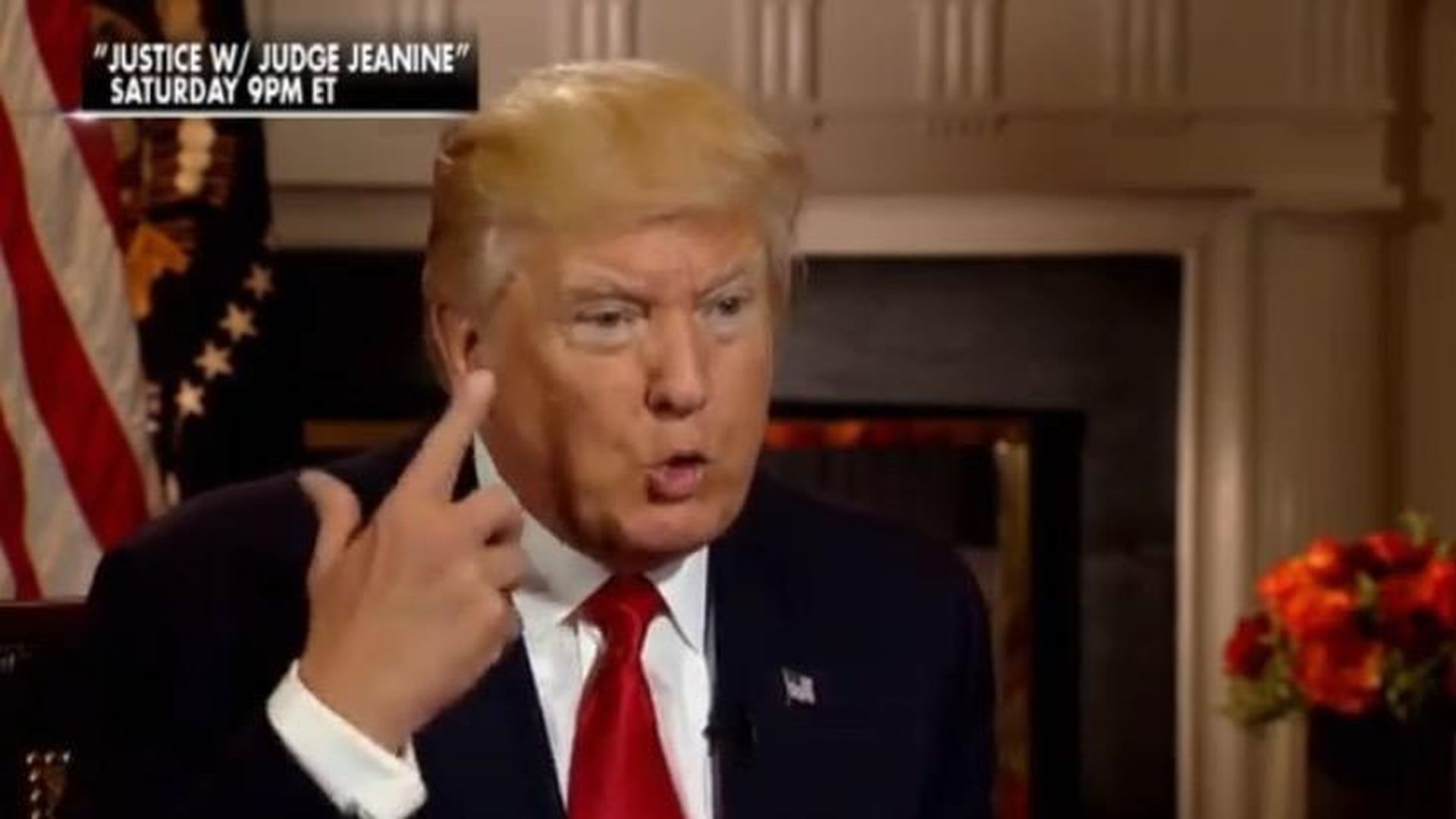 https://www.axios.com/newsletters/axios-am-4f36ab84-af9d-4bd4-8bd8-57911414dbe5.html?chunk=5#story5
6. A "far-reaching shake-up"?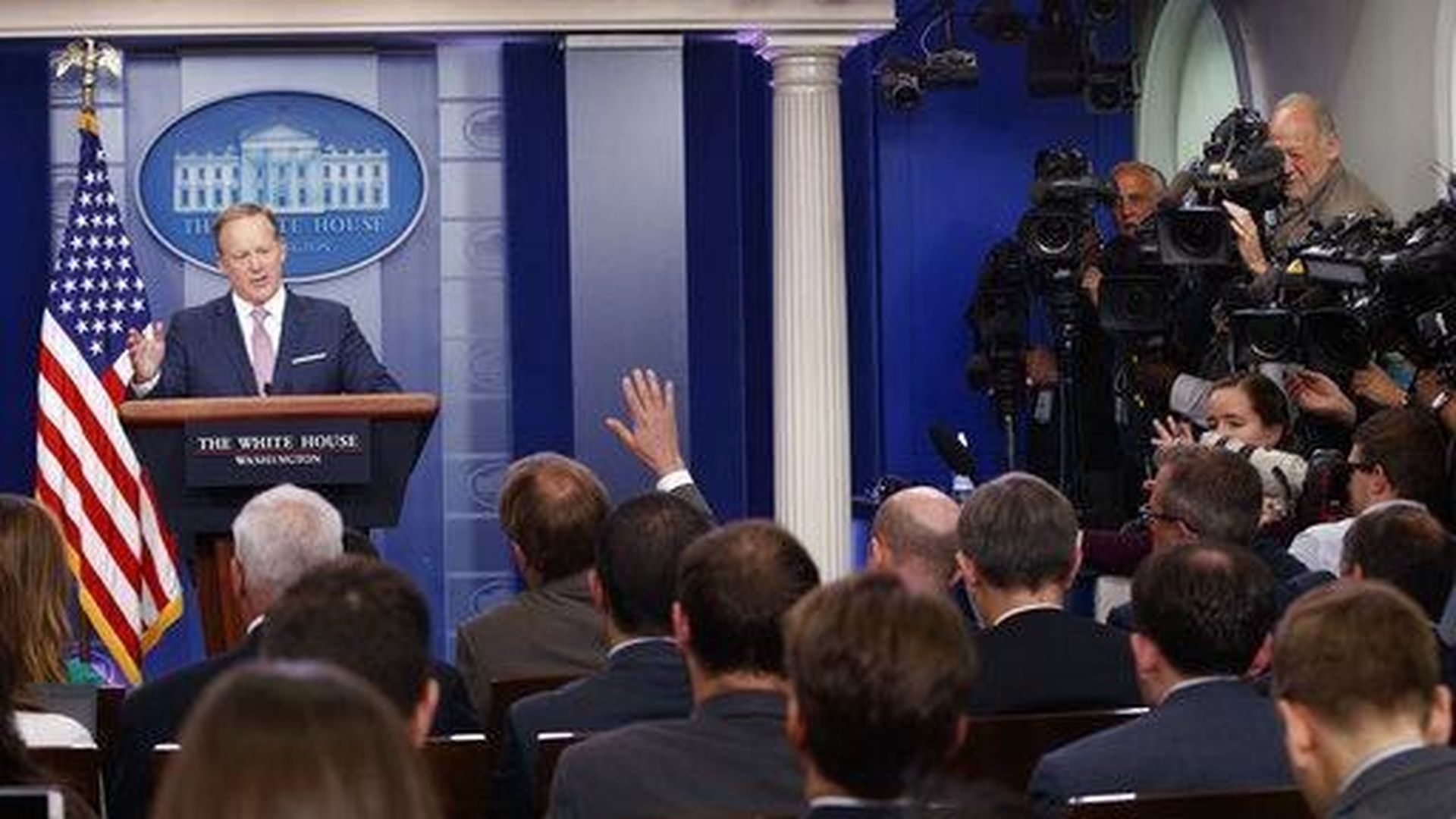 Amid rising signs that change is coming to the West Wing, the N.Y Times' well-wired Glenn Thrush and Maggie Haberman report on p. A13: "In private, ... Trump ... was still raging over what he viewed as Mr. Comey's 'witch hunt' against him — and blaming the bipartisan condemnation of his action on the failures of his embattled and overworked communications team."
"Trump is growing increasingly dissatisfied with the performance of his chief of staff, Reince Priebus; the communications director, Michael Dubke; and Mr. Spicer, a Priebus ally, according to a half-dozen West Wing officials who said the president was considering the most far-reaching shake-up of his already tumultuous term."
N.Y. Times Quote of the Day ... Alex Conant, a Republican strategist and adviser to Sen. Marco Rubio: "Trump is putting a lot on the backs of his spokespeople, while simultaneously cutting their legs out from underneath them."
David Axelrod: "The most hazardous duty in Washington these days is that of Trump surrogate ... You wind up looking like a liar or a fool, neither of which is particularly attractive."
https://www.axios.com/newsletters/axios-am-4f36ab84-af9d-4bd4-8bd8-57911414dbe5.html?chunk=6#story6
7. Tricky Trump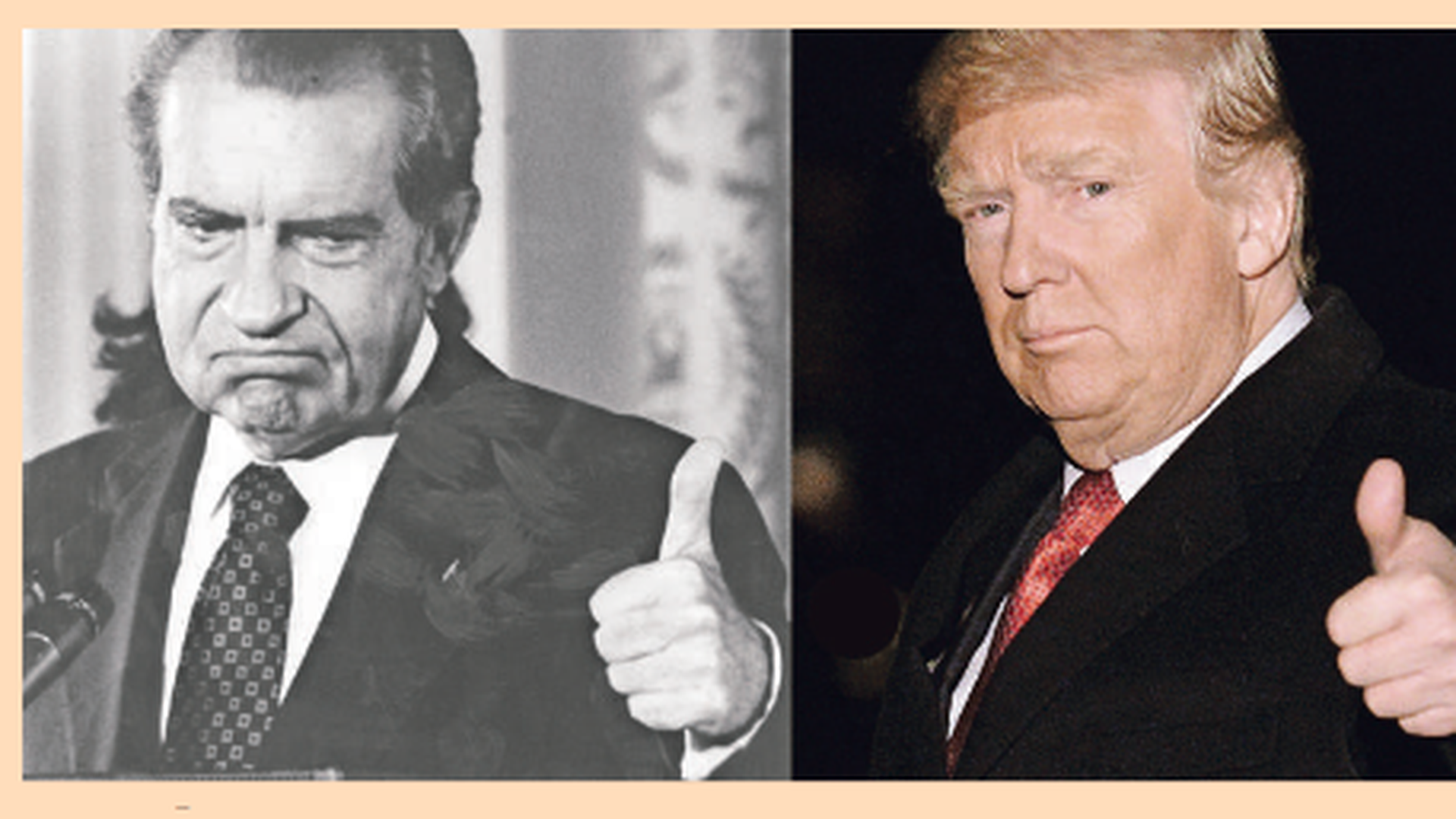 A "Nixonian week" in Washington, per the Financial Times' Courtney Weaver (paywall):
"[T]he president invited reporters to witness his Oval Office meeting with Nixon White House veteran Henry Kissinger one day after Mr Comey's firing.
"While other US leaders have shied away from Nixon parallels given the politician's fateful end, Mr Trump appears to have embraced the comparison, in some ways taking up Nixon's mantle, the Nixon scholar Douglas Brinkley said.
"Trump met Nixon in 1989 when the two men attended a gala together in Houston and the New York real estate scion gave the former president a ride back on his plane to New York."
"The current and former president share a fondness for folksy, salty language — with similarly negative views of the Washington elite and media."
Brinkley: "He's long been Nixon inspired ... 'During his seminal years, Nixon was a powerful man.''
https://www.axios.com/newsletters/axios-am-4f36ab84-af9d-4bd4-8bd8-57911414dbe5.html?chunk=7#story7
8. Prison population expected to surge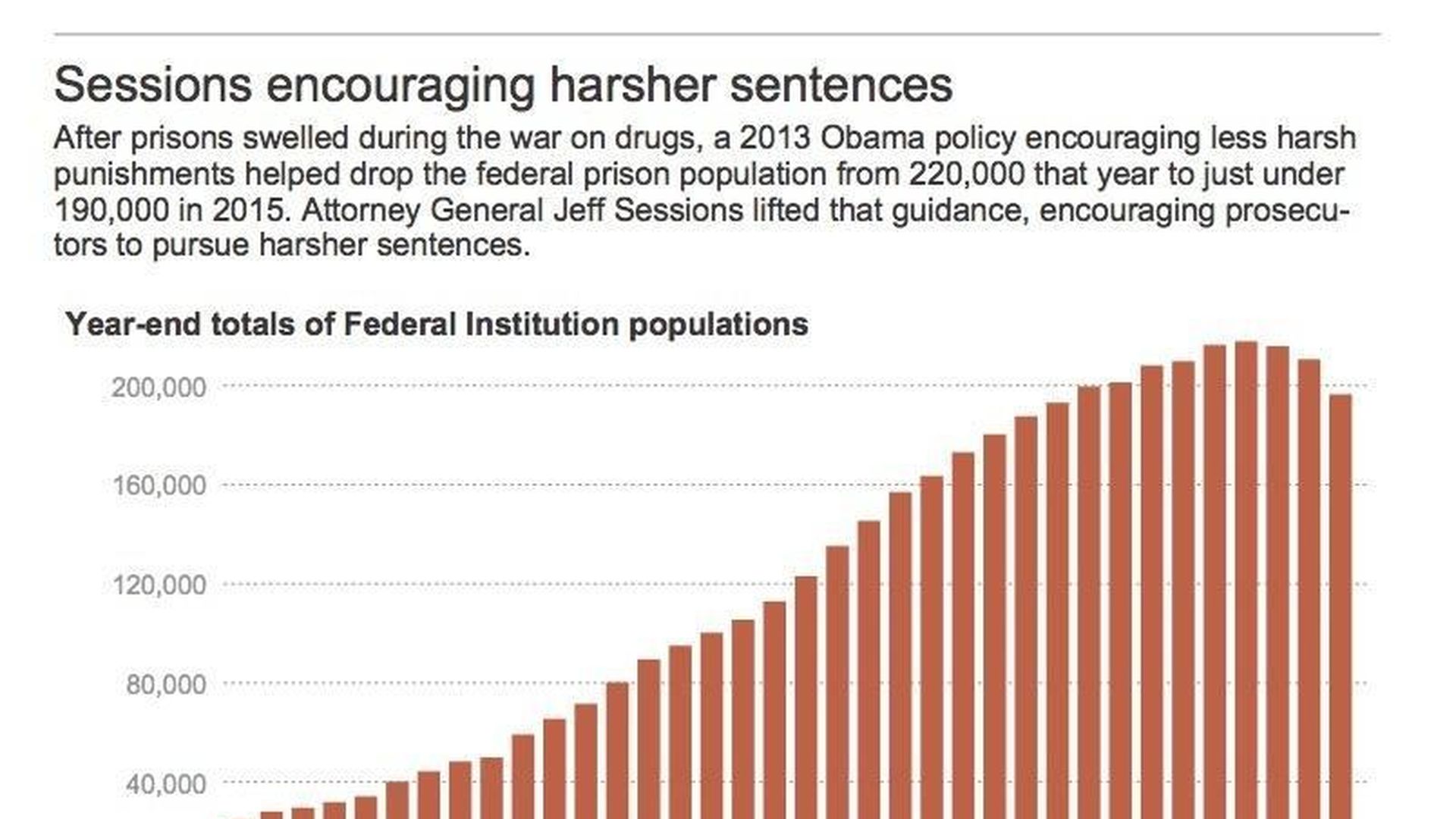 Attorney General Jeff Sessions "restores tough drug war policies that trigger mandatory minimum sentences," by L.A. Times' Joseph Tanfani and Evan Halper:
"In a memo, Sessions said federal prosecutors should 'charge and pursue the most serious, readily provable offense' in drug cases, even when that would trigger mandatory minimum sentencing."
"The new ... policy cancels the Obama administration's attempts to pull back on harsh sentencing strategies, which had produced a huge growth in prison populations."
"Sessions has reversed an Obama administration attempt to phase out federal contracts with private prisons, saying the cells will be needed for the boost in inmate population he sees coming."
Axios' Jonathan Swan: "Koch network opposes Sessions restart of War on Drugs."
https://www.axios.com/newsletters/axios-am-4f36ab84-af9d-4bd4-8bd8-57911414dbe5.html?chunk=8#story8
9. The talk of Wall Street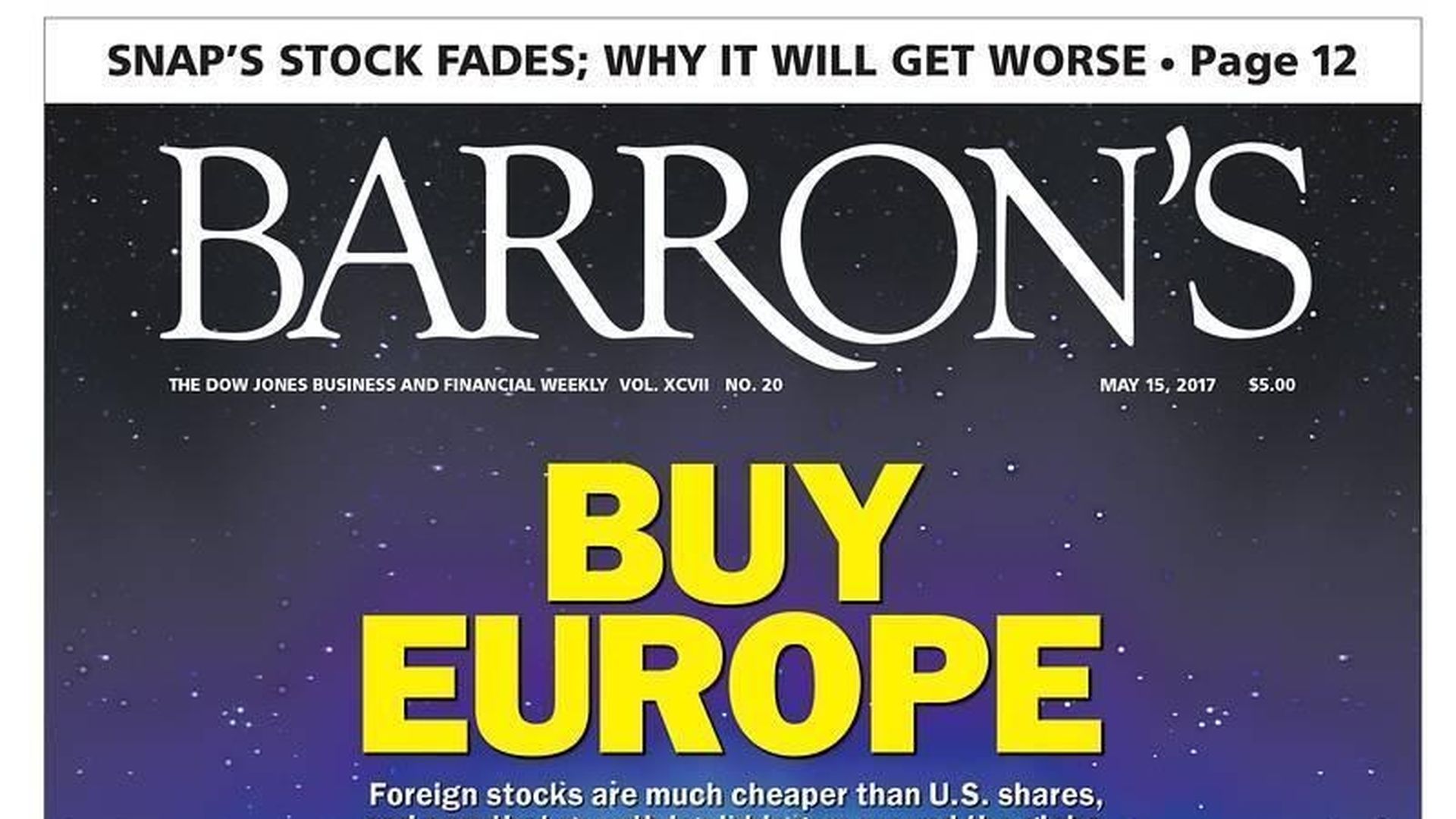 Despite market optimism about the Trump agenda, Barron's sees (paywall) "modest" growth this year and next...
"Hopes for an Economic Trump Jump Look Overblown: Netted out, the negatives and positives of the president's proposals don't point to any acceleration in GDP expansion," by columnist Gene Epstein:
The U.S. economy under President Barack Obama expanded at the tepid annual rate of 2.1%, the slowest since World War II. The Trump administration claims that growth can now accelerate to 3% to 4%. In the dicey world of forecasting, almost nothing can be ruled out. But, sad to say, between now and the end of 2018 at least, the net effect of Trump and his policies should result in the economic expansion continuing at the same dismal pace.
https://www.axios.com/newsletters/axios-am-4f36ab84-af9d-4bd4-8bd8-57911414dbe5.html?chunk=9#story9
10. 1 fun thing: "Spicy's gonna explain it"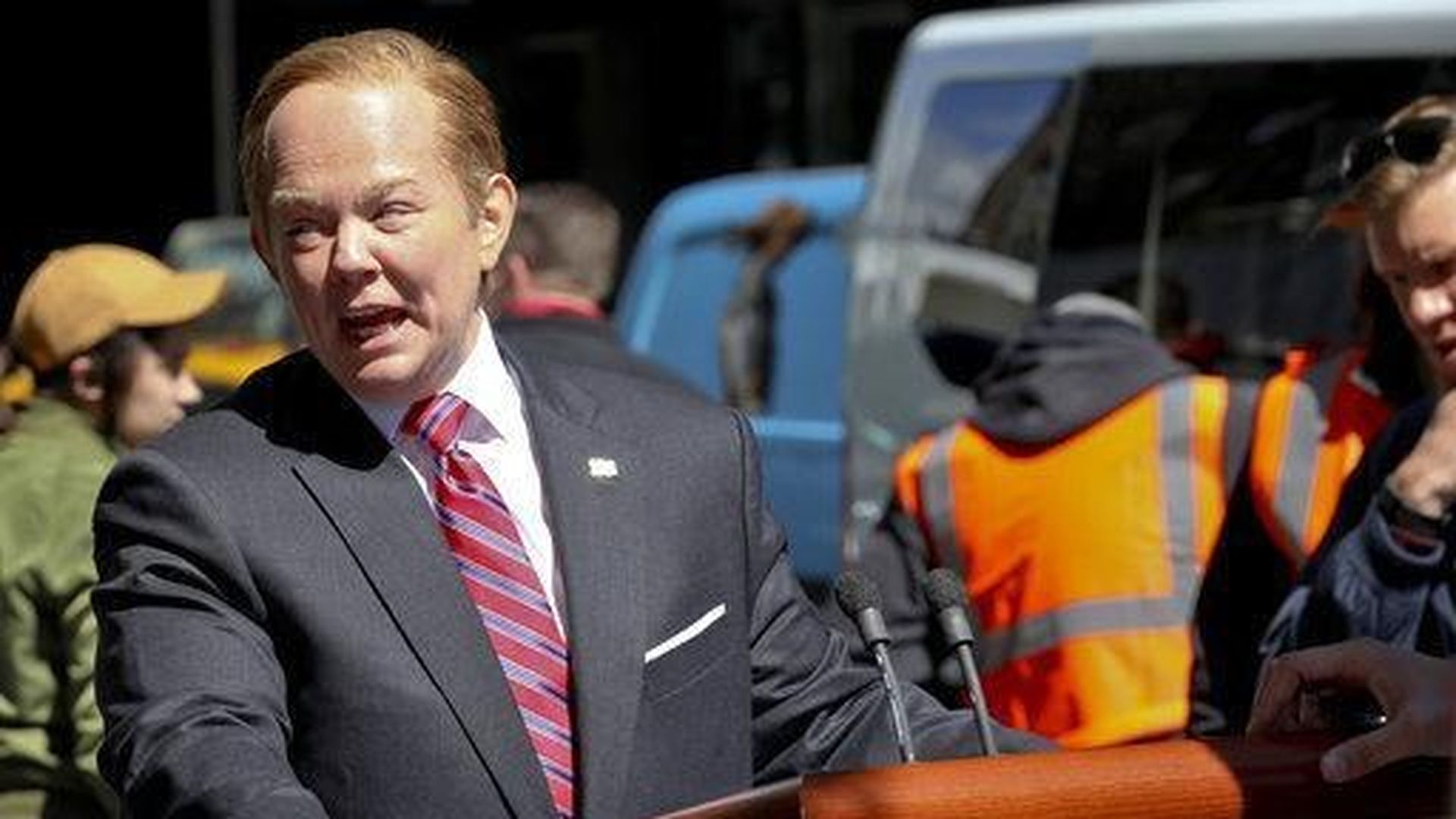 Spotted: Melissa McCarthy, who's hosting "Saturday Night Live" tonight, in costume as Sean Spicer, driving a motorized version of the White House podium on a busy Midtown Manhattan street yesterday as she taped a bit for the show.
She was surrounded by moving cars, yelling and gesturing at folks to get out of the way: "C'mon!"