Axios AM
February 28, 2018
☕️ Good Wednesday morning (really, this time). Thanks all of you for writing ... You're right, I was wrong: Yesterday was Tuesday. Hey, Axios always keeps you ahead.
1. 1 big thing ... Scoop: Trump family v. John Kelly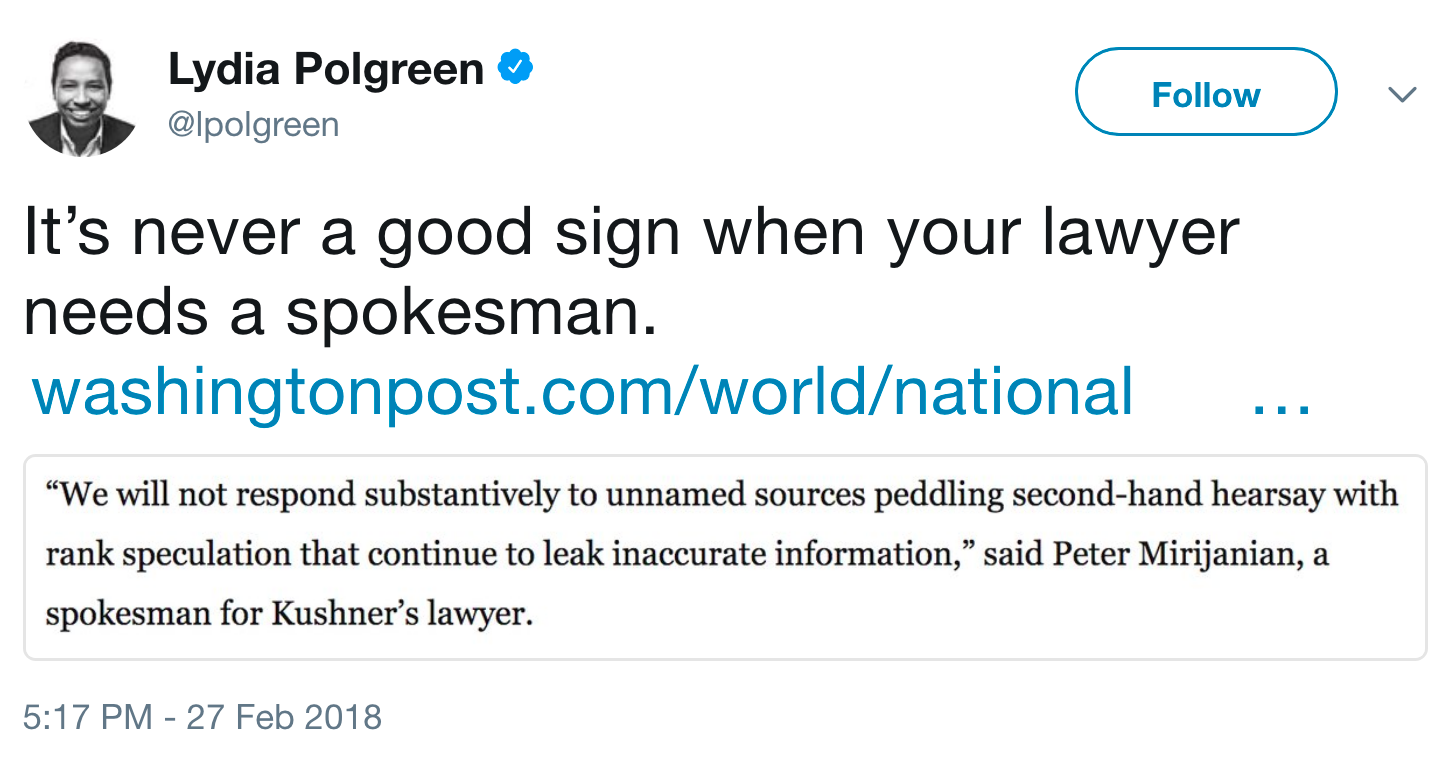 The Trump family — and the president's oldest son, Don Jr., in particular — was angry about the overwhelmingly negative TV coverage about Jared Kushner last night, and feels White House Chief of Staff Kelly is hanging Jared out to dry, a source familiar with the situation tells Axios' Jonathan Swan:
A White House official: "Javanka [Jared and Ivanka] and Kelly are locked in a death match. Two enter. Only one survives."
Swan emails me: "Over the past few weeks I've found fewer people internally willing to defend Jared. ... Politically, I've never seen him so exposed."
How the battle played out publicly ... "Kelly downgraded Jared Kushner's security clearance [last Friday] from 'Interim Top Secret' to 'Interim Secret,'" per Axios' Alexi McCammond:
Kushner's lawyer, Abbe Lowell, said Kushner's work won't be affected.
Why it matters, per N.Y. Times: "[H]is official portfolio inside the West Wing, especially with regard to his globe-trotting foreign affairs work on behalf of President Trump, is expected to be sharply reduced."
Article of the day ... WashPost lead story, "Foreign officials sought leverage over Kushner":
"Among those nations discussing ways to influence Kushner to their advantage were the United Arab Emirates, China, Israel and Mexico."
"It is unclear if any of those countries acted on the discussions, but Kushner's contacts with certain foreign government officials have raised concerns inside the White House and are a reason he has been unable to obtain a permanent security clearance."
Why it matters: "Officials in the White House were concerned that Kushner was 'naive and being tricked' in conversations with foreign officials, some of whom said they wanted to deal only with Kushner directly and not more experienced personnel."
2. Exclusive poll: Public wants tech regulated
A majority of Americans are now concerned that the government won't do enough to regulate how U.S. technology companies operate, according to an Axios/SurveyMonkey poll:
Across the board, concern about government inaction is up significantly — 15 points — in the past three months, Axios' Kim Hart writes.
45% of Republicans, who are usually skeptical about government regulation, share the concern that government won't do enough.
Independents showed the biggest shift, with an increase of 20 points.
More than eight in 10 — including big majorities across party lines — blame the technology companies for not doing more to safeguard their platforms against election interference.
Why it matters: That's a seismic shift in the public's perception of Silicon Valley over a short period of time.
It shows how worried Americans are about Russian meddling in the 2016 election, and reflects a growing anxiety about fake news and the potentially addictive nature of some of the tech companies' products.
P.S. Former President Obama said last week at a sports analytics conference at MIT that companies like Google and Facebook need to have a conversation about their business model and "recognize that they are a public good as well as a commercial enterprise," Axios' Sara Fischer reports.
Obama: "[W]e have to have serious conversation about what are the business models, the algorithms, (and) the mechanics whereby we can create more of a common conversation and that cannot just be a commercially driven conversation."
3. Today's most important story
Adm. Mike Rogers, director of both the U.S. Cyber Command and the National Security Agency, told lawmakers yesterday that he has not been granted the authority by President Trump to disrupt Russian election hacking operations ,
"Asked by Democratic Sen. Jack Reed if he has been directed by the President, through the defense secretary, to confront Russian cyber operators at the source, Rogers said 'no I have not' but noted that he has tried to work within the authority he maintains as a commander." (CNN)
Rogers' key quote: "Clearly what we have done hasn't been enough."
White House press secretary Sarah Sanders: "Nobody is denying him the authority.  We're looking at a number of different ways that we can put pressure."
Be smart: This is a very important, very consequential story. This is the top cyber official saying Trump, despite overwhelming and unambiguous proof Russia continues to meddle in our elections, isn't retaliating.
4. White lies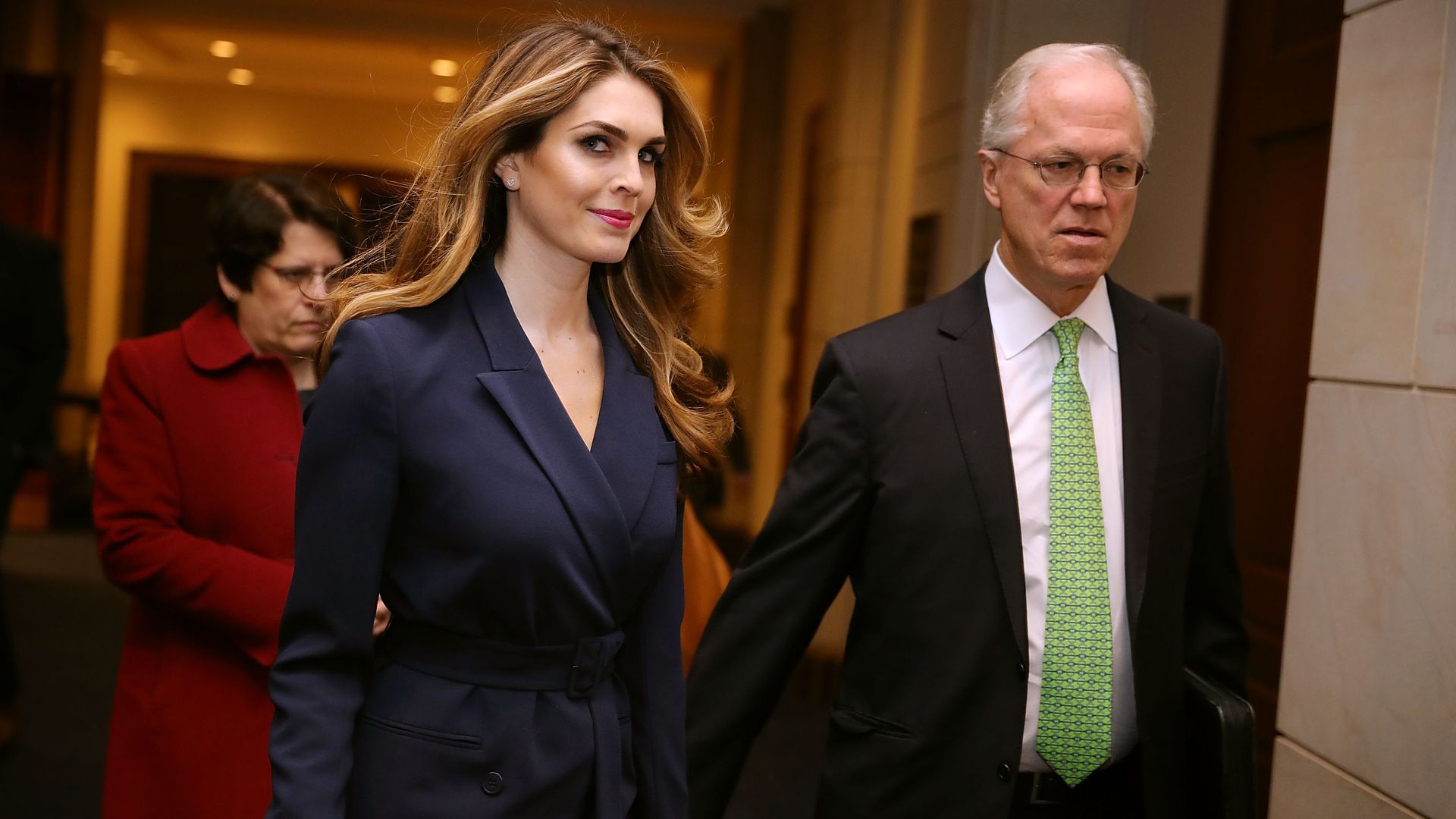 "Hope Hicks, the White House communications director, told House investigators [yesterday] that her work for President Trump, ... had occasionally required her to tell white lies," per N.Y. Times' Nicholas Fandos:
"But ... she insisted that she had not lied about matters material to the investigations into Russia's interference in the 2016 presidential election and possible links to Trump associates."
5. 24 days till #NeverAgain gun march
"Republican leaders of the U.S. Congress said ... they would not raise the minimum age for gun buyers, in a sign that one of President Donald Trump's proposals likely will not get far on Capitol Hill," per Reuters.
What's next: Trump will release gun and school-safety proposals later this week.
Happening today ... Two weeks after the massacre, "Students will return to the Parkland campus at 7:40 a.m. to find police officers with heavier artillery and teachers with open arms," per the Fort Lauderdale Sun Sentinel.
N.Y. Times Quote of the Day ... Sam Massell, a Democrat who was Atlanta mayor from 1970 to 1974, on Georgia lawmakers' threat to kill a tax break for jet fuel after Delta said it was ending an NRA promotional discount:
"I don't believe in blackmail, and I'm sorry to use such a dirty word, but that's almost what it tastes like."
Massell, president of the Buckhead Coalition, an influential Atlanta business and civic group, "said that he feared the threat against Delta would scare away Amazon" in its quest for a second headquarters.
6. Washington's opioid response accelerates
Both the Trump administration and members of Congress announced steps that could make a real difference in both law enforcement and public health, Axios health care editor Sam Baker writes in the lead of his newsletter, Vitals:
The Justice Department announced that it will try to join a lawsuit, led by several state and local governments, against drugmakers and distributors that sell or sold prescription opioids.
This is a big deal. This lawsuit is modeled after the tobacco litigation of the '90s, accusing drugmakers of pushing painkillers too aggressively and failing to take action when they proved dangerously addictive.
What's next: The White House is also planning to roll out more policy proposals tomorrow.
On Capitol Hill, Sens. Rob Portman and Sheldon Whitehouse introduced the sequel to the opioids bill they helped pass in 2016.
It would provide $1 billion per year in federal funding and include new policy limits such as a three-day maximum on new opioid prescriptions..
7. House passes online sex trafficking bill
"The House ... passed a bill [388-25] that gives victims and prosecutors more power to sue websites that knowingly aided sex trafficking, adding a new level of accountability for internet companies," the N.Y. Times Cecilia Kang reports:
"Silicon Valley had strongly opposed the bill, because it would chip away at an existing law that gives internet companies broad immunity for the content that people put on their services. Tech companies that argued against the bill said that the current law has encouraged free speech online and helped the internet thrive."
"Some large online companies, including Facebook, eventually backed off from their opposition to the bill after its scope was narrowed."
Why it matters: "[S]ex trafficking victims and law enforcement officials say the existing law, known as Section 230 of the Communications Decency Act, has been too loosely applied by sites like Backpage.com, a site known for prostitution and sex trafficking."
What's next: "A similar bill in the Senate was expected to pass soon."
8. Apple plans giant iPhone
"Apple Inc. is preparing to release a trio of new smartphones [this fall]: the largest iPhone ever, an upgraded handset the same size as the current iPhone X and a less expensive model," per Bloomberg's Mark Gurman and Debby Wu:
"[T]he iPhone X hasn't sold as well as expected ... Apple is seeking to rekindle sales by offering a model for everyone."
"With a screen close to 6.5 inches, Apple's big new handset will be one of the largest mainstream smartphones."
"While the body of the phone will be about the same size as the iPhone 8 Plus, the screen will be about an inch larger thanks to the edge-to-edge design used in the iPhone X."
"The larger screen should especially appeal to business users, letting them write emails and manage spreadsheets."
"Apple is considering a gold color option ... The gold option is especially appealing to consumers in Asia."
"Apple has tried selling cheaper phones in the past with poor results. ... This time, the company is ... using a cheaper body but including the features — Face ID and an edge-to-edge screen — that consumers most prize."
9. New emperor: 4 keys about China (and U.S.)
Why the West should worry about this week's announcement of new powers for China President Xi Jinping, from the N.Y. Times lead editorial:
"Despite increasing concerns about China's evolution, the West has yet to come to grips with this threat."
Xi's "obsession with control hints at a deeply insecure state, not a global power."
"[H]e could preside over the transition when China eclipses the United States as the world's largest economy in absolute terms within two decades."
"He is increasingly dominating the international space as President Trump cedes America's traditional leadership role, including its defense of democratic norms."
10. 🛫 1 plane thing: Deal for new Air Force One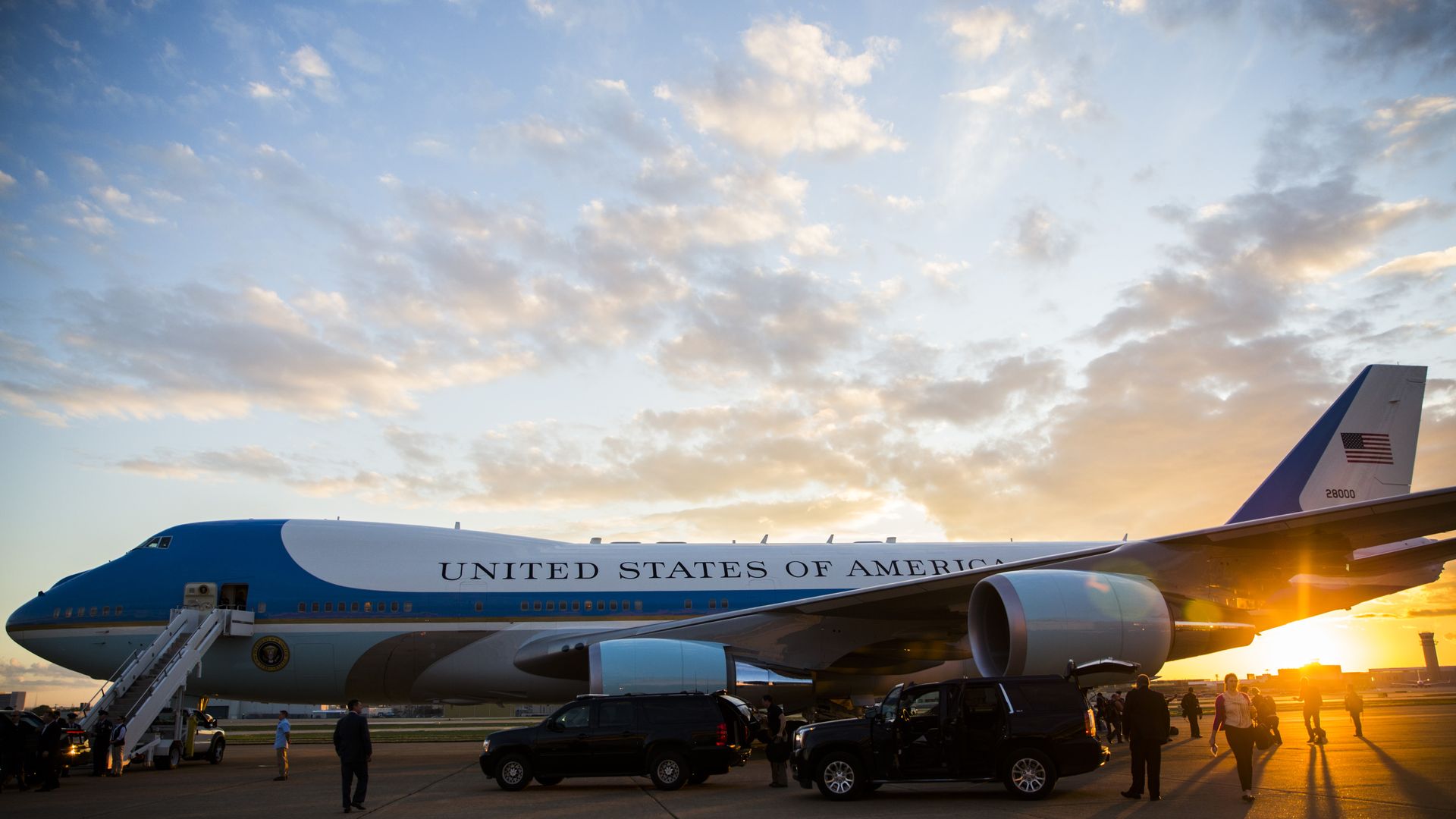 President Trump has reached an informal deal with Boeing to provide the next generation of presidential aircraft, AP reports:
The agreement includes the two 747-800 aircraft and the cost of modifying them, including external stairs, large galleys and a secure communications suite.
Other modifications include electrical power upgrades and adding a medical facility, an executive space and a self-defense system.
Deputy press secretary Hogan Gidley said the president negotiated a $3.9 billion "fixed-price contract" for a pair of new planes, known as Air Force One when the president is on board.
It follows years of negotiations between Boeing and the U.S. Air Force — and Trump's personal intervention.
Boeing chief executive Dennis Muilenburg met multiple times with Trump to discuss the Air Force One contract, most recently last week.
The best part: Trump has been pushing to get the planes airborne by 2021, in time for a possible second term.