https://www.axios.com/newsletters/axios-am-47e380b4-0f96-43b7-b166-2b3cb755c1e7.html?chunk=0#story0
1 big thing: Why Trump critics should smile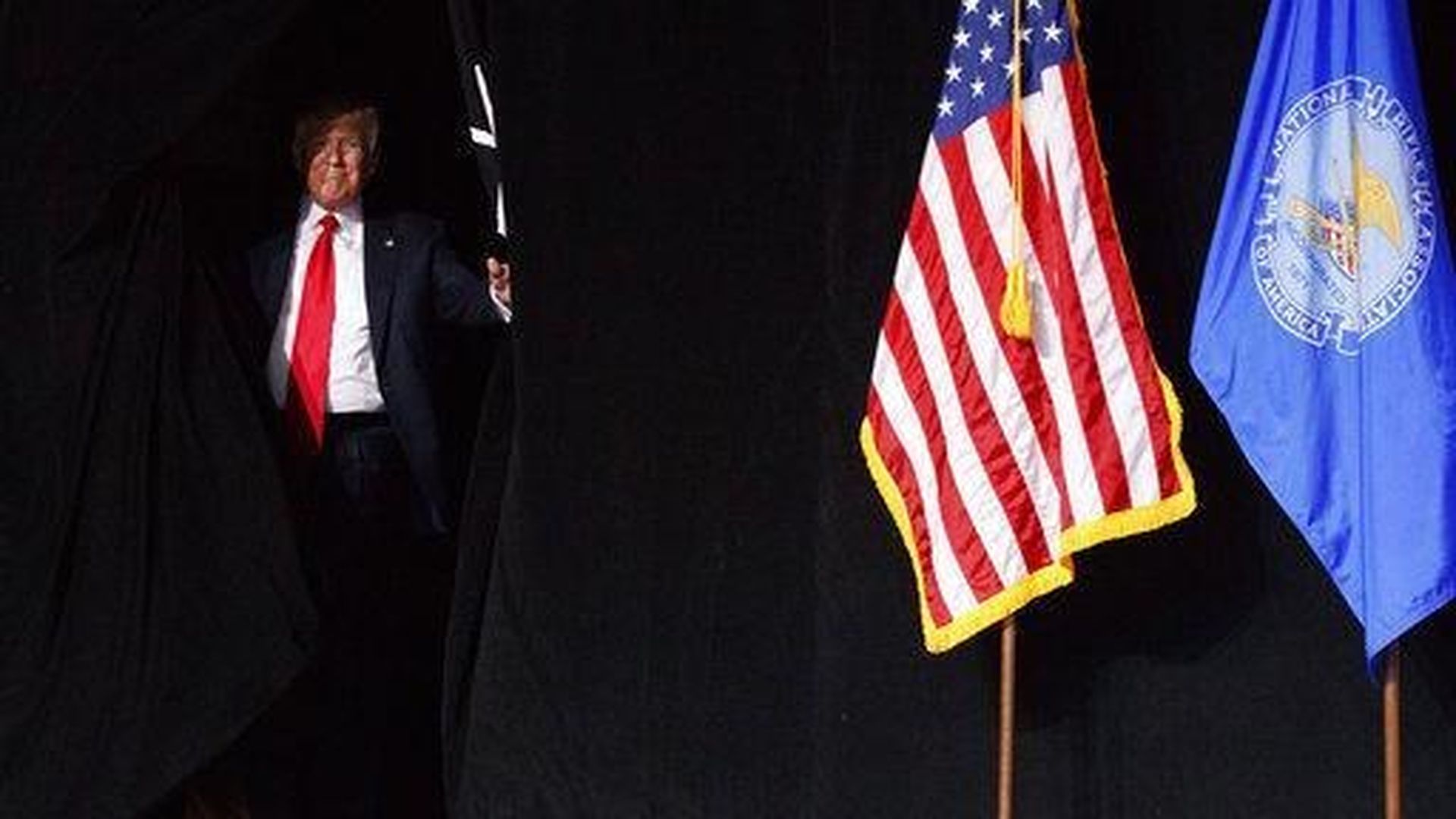 For all the readers who hate President Trump and see his first 100 days as an epic failure, step back in time for a moment, to election night.
After you wiped away the tears, you wallowed in your fears: Trump would deport immigrants, start erecting a massive wall, unload a clown car of sycophants at every federal agency. He would wage war with NATO and start a trade war with China. America, as we know it, would crumble.
Well, the first 100 days have been a wild reality show, full of bombast and intrigue. But, if you separate hot rhetoric from lukewarm action, your worst nightmares did not materialize.
America First, it turns out, looks a lot like conventional conservatism. This could easily be the first 100 days of a President Mike Pence:
Conventional conservative Supreme Court pick.
Conventional conservative health-care bill.
Conventional conservative tax-reform ideals.
Conventional conservative reg reforms.
Conventional conservative approach to NATO, China, Syria, Iran, Israel and defense spending.
Conventional conservative picks for Defense, State, Homeland Security and even the NSC, after Michael Flynn was booted.
Coming attraction: Keepers of the classic Trumpian campaign flame claim more wins to come in their war of ideas, especially on trade. But the momentum is with the mainstream.
Sound smart: Maybe the people who should be most hacked off about the first 100 days are those who wanted radical change and got conventional results.
Relive the magic: CNN compiled the nearly 600 Trump-related news alerts it sent in the first 99 days.
Just posted ... The White House's 3-minute video, "President Trump's First 100 Days," including a pastiche of cable news clips ("He's pretty close to perfect"), backed by soaring music.
https://www.axios.com/newsletters/axios-am-47e380b4-0f96-43b7-b166-2b3cb755c1e7.html?chunk=1#story1
2. Exclusive: Rent a former president
Rough speaking fees for former presidents who are on the circuit:
Bill Clinton: $250,000 (raised his fee to match Hillary's when hers went up after she was SecState)
George W. Bush: $200,000
Barack Obama: $400,000
Note: These are averages — it's more if speech is overseas; less if it's local.
Bonus scoop: Michelle Obama books for $200,000.
Double bonus: Hard to imagine Hillary not going back out — if not for the money, for the people, attention and crowds. It's not good to lower your "fee," but that doesn't mean she won't accept lower offers.
https://www.axios.com/newsletters/axios-am-47e380b4-0f96-43b7-b166-2b3cb755c1e7.html?chunk=2#story2
3. Fox in a box
The profitable, influential, seemingly impregnable Fox News is suddenly vulnerable.
In a massive disruption for right-wing media, Fox talent is on the market, the purge of the old-boy clique may continue, and there's huge internal paranoia about further lawsuits and revelations.
On top of that, there are episodic pushes from the next generation of Murdoch leadership for changes in culture and personality.
So at a time when all of cable is vulnerable as viewer habits change, Fox is caught between the America-first instincts of its base viewers, and the globalist impulses for Rupert Murdoch's sons.
A woman to run Fox News? The Hollywood Reporter reports that James and Lachlan Murdoch have quietly put out feelers for a new head of Fox News to replace Bill Shine, the Roger Ailes consigliere.
"[T]he preference ... is that the new leader be female."
And competitors are moving to take advantage:
Mediaite reports that "an alternative conservative network is being actively discussed amongst conservative fat cats": "[S]erious discussions are underway to create an alternative conservative cable network on the belief that the Fox News Network is moving too far to the left. ... The potential aim? Putting 'the old band' back together."
"Sinclair Broadcasting [home of Sharyl Attkisson] expands its footprint," by Axios' Shannon Vavra and Sara Fischer: "[N]ew hires and acquisitions around the U.S. come at an optimal time to snatch up conservative audiences; TheBlaze and Fox News just let go of their star anchors, Tomi Lahren and Bill O'Reilly."
Why it matters: Reinvigorated conservative media could help Trump as he heads toward midterms and a reelection race, with outlets scrambling to lock in Trump Nation with boosterish coverage.
https://www.axios.com/newsletters/axios-am-47e380b4-0f96-43b7-b166-2b3cb755c1e7.html?chunk=3#story3
4. These Twitter trends defined Trump's 100 days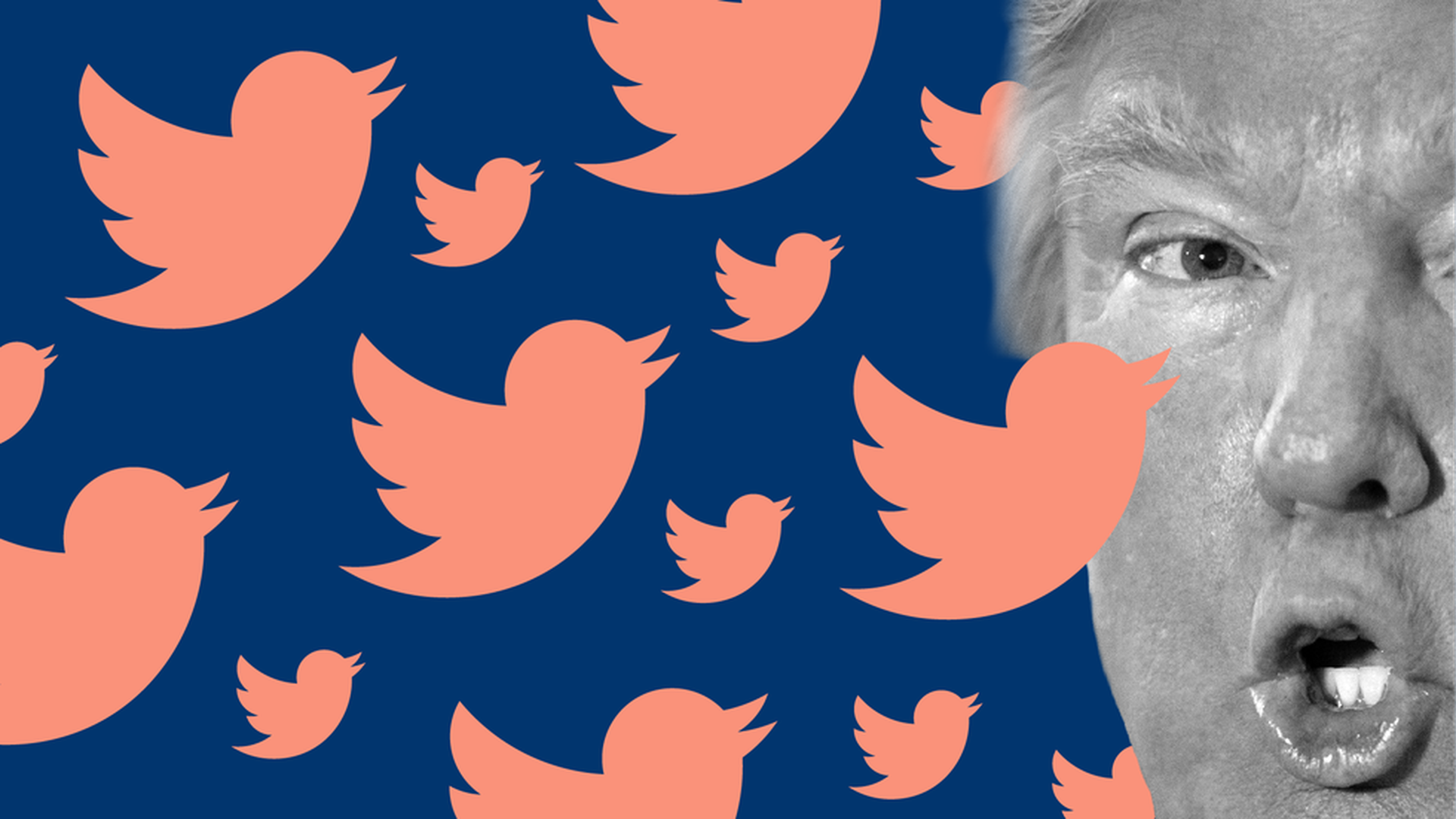 Here's how Trump used Twitter in his first 100 days, as compiled by Twitter and Axios' Stef Kight:
His most retweeted tweet (Jan. 22): "Peaceful protests are a hallmark of our democracy. Even if I don't always agree, I recognize the rights of people to express their views."
Top 5 tweeted words: Great ... America/American ... News/Media ... Jobs ... Today.
Most-mentioned handles: @Whitehouse ... @NYTimes, @foxandfriends tie ... @FoxNews ... @VP ... @CNN, @ POTUS tie.
Most-used hashtags: #MAGA ... #AmericaFirst ... #ICYMI ... #USA ... #Obamacare.
Elsewhere on Twitter:
The top 4 hashtags for tweets about his first 100 days: 1) #100DaysofShame ... 2) #TheResistance ... 3) #UniteBlue ... 4) #MAG.
The most popular emoji used in tweets about Trump's presidency: 🇺🇸 , 😂 and 🤔
The top emoji ... when Michael Flynn got fired (day 25):⚡ ... When Trump tweeted his wiretapping allegation (day 44): 🇺🇸 💥 🚨 ... When Trump didn't shake hands with German Chancellor Angela Merkel (day 57): 😳.
https://www.axios.com/newsletters/axios-am-47e380b4-0f96-43b7-b166-2b3cb755c1e7.html?chunk=4#story4
5. Tale of the tape: President Trump, by the numbers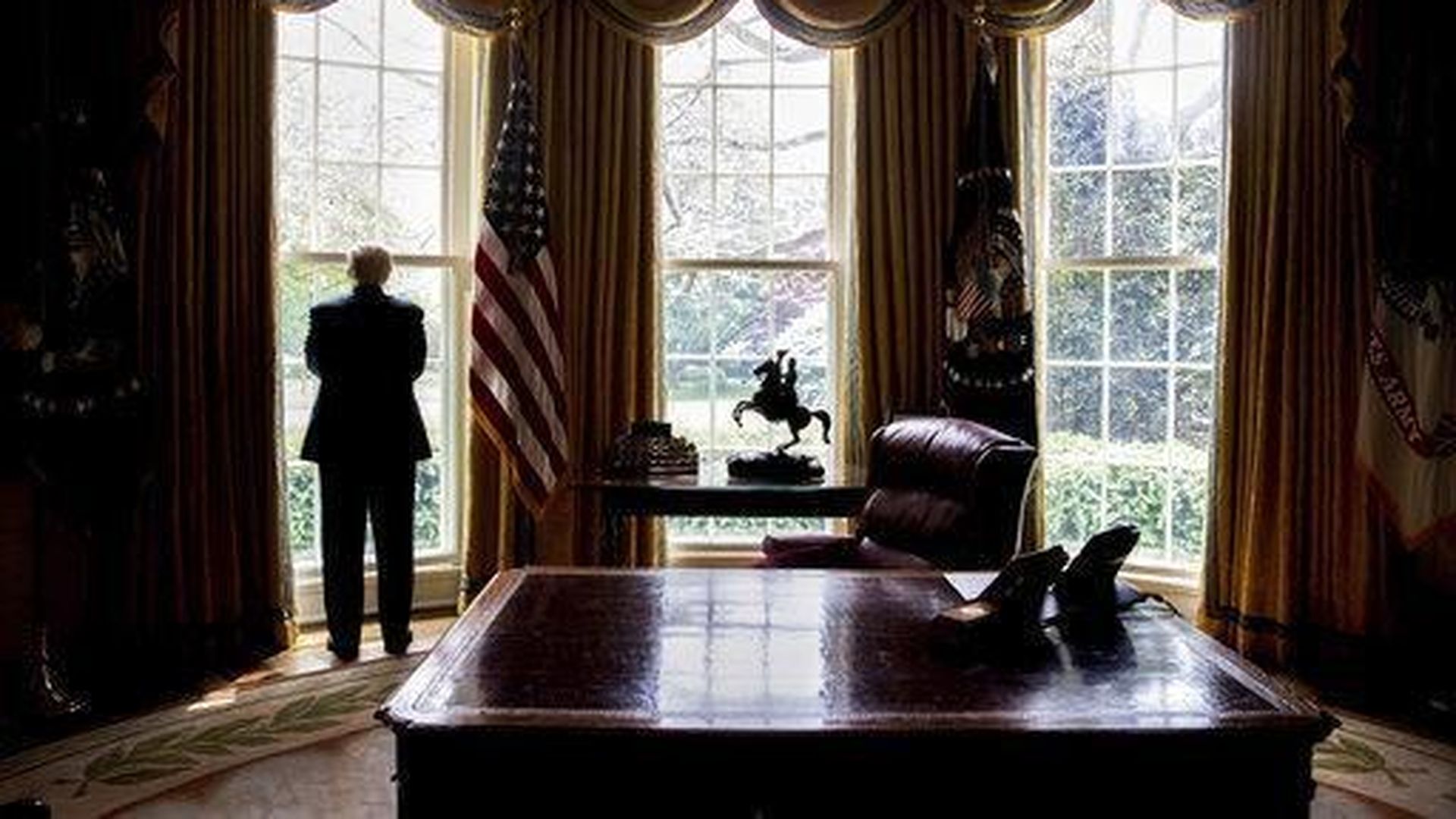 Stats from the first 99 days, courtesy of Mark Knoller of CBS News (@markknoller) ...
(Backstory: The legendary Knoller started keeping a few logs during the third year of President Clinton. Mark's meticulous records grew to more and more aspects of presidential activity under Bush 43 and Obama. From the CBS booth in the White House briefing room, Knoller tells me his most often requested data points are presidential vacations, golf outings and news conferences.)
Speeches and remarks: 145 (Teleprompters used at 28)
News conferences: 9 (1 solo, 8 with foreign leaders)
Interviews: 32 (of which Fox has gotten 9)
Golf: 17 outings
Meetings with foreign leaders: 17
Flights on Air Force One: 28
Flights on Marine One (the white-topped chopper): 30
Domestic trips: 15
Foreign trips: 0
# of states visited: 11 (none west of the Mississippi)
Trips to Mar-a-Lago: 7 visits (all of part of 25 days)
Visits to Camp David: 0
Bills signed into law: 28
Executive Orders signed: 30
Worth the click ... Cartoonist Steve Brodner for the WashPost, "An illustrated guide to President Trump's first 100 days" — with key, "Who's who and what's what." (Runs as a full page in tomorrow's Outlook section.)
https://www.axios.com/newsletters/axios-am-47e380b4-0f96-43b7-b166-2b3cb755c1e7.html?chunk=5#story5
6. Amazing stat
According to the N.Y. Times' Linda Qiu, "The Times has logged at least one false or misleading claim per day on 91 of his first 99 days ... On five days, Mr. Trump went golfing, and on two he made limited public statements."
https://www.axios.com/newsletters/axios-am-47e380b4-0f96-43b7-b166-2b3cb755c1e7.html?chunk=6#story6
7. Home alone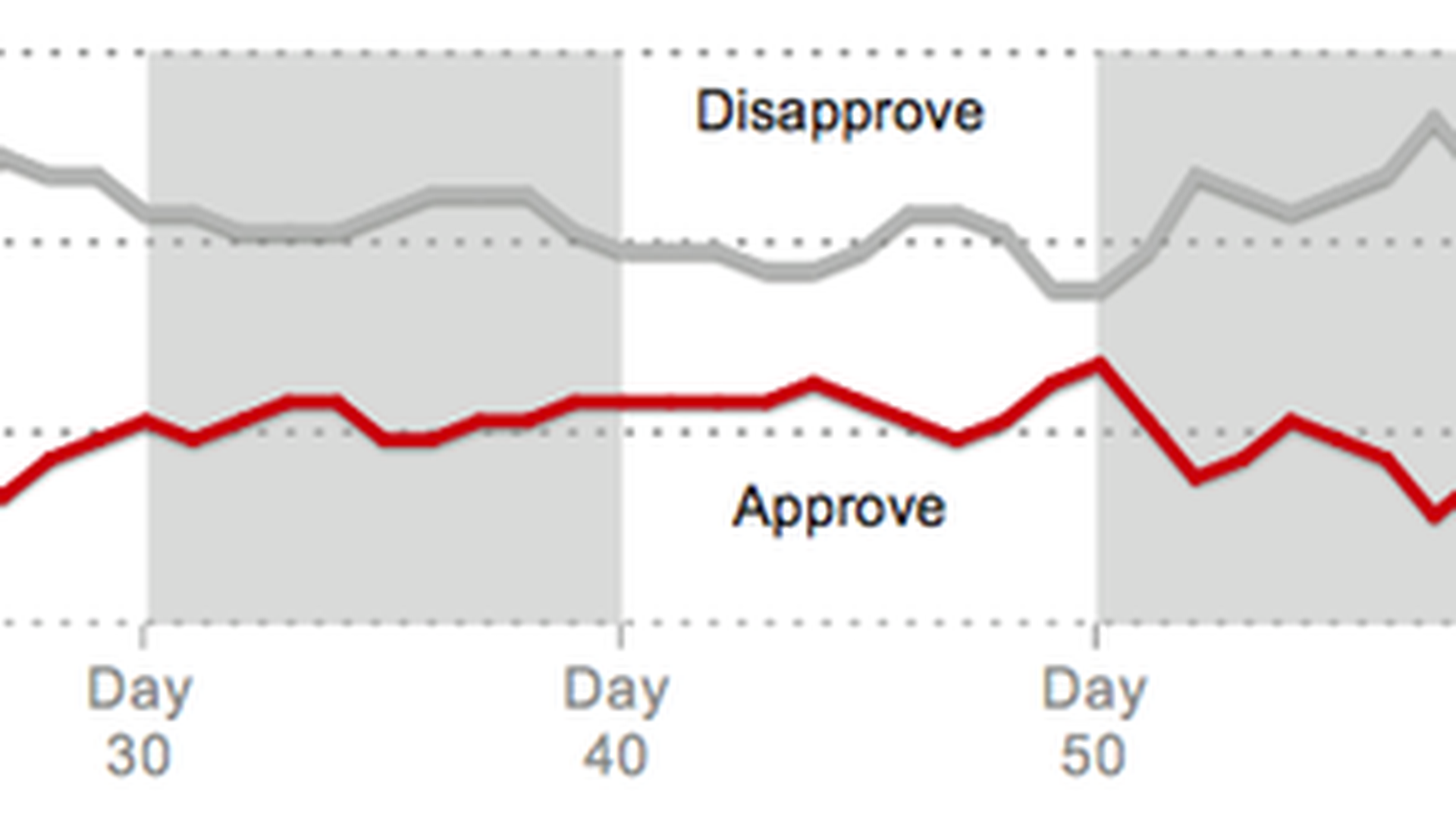 President Trump has yet to make a designation in 84% of 556 key positions requiring Senate confirmation, according to the Political Appointee Tracker of the Partnership for Public Service:
No nominee: 465
Awaiting nomination: 26
Formally nominated: 40
Confirmed: 25
https://www.axios.com/newsletters/axios-am-47e380b4-0f96-43b7-b166-2b3cb755c1e7.html?chunk=7#story7
8. "Corporate America on the verge of a tax bonanza"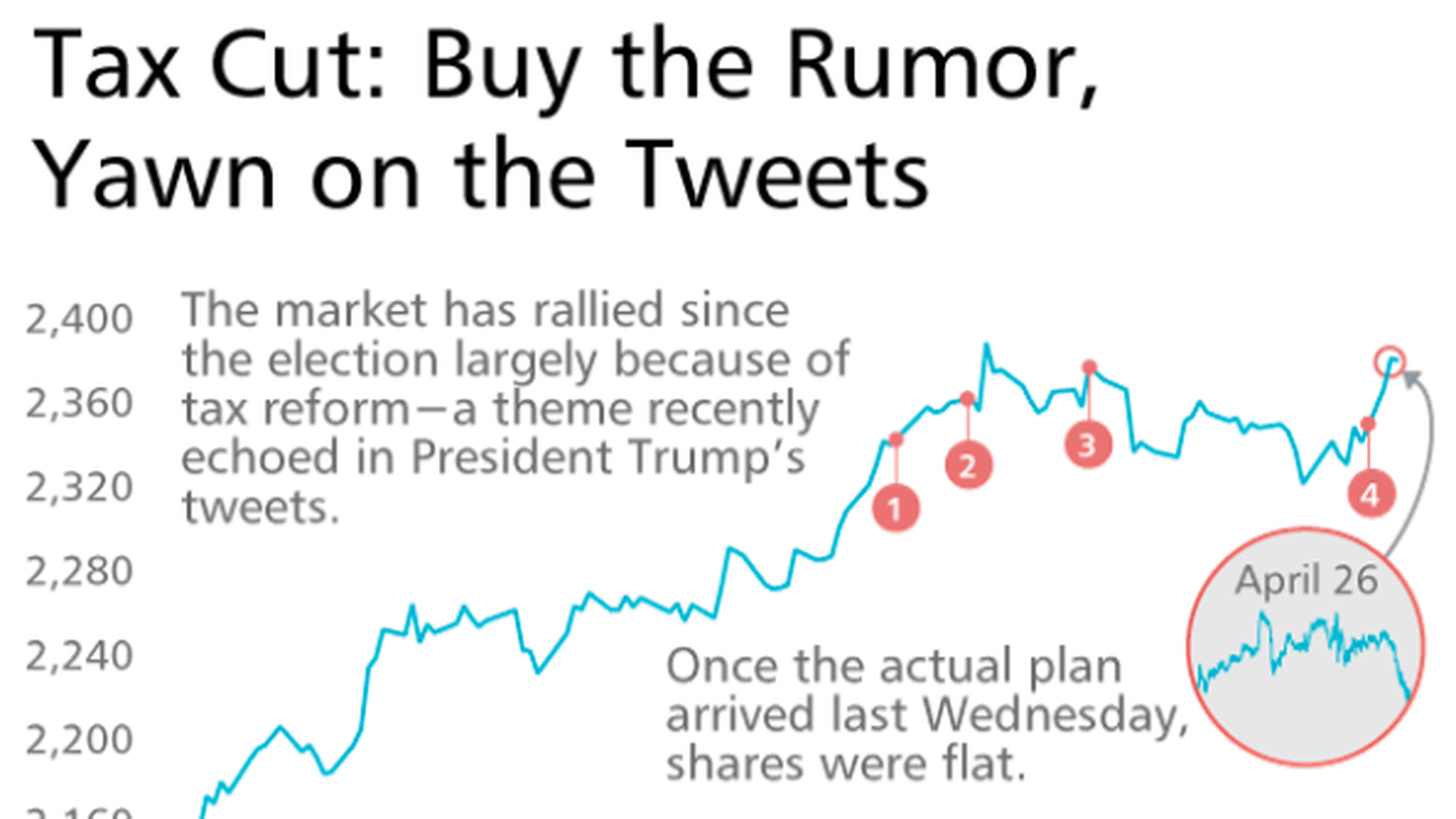 Barron's has a pair of deep dives on Trump's one-pager tax-reform skeleton (alas, behind paywall):
"Under Trump Tax Plan, Banks, Restaurants, MLPs [master limited partnerships] Could Win Big: Lower tax rates would be a boon for companies such as JPMorgan Chase, Berkshire Hathaway, and Anthem," by columnist Andrew Bary:
"Trump's proposal to cut the federal corporate income tax rate to 15% from 35% could mean a windfall for many industries with a domestic focus, including retailers, telecom companies, regional banks, restaurant chains, and health insurers.
"All tend to pay a tax rate close to 35% ... because they lack lower-taxed overseas operations. The average tax rate paid by companies in the Standard & Poor's 500 index is around 28%. Some high-tax companies could see a 30% bump in after-tax earnings if the top corporate rate falls to 15%."
"The Trump Tax Plan: The Good, Bad, and Dumb," by columnist Gene Epstein: "With the Congressional Budget Office constantly warning that the U.S. economy could face a fiscal crisis from persistent budget deficits, it's irresponsible to propose a series of tax cuts that aren't revenue-neutral, but instead revenue-losing."
"[T]he revenue loss over the next decade would be in the trillions. ... Trump should try to lift the U.S. economy from its dismal growth rate of 0.7% in the first quarter. But this tax plan ... isn't the best way to do it."
https://www.axios.com/newsletters/axios-am-47e380b4-0f96-43b7-b166-2b3cb755c1e7.html?chunk=8#story8
9. Real world
While Washington parties and Trump holds his victory-lap rally tonight in Harrisburg, Pa.:
Financial Times front page, above fold, "US slows amid Trump growth push: Weakest expansion rate for three years": Underlines "the daunting task facing Donald Trump's administration as it seeks to attain ambitious growth targets."
FT: "[T]he lacklustre official figures suggest that the [boost] the president has given to consumer and business confidence — as well as to share prices — has yet to bolster broader economic activity."
Wall Street Journal banner, "Growth Slows on Tepid Spending: Economy expanded at a 0.7% rate in the first quarter, presenting a challenge for Trump."
But, but, but ... Also on the Journal front page, "Exxon, Chevron Earnings Point to [oil] Industry Recovery."
"North Korea crisis: North in another 'failed' missile launch" — BBC: "The missile exploded shortly after take-off ... Trump tweeted: 'North Korea disrespected the wishes of China & its highly respected President when it launched, though unsuccessfully, a missile today. Bad!'"
https://www.axios.com/newsletters/axios-am-47e380b4-0f96-43b7-b166-2b3cb755c1e7.html?chunk=9#story9
10. 1 fun thing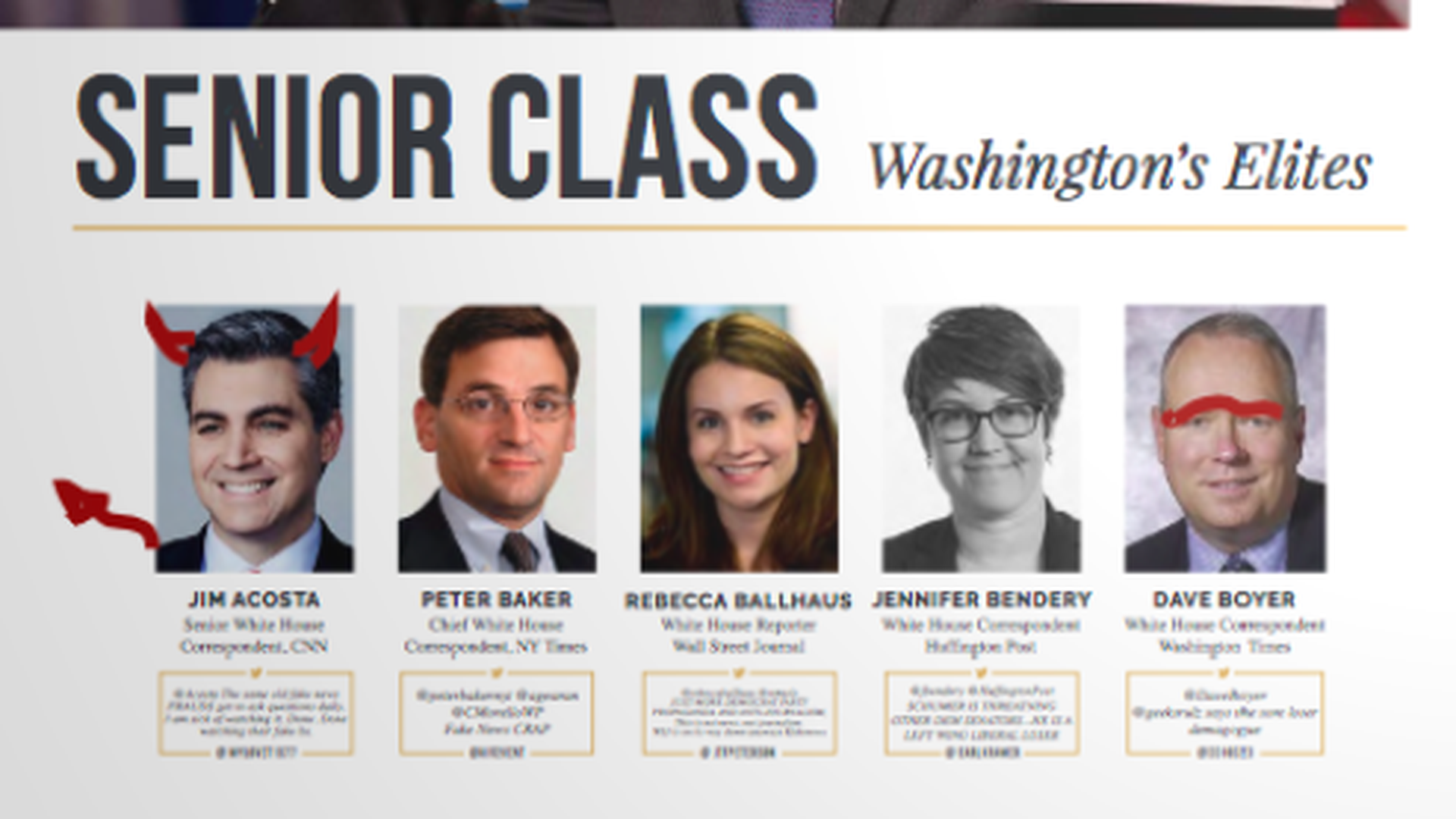 Running with the idea that the White House Correspondents' Association Dinner is Washington's prom, Independent Journal Review has produced a puckish yearbook for the occasion, The Labrador. This is Principal Donald Trump's copy, with his markings in red Sharpie. A few of the "Senior Superlatives":
Erin McPike, the lone journalist to accompany SecState Tillerson on his Asia swing, was voted "Most Likely to Go on Spring Break by Herself."
Breitbart's Charlie Spiering is "Teacher's Pet."
Superintendent Steve Bannon is "Most Likely to Never Die."
Aussie Jonathan Swan is "Most Likely to Hate Outback Steakhouse." (Principal Trump scrawled "Hello Mate" next to Jonathan's class pic.)
The Axios guys were voted "Most Likely to Take a Victory Lap."
In Senior Ads, there's a full-pager for Trump Steaks, and a sappy "We're Proud of You, Hillary."
The book opens with a letter from Valedictorian Jake Tapper: "As we all embark on this next step in our lives, it's clear that the country needs this class of graduating journalists, more than ever."