March 08, 2019
☕ Happy Friday!
Was this email forwarded to you? Sign up.
1 big thing: Women leaders give their 1 big thing
Today is International Women's Day. Axios asked women leaders from philanthropy, entertainment and business: "What is the 1 big thing you think will matter to women in 2019?"
Mary Barra, CEO, GM: "1 big thing that will matter to women is equal pay. I think companies have a big role to play in making this happen And we all need to realize that not only is it a moral issue but it is a business issue."
Tory Burch, executive chairman, Tory Burch LLC; founder, Tory Burch Foundation: "The 1 big thing that will matter to women in 2019 is shattering stereotypes and embracing ambition."
Anne Finucane, Vice Chairman, Bank of America: "I think we can be more hopeful. Just take a look at business: We see more women on boards, and those boards and companies are doing better than ever. Our research finds lower volatility and higher returns if you have two or more women on a board. Then look at politics: More women than ever in Congress — and not just more women, but greater diversity."
Melinda Gates, co-founder of the Bill & Melinda Gates Foundation: "1 big thing that will matter to women is access to tech. Ensuring that women have access to technology both as users of it and as creators of it."
Marillyn Hewson, CEO, Lockheed Martin: "1 big thing that will matter for women in 2019 is economic empowerment. Opening the doors of opportunity for women is key to equality for women, to economic growth and to business success."
Angelica Ross, actor, writer, producer and human rights advocate: "1 big thing that will matter to women will be complete agency over our lives and our bodies to do whatever we feel is right."
Rachel Roy, fashion designer and U.N. Champion for Innovation: "1 Big thing = compassionate consumerism. 152 million children are enslaved by forced labor. If we can insist on labeling from our food growers, we can ask retailers how their products are made. In 2019 we will ask our favorite brands: 'Whose hands have made our stuff?'"
Reshma Saujani, founder, Girls Who Code: "1 big thing that will matter for women in 2019 is bravery. We need to make sure women feel everyday bravery — the courage to say the things that they want and to dream big and to leave imperfection aside."
Stacey Stewart, president, March of Dimes: "We want every woman to be able to afford her health care so that when she is ready to become a mom, she and her baby, no matter what they look like or where they live, can be as healthy as they can be."
Alexa von Tobel, founder, Inspired Capital and LearnVest: "1 big thing is the wage gap. We need to be dealing with the wage gap and making the most of every dollar we have."
Bellamy Young, actress and advocate: "1 big thing that will matter to women is the fight against harassment at work ... so we that we can give of our brains and our hearts and our passions without restraint or fear."
Follow @Axios on Instagram for #1BigThing videos on this International Women's Day.
2. Why U.S. health care costs more, buys less
Democrats' Medicare for All debate has turned into a referendum on the existence of private health insurance. But simply having private health insurance isn't the weird thing about the U.S. system — the weird thing is how we go about it, Axios health care editor Sam Baker writes.
The big picture: Health care in the U.S. is yoked to employment — a form of compensation. Then we use a smattering of public programs to fill in the gaps.
Other rich countries treat health care like a social program.
The big picture: Most of those countries' health care systems have better results than we do, for a lot less money.
They're also able to cover almost their entire populations.
Be smart: Our fragmentation — one system for workers, another for the unemployed or self-employed, Medicare for seniors, Medicaid for low-income families, one for the military, another for Native Americans — drives up costs.
Almost nowhere in that convoluted process does the U.S. do much to control prices.
3. Scoop: White House leak to House Dems
From a White House source, the House Oversight Committee has obtained documents related to Jared Kushner and Ivanka Trump's security clearances that the Trump administration refused to provide, Axios' Alexi McCammond learned from a senior Democratic aide involved in handling the documents.
Why it matters: The Trump administration's problems with leaks will now benefit Congress, making it harder for the White House to withhold information from Democratic investigators.
The news: The White House this week rejected the committee's request for documents on the process for granting security clearances to staffers.
The twist: But the House Oversight Committee in early February had already obtained the leaked documents that detail the entire process, from the spring of 2017 to the spring of 2018, on how both Kushner and Trump were ultimately granted their security clearances.
The senior Democratic aide who was involved in handling the documents told Axios that two staffers on the Oversight Committee said the documents are "part of the puzzle that we would be asking for" from the White House, "so we appreciate having this upfront." 
The House Oversight Committee, via deputy communications director Aryele Bradford, declined to comment.
The White House did not respond to a request for comment.
The documents leaked to the Oversight Committee provide detailed information on the timeline for how Kushner's and Trump's security clearances were approved and who the people were involved in processing and the final decision.
One document, obtained by Axios, provides some details about why Kushner's security clearance was changed to "interim" in September 2017: "Per conversation with WH counsel the clearance was changed to interim Top Secret until we can confirm that the DOJ or someone else actually granted a final clearance. This action was taken out of an abundance of caution because the background investigation has not been completed."
Feb. 23, 2018: "Clearance downgraded to Interim Secret per COS direction" — then-chief of staff John Kelly.
Go deeper: Axios reported on Kushner's security clearance issues when Kelly downgraded him.
4. Drawing du jour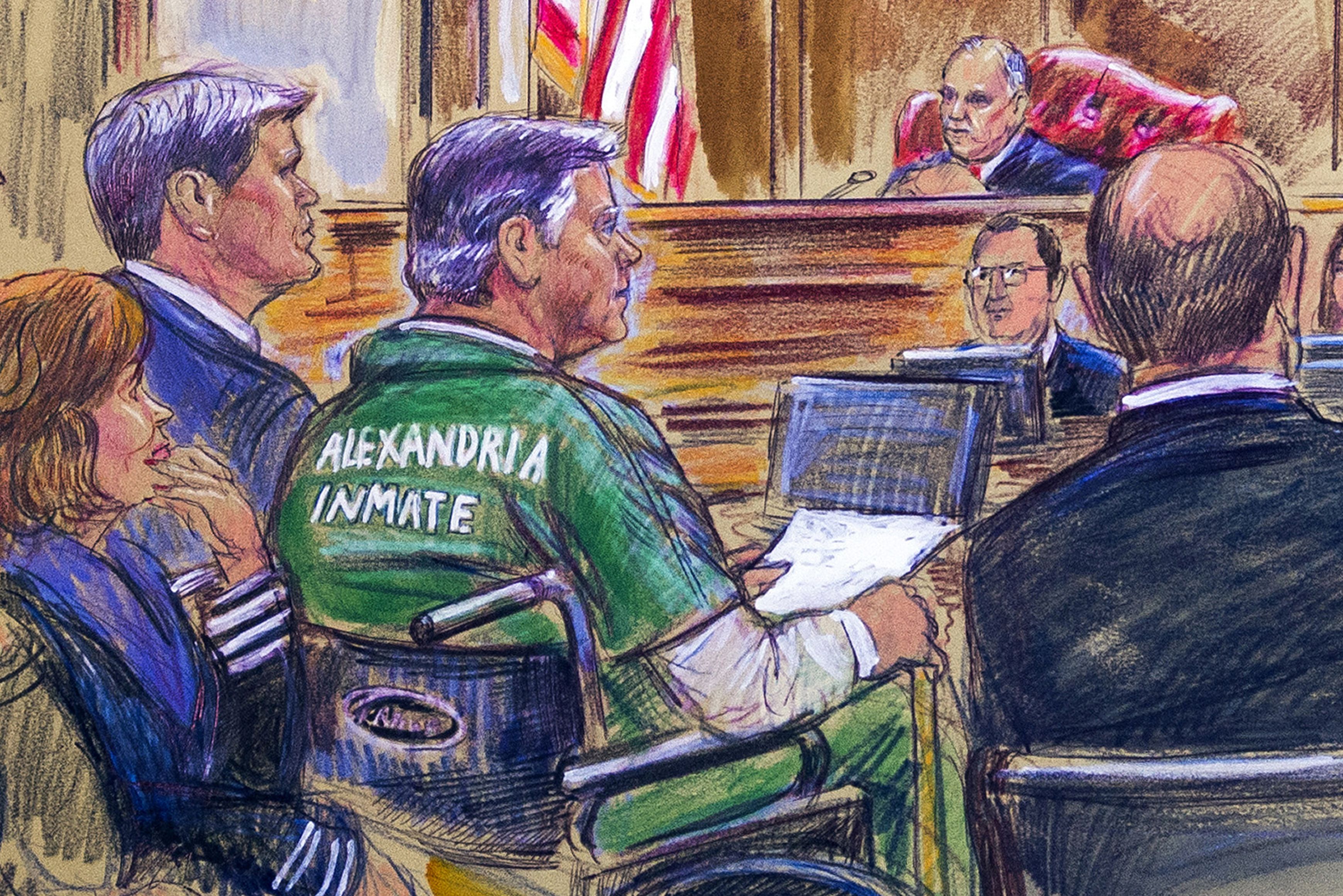 "Paul Manafort, who once served as President Trump's campaign chairman, was sentenced to nearly four years in prison ... for cheating on his taxes and bank fraud — a far lesser sentence than the roughly 20 years he had faced under federal sentencing guidelines," the WashPost reports.
"Wearing a green jail uniform that said 'ALEXANDRIA INMATE' on the back, Manafort, 69, sat in a wheelchair."
"At times while the judge spoke, Manafort closed his eyes."
5. House Dems may probe Kushner deal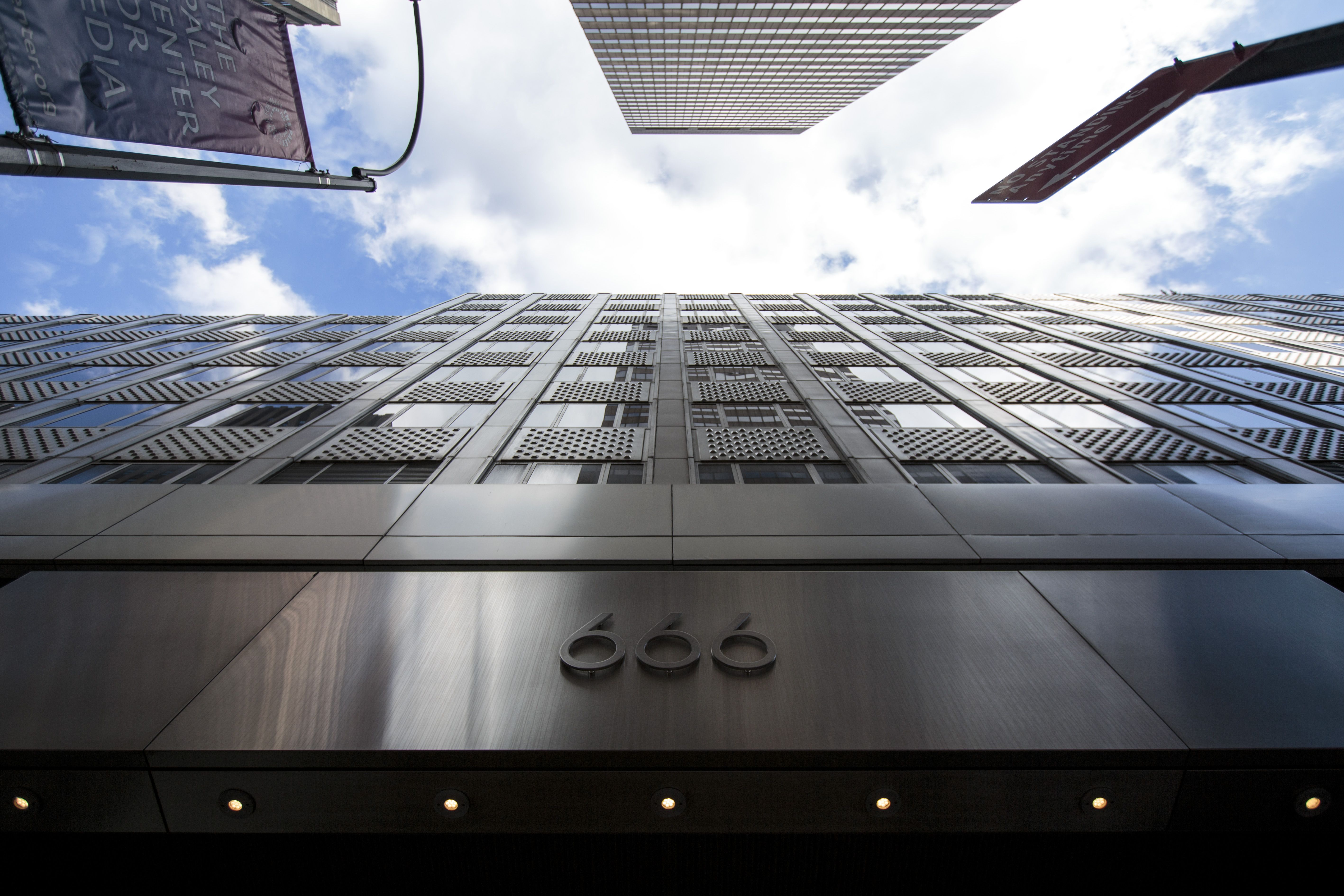 House Democrats are discussing investigating the cash infusion the Kushner Companies' flagship New York office tower received in summer 2018, Reps. Maxine Waters, Elijah Cummings and Ted Lieu told Axios' Alayna Treene.
Why it matters: Jared Kushner's family real estate business provides Democrats with a new opening to investigate a senior White House official's indirect connection to foreign money.
Kushner has been helping conduct Middle East policy on behalf of the U.S. government.
The Kushner family's most consequential recent deal is the one that bailed them out of their struggling, debt ridden behemoth at 666 Fifth Avenue.
Lieu, who serves on the House Judiciary and Foreign Affairs committees, told Axios that he finds the deal "really troubling," and that one of the House committees will be looking into it.
Waters, chair of the House Financial Services Committee, and Cummings, chair of the House Oversight Committee, confirmed that there have been private discussions about investigating the deal.
It's unclear which committee would investigate the deal, and whether it will be investigated at all.
"We've been looking at that for a while," Cummings said. "It's a very difficult question because Maxine may have a piece of it, another committee might have a piece of it. We'll figure that out."
The backdrop: Jared Kushner's family company bought the Midtown skyscraper for a record $1.8 billion in 2007.
But the building later became a financial headache. At the time of the deal, the N.Y. Times reported, "Analysts have long said that 666 Fifth was worth less than its debts. The building was 30 percent vacant and only generated about half the annual mortgage payments."
According to the Wall Street Journal, Brookfield Asset Management, which purchased a 99-year lease on the building, paid enough for Kushner Companies to pay off its $1.1 billion debt and buy out its partner, Vornado Realty Trust, which owned the retail portion of the building.
The deal became politically controversial because Qatar Investment Authority, one of the world's biggest sovereign wealth funds, is Brookfield's second-largest investor. Brookfield said Qatar wasn't aware of the deal until it was publicly announced.
The White House did not respond to Axios' request for comment.
6. House condemns hate after anti-Semitism dispute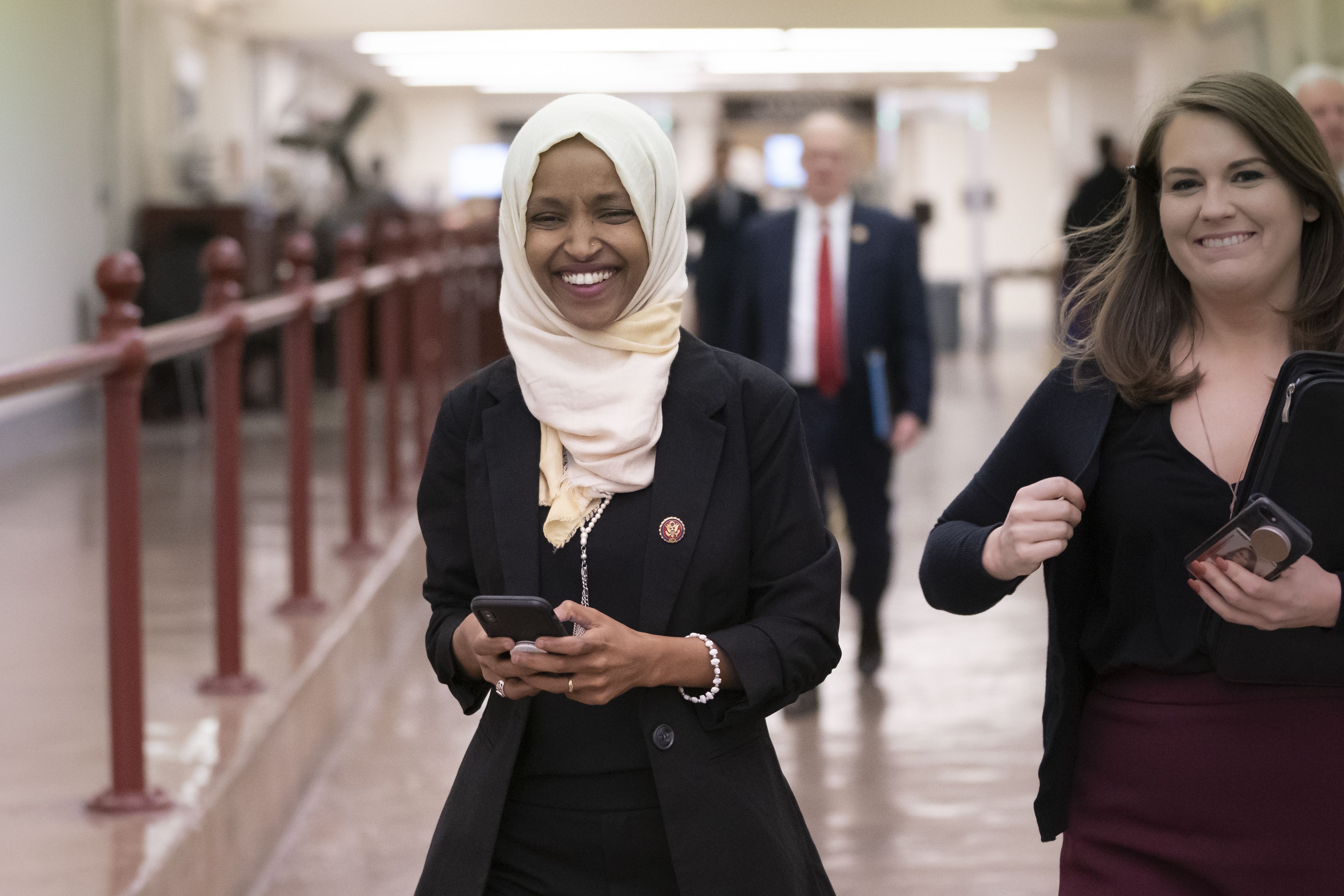 In an effort by Dems to push past a dispute that has exposed party fault lines, the House passed a resolution condemning anti-Semitism and other bigotry, AP's Lisa Mascaro and Laurie Kellman report.
The one-sided vote (407-23) belied the emotional infighting over how to respond to comments by freshman Rep. Ilhan Omar, a Somali-American, suggesting House supporters of Israel have dual allegiances.
The resolution condemns anti-Semitism, anti-Muslim discrimination and bigotry against minorities as "hateful expressions of intolerance."
Why it matters: "Generational as well as ideological, the argument was fueled in part by young, liberal lawmakers — and voters — who have become a face of the newly empowered Democratic majority in the House."
House Republican Conference Chair Liz Cheney, who was among the dissenters, called the resolution "a sham put forward by Democrats to avoid condemning one of their own and denouncing vile anti-Semitism."
7. Thousands of new millionaires coming to S.F.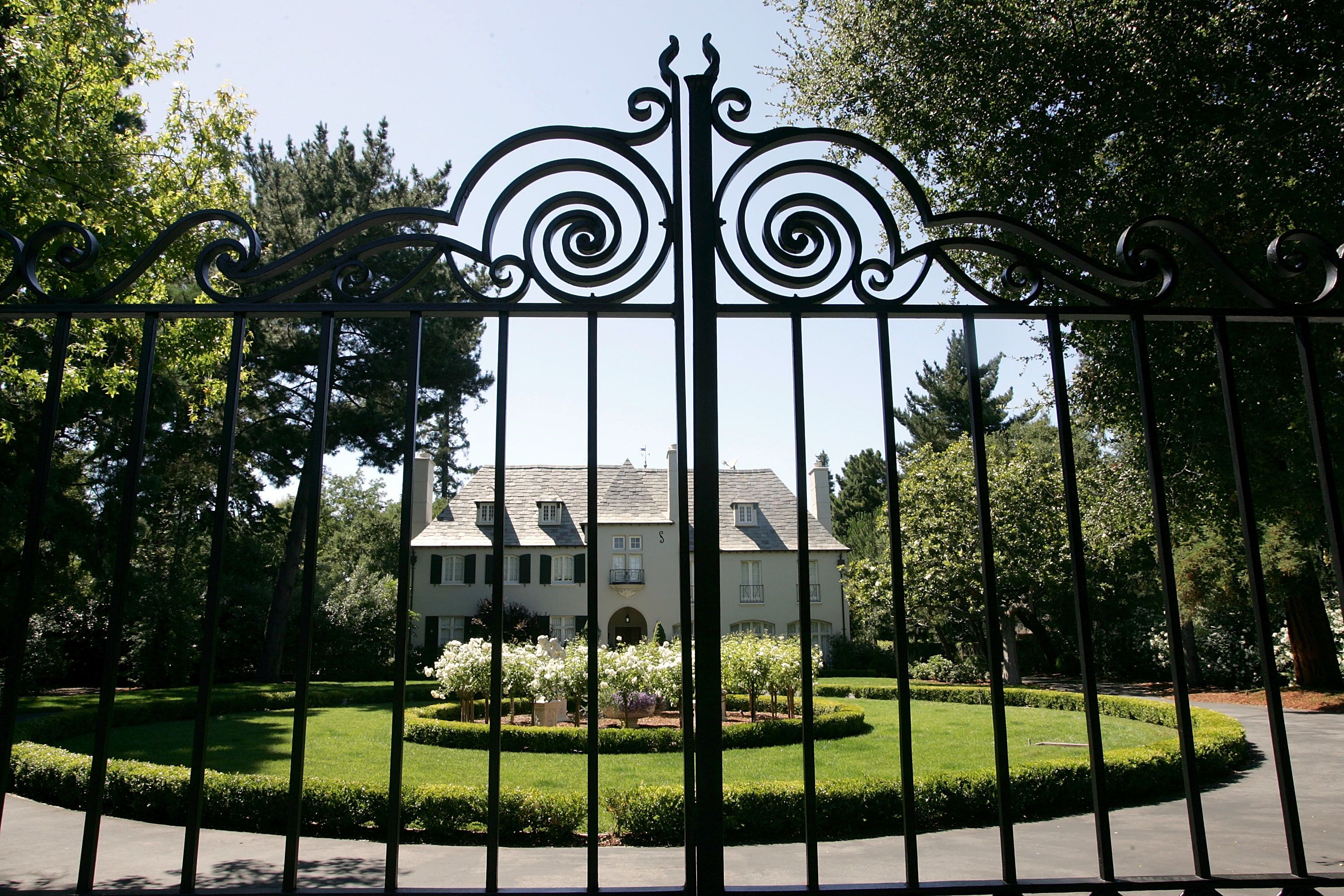 "Big wealth doesn't come in monthly paychecks. It comes when a start-up goes public ... This year — with Uber, Lyft, Slack, Postmates, Pinterest and Airbnb all hoping to enter the public markets — there's going to be a lot of it in the Bay Area," the N.Y. Times' Nellie Bowles writes.
"[E]ven conservative estimates predict hundreds of billions of dollars will flood into town in the next year, creating thousands of new millionaires."
"It's hard to imagine more money in San Francisco, but the city's residents now need to start trying."
"The fleet of new millionaires are already itching to claim what has been promised all these years."
"They want cars. They want to open new restaurants. They want to throw bigger parties. And they want houses."
Talker: "As the idea of the coming I.P.O.-palooza took on currency, sellers started pulling their houses off the market."
Herman Chan, a real estate agent with Sotheby's: "People are like, 'I'm not going to sell till next year, because there are going to be bajillionaries everywhere left and right.'"
8. Tim Cook embraces "Tim Apple"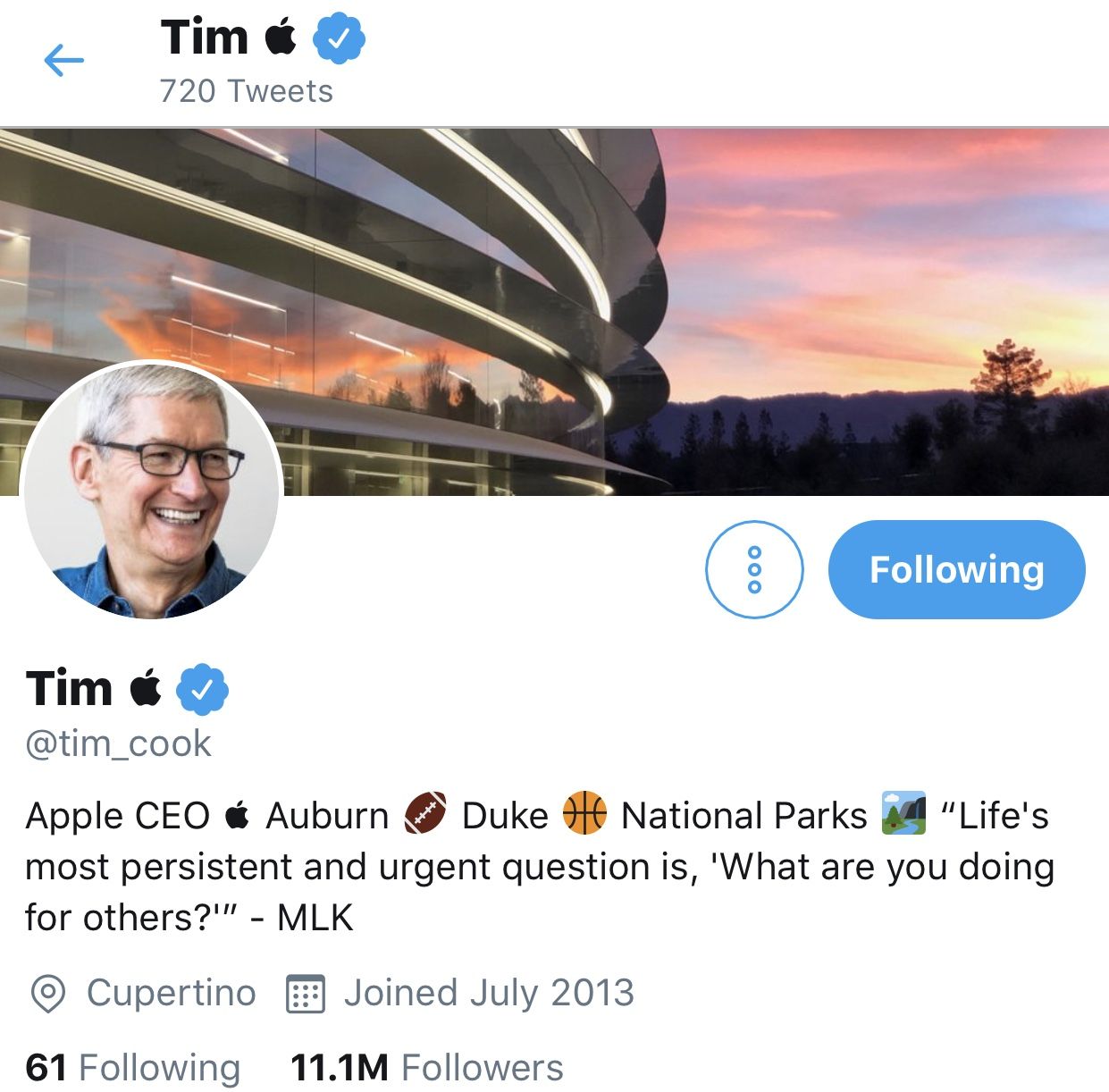 A day after President Trump referred to Tim Cook at a White House meeting as "Tim Apple," the Apple CEO altered his Twitter profile, replacing his last name with the Apple logo, AP's Rachel Lerman writes.
In the White House transcript, the words "Tim" and "Apple" are separated by a dash as if Trump had paused, thanking both the executive and the company.
P.S. ... The Apple-logo icon "is only visible on iPhones and Mac computers. On Windows, it's a blank square; on Android, it renders variously as an X-ed out or blank gray rectangle."
9. "Pharma bro" puts the "cell" in cellphone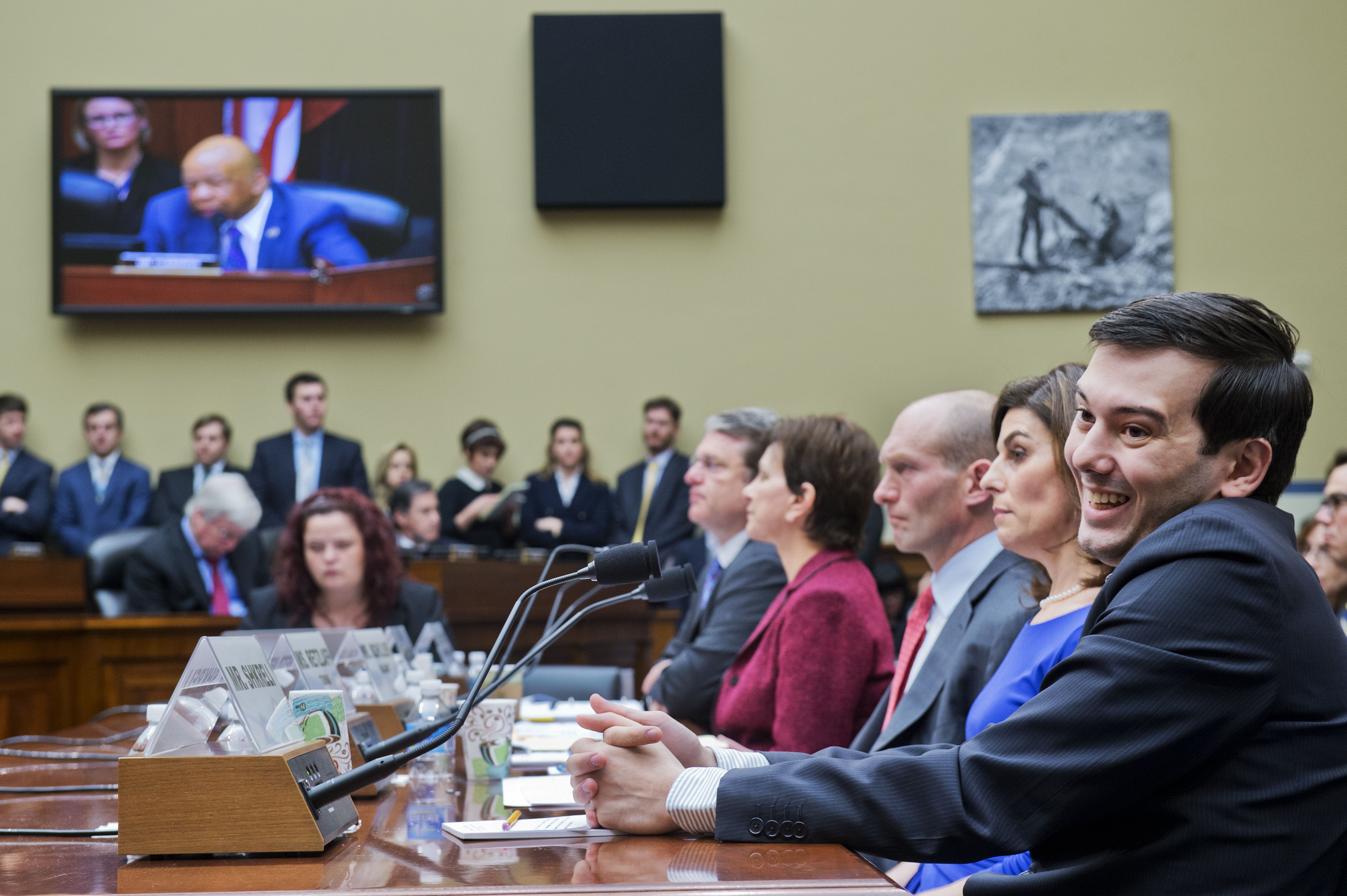 "From a top bunk in a 12-person prison cell in Fort Dix, N.J., Martin Shkreli is at work on a big second act," The Wall Street Journal's Rob Copeland and Bradley Hope write (subscription):
"Wielding little more than a contraband smartphone, the disgraced pharmaceutical executive remains the shadow power at Phoenixus AG, the drug company that became a national lightning rod for jacking up ... prices."
"His back-of-the-commissary-envelope calculation indicates that Phoenixus could be worth $3.7 billion by the time he is due to be freed in 2023."
"His plan involves acquiring more rare drugs in various stages of development and plowing money into an ambitious research-and-development agenda."
Christie Smythe, an author writing a book about Shkreli who has visited him several times in prison, said: "The guards still mispronounce his name repeatedly, which he thinks is on purpose." (The "h" is nearly silent.)
"He has ... taken on the job of caring for prison cats. He occasionally argues with his cellmates about proper grammar."
10. 1 👟 thing
Hardcore sneakerheads are finding the best way to get their shoes clean is to pay someone else to do it. "Some of the most effective cleaners turn out to be Marines," The Wall Street Journal's Ray A. Smith writes (subscription):
"A toothbrush and soapy water are no match for today's lavish styles which can cost more than $1,000 and feature at least three different materials — whether mesh, suede, leather or some type of fabric — in addition to rubber."
"Companies generally charge about $35 for a 'basic cleaning' and more for advanced services; Other Peoples Kicks, a Moreno Valley, Calif.-based cleaner, charges $150 for sneakers 'in critical condition.'"