Axios AM
February 02, 2018
Good Friday morning, and happy Groundhog Day! Situational awareness: "Newly released emails show EPA Administrator Scott Pruitt personally monitored efforts last year to excise much of the information about climate change from the agency's website, especially Obama's effort to reduce carbon emissions from coal-fired power plants." (AP)
1 big thing: The memo's price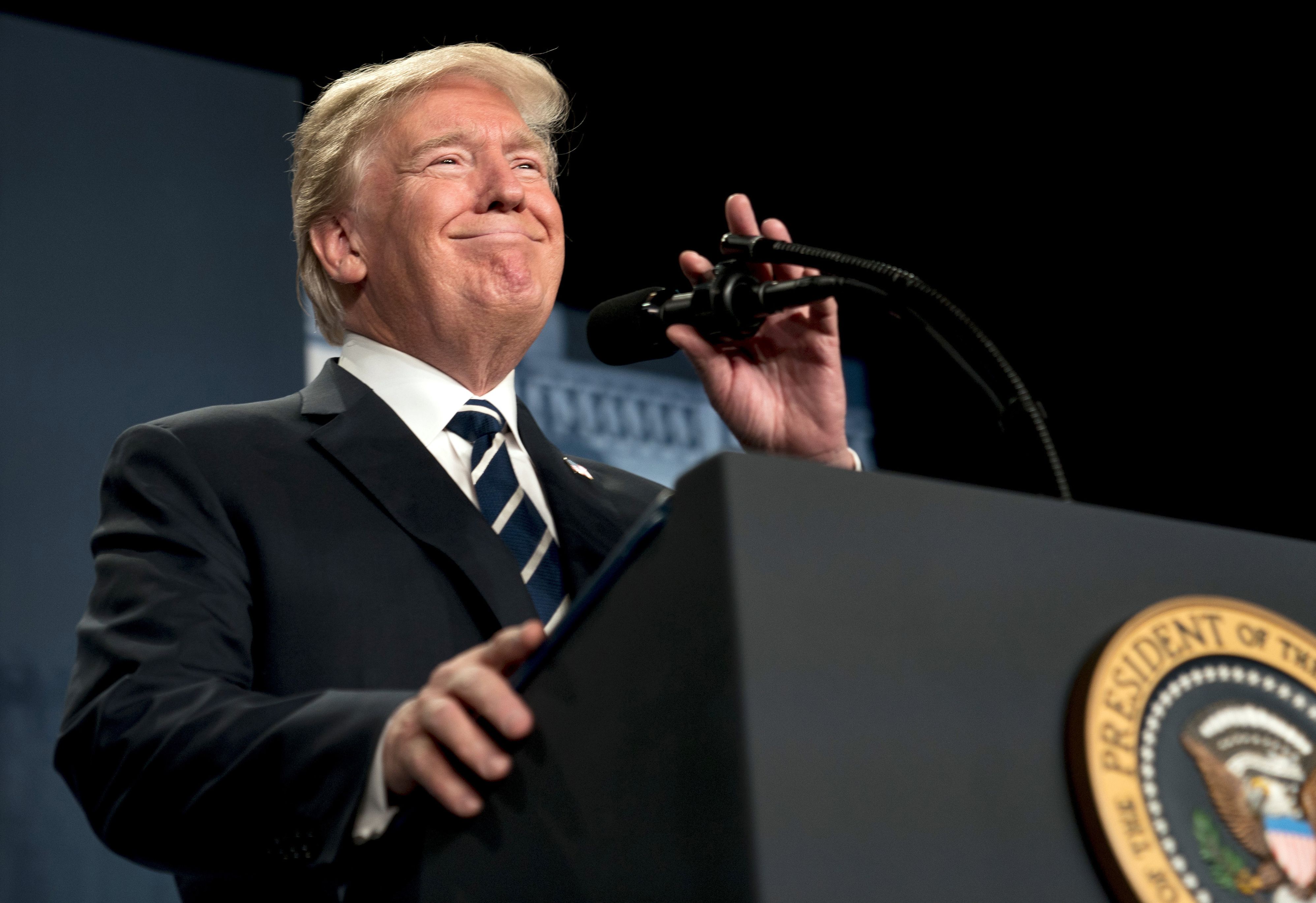 White House aides recognize there could be a high cost to President Trump's decision to allow — with no redactions — release of that classified memo about the Russian investigation, aides tell Axios' Jonathan Swan and me:
Swan learned that the White House plans to dress up the decision by arguing that it's an action of "transparency."
But this puts President Trump publicly crossways with both the intelligence community and the FBI — not a place you want to be.
And then there's the lead-balloon factor: Swan scooped yesterday that many in the White House think the memo will be a dud — hardly delivering on the expectations that Fox's Sean Hannity and others on the right have whipped up with the online #ReleaseTheMemo frenzy.
So with no slam dunk, there could also be a political cost.
An administration source said last night: "Some back and forth on whether to actually do it. If it really is a dud and the memo really doesn't say a hell of a lot, why would you risk pissing off [FBI Director Christopher] Wray?"
That West Wing fear syncs with a claim by Rep. Adam Schiff, the top Democrat on the House Intelligence Committee, who said at an Axios event that the memo will be a letdown for the right — containing nothing that obviously invalidates the investigation or would cause anyone to get fired.
And the policy price ... The Boston Globe front-pages: "The hot topic at congressional Republicans' annual policy retreat ... is not infrastructure, immigration, or even tax cuts — it's 'The Memo.'"
About FBI Director Wray, the administration source said:
"He's definitely pissed off and really upset, but not to the point where he'd resign."
"At some point, there needs to be a working relationship — just from a national security and protection level, you need to work together. But ... I'm not sure how that will work."
Why it matters ... The N.Y. Times' Michael Schmidt, speaking to Brian Williams on MSNBC's "The 11th Hour," looks past the immediate frenzy:
"This is clearly the most aggressive thing that [Trump] has done, public-relations-wise, to try and brush back the Justice Department."
"This is a clear effort to undermine [Deputy Attorney General Rod] Rosenstein; [special counsel Bob] Mueller by extension."
"If this comes out and there's not a lot of 'there' there, the president will find himself in a very vulnerable position."
"Mueller has been spending a lot of time looking at his conduct in office. It's become increasingly clear to the public that there is an obstruction of justice [decision] that Mueller is going to have to make."
2. Tech giants power to new heights
The headline: Amazon's quarterly profit tops $1 billion for first time ... "TECH ROARS: APPLE BEST QTR IN HISTORY OF BIZ."
The big picture ... "Three of the biggest tech companies reported record quarterly financial results ... as they extended their dominance over swaths of the global economy," The Wall Street Journal writes in its lead story:
"Apple's revenue rose 13% to $88.29 billion, fueled by its move to increase smartphone prices ... The company, whose profits topped $20 billion for the first time, is also increasingly benefiting from its services business, including App Store sales and music and payments services."
"Google parent Alphabet recorded its 32nd consecutive quarter of revenue growth of 20% or more, continuing a dominant run as it handles more than 90% of internet searches and owns the world's most influential video site."
"Amazon — long known for prioritizing growth over earnings — delivered a profit exceeding $1 billion for the first time as its revenue jumped 38% to $60.5 billion."
The debates ahead, per The Journal:
"As the tech giants expand their clout across a widening band of commerce, they have increasingly drawn scrutiny from lawmakers and consumers over a range of issues, from their dominance of certain markets, to how they use their vast troves of consumer data, to the impact their products have on society."
"The extraordinary runup in their share prices has helped fuel popular awareness of the companies' power."
3. Cryptocurrencies being used to evade sanctions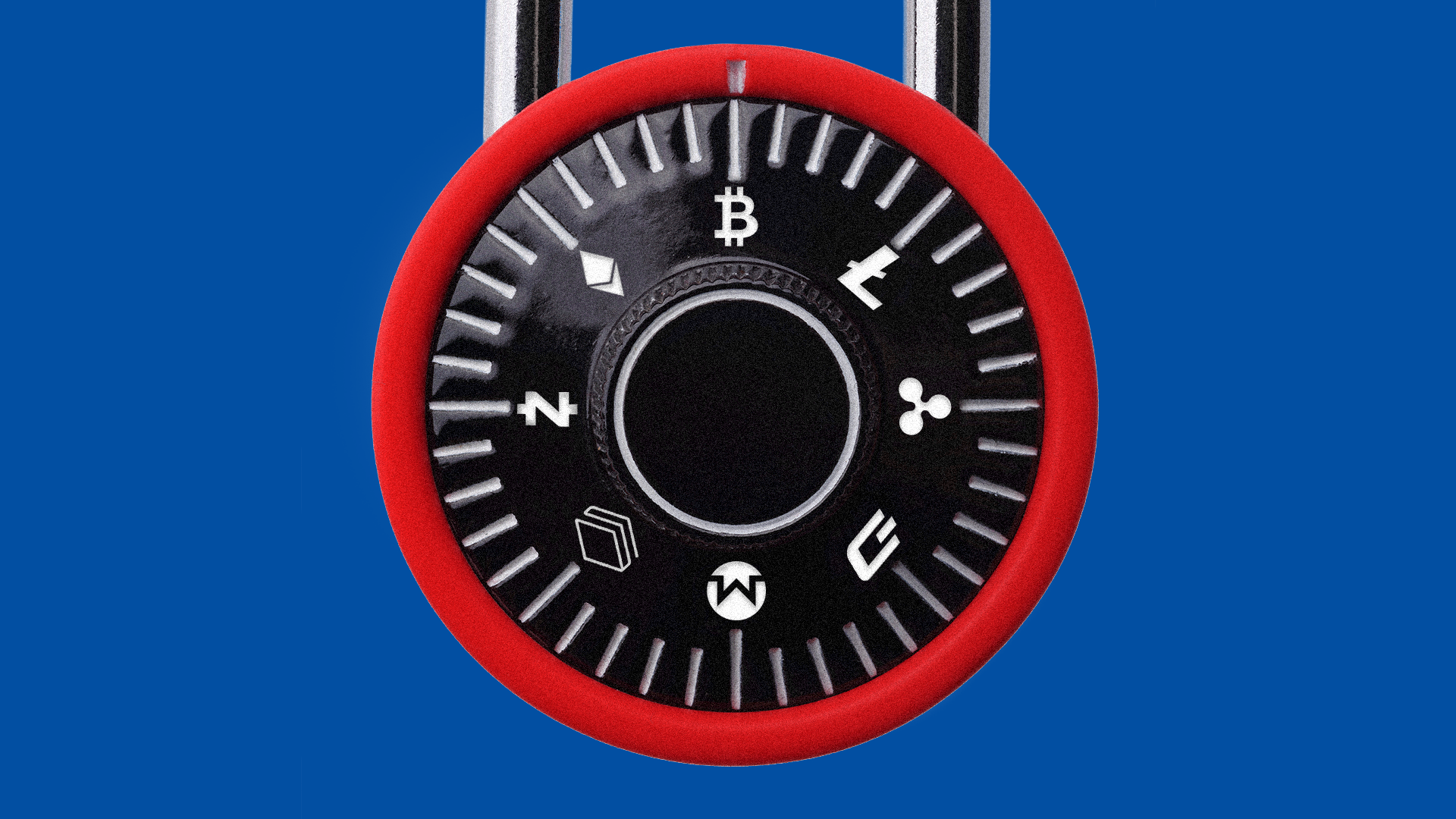 Rogue regimes, including North Korea, are exploiting a dark side to digital currencies, Axios' Shannon Vavra writes:
How it works: Cryptocurrency "provides a way for sanctions evasion for countries because of anonymity and plausible deniability" in the way they're transferred, Kenneth Geers, a cyber policy expert and former National Security Agency official, told Axios. "That allows for buying and selling across borders with very little oversight."
Bonus: Pic du jour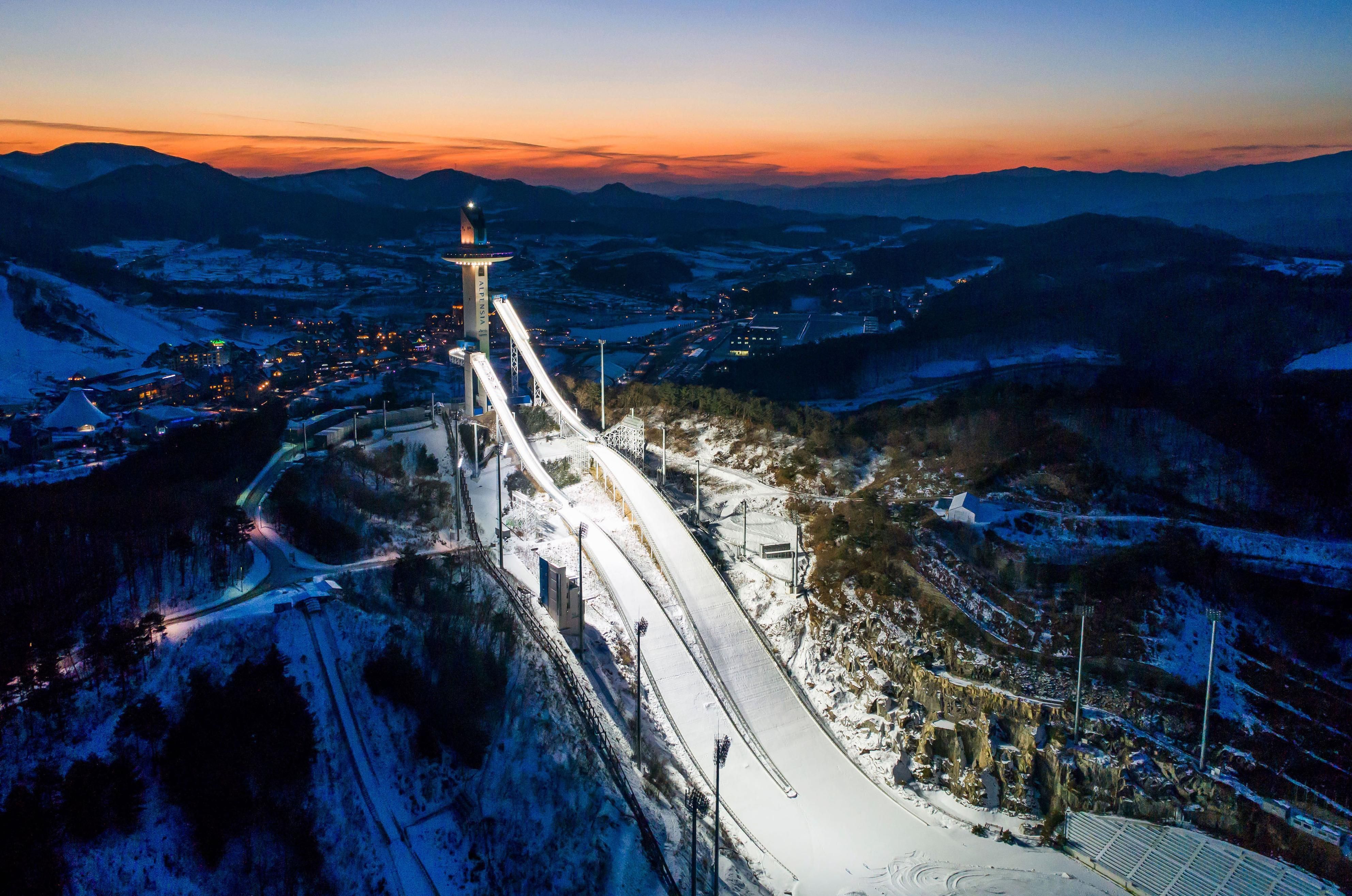 Olympics sneak peek ... Photo from a drone shows the Alpensia Ski Jumping Center for the Winter Olympics in Pyeongchang, South Korea.
4. Ways we can use our own health data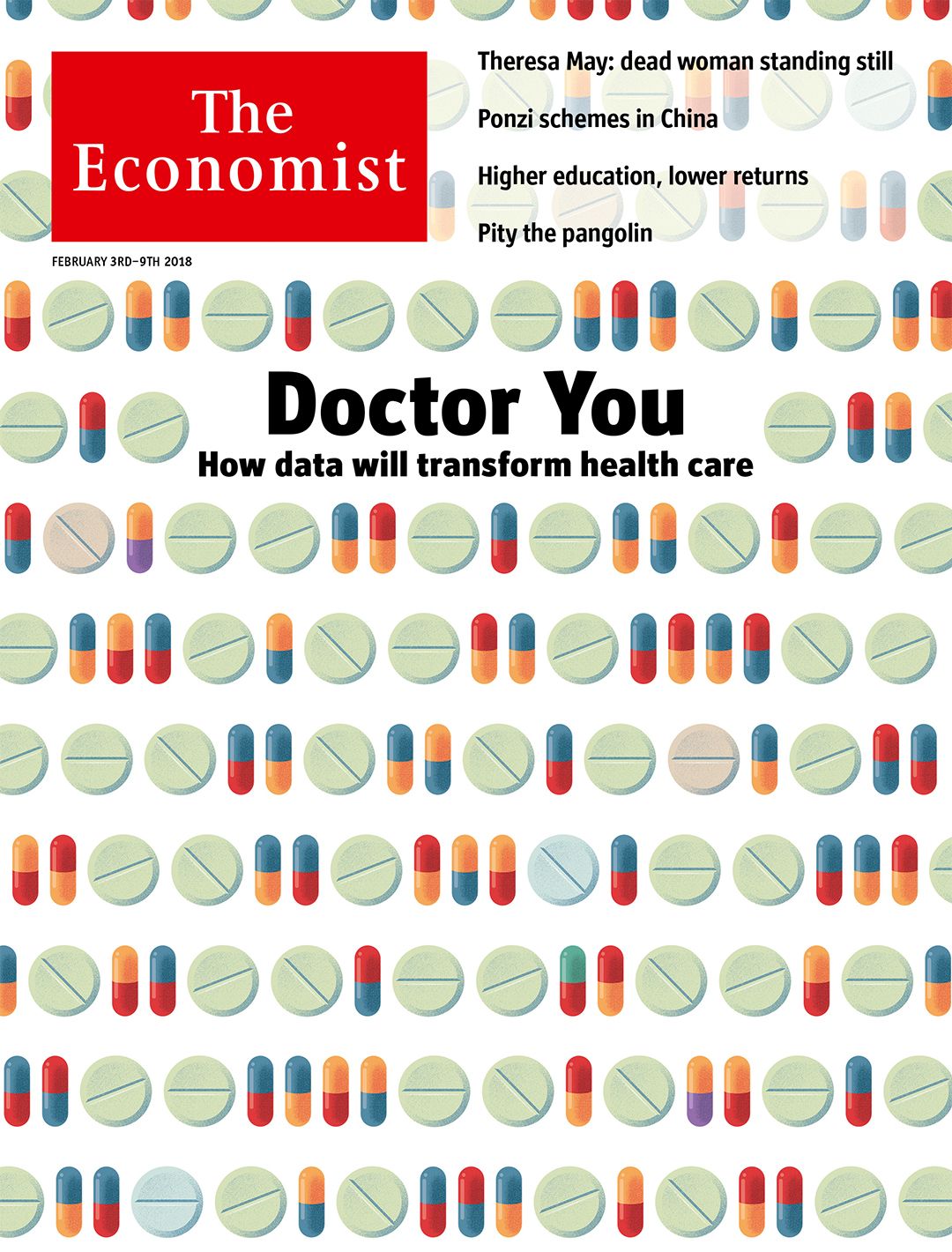 Increased medical data — enabled by technology, and increasingly accessible to patients — is the kindling for a revolution, according to The Economist's cover:
"Someone worried about their heart can now buy a watch strap containing a medical-grade monitor that will detect arrhythmias."
"Apps are vying to see if they can diagnose everything from skin cancer and concussion to Parkinson's disease."
"Research is under way to see whether sweat can be analyzed for molecular biomarkers without the need for an invasive blood test."
"Some think that changes in how quickly a person swipes a phone's touchscreen might signal the onset of cognitive problems."
5. The real America
"There's so much pressure to be a perfect immigrant. They basically want us to save babies from burning buildings, have a 5.0 GPA and become doctors. But I'm just teaching these tiny humans to be great Americans."
— Karen Reyes, a special-education teacher who recently lost the legal protections given to the young immigrants known as "Dreamers."
(N.Y. Times)
6. A new era of brinksmanship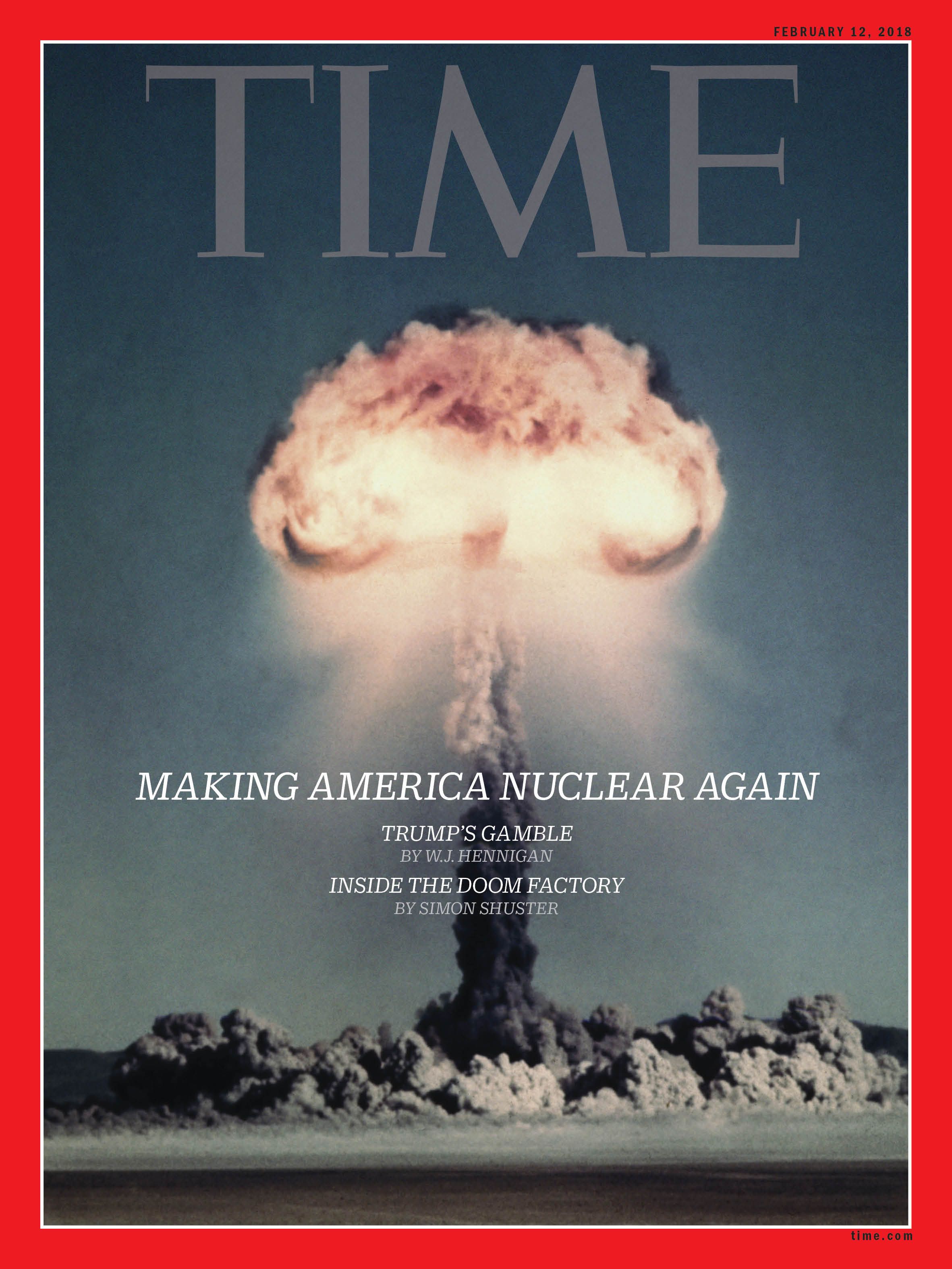 Trump's nuclear poker ... TIME's W.J. Hennigan points to "a provocative shift from the sober, almost mournful restraint that has characterized the U.S. posture toward [nuclear] weapons for decades":
"To prevent nuclear war and the spread of weapons to non-nuclear states, the strategy of Republican and Democratic Commanders in Chief alike has been to reduce nuclear arsenals and forge new arms-control agreements."
"The Trump Administration, by contrast, is convinced that the best way to limit the spreading nuclear danger is to expand and advertise its ability to annihilate its enemies."
7. A global "recession" of democracy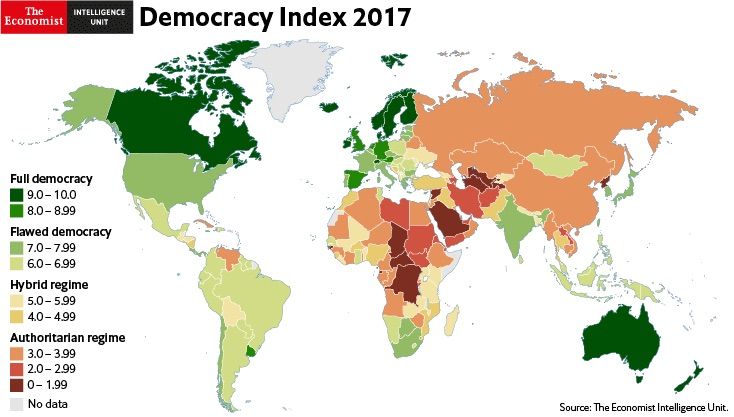 "A decade has passed since Larry Diamond, a political scientist at Stanford University, put forward the idea of a global 'democratic recession.' The tenth edition of the Economist Intelligence Unit's Democracy Index suggests that this unwelcome trend remains firmly in place," The Economist writes:
"[L]ess than 5% of the world's population currently lives in a 'full democracy.' Nearly a third live under authoritarian rule, with a large share of those in China."
"89 of the 167 countries assessed in 2017 received lower scores than they had the year before."
"Norway remains the most democratic country in the ranking, a position it has held since 2010, and western Europe accounts for 14 of the 19 'full democracies' that make up the ranking's top tier."
8. #GrammysSoMale: Chief asked to step down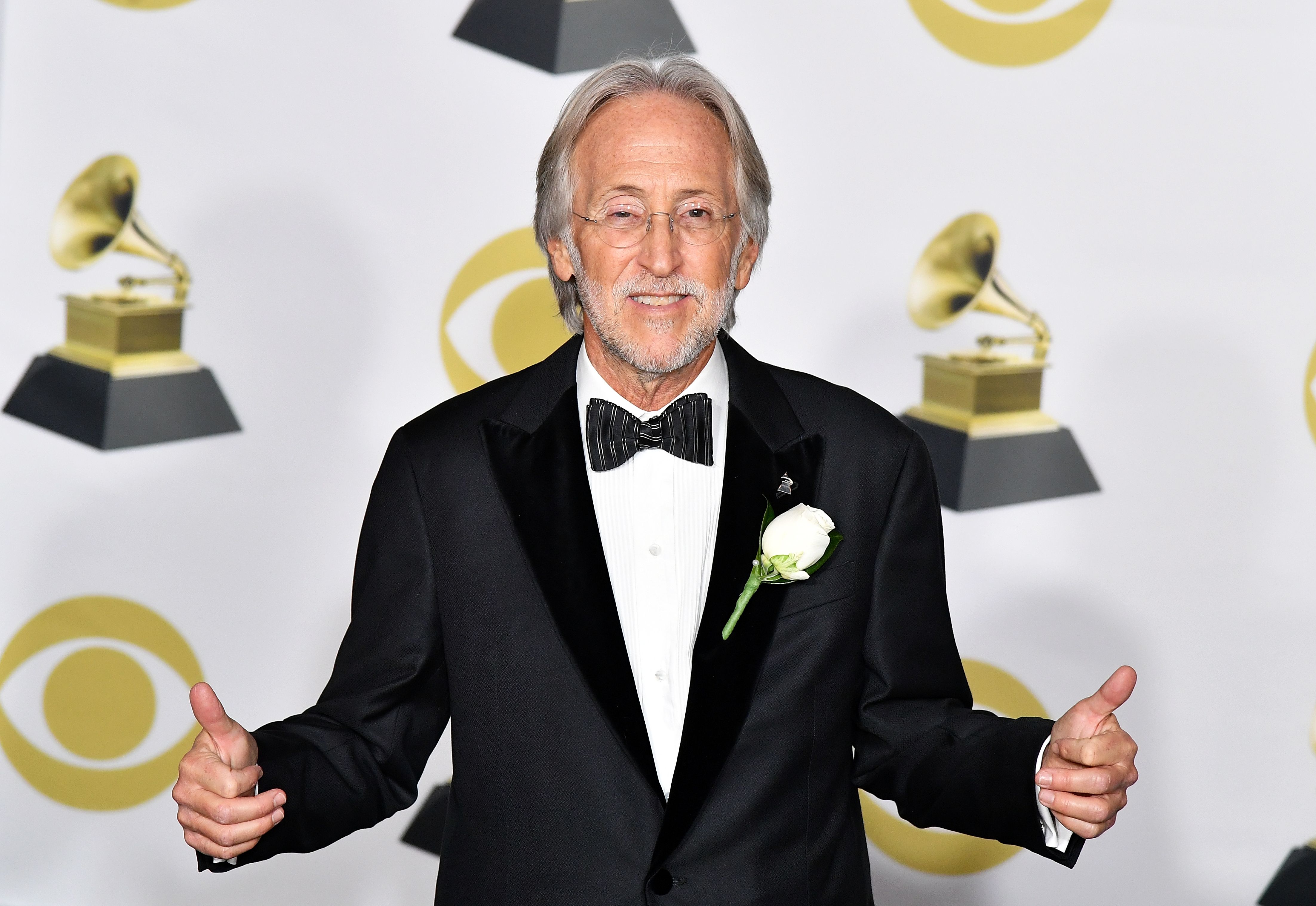 A group of female record executives is calling for the resignation of Recording Academy president Neil Portnow, who sparked a backlash by saying after Sunday's Grammy Awards that female musicians must "step up" for more representation, per the Hollywood Reporter's Patrick Shanley:
The letter, signed by over a dozen female execs: "We step up every single day and have been doing so for a long time. The fact that you don't realize this means it's time for you to step down."
Why it matters: "This year's Grammy nominations were dominated by male performers, sparking backlash online and giving rise to the hashtag #GrammysSoMale."
"The issue was further made worse by the fact that album of the year nominee Lorde, the only female artist nominated in the category, was not offered a solo performing slot at the night's event, unlike her male cohorts in the category."
Portnow issued a statement about that oh-n0-he-didn't quote:
"After hearing from many friends and colleagues, I understand the hurt that my poor choice of words following last Sunday's GRAMMY telecast has caused. ... Because those words, while not reflective of my beliefs, echo the real experience of too many women."
"The Recording Academy is establishing an independent task force to review every aspect of what we do as an organization and identify where we can do more to overcome the explicit barriers and unconscious biases that impede female advancement in the music community."
9. Inside "The Daily"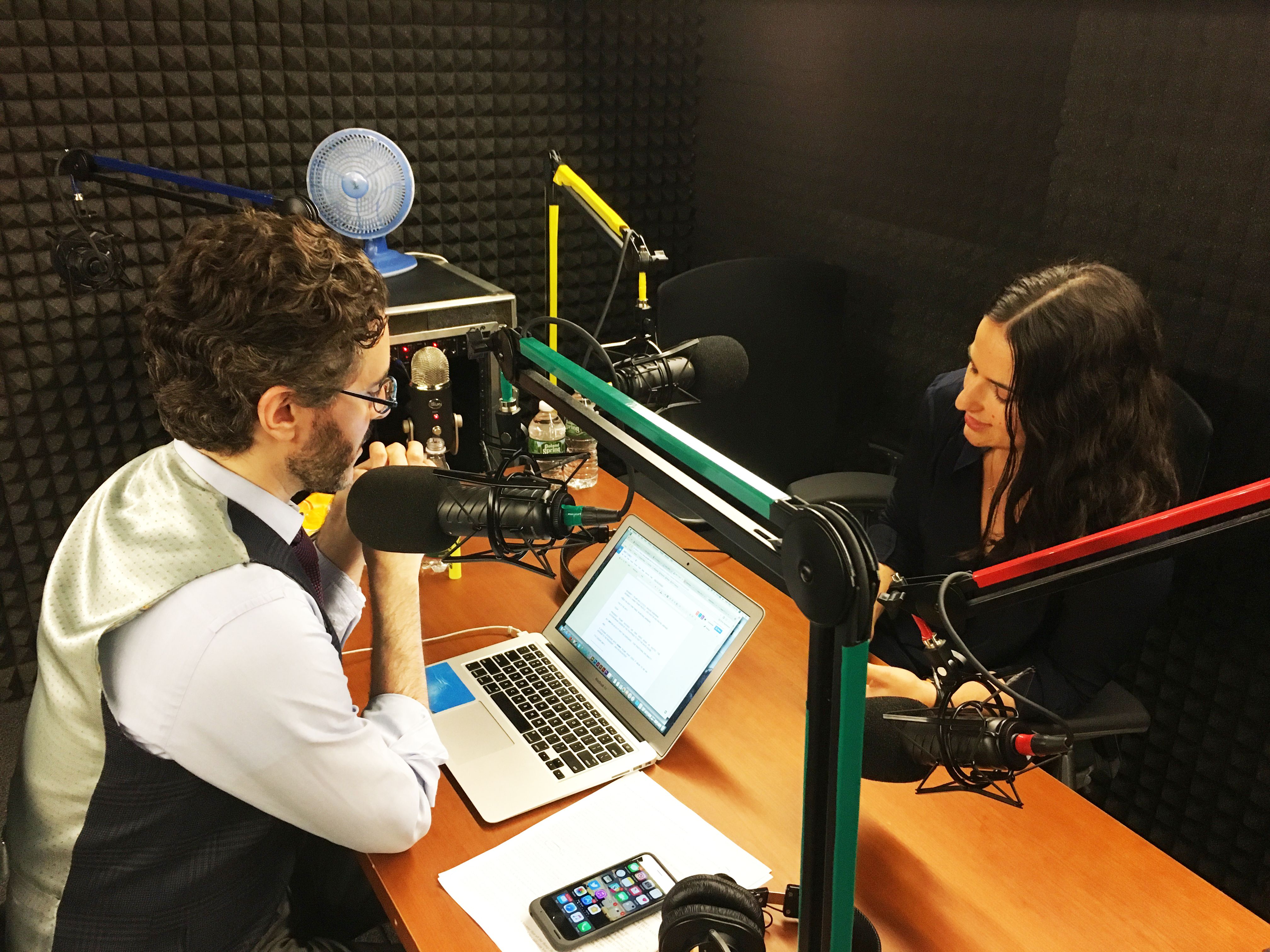 As the N.Y. Times podcast "The Daily" passes its first anniversary, the paper's Alexandria Symonds goes behind the scenes:
"On the 16th floor of the New York Times headquarters in Manhattan, you will find a peculiar room, its walls and ceiling lined with black foam egg-crate insulation."
Michael Barbaro, the host of The Times's podcast "The Daily": "I decorated it myself."
"It is the size of a large storage closet — because it used to be one. Now it's a small audio studio, scattered with homey touches: marbled end tables, faux succulents and hydrangeas. (Real plants aren't an option because there's no natural light, as Lisa Tobin, who edits the show, pointed out.)"
"'The Daily,' a news podcast produced five days a week, is created by Mr. Barbaro plus a full-time staff of eight editors and producers."
[T]he show was introduced a year ago ... with just three producers and Mr. Barbaro."
10. 1 football thing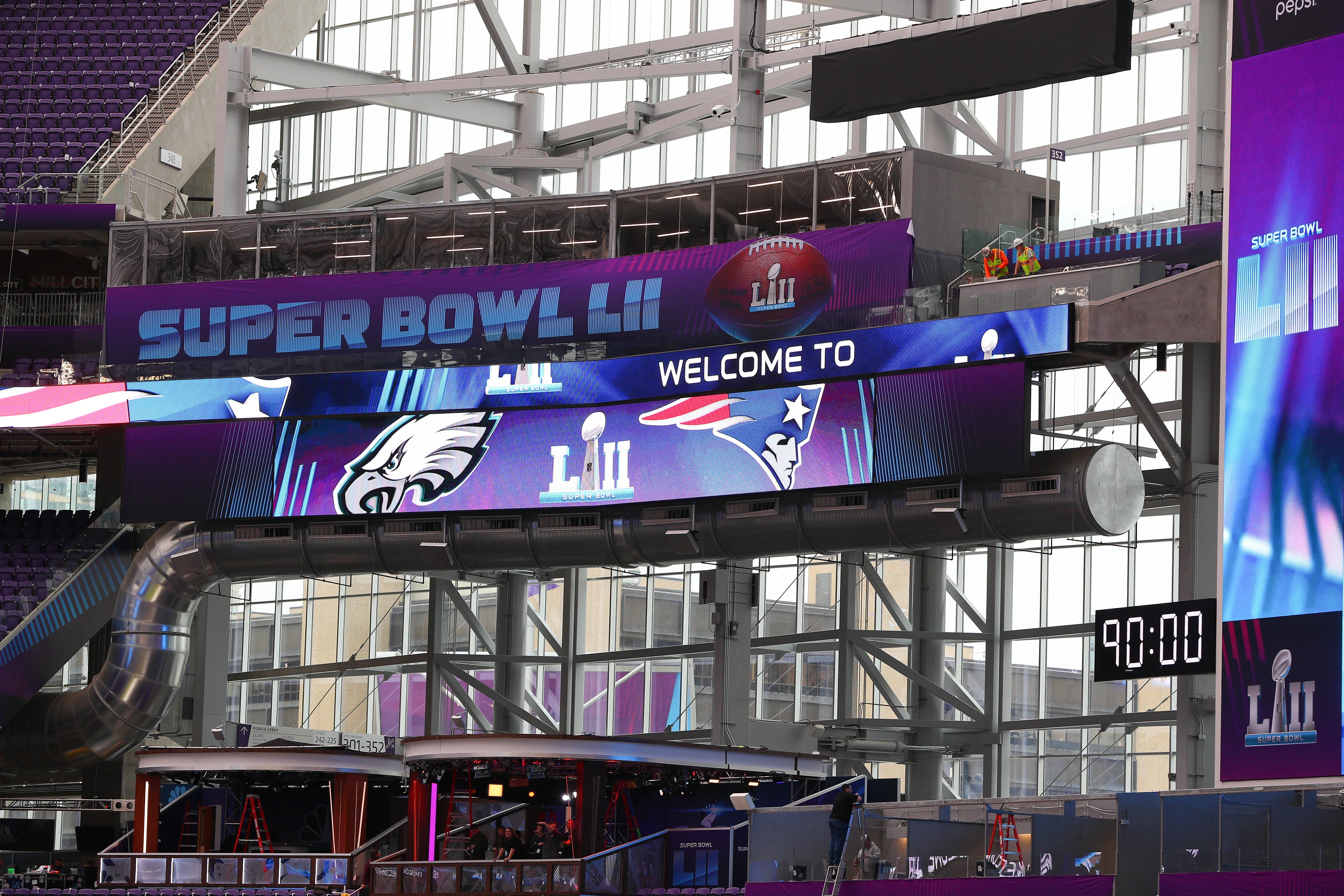 We're looking forward to Mark Leibovich's book, "Big Game: The N.F.L. in a Time of Boom, Doom and Maximum America," out for the start of next season. In the meantime, we have Leibo's halftime report for the N.Y. Times Magazine:
"[T]he anthem protests dragged certain owners into a spotlight they would otherwise be reluctant to occupy. It forced them to take a public position on a matter where any position would anger a lot of people, be they ticket-holders or players."
"[W]hile [Commissioner Roger] Goodell and the N.F.L. may have survived 2017, the commissioner and his league seem to be at the mercy of very uncertain and uncontrollable events in the future."
"What if Trump tries to rekindle the issue, as you figure he'd love to do, just in time for the 2018 midterm elections — or, for that matter, fires off a tweet calling on viewers to turn off the Super Bowl in the event that any players kneel, prompting the players to do exactly that?"
Thanks for reading, and see you all day in the Axios stream ...