Axios AM
December 30, 2017
Happy New Year's Eve EVE! Tomorrow night in Times Square could be one of the coldest ball drops ever, with warnings about frostbite and hypothermia. Accuweather's forecast for midnight is 11 degrees. The coldest ball drop was 1917's 1 degree.
1 big thing: The Trump cry heard 'round the world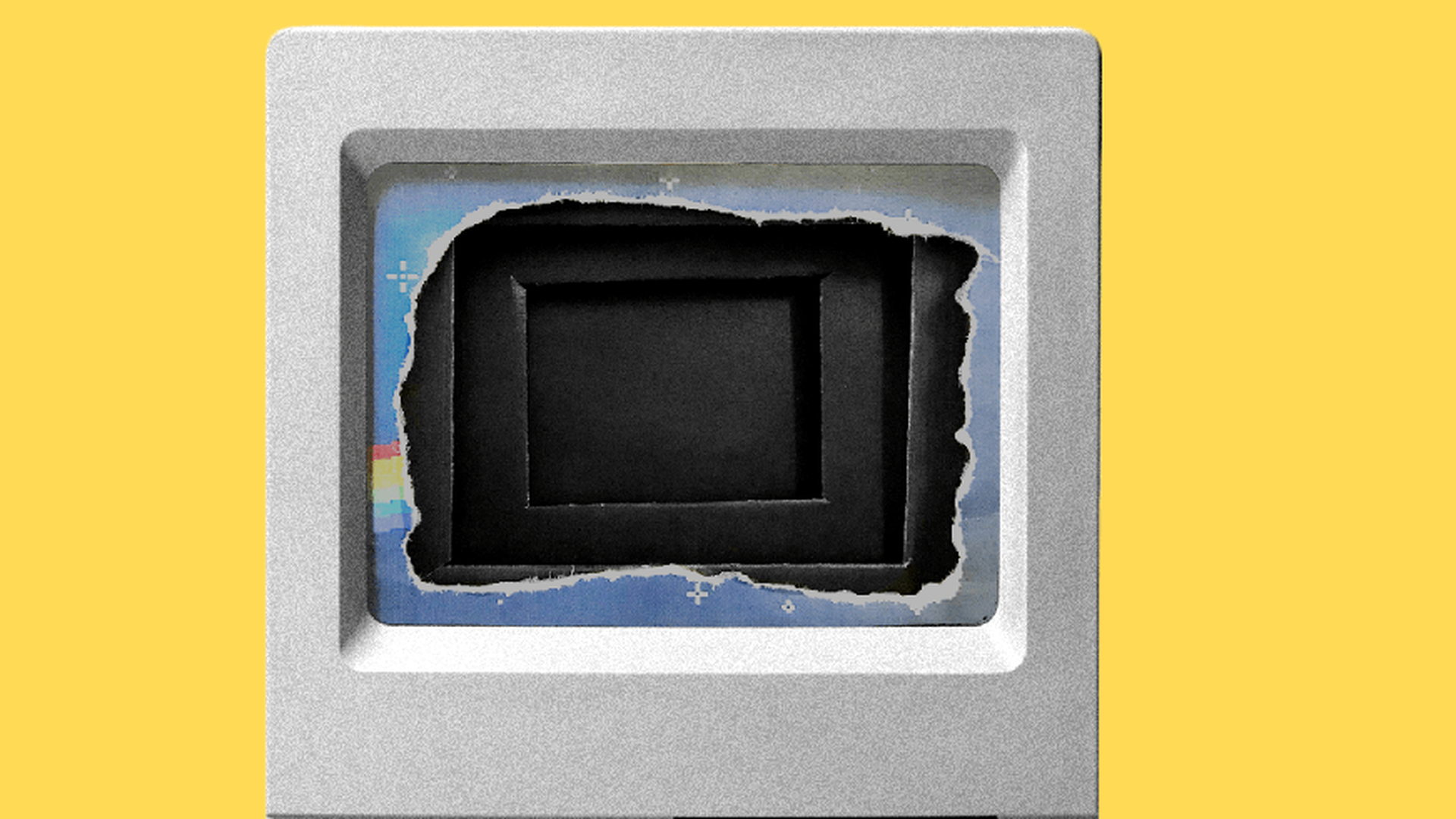 Two weeks of insight ... Through New Year's Day, Axios CEO Jim VandeHei and I bring AM readers our year-end thoughts on the topics that matter most ...
Donald Trump in one year has done more to discredit and diminish truth, facts and media than any other figure in our lifetime.
You might love his middle finger to the media. But even the strongest of Trump backers should think long and hard about a world without facts and common truths.
His techniques — especially claiming bad or unwanted news is "fake news" — are getting copied worldwide, just as evil actors like Russia are getting better at spreading misinformation. With the help of Axios media trends reporter Sara Fischer, here's a snapshot:
Despots use fake news as a weapon: Leaders or state media in at least 15 countries have used the term "fake news" to try to quell dissent or defuse questions about human rights violations.
In the U.S.: Within seconds of any major attack or shooting, fake news (real fake news: news that is actually false) starts circulating about the suspect and victims, forcing tech platforms to apologize for surfacing news from faulty sources — think Vegas shooting, Times Square bombing, etc.
Elsewhere in the West: In Spain, Russian state-backed news organizations and bots "promoted digital misinformation and outright fake news" about the politically charged vote in Catalonia, according to the Atlantic Council's Digital Forensic Research Lab. That's in addition to fake news campaigns to meddle with elections this year in the U.S., U.K., France and Germany.
In the East: In India, the Washington Post reported, false information spread through Facebook-owned WhatsApp has become "a part of everyday life," leading to violence, as well as religious and caste tensions. Similar fake news problems are happening on WhatsApp in Myanmar.
Fake news via messaging (especially Facebook-owned Messenger) has become a major global problem. More people use messaging apps globally than social media apps, and Facebook has hardly addressed the messaging fake news epidemic.
It's gotten so bad that fake news will be the Pope's theme for his annual World Communications Day, coming in May.
Regulators around the world are beginning to take the problem seriously. Communications enforcers in the U.S., U.K., South Africa and elsewhere are all looking at ways to crack down on the problem, without inhibiting free speech.
Regimes like those in China and Russia turn to censorship, with government-run media spewing propaganda — another form of actual fake news.
Be smart ... We can't say it too often: The real problem with fake news is that people don't believe real news. That's terrible for society and democracy, making good decisions less likely.
The Axios "Facts Matter" series illuminates facts that are just facts. This year, that obvious notion became a revelation.
2. Mr. President, you may want to Sharpie this
"Russian tankers have supplied fuel to North Korea on at least three occasions in recent months by transferring cargoes at sea, ... providing an economic lifeline to the secretive Communist state," Reuters reports, quoting two senior Western European security sources:
"The sales of oil or oil products from Russia, the world's second biggest oil exporter and a veto-wielding member of the United Nations Security Council, breach U.N. sanctions, the security sources said."
"The transfers in October and November indicate that smuggling from Russia to North Korea has evolved to loading cargoes at sea since Reuters reported in September that North Korean ships were sailing directly from Russia to their homeland.
But, but, but ... One of the sources "said there was no evidence of Russian state involvement in the latest transfers."
3. The world's most consequential relationship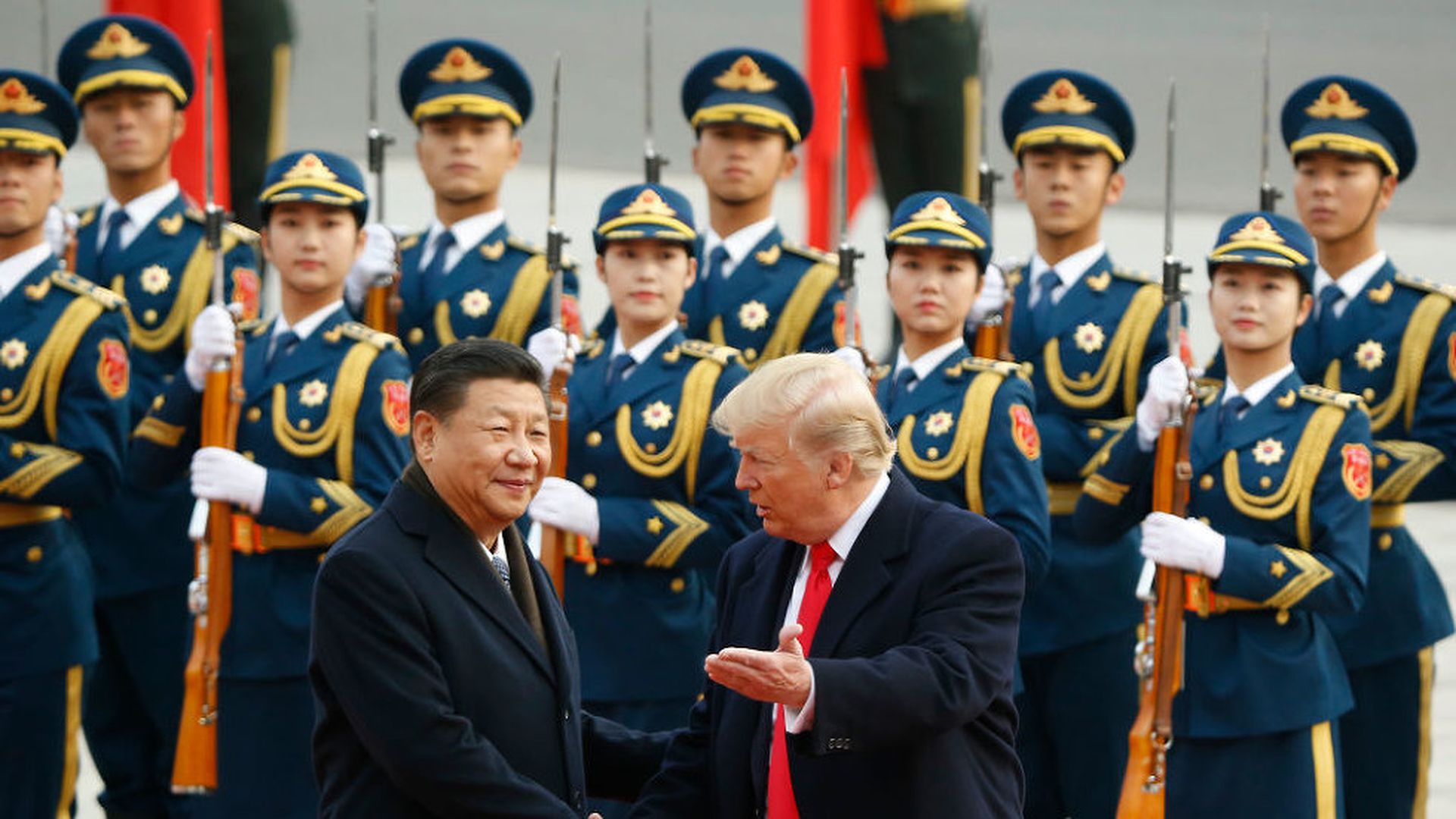 President Trump's approach to China is about to change for several reasons, Sinocism's Bill Bishop writes for Axios:
The administration's National Security Strategy reframed the U.S. government's view of China in a confrontational way.
The president believes China is not doing enough on North Korea.
The administration's "America First" trade contingent is ascendant. Several trade actions are in the planning stages, and they could hit in January.
Why it matters: Trump has been consistent for decades in his view that China is taking advantage of the U.S., but has held back because of North Korea. As on many other issues, we should expect him to revert to his original views, which means far more friction in the U.S.-China relationship is ahead.
Trump has made North Korea the defining foreign policy challenge of his presidency. The status quo or even a "freeze" of the North Korean nuclear program would be a failure given his rhetoric.
Watch for: If the U.S. decides China is not doing enough on North Korea, as a recent tweet from Trump suggests, a likely next step is additional U.S. sanctions against important Chinese individuals and firms, including systemically important financial institutions.
Go deeper:
See Bill's full "China: 7 big things to watch in 2018."
Jim and I wrote yesterday on the ways Trump's hardline instincts are likely to take over next year on trade and North Korea.
You can sign up for Bill's free weekly newsletter, Axios China, here. For the full dose, subscribe to his Sinocism China Newsletter here.
4. Winging it in the Grill Room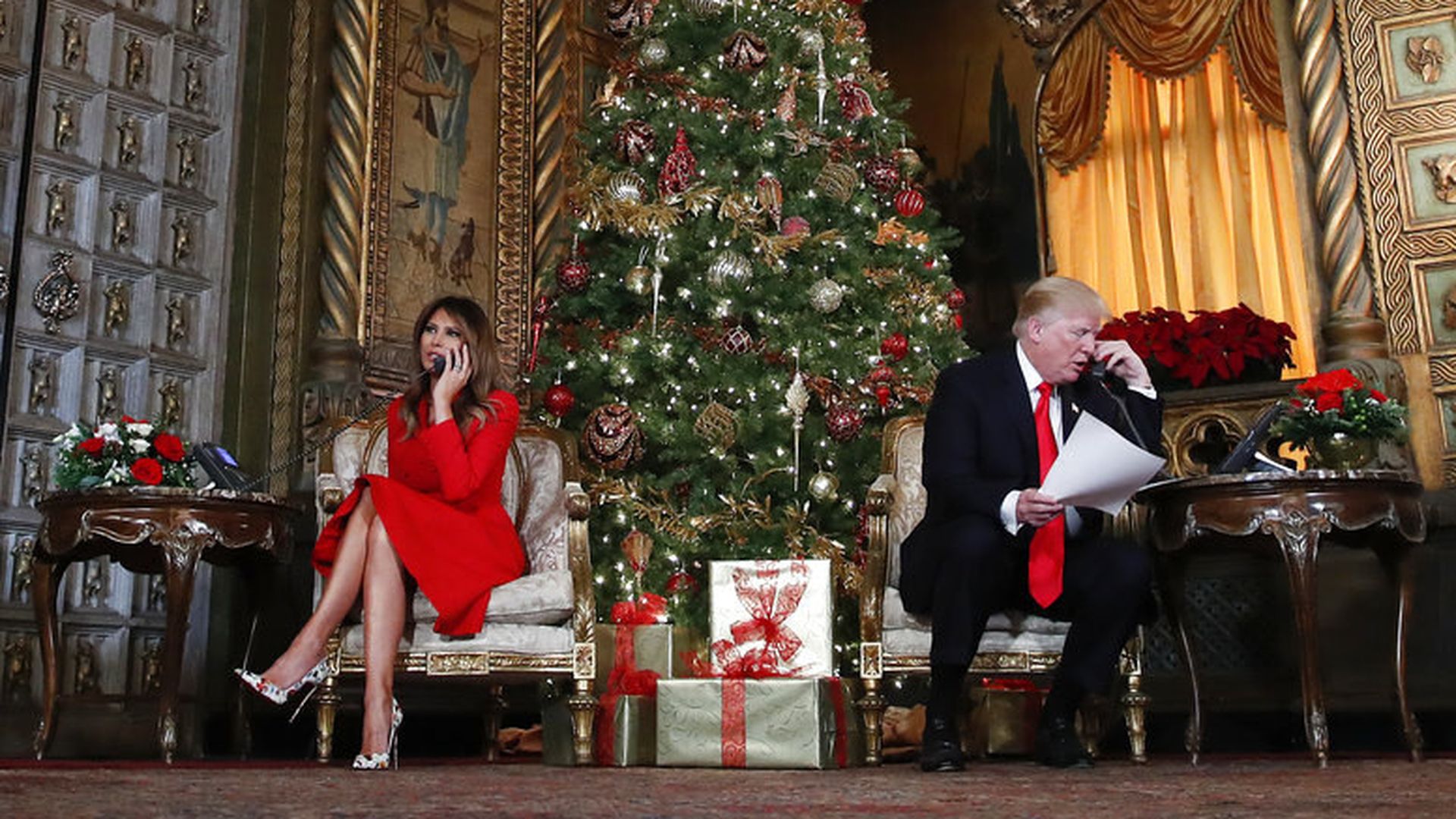 Shot ... N.Y. Times' Michael Schmidt gives a behind-the-scenes around of his impromptu Trump interview:
"I spent the past week in Florida covering the president's Christmas vacation to give my colleagues on the White House beat the chance to take some time off."
"Until Thursday, my time in Florida had been quiet. But that afternoon, I went to Mr. Trump's golf club with his longtime confidant Christopher Ruddy, who had invited me for lunch."
"We were seated at a table next to the president ... Ruddy, who runs the conservative website and television channel Newsmax, went over to say hello to Mr. Trump. The president appeared excited to see Mr. Ruddy, who often goes on cable television to defend him."
"I stood behind Mr. Ruddy, who told the president that Mike Schmidt from The New York Times was with him. As I made eye contact with the president, he appeared confused about who I was and why I was there."
"I walked up, shook his hand and reminded him that I had interviewed him in July in the Oval Office along with two of my colleagues, Maggie Haberman and Peter Baker. He said he remembered me and, despite the fact that we're 'the failing New York Times,' he thought we had treated him fairly."
"I got into a catcher's squat next to his chair, conveying to him that I was listening intently but also forcing him to look down at me while he talked, which kept him from being distracted by the others at the table."
"I told him that I thought what he was saying was new and interesting and that I wanted to interview him about it. He said he liked the idea and promised that we would talk after he finished lunch."
Chaser... "10 Falsehoods From Trump's Interview With The Times," by N.Y. Times' Linda Qiu:
"He exaggerated the number of followers he has on social media. ... Trump has 45.4 million followers on Twitter, 24.2 million on Facebook and 8.1 million on Instagram, for a total of 77.7 million, less than half of the 158 million he claimed. (The White House's accounts ... would bring him up to 106 million.)"
5. Hallway inferno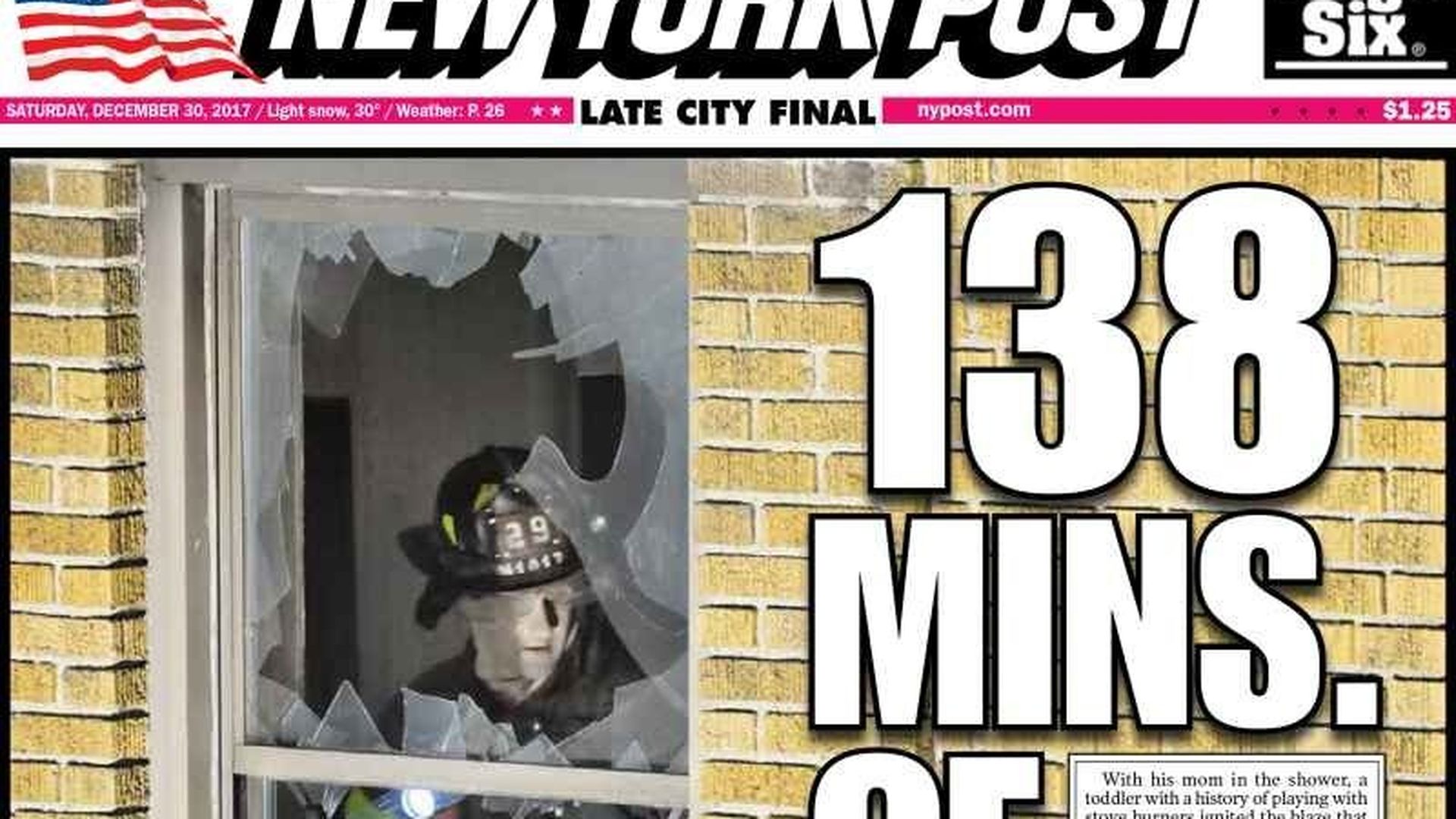 "The 3-year-old boy in the kitchen screamed. His mother ran in from the bathroom," the N.Y. Times reports in its two-column lead story:
"He had been playing with the knobs of the stove again. With flames jumping through the kitchen, she scooped up the boy and a 2-year-old child and ran into the cold. She left her first-floor apartment door ajar."
"The stairwell became in effect a chimney."
The hero ... "After Saving Many From Fire, Soldier Died Trying to Rescue One More."
N.Y. Times Quote of the Day ... Ambrozia Stewart, whose youngest daughter and three granddaughters are among the 12 dead: "I need somebody to tell me what to feel. Where do I go from here? Four at one time — what do I do?"
6. Stellar year for stocks; more highs forecast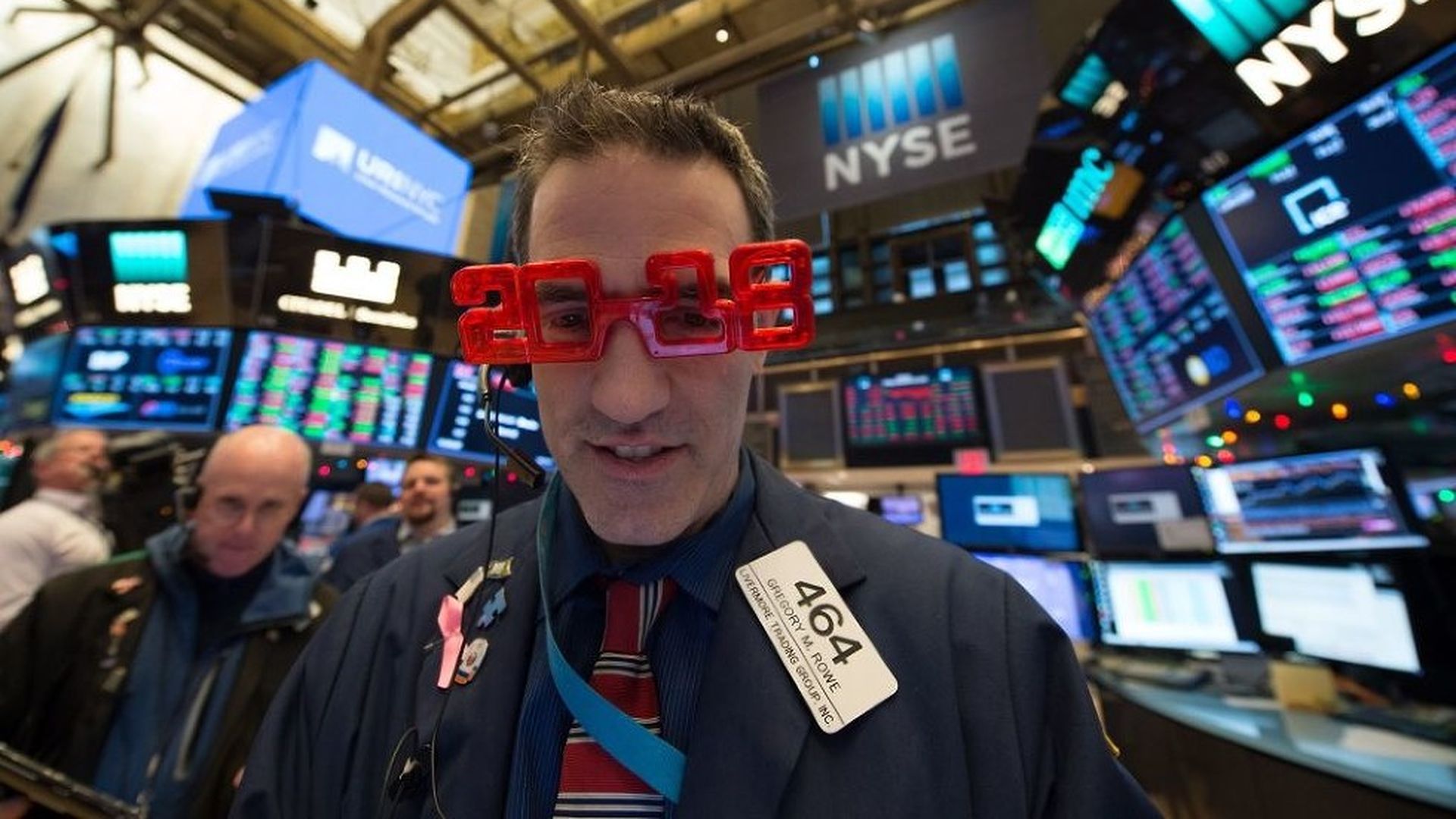 "The major stock indexes made double-digit gains for the year, led by Apple, Facebook and other technology stocks," per AP Business Writer Alex Veiga:
"The Standard & Poor's 500 index, the broadest measure of the stock market, had its best year since 2013," with a gain of 19%.What it means: "[I]f you invested $1,000 in an S&P 500 index fund at the beginning of the year you'd wind up with about $1,218 at the end of the year."
The big reasons: "The global economy rebounded, while the U.S. economy and job market continued to strengthen, which helped drive strong corporate earnings growth.""Investors also drew encouragement from the Trump administration's and Republican-led Congress' push to slash corporate taxes, roll back regulations and enact other pro-business policies."
The Dow Jones industrial average gained 25.1%.. The tech-heavy Nasdaq composite climbed 28.2%.
Indexes also closed up in Britain, Germany, France, Japan and Hong Kong.
The takeaway: "By some measures, the market is looking expensive. The S&P 500 is now trading around 18 times forward earnings. That's above the historical average of 16."
"Even so, eight years into the bull market, many analysts expect stocks to keep climbing next year.
7. Iran's biggest protests in 8 years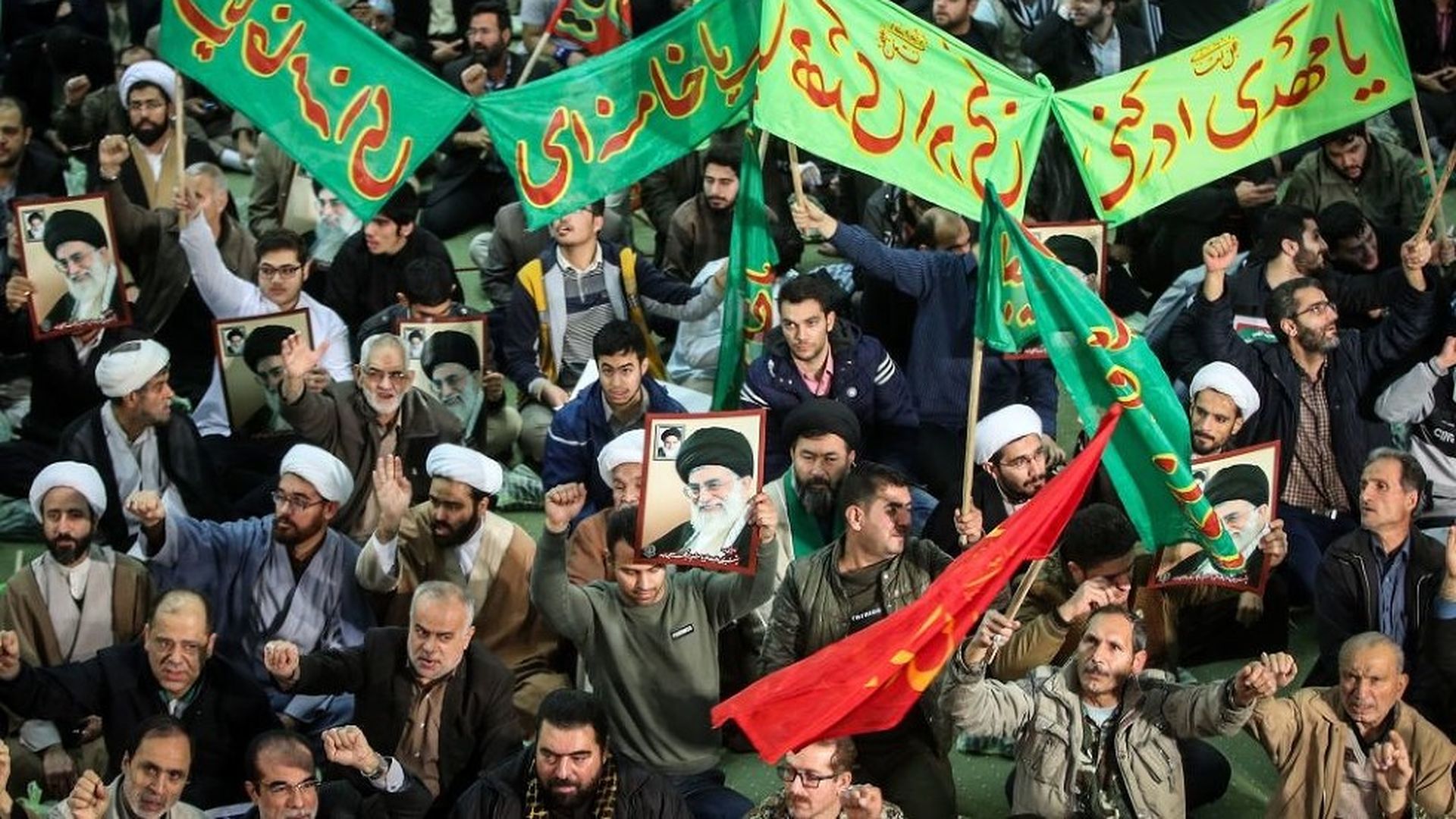 "The Iranian government warned people against further protests on Saturday after two days of demonstrations sparked by anger over an array of economic problems," AFP reports: "State news channel IRINN said it had been banned from covering the protests that spread from second city Mashhad on Thursday to hit several towns and cities.""Media coverage inside Iran focused almost exclusively on pro-regime rallies held [today] to mark the defeat of the last major protest movement in 2009, which hardliners call 'the sedition.' The timing was coincidental, since the rallies are held every year on this day."The photos available to Axios, through AP and Getty (including the one above), only show the pro-regime demonstrations. "The [earlier] protests initially targeted economic problems, but quickly turned against the Islamic regime as a whole."Video footage on social media showed hundreds marching through the holy city of Qom on Friday evening, with people chanting 'Death to the dictator' and 'Free political prisoners."The context: "The country is facing serious challenges with unemployment, high prices, corruption, lack of water, social gap" and unbalanced government spending, per AFP:"There has been particular anger at welfare cuts and fuel price increases in the latest budget announced earlier this month.""Some of this week's protests were directed against financial scandals linked to unauthorized lending institutions which collapsed with the loss of hundreds of thousands of accounts."Why it matters, via BBC: "It was the biggest display of public dissent since huge pro-reform rallies in 2009."
AFP: "Since the 2009 protests were ruthlessly put down by the Revolutionary Guards, many middle-class Iranians have abandoned hope of pressing for change from the streets.""But low-level strikes and demonstrations have continued, often on a sector-by-sector basis as bus drivers or teachers or workers from specific factories protest against unpaid wages or poor conditions."
8. Flashback
President Obama in 2009, asked about violence in Iran's streets:
"I want to start off by being very clear that it is up to Iranians to make decisions about who Iran's leaders will be, that we respect Iranian sovereignty and want to avoid the United States being the issue inside of Iran."
"Having said all that, I am deeply troubled by the violence that I've been seeing on television. I think that the democratic process, free speech, the ability of people to peacefully dissent, all those are universal values and need to be respected." ...
"And particularly to the youth of Iran, I want them to know that we in the United States do not want to make any decisions for the Iranians, but we do believe that the Iranian people and their voices should be heard and respected."
Sarah Sanders, in emailed statement to the pool yesterday:
"There are many reports of peaceful protests by Iranian citizens fed up with the regime's corruption and its squandering of the nation's wealth to fund terrorism abroad."
"The Iranian government should respect their people's rights, including their right to express themselves. The world is watching."
9. An epic year: 28 of 30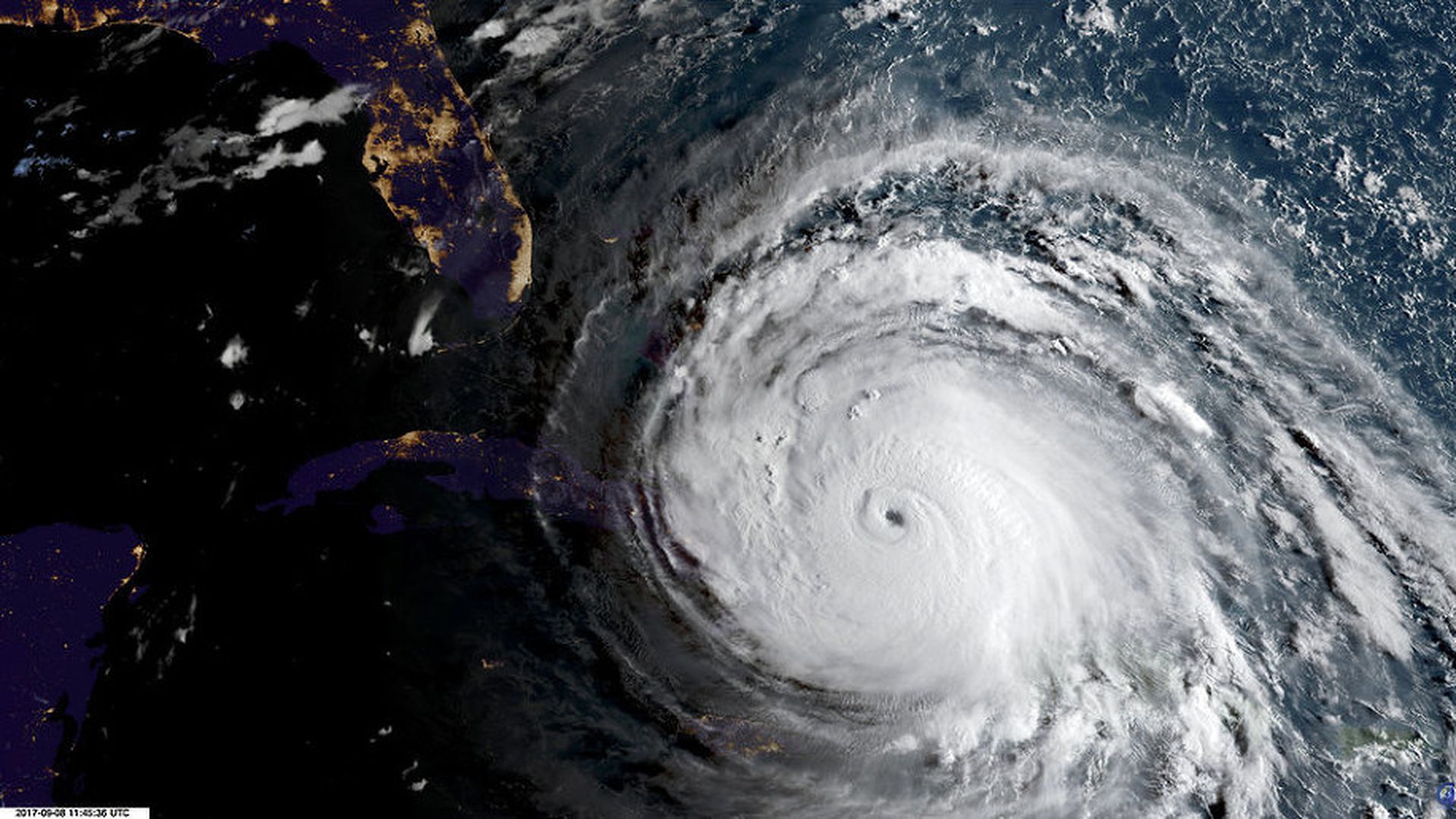 Reliving 2017 in 30 images ... In a four-week span, hurricanes Harvey, Irma and Maria ravaged Texas, Florida, Puerto Rico and other Caribbean islands. 2017 had 19 days when a major hurricane was brewing, according to the National Hurricane Center. A normal year is about six days.
"Puerto Rico authorities said [yesterday] that nearly half of power customers in the U.S. territory still lack electricity more than three months after Hurricane Maria, sparking outrage among islanders who accuse the government of mismanaging its response to the Category 4 storm." (AP)
Go deeper ... "Where things stand in Puerto Rico, 100 days after Hurricane Maria," by Haley Britzky.
10. 1 Ren thing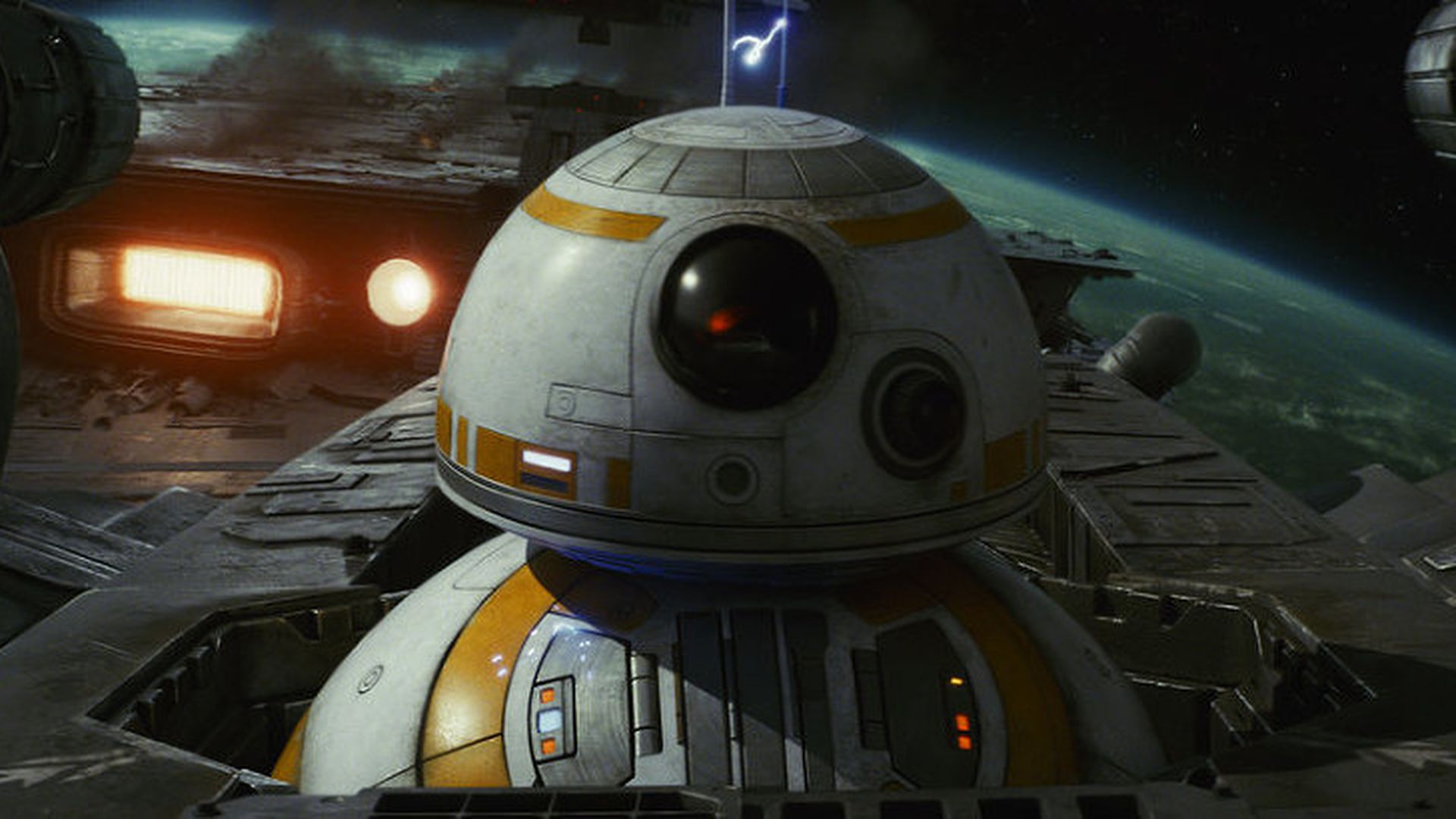 "'Star Wars' Franchise Crosses $4 Billion, Eclipsing Disney's Lucasfilm Price," per Hollywood Reporter:
"The feat comes as 'The Last Jedi' prepares to jump the $1 billion mark at the worldwide box office over New Year's weekend."
"From the get-go, Wall Street analysts lauded The Walt Disney Co.'s decision in 2012 to buy Lucasfilm — home of George Lucas' Star Wars franchise — despite a high price tag of $4.06 billion."
"They weren't wrong ... Combined, Disney and Lucasfilm's Star Wars: The Last Jedi, Rogue One: A Star Wars Story and Stars Wars: The Force Awakens have surpassed $4.06 billion in ticket sales" worldwide.