https://www.axios.com/newsletters/axios-am-42a6d4a3-2335-447b-bafd-60e70b58106e.html?chunk=0#story0
1 big thing ... Scoop: Trump to host Xi at Mar-a-Lago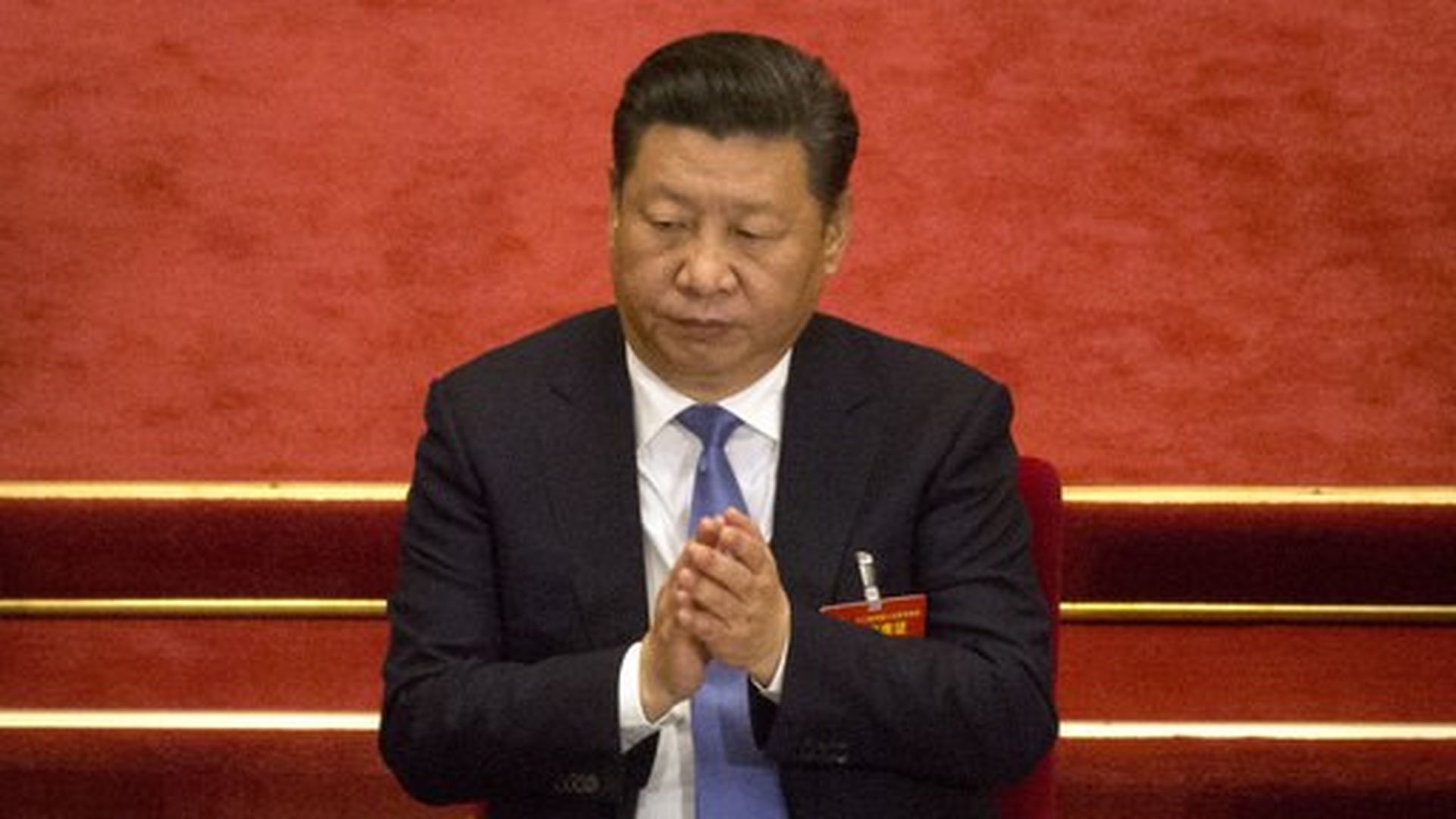 President Trump plans to host Chinese President Xi Jinping at the gold-plated Mar-a-Lago estate in Florida next month for a lowering-the-temperature summit with vast economic and security implications, Axios has learned.
No golf is planned during the meeting of the globe's two superpowers: This will mostly be a working session, according to officials familiar with the planning. The tentative dates are Thursday afternoon, April 6, through Friday, April 7.
Why it matters: For a White House that views China as threat #1, Trump's willingness to meet with Xi — and give him the Mar-a-Lago treatment, no less — will be seen as a reassuring sign by establishment powers in the U.S. and around the world.
The optics: Trump is an exuberant host. While a White House session could look formal and cold, pictures out of Mar-a-Lago are likely to capture the rivals in relaxed, friendly settings.
What's in it for China: Xi saw that by talking on the phone with Trump, he got reassurance on the "One China" policy. Xi is worried about Trump's threats on trade and thinks that by engaging the transactional leader, he can head off punitive measures.
What's in it for the U.S.: Lots. The U.S. wants Chinese cooperation on North Korea (most important on the agenda), islands in the South China Sea, currency, trade, intellectual property and more. Administration officials are looking for multiple gives.
Important to watch: Will Trump raise human rights?
Fun to watch: Each of the these leaders, in agreeing to the summit, thinks he'll outsmart the other.
https://www.axios.com/newsletters/axios-am-42a6d4a3-2335-447b-bafd-60e70b58106e.html?chunk=1#story1
2. Coming attractions
Look for ... big White House announcements announcements early in the week on the side of economic nationalism.
After a front-page Financial Times article on Saturday about a trade war inside the West Wing, President Trump made it clear again — during a working lunch with several Cabinet members and senior aides at Trump National Golf Club in Sterling, Va. — that the leads on trade are Commerce Secretary Wilbur Ross, U.S. Trade Representative Robert Lighthizer and Peter Navarro at the new National Trade Council, as it has been.
At 11 a.m. today in the Roosevelt Room, Trump holds a healthcare listening session "with victims of Obamacare to hear their stories and discuss how Obamacare is failing them."
At 4:30 p.m. in the Oval Office, after a Cabinet meeting, Trump signs an executive order "to reorganize the federal government." The White House describes it as "the beginning of the ... reorganization of our federal departments and agencies" to make the government more "efficient, effective, and accountable."
Hot West Wing read ... The New Yorker, "Is Trump trolling the White House press corps? At daily briefings, Sean Spicer calls on young journalists from far-right sites. The mainstream media sees them as an existential threat," by Andrew Marantz:
"A longtime Washington reporter from a mainstream network [said:] 'I don't mind them bringing in conservative voices that they feel have been underrepresented ... Personally, I don't even mind them [messing] with the front-row guys, the Jonathan Karls of the world. Those guys are a smug little cartel, and it's fun to watch them squirm, at least for a little while. But at what point does it start to delegitimize the whole idea of what happens in that room? When does it cross the line into pure trolling?'"
And MSNBC rising ... N.Y. Times A1, "Liberals Tune In to TV Again, in Search of Communal Solace" ... AP's David Bauder, "Fueled by Trump opponents, Maddow's popularity rises."
https://www.axios.com/newsletters/axios-am-42a6d4a3-2335-447b-bafd-60e70b58106e.html?chunk=2#story2
3. Corey keeps Oval access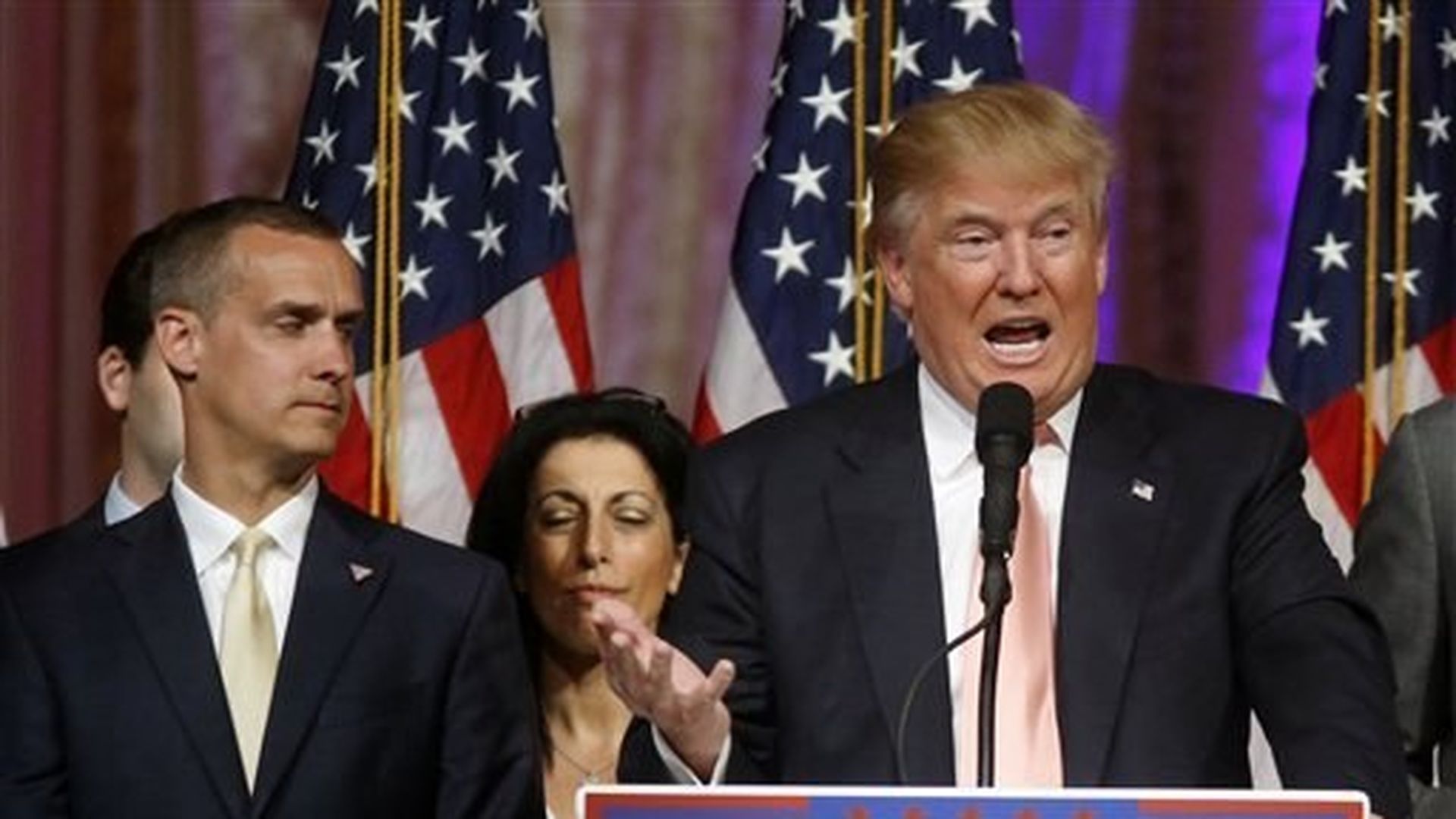 Bloomberg Businessweek called it "Trump's K Street Office." Avenue Strategies, the lobbying firm started by former campaign officials Corey Lewandowski and Barry Bennett, gets a splash in the president's favorite paper with "Want to Keep the President at Bay? Two Consultants Have an Inside Track," an Editorial Observer column by N.Y. Times editorial-board member Elizabeth Williamson:
"For a fee, Corey Lewandowski, President Trump's pugilistic former campaign manager, and Barry Bennett, a former Trump senior adviser, will protect you from 'tweet risk' — what happens to the stock price and reputation of your company when the president tells his 26 million Twitter followers that you're killing factory jobs or refusing to sell Ivanka Trump handbags."
"Lewandowski still reveres Mr. Trump and glides past his rival Reince Priebus, the White House chief of staff, to visit Mr. Trump in the Oval Office."
"Bennett says he and Lewandowski "are pressing American companies to 'call Jared Kushner and tell him you're gonna build a new factory,' or invite Mr. Trump to 'fly somewhere, cut a ribbon, and high-five 200 employees.'"
"That 'drives optimism, and it drives his power,' Mr. Bennett said last week over breakfast at the Hay-Adams Hotel, where he is most mornings, pitching his new business. 'There are few things a president can do to build power faster than to lead a great economic comeback.'"
"Bennett says the two men advised Lockheed Martin, not a current client, on how to recover from a 'horrible' meeting with Mr. Trump."
https://www.axios.com/newsletters/axios-am-42a6d4a3-2335-447b-bafd-60e70b58106e.html?chunk=3#story3
4. What Bill Gates is experimenting with
Bill Gates, in an email interview with Axios' Ina Fried, on the next frontiers in computing:
There are a lot of "next frontiers" in computing. Mixed reality is one of them, and so are AI and quantum computing. I have been using virtual reality videos on my Gates Notes blog to bring people along on the work that I do with my foundation. You can come with me to South Africa to learn about HIV/AIDS, which is one of our big program areas. Later this year, I'll have more VR videos to share.
There is still no substitute for seeing these things for yourself, but VR is a close second. But the full immersive experience of VR makes it impractical for daily life, and that's where augmented reality and mixed reality experiences can take the lead. It can be a layer of information on top of what's happening in real life.
Ina launches her tech newsletter, Login, this morning, with Kim Hart and David McCabe covering the innovation agenda from D.C. Sign up here.
https://www.axios.com/newsletters/axios-am-42a6d4a3-2335-447b-bafd-60e70b58106e.html?chunk=4#story4
5. Trump's powerful infrastructure enemy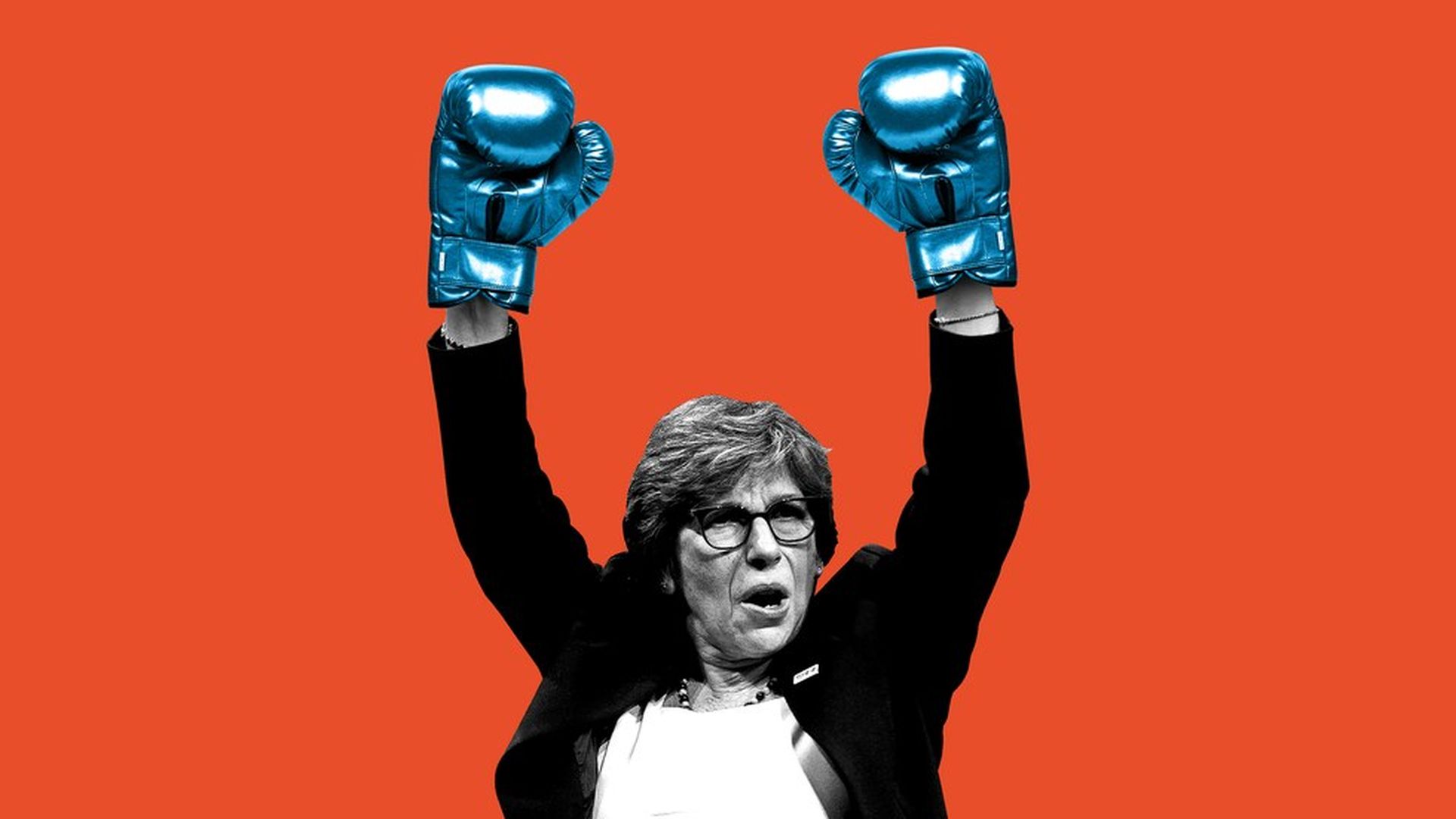 President Trump could be making an inconvenient enemy in Randi Weingarten, head of the 1.6 million-member American Federation of Teachers, according to Axios' Jonathan Swan and Dan Primack:
What the Trump administration doesn't seem to realize, yet, is that Weingarten's influence extends well beyond the classroom and could complicate Trump's grand infrastructure plans because of her union's considerable pension investments.
Weingarten says she's seen nothing so far from Education Secretary Betsy DeVos to change her view that the secretary has "antipathy toward public education." And the Trump Administration hasn't included her in their union outreach.
https://www.axios.com/newsletters/axios-am-42a6d4a3-2335-447b-bafd-60e70b58106e.html?chunk=5#story5
6. The Obamacare nightmare scenario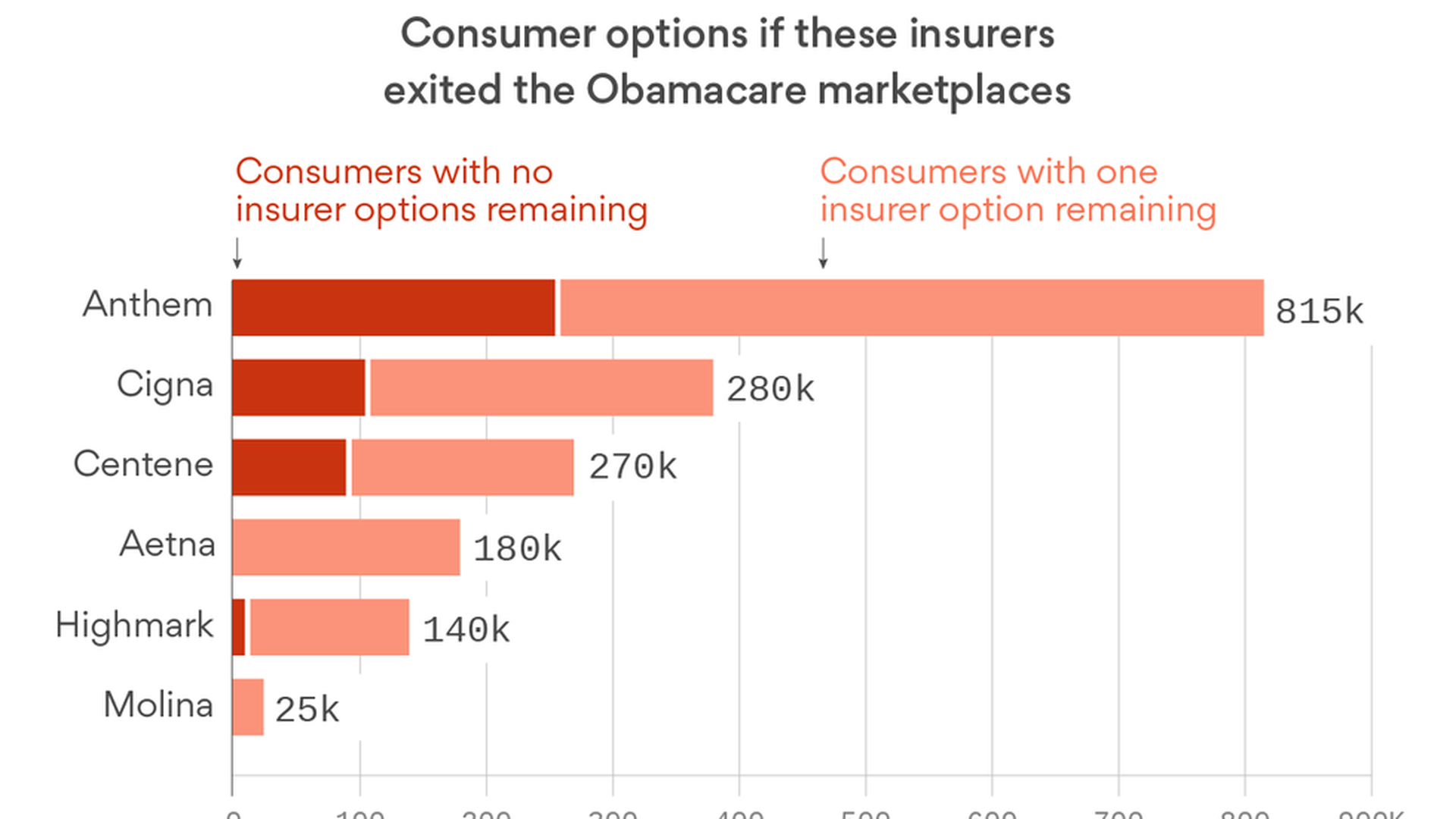 The nightmare scenario for Obamacare is a meltdown of the individual health insurance market, Axios' Bob Herman writes from Chicago:
If health insurers lose confidence as Republicans struggle with their repeal efforts — or because of the turmoil and price hikes that have already been underway — even more could withdraw, leaving Obamacare customers with nowhere to turn to keep their coverage.
The bottom line: Health insurers need certainty very soon about what the individual markets will look like. The HHS market stabilization rule has assuaged some industry concerns, but the Republican replacement plan has not.
https://www.axios.com/newsletters/axios-am-42a6d4a3-2335-447b-bafd-60e70b58106e.html?chunk=6#story6
7. ​Hot in Silicon Valley: SXSW
Kia Kokalitcheva writes from S.F. ... Uber and Lyft left Austin last year after failing to reverse a new fingerprinting requirement for drivers, and the alternative services failed a big stress test at South by Southwest this weekend. Rain, along with an influx of thousands of attendees, meant a huge spike in demand and technical troubles for apps like Ride Austin, Fasten, and Fare.
Politics everywhere ... From Joe Biden and Sen. Cory Booker, to Planned Parenthood and Tumblr, Texas Competes's Jessica Shortall, and investors Mark Cuban and Chris Sacca, political discussions are front and center at this year's event. "
"Millennial love for Snapchat extends to the stock," by Reuters' Angela Moon in N.Y.: "Some seasoned investors have been wary of the volatile, relatively high-priced stock of a company that has yet to report a profit. But novice investors said their deep affinity with the disappearing-message app prompted them to jump in."
https://www.axios.com/newsletters/axios-am-42a6d4a3-2335-447b-bafd-60e70b58106e.html?chunk=7#story7
8. The buzz in business
Chris Matthews writes from New York ... The Fed's interest-rate setting committee meets this week, and markets are convinced that the Fed will raise rates by 0.25% when the meeting adjourns Wednesday.
Inflation's revenge: Wall Street Cassandras have been warning about impending inflation for years, but these critics can now point to data showing great demand for labor, like a recent survey from the National Federation of Independent Businesses sowing that there is a higher share of unfilled jobs today than at any point since 2001.
Why it matters: The last thing the Fed wants to do is put the brakes on an economy that is finally starting to bestow broad wage gains to workers. At the same time, the Fed's model of the economy says that inflation rises as demand for labor increases. And if inflation gets out of control, the Fed would likely be forced to raise rates aggressively enough to risk triggering a recession.
Wall Street Journal lead story, "Week of Crucial Events Looms for Markets ... Expected Federal Reserve rate increase, possible Brexit move could push traders to reverse course in unison."
https://www.axios.com/newsletters/axios-am-42a6d4a3-2335-447b-bafd-60e70b58106e.html?chunk=8#story8
9. Bracketology: March Madness begins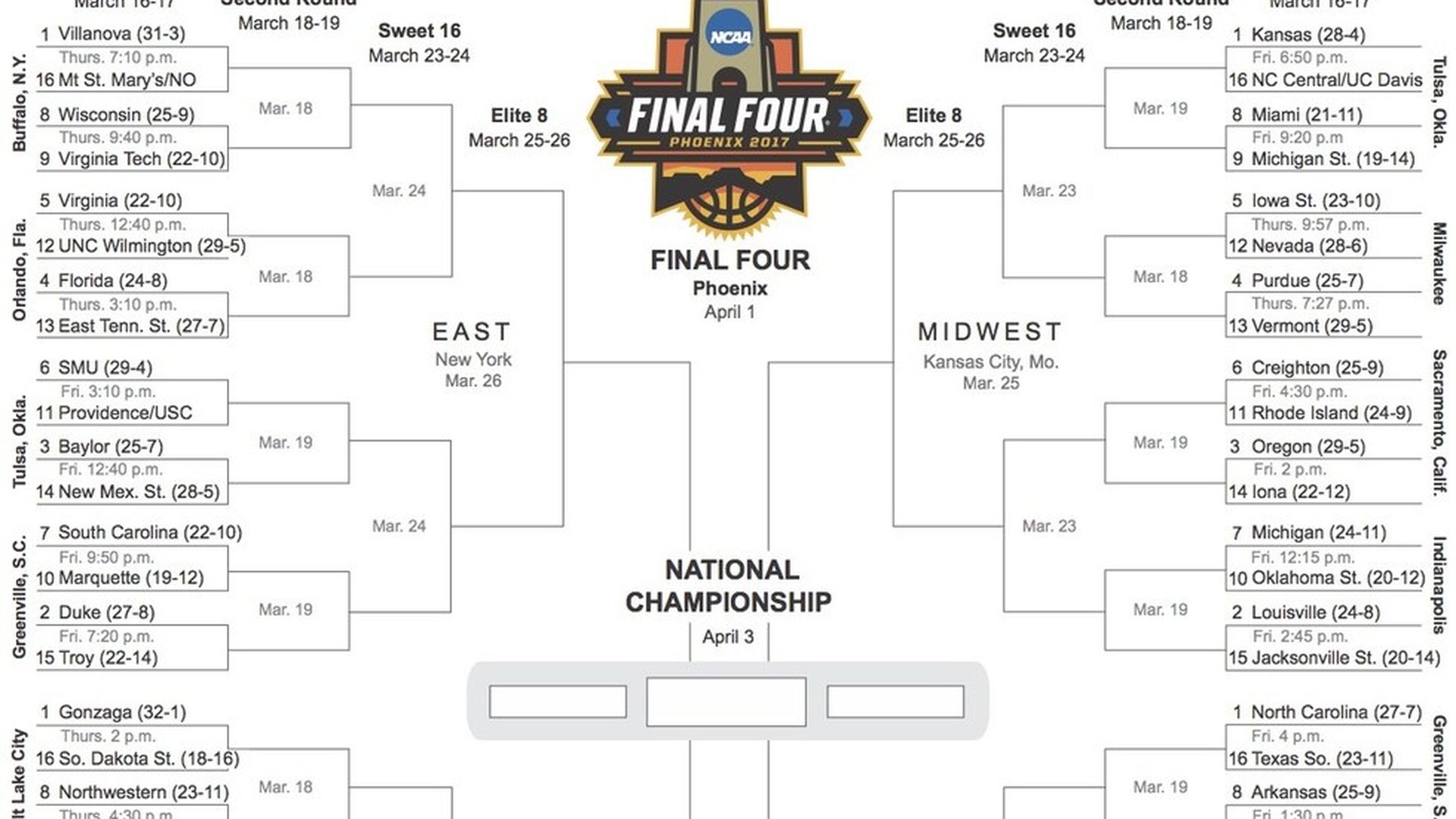 Selection Sunday recap by AP National Writer Eddie Pells: "There were tears in Syracuse, head-scratching about Duke and more than a few double takes at Wichita State. At Northwestern, they simply celebrated."
"Northwestern's first trip to the NCAA Tournament in program history stole the headlines — reminding hardcore fans and casual bracket-fillers alike that March Madness really is that time of year when anything can happen."
"Action ... begins Tuesday with opening-round games, and things get into full swing Thursday. The Final Four starts April 1 in Phoenix. Defending champion Villanova was the tournament's top seed, the first time a defending champion has earned that honor since Florida in 2007, when the Gators went back-to-back. Joining Kris Jenkins and 'Nova on the '1' line were Kansas, North Carolina and Gonzaga."
"SYRACUSE: Orange coach Jim Boeheim said his players were crying when they didn't see their team's name come up during the selection show. ... DUKE: Some bracketologists moved Duke into the '1' position over North Carolina on the strength of the Blue Devils' four-win-in-four-night run at the Atlantic Coast Conference Tournament." Sorry, Shelley Moore Capito, Judy Woodruff, Elizabeth Dole and Stephen Miller!
"Don't tell your boss: How to stream March Madness tournament: "For many of the early round games, ... you'll need a password through your cable or satellite TV subscription. The television networks no longer offer a stand-alone subscription you can buy without cable."
https://www.axios.com/newsletters/axios-am-42a6d4a3-2335-447b-bafd-60e70b58106e.html?chunk=9#story9
10. 1 fun thing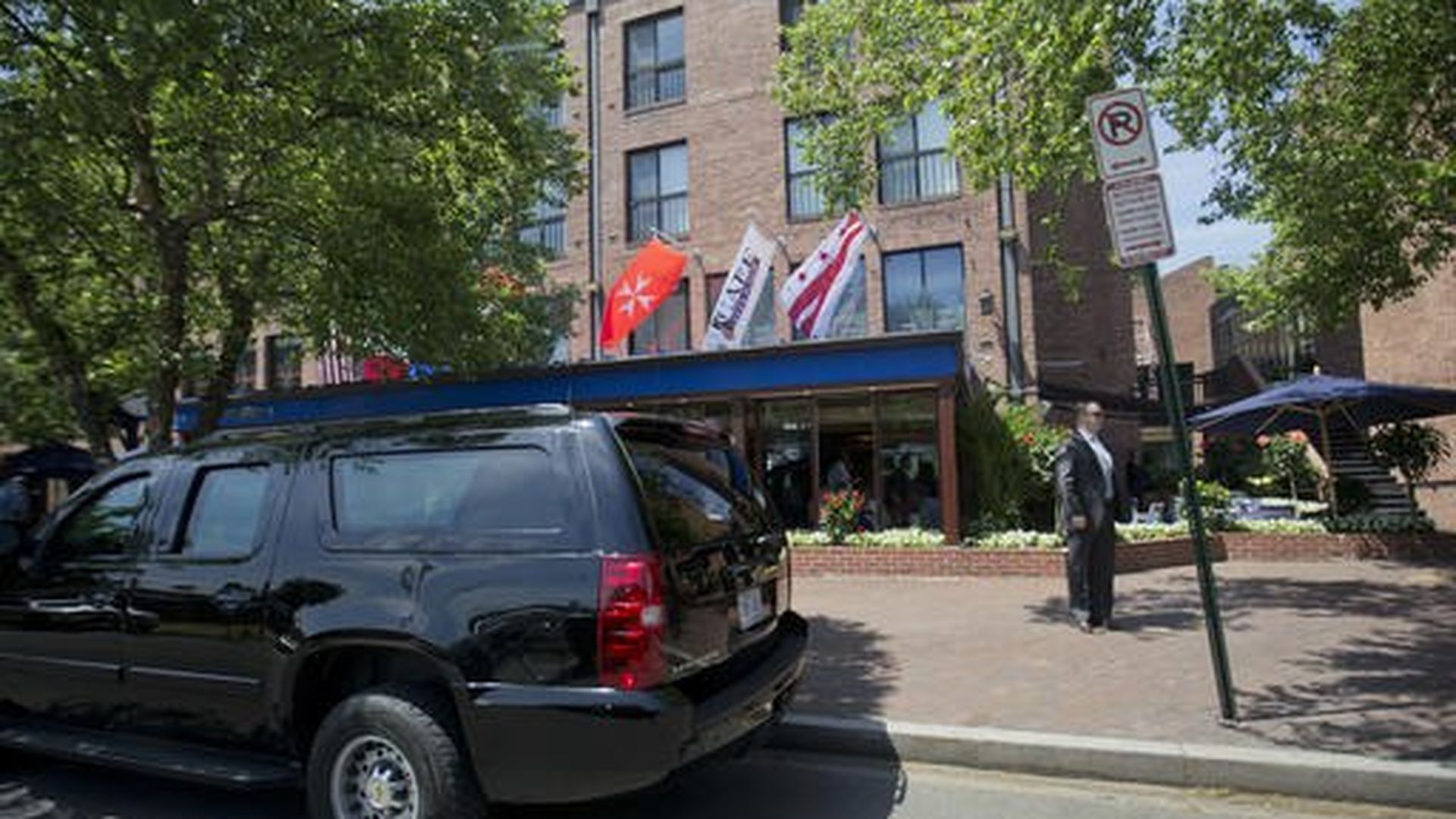 "DC cafe becomes 'second White House cafeteria,'" by N.Y. Post's Richard Johnson:
"Cafe Milano in the Georgetown neighborhood of Washington, DC, is the favorite restaurant of the Trump administration. On Wednesday night, at three separate tables were Secretary of State Rex Tillerson, Secretary of the Treasury Steven Mnuchin and Secretary of Commerce Wilbur Ross. ... Others in the room included Fox news anchor Bret Baier, ex-US ambassador Nancy Brinker, investment guru Mark Ein, and Bill Clinton, who made the rounds saying hi to everyone."