July 20, 2018
Good Friday morning.
Situational awareness: "Bulk of families separated at U.S.-Mexico border remain apart," per Reuters. "[G]overnment lawyers reported ... that 364 of some 2,500 families with children aged 5 and older have been brought back together."
Breaking: "BRANSON, Mo. (AP) — At least 11 people, including children, died after a boat carrying tourists on a Missouri lake capsized and sank."
1 big thing: Threat of full-blown China trade war
The chances of a longer, wider, more damaging trade war with China are rising, top officials tell us. 
President Trump told CNBC's Joe Kernen he's "ready" to put tariffs on every Chinese good imported to the U.S. — worth $505 billion.
Dow futures fell 120 points on the news.
Trump is spoiling for escalation. And China is ready to retaliate and out-wait America. Here's why it could be even worse than you think: 
If you are China, playing the long game with 2025 and 2050 strategies for world dominance, why not sucker Trump into a massive trade war now?
It would hurt both nations badly. But a state-run government can do more to artificially prop up its economy than a capitalistic one.
A true, full-blown trade war could cripple U.S. markets, sow more internal division in America, and throw the Trump presidency into chaos you can't cure with tweets or bravado.
If you are deeply calculating and cynical, the chances of Trump losing Congress rise if the economy tanks — virtually assuring highly divisive impeachment proceedings.
I asked Larry Kudlow, the White House economic adviser, about that scenario. He told me that if China tries to bait Trump, "They're picking the wrong customer, I'll tell you that — you know how intense he is on this issue."
"Xi seems to think if he waits out the November elections, Trump will be weakened and therefore will lighten the bite. That's a very bad bet."
"No matter what the elections are, he's not going to let go of this issue. ... Donald Trump will be the president until at least January, 2021."
"My guess is that if the plot thickens with no progress, they will start going after American companies [operating] in China."
Kudlow said China can target such companies' revenues through regulation. For example, he said, "they can fiddle with" the requirement levels for insurance and investment.
The U.S. and China have not had trade conversations or negotiations "for weeks" — really since June, when Commerce Secretary Wilbur Ross visited Beijing, according to Kudlow.
"That's not healthy," Kudlow said. "We've given them our list of asks."
Kudlow said both sides had very productive conversations earlier on topics that include joint ventures.
"The problem here is Xi. He doesn't want to move, and they've offered the U.S. absolutely ... no options regarding the issue of [intellectual property] theft and forced technology transfer."
"To us, that stuff is probably more important than buying commodities. We regard the U.S. technology advantage as the family jewels. Without American software, they're going nowhere."
After the Chinese foreign ministry criticized comments Kudlow made this week to CNBC, he told me: "I'm honored to see the Chinese government attacking me."
"I'm not a former free trader — I'm still a free trader. I've got a lot of free trade blood left in me. But regarding China: In recent years, I have become so annoyed that I'm willing to use tariffs."
Neither country is likely to cave, Eswar Prasad, a professor of trade policy at Cornell and a Brookings fellow, tells Axios' Erica Pandey:
"The U.S. political climate makes it difficult to see a path to negotiations before November."
Trump has no political reason to dial down the trade fight with China — in fact, it seems to be playing well with his base.
Michael Pillsbury — director of the Center on China Strategy at the Hudson Institute, and author of "The Hundred-Year Marathon" — tells Erica that during a trip to Beijing three weeks ago, he found Chinese officials "very feisty":
"They're not afraid. They deny all the allegations [of economic aggression]."
"They have a narrative that China is representing the rest of the world against the American bully."
Axios future editor Steve Levine reports that scholars at CSIS and CFR do not expect China to throw caution to the wind and escalate unilaterally.
That said, Trump has triggered a war of brinksmanship with a diplomatically mature country that will not back down, and has the tools to inflict serious pain on the U.S. economy, and on Trump politically.
Trump "only thinks he's winning if someone else is losing, and I don't think the Chinese will tolerate that," said Bill Reinsch of CSIS, an undersecretary of commerce in the Clinton Administration.
What's next: Already, the Chinese have begun non-tariff punishment, including delayed commercial approvals and inspection of U.S. goods at the dock.
Now look for China to play the nationalist card in the form of public boycott of U.S. products, Reinsch said.
Be smart: Three of the world's most dangerous men are staring down Trump — Xi, Putin, Kim. They all know well his tells, his temperament and Twitter taunts. Of the three, Xi has by far the most leverage and levers. 
As Jonathan Swan points out, the main question everybody in the business community is asking is: What is the exit ramp to get out of the cycle of tit-for-tat tariffs? Nobody has a good answer. 
2. Trade war shakes up races in Trump country
President Trump's tariffs are introducing a new, wildly unpredictable issue into the midterms, with heavy impact on states with critical Senate races, Axios' Caitlin Owens reports:
The trade war could also be a real issue in House races in the Midwest, where the tariffs are starting to hit soybeans and dairy farmers.
In North Dakota — one of the GOP's best Senate pickup opportunities this cycle — Rep. Kevin Cramer has issued carefully worded statements on Trump's tariffs, emphasizing the need to protect farmers while stopping short of criticizing the president. He also accused Democrats of stoking "hysteria" over the tariffs.
A twist in the national debate: Democrats aren't universally opposed to the tariffs. Some have always been skeptical of free trade and support the tariffs, while others say they wish Trump had executed them better.
Go deeper.
P.S. "How Trump's tariffs on Mexico are taking jobs from U.S. workers" — WashPost front page:
"[T]rade restrictions aimed at preventing U.S. jobs from heading to Mexico and elsewhere have instead hampered a Mexican company's multimillion-dollar effort to create jobs in the United States — an unintended consequence of Trump's trade war that demonstrates the difficulty of attacking trading partners without hurting workers at home."
3. 18 months in, few Trump originals are left
Today is 18 months since inauguration, a wild and historic ride that has produced record White House turnover.
61% of President Trump's senior-most aides have left the White House, the White House Transition Project's Martha Joynt Kumar tells AP.
That's much higher attrition at this point than the last five presidents, with Bill Clinton in second at 42%.
Very, very few top aides are left who were there on Jan. 20, 2017, Jonathan Swan notes.
Those who were: Jared Kushner, Kellyanne Conway, Stephen Miller, Don McGahn, Dan Scavino, Johnny DeStefano, Sarah Sanders, Raj Shah, Avi Berkowitz, Lindsay Walters and Madeleine Westerhout. 
Today is the last official day for Deputy Chief of Staff Joe Hagin and Legislative Affairs Director Marc Short.
Bonus: Tweet du jour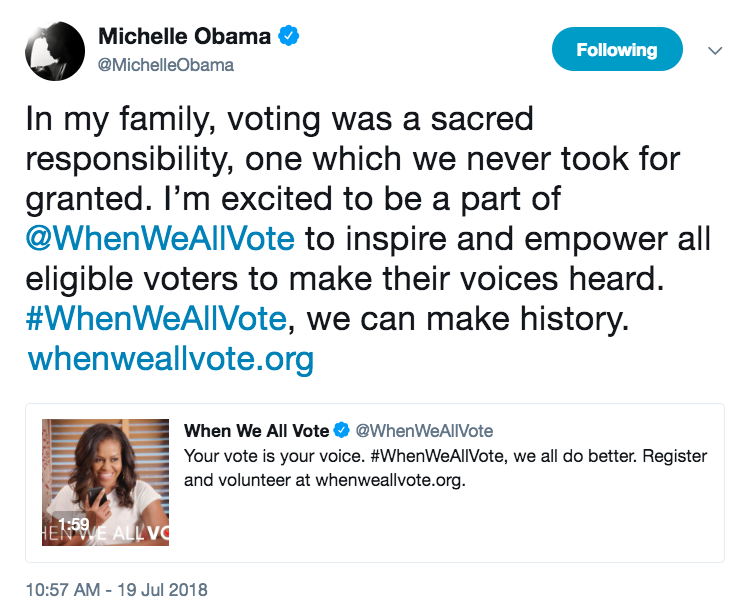 See a video of Mrs. Obama ("Call Lin-Manuel Miranda") in support of When We All Vote, a new, nonpartisan non-profit (co-chairs: Mrs. Obama, Tom Hanks, Lin-Manuel Miranda, Janelle Monáe, Chris Paul, Faith Hill and Tim McGraw).
4. When you learn Putin is coming to America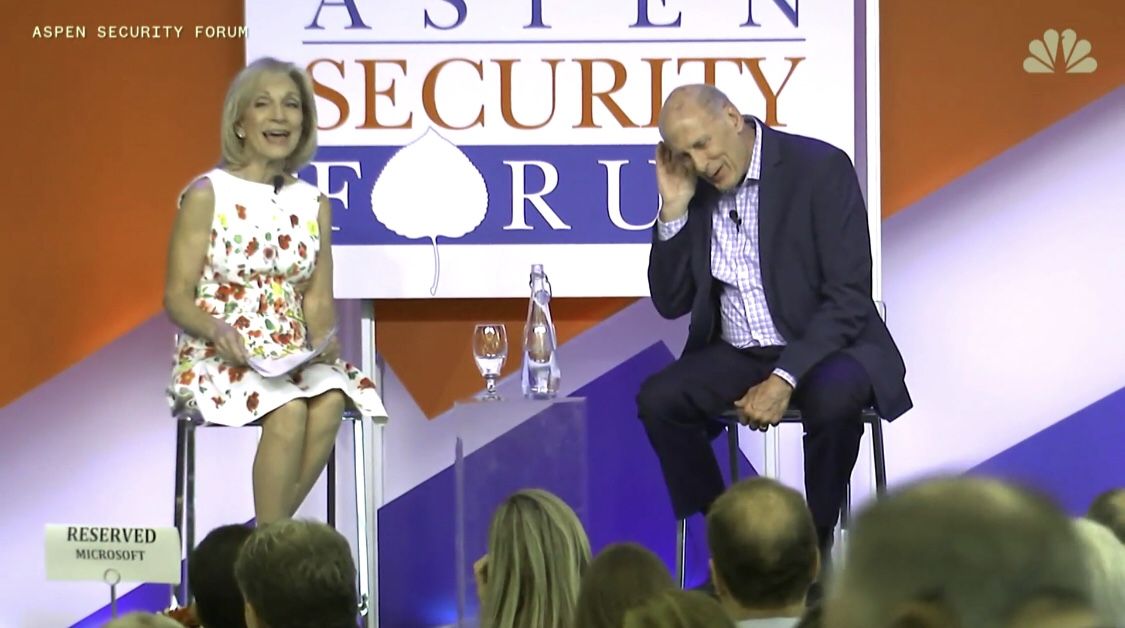 The frame above captures the moment Director of National Intelligence Dan Coats found out, when NBC News' Andrea Mitchell read him a White House tweet onstage, that Vladimir Putin has been invited to the White House this fall.
"Say that again? ... OK. That's gonna be special," Coats replied.
The former senator from Indiana said he thought it a mistake for Trump to meet alone with Putin, that he was dismayed by Trump's statements at the Helsinki press conference, and that he still has no idea what they discussed in their one-on-one. This is the nation's spy chief! 
Asked if it was recorded by the Russians, he said: "That risk is always there."
How Trump prefers his intelligence briefings: "He likes it orally. He likes examples ... We use models. We use charts. We use a number of things."
The clips didn't play well in the White House: a Trump Cabinet member, disagreeing with the president and drawing laughter from the crowd — in Aspen, no less.
Jonathan Swan calls the interview "stunning ... a moment of true and startling independence."
What we're hearing: Sources close to Trump tell Axios that they're already speculating about whether Trump ends up firing Coats. Per a source with knowledge of the matter, Trump has never had much affection for Coats.
5. How America is changing: Factory towns, once blue, now GOP
"A generation ago, Democrats represented much of the country's manufacturing base. Now, it's in GOP hands, a swing remaking both parties," the Wall Street Journal's Bob Davis and Dante Chinni write (subscription).
What's new: "The Republican Party has become the party of blue-collar America."
The data: "After the 1992 election, 15 of the 20 most manufacturing-intensive Congressional districts in America were represented by Democrats. Today, all 20 are held by Republicans."
Why it matters: "The shift of manufacturing from a Democratic stronghold to a Republican one is a major force remaking the two parties. It helps explain Donald Trump's political success, the rise of Republican protectionism and the nation's polarized politics. It will help shape this year's midterm elections."
6. Fortnite is a billion-dollar business
Market research firm SuperData estimates that "Fortnite: Battle Royale," the free video game mode that took the world by storm, has generated more than $1 billion in revenue across all platforms, Business Insider's Kaylee Fagan reports:
"[T]his means that Fortnite has now made more money than several of last year's highest worldwide-grossing blockbuster films, including 'Jumanji: Welcome to the Jungle,' Marvel Studios' 'Spider-Man: Homecoming,' and 'Wonder Woman'; and more than double the gross worldwide earnings of the latest Star Wars flick, 'Solo.'"
"[T]he revenue comes entirely from in-game purchases, which ... offer no competitive advantage ... [A]n entirely optional $10 Battle Pass allows players to earn and collect in-game currency called V-bucks, which they can spend on costumes, accessories and dance moves for their playable character."
7. Stat du jour
"Three times this summer, government regulators have had to make major decisions regarding media ownership," CNN's Hadas Gold writes in "Rupert Murdoch's summer of good fortune."
"Three times, the decision has gone the way that Murdoch and his company, 21st Century Fox, would have wanted."
The latest, from L.A. Times' Meg James: "The high-stakes drama over who would capture much of ... Murdoch's media empire came to a close after Comcast Corp. said it was dropping out of the hunt for 21st Century Fox's entertainment assets."
"The announcement ... hands a major victory to Walt Disney Co. Chief Executive Bob Iger."
8. NFL kneeling policy on hold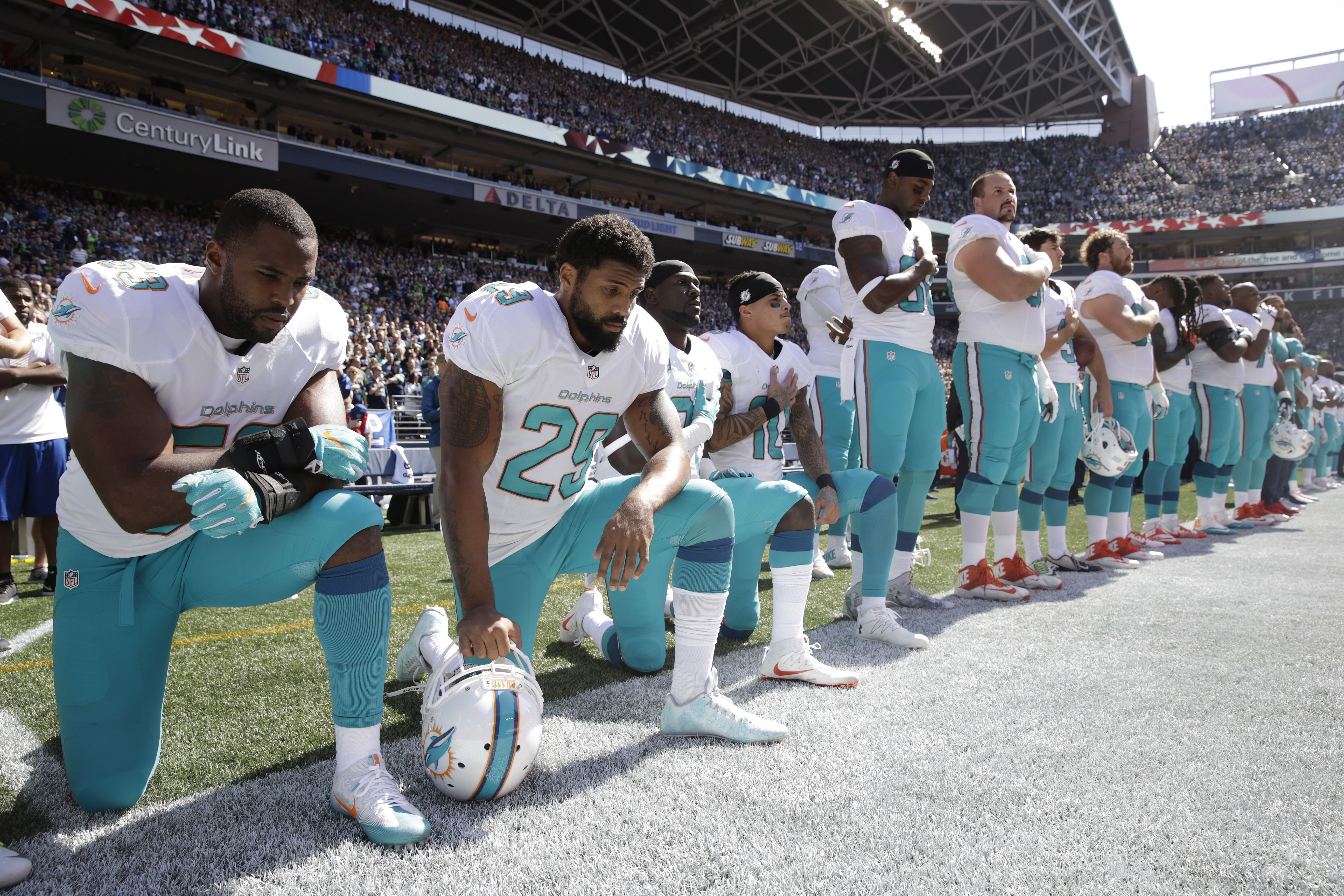 "Hours after [the AP] reported that Miami Dolphins players who protest on the field during the anthem could be suspended for up to four games, ... the league and the players union issued a joint statement ... saying the two sides are talking things out," per AP Pro Football Writer Rob Maadi.
What's new: "None of the team policies had been made public until the AP obtained a copy of Miami's nine-page discipline document. It included a one-sentence section on 'Proper Anthem Conduct' [that] classifies anthem protests under a large list of 'conduct detrimental to the club.'"
Why it matters: "The issue has dominated headlines over the past two seasons, caused division and alienated some fans."
Joint statement: "The NFL and NFLPA ... have been working on a resolution to the anthem issue. In order to allow this constructive dialogue to continue, we have come to a standstill agreement on the NFLPA's grievance and on the NFL's anthem policy. No new rules relating to the anthem will be issued or enforced for the next several weeks while these confidential discussions are ongoing."
"Our shared focus will remain on finding a solution to the anthem issue through mutual, good faith commitments, outside of litigation."
9. "Accent bias" plagues smart speakers
"[F]or people with accents — even the regional lilts, dialects and drawls native to various parts of the United States — ... artificially intelligent speakers [like Amazon's Alexa and Google's Assistant] can seem ... inattentive, unresponsive, even isolating," the WashPost's Drew Harwell writes:
"The Washington Post teamed up with two research groups to study the smart speakers' accent imbalance, testing thousands of voice commands dictated by more than 100 people across nearly 20 cities."
"The systems, they found, showed notable disparities in how people from different parts of the U.S. are understood":
"People with nonnative accents ... faced the biggest setbacks. In one study that compared what Alexa thought it heard versus what the test group actually said, the system showed that speech from that group showed about 30 percent more inaccuracies."
"People who spoke Spanish as a first language ... were understood 6 percent less often than people who grew up around California or Washington, where the tech giants are based."
"People with Southern accents ... were 3 percent less likely to get accurate responses from a Google Home device than those with Western accents."
10. ⚾️ 1 diamond thing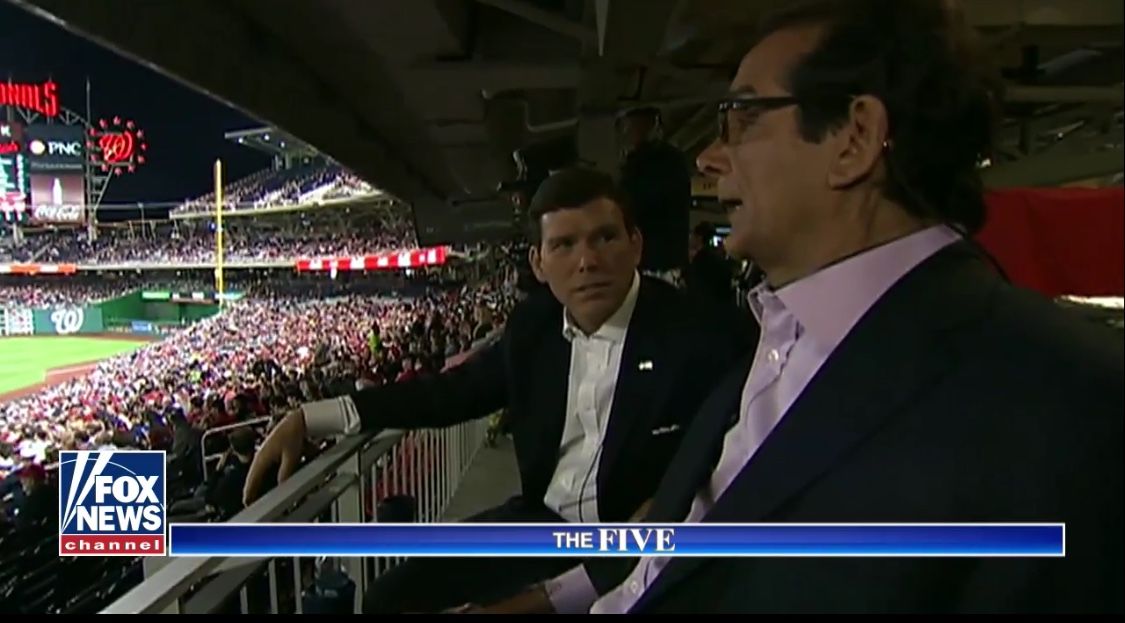 Fox News' Juan Williams went behind-the-scenes at Nationals Park during this week's All-Star game, and took viewers where the late conservative columnist Charles Krauthammer used to sit.
Former Washington Nationals Manager Davey Johnson spoke about his time with Charles.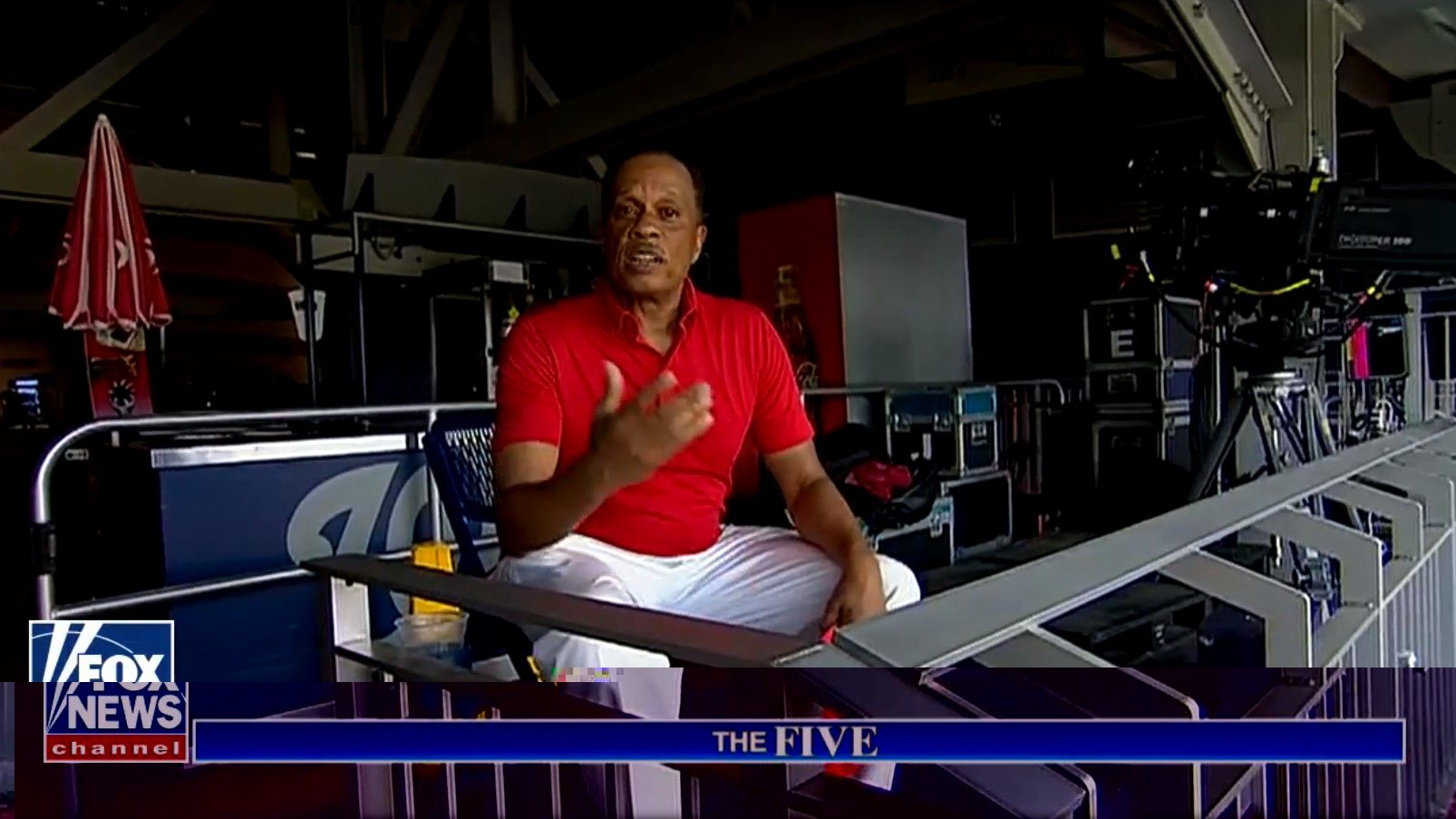 Thanks for starting your Friday with us. Updates all weekend on Axios.com.