March 15, 2018
Good Thursday morning. Situational awareness: "Toys 'R' Us Inc. told employees Wednesday the struggling big-box retailer will sell or close all its U.S. stores, a collapse that threatens up to 33,000 American jobs in the coming months." (WSJ)
1 big thing: Pelosi in peril
Top Democrats tell me that if they take back the House in November, a restoration of Speaker Nancy Pelosi is no longer guaranteed.
In fact, some well-wired House Democrats predict she will be forced aside after the election and replaced by a younger, less divisive Dem.
Conor Lamb, 33, won his U.S. House race in Pennsylvania this week after saying he wouldn't vote for her for leader — a new template for moderates.
Pelosi has hung in through the minority, and remains the party's most consistent fundraiser. As for whether she'll return as Speaker, she has just said that it's up to the members. (Her allies note that she has never lost a leadership vote.)
But others have their eye on the gavel, and many members want a younger, newer face. Her No. 2 and longtime rival, House Democratic Whip Steny Hoyer, 78, covets the job but is three months older than she is.
Pelosi is more likely to be the bridge to a younger generation. A possible successor, who works the caucus behind the scenes, is Rep. Joe Crowley of Queens, N.Y., who turns 56 tomorrow.
Another possible candidate who's getting buzz: Rep. Adam Schiff, a fellow Californian who has a sky-high profile as the top Democrat on the House Intelligence Committee, investigating Russia's role in 2016.
One Democratic source told me that Pelosi hears footsteps: "She used to be retributional. Now she's more inclusive."
Pelosi allies see some of the criticism as sexist, and say she has always been inclusive of all parts of the caucus' diversity, including newer members.
Pelosi told the Congressional Progressive Caucus at a retreat in Baltimore last week: "Every morning, I don a suit of armor, eat nails for breakfast, and go fight inequality."
President Trump plans to invoke her frequently in midterm speeches, and Republicans already use her image to raise funds. And in campaigns this fall, many Dems challengers will be put on the spot about whether they'd vote for her as Speaker.
One scenario, from a Pelosi ally:
"She could win the caucus vote [for Speaker] easily but lose the floor vote."
"[I]f Dems win the majority by, say, a 10-vote majority, and 15 newly elected Dems have committed not to vote for her [like Conor Lamb in Pennsylvania] for leader of the party, ... she could lose the floor vote for Speaker. That would give the House to the head of the Republicans."
"She would never let that happen, and she would bow out to someone else."
"[S]he's the best vote counter this generation has ever seen. So she'll know this scenario well in advance, and will figure out a way out that will preserve her legacy."
Be smart: If there's a post-election coup against Pelosi, Crowley is the likely winner because Schiff and the others would scramble the field and Joe is acceptable to all factions.
One knowing Dem says: "My guess is Crowley is the next Dem Speaker/Leader. He's the fresh face that the majority of the caucus yearns for ... He's a spring chicken by congressional standards, at 55 years old."

2. Nobody knows anything
Yesterday was crazy. The rumor mill was in overdrive with reports that President Trump could replace as many as four senior administration officials, including a Scott-Pruitt-for-Jeff-Sessions switcheroo at Justice, if you believe the latest reports.
All this was news to the small band of aides traveling with the president in Missouri.
Yes, Trump is irritated by a fairly long list of people. And, yes, those people include John Kelly, H.R. McMaster, Jeff Sessions and, now, the troubled Veterans Affairs Secretary David Shulkin.
But if Trump has settled on a concrete plan to replace any of them, it's news to his closest advisers.
We can tell you that Trump has been putting on a heck of an act privately in the past two days, if he really does have all these elaborate plans that are being attributed to him.  
Here's all we really know: Trump is in the mood for change, and there's a long list of people he's been fed up with for a while.
That's it. As far as when they might go, and who might replace them, serious people are in the dark. Trump floats ideas all the time, and often nothing comes of them.
Bottom line: The reason this White House is so bad at tamping down speculation is because the guy in the Oval Office quite likes all the gossip and is constantly floating ideas.
Most are dead on arrival. But he keeps them alive in the rumor-sphere with his own constant, unguarded ramblings.
And the people he talks to do not feel compelled to keep any of this to themselves — because they know Trump doesn't care.
In Trumpworld, there's no such thing as a secret — or prior planning. 
P.S. Trump just tweeted: "Larry Kudlow will be my Chief Economic Advisor as Director of the National Economic Council. Our Country will have many years of Great Economic & Financial Success, with low taxes, unparalleled innovation, fair trade and an ever expanding labor force leading the way! #MAGA"
Larry Kudlow's "Trumpian" moment ... He tells CNBC how he found out yesterday that his appointment as Gary Cohn's successor had been confirmed by the White House:
"The president called and he said: 'It's out. ... You're on the air. ... I'm looking at a picture of you. ... Very handsome!"
3. Silver lining
Shot ... Nate Silver on March 5, linking to our four reasons Dems are poised to win the House: "Seems like people haven't learned too much from 2016. Democrats are modest favorites to win the House, but not particularly heavy ones; less than Clinton was in No[v]ember 2016, and that race was much more competitive than news accounts implied."
4. Pic du jour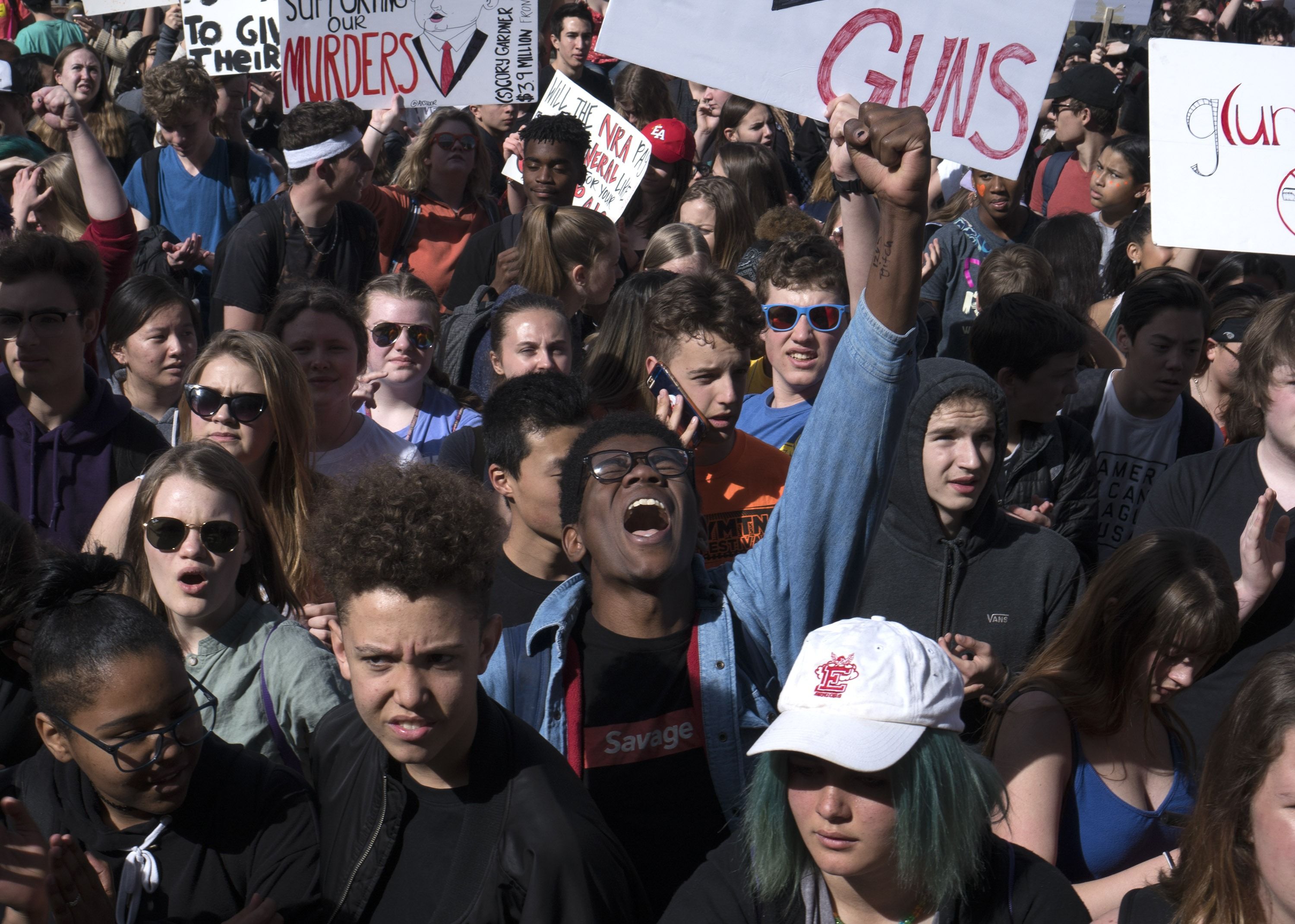 On the Colorado state Capitol grounds yesterday, Aaron Durst, 17, a student at East High School in Denver, raises his hand in protest against gun violence.
Why it matters, per AP: "David Farber, a history professor at the University of Kansas who has studied social change movements, said ... Wednesday's walkouts were without a doubt the largest protest led by high school students in the history of the U.S."
5. The next Wall Street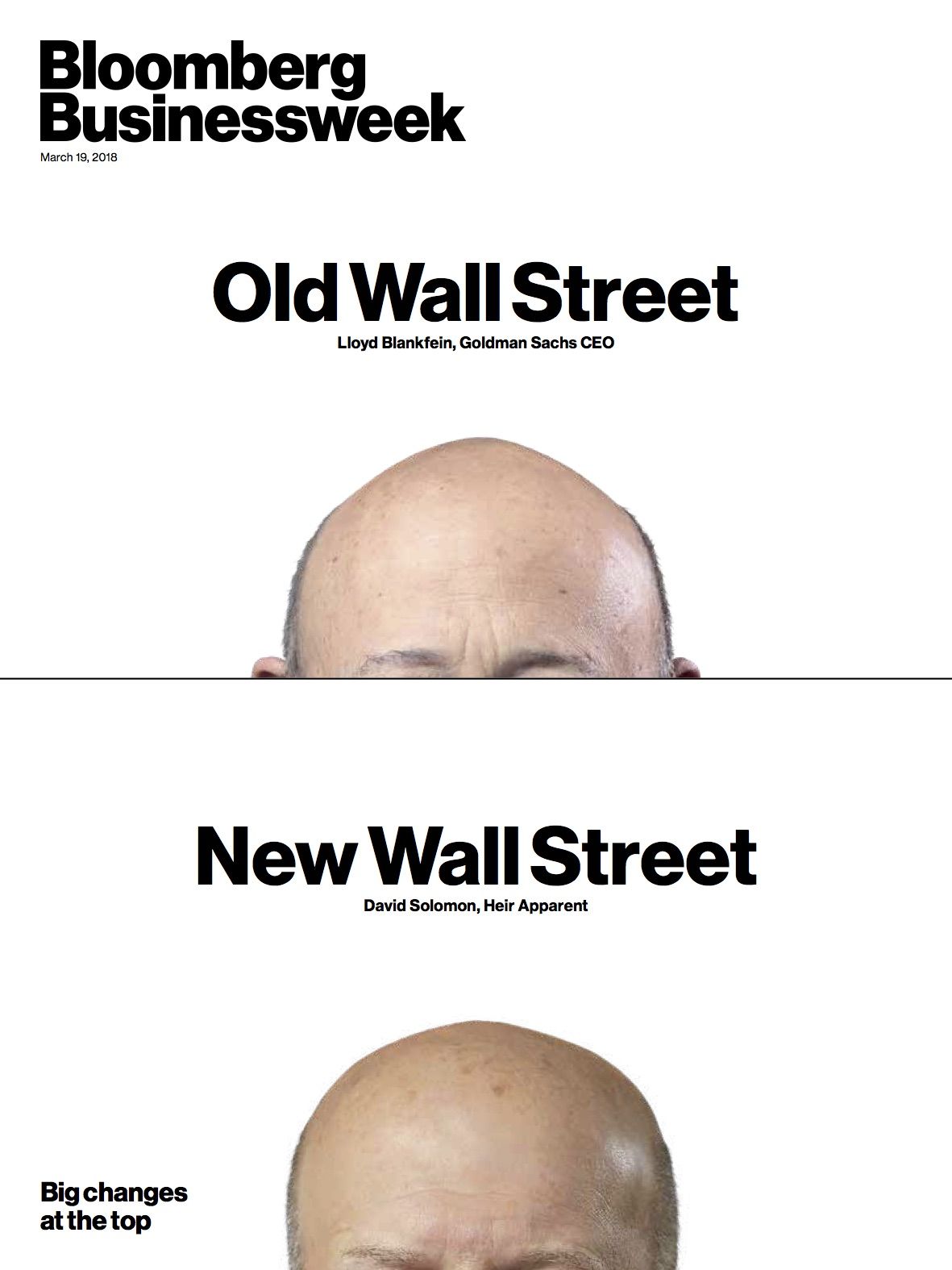 "Imagine Wall Street Without Jamie Dimon and Lloyd Blankfein ... The succession plans at JPMorgan and Goldman say a lot about where the companies — and the Street — are headed," by Bloomberg Businessweek's Hugh Son:
"In another universe, they might have starred in an odd-couple comedy about a pair of New Yorkers who rise to fame and fortune: Jamie Dimon, the voluble, sometimes ill-tempered alpha male from Queens; Lloyd Blankfein, shorter and bald, the wisecracking sidekick from Brooklyn."
"Now the men atop the world's two preeminent banks — Dimon at JPMorgan Chase & Co., Blankfein at Goldman Sachs Group Inc. — have announced plans for an orderly handoff."
Why it matters: "It's part of a wider succession moment sweeping through finance a decade after the financial crisis, as men in their 60s and 70s prepare their companies for the next act."
"In January, JPMorgan said Dimon has another five years as CEO and named the heads of the bank's two largest businesses, Gordon Smith and Daniel Pinto, as co-presidents, signaling that if something should happen to Dimon, 62, in the near term, either Smith or Pinto would fill his shoes. But if Dimon takes the full half decade before retiring, Smith and Pinto will be in their 60s, meaning that a younger group of deputies — Marianne Lake, Mary Callahan Erdoes, and Doug Petno — are more likely to succeed him."
This week, "Goldman Sachs had its own announcement. Co-president Harvey Schwartz abruptly announced his resignation, ending a 15-month race with David Solomon, who's now sole president and Blankfein's heir apparent."
6. Senate passes bill easing banking rules
"Congress moved a step closer to relaxing the wave of crisis-era restrictions placed on the banking industry, ... with Senate approval of a bipartisan plan to ease rules for small and midsize banks," per Wall Street Journal:
Why it matters: "The bill, which has a good chance of becoming law, would be the most significant revamp of financial rules since Republicans took control of government last year."
"Approved on a 67-31 vote, it seeks to cut red tape and relieve lenders from some of the most onerous rules put in place after the financial crisis, including restrictions meant to limit the damage firms could cause to the economy."
"Seventeen centrists from the Democratic caucus supported the bill, bucking the party's liberals who eight years ago approved a sweeping legislative package meant to prevent another financial meltdown."
Rob Nichols, president and CEO of the American Bankers Association, said the strongly bipartisan vote provides a formula for other accomplishments in a gridlocked age:
Over years of fly-ins and other Capitol visits, bankers from around the country provided lawmakers with data-rich, fact-based, artful arguments.
Nichols: "Dodd-Frank isn't scripture. It can be improved."
7. Stormy payoff linked to Trump Organization
CNN: "A 'demand for arbitration' document dated February 22, 2018, names Jill Martin, a top lawyer at the Trump Organization based in California, as the attorney representing 'EC, LLC.' 'EC, LLC' is Essential Consultants, according to Daniels' lawsuit, a company that [Michael] Cohen established ... to facilitate a payment of $130,000 to Daniels."
What's next, per CNN: "The lawyer representing Stormy Daniels says that, on the heels of her lawsuit against Donald Trump, several other women are now exploring the possibility of legal action against the President."
8. Turns out you CAN make it up
"In fundraising speech, Trump says he made up trade claim in meeting with [Canadian Prime Minister] Justin Trudeau," per WashPost's Josh Dawsey, Damian Paletta and Erica Werner:
Trump in Missouri, mimicking Trudeau, according to audio obtained by The Post: "Trudeau came to see me. He's a good guy, Justin. He said, 'No, no, we have no trade deficit with you, we have none. Donald, please' ... Nice guy, good-looking guy, comes in — 'Donald, we have no trade deficit.' He's very proud because everybody else, you know, we're getting killed. ... I said, 'Wrong, Justin, you do.' I didn't even know. ... I had no idea. I just said, 'You're wrong.' You know why? Because we're so stupid."
Reality check: "The Office of the United States Trade Representative says the United States has a trade surplus with Canada."
"Trump described his decision to meet with North Korean leader Kim Jong Un through the prism of making history and besting his predecessors while ... labeling his presidency as 'virgin territory.'"
"He seemed fixated on his media coverage, even talking about a specific CNN segment with Erin Burnett."
9. Philippe Reines: How to beat Trump
Philippe Reines, who played Donald Trump in mock debates with his longtime boss Hillary Clinton, has this advice for 2020 Dems, in a WashPost opinion piece:
"Go high when you can. But when he goes low, take advantage of the kneeling to knock his block off."
"Don't apologize. Ever. "
"A lot of industries are going to want to hedge their bets. Don't declare you won't take money from lobbyists. Take cigarette money. Counterfeit your own."
"Swing at every pitch. Trump never says, 'I'm not dignifying that with an answer.'"
"Do it yourself. Every time. On camera. Online. Surrogates are no match."
"Don't cede Fox News."
"Boast. Gloat. About your accomplishments. Your biceps. Your everything. You didn't co-sponsor; you got it done on your inevitable path to Mount Rushmore."
"Don't wait for post-debate polls. You won. It's obvious. Everyone saw. Say it onstage."
"Work the refs. The media are going to mess with you. Don't rely on them. Call them out. You're running for president of the United States, not the National Press Club."
"Resign your office. No distractions or ethical lapses. Run against your office."
"Don't hire anyone who says they'd rather lose than stoop to his level. If you say it, get out of the way for someone living in the real world."
10. 1 job thing
"Major U.S. airlines are hiring pilots at a rate not seen since before 9/11, and that is encouraging more young people to consider a career in the cockpit," AP's David Koenig reports from Dallas:
"Hiring is likely to remain brisk for years. Smaller airlines in the U.S. are struggling with a shortage that will continue as they lose pilots to the bigger carriers, which in turn will need to replace thousands of retiring pilots over the next few years."
"Boeing predicts that the U.S. will need 117,000 new pilots by 2036. Just a decade ago thousands of pilots were furloughed and some abandoned the profession."
The bottom line: "Pilots who become captains on jumbo jets that fly international routes can earn more than $300,000 a year. But for anyone starting out in the profession, the training is expensive — upward of $100,000."