https://www.axios.com/newsletters/axios-am-407ac11f-5f77-437b-be18-c351a24c05c8.html?chunk=0#story0
1 big thing: Trump's Hill charm offensive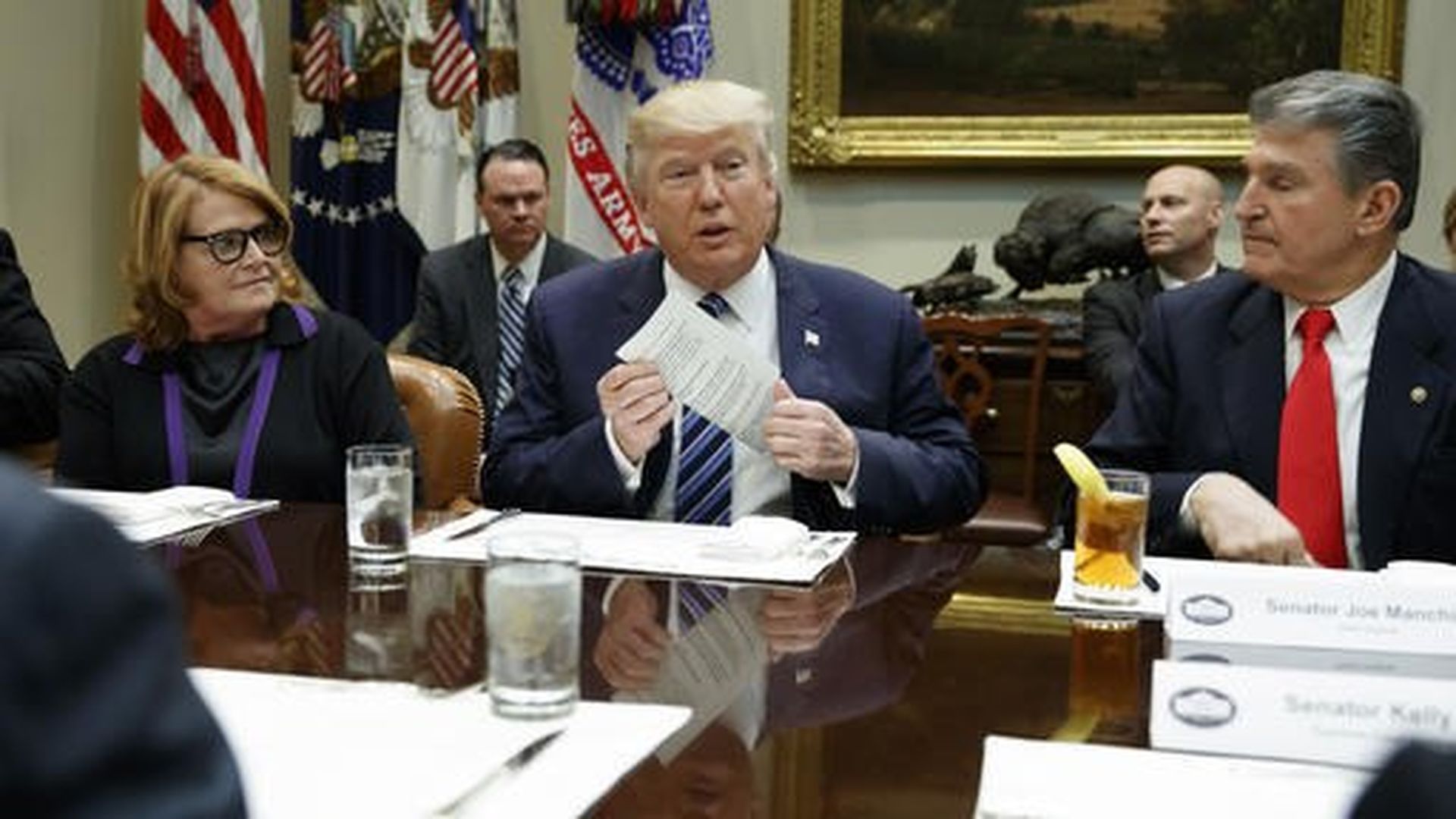 https://www.axios.com/newsletters/axios-am-407ac11f-5f77-437b-be18-c351a24c05c8.html?chunk=1#story1
2. ​Eyes on what matters, folks ...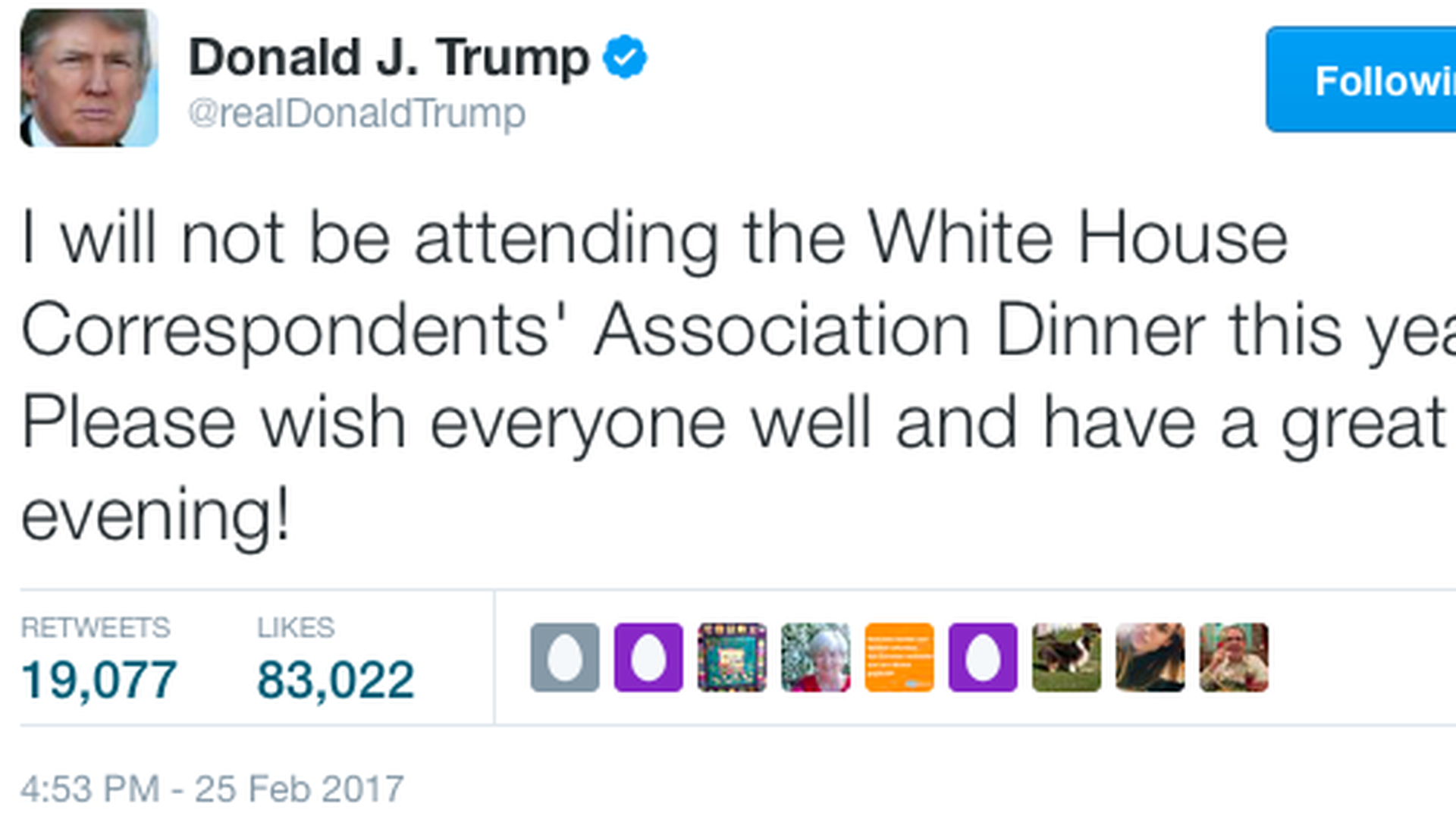 What doesn't really matter:
Trump tweeting two months in advance that he'll skip the White House Correspondents' Association dinner April 29. It's a fine night in a crammed room with episodic humor and celebrity sightings, with scholarships awarded to journalism students who have contagious enthusiasm and idealism. In the scheme of things, the president's presence doesn't make or break it.
Spicer cherry-picking media orgs for briefings. The briefings are marginally useful at best (transcript here of what the excluded reporters missed), and a terrific waste of time at worst. Twitter will tell you anything of substance that happened. So the time is better spent working the phones.
What really does matter:
The double-barreled shots by Trump and Bannon at CPAC. Bannon: "If you think they're going to give you your country back without a fight, you are sadly mistaken. ... [E]very day, it is going to be a fight."
New overnight ... "Wary of Trump unpredictability, China ramps up naval abilities," from Reuters: "The PLA Navy is likely to secure significant new funding in China's upcoming defense budget as Beijing seeks to check U.S. dominance of the high seas and step up its own projection of power around the globe."
Republican "Rep. Darrell Issa [told Bill Maher] that a special prosecutor should be tapped to investigate Russian interference in the 2016 election, a stance that mirrors the calls of congressional Democrats to sideline the U.S attorney general from such inquiries."
https://www.axios.com/newsletters/axios-am-407ac11f-5f77-437b-be18-c351a24c05c8.html?chunk=2#story2
3. The wilderness: Inside the DNC election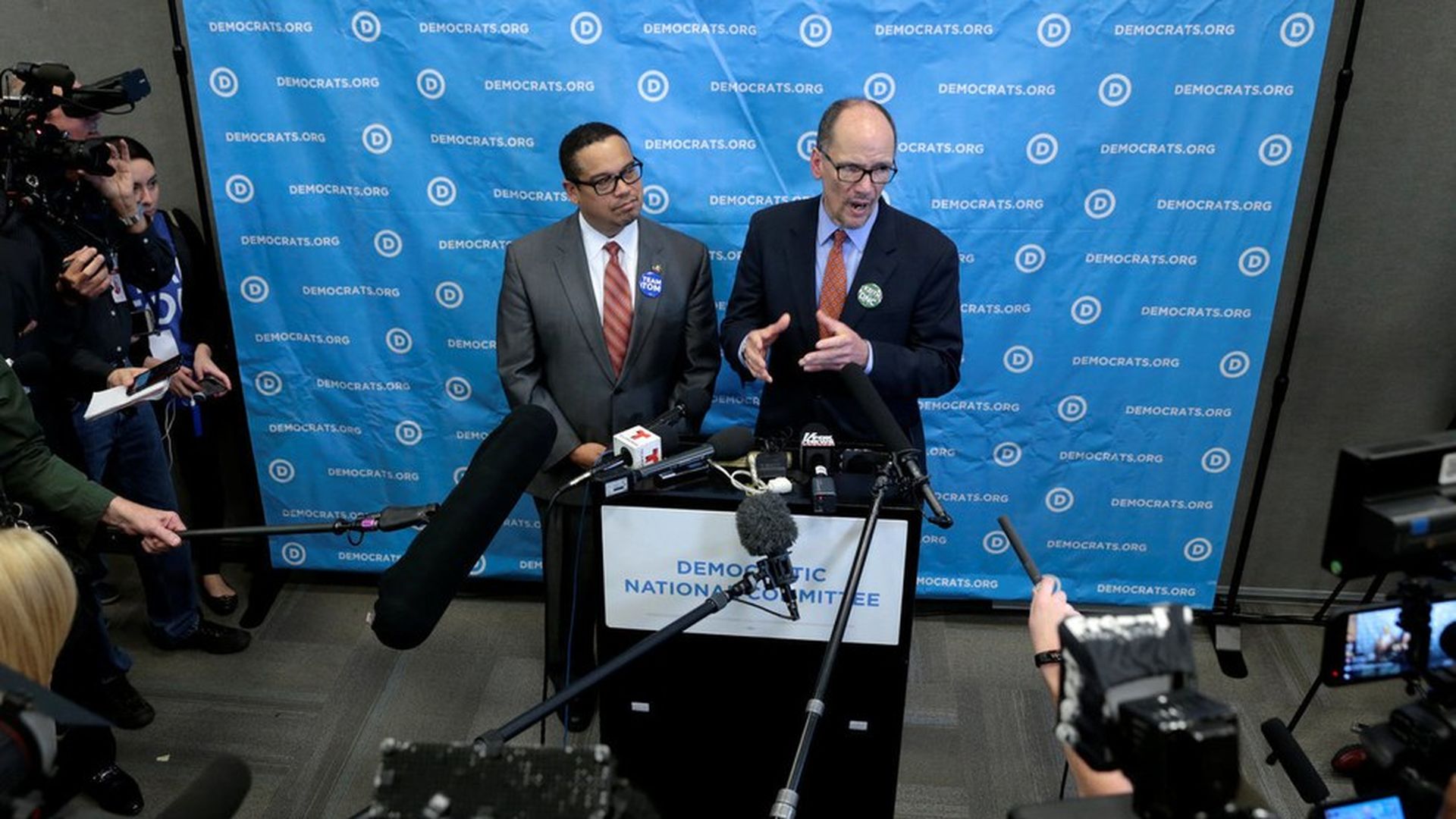 An efficient, evocative dispatch by AP's Bill Barrow from the DNC winter meeting in Atlanta: "When Tom Perez stepped to the stage as the newly elected Democratic national chairman, his first official act was to invite his vanquished rival to join him as deputy chairman. Minnesota Rep. Keith Ellison accepted on the spot and two men stood together, smiling like a national ticket at a presidential nominating convention."
Perez told DNC members ahead of his election: "We suffer from a crisis of confidence ... a crisis of relevance."
"[T]he competitive race that took two rounds of voting — unprecedented in recent memory for either major party. They picked Perez, a former labor secretary backed by ... Obama [Drudge banner: "STILL OBAMA'S PARTY"], over Ellison, the liberal Minnesota congressman backed by liberal icon Bernie Sanders.
"Reaction wasn't enthusiastic among the liberal groups that embraced Sanders' presidential campaign and have intensified their efforts since the election."
Bernie Sanders tweets: "It's imperative Tom understands that the same-old, same-old isn't working and that we must bring in working and young people in a new way."
Trump tweets: "Congratulations to Thomas Perez, who has just been named Chairman of the DNC. I could not be happier for him, or for the Republican Party!"
Perez answers: "Call me Tom. And don't get too happy. @keithellison and I, and Democrats united across the country, will be your worst nightmare."
Trump adds this morning: "The race for DNC Chairman was, of course, totally 'rigged.' Bernie's guy, like Bernie himself, never had a chance. Clinton demanded Perez."
SIREN ... "
https://www.axios.com/newsletters/axios-am-407ac11f-5f77-437b-be18-c351a24c05c8.html?chunk=3#story3
4. Buffett still bullish
Warren Buffett released his highly-anticipated annual letter to Berkshire Hathaway shareholders yesterday (29-page PDF). Takeaways by Axios' Alayna Treene:
Buffett devoted nearly 5 pages to condemning hedge funds for charging high fees while delivering meager results.
Immigration is good: Buffett said that you don't need to be an economist to understand that immigration has been at the foundation of what makes America great. Buffett never mentions Trump by name.
Stocks will continue to go up: "The years ahead will occasionally deliver major market declines — even panics — that will affect virtually all stocks." But don't panic: "Yes, the build-up of wealth will be interrupted for short periods from time to time. It will not, however, be stopped."
https://www.axios.com/newsletters/axios-am-407ac11f-5f77-437b-be18-c351a24c05c8.html?chunk=4#story4
5. Bush's workshop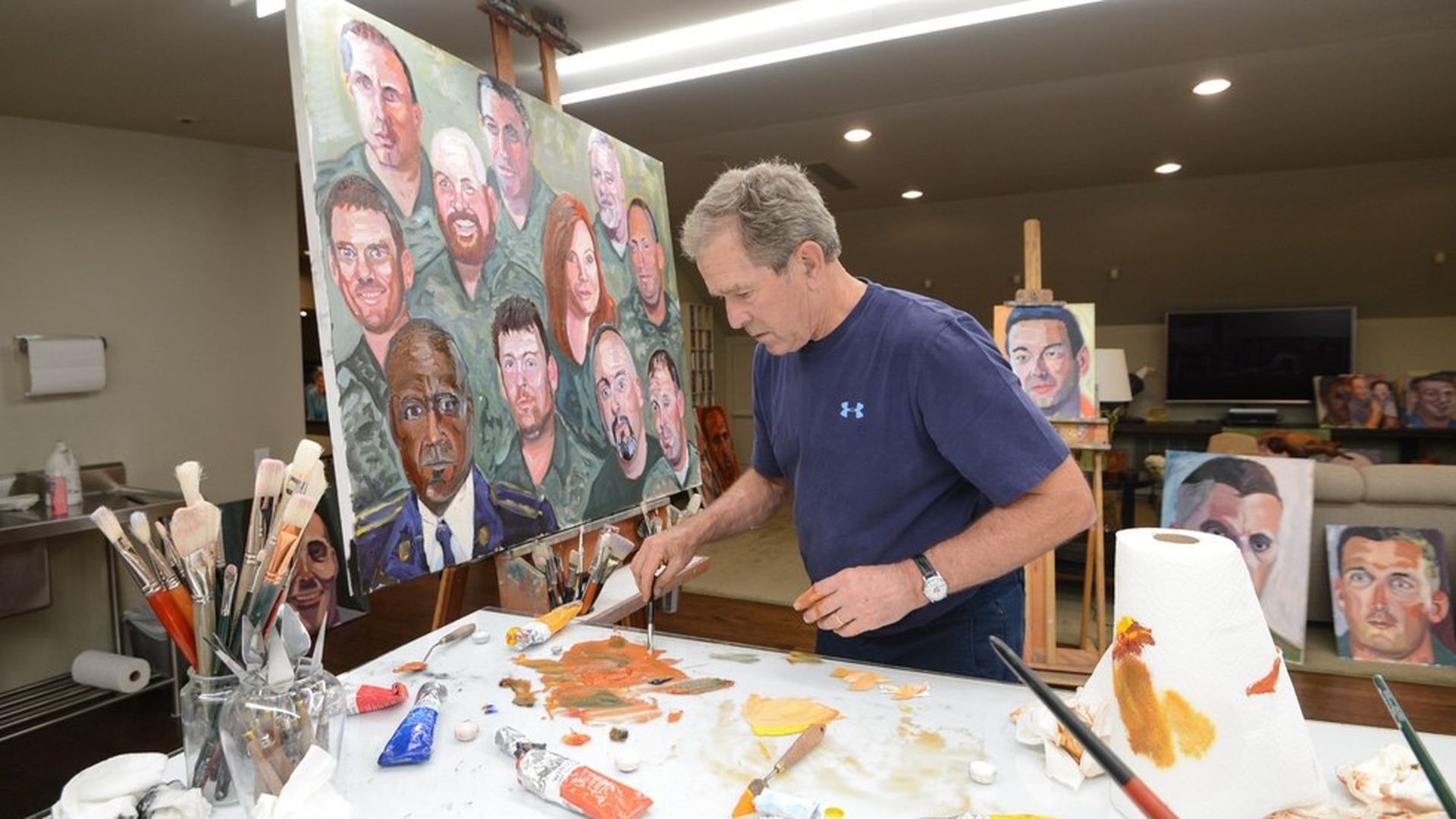 President George W. Bush unveils a new passion project — a 192-page book of oil paintings, "Portraits of Courage: A Commander in Chief's Tribute to America's Warriors," out Tuesday from Crown. Bush aide Freddy Ford emailed details to Bush family and friends last evening:
Over the past year, Bush painted 98 wounded warriors he's gotten to know through the Bush Institute.
The book includes 64 of them, plus a four-panel mural, with each painting accompanied by a story Bush wrote about the patriot.
Forewords by Laura Bush and Gen. Peter Pace, former chair of the Joint Chiefs of Staff.
Bush is donating profits to the Bush Institute, where the Military Service Initiative helps post-9/11 veterans, with a focus on employment and the invisible wounds of war.
See a gallery of the portraits here.
A slipcover edition signed by President Bush is available here.
https://www.axios.com/newsletters/axios-am-407ac11f-5f77-437b-be18-c351a24c05c8.html?chunk=5#story5
6. This is gold: Sharp look at Trump markets
https://www.axios.com/newsletters/axios-am-407ac11f-5f77-437b-be18-c351a24c05c8.html?chunk=6#story6
7. Trump Nation: Beyond the bubble
https://www.axios.com/newsletters/axios-am-407ac11f-5f77-437b-be18-c351a24c05c8.html?chunk=7#story7
8. A trick for growing government
George Will uses today's column, "How big government disguises its growth," to illuminate a big idea in a Brookings paper by John DiIulio of the University of Pennsylvania, who ran George W. Bush's first faith-based office:
"[G]overnment has prudently become stealthy about how it becomes ever bigger ... using three kinds of 'administrative proxies' — state and local government, for-profit businesses, and nonprofit organizations."
"Many Americans are rhetorically conservative but behaviorally liberal."
"The government/for-profit contractor/nonprofit complex consumes about 40 percent of gross domestic product. Just don't upset anyone by calling it "big government.'"
https://www.axios.com/newsletters/axios-am-407ac11f-5f77-437b-be18-c351a24c05c8.html?chunk=8#story8
9. The talk of tech
https://www.axios.com/newsletters/axios-am-407ac11f-5f77-437b-be18-c351a24c05c8.html?chunk=9#story9
10. 1 fun thing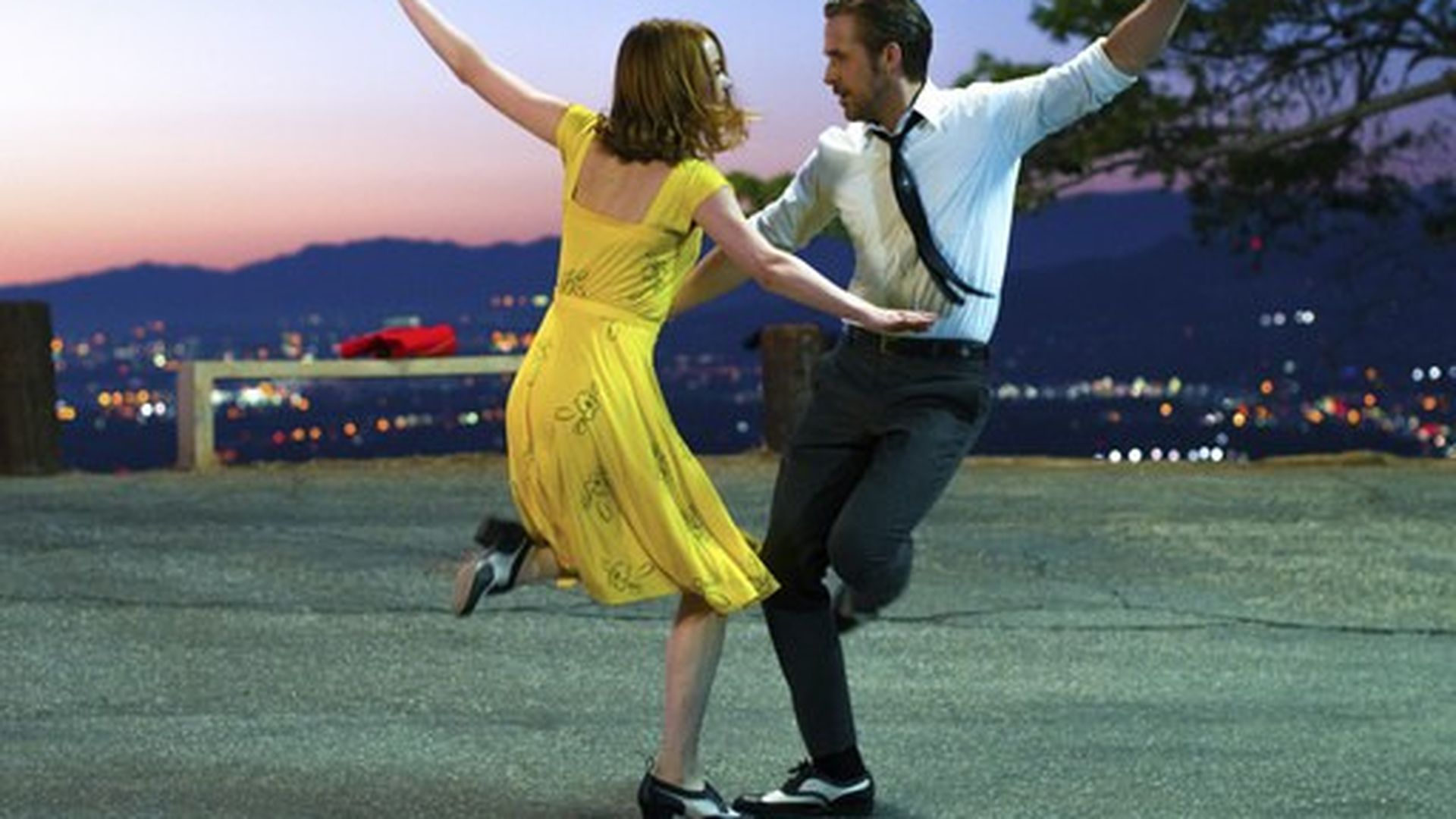 Key storyline for tonight's Oscars (ABC, 7 p.m., hosted by Jimmy Kimmel) — AP Film Writer Jake Coyle: "'La La Land' goes into Sunday's 89th Annual Academy Awards with a record-tying 14 nominations, including best picture. But a cultural backlash against the candy-colored musical has raised the possibility of an upset win by the more socially relevant 'Moonlight' or 'Hidden Figures.'"
Sound smart: "[M]any have already lamented the increasingly self-congratulatory nature of Hollywood's already exceedingly self-congratulatory awards season. ... But if 'La La Land' pulls out the win, ... it may just prove that Hollywood doesn't need another pat on the back, but a pep talk."
Hollywood loves movies about ... Hollywood: "Damien Chapelle's ... 'La La Land' is part of a grand tradition going back beyond 'Singin' in the Rain' and running past 'Mulholland Drive.'"
Celebrities who may get political in tonight's speeches, tipped to be the most political ever.
Political speeches at past Oscars ceremonies.
Vanity Fair's 1-page printable ballot for your Oscars party, with a spot to score correct picks out of 24.
See the N.Y. Times ad, "The truth is hard," that will air during the Oscars — and Trump's tweet about it this morning!