Axios AM
February 26, 2017
1 big thing: Trump's Hill charm offensive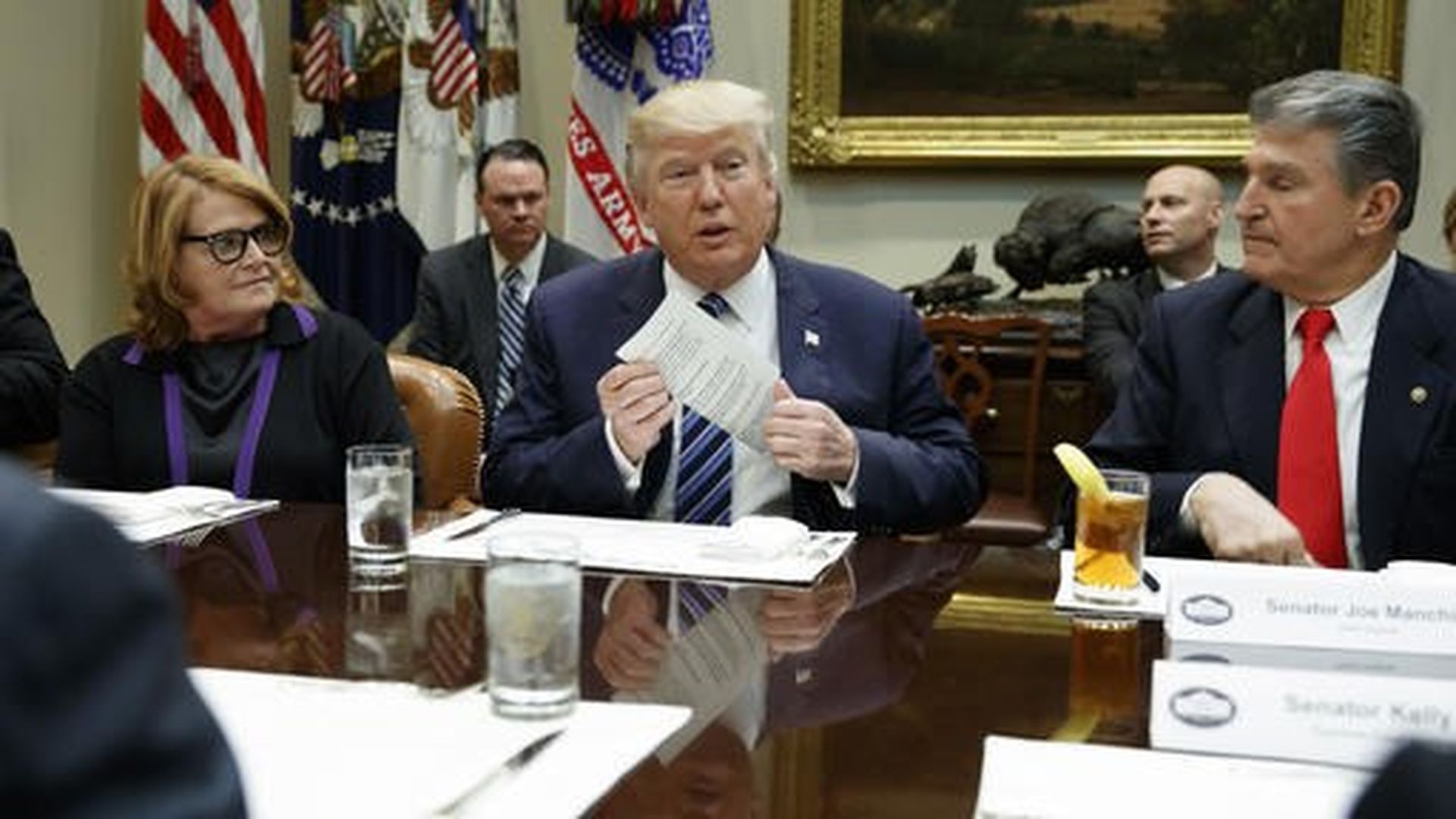 Rusty Capitol Hill aides — Republicans and Democrats — shed suit jackets and bowl a few frames, before eating pizza and pouring soda out of two-liter bottles.
They're at the White House, in the basement of the Eisenhower Executive Office Building, as part of an intense effort by the Trump White House to make amends with lawmakers and their staffs — who felt ignored for most of the Obama years, and blindsided by early Trump actions.
While bosses were home on recess last week, the White House held two bowling nights and a bowling lunch for top staff left in D.C. (The White House's two-lane alley has photos on the wall of past presidents bowling.) So far, 45 Hill aides have watched one of Washington's great spectacles — a Marine One departure from the South Lawn.
The legislative-outreach strategy, and how it's working, based on conversations with lawmakers, their aides, and White House staff:
For his first five years, President Obama paid little attention to egos on the Hill: He scheduled events involving senators during their 12:30 Tuesday party lunches, the one sacrosanct time on their calendars. And he invited a championship team to the White House when the lawmakers from that state — who would have loved to bask in the event — were home on recess.
Although Obama's team paid more attention in the final years, Trump is pushing on an open door by courting lawmakers and their aides, deploying staff to work the office buildings, and hiring staff from leadership and the cloakrooms who understand the members' micro and macro needs. A House Democrat told us: "Trump doesn't understand Congress, but he doesn't disdain Congress."
Rick Dearborn, White House deputy chief of staff for Legislative Affairs, Office of Intergovernmental Affairs, Cabinet Affairs, and Implementation, was chief of staff to Sen. Jeff Sessions (now attorney general). Marc Short, Director of Legislative Affairs, has been a chief of staff in both the House and Senate. "These aren't diplomats to a foreign land," said Don Stewart, deputy chief of staff to Leader McConnell.
Perhaps the most important element is the art of the schmooze by the president himself. Democrats are regularly being invited to Oval Office events, and are riding on presidential aircraft.
After Neil Gorsuch was nominated to the Supreme Court, Trump invited several red-state Democratic senators (with a few Republicans thrown in to make it less obvious) for a low-key chat in the Roosevelt Room. Photographers were invited in, giving the lawmakers good publicity back home — and making it tougher for the senators to stiff him later.
2. ​Eyes on what matters, folks ...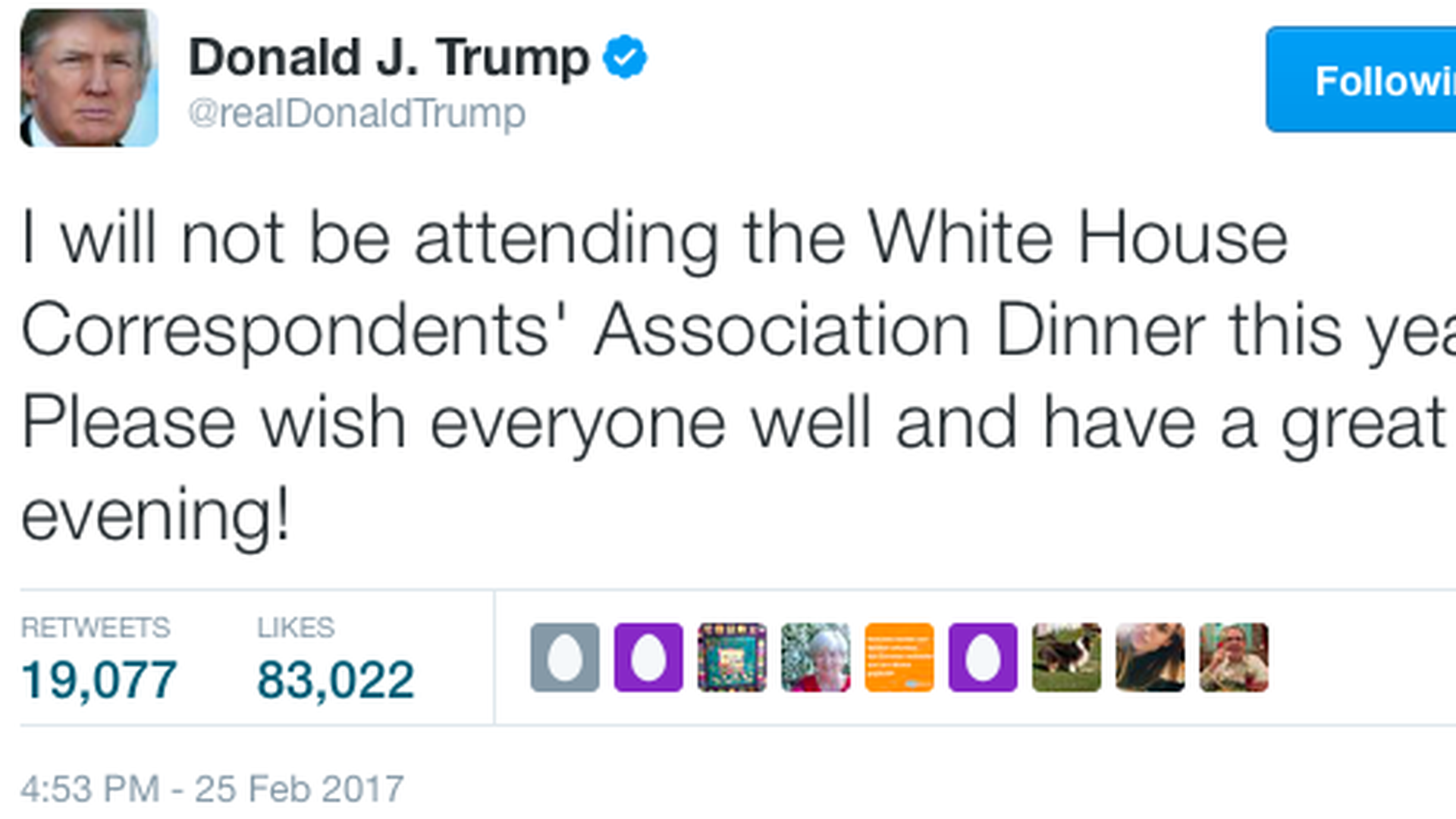 What doesn't really matter:
Trump tweeting two months in advance that he'll skip the White House Correspondents' Association dinner April 29. It's a fine night in a crammed room with episodic humor and celebrity sightings, with scholarships awarded to journalism students who have contagious enthusiasm and idealism. In the scheme of things, the president's presence doesn't make or break it.
Spicer cherry-picking media orgs for briefings. The briefings are marginally useful at best (transcript here of what the excluded reporters missed), and a terrific waste of time at worst. Twitter will tell you anything of substance that happened. So the time is better spent working the phones.
What really does matter:
The double-barreled shots by Trump and Bannon at CPAC. Bannon: "If you think they're going to give you your country back without a fight, you are sadly mistaken. ... [E]very day, it is going to be a fight."
New overnight ... "Wary of Trump unpredictability, China ramps up naval abilities," from Reuters: "The PLA Navy is likely to secure significant new funding in China's upcoming defense budget as Beijing seeks to check U.S. dominance of the high seas and step up its own projection of power around the globe."
Republican "Rep. Darrell Issa [told Bill Maher] that a special prosecutor should be tapped to investigate Russian interference in the 2016 election, a stance that mirrors the calls of congressional Democrats to sideline the U.S attorney general from such inquiries."
3. The wilderness: Inside the DNC election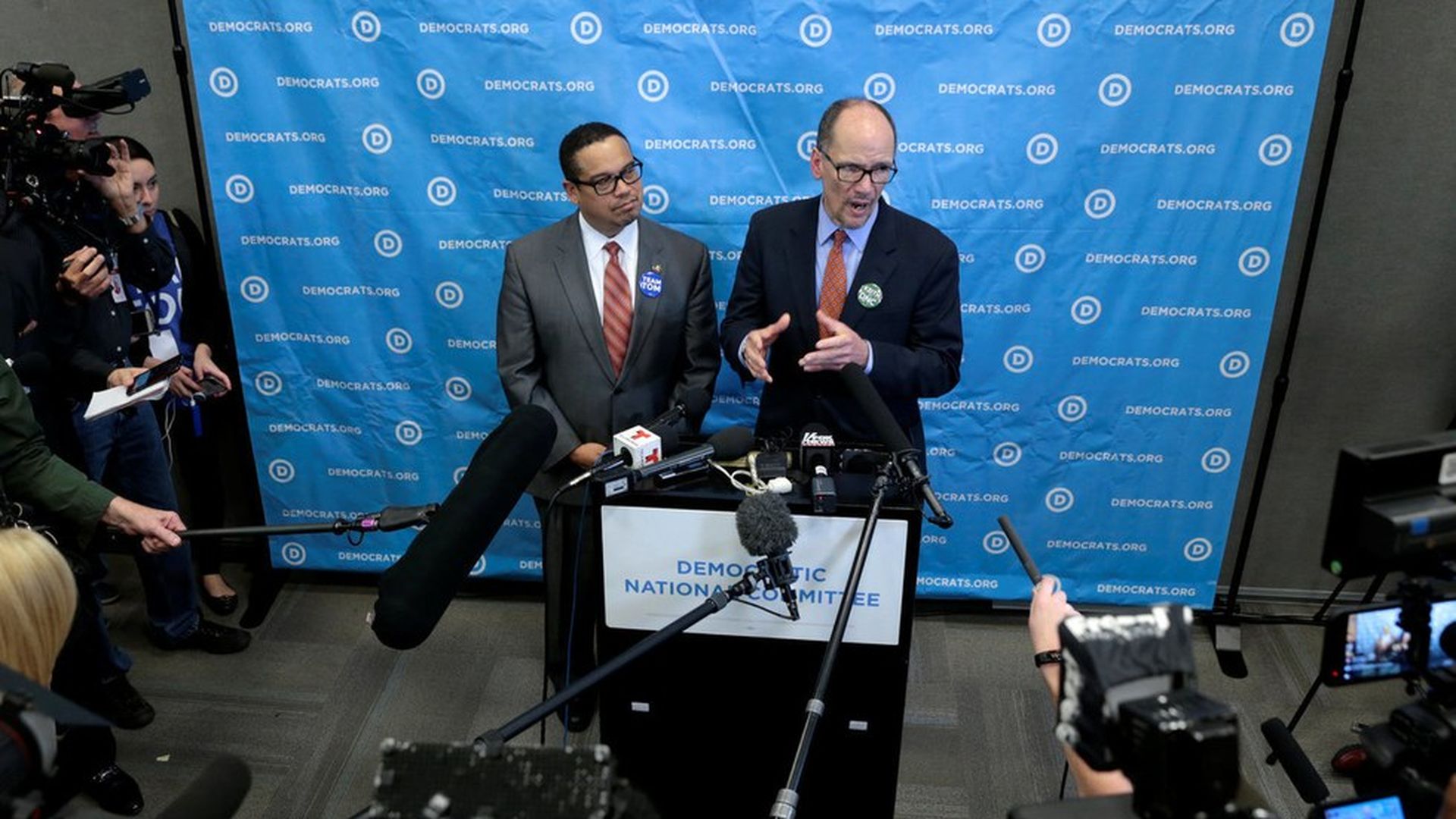 An efficient, evocative dispatch by AP's Bill Barrow from the DNC winter meeting in Atlanta: "When Tom Perez stepped to the stage as the newly elected Democratic national chairman, his first official act was to invite his vanquished rival to join him as deputy chairman. Minnesota Rep. Keith Ellison accepted on the spot and two men stood together, smiling like a national ticket at a presidential nominating convention."
Perez told DNC members ahead of his election: "We suffer from a crisis of confidence ... a crisis of relevance."
"[T]he competitive race that took two rounds of voting — unprecedented in recent memory for either major party. They picked Perez, a former labor secretary backed by ... Obama [Drudge banner: "STILL OBAMA'S PARTY"], over Ellison, the liberal Minnesota congressman backed by liberal icon Bernie Sanders.
"Reaction wasn't enthusiastic among the liberal groups that embraced Sanders' presidential campaign and have intensified their efforts since the election."
Bernie Sanders tweets: "It's imperative Tom understands that the same-old, same-old isn't working and that we must bring in working and young people in a new way."
Trump tweets: "Congratulations to Thomas Perez, who has just been named Chairman of the DNC. I could not be happier for him, or for the Republican Party!"
Perez answers: "Call me Tom. And don't get too happy. @keithellison and I, and Democrats united across the country, will be your worst nightmare."
Trump adds this morning: "The race for DNC Chairman was, of course, totally 'rigged.' Bernie's guy, like Bernie himself, never had a chance. Clinton demanded Perez."
SIREN ... "
4. Buffett still bullish
Warren Buffett released his highly-anticipated annual letter to Berkshire Hathaway shareholders yesterday (29-page PDF). Takeaways by Axios' Alayna Treene:
Buffett devoted nearly 5 pages to condemning hedge funds for charging high fees while delivering meager results.
Immigration is good: Buffett said that you don't need to be an economist to understand that immigration has been at the foundation of what makes America great. Buffett never mentions Trump by name.
Stocks will continue to go up: "The years ahead will occasionally deliver major market declines — even panics — that will affect virtually all stocks." But don't panic: "Yes, the build-up of wealth will be interrupted for short periods from time to time. It will not, however, be stopped."
5. Bush's workshop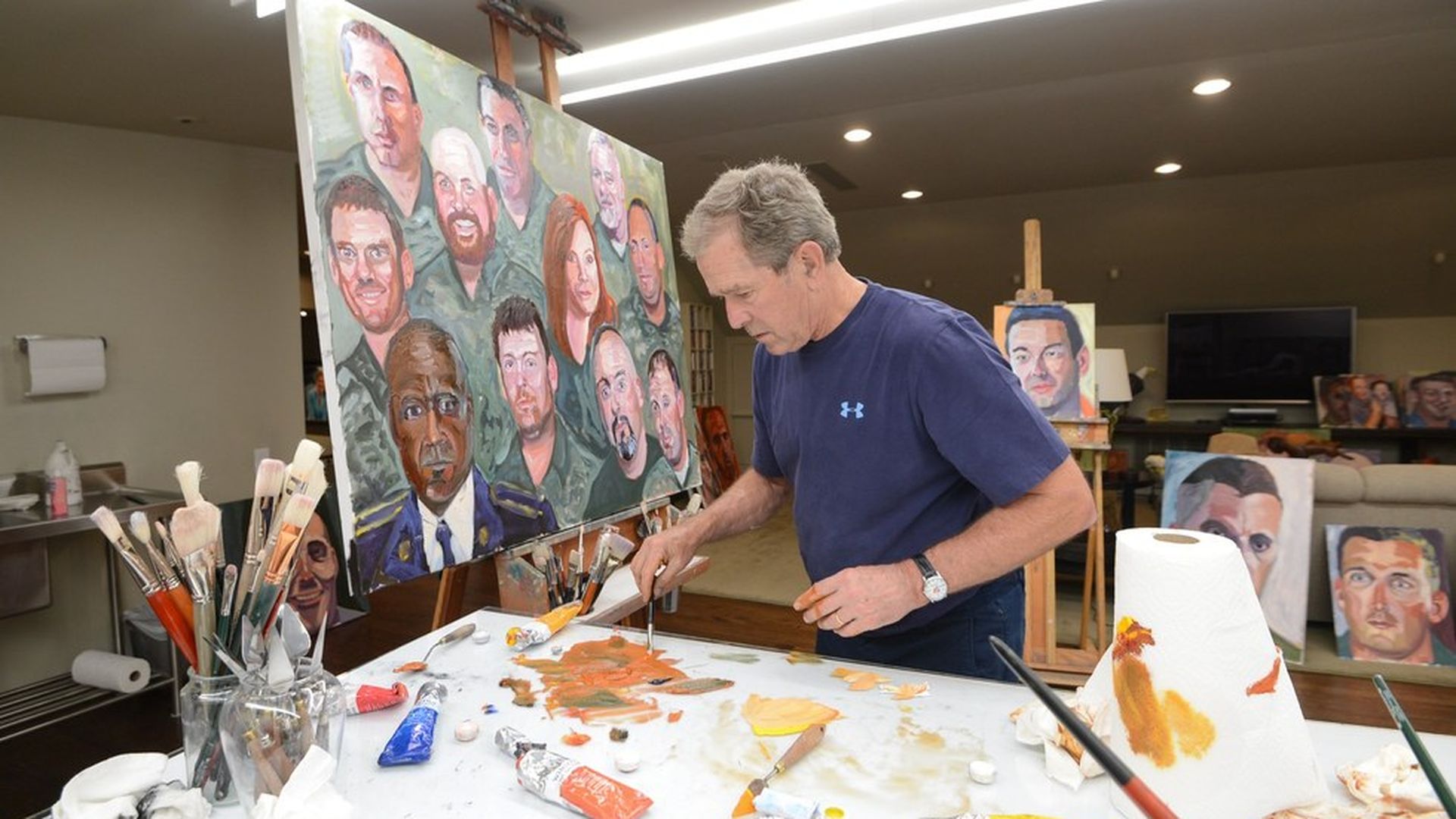 President George W. Bush unveils a new passion project — a 192-page book of oil paintings, "Portraits of Courage: A Commander in Chief's Tribute to America's Warriors," out Tuesday from Crown. Bush aide Freddy Ford emailed details to Bush family and friends last evening:
Over the past year, Bush painted 98 wounded warriors he's gotten to know through the Bush Institute.
The book includes 64 of them, plus a four-panel mural, with each painting accompanied by a story Bush wrote about the patriot.
Forewords by Laura Bush and Gen. Peter Pace, former chair of the Joint Chiefs of Staff.
Bush is donating profits to the Bush Institute, where the Military Service Initiative helps post-9/11 veterans, with a focus on employment and the invisible wounds of war.
See a gallery of the portraits here.
A slipcover edition signed by President Bush is available here.
6. This is gold: Sharp look at Trump markets
Axios AM moved metals markets this week with the scoop that the infrastructure bill is likely to be crowded off the stage this year, and instead pushed to 2018 for both practical and political reasons. Barron's sees the moment as a sign that the Trump rally is starting "to show signs of age."
"Streetwise" columnist Kopin Tan has several columns' worth of astute points in "Eight Years a Bull: The bull market's eight-year anniversary is just around the corner [March 9] — and cracks in its façade are beginning to show":
"The Dow industrials' 11 straight record closes have become its longest streak since early 1987."
"Economically sensitive financials, industrials, and materials are still the top three sectors since the election. But they've slipped off the medal podium to the fifth to seventh spots this year, as an infrastructure spending bill looks unlikely before 2018.
Unintended consequences: "[T]he White House wants to reduce the inflow of immigrants and increase the outflow, which could slow the already wan growth in our labor force by 32% in 2018 and 62% in 2019 ... Reducing immigration 'should not be viewed just as a supply shock to labor, but more importantly as a demand shock.'"
"Immigrants—both illegal ones targeted by border guards, and legal aliens who feel the chill—buy homes and cars and services, and their ejection from the base of our economic pyramid could affect markets from retail to housing."
If you read only 1 paragraph in this entire newsletter: "Above all, our cyclical rejuvenation hasn't cured the structural ills of an economy hollowed out by automation and global competition, and stagnant wages for 90% of the population. That may be why there's anger on the streets, even if our economic enhancement continues to enthrall Wall Street."
7. Trump Nation: Beyond the bubble
The lead story of the N.Y. Times, "Agents Discover a New Freedom on Deportations," is an evocative look at the emboldened esprit and aggressive new tactics of immigration officers around the country under Trump:
"Gone are the Obama-era rules that required them to focus only on serious criminals. ... [T]he Obama administration's hierarchy of priorities, which forced agents to concentrate on deporting gang members and other violent and serious criminals, and mostly leave everyone else alone."
"A whirlwind of activity has overtaken ICE headquarters [Immigration and Customs Enforcement, part of Homeland Security] ... 'Some people are like: 'This is great,' ... said a senior staff member ... '[OI]ther people are a little bit more hesitant and fearful about how quickly things are moving.'"
"[T]he sight of even a single white van emblazoned with the words Department of Homeland Security can create fear and cause people to flee."
"[A]rrests can appear dramatic, as agents arrive in large numbers, armed with semiautomatic handguns and wearing dark bulletproof vests with ICE in bright white letters on them. ... Many times, children are awakened in the process, and watch as a parent is taken away."
8. A trick for growing government
George Will uses today's column, "How big government disguises its growth," to illuminate a big idea in a Brookings paper by John DiIulio of the University of Pennsylvania, who ran George W. Bush's first faith-based office:
"[G]overnment has prudently become stealthy about how it becomes ever bigger ... using three kinds of 'administrative proxies' — state and local government, for-profit businesses, and nonprofit organizations."
"Many Americans are rhetorically conservative but behaviorally liberal."
"The government/for-profit contractor/nonprofit complex consumes about 40 percent of gross domestic product. Just don't upset anyone by calling it "big government.'"
9. The talk of tech
Snap's IPO prompts the L.A. Times' Nina Agrawal to dive deep on an anomaly about the company: It has no headquarters building or campus, but instead sprawls among bungalows on or near Venice Beach, just north of LAX.
From Snap's filing: "This diffuse structure may prevent us from fostering positive employee morale and encouraging social interaction among our employees and different business units. ...[W]e may be unable to adequately oversee employees and business functions.'"
"In an era when companies such as Google, Facebook and Apple have created an expectation that tech firms will offer sprawling corporate campuses with gyms, chefs preparing organic food and massage services on site, Snap's scattered layout could strengthen its brand as an outsider. ... Snap has ... 2,000 employees; Google has some 60,000."
Snap culture: "Workers take shuttles or walk between offices, which some say has deepened their desire to volunteer locally. They can eat at beachside cafes and support local businesses, thanks to Snap vouchers. And then there's the aura. 'Venice is younger and grittier.'"
"The company — a start-up whose founder is 26 years old and whose target demographic is millennials — is young in every sense of the word. Its employees probably live their lives on mobile devices, connect to friends and colleagues through digital networks."
How Facebook's clones ripped off Snapchat (chart by Bloomberg).
10. 1 fun thing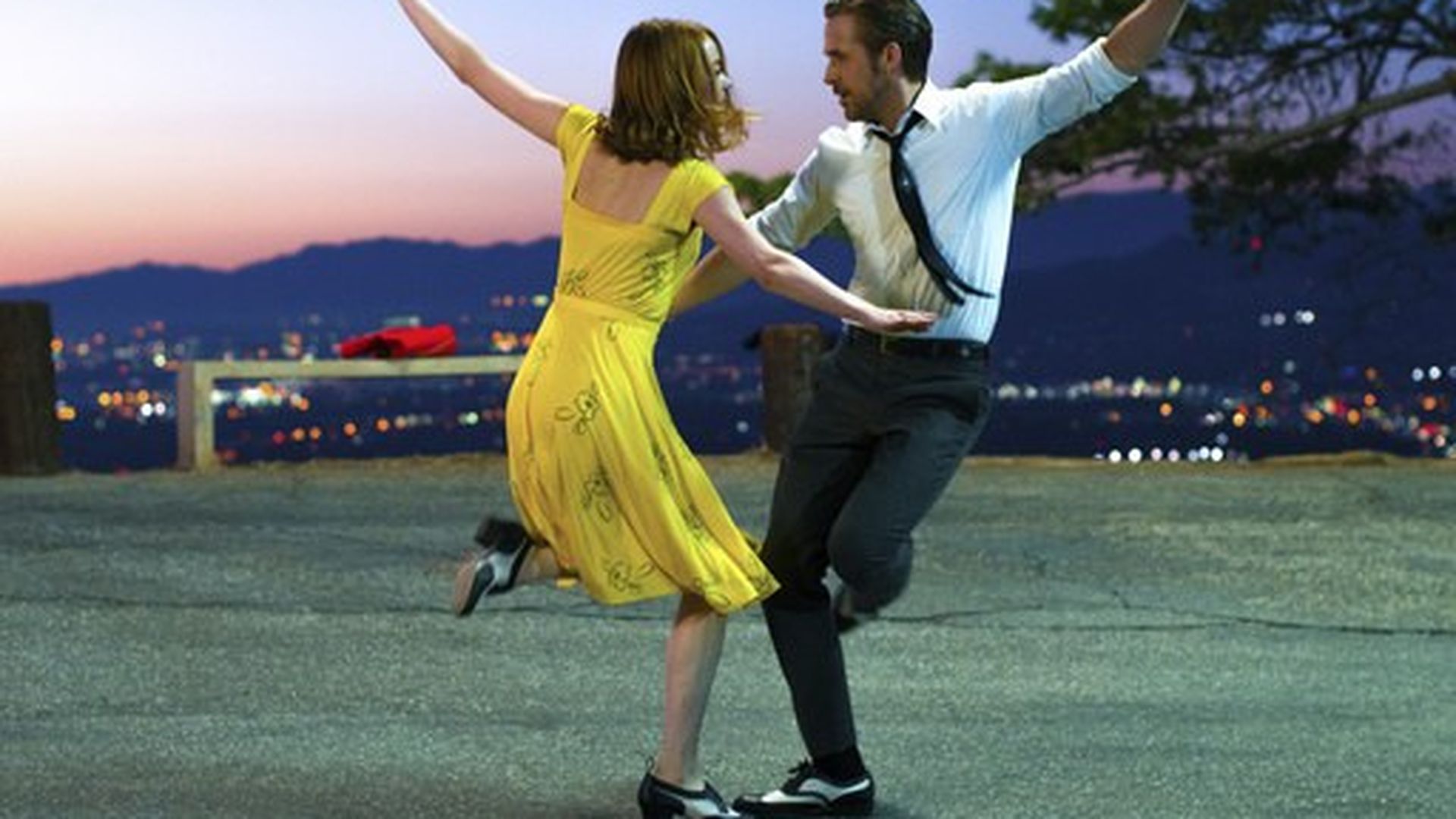 Key storyline for tonight's Oscars (ABC, 7 p.m., hosted by Jimmy Kimmel) — AP Film Writer Jake Coyle: "'La La Land' goes into Sunday's 89th Annual Academy Awards with a record-tying 14 nominations, including best picture. But a cultural backlash against the candy-colored musical has raised the possibility of an upset win by the more socially relevant 'Moonlight' or 'Hidden Figures.'"
Sound smart: "[M]any have already lamented the increasingly self-congratulatory nature of Hollywood's already exceedingly self-congratulatory awards season. ... But if 'La La Land' pulls out the win, ... it may just prove that Hollywood doesn't need another pat on the back, but a pep talk."
Hollywood loves movies about ... Hollywood: "Damien Chapelle's ... 'La La Land' is part of a grand tradition going back beyond 'Singin' in the Rain' and running past 'Mulholland Drive.'"
Celebrities who may get political in tonight's speeches, tipped to be the most political ever.
Political speeches at past Oscars ceremonies.
Vanity Fair's 1-page printable ballot for your Oscars party, with a spot to score correct picks out of 24.
See the N.Y. Times ad, "The truth is hard," that will air during the Oscars — and Trump's tweet about it this morning!