Good Monday morning. The Axios Science Stream launched this morning to narrate the most important trends and stories that matter to you. In addition to checking out our posts in the Stream, sign up here for Alison Snyder's weekly newsletter, delivering the most important news from the frontiers of medicine, space, neuroscience, physics and more.
https://www.axios.com/newsletters/axios-am-3e8b8ea8-8bfc-4697-8cb4-df3e4baf8c0b.html?chunk=0#story0
1 big thing: ​The absence of love, fear and need
Presidential power over a party or Congress comes from enough lawmakers needing, fearing or genuinely liking them. Donald Trump has none of this.
Almost four months into office, Trump has been unable to gain leverage over his party, especially in the Senate, much less Congress as a whole.
Senate Republicans don't need him. They're pressing ahead with their investigations into Russian interference in the election and pushing sanctions against Vladimir Putin. They're pushing their own health care bill on their own timetable and hardly rushing to Trump's defense. With a very favorable set of 2018 races, it's hard to see a need materializing.I'm told Senate Republicans will also go their own way on tax reform, unconstrained by White House policy priorities or timetable.
Most Republicans don't like him. President Obama used a mix of need and genuine affection to jam through Obamacare in his first two years. There are very few Trump Republicans, much less lawmakers who dig their president. They tolerate him and they often vote with him, because Trump has largely embraced conventional GOP ideas. But most think he's blowing it.
No one fears him. Not long ago, Republicans worried about a Trump tweet fired their way. No more. And Democrats certainly don't fear a president opposed by most Americans. In fact, as Axios' Jonathan Swan reported in his weekly Sneak Peek newsletter last night, they're ready to effectively shut down the Senate to force a special prosecutor for the Russia probe.
Why all this matters: A top GOP lobbyist tells me: "Business feels the agenda is going down the toilet. ... This said, his supporters are hanging in there."
Read more ... N.Y. Times front page, above fold, "Senate G.O.P. Is Edging Back From President," by Jennifer Steinhauer ... WashPost A1, at fold, "Senate GOP wrestling with agenda full of peril," by Sean Sullivan and Kelsey Snell.
https://www.axios.com/newsletters/axios-am-3e8b8ea8-8bfc-4697-8cb4-df3e4baf8c0b.html?chunk=1#story1
2. Warning of more cyberattacks on "significant scale"
The global ransomware attack showed that 1) U.S. defenses are relatively strong, and corporate investments in cybersecurity are worthwhile; and 2) a wide range of industries are still scarily vulnerable:
https://www.axios.com/newsletters/axios-am-3e8b8ea8-8bfc-4697-8cb4-df3e4baf8c0b.html?chunk=2#story2
3. The next FBI director
An intriguing possibility to replace Comey was discussed by ABC's Jonathan Karl on George Stephanopoulos' "This Week" roundtable:
"[T]he president knows he needs to have somebody that is politically bulletproof. I would not be surprised to see it's somebody who is not [being talked about], somebody like — even like [Comey's predecessor] Robert Mueller, ... who served under Democratic and Republican presidents [Obama and Bush 43], universally respected ... Mike Rogers has some big fans in the West Wing."
"[D]on't rule out Merrick Garland [Obama's failed nominee for Supreme Court], who was floated by Senator Mike Lee [R-Utah]. ... Garland ... could be confirmed 100-0 in the Senate."
But would Garland do it? The WashPost's Dave Weigel says the idea is "like Wile E. Coyote putting down a nest made of dynamite and writing 'NOT A TRAP' on a whiteboard next to it."
Weigel quotes Slate's Dahlia Lithwick: "Garland probably won't want to give up his lifetime tenure as the chief judge of the second-most important court in the land, and surely the most significant bulwark against Trump administration overreach, in exchange for a 12-minute gig on The Apprentice before he uses the wrong color highlighter and gets fired."
Preet Bharara, the U.S. attorney in Manhattan who was fired by Trump, has a WashPost op-ed, "Are there still public servants who will say no to the president?": "I join in the common-sense call for an independent and uncompromised special counsel to oversee the Russia investigation. ... History will judge this moment."
https://www.axios.com/newsletters/axios-am-3e8b8ea8-8bfc-4697-8cb4-df3e4baf8c0b.html?chunk=3#story3
4. "Significant advance" by North Korea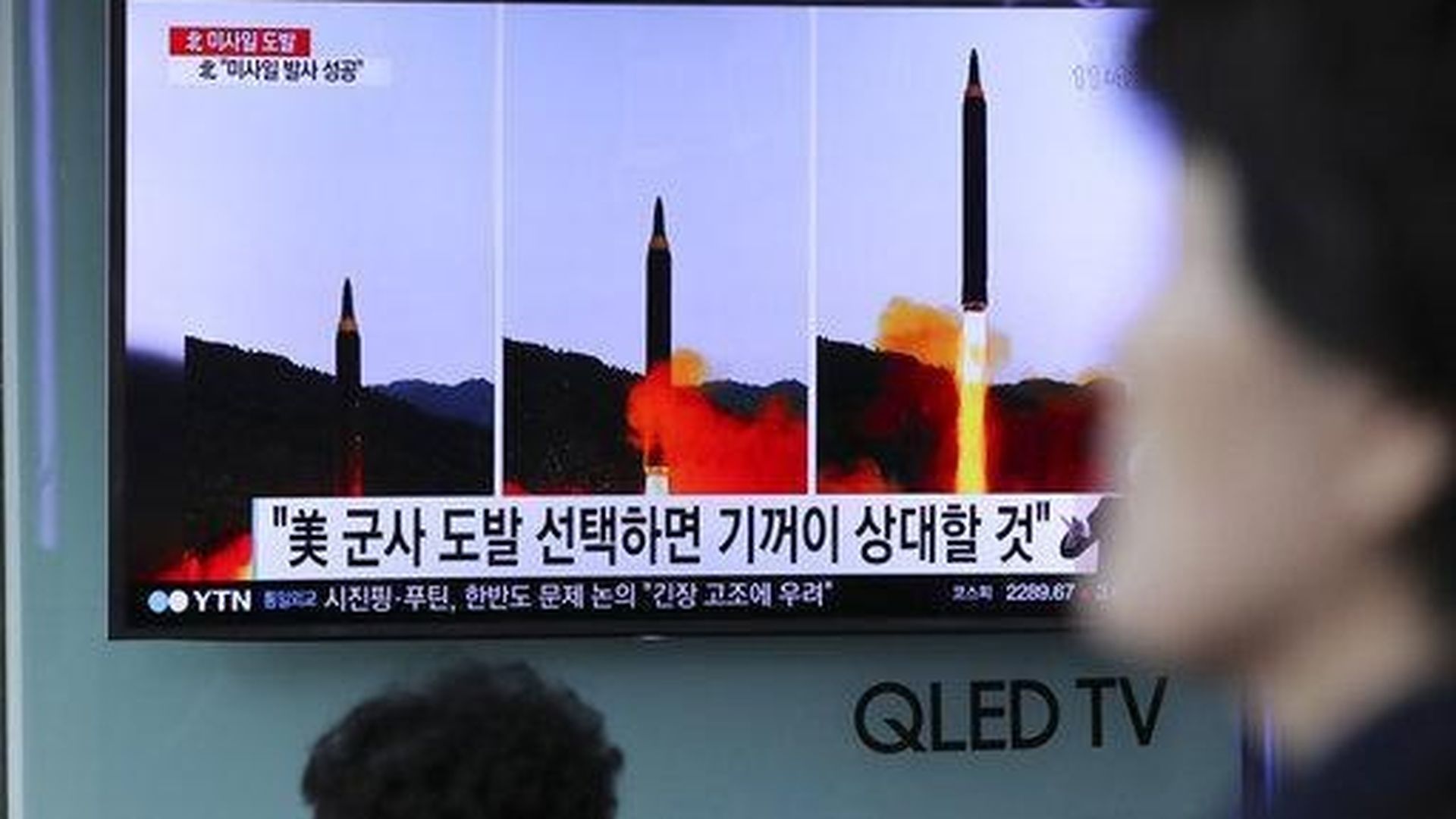 Enormously destabilizing if true ... Some worrisome aftermath to this weekend's North Korean missile launch:
North Korea boasted today that "the missile it launched over the weekend was a new type of long-range ballistic rocket that can carry a heavy nuclear warhead." (AP)
"Outsiders also saw a significant technological jump, with the test-fire apparently flying higher and for a longer time period than any other such previous missile." (AP)
North Korean propaganda must be considered with wariness.
But monitors said today that the apparently successful launch of a mid-to-long range missile indicated a significant advance in its drive for an intercontinental ballistic missile, a worrying sign for the Korean peninsula and the United States. (Reuters)
Wall Street Journal front-pager, "North Korea Accelerates Long-Range Missile Work": "In the past three years, North Korea has launched more major missiles than in the three previous decades combined."
https://www.axios.com/newsletters/axios-am-3e8b8ea8-8bfc-4697-8cb4-df3e4baf8c0b.html?chunk=4#story4
5. And don't forget al Qaeda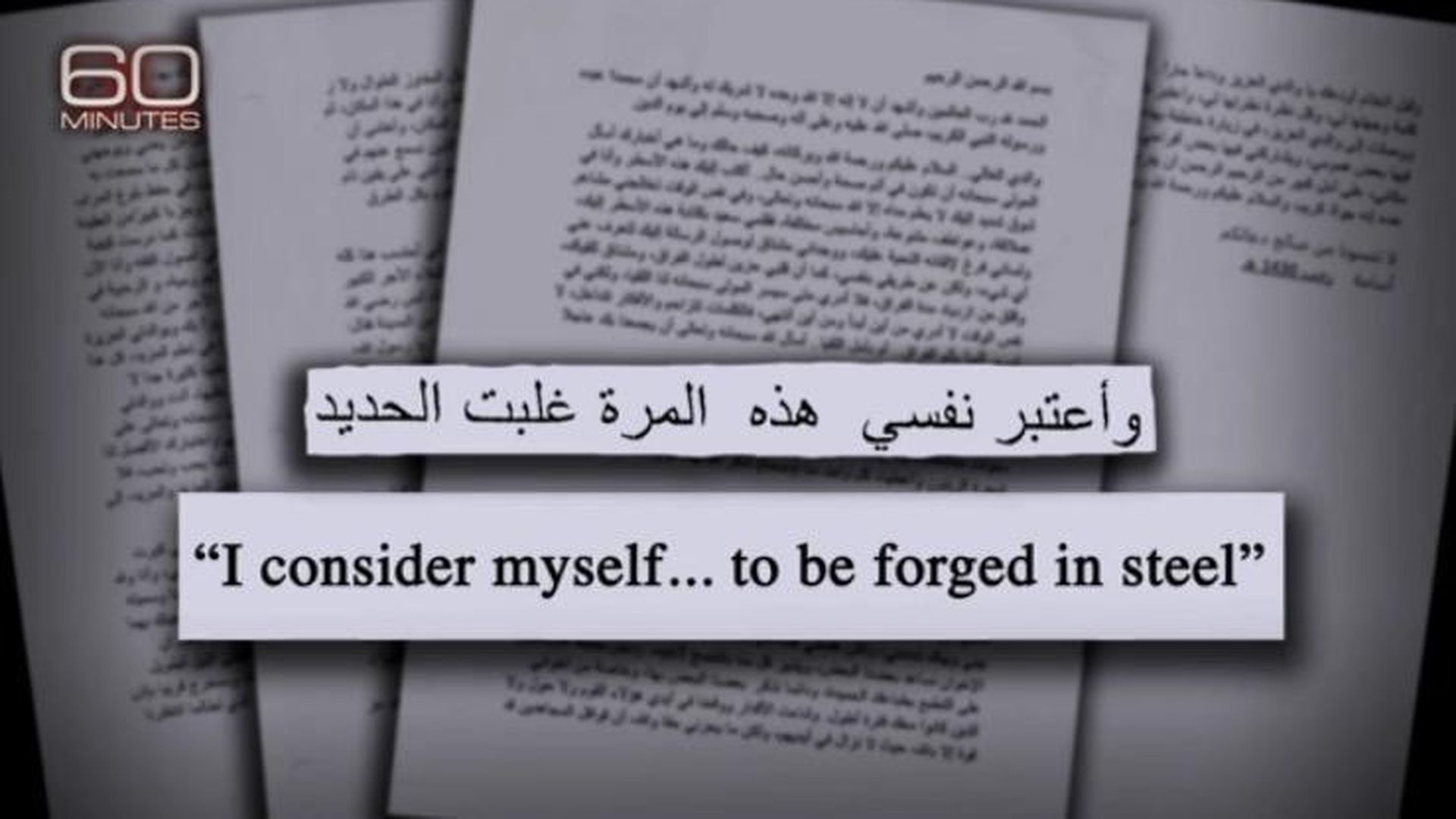 https://www.axios.com/newsletters/axios-am-3e8b8ea8-8bfc-4697-8cb4-df3e4baf8c0b.html?chunk=5#story5
6. Powerful daughters ...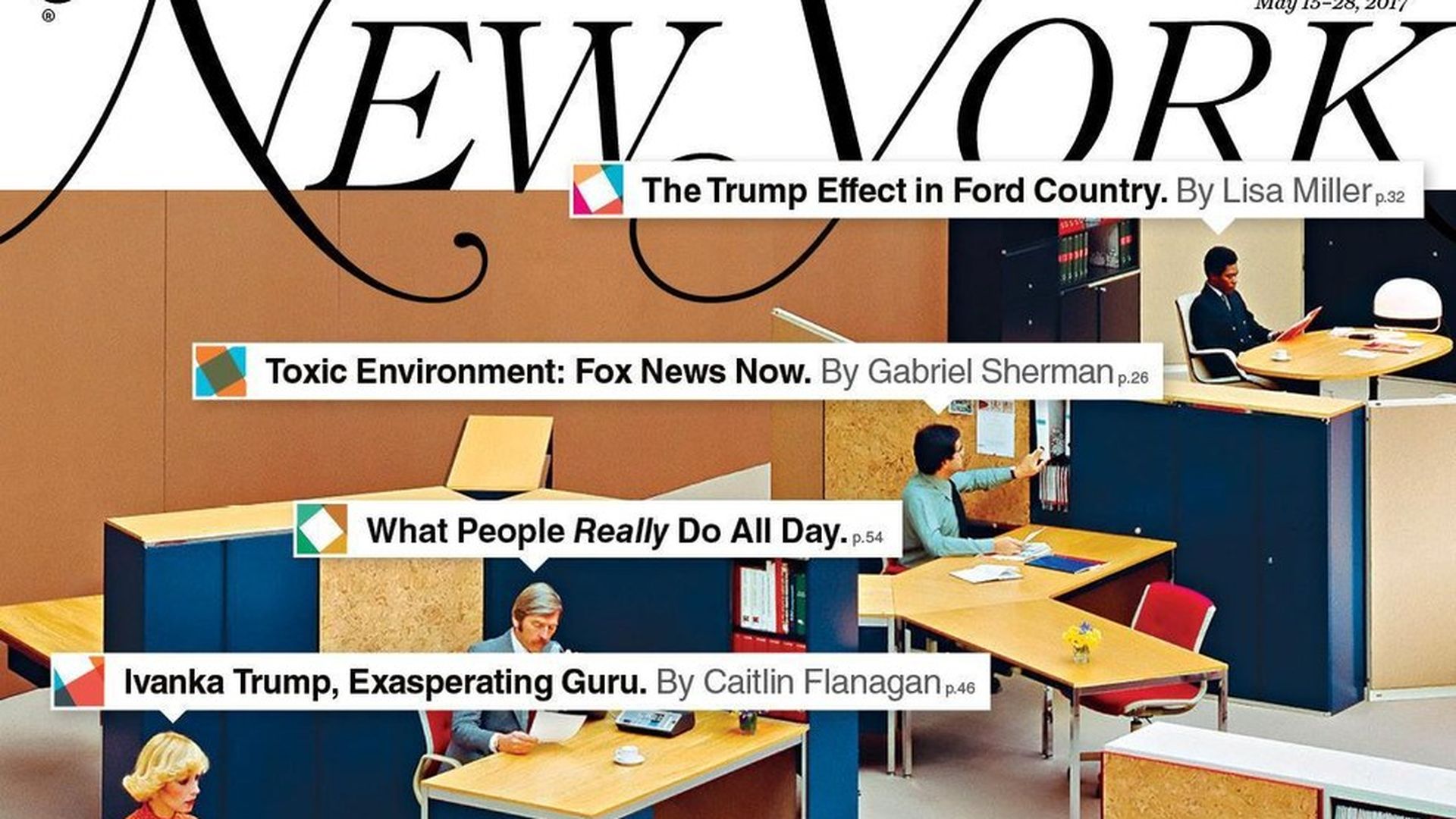 ... are a theme in New York magazine's Work Issue:
Caitlin Flanagan has a long piece on Ivanka, "The People's Princess": "Sometimes, she seems not just essential to his idea of being president; sometimes, she seems the point of his being president. ... [Trump] is Lear — 'All the power of his wits have given way to his impatience' — but Lear with only one relevant daughter, and to her has fallen the task of keeping his terrifying impatience from destroying not just their shared empire but the world itself. He is strangely dependent on her now. And so are we."
Gabe Sherman, in a piece on the "toxic" workplace culture at Fox News, reveals: "The Murdochs are quietly looking for a new programming executive to run the network. ... James wants to recruit David Rhodes from CBS News (Rhodes is under contract). Rupert is interested in Wall Street Journal editor Gerry Baker, or Rebekah Brooks. One source said Rupert's daughter Elisabeth is also being discussed as a candidate."
https://www.axios.com/newsletters/axios-am-3e8b8ea8-8bfc-4697-8cb4-df3e4baf8c0b.html?chunk=6#story6
7. Big energy to Trump: Slow down deregulation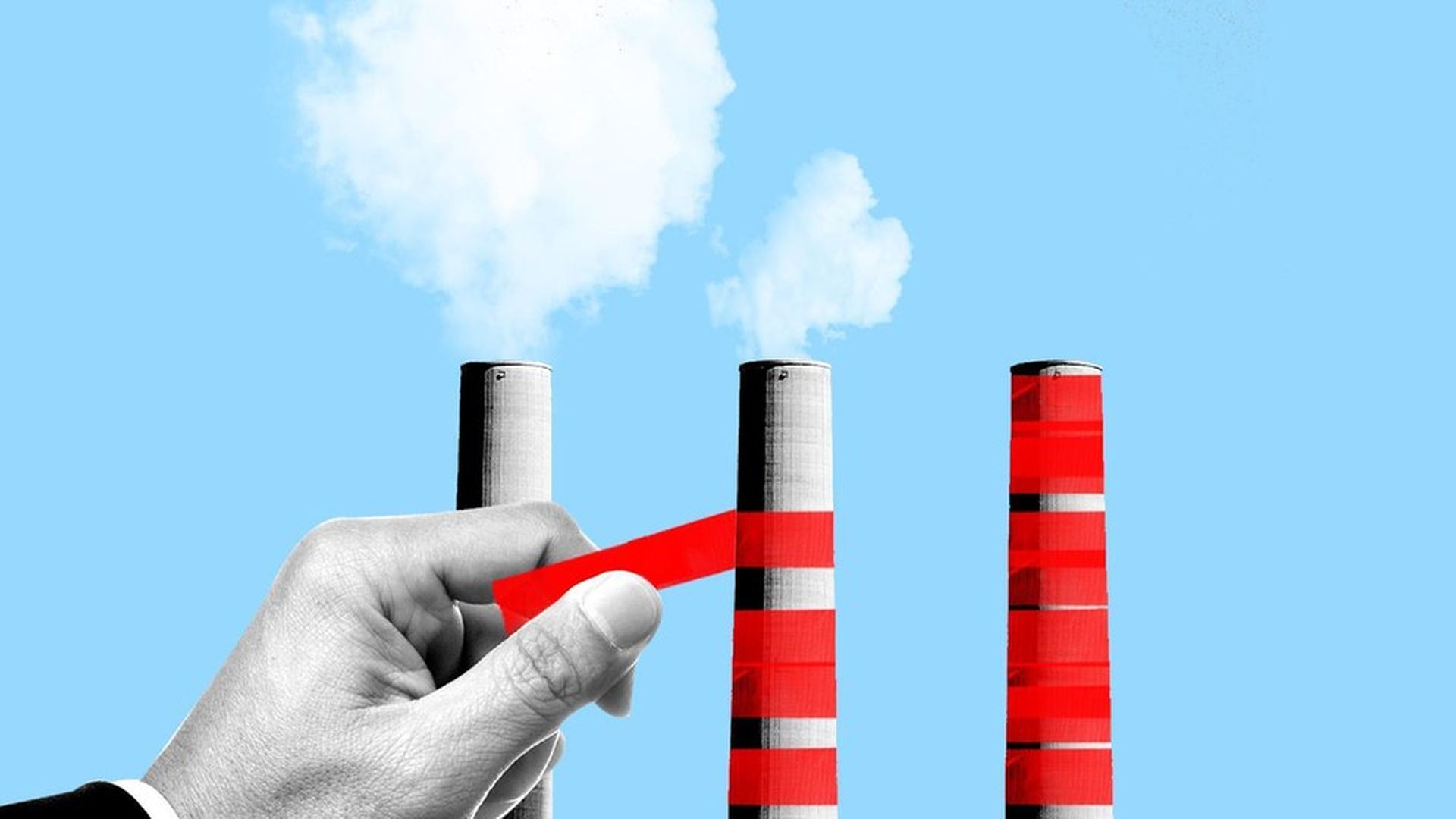 A memorable, essential point by Axios' Amy Harder' in her weekly "Harder Line" energy column:
"Ironically, it's the regulated industries proving to be a countervailing influence against the GOP's most conservative ranks. Automakers and companies producing oil, natural gas and coal want to ensure changes endure through leadership changes in Washington and legal fights despite environmental opposition."
https://www.axios.com/newsletters/axios-am-3e8b8ea8-8bfc-4697-8cb4-df3e4baf8c0b.html?chunk=7#story7
8. Callista Gingrich set to be ambassador to Vatican
Callista Gingrich, the wife of former House Speaker Newt Gingrich, has been chosen as ambassador to the Vatican, and the White House hopes to announce her nomination before President Trump meets with Pope Francis on May 24 in Rome, per CNN's Jeff Zeleny and Caroline Kenny.
Backstory from N.Y. Times' Rome bureau chief Jason Horowitz:
"[D]uring the transition Mr. Trump half-jokingly said he was intrigued by the idea of picking Ms. Gingrich because it could also get Mr. Gingrich ... out of his hair."
"Over recent months, Ms. Gingrich and her husband grew increasingly frustrated with the slow pace of the vetting process, and Ms. Gingrich even threatened to take her name out of the running."
"Others who were considered include Rick Santorum."
Funny story by Jonathan Swan in last night's Sneak Peek newsletter: "About six weeks ago, the President was kibitzing about the Vatican ambassador role. Trump told our source he was reluctant to send Callista to the Vatican because he likes seeing her husband Newt defending him on TV. Our source told the President they were sure satellite hook-ups could be arranged for Newt at the Holy See."
https://www.axios.com/newsletters/axios-am-3e8b8ea8-8bfc-4697-8cb4-df3e4baf8c0b.html?chunk=8#story8
9. From our new Science Stream
"Understanding the software of life," by Science Editor Alison Snyder:
"Once disparate fields of science are intersecting in unprecedented ways — physicists are flocking to solve biology's complex problems, geologists and astronomers mind meld over the search for alien life, and ecologists and economists collaborate to try to figure out how we compete and cooperate."
https://www.axios.com/newsletters/axios-am-3e8b8ea8-8bfc-4697-8cb4-df3e4baf8c0b.html?chunk=9#story9
10. 1 fun thing: Government scientist wins Miss USA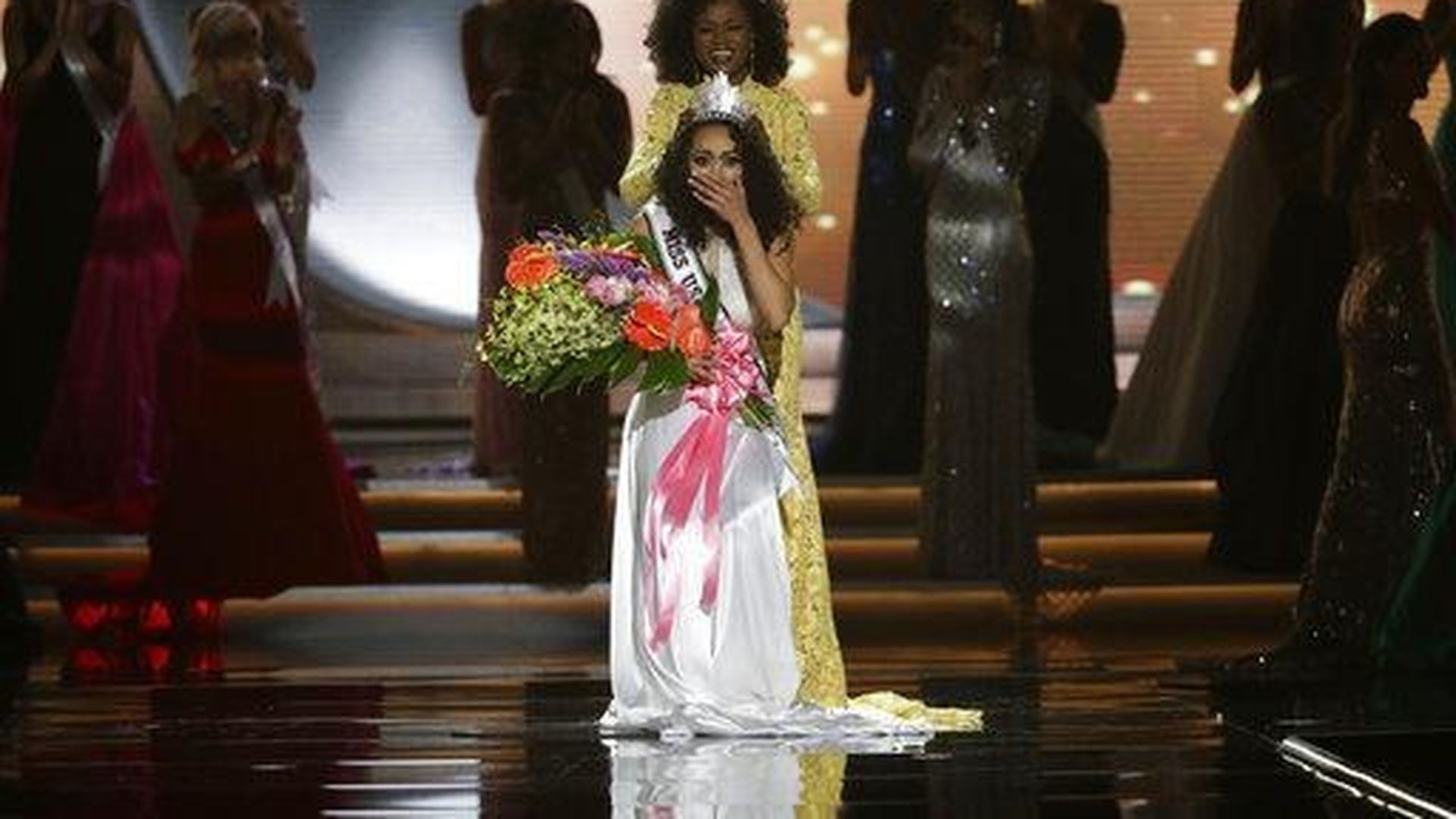 Kara McCullough, a scientist from D.C. working for the U.S. Nuclear Regulatory Commission, was crowned Miss USA last night and will represent the U.S. at Miss Universe (formerly owned by Trump), per AP's Regina Garcia Cano in Vegas:
"McCullough ... was born in Naples, Italy, and raised in Virginia Beach."
"[S]he wants to inspire children to pursue careers in ... science, technology, engineering and mathematics."
"This was the second year in a row that the representative of the nation's capital won the Miss USA title. Last year, ... Deshauna Barber became the first-ever military member to win Miss USA."
Bonus Fun Thing ... Our family got a laugh out of this video from "Saturday Night Live" ... "The Amazon Echo Silver is specifically designed for the greatest generation (Kenan Thompson, Kate McKinnon, Leslie Jones, Kyle Mooney, Aidy Bryant)." This Alexa responds to Allegra, Odessa, Anita, Clarissa, Amelia ...