July 11, 2018
Good Wednesday morning. It's 7/11.
Situational awareness: To protect allergic passengers, Southwest Airlines "will stop giving away peanuts on flights next month, ending a tradition that goes back decades" ... Starbucks "will eliminate single-use plastic straws ... by making a strawless lid or alternative-material straw options available" ... "Alamo Drafthouse Leads U.S. Theater Chains in Eliminating Plastic Straws."
1 big thing: Trump unwinds the 20th century
As President Trump meets other NATO leaders in Brussels today, the backdrop is his role in tearing at the post-World War II order. But Axios future editor Steve LeVine writes that a picture is taking shape of an American future without many of the basic institutions that many consider 20th century advances:
Unions: A decimation of the 120-year-old organized labor movement, most recently with last month's Supreme Court ruling weakening the funding of public collective bargaining.
International order: Trump is part of a wave of leaders challenging the post-World War II order, established to avoid another world war — NATO, our alliance with Europe, trade deals, the World Trade Organization.
Black voting: In 2013, the Supreme Court invalidated a key part of the Voting Rights Act, and last month the court decided that counties can purge voter rolls of people who don't regularly vote.
Women's rights ... For now, more fear than reality: A primary conservative goal is the invalidation or weakening of Roe v. Wade, the 1973 decision that legalized abortion.
Respect for a free press and its role as a check on power.
Racial progress and harmony: The travel ban from majority-Muslim countries and Trump administration's border policies inflame rather than soothe tensions.
The N.Y. Times' Peter Baker quotes Curt Levey, president of the conservative Committee for Justice, as saying the confirmation of Brett Kavanaugh will mean "a conservative court, really [for] the first time since the 1930s."
Why it matters: One of the main legacies of that court was the dismantlement of key components of the New Deal, which established Social Security and other social programs that are part of the U.S. firmament.
Be smart: Karen Harris, managing director at Bain Macro Trends, tells Axios that the new order will be the U.S., Russia and China — "multiple parallel great powers pushing against each other in the two new borderlands of cyberspace and [actual] space."
That, she said, "will lead to a more fragmented geopolitical order and by extension, a more fragmented international trade and finance order."
2. Trump calls Germany "totally controlled" and "captive of Russia"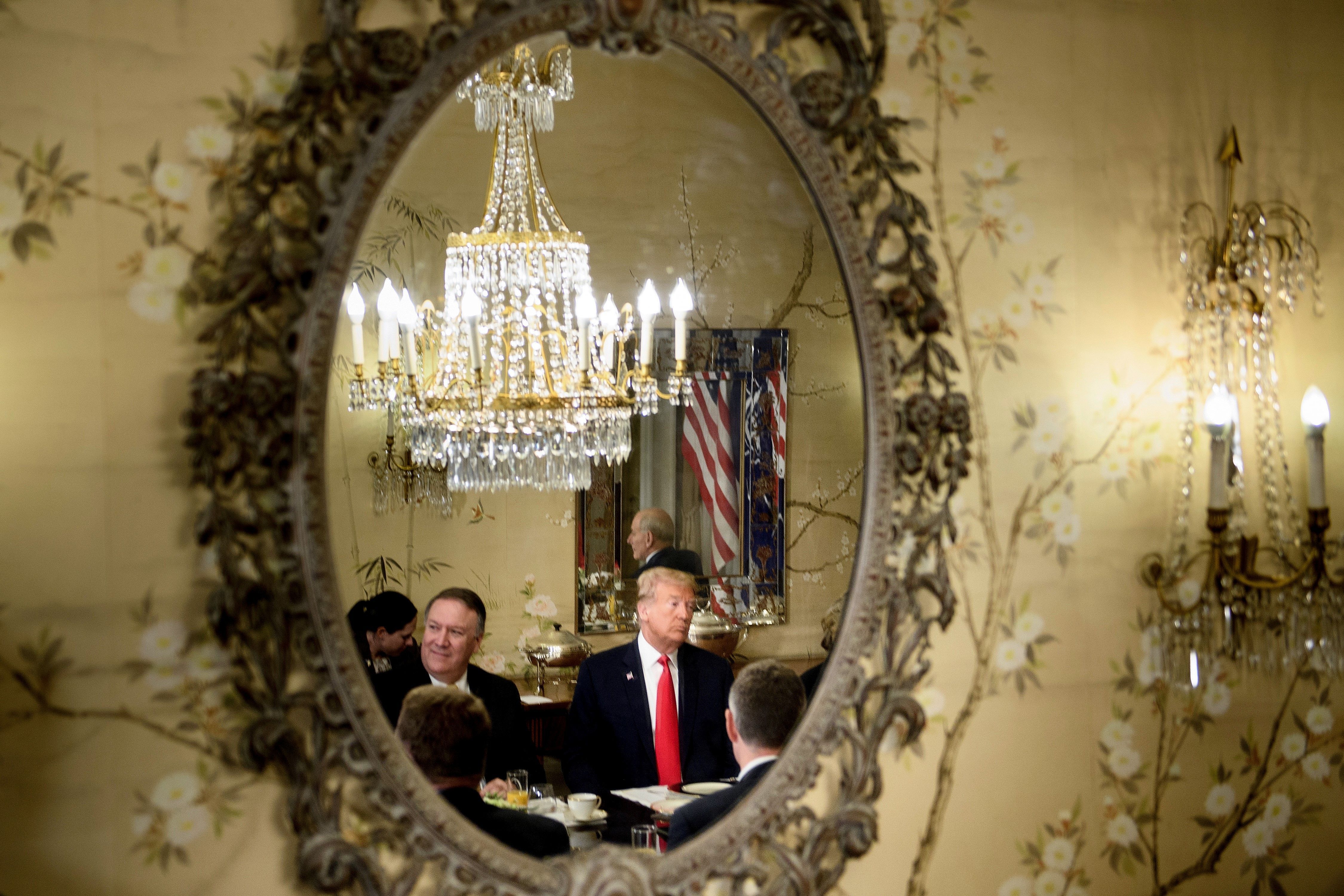 Breaking ... President Donald Trump, in a "startling public outburst" at the U.S. chief of mission residence in Belgium ahead of the NATO summit, said "Germany is a captive of Russia" and "totally controlled by Russia" because of energy purchases.
Between the lines ... The gas pipeline is something Trump has been complaining bitterly about for months, Jonathan Swan writes from Brussels:
He views it as one of Angela Merkel's vulnerabilities, and he fully intends to hammer it at the NATO summit.
Sources who've spoken to Trump about the Nord Stream gas pipeline say he has two chief complaints: 1. He wants Germany to buy American gas, not Russian gas. 2. He views Merkel as a hypocrite — always lecturing him about the "rules-based international system," and yet, in Trump's mind, not spending enough on Germany's defense, while sucking up to Iran and Russia.
Writing earlier from London, Swan quotes a former British government official who's familiar with the planning for Trump's upcoming visit to England and Scotland:
"This is about making Trump feel good about Britain. [A planned visit to] Blenheim [Palace] is about flattering him by association with Winston Churchill — Trump feels he's a latter day Churchill. And of course he and Melania will be thrilled to have tea with the Queen."
"Outcomes ... With this guy, you don't really expect the usual intensive staff work to produce a significant policy statement. ... It's about politics, relationships and impressions."
"For the Brits, it will be about showing that there's a great life after Brexit. This week especially, [Prime Minister] Theresa May will be grateful for some nice, touchy-feely remarks from Trump about Brexit and life after Brexit."
Be smart: It looks like the U.K. visit will need to achieve rapid corrective surgery after combative Trump appearances at NATO.
Whether she likes it or not, Theresa May is Trump's bridge between NATO and Vladimir Putin, with whom he meets Monday in Helsinki.
3. Forecast du jour
The U.S. government's Energy Information Administration, via Bloomberg:
"In 2019, EIA forecasts that the United States will average nearly 12 million barrels of crude oil production per day ... If the forecast holds, that would make the U.S. the world's leading producer of crude," passing Saudi Arabia.
4. Pic du jour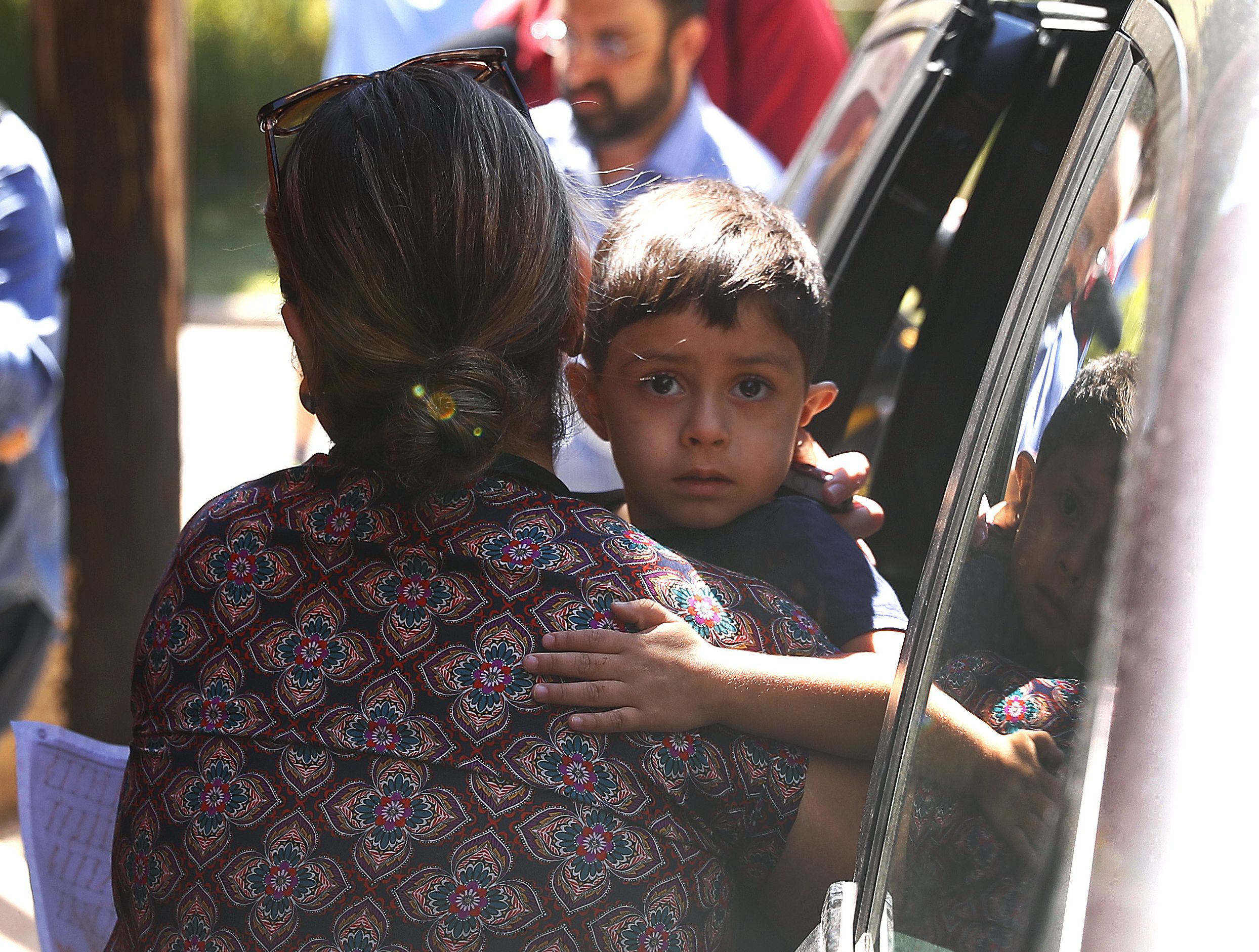 A child from Honduras is brought to the U.S. Immigration and Customs Enforcement office in Grand Rapids, Mich., yesterday.
Two boys and a girl who had been in temporary foster care in Grand Rapids were reunited with their Honduran fathers after they were separated at the U.S.-Mexico border about three months ago.
5. Subpoena showdown could overshadow confirmation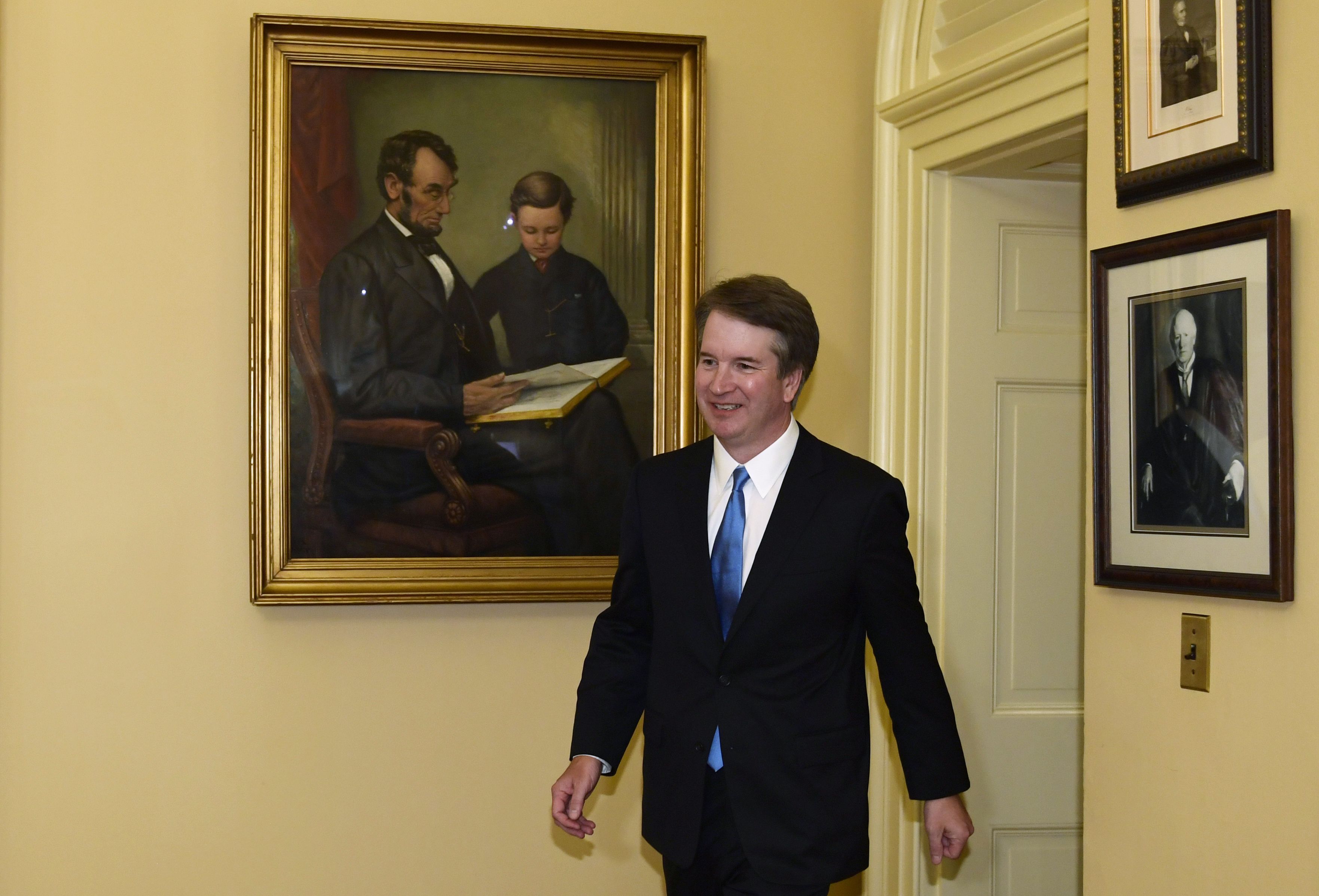 "It is not every day that a potential constitutional showdown over a presidential subpoena coincides with a confirmation hearing for a crucial Supreme Court seat. Less likely yet is a nominee who has written extensively about the very question at the heart of the dispute," the N.Y. Times' Adam Liptak writes:
"But that novel historical moment is here."
Walter Dellinger, acting United States solicitor general in the Clinton administration: "It is not at all far-fetched to think that the question of whether President Trump must respond to a subpoena could come before the Supreme Court shortly after the confirmation process."
All politics is local: Lead of today's WashPost Metro section ... "Kavanaugh's confirmation would be a high distinction for school: Georgetown Prep already has one graduate — Gorsuch — on the Supreme Court."
6. Major colleges drop essay test requirement
Major college this year are dropping their requirements for prospective students to submit an SAT or ACT essay score, per WashPost higher ed writer Nick Anderson:
"The SAT and ACT essay tests began with fanfare in 2005, a bid to assess the writing chops of college-bound students under the pressure of a clock."
"With a few notable exceptions, the consensus in higher education is that the tests are becoming an afterthought even though hundreds of thousands of high school students still take them every year as one of the grinding rituals on the road to college."
"Princeton and Stanford ... last week became the latest to end the mandate, following Dartmouth College and Harvard and Yale."
Why it matters: "Those schools are dropping the requirement because they wanted to ensure that the extra cost of essay testing did not drive applicants away. Others have resisted requiring the essays because they doubted the exercise revealed much."
"It is a remarkable and humbling fall for an initiative that arose little more than a dozen years ago with the hope of reshaping college admission testing."
"Fewer than 25 schools now require the essay scores, according to some tallies, including nine in the University of California system. Brown University, as of Friday, was the lone holdout in the Ivy League."
7. "Humanity is on the precipice of massive change in how we work"
Axios chief tech correspondent Ina Fried (and author of the daily tech newsletter Login) has a piece coming in the N.Y. Times Book Review, "Three Books Consider What Happens When the Robots Take Over":
"In "The Fourth Age," Byron Reese, "whose day job is chief executive of the technology research company Gigaom, begins by grounding the reader in what he sees as the three major changes in human civilization. The first, characterized by the discovery of fire and language, led humans to greatly increase their brain size, paving the way for future advancement. The second was the development of agriculture, which led to the birth of cities. And, finally, writing and the wheel have shaped much of everything until the present. Robots and A.I., meanwhile, promise a fourth age characterized by new challenges, including what the place of humans will be in a world filled with devices that are stronger and potentially smarter than us."
8. The anti-Trump: "I'm a mercenary"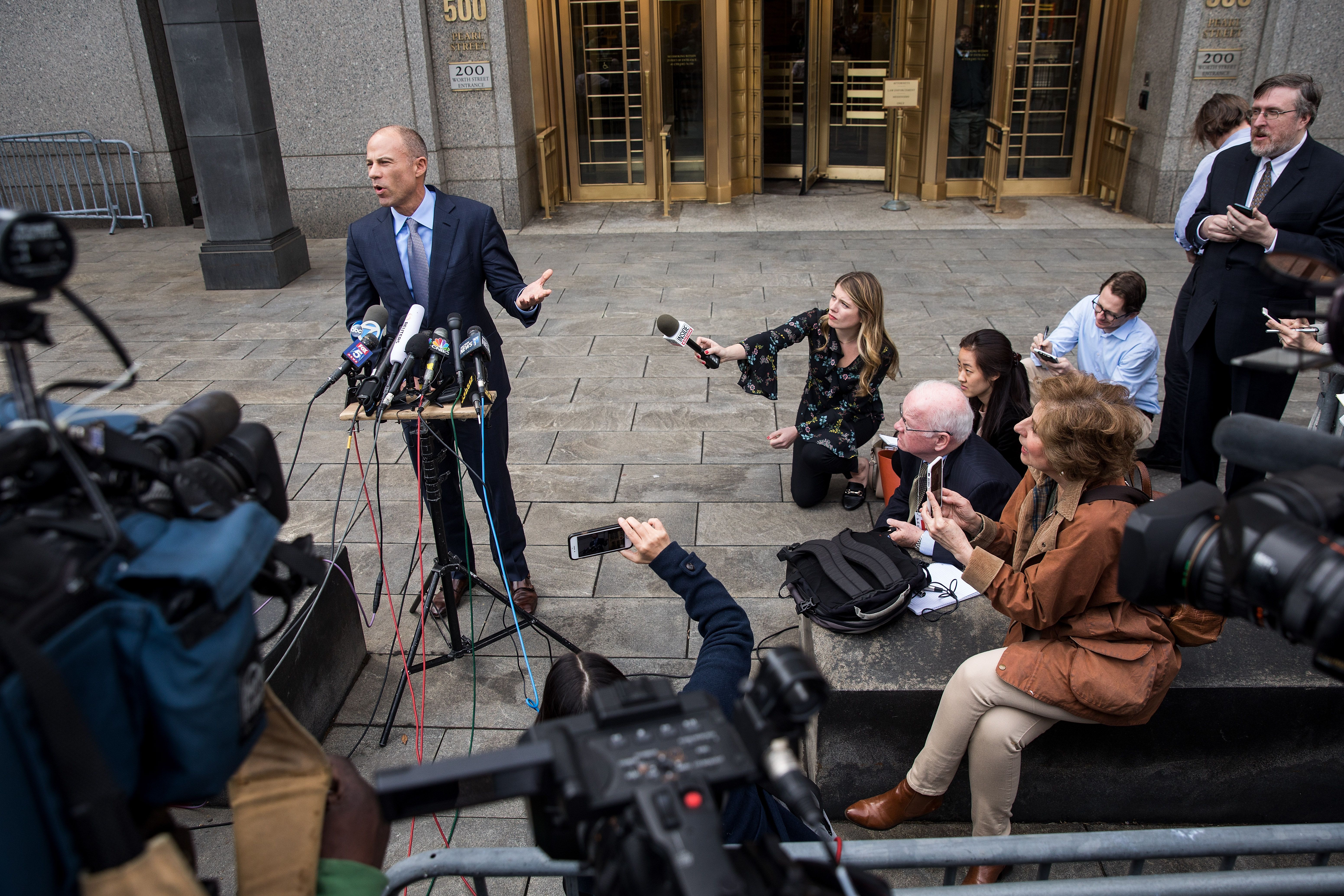 N.Y. Times Magazine ... "The Fast and Furious Michael Avenatti In representing the porn star Stormy Daniels, the lawyer thinks he can bring down a president — one cable-news hit at a time," by Matthew Shaer:
"According to Avenatti, since early March he has been interviewed more than 200 times on network and cable TV. Recently he has cut down on the frequency of his appearances, if only slightly."
"Like Trump, Avenatti is all Freudian id, loudmouthed and cocky."
"He has learned ... to leverage Twitter in much the same manner as the president: as a place to goad ('This is the best Mr. Trump can do?'), a venue for self-aggrandizement ('This is getting too easy') and a direct conduit to an adoring base of supporters."
"Paparazzi trail him to his favorite bars in Beverly Hills."
Tom Rosenstiel, a media scholar and the executive director of the American Press Institute: "We have President Trump because of reality television, and we have Avenatti because of President Trump ... I'd argue we also have Avenatti because the left so desperately desires an anti-Trump: A person who can elicit the same dopamine reaction in his supporters that Trump can from his."
9. ⚽️ Diversity is soccer's new normal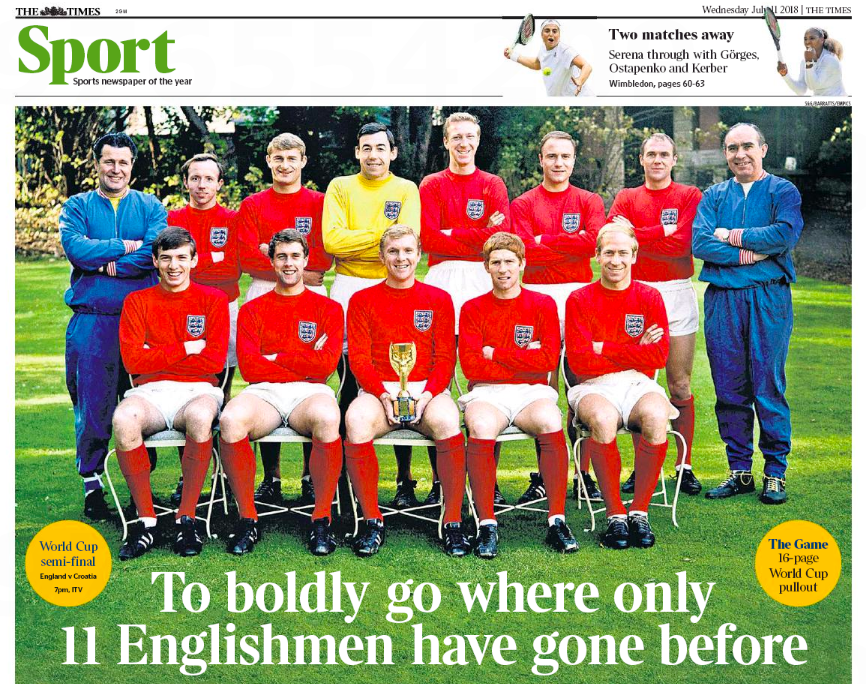 "At a time when populist politicians are trying to choke off or reroute migration flows, what matters to fans of the [all-European teams in the World Cup] semifinals — England, France, Belgium [eliminated] and Croatia — wasn't the players' ancestry but that they excelled," AP's Angela Charlton writes from Paris:
"When England faces Croatia in the ... semifinal match [at 2 p.m. ET today], it will field a team that coach Gareth Southgate says 'represents modern England.' With 11 of 23 players of African or Caribbean descent, it's the country's most diverse national team yet."
"France [in the final after yesterday's 1-0 victory over Belgium] has always been a melting pot, and today you can have a croissant for breakfast, West African maafe stew for lunch and couscous for dinner."
"That's why it's worth noting the Algerian-Cameroonian roots of France's 19-year-old breakout star Kylian Mbappe."
"It's a message that reaches all the way to Africa, where many are turning far-right racist comments about non-white players in Europe on their heads, and are waving the European teams' African connections as a banner of continental pride after their own teams were eliminated."
Why it matters: "Europe owes its sporting power ... to a long-running outreach into poor suburbs or neighborhoods, giving kids of all backgrounds access to coaches and fields and facilities — and teams more talent to choose from."
Be smart: "Soccer glory can only briefly apply a thin veneer over deep divisions within England, profoundly split by Brexit."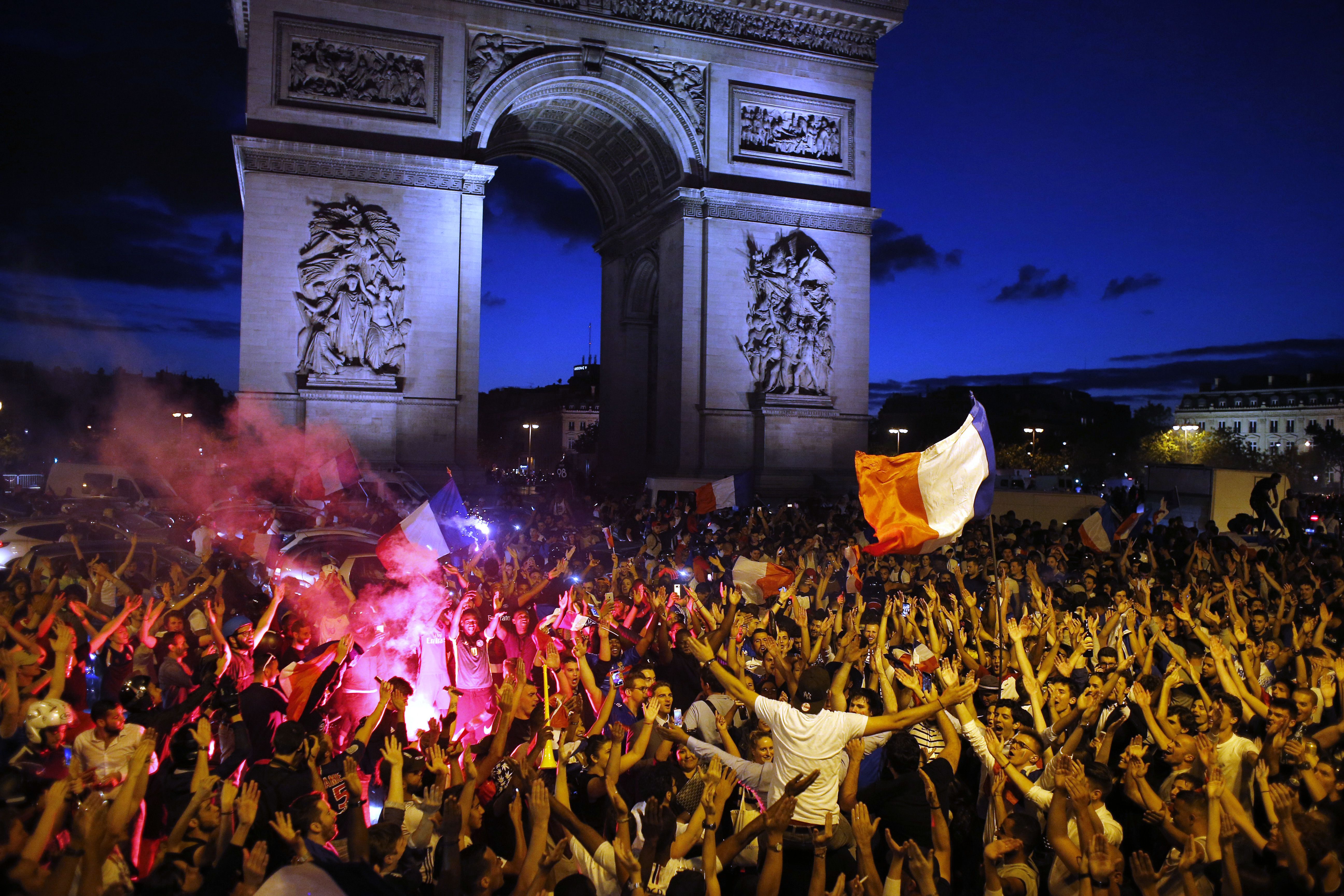 Parisians celebrate on the Avenue des Champs-Élysées, with the Arc de Triomphe in the background, after France advanced to the World Cup final for the first time since 2006, with a 1-0 win over Belgium yesterday.
10. 1 kid thing: Uber for school lunches
"Outsourcing lunch ... Families around the country are finding new options for their children's midday meal thanks to a growing number of delivery options catering to students," Melissa Kossler Dutton writes for AP:
"Some deliver to the schools, others to homes. As for teens calling in their own food deliveries, some schools allow it and others don't."
"Lisa Farrell launched Red Apple Lunch after market research confirmed her suspicion that lunch packing was a 'stress point' for parents. ... She and her team pack healthy lunches, incorporating local food when possible, and deliver them to homes so that kids can take them to school the next two days."
"Kiddos Catering in Chicago [provides] restaurant meals to schools that contract with it. ... Parents select the lunches from an online order form ... [P]arents because they think their children are less likely to toss out restaurant food than a packed lunch."
Sign of the times ... "Many schools have banned [delivery through apps], citing safety concerns about delivery drivers showing up at school unannounced and the burden of tracking down students to alert them that their meals have arrived."
Thanks for reading. We'll have updates all day on Axios.com.