Axios AM
November 02, 2017
If you're in L.A. ... I'll be in my native land tomorrow to lead a conversation on technology and innovation, hosted by Axios and the U.S. Conference of Mayors. My guests: L.A. Mayor Eric Garcetti, New Orleans Mayor Mitch Landrieu, Dan Katz of Hyperloop One, and Dr. Mory Gharib of CalTech's CAST robotics lab. We'll get started at 8 a.m. at L.A.'s Union Station. RSVP here.
BULLETIN: "Prosecutors Consider Bringing Charges [against Russians] in DNC Hacking Case," per the Wall Street Journal. "At least six Russian government officials are identified as part of ongoing investigation."
Situational awareness: Republican House members tell Jonathan Swan that the most politically explosive issue in the tax plan to be released today is the over-complicated treatment of "pass-through entities" — often-small businesses that report business income on personal returns. A House GOP member told Swan: "This is supposed to be a simplification. It's not."
1 big thing: Senators troll Facebook
Showing they plan to continue playing hardball with Big Tech, Democratic Senators Mark Warner (Va.) and Amy Klobuchar (Minn.) created a Facebook page for a fictional political group — Americans for Disclosure Solutions (ADS) — then paid to target the newsfeeds of thousands of journalists and Hill staffers.
Why it matters: A Warner aide tells me the senator was surprised that "there was literally no mechanism on [Facebook] for us to [prove] we were who we said we were."
"[I]t was really easy for Russian operatives to use the same micro-targeting tools as they attempted to meddle in last fall's presidential election ... [Y]ou can see why this would be so appealing to the Russians."
How they did it: Warner and Klobuchar — who have introduced a bill, backed by Sen. John McCain (R-Ariz.) to require more disclosure about online politics ads — created a "Political Organization" page on Facebook for the fictional group.
"Using campaign funds in accordance with Senate ethics rules," according to aides, they "launched a small, 24-hour ad buy on Facebook targeting Washington, D.C. journalists and Capitol Hill staffers."
"For just $20, ... Warner and Klobuchar reached 1,369 self-identified Hill staffers in under 24 hours."
"For just $20, Warner and Klobuchar reached 1,407 Washington, D.C.-based journalists."
Be smart: Axios media trends reporter Sara Fischer, an authority on digital advertising, tells me (vehemently, BTW) that this experiment doesn't go far enough: That "reach" doesn't mean the targets saw the ad — just that they could have.
Sara emails: "In the political advertising world, you would need to serve at least 7-10 viewable impressions to a person over a short window, two-four weeks, to even begin to driving intent or action."
"But the experiment shows how easy and cost-effective it is for anyone to access the tools to potentially build a political campaign on Facebook."
The takeaway: Facebook has been (belatedly) the most forthcoming of the three tech giants, but their political stop gates aren't in place yet: They say they're working on it, and it will take time.
2. What we learned from the Big Tech hearings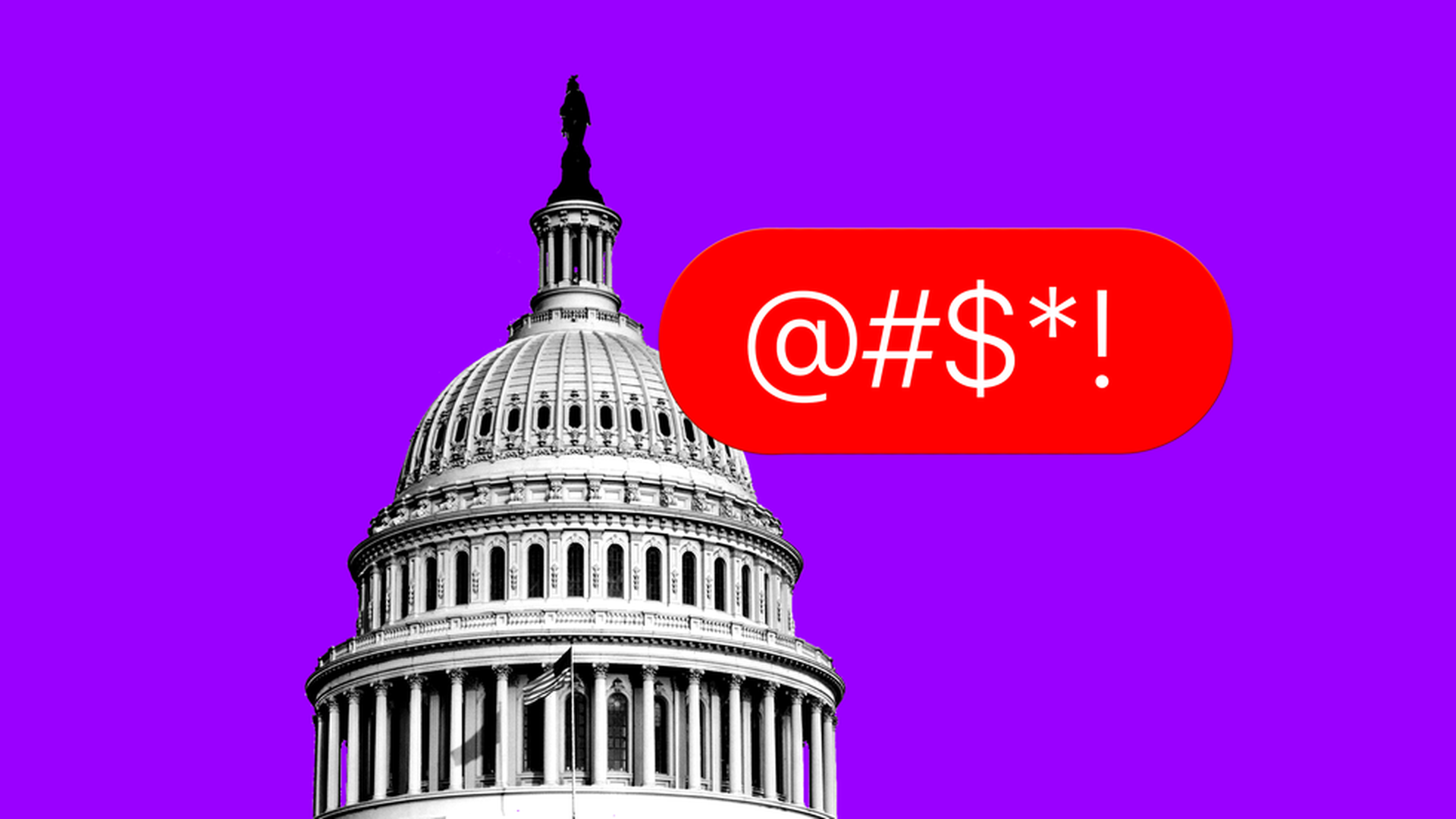 Lawmakers' rebukes went far beyond the companies' responses to Russia's interference: They also repeatedly revealed a discomfort with the size, power and limited accountability of the large web platforms, Axios' David McCabe writes. His other takeaways:
Washington isn't buying that Facebook, Google and Twitter aren't media companies.
We now know what the Russian ads look like. (If you missed our graphic in Axios PM, see them here.)
Still no backing for a regulatory fix.
Lawmakers felt slighted by the CEOs' absence.
The companies are putting significant resources toward vetting content.
Democrats were the harshest critics.
Lawmakers are still learning the basics.
Tech made a huge political miscalculation in not moving faster.
3. Russian hackers have global targets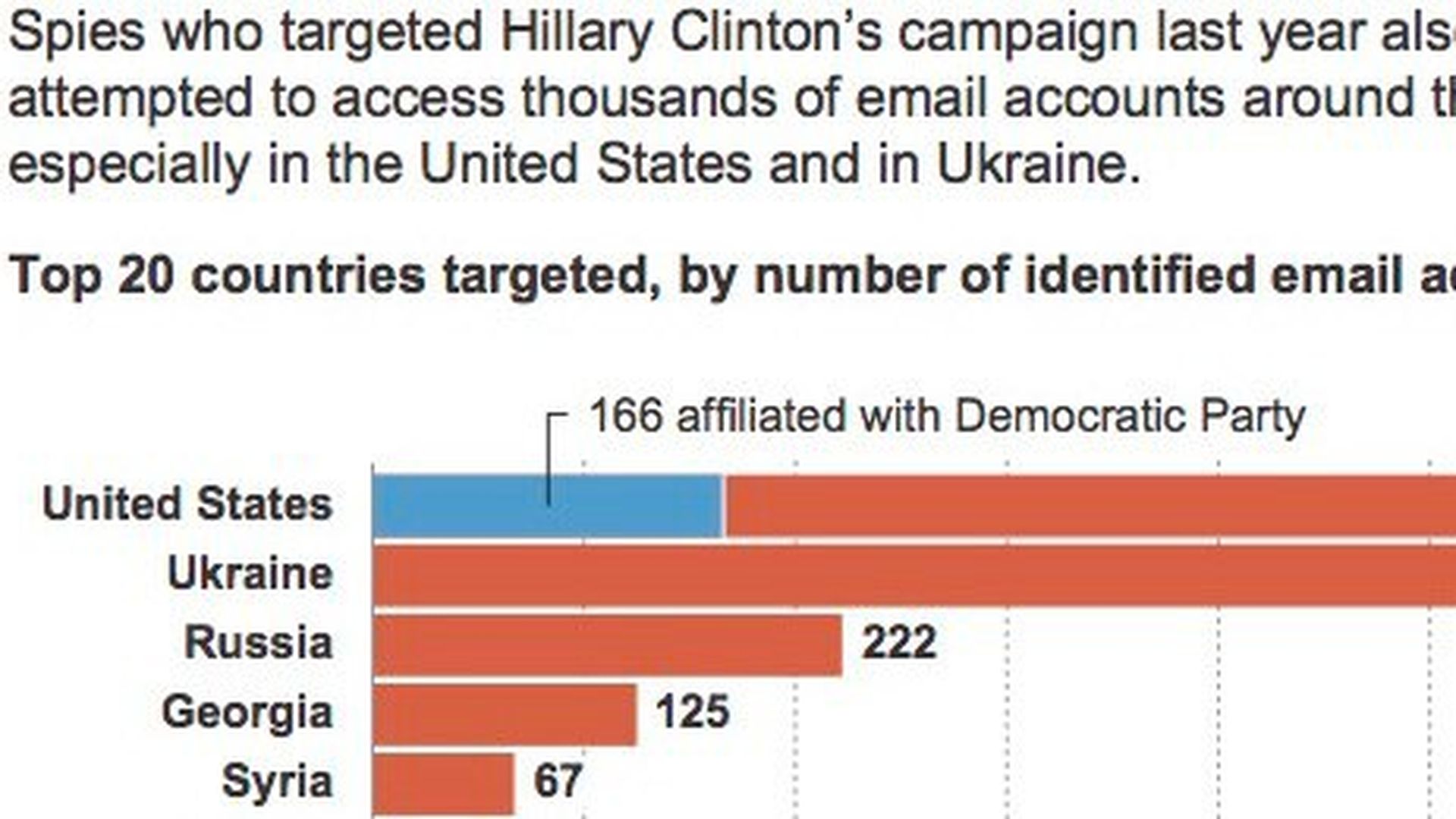 "The hackers who [tried to upend] the U.S. presidential election had ambitions well beyond Hillary Clinton's campaign, targeting the emails of Ukrainian officers, Russian opposition figures, U.S. defense contractors and thousands of others of interest to the Kremlin, according to a previously unpublished digital hit list obtained by The Associated Press":
Why it matters: "The list provides the most detailed forensic evidence yet of the close alignment between the hackers and the Russian government, exposing an operation that stretched back years and tried to break into the inboxes of 4,700 Gmail users across the globe — from the pope's representative in Kiev to the punk band Pussy Riot in Moscow."
"In the United States, ... [the Russian hacking group] Fancy Bear tried to pry open at least 573 inboxes belonging to ... then-Secretary of State John Kerry; ... Colin Powell; then-NATO Supreme Commander ... Philip Breedlove; and one of his predecessors, U.S. Army Gen. Wesley Clark."
"The list skewed toward workers for defense contractors such as Boeing, Raytheon and Lockheed Martin or senior intelligence figures, prominent Russia watchers and — especially — Democrats. More than 130 party workers, campaign staffers and supporters of the party were targeted, including [John] Podesta and other members of Clinton's inner circle. The AP also found a handful of Republican targets."
Bonus: Pic du jour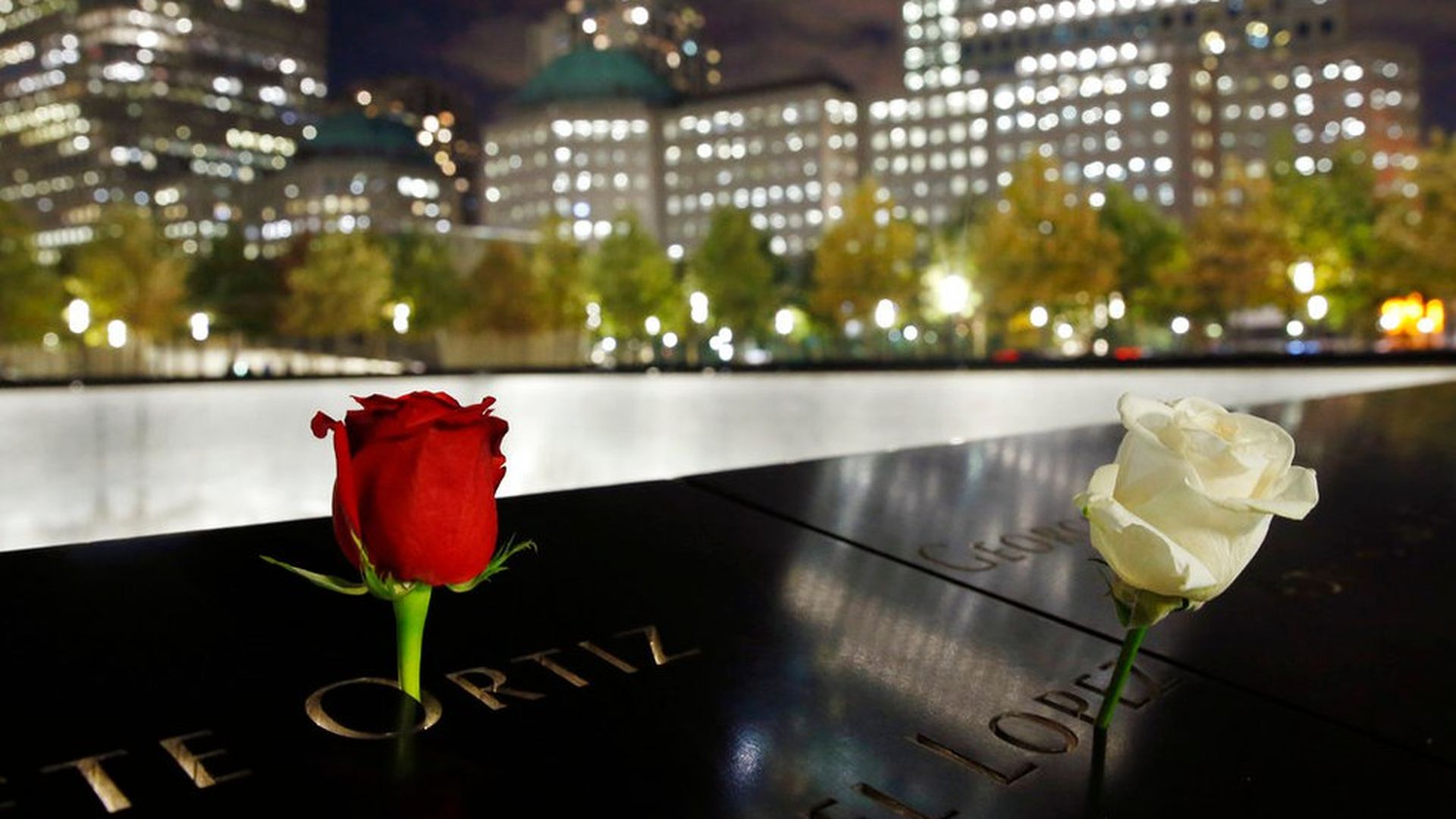 Hallowed ground ... Two fresh roses are carefully placed in the engraved names of victims of the 9/11 attacks, at the edge of the north reflecting pool of the World Trade Center memorial last night.
Since 9/11, the neighborhood has been transformed by new construction and a wave of tourism, AP's Adam Geller reports.
But this week's attack reminded those who live, work, study and visit there of latent fears that the neighborhood would once again find itself in the crosshairs.
"[T]hey walk around the corner and gaze up at the new Freedom Tower and remember that for all the neighborhood's new wealth and cosmopolitan energy, for much of the rest of the world it remains defined by what came before."
4. The conversation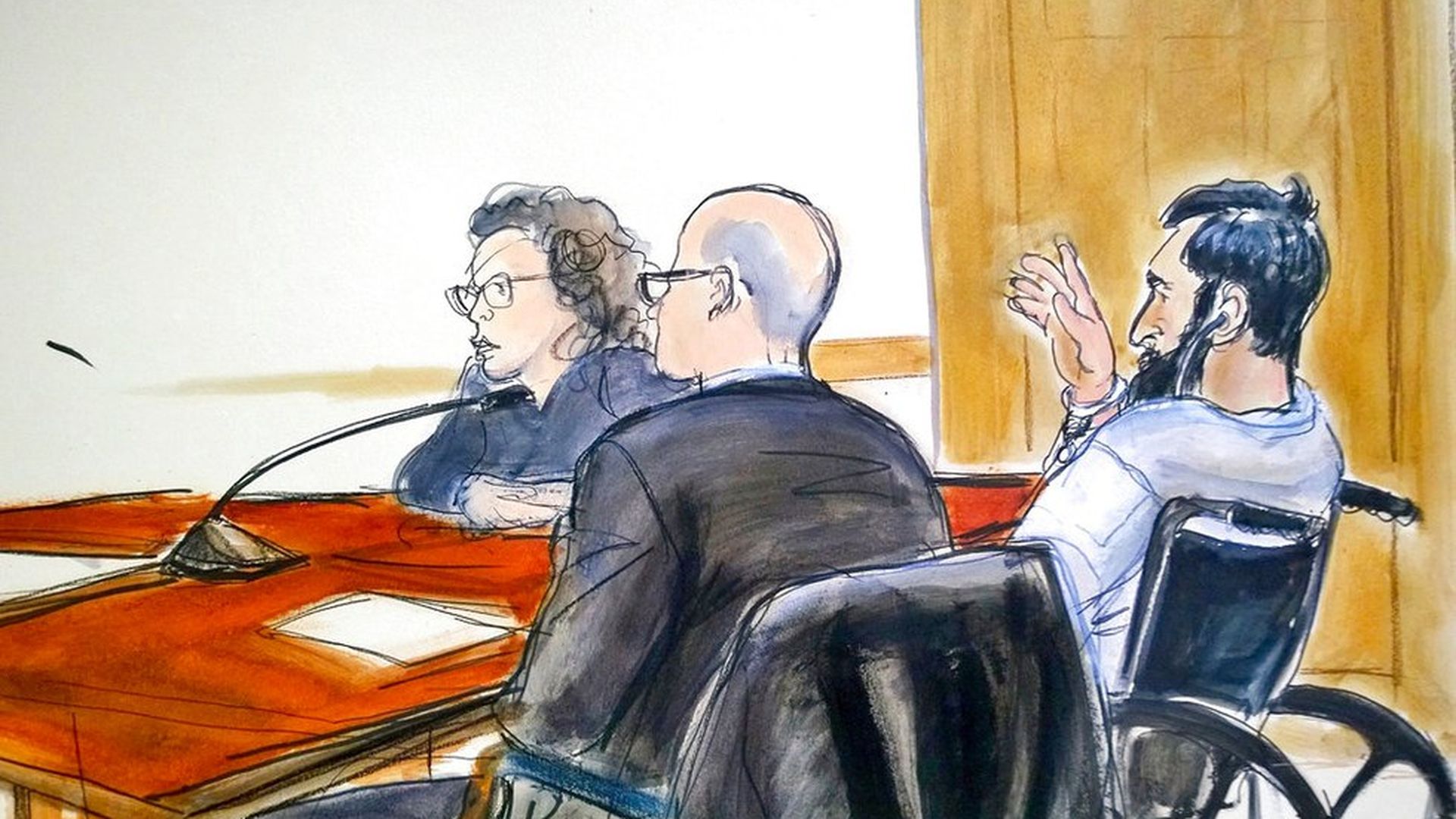 "President Trump touched off a sharply partisan debate over some of the most divisive issues in American life ... as he cited this week's terrorist attack in New York to advance his agenda on immigration and national security while assailing Democrats for endangering the country," Peter Baker writes on A1, under the headline: "President Assails 'Joke' Justice And Seeks Visa Program's End."
What's next, from WashPost front-pager: "The president said he would move to eliminate a popular 'diversity lottery' for foreigners seeking U.S. visas ... He also suggested he would consider sending the suspect, Sayfullo Saipov, a legal permanent resident of the United States, to the U.S. military prison in Guantanamo Bay, Cuba."
Trump: "We have to get much tougher ... We have to get much smarter. And we have to get much less politically correct. We're so politically correct that we're afraid to do anything."
Some Republicans were disappointed by Trump's tone. One longtime adviser to GOP presidents texted me: "A complete lack of understanding of the symbolic healing power of the presidency."
5. First look: Comey's searing title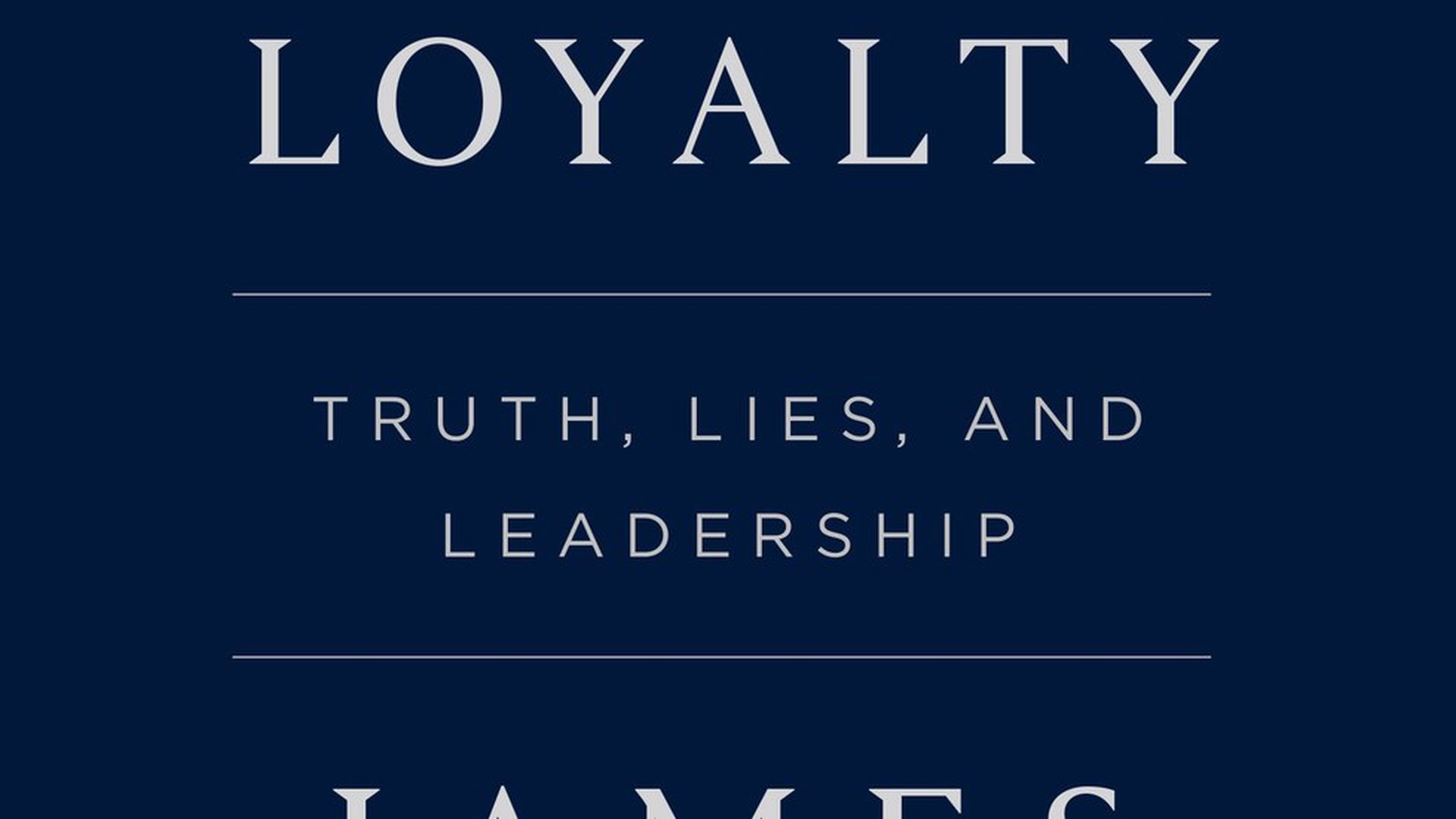 Remember the time that fired FBI Director James Comey testified that during a private White House dinner, President Trump had told him: "I need loyalty, I expect loyalty"?
Well, Axios can reveal that Comey refers mischievously to that conversation in the title of his book out May 1, "Higher Loyalty: Truth, Lies, and Leadership."
Why it matters: Comey kept notes and showed during his testimony that he has an eye and voice for vivid, novelistic detail. He was fired. And he has a multimillion-dollar book deal — brokered by Javelin, with Flatiron Books. Means, motive, opportunity. This should be good!
6. Trump phones Maggie: "I'm not under investigation"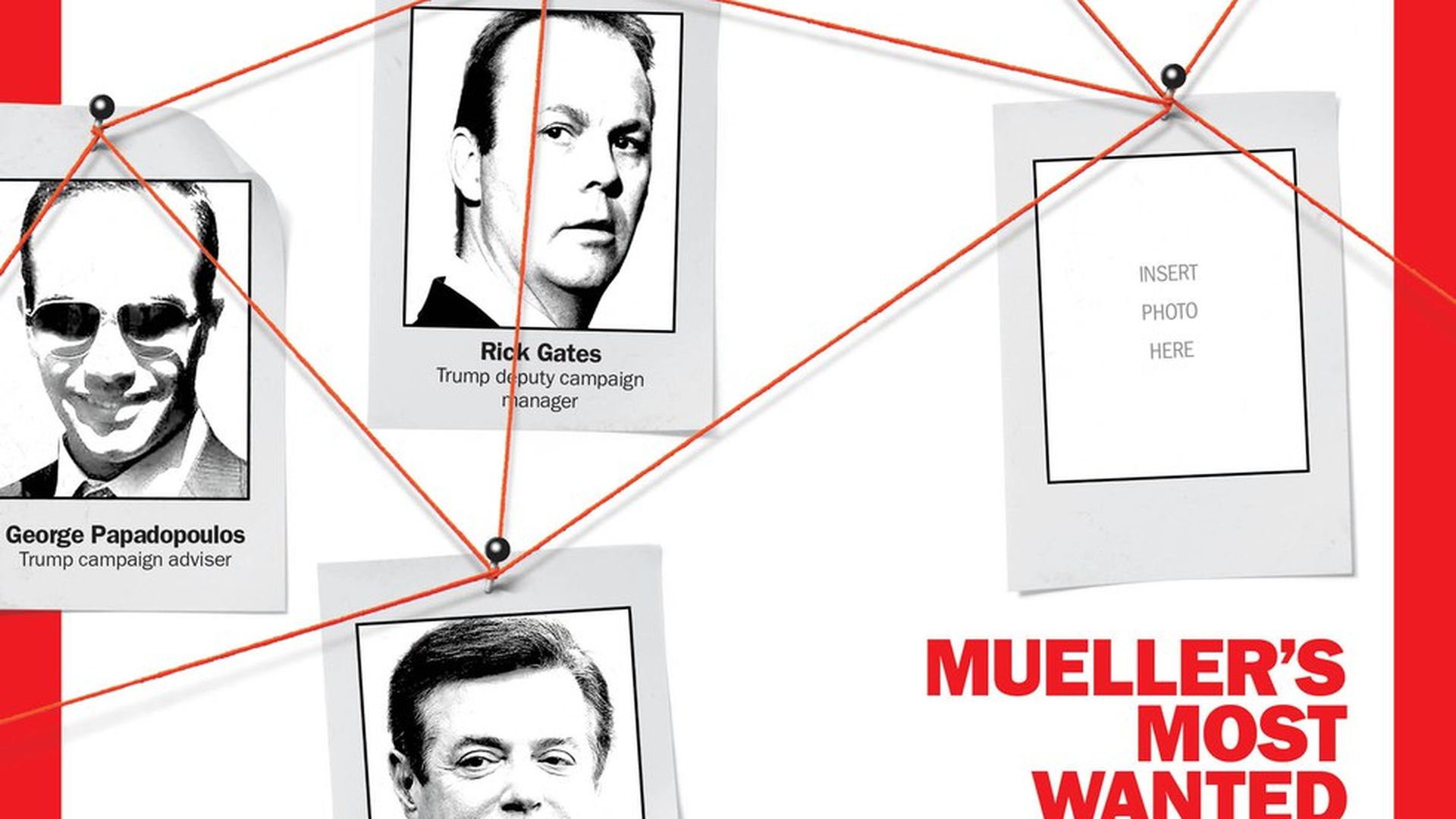 "Trump projected an air of calm ... after charges against his former campaign chief and a foreign policy aide roiled Washington, insisting [in a brief phone call ]to The New York Times that he was not 'angry at anybody,'" Maggie Haberman and Peter Baker write on p. A12:
Trump said: "I'm not under investigation, as you know."
Pointing to the Manafort indictment, Trump said, "And even if you look at that, there's not even a mention of Trump in there. ... It has nothing to do with us. ... I'm actually not angry at anybody."
7. Income gender gap grows globally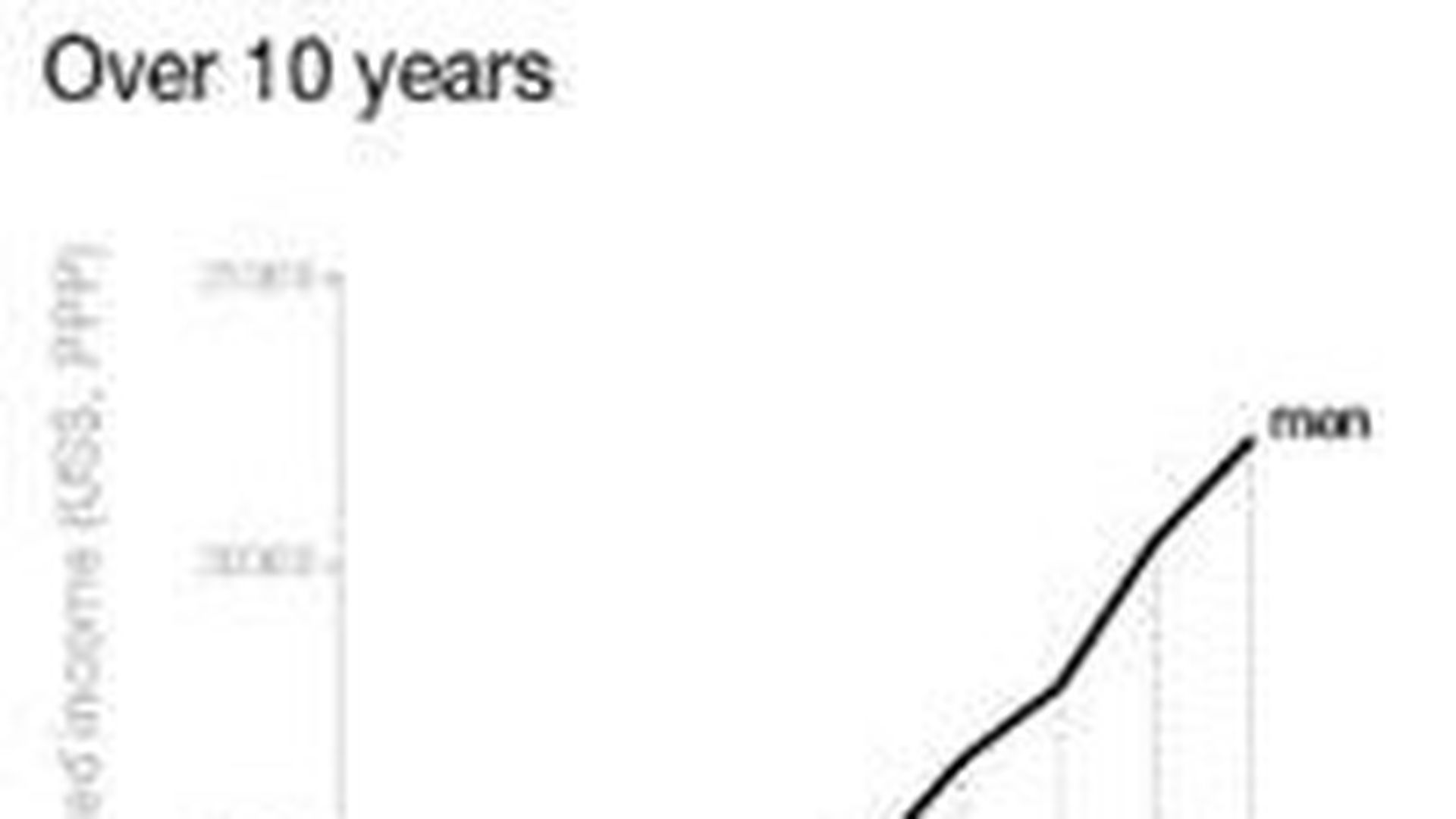 The World Economic Forum's "Global Gender Gap Report 2017" finds "declining gender equality in the workplace and political representation": "[T]he parity gap [widened] for the first time since ... 2006."
"The U.S. falls four places to 49 ... (out of 144 countries). In 2006, it ranked 23."
"The U.S.'s greatest weakness is in [the] Political Empowerment pillar, where it falls from 77 in 2016 to 96 on the generally low number of women in [top government] positions ... lowest level since 2007."
8. Bullish 2018 forecast (with an *)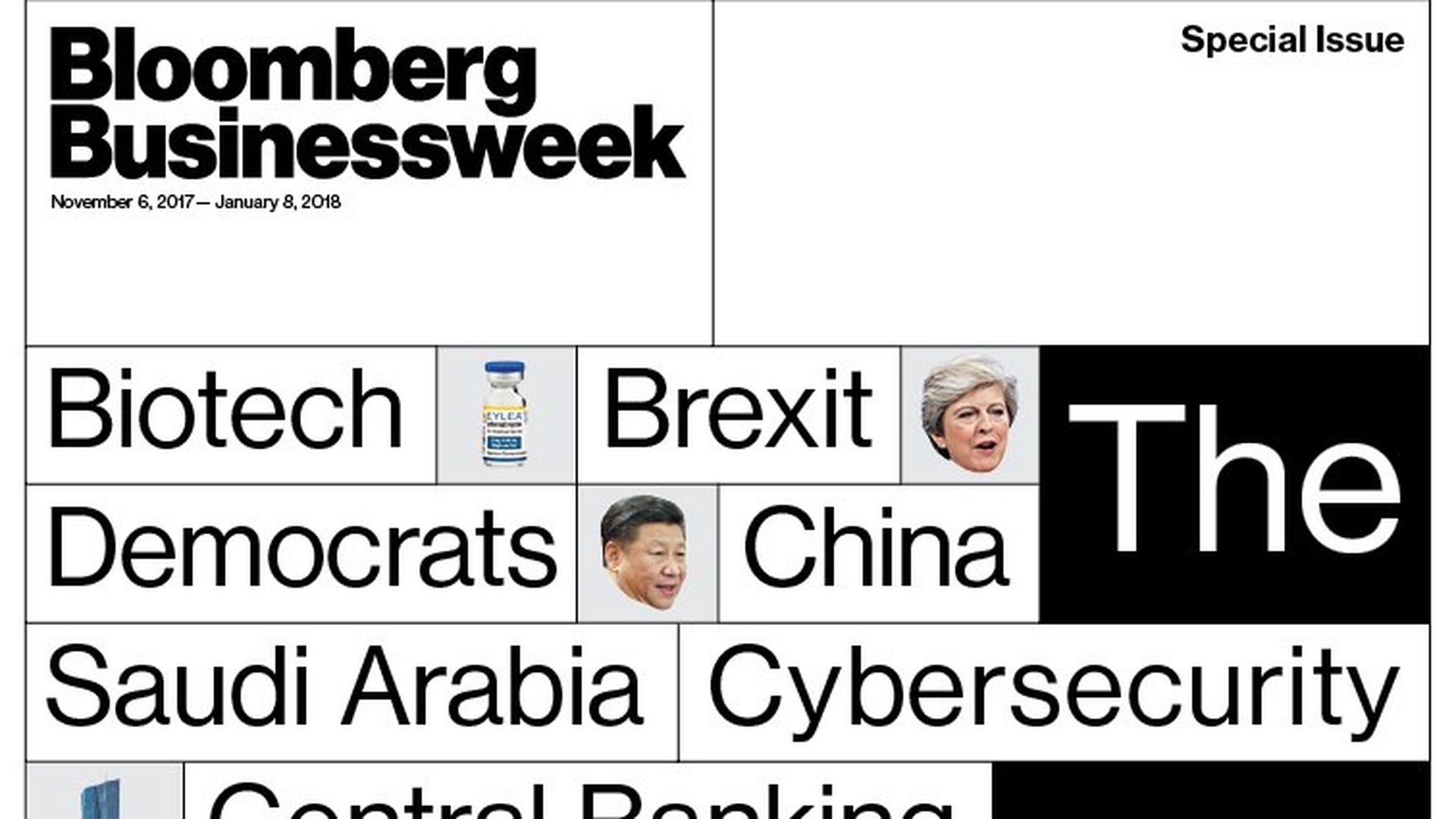 "The world economy should grow nicely again in 2018. (Unless someone does something dumb.) After several disappointing years, all the major economies are expanding at the same time ... Healthy growth makes it easier to deal with the next downturn," Bloomberg Businessweek projects:
"We've gotten so used to complaining about sluggishness that it's a shock to realize the global economy has quietly accelerated to a respectable and sustainable cruising speed. Market volatility is historically low.""The big story for 2018 is likely to be how to manage the continued expansion. A turning point may come at the end of September, when the European Central Bank might stop or curtail monthly bond purchases.""Bloomberg economists predict the U.S. will grow 2.5 percent in 2018; China, 6.4 percent; Japan, 0.9 percent; and Germany, 1.6 percent. In most cases those numbers are in line with the growth expected for 2017, which has turned out to be a better year than many forecasters expected."The upswing hasn't benefited everyone. The IMF points out that prospects are 'lackluster' in many nations of sub-Saharan Africa, the Middle East, and Latin America. Even in wealthy nations, those at the bottom are hurting. In the U.S., wage growth remains anemic despite an unemployment."
9. NPR storm over harassment handling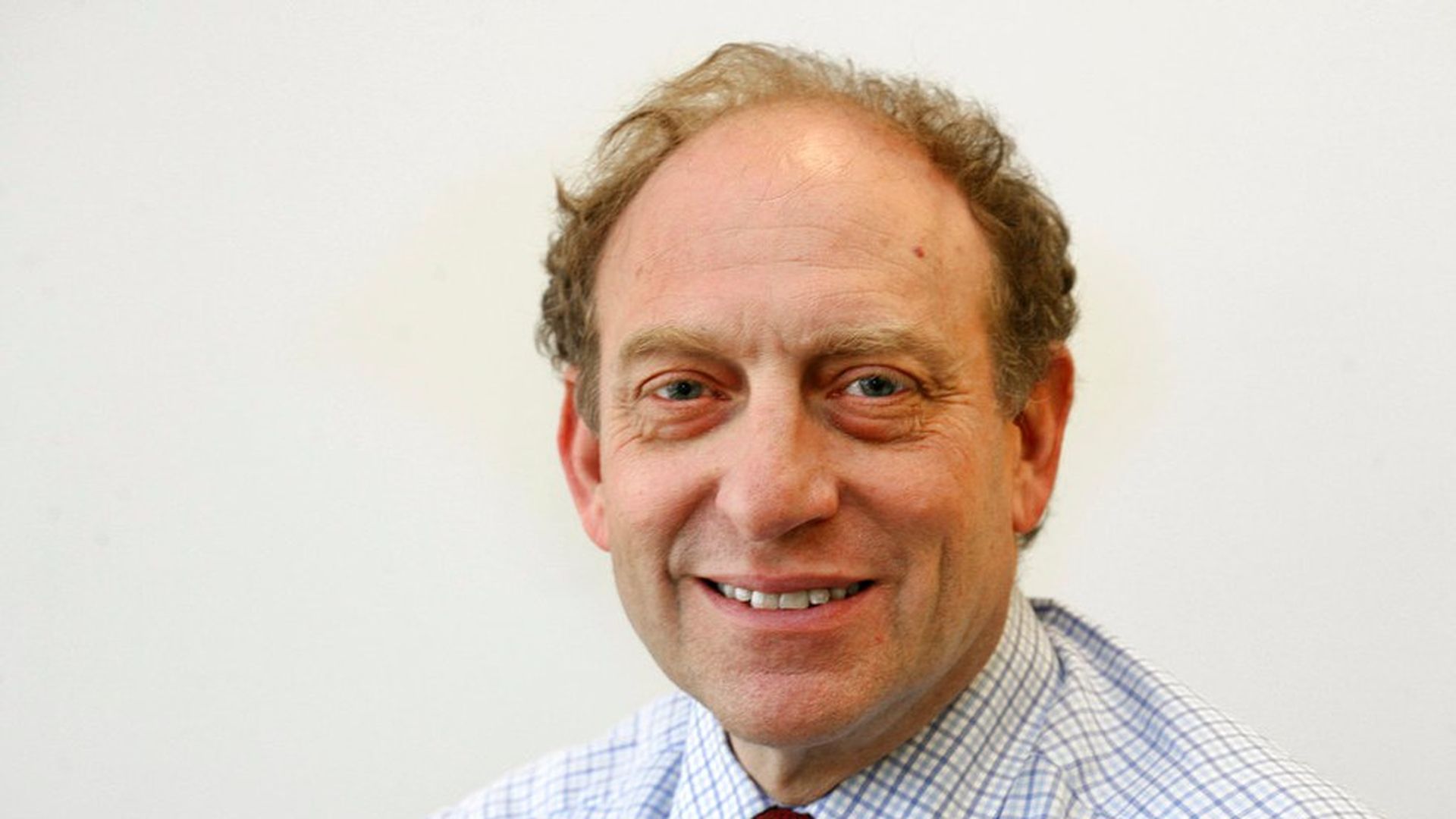 "Inside NPR, there is dissatisfaction with CEO Jarl Mohn and his delayed action against the network's head of news Michael Oreskes" (who resigned yesterday), CNN's Brian Stelter writes:
"Women and men throughout the organization described anger and resentment that could have ripple effects in the coming days."
"[N]ine staffers said they believe Mohn did not take the Oreskes harassment accusations seriously enough. ... Some of the accusations dated back to Oreskes' time at The New York Times two decades ago, but female staffers at NPR had concerns about more recent conduct as well."
"Mohn spoke with NPR's Mary Louise Kelly on 'All Things Considered' ... A couple dozen newsroom staffers gathered near the studio to watch the taping. Mohn acknowledged that 'there had been rumors circulating around the building ... [W]e can't act on that. We have to act on facts."
P.S. L.A. Times front page, "Six women accuse filmmaker [Brett] Ratner of harassment, abuse: Actresses allege a range of misconduct over many years": The women "accused Ratner of a range of ... misconduct that allegedly took place in private homes, on movie sets or at industry events."
10. 1 strong thing: Houston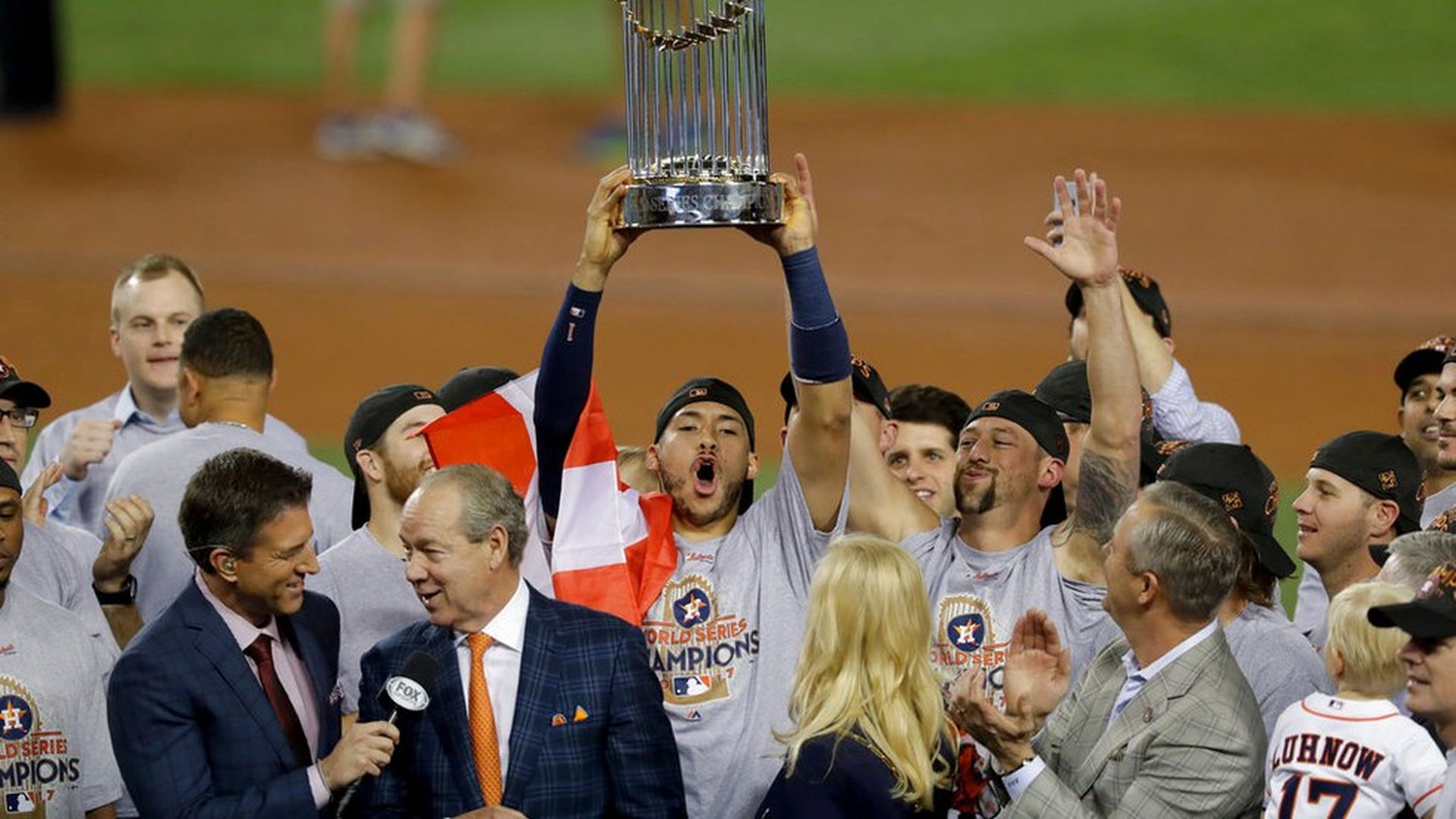 Possibly the most epic World Series ever (and including two of the best World Series games ever): "[T]he Houston Astros [won] the first World Series ... in franchise history by romping past the Los Angeles Dodgers 5-1 in Game 7," in Dodger Stadium.
"Playing for a city still recovering from Hurricane Harvey, and wearing an H Strong logo on their jerseys, the Astros brought home the prize that had eluded them since they started out in 1962 as the Colt .45s."
Houston Chronicle: "The Astros have played 9,023 games since their franchise's inception in 1962. ... Never during the Killer Bs era had they won even a World Series game, let alone four."
"While the World Series has required a seventh game four times in the last seven years, this matchup was unique. For the majority of the season, both teams were their league's best. Not since 1970 had two 100-win teams met in a Fall Classic. Not since 1931, when the St. Louis Cardinals beat the Philadelphia Athletics, had two 100-win teams met in a World Series Game 7.
"The drama had only built over the first six games and 57 innings of an all-time great series."