Good Sunday morning from the mountains of Park City, Utah, where Axios managing editor Bubba Atkinson married Sam Smith, a campaign and Senate alumnus who's now with FedEx. The father of the bride, the iconic Fred Smith, said in his toast at the open-air reception: "This certainly seems to be a match that is axios, to use an apt Greek word — a match worthy, indeed."
https://www.axios.com/newsletters/axios-am-384743f7-bc00-4e00-97e5-7becbd761c0d.html?chunk=0#story0
1 big thing: "Did you do this?"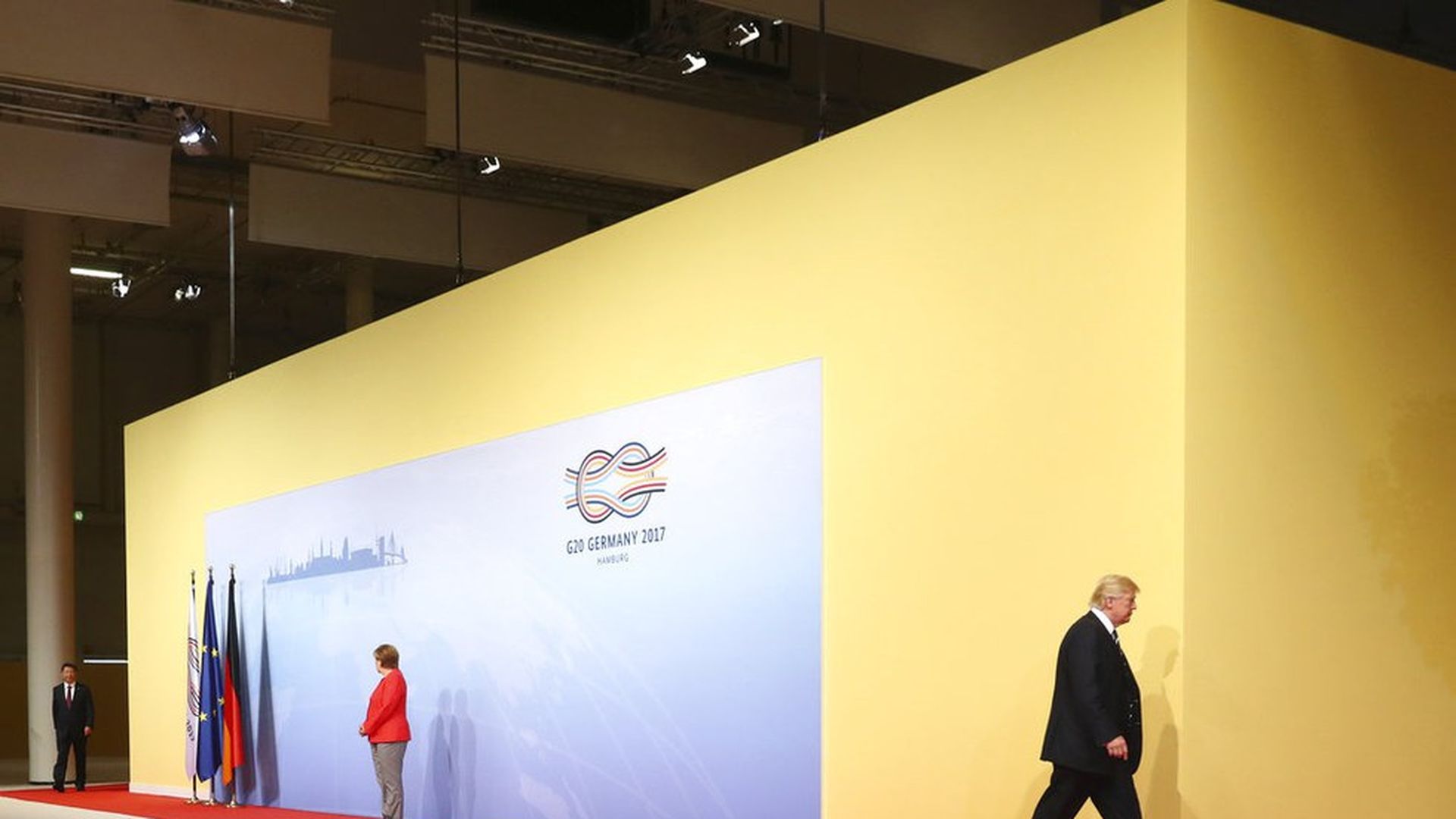 President Trump began his high-stakes Putin meeting, according to an account by the N.Y. Times' Glenn Thrush, by saying: "I'm going to get this out of the way: Did you do this?"
Russian hacking/propaganda ops in the 2016 election aren't a question in many minds besides Trump's. So that's certainly not a very muscular opening if you're interested in deterrence or retribution.
But Trump has shown little inclination for either: Not only does he not buy the extent of the Russian transgression, he has continued to call it "fake" in private.
Axios' Jonathan Swan texts me: "The cognitive dissonance — between his pride in his victory, and the fact that a sinister foreign force might've helped him — is too strong for him to ever fully believe it."
During an Air Force One briefing on the way home, National Security Adviser H.R. McMaster told reporters: "What the President and Secretary [of State] Tillerson charged us with as they came out of the meeting is what we're going to do going forward."
Treasury Secretary Steven Mnuchin, in the same gaggle, added one intriguing detail: "After a very substantive discussion on this, they reached an agreement that they would start a cyber unit to make sure that there was absolutely no interference whatsoever, that they would work on cybersecurity together."
Good luck with that! Marco Rubio tweets: "Partnering with Putin on a 'Cyber Security Unit' is akin to partnering with Assad on a 'Chemical Weapons Unit.'"
For all the back-patting among his aides as they post-gamed the trip, they were reminded of the water torture that they were returning to: While Air Force One was aloft, the N.Y. Times posted a front-page story about a meeting last June with "a Russian lawyer who has connections to the Kremlin," arranged by one of Trump's sons, Don Jr., and attended by Jared Kushner and campaign chairman Paul Manafort.
Be smart: Russia is the story of this presidency. Think about the past month alone: multiple investigations of collusion in full swing ... Trump at odds with virtually every federally elected Republican over Russia sanctions ... Trump-Putin meeting overshadows G-20 ... and now our Syria strategy hinges on Russia cooperation. It's like a Trump-Putin ticket is running the world!
P.S. Behold this pair of N.Y. Times headlines ... "Embattled at Home, Trump Sees Europe Trip as a High Point" ... "In Moscow, ... Putin's meeting with Mr. Trump was viewed as a win."
https://www.axios.com/newsletters/axios-am-384743f7-bc00-4e00-97e5-7becbd761c0d.html?chunk=1#story1
2. Trump's "impenetrable Cyber Security unit"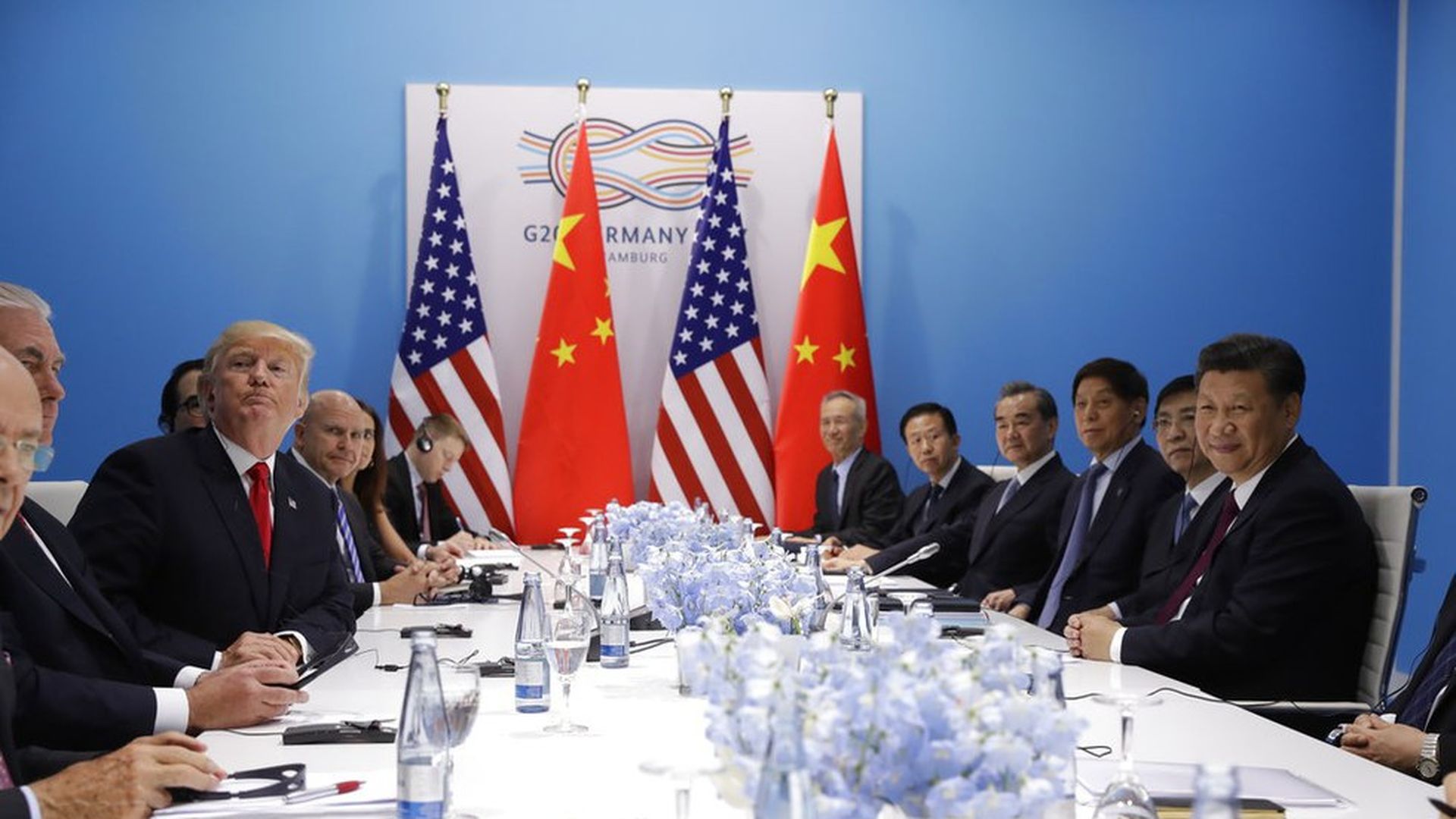 Trump tweets his official readout:
"The G 20 Summit was a great success for the U.S. - Explained that the U.S. must fix the many bad trade deals it has made. Will get done! ... I strongly pressed President Putin twice about Russian meddling in our election. He vehemently denied it. I've already given my opinion ... We negotiated a ceasefire in parts of Syria which will save lives. Now it is time to move forward in working constructively with Russia! ...
"Putin & I discussed forming an impenetrable Cyber Security unit so that election hacking, & many other negative things, will be guarded ... and safe. Questions were asked about why the CIA & FBI had to ask the DNC 13 times for their SERVER, and were rejected, still don't ... have it.
"Fake News said 17 intel agencies when actually 4 (had to apologize). Why did Obama do NOTHING when he had info before election? Sanctions were not discussed at my meeting with President Putin. Nothing will be done until the Ukrainian & Syrian problems are solved!"
P.S. Ken Vogel makes his N.Y. Times debut ... "At Private Dinners, Pence Quietly Courts Big Donors and Corporate Executives."
https://www.axios.com/newsletters/axios-am-384743f7-bc00-4e00-97e5-7becbd761c0d.html?chunk=2#story2
3. Breaking: "Liberated" Mosul, big victory over ISIS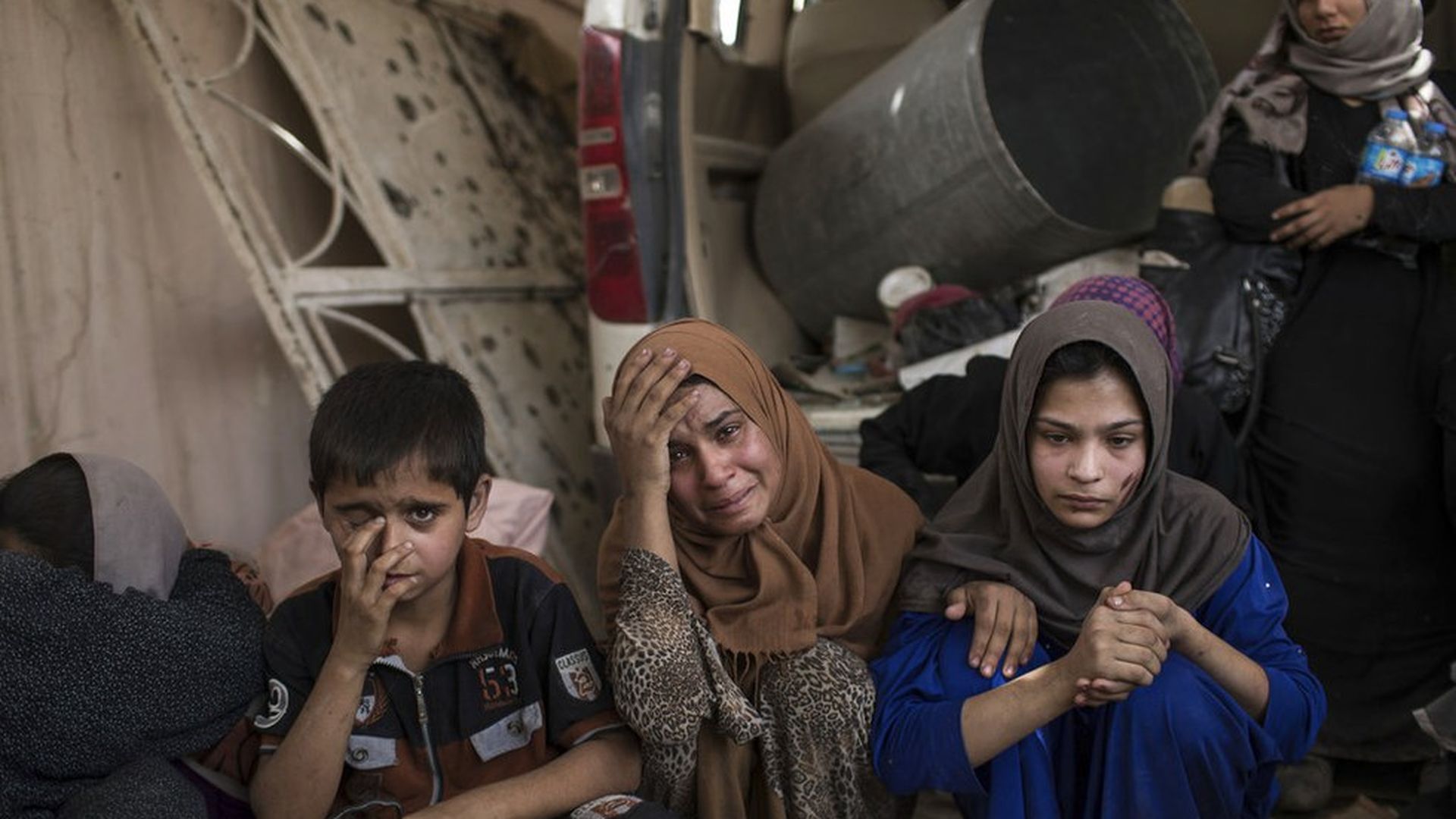 CNN senior international correspondent Nick Paton Walsh declares "one more milestone for the slow demise of ISIS in the Middle East."
BBC: "Iraqi forces, backed by US-led air strikes, have been battling to retake Mosul."
What happened, per CNN: "Iraqi Prime Minister Haider al-Abadi tweeted ... that he has arrived in the 'liberated city of Mosul' ... [S]tate TV reported ... ISIS militants are still holding out in one neighborhood of Mosul."
Why it matters: "Mosul is Iraq's biggest metropolis outside of Baghdad, and gaining control of the city [in June 2014] was one of ISIS' most significant strategic wins."
"It beheaded people in public, threw gay men to their deaths from the top of buildings and made prisoners out of men who did not grow beards and women who did not wear Islamic clothing such as burqas."
https://www.axios.com/newsletters/axios-am-384743f7-bc00-4e00-97e5-7becbd761c0d.html?chunk=3#story3
4. Summer fallbacks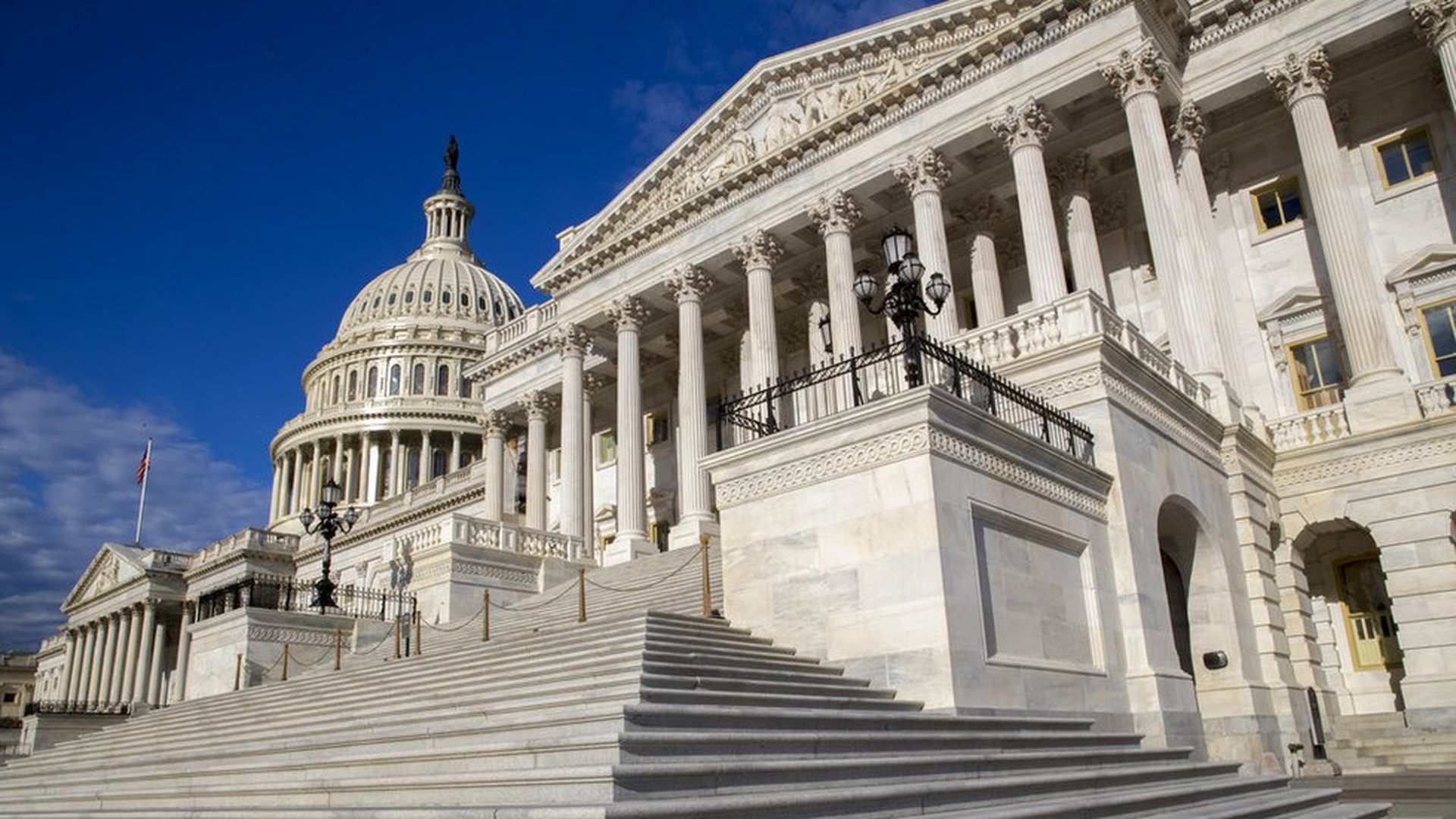 House Republican leaders are beginning to give significant thought to what their exit-for-August bills look like if they don't have healthcare to leave on, Jonathan Swan reports.
What we're hearing: House members are super-anxious about health care, and the pessimism levels are rising about getting a bill from the Senate. As everyone predicted, including Mitch McConnell: the July 4 recess made a bad situation worse.
The brutal math: Assuming Vice President Pence as the tie-breaker, Republicans can only lose 2 senators. There are at least 3 "hard" nays (Susan Collins of Maine, Rand Paul of Kentucky and Dean Heller of Nevada), and perhaps 5 (add Mike Lee of Utah and Ted Cruz of Texas). Lisa Murkowski of Alaska is on the bubble.
The WashPost has a bearish story at the top of column 1 today, "GOP is far from goals as recess approaches," by Mike DeBonis and Ed O'Keefe: "Virtually every piece of their ambitious legislative agenda is stalled, according to multiple Republicans inside and outside of Congress."
"The fallout, according to these Republicans, could be devastating in next year's midterm elections."
Be smart: The doomsday forecasts fail to account for the fact that in Congress, everything is always in trouble until politics creates momentum. But at the moment, that looks about as likely as Vladimir Putin finding the real hacker.
https://www.axios.com/newsletters/axios-am-384743f7-bc00-4e00-97e5-7becbd761c0d.html?chunk=4#story4
5. Disparity grows in black, white home ownership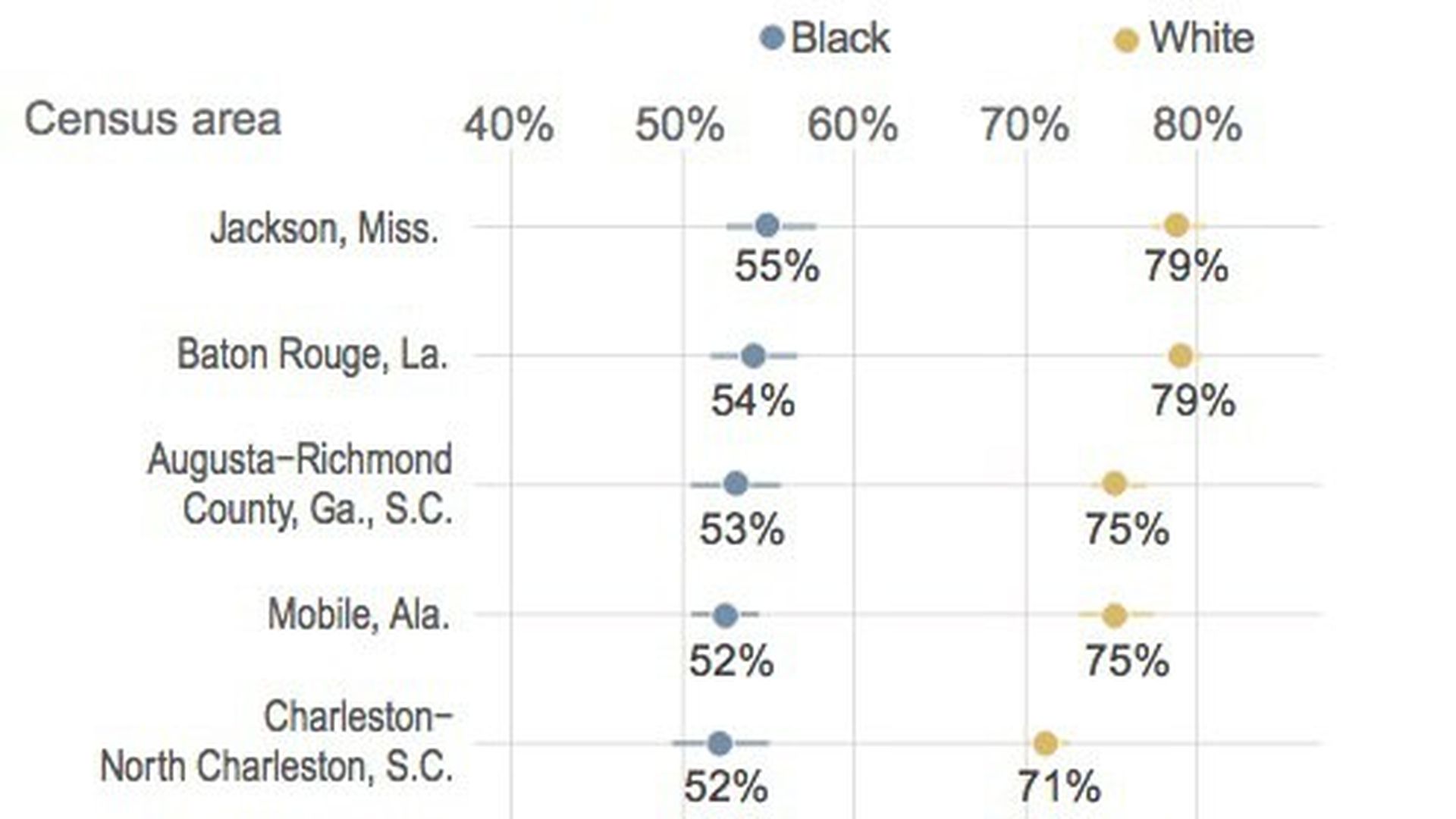 "Black homeowners struggle as US housing market recovers," by AP'sJanie Har in San Francisco:
The backdrop: "In 2004, the pinnacle of U.S. homeownership, three-quarters of whites and nearly half of blacks owned homes," per Harvard's Joint Center for Housing Studies.
Stat du jour: "By 2016, the African-American homeowner rate had fallen to 42.2 percent and lagged 29.7 percentage points behind whites [72%], nearly a percentage point higher than in 2015. ... The center said the disparity between whites and blacks is at its highest in 70-plus years of data."
Why it matters: "The lack of affordable housing and stricter lending is also making it harder for first-time buyers, including African Americans, to purchase what has traditionally been considered an essential part of the American dream and a way to build wealth."
https://www.axios.com/newsletters/axios-am-384743f7-bc00-4e00-97e5-7becbd761c0d.html?chunk=5#story5
6. 1 lit jam: "Literally the perfect summer song"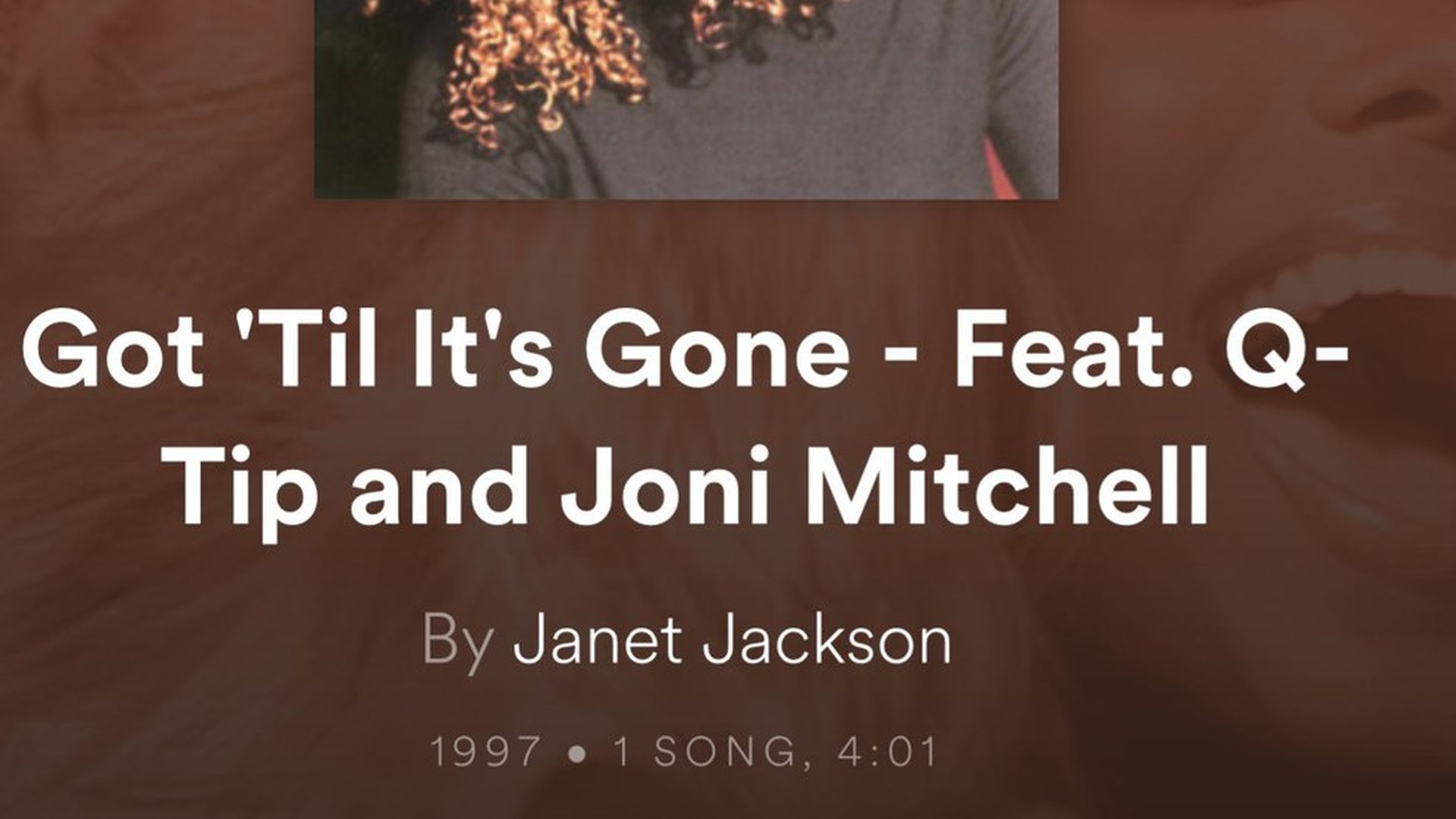 On summer weekends, we're sharing some music selections to up your game ...
Up today: Axios video genius and sartorial pioneer Rob Groulx, with "Got 'Til It's Gone," by Janet Jackson, featuring Q-Tip and Joni Mitchell.
Why Rob likes it ... "Perfect summer vibe recipe: a little hip-hop, Janet Jackson, Q-tip and Joni Mitchell. Pairs well with gin, evening backyard hangouts, friends and fam."
And ... It's on-brand for Rob, who'll nominate our next "Lit Jam" deejay.
P.S. One fun thing: "Sharktacular" ... The prolific Garrett Graff says tonight's Shark Week kickoff on Discovery (8 p.m) will feature his shark biologist sister, Lindsay Graff. She lives in Chatham, Mass., where she's part of a team working on a multi-year study of the great-white population off Cape Cod.