https://www.axios.com/newsletters/axios-am-339bf5d8-ae59-42af-a2f6-9ddb98936f2f.html?chunk=0#story0
1 big thing: Trump says he believes Putin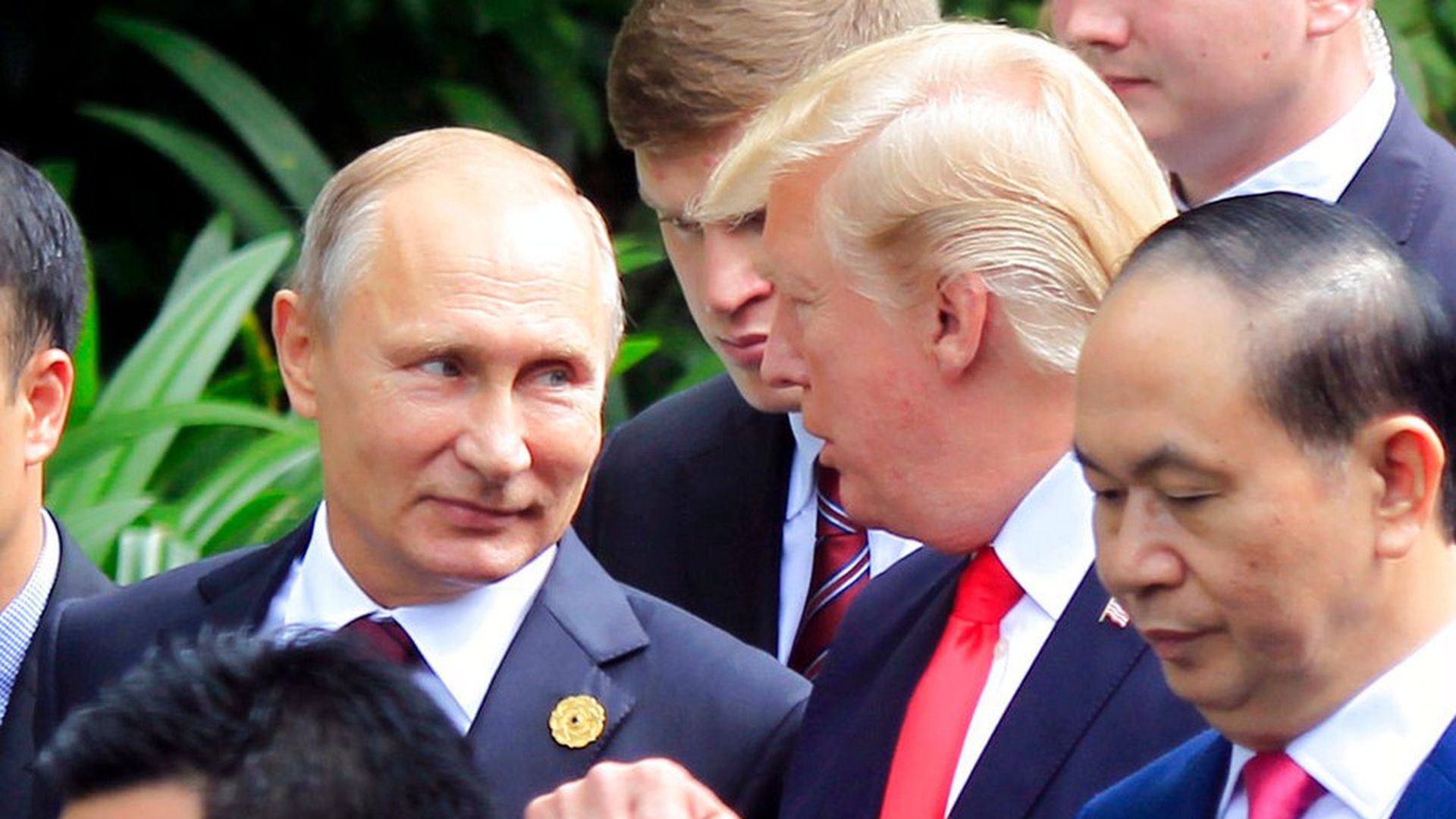 In a remarkable gaggle with reporters aboard Air Force One over Vietnam that's a guided tour of his mind and presidency, President Trump recounted a conversation about election meddling that he had with Russia President Vladimir Putin at an international summit today (via pooler Ashley Parker of WashPost):
"Every time he sees me he says I didn't do that and I really believe that when he tells me that, he means it. But he says I didn't do that. I think he is very insulted by it, if you want to know the truth. Don't forget. All he said was he never did that, he didn't do that. I think he is very insulted by it, which is not a good thing for our country."
"I can't stand there and argue with him, I would rather have him get out of Syria, to be honest with you. I would rather have, I would rather him— get to work with him on the Ukraine rather than standing and arguing about whether or not— because that whole thing was set up by the Democrats. I mean, they ought to Look at Podesta, they ought to look at all the things that they have done with the phony dossier. Those are the big events."
"If we had a relationship with Russia, that would be a good thing. In fact it would be a great thing, not a bad thing, because he could really help us on North Korea. We have a big problem with North Korea and China is helping us. And because of the lack of the relationship that we have with Russia, because of this artificial thing that's happening with this Democratic-inspired thing."
"We could really be helped a lot, tremendously, with Russia having to do with North Korea. You know you are talking about millions and millions of lives. This isn't baby stuff, this is the real deal. And if Russia helped us in addition to China, that problem would go away a lot faster."
"[T]his is really an artificial barrier that's put in front of us for solving problems with Russia. He says that very strongly, he really seems to be insulted by it and he says he didn't do it. He is very, very strong in the fact that he didn't do it. You have President Putin very strongly, vehemently says he has nothing to do with that."
Be smart: The comments put Trump in the position of siding with Putin over U.S. intelligence agencies — including the CIA, NSA, FBI and the Office of the Director of National Intelligence — which are unified in their opinion that Russia actively worked to meddle in the election.
P.S. "Russia Warns of Crackdown on U.S. Media, Including CNN," per N.Y. Times' Michael Grynbaum: "[T]he authorities in Moscow warned on Friday of a coming crackdown on American media outlets that operate in Russia, including CNN. The move was ... retaliation for an apparent American censure of RT."
And don't miss this holy-cow graf, buried by the N.Y. Times: "The day before he learned about the hacked emails, [George] Papadopoulos emailed [Stephen] Miller, then a senior policy adviser to the campaign, saying Mr. Trump had an 'open invitation' from Mr. Putin to visit Russia. The day after, he wrote Mr. Miller that he had 'some interesting messages coming in from Moscow about a trip when the time is right.'"
https://www.axios.com/newsletters/axios-am-339bf5d8-ae59-42af-a2f6-9ddb98936f2f.html?chunk=1#story1
2. Trump brags about "state plus plus" dinner in China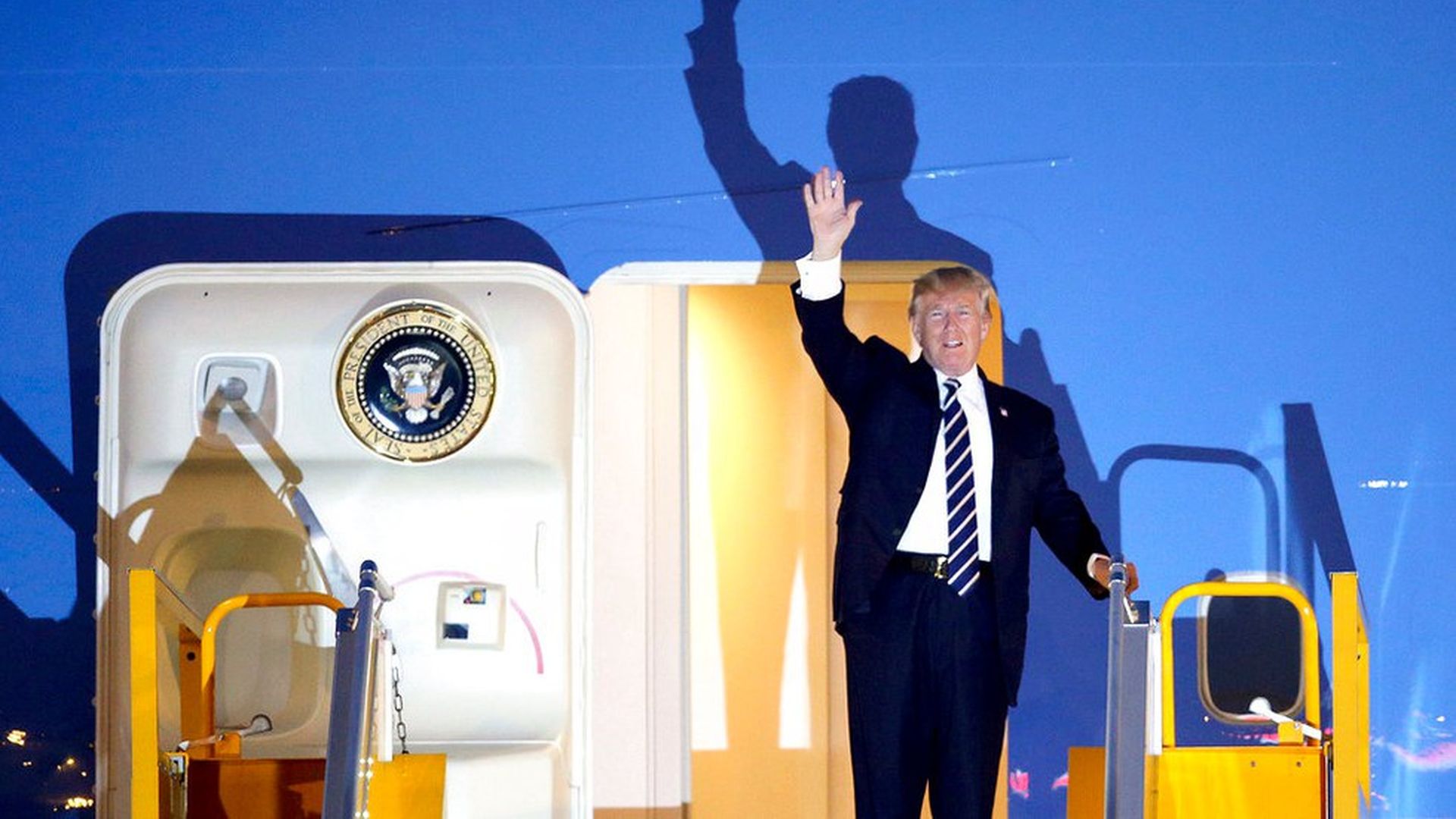 During the Air Force One exchange, POTUS said he has "a very good relationship" with China President Xi Jinping, who lavished pomp and flattery on Trump:
[I]t's the biggest state entrance at the biggest state dinner they've ever had. By far. In China. He called it, 'state plus.' In fact, he actually said, 'state plus plus,' which is very interesting. ... [H]e's a strong person, he's a very smart person. I like him a lot. He likes me. But we represent two very different countries but we get along very well. And that's a good thing that we get along. That's not a bad thing.
Trump added: "They had a story today in one of the papers about China. And China likes me. China likes me."
Debut article for Axios by Sinocism's Bill Bishop: "Xi Jinping ... put on a masterful show, ... including the first dinner in the Forbidden City for a foreign leader since 1949. ... Pomp and flattery aside, it is not so clear that Xi played Trump. The administration has a good team of China people."
Subscribe free to Bill Bishop's weekly Axios China newsletter.
https://www.axios.com/newsletters/axios-am-339bf5d8-ae59-42af-a2f6-9ddb98936f2f.html?chunk=2#story2
3. Trump says he doesn't watch much TV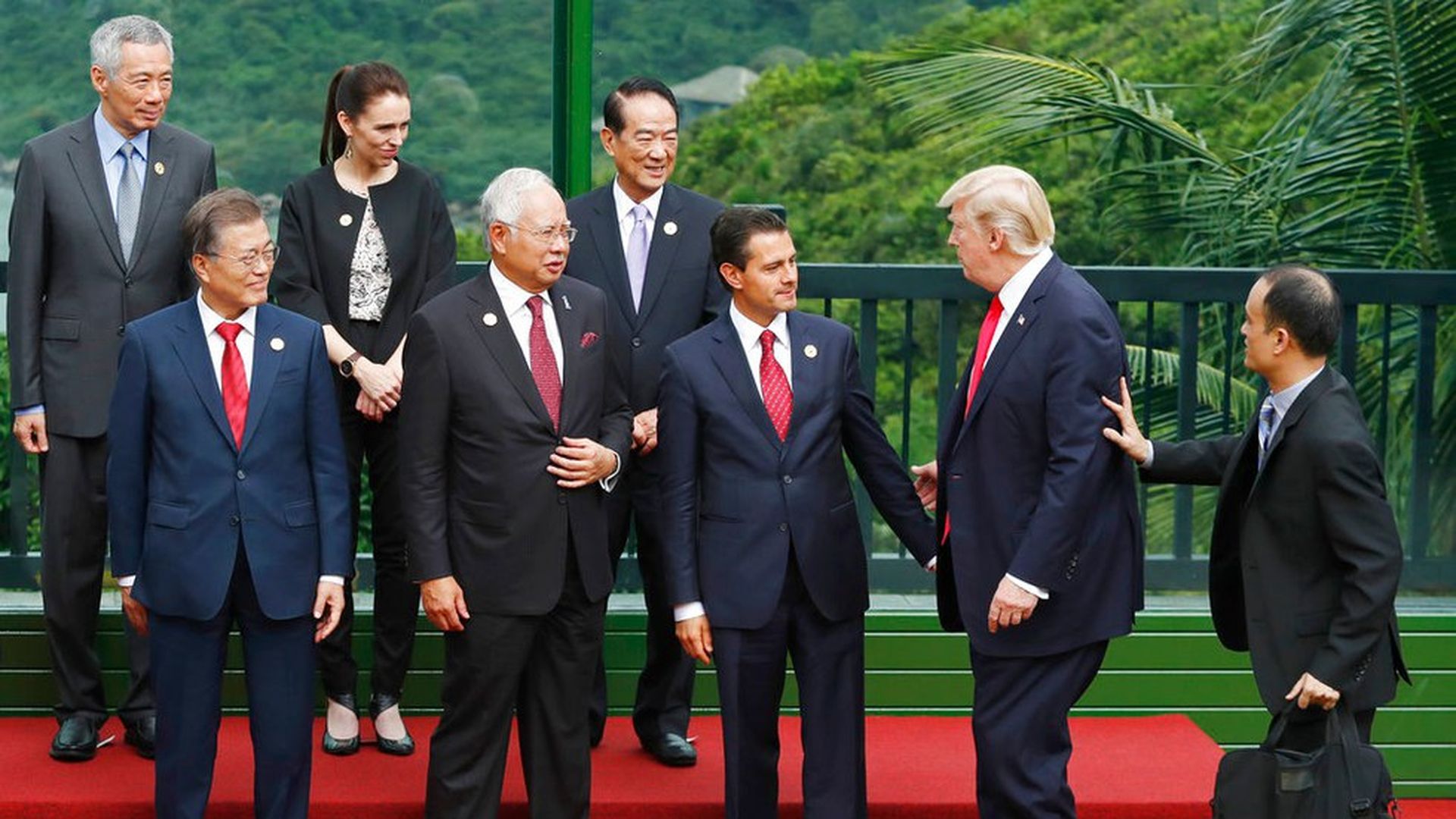 Trump, when asked aboard Air Force One if it's time to pitch Alabama Senate candidate Roy Moore overboard, after the Republican was accused of pursuing and touching teenage girls:
I've been with you folks, so I haven't gotten to see too much. And believe it or not, even when I'm in Washington or New York, I do not watch much television. I know they like to say that. People that don't know me, they like to say I watch television — people with fake sources. You know, fake reporters, fake sources.
But I don't get to watch much television. Primarily because of documents. I'm reading documents. A lot. And different things. I actually read much more — I read you people much more than I watch television.
https://www.axios.com/newsletters/axios-am-339bf5d8-ae59-42af-a2f6-9ddb98936f2f.html?chunk=3#story3
4. Article of the day: Workplace after Weinstein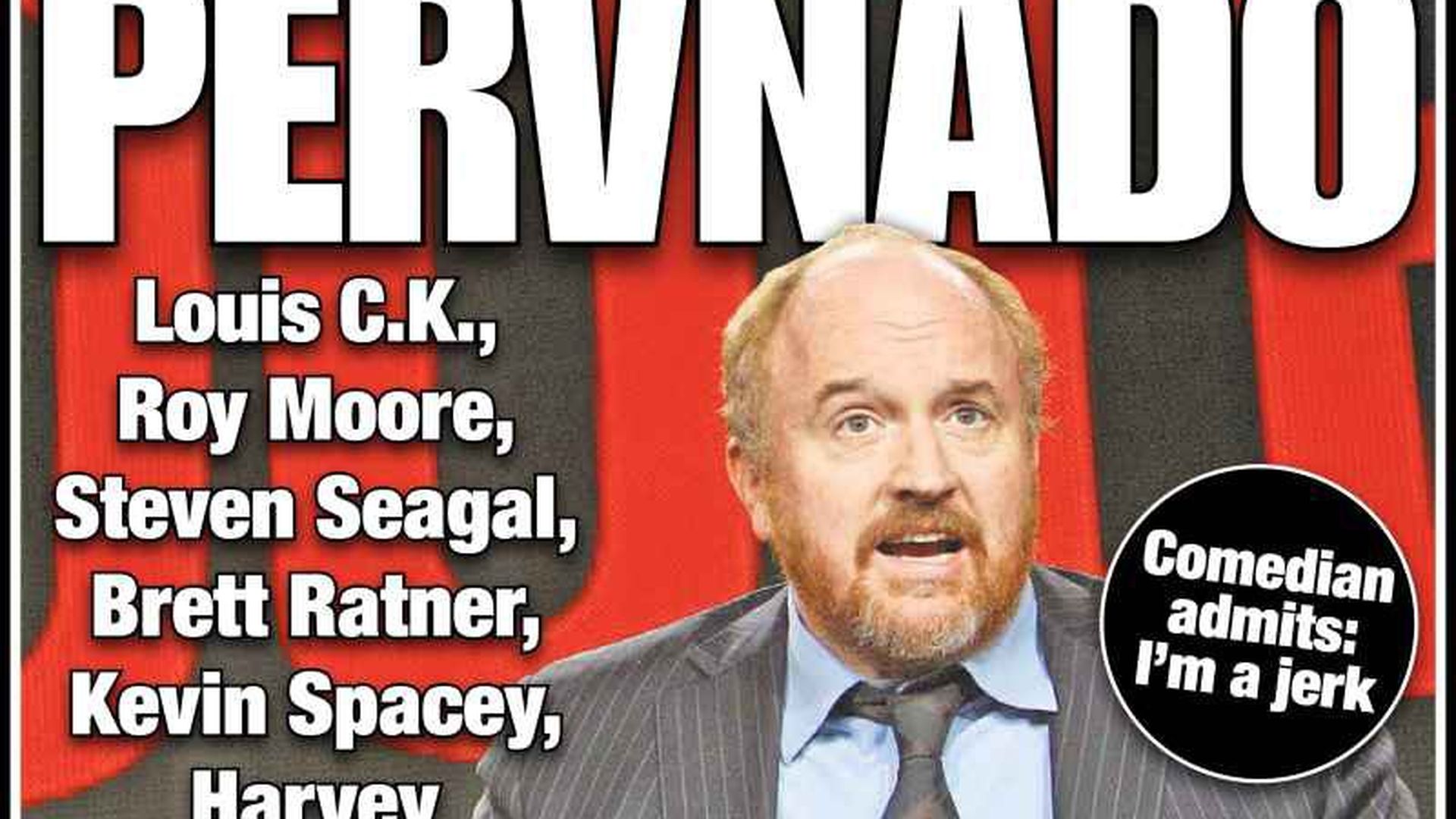 Wall Street Journal front page ... "The wave of misconduct allegations has abruptly shifted the climate in American workplaces, prompting companies to scrutinize how employees work with one another, in one of the most rapid changes in corporate behavior in generations":
"Managers describe a clear epochal shift: Before Weinstein to After Weinstein."
Why it matters: "The speed and sweep of the consequences this time around show how shifting social values, given a catalyst, can abruptly force change in the social-media era — a phenomenon also seen in rapid policy shifts toward same-sex marriage."
"At a growing number of companies that haven't had public allegations of sexual harassment, including Dell Inc. ... and Facebook Inc., some employees have attended training sessions meant to detect biases that can lead to harassment."
"House Speaker Paul Ryan last week called upon members of Congress to provide sexual-harassment training for their staffers."
P.S. L.A. Times front page: "Louis C.K.'s candid admission .... that he engaged in sexual misconduct with multiple women has seemingly brought the curtain down on his acclaimed career and his extensive associations with several top networks."
https://www.axios.com/newsletters/axios-am-339bf5d8-ae59-42af-a2f6-9ddb98936f2f.html?chunk=4#story4
5. GOP could lose Senate seat
"Some GOP political operatives fear Roy Moore could lose race," AP reports from Montgomery, Ala.:
"Alabama Republican Roy Moore emphatically rejected increasing pressure to abandon his Senate bid as fears grew among GOP leaders that a once-safe Senate seat was in jeopardy just a month before a [Dec.] 12 special election."
"In an interview ... with conservative radio host Sean Hannity, Moore, now 70, did not wholly rule out dating teenage girls when he was in his early 30s."
"Asked if that would have been usual for him, Moore said, 'Not generally, no. ... I don't remember ever dating any girl without the permission of her mother."
Be smart: If you're in your 30s and you need to ask the mother's permission, date someone else.
What we're hearing ... A Republican close to Senate Republican leadership believes the party's effort to get Moore out of the race will fail.
UPDATE: A Republican close to McConnell said that contrary to the view we originally reported here, McConnell has "led the pack on Moore from day one": "McConnell is a very pragmatic guy, but he's very principled guy. And he's willing to lose the seat to prevent someone who's guilty of these things from taking it."
https://www.axios.com/newsletters/axios-am-339bf5d8-ae59-42af-a2f6-9ddb98936f2f.html?chunk=5#story5
6. The conversation
Peggy Noonan's Wall Street Journal column takes the long view of the surprising size of the Democrats' 9-point win in the Virginia's governor's race:
"We're in the early scenes of big change. We're seeing the gradual cratering of both parties. Tuesday night obscured this for the Democrats and highlighted it for the Republicans."
"Democrats are split between moderates and a rising progressive left ... The Republican Party is divided by serious questions about its essential purpose."
"Tuesday night's losses could have a helpful effect on Trump enthusiasts. They imagine the number and strength of his supporters as bigger than it is. ... After Virginia, they must surely see trouble."
"Trump has not built support in the middle, he's alienated it. ... It is the big story of the year since his election — that he has not a growing base but a smaller, so-far indissoluble core."
https://www.axios.com/newsletters/axios-am-339bf5d8-ae59-42af-a2f6-9ddb98936f2f.html?chunk=6#story6
7. CNN becomes a 🏈
Jared Kushner met Gary Ginsberg, a Time Warner executive vice president, early this year and told him CNN should fire 20% of its staff because they were so wrong in their analysis of the election and how it would turn out, the Wall Street Journal's Amol Sharma reports on B1:
"A White House official said Mr. Kushner didn't intend the comment to be taken seriously, and was simply trying to make a point.""Inside Time Warner, it wasn't taken lightly."Why it matters: "[A]s the government has raised concerns in its review of Time Warner's pending sale to AT&T Inc., people within the companies and on Wall Street are speculating that the Trump administration's feelings about the network could be influencing the deal.""The government has denied politics is playing a role in its examination of the merger, and AT&T Chief Executive Randall Stephenson said Thursday he has no reason to suspect that is a factor."On Monday, when AT&T executives visited the Justice Department, "Trump's recently confirmed antitrust chief, Makan Delrahim, raised the prospect that the companies would have to sell either Turner, parent of CNN and other cable networks, or the DirecTV satellite unit."Meanwhile, Reuters scoops ... "Rupert Murdoch telephoned AT&T [CEO] Randall Stephenson twice in the last six months and talked about cable network CNN."Reuters' sources gave mixed accounts about whether Murdoch was interested in buying CNN."On Thursday Stephenson said he had no interest in selling CNN and that he was ready to defend the deal in court if necessary."
https://www.axios.com/newsletters/axios-am-339bf5d8-ae59-42af-a2f6-9ddb98936f2f.html?chunk=7#story7
8. Trump rally may last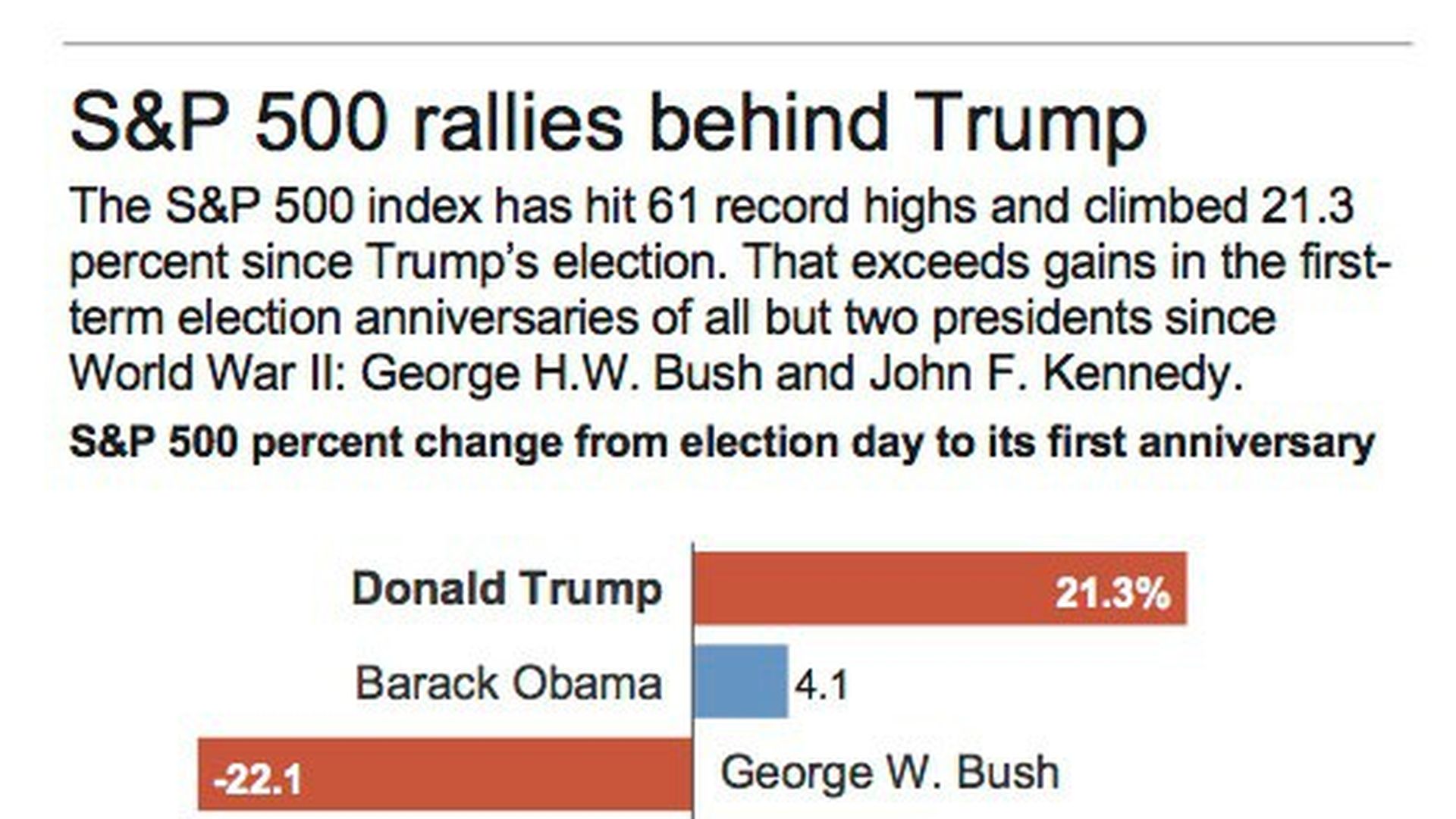 The Standard & Poor's 500 index, the broadest measure of the stock market, notched 61 record highs and climbed about 21.3% in the first year since Trump was elected, AP's Alex Veiga writes. But what's really interesting is the reason — it's not just tax-cut expectations:
Be smart: "[T]he biggest driver of the market's gains has been strong corporate profits, Wall Street analysts say."
"[M]ore companies than usual are ... reporting higher [earnings and] revenue than analysts had forecast."
"Stock prices tend to track corporate profits over the long term, so the better-than-expected earnings growth helps to validate the stock market's record-setting run, at least somewhat."
"Investors have also continued to bet big on economic growth in the U.S. and worldwide as economies in Europe and Asia have bounced back."
"Since Trump's election, technology companies have led the way with a 39% surge. Banks and industrial and basic materials companies have also soared. Only phone company stocks are down from a year ago."
https://www.axios.com/newsletters/axios-am-339bf5d8-ae59-42af-a2f6-9ddb98936f2f.html?chunk=8#story8
9. Detroit v. Tesla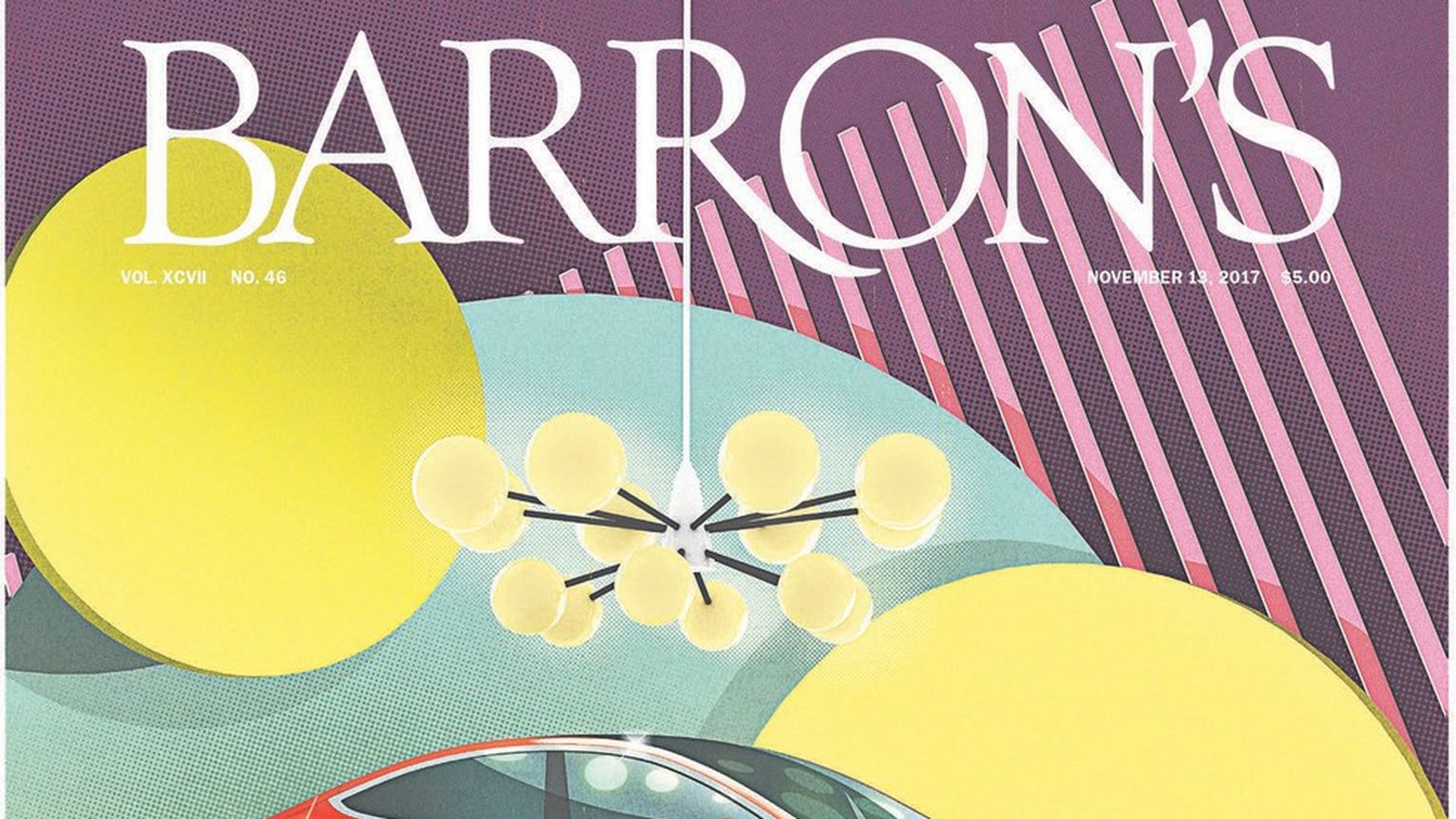 Old-school auto makers just might steal Tesla's thunder, according to the Barron's cover story, by Andrew Bary:
The CW: "Electric cars are widely expected to supplant vehicles powered by the internal-combustion engine, leaving traditional auto makers and their gasoline- and diesel-powered clunkers in a heap of rust."
"This dismissive view is especially prevalent on Wall Street, where shares of the leading auto manufacturers trade for a mere six to 11 times 2017 expected earnings, and sport dividend yields as high as 5%."
The takeaway: "[E]ven as electric cars, autonomous vehicles, and car sharing disrupt the status quo, the global auto industry could prove resilient, and reward customers and shareholders in myriad ways."
What's new: "Pressured by investors and the success of Tesla in electric vehicles, auto manufacturers are getting more shareholder friendly, and spending heavily to counter the upstart."
An x factor: "It remains to be seen if autonomous cars and ride-sharing programs gain much acceptance, even in densely populated urban areas. Part of the bear case for auto stocks is that a surge in ride sharing in the 2020s will cut into demand."
https://www.axios.com/newsletters/axios-am-339bf5d8-ae59-42af-a2f6-9ddb98936f2f.html?chunk=9#story9
10. Chuck Todd's "My 6 Big Things"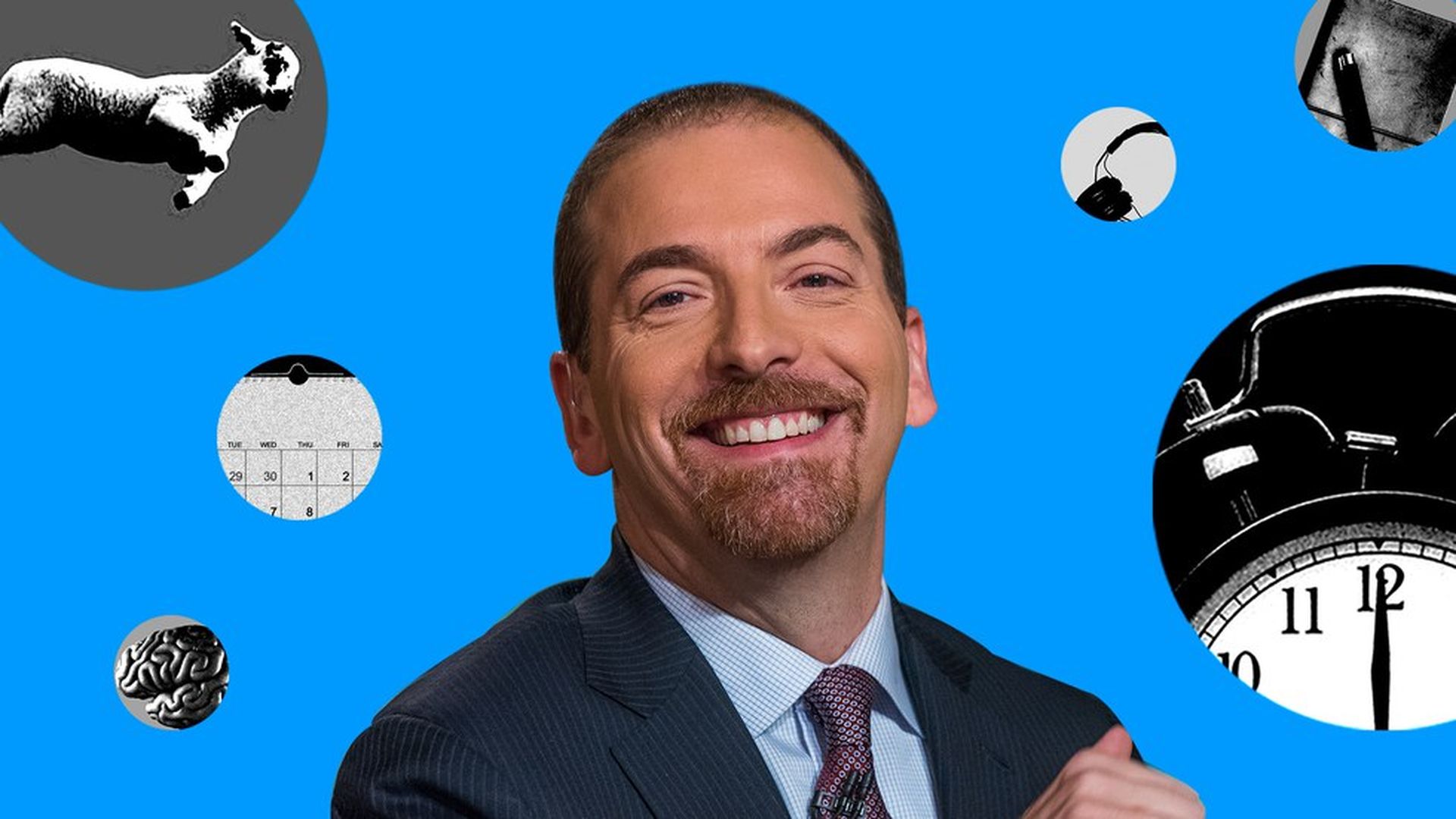 As "Meet the Press" celebrates its 70th birthday, moderator Chuck Todd tells us what he does every morning, what keeps him up at night, the personal challenge on his bucket list, and the book that's had the biggest impact on his life.
See Chuck Todd's "My 6 Big Things" (with a bonus).