🌅 Good Sunday morning.
Qu0te du jour ... Warren Buffett, at Berkshire Hathaway's annual meeting, in Omaha yesterday: "This country really, really works ... This country has six times the per capita GDP growth that it had when I was born ... This is a remarkable, remarkable country ... I would love to be a baby born in the United States today."
https://www.axios.com/newsletters/axios-am-3306579e-d989-40bf-b4bf-f9e68e3f2c96.html?chunk=0#story0
1 Big Guest ... David Wasserman: Risk for Dems' midterm newbies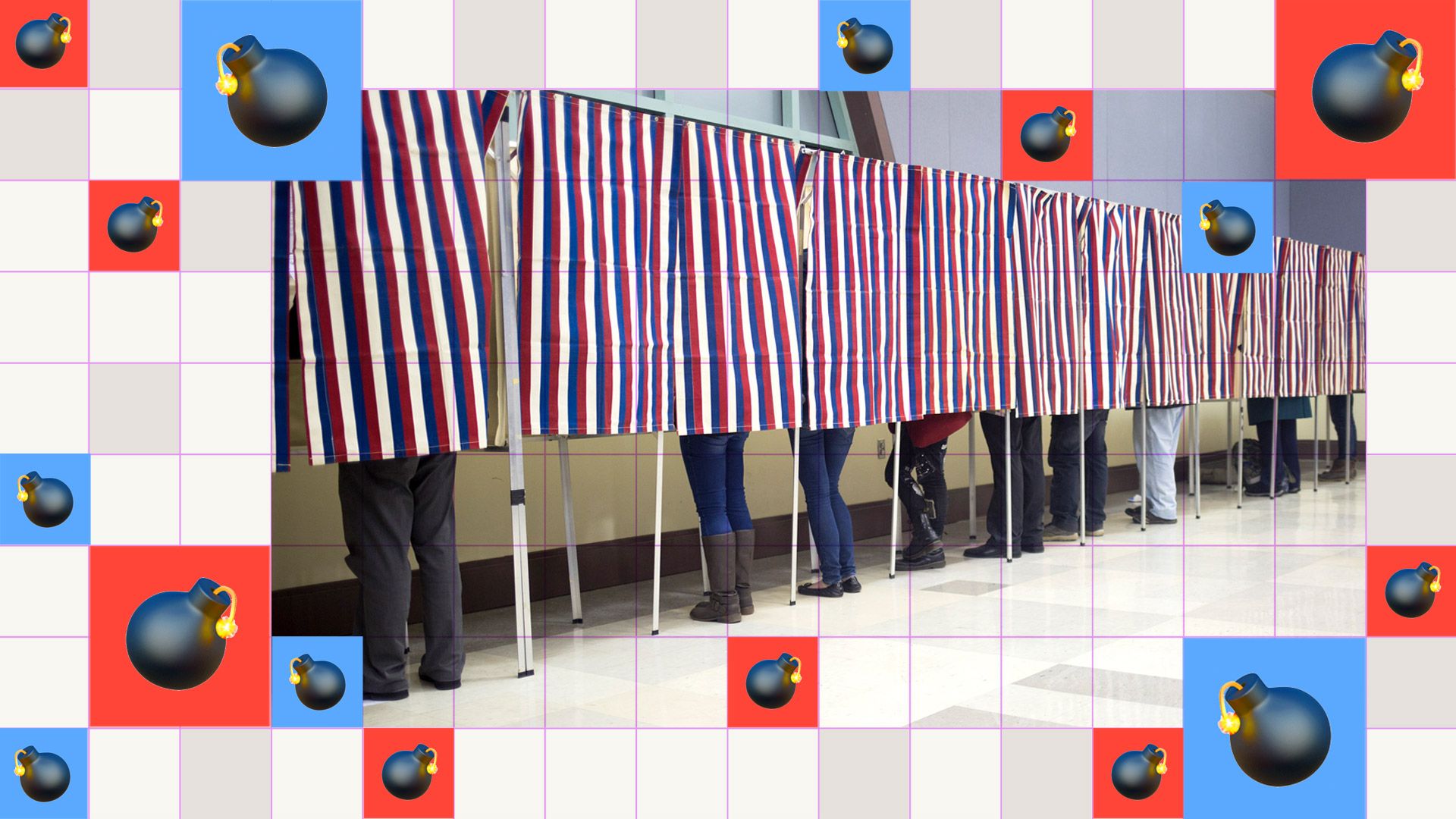 🎣 Note from Mike: David Wasserman, with the memorable Twitter handle of @Redistrict — House editor for The Cook Political Report and an analyst for the NBC News Election Night Decision Desk for the past five cycles — is today's "1 Big Guest," as I continue fishing, hiking and loafing in Maine.
Primary season kicks off in earnest this week, with major congressional contests in Ohio and North Carolina on Tuesday and even more on the docket in Pennsylvania on May 15.
Why it matters: While Democrats remain the favorites to retake the House in November, the primary landscape is littered with land mines for both parties.
Dem newbies: Democrats have a bumper crop of self-recruited House candidates raising gobs of cash in 2018. Of the leading Democrats in the 56 GOP-held districts rated as vulnerable (Lean Republican or worse) by the Cook Political Report, 31 are women, 16 are military veterans and 14 are freshly out-of-work Obama administration vets. 
But strikingly, there are only eight state legislators — the classic breeding ground for House hopefuls.
This has its advantages: These candidates are outsiders and don't have a voting record to defend.
But, but, but: Given the volume of Democrats running, it also means many haven't been fully vetted.
And in many places, Democrats are at risk of nominating badly flawed candidates.
Pennsylvania's new map was a gift to Democrats, but it turns out good candidates are as critical as good districts. For example, if self-funding multi-millionaire attorney and recent Maryland/South Africa resident Scott Wallace wins Tuesday's primary, it could throw Bucks County GOP Rep. Brian Fitzpatrick (PA-01) a life raft.
Am I tripping? The oddest frontrunner in Tuesday's Democratic primaries might be 27-year Lehigh Valley prosecutor John Morganelli, running for GOP Rep. Charlie Dent's open seat, PA-07.
At Tea Party gatherings (you read that right), the Democrat has bragged about teaming with Kansas Secretary of State Kris Kobach — an immigration hardliner who was on Trump's transition team — to crack down on illegal immigration.
In late 2016, Morganelli sent (since-deleted) tweets at Trump to lobby for an administration post: "Waiting to hear from transition. Met you in Bedminster when I played Member Guest."
EMILY's List is furiously scrambling to stop Morganelli. If he prevails, he could prolong a Democratic civil war in a key seat.
Rescue squad goals: The GOP's House majority is so endangered that the party's narrow path may depend on party groups personalizing/localizing races by unleashing damning opposition research to disqualify Democratic nominees faster than Mike Allen is scaring away fish this weekend. #DrivingThe Boat
https://www.axios.com/newsletters/axios-am-3306579e-d989-40bf-b4bf-f9e68e3f2c96.html?chunk=1#story1
2. Old friends visit McCain, without saying goodbye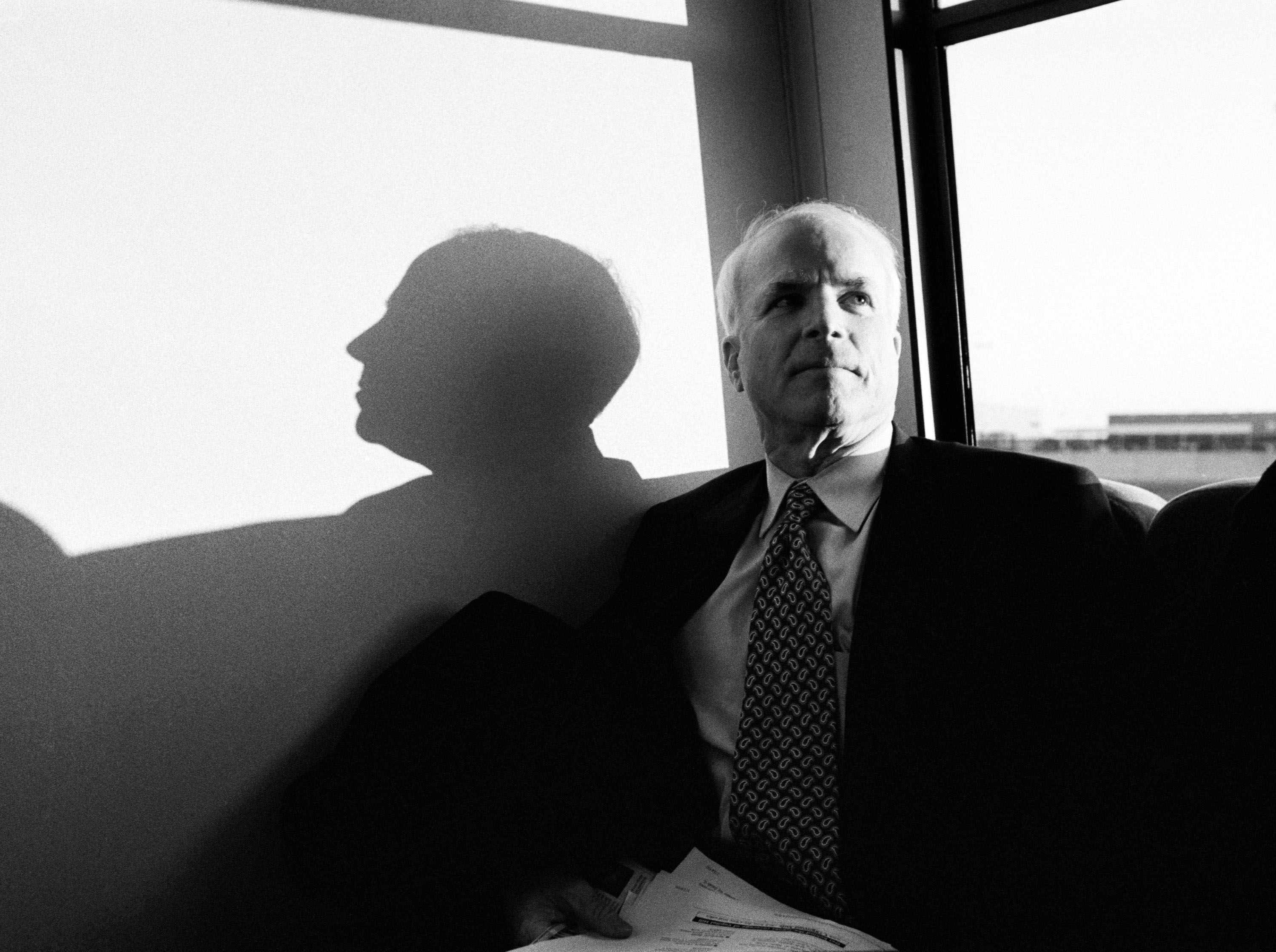 Senator McCain on Jan. 14, 2000 (David Hume Kennerly/Getty Images)
As Sen. John McCain battles brain cancer and the debilitating side effects of his aggressive treatment, he's "reckoning with his history and the future, as he and a stream of friends share memories and say what needs to be said," the N.Y. Times' Jonathan Martin writes from Phoenix:
"McCain, 81, ... has been leading conference calls with his staff in a strained voice, grinding out three-hour physical therapy sessions and rewarding himself most days with a tall glass of Absolut Elyx on ice."
"No one is saying goodbye, not explicitly. ... But his visitors are telling him they love him, how much he has meant to them — and together they are taking care of unfinished business."
"McCain is using a new book and documentary to reveal his regret about not selecting former Senator Joseph I. Lieberman as his running mate in 2008."
"His intimates have informed the White House that their current plan for his funeral is for Vice President Mike Pence to attend the service to be held in Washington's National Cathedral but not President Trump."
"[S]ome of his associates, though not his family, have started to quietly put out word that they want a 'McCain person' eventually appointed to fill his Senate seat, a roster that includes his wife, Cindy."
https://www.axios.com/newsletters/axios-am-3306579e-d989-40bf-b4bf-f9e68e3f2c96.html?chunk=2#story2
3. Rudy's latest clean-up: "I'm still learning"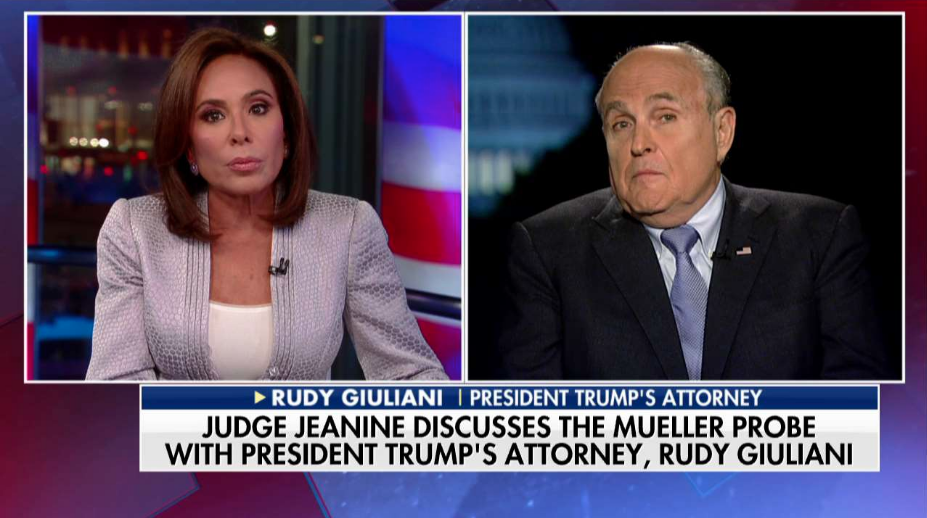 Fox News
Rudy Giuliani on Fox News' "Justice with Judge Jeanine" Pirro last night:
"The facts, I'm still learning. This is 1.2 million documents. I have been in the case for two weeks."
"So I'm not an expert on the facts yet. I'm getting there. But I am an expert on the law, in particular the campaign finance law —I lived under it running for president. And the fact is there is no way [the Stormy Daniels payment] is a campaign violation of any kind; nor was it a loan — it was an expenditure."
Breaking: Mueller has interviewed one of Trump's closest friends and confidants, California real estate investor Tom Barrack. (AP)
P.S. From the N.Y. Times' lead story, "How Michael Cohen, Trump's Fixer, Built a Shadowy Business Empire":
"Trump's lawyers are resigned to the strong possibility that the investigation of Mr. Cohen's businesses could lead him to cooperate with federal prosecutors."
Go deeper: WashPost lead story, "As the 'King of Debt,' Trump borrowed to build his empire. Then he began spending hundreds of millions in cash."
https://www.axios.com/newsletters/axios-am-3306579e-d989-40bf-b4bf-f9e68e3f2c96.html?chunk=3#story3
Bonus: Pic du jour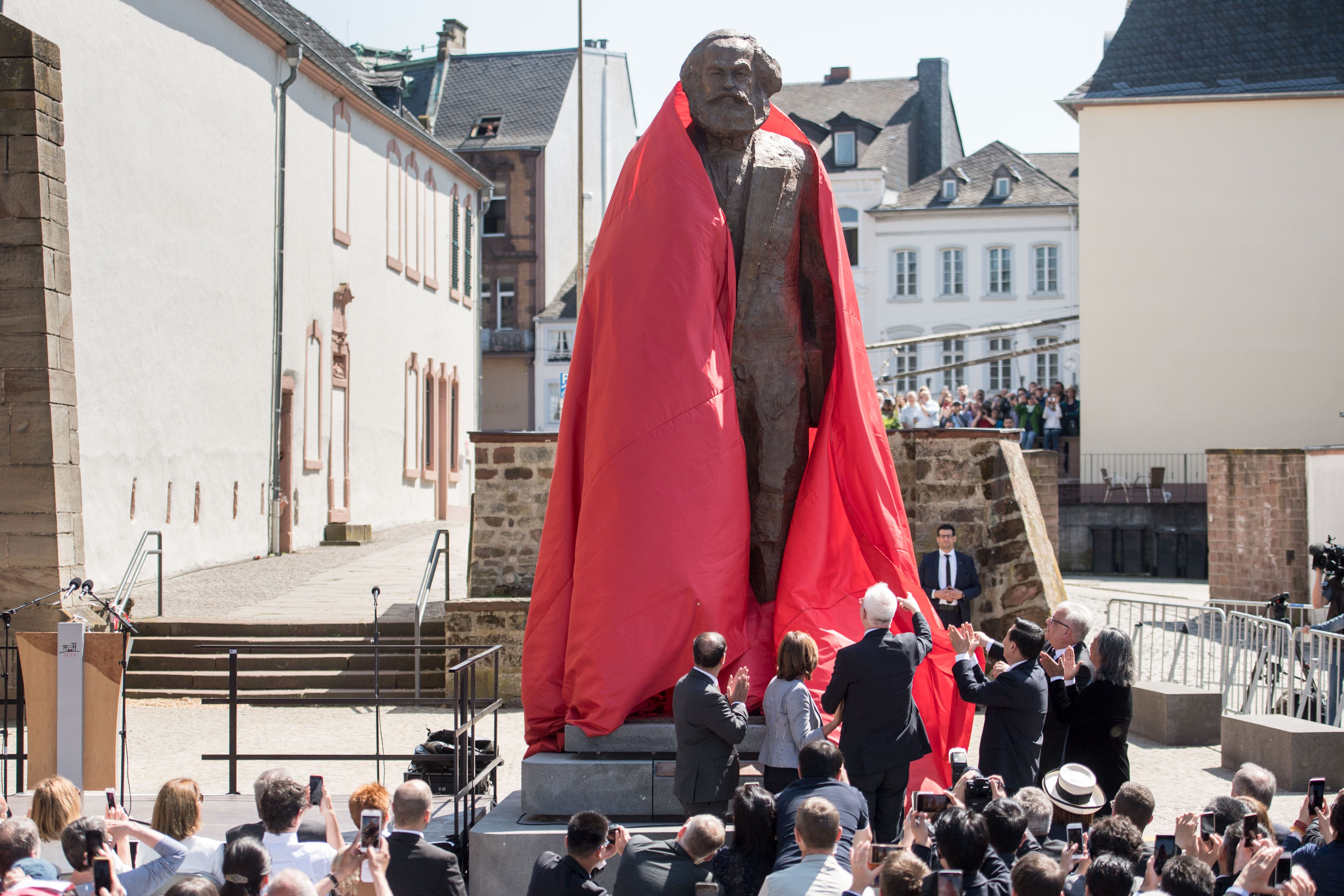 Photo: Harald Tittel/picture-alliance/dpa/AP Images
A bronze statue of Karl Marx is uncovered yesterday on the 200th anniversary of his birth, at his birthplace — Trier, Germany.
The statue, by Chinese artist Wu Weishan, weighs 2.3 tons and is a present from China.
Why he mattered: Marx's writings became the basis for revolutionary communist movements across the globe, particularly the Russian Revolution that led to the creation of the Soviet Union and China's current political system.
https://www.axios.com/newsletters/axios-am-3306579e-d989-40bf-b4bf-f9e68e3f2c96.html?chunk=4#story4
4. The disappearing Chinese student visa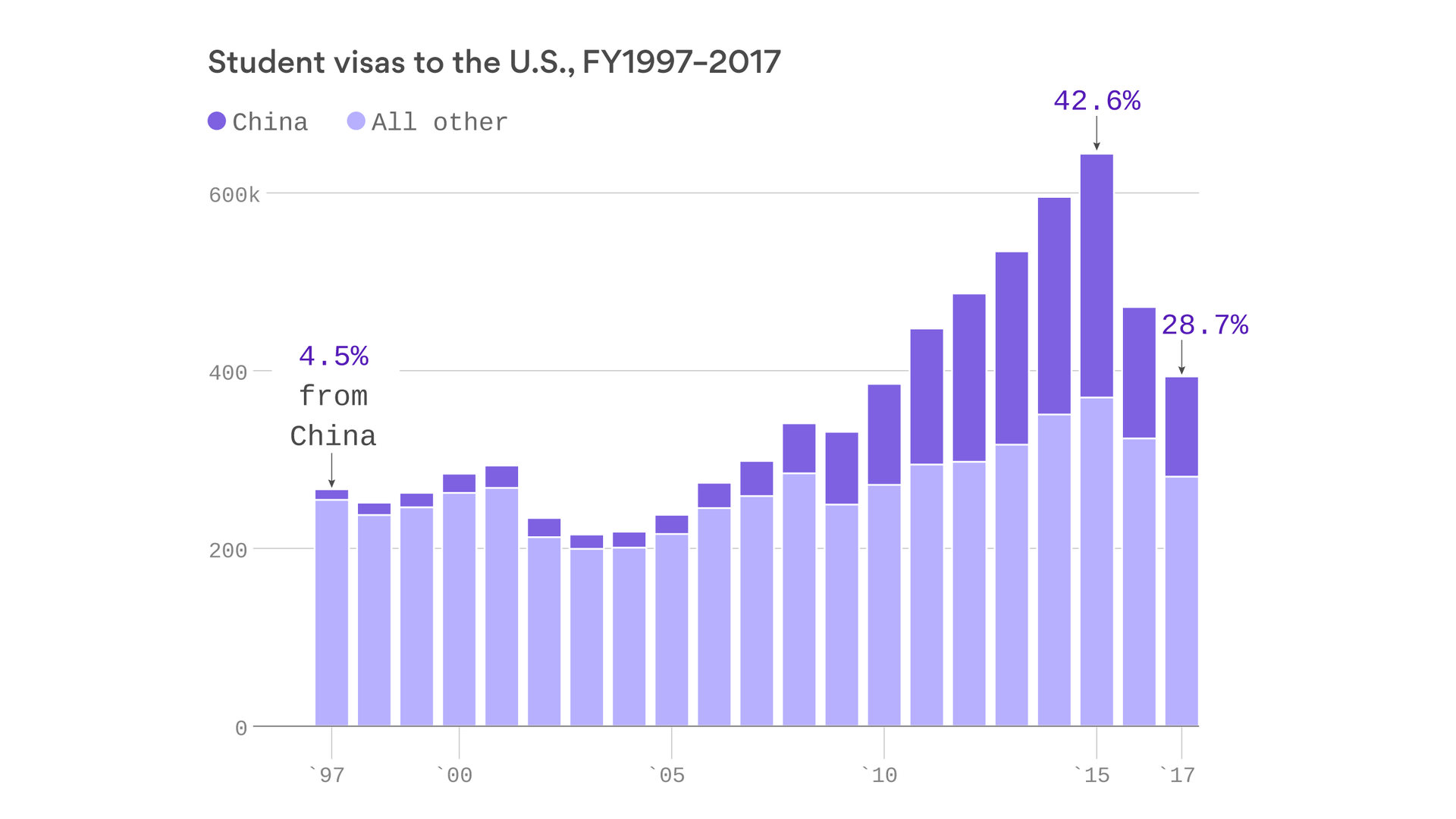 There was a 17% drop in international students in the U.S. last year — mostly due to a 28% decline in Indian students and a 24% decline in Chinese students receiving visas, reports Axios' Stef Kight.
Why it matters: The downturn, which can be partially attributed to President Trump's immigration policies, could have a notable economic effect. Foreign students contributed $36.9 billion to the U.S. economy during the 2016-2017 academic year, according to the NAFSA Association of International Educators.
https://www.axios.com/newsletters/axios-am-3306579e-d989-40bf-b4bf-f9e68e3f2c96.html?chunk=5#story5
5. Billions on the line in Trump's Iran decision
"From airplanes to oilfields, billions of dollars are on the line for international corporations as President Trump weighs whether to pull America out of Iran's nuclear deal with world powers," AP's Jon Gambrell writes from Dubai:
Why it matters: "If ... Trump follows through on his threat to pull the U.S. out of the Iran nuclear deal on May 12, the rest of the world will be thrust into uncharted territory, forced to navigate a complex web of U.S. sanctions."
What it means: "For Western businesses, the [2015] deal meant access to Iran's largely untapped market of 80 million people. ... [A]irplane manufacturers rushed in to replace the country's dangerously dilapidated civilian fleet."
"[V]irtually all multinational corporations do business or banking in the U.S., meaning any return to pre-deal sanctions could torpedo deals made after the 2015 agreement came into force."
https://www.axios.com/newsletters/axios-am-3306579e-d989-40bf-b4bf-f9e68e3f2c96.html?chunk=6#story6
6. 1 food thing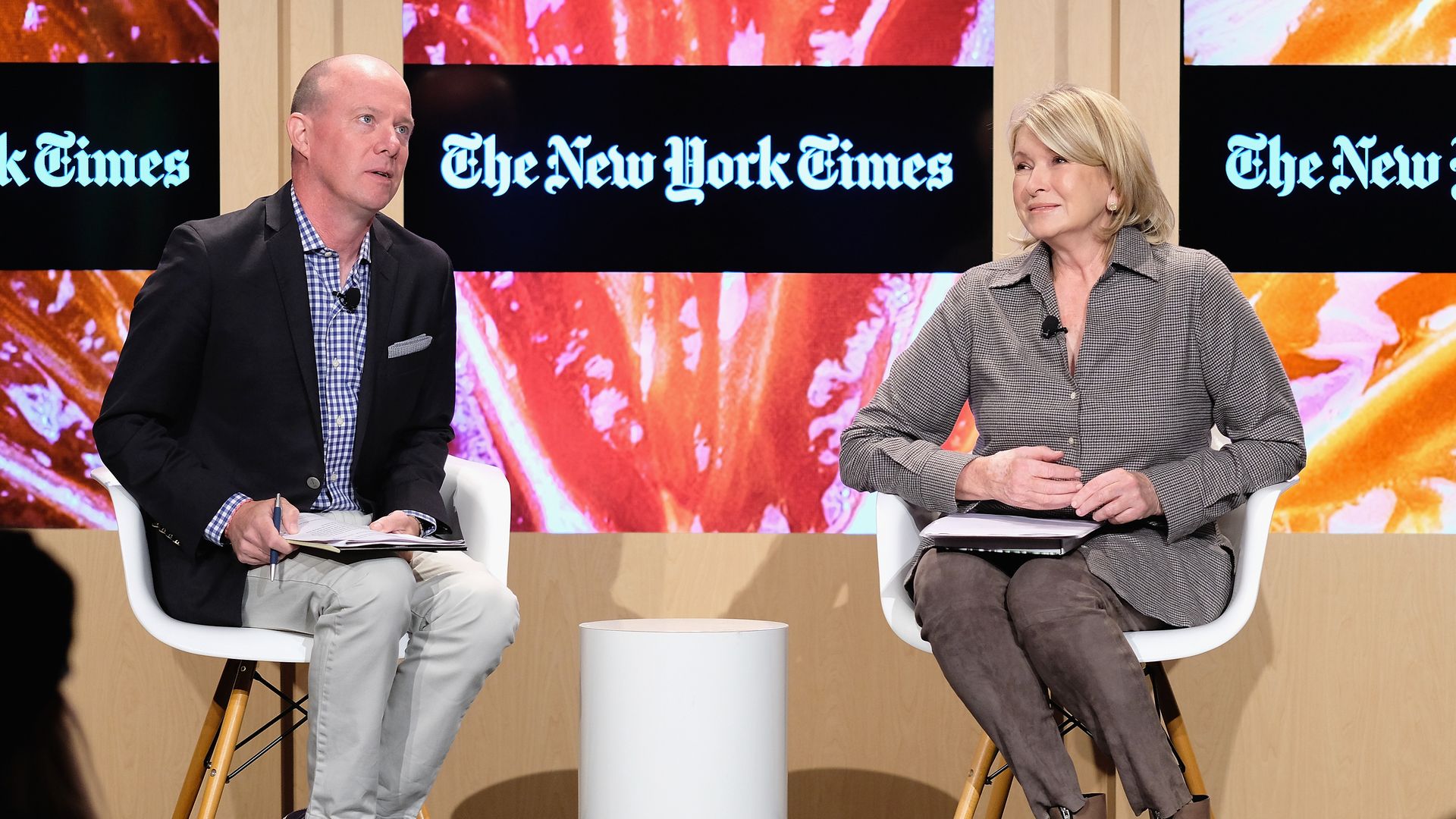 How Sam Sifton, the N.Y. Times' food editor, develops recipes for home cooks — "Times Insider" profile by Jake Lucas:
"The goal is to find recipes that readers will want to cook. That comes down to finding a balance among a recipe's ingredients (how many, how unusual, how expensive), steps (how many, how complicated) and payoff (how delicious, how wonderful)."
Restaurant meals have inspired recipes on NYT Cooking like scallops topped with shredded duck and hollandaise, spun off from chefs at Joe Beef in Montreal; spinach risotto with taleggio, à la a nettle risotto from River Café in London; and spicy, crispy chicken wings, dreamed up in pursuit of the wings from Ganso in Brooklyn."
Sifton: "The skills required to figure this stuff out are not the skills of a forensic chef ... They're the skills of a journalist asking questions. How did you make this? I don't have that tool, how can I do it at home? Is it really necessary to add the fairy dust?"
"Watch restaurant chefs closely, he says, and you'll realize the real fairy dust is more salt or butter, or both."
Read on for Sam's butter adventure.