https://www.axios.com/newsletters/axios-am-30be0a05-d4ec-4ae7-89d5-d215e1923750.html?chunk=0#story0
1 big thing: Trump Island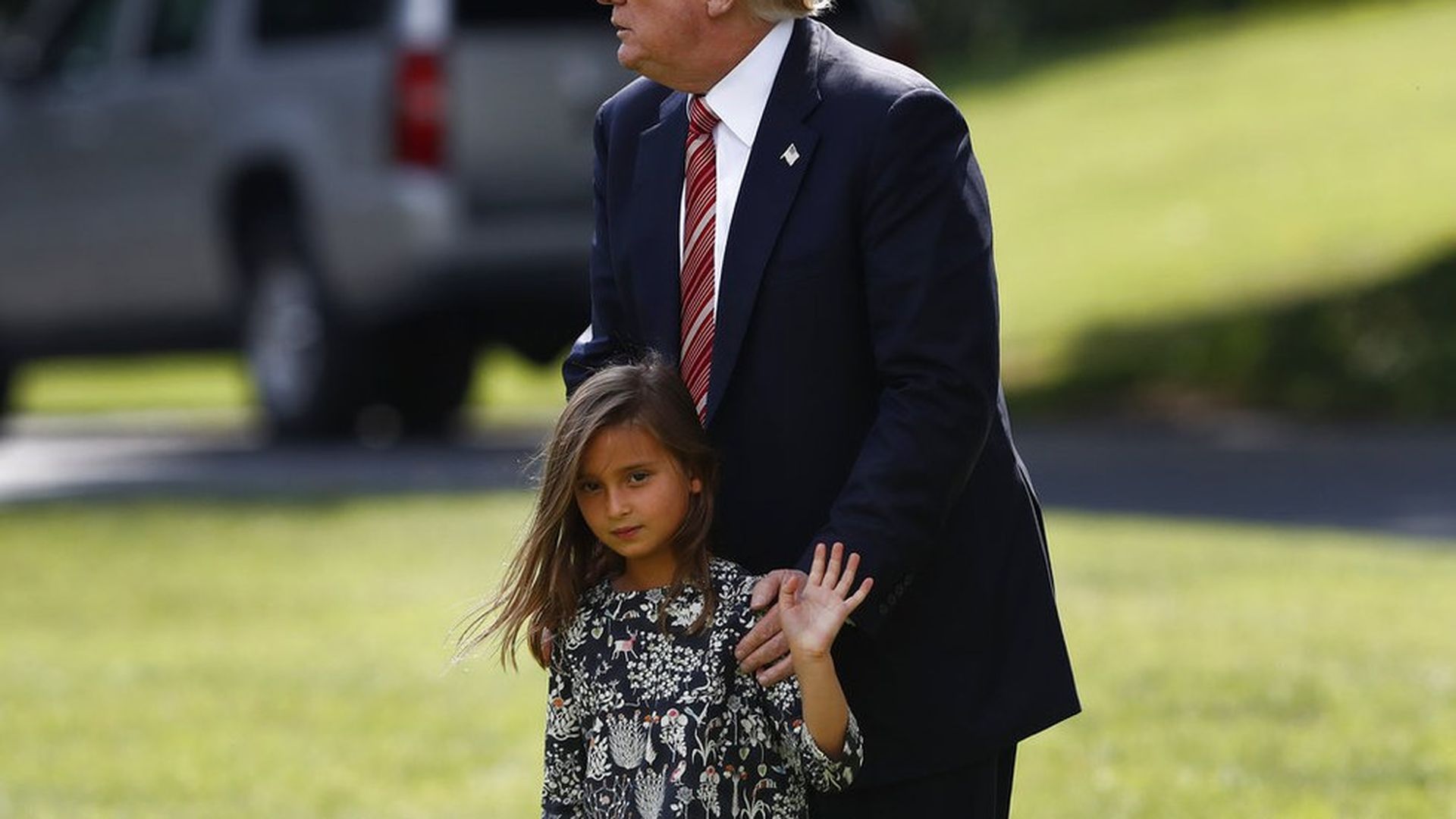 It started with Charlottesville. The pardon of Joe Arpaio sped it up.
Until now, most Republicans on the Hill have either backed Trump, or mostly stayed silent about their differences.
Now, he's being openly defied.
Several of the best-known names in the Republican Party broke over the pardon, including Sen. John McCain, Jeb Bush and — most surprisingly and consequentially — Speaker Paul Ryan.
Republicans have come out against Trump, but they have tended not to be leadership figures. And the critiques have rarely been on matters of policy and decision-making — more on rash tweets.
Doug Andres, a Ryan spokesman, said in a statement on Arpaio: "The speaker does not agree with this decision. Law enforcement officials have a special responsibility to respect the rights of everyone in the United States. We should not allow anyone to believe that responsibility is diminished by this pardon."
McCain, who represents Arpaio, tweeted: "@POTUS's pardon of Joe Arpaio, who illegally profiled Latinos, undermines his claim for the respect of rule of law."
Even in the early days of his presidency, when his leverage was at its peak, Trump never had more than a handful of loyalists on Capitol Hill, Axios' Jonathan Swan points out:
Most Republicans kept quiet about their distaste for him, either out of fear that he'd go on a Twitter rampage against them, or that by attacking him they'd undermine a legislative agenda many have been waiting eight years to enact.
After the President has spent weeks seemingly divorcing himself from the GOP — openly blaming Mitch McConnell for healthcare's failure and pre-blaming McConnell and Ryan for debt-ceiling headaches — many feel liberated to speak their minds.
All that will hamper Trump's ability to help muscle tax reform through Congress. But the endgame is Special Counsel Bob Mueller:
Trump's attacks on McConnell are self-defeating for a lot of reasons. But if Mueller ever makes an impeachment referral (like the Watergate special counsel did), Trump needs McConnell more than anyone in the world.
Especially if it's 2019 and there's a Democratic House that could impeach through simple majority vote.
While praised by the establishment, Ryan could pay a grassroots price for the brushback on Arpaio:
A Republican lobbyist told me: "The base is gonna eat Ryan for breakfast."
Steve Bannon, already deeply engaged at Breitbart News, spent the past week in round-the-clock meetings with leaders of the conservative movement on how to pressure Ryan and McConnell to be more supportive of the president's agenda.
Breitbart has been gearing up to campaign to remove Ryan from the speakership. Bannon is activating.
Why it matters: The president is isolating himself on Trump Island, in the comfy warmth of his base. But if the island is bombed by Mueller, the base won't be able to save him. The president will need Congress, which'll be in no mood to rescue its tormentor.
https://www.axios.com/newsletters/axios-am-30be0a05-d4ec-4ae7-89d5-d215e1923750.html?chunk=1#story1
2. Biden blasts Trump: 'Our kids are watching'
Joe Biden for The Atlantic this morning, "'We Are Living Through a Battle for the Soul of This Nation': The former vice president calls on Americans to do what President Trump has not":
In Charlottesville, "The neo-Nazis, Klansmen, and white supremacists [emerged] from dark rooms and remote fields and the anonymity of the web into the bright light of day on the streets of a historically significant American city."
"If it wasn't clear before, it's clear now: We are living through a battle for the soul of this nation. The giant forward steps we have taken in recent years on civil liberties and civil rights and human rights are being met by a ferocious pushback from the oldest and darkest forces in America."
"We have fought this battle before — but today we have a special challenge. ... We have an American president who has emboldened white supremacists with messages of comfort and support."
"You, me, and the citizens of this country carry a special burden in 2017. We have to do what our president has not. ... We have to do what he will not. ... We have to remember our kids are watching."
Why it matters: Biden, with 36 years in the Senate and eight years as V.P., is eying one last run in 2020, when he'll be 77. He's chastising Trump in unusually personal terms that are certain to drive a flood of coverage and conversation.
https://www.axios.com/newsletters/axios-am-30be0a05-d4ec-4ae7-89d5-d215e1923750.html?chunk=2#story2
3. Hot online: Dusty inspiration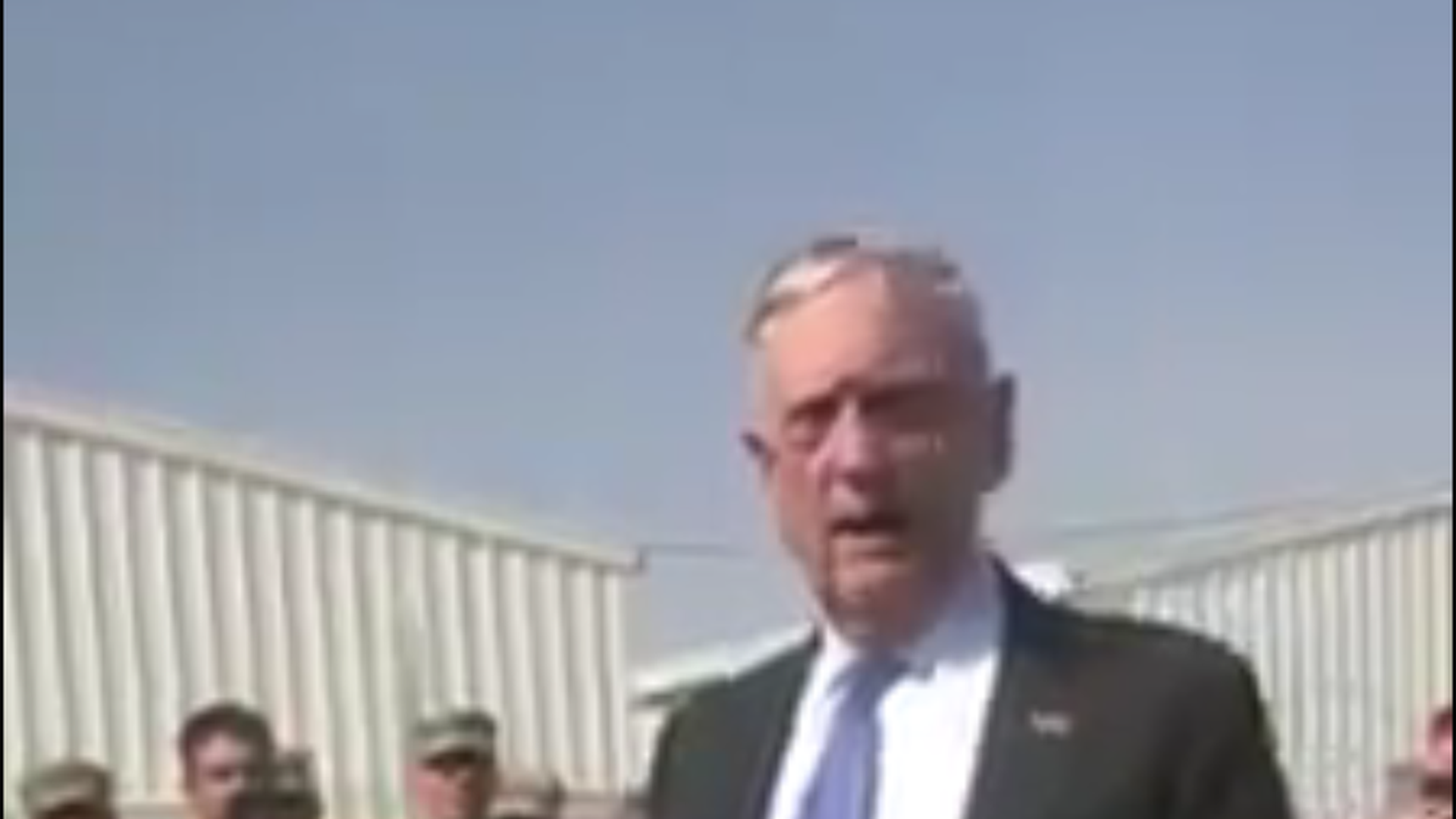 Defense Secretary Jim Mattis, 66, a retired Marine four-star general, in impromptu remarks to troops abroad, in a Facebook video:
It's good to see you all out here, young men and women. For those of you that I haven't met, my name's Mattis. I work at the Department of Defense, obviously. ... And thank you for being out here, OK? I know at times you wonder if anybody knows ... The only way this great big experiment you and I call America is going to survive is if we got tough hombres like you. ...
You're a great example for our country right now. It's got a few problems. You know it and I know it. It's got problems that we don't have in the military.
And you just hold the line, my fine young soldiers, sailors, airmen, Marines.
Just hold the line until our country gets back to understanding and respecting each other, and showing it — of being friendly to one another, you know, that Americans owe to one another. ...
The only reason I came back is to serve alongside young people like you who are so selfless and, frankly, so rambunctious. It's a pleasure to be around you all. Take care of each other out here, OK?
https://www.axios.com/newsletters/axios-am-30be0a05-d4ec-4ae7-89d5-d215e1923750.html?chunk=3#story3
4. Tweet du jour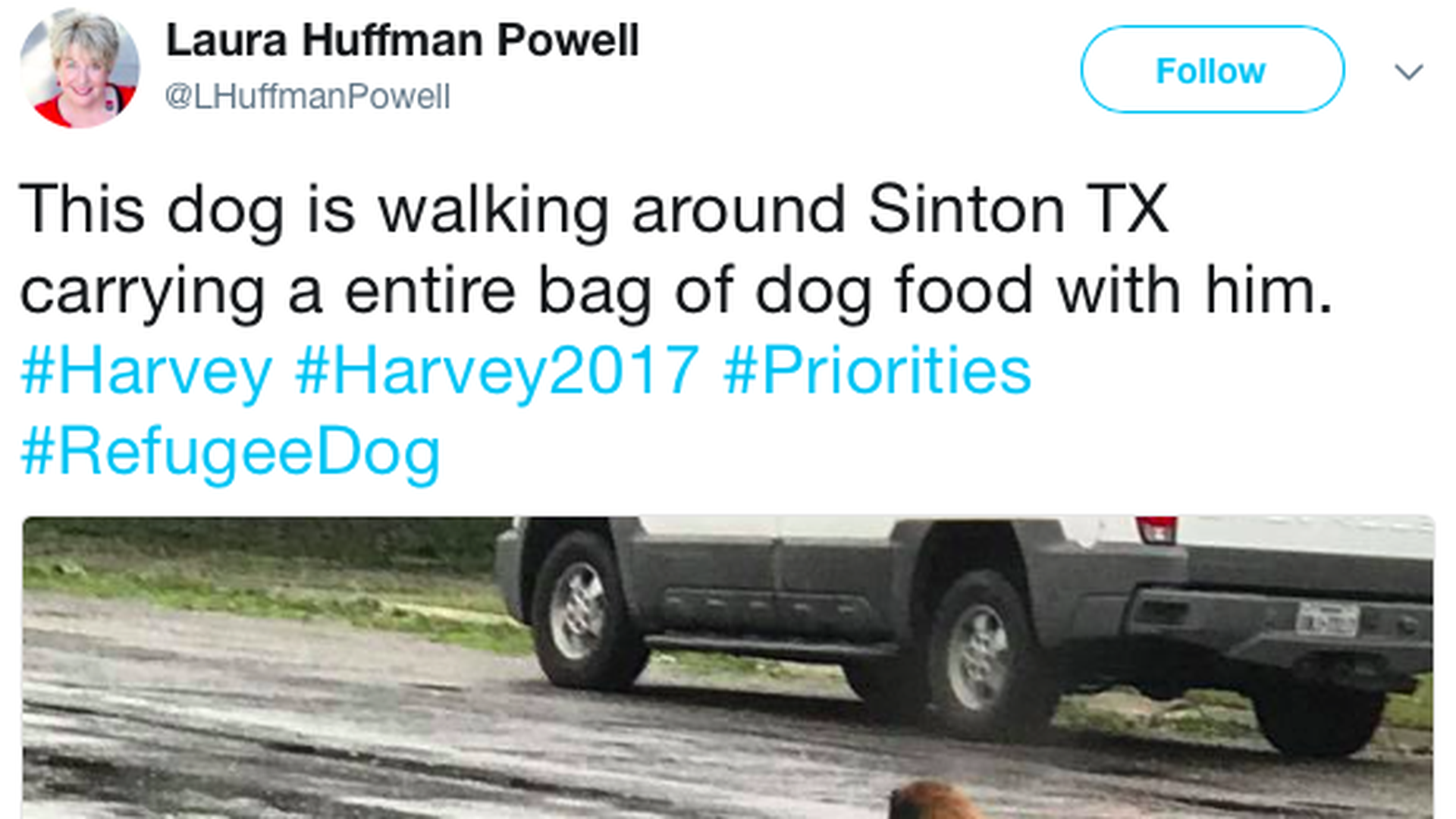 https://www.axios.com/newsletters/axios-am-30be0a05-d4ec-4ae7-89d5-d215e1923750.html?chunk=4#story4
5. Harvey's havoc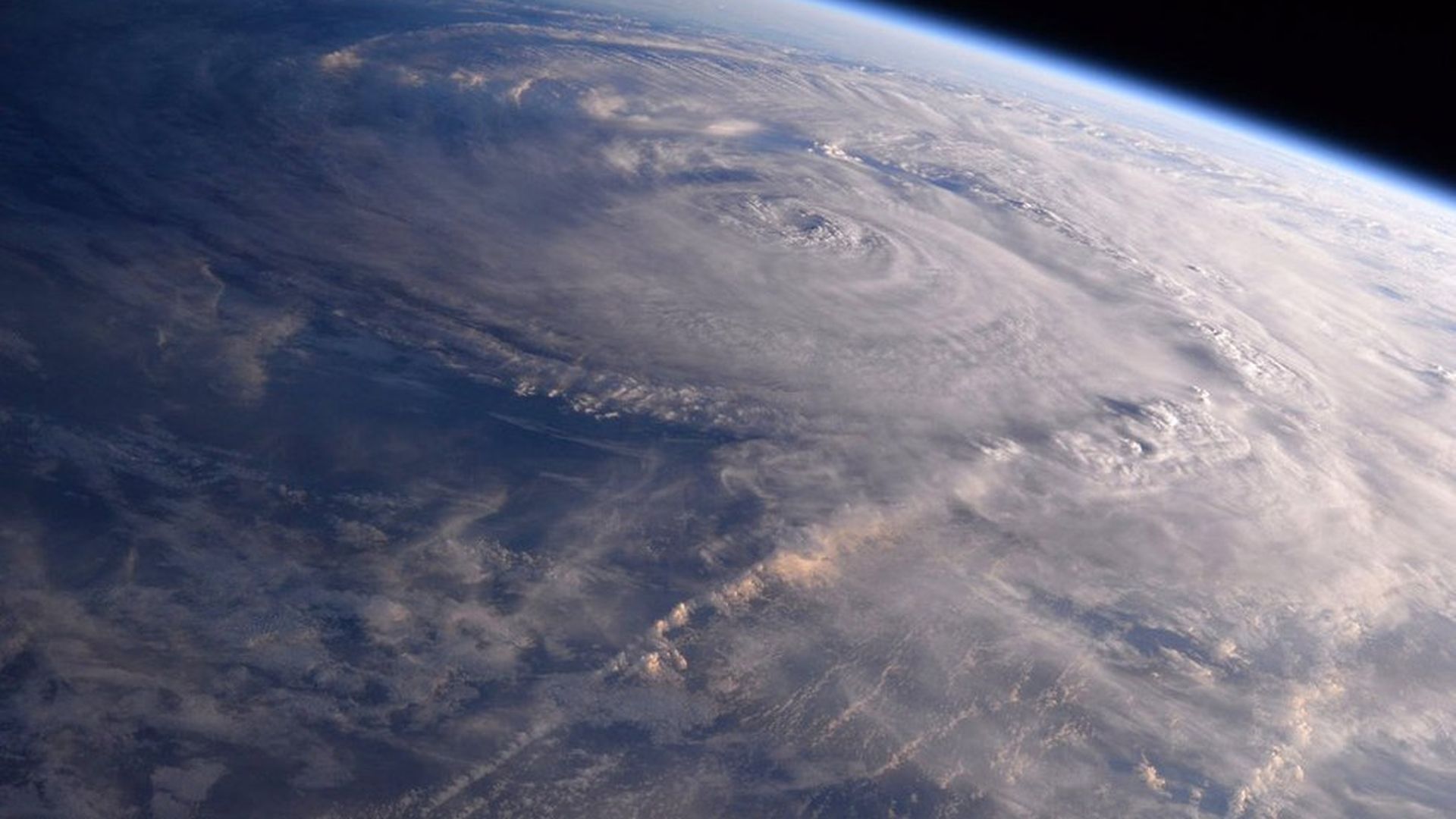 "As Harvey's winds die down, trouble for Texas may have just begun with forecasts for unprecedented flooding across the heart of U.S. energy production and in Houston, the nation's fourth-largest city," per Bloomberg:
https://www.axios.com/newsletters/axios-am-30be0a05-d4ec-4ae7-89d5-d215e1923750.html?chunk=5#story5
6. Trump was "gung-ho" about Arpaio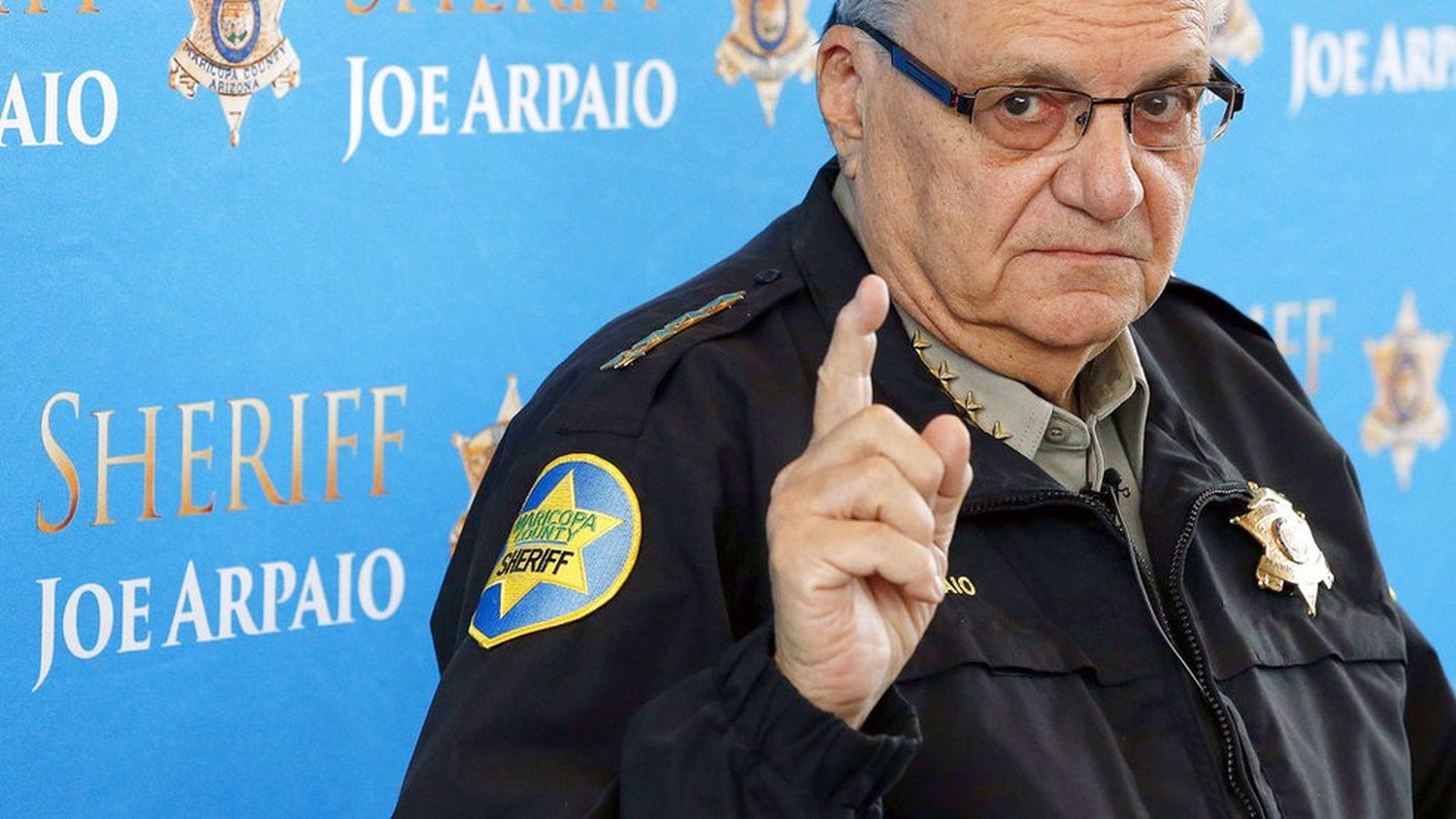 "The president asked Attorney General Jeff Sessions [this spring] whether it would be possible for the government to drop the criminal case against Arpaio, but was advised that would be inappropriate," the WashPost's Phil Rucker and Ellen Nakashima report on the front page, at the top of column 1:
"After talking with Sessions, Trump decided to let the case go to trial, and if Arpaio was convicted, he could grant clemency."
"So the president waited, all the while planning to issue a pardon if Arpaio was found in contempt of court for defying a federal judge's order to stop detaining people merely because he suspected them of being undocumented immigrants."
"Trump was, in the words of one associate, 'gung-ho about it."
N.Y. Times front-pager, "President's Pardon of Arpaio Follows the Law, Yet Challenges It," by Supreme Court reporter Adam Liptak: "Trump ... used his constitutional power to block a federal judge's effort to enforce the Constitution. Legal experts said they found this to be the most troubling aspect of the pardon, given that it excused the lawlessness of an official who had sworn to defend the constitutional structure."
https://www.axios.com/newsletters/axios-am-30be0a05-d4ec-4ae7-89d5-d215e1923750.html?chunk=6#story6
7. "We've had it with your narratives"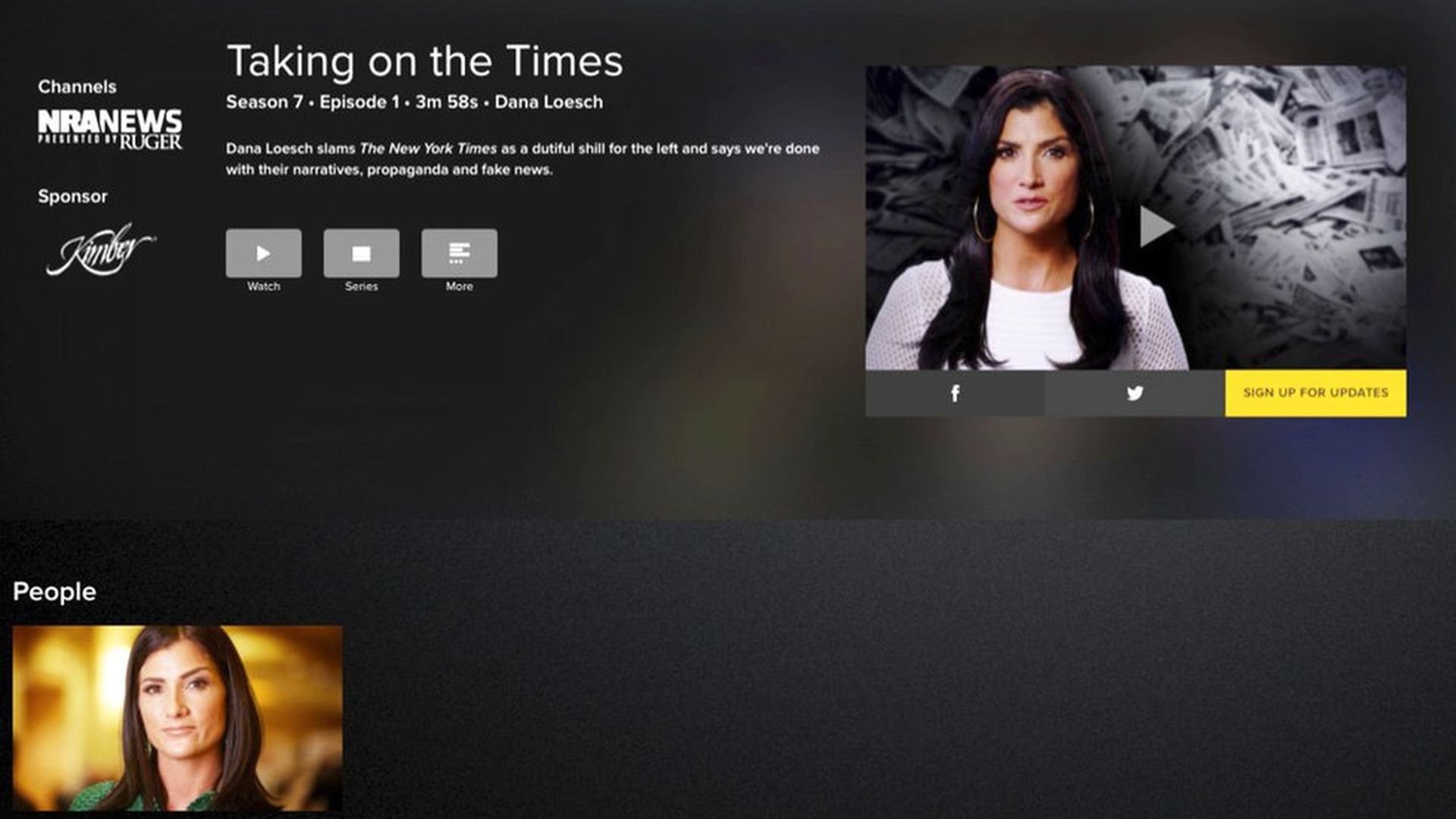 "NRA's video message to 'elites': 'We're coming for you,'" by AP's Lisa Marie Pane in Atlanta:
"Using the hashtags #counterresistance and #clenchedfistoftruth, the NRA has put out a series of videos that announce a 'shot across the bow,' and say the gun-rights group is 'coming for you' and that 'elites ... threaten our very survival.'"
"'The times are burning and the media elites have been caught holding the match,' NRA spokeswoman Dana Loesch says in one video aired on NRATV, the gun lobby's web video site, as it shows footage of people fighting police, breaking storefront glass and burning the American flag."
"Later, she specifically calls out The New York Times: 'We've had it with your narratives, your propaganda, your fake news. We've had it with your constant protection of your Democrat overlords ... Consider this the shot across your proverbial bow. ... In short? We're coming for you."
Why it matters: "The NRA is taking a page from the Trump playbook."
https://www.axios.com/newsletters/axios-am-30be0a05-d4ec-4ae7-89d5-d215e1923750.html?chunk=7#story7
8. Data du jour
"The Worst (and Best) Places to Be Gay in America: If the Trump administration won't protect gay people, we're at the mercy of our ZIP codes," by N.Y. Times' Frank Bruni:
"There's no such thing as L.G.B.T. life in America, a country even more divided on this front than on others. There's L.G.B.T. life in a group of essentially progressive places like New York, Maryland, Oregon and California, which bans government-funded travel to states it deems unduly discriminatory. Then there is L.G.B.T. life on that blacklist, which includes Texas, Kansas, Mississippi and South Dakota."
"Lesbian, gay, bisexual and transgender people are often affected most by their municipality, not their state."
See the piece, with 11 maps.
https://www.axios.com/newsletters/axios-am-30be0a05-d4ec-4ae7-89d5-d215e1923750.html?chunk=8#story8
9. How we use product reviews
A study using phone cases on Amazon.com found that we're more likely to favor a product based on the quantity of reviews, rather than what they say, per the news service of the American Association for the Advancement of Science:
"The findings, published in Psychological Science, a journal of the Association for Psychological Science, indicate that people tend to favor a product that has more reviews, even when it has the same low rating as an alternative product."
Researcher Derek Powell of Stanford University, the study's lead author: "We found that people were biased toward choosing to purchase more popular products and that this sometimes led them to make very poor decisions."
Why it matters: More information isn't better information — why you need Axios!
https://www.axios.com/newsletters/axios-am-30be0a05-d4ec-4ae7-89d5-d215e1923750.html?chunk=9#story9
10. 1 staggering win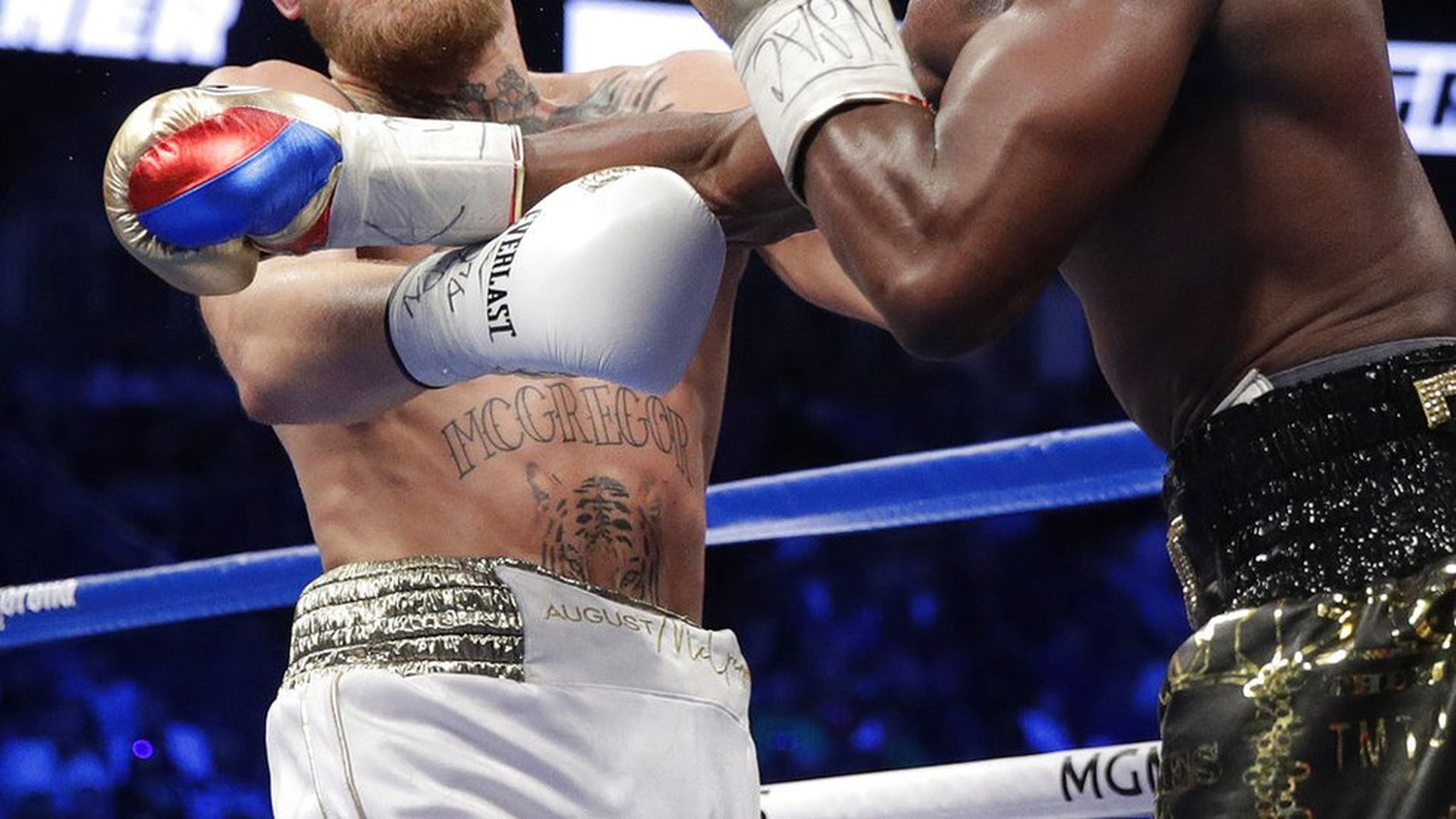 Fight Night in Vegas turned out to be more competitive and go more rounds than we expected.
But in the final rounds, a fading Conor McGregor could barely stand as the older Floyd "Money" Mayweather won by technical knockout:
ESPN: "After a slow start, Mayweather picked up the pace and finished off a game but tiring McGregor by TKO in the 10th round ... Afterward, Mayweather (50-0) said this was his final fight."
@BillSimmons: "Kudos to McGregor - he did an excellent job, ran out of gas. That fight was way better than I ever imagined. Compelling."