April 11, 2018
Good Wednesday morning!
Situational awareness: A "protect Mueller" ad runs on "Fox & Friends" and "Morning Joe" today, paid for by Republicans for the Rule of Law, backed by Bill Kristol and others. YouTube
1 big thing: Trump's never-ending transition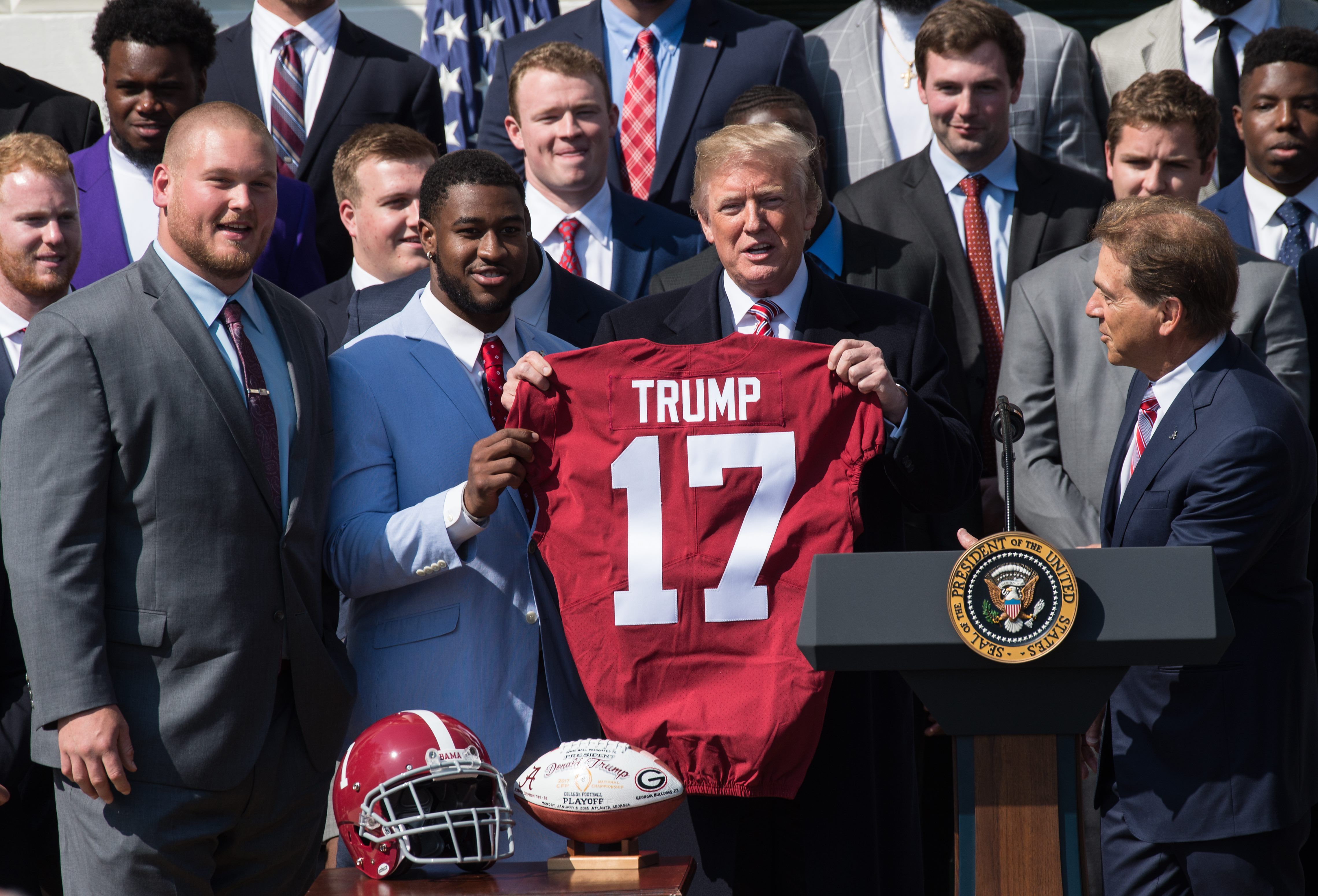 Governing by winging it ... It's as if the post-election presidential transition to power never ended for Donald Trump. Or never began. Everything in this White House is in flux — and in play:
No one knows — or even bothers claiming to know — what Trump will do next.
Few feel secure in their role or power.
Important jobs remain open; important confirmations pending.
The process has broken down, and White House chief of staff John Kelly has lost the steering wheel at critical moments.
Many days, it's governing-by-winging-it. 
Some officials tell us it's like Jan. 20, 2017, every day — with different characters and different plots, but the same maddening improviser, with the same maddening tricks.
Here's what's happening inside, from the deep, 24/7 reporting of Jonathan Swan:
Trump's own psyche in flux: Sources close to the president genuinely fear special counsel Robert Mueller has passed a "breaking point" for Trump. More than one person has used that phrase to us. They worry the president will fire Mueller. A former senior White House official said to me: "I just hope [inside lawyer] Ty [Cobb] and [White House counsel] Don [McGahn] can talk him down." But in the next sentence, this former official sighed and acknowledged how much Trump finds McGahn irritating and has turned against him.
Personnel in flux: A number of senior staff are leaving or planning to leave. Larry Kudlow will likely lose a good deal of talent he wants to keep at the National Economic Council — with Shahira Knight, the tax expert who was the star of Gary Cohn's staff, at the top of the list. John Bolton has taken charge of the National Security Council, and will be installing his own people. Yesterday, homeland security adviser Tom Bossert resigned (though the White House has not pushed back on the suggestion he was pushed out.) On Sunday, it was NSC spokesman (and early Trump supporter) Michael Anton. Lists of additional "targets" are circulating among Bolton's allies.
Policy uncertainty: Nobody in the White House or on Capitol Hill claims to know what's going to happen on trade. The business community and the markets are stressed about the threat of a global trade war, or a more intense one with China. Wall Street and K Street are rooting for Trump and Xi to find an exit ramp that allows both men to save face and claim victories, with minimal disruptions to the markets. 
Decision-making has been haphazard and processes have broken down. Exhibit A: Swan's inside account of the $100 billion tariffs threat last week. Even John Kelly was taken by surprise at the speed of the announcement.
Be smart: The result of all of this is a White House that often feels like madness, even to those present for opening night, and still in the cast today. 
2. Zuckerberg outwits Congress
At his Senate hearing yesterday, Facebook CEO Mark Zuckerberg morphed from a shy tech nerd into a confident business executive who ran circles around lawmakers, Axios' Sara Fischer and Dan Primack write:
During an early break in live coverage, CNN's Dylan Byers said: "He's winning."
Why it matters: Zuckerberg's performance stoked investor confidence and made it less likely that this Congress will stringently regulate tech giants like Facebook.
Zuckerberg was well-prepared, but he also benefited from redundant questioning that rarely included smart follow-ups:
Many senators either tried to clumsily show off for the cameras, blatantly suck up to Zuckerberg or ask long, cringe-worthy questions that sounded like grandparents checking out their first flip phone.
Sen. Brian Schatz (D-Hawaii) didn't seem to understand what it meant for Facebook's messaging app, Whatsapp, to be encrypted.
Senator after senator asked about Facebook "selling data," allowing Zuckerberg to run time off the clock by repeatedly explaining that its business model doesn't technically work that way.
While Zuckerberg explained some of his own perspectives — such as denying that Facebook is a monopoly and accepting responsibility for content on its platform — he mostly sidestepped sticky situations by calmly offering to have his "team" follow up with details at a later time.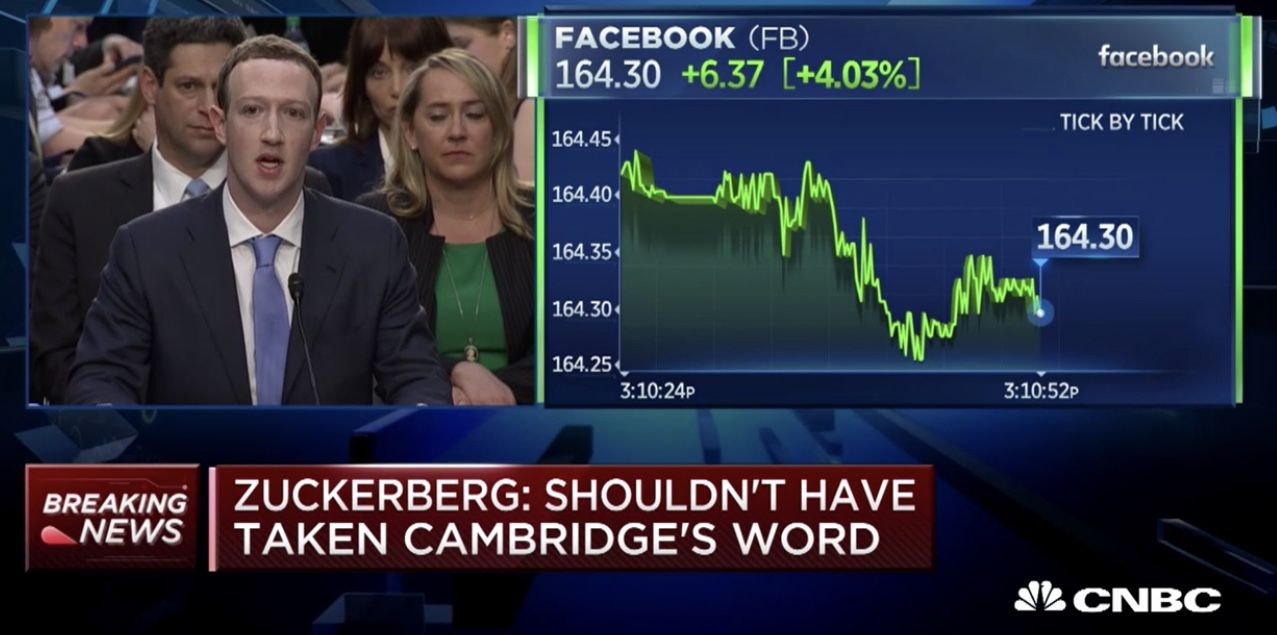 By the end, some lawmakers were making jokes and asking Zuckerberg for his help:
Sen. Shelley Moore Capito (R-W.Va.) even asked if Zuckerberg would help build more rural fiber cable to service her constituency.
Zuckerberg also benefited from what happened outside the chamber, with the Trump vs. Mueller battle royale sucking up an enormous amount of D.C. media oxygen.
A dissenting voice was Fox News, which often framed the Facebook issue as being more about censorship of conservative voices than about privacy.
That might get Trump's attention, but also could force Democrats into the unlikely role of Facebook defenders.
Be smart: Congress might adopt some minor regulations on political advertising. But the idea of this group of senators regulating digital data right now seems far-fetched.
The danger to Facebook and others isn't quick cuts — it's a long, slow bleed that forces Congress into action after some future data-breach or platform-manipulation crisis. 
Bottom line: Zuckerberg and Facebook won by default, or forfeit. 
Go deeper: Kim Hart and David McCabe, "What Zuckerberg didn't say."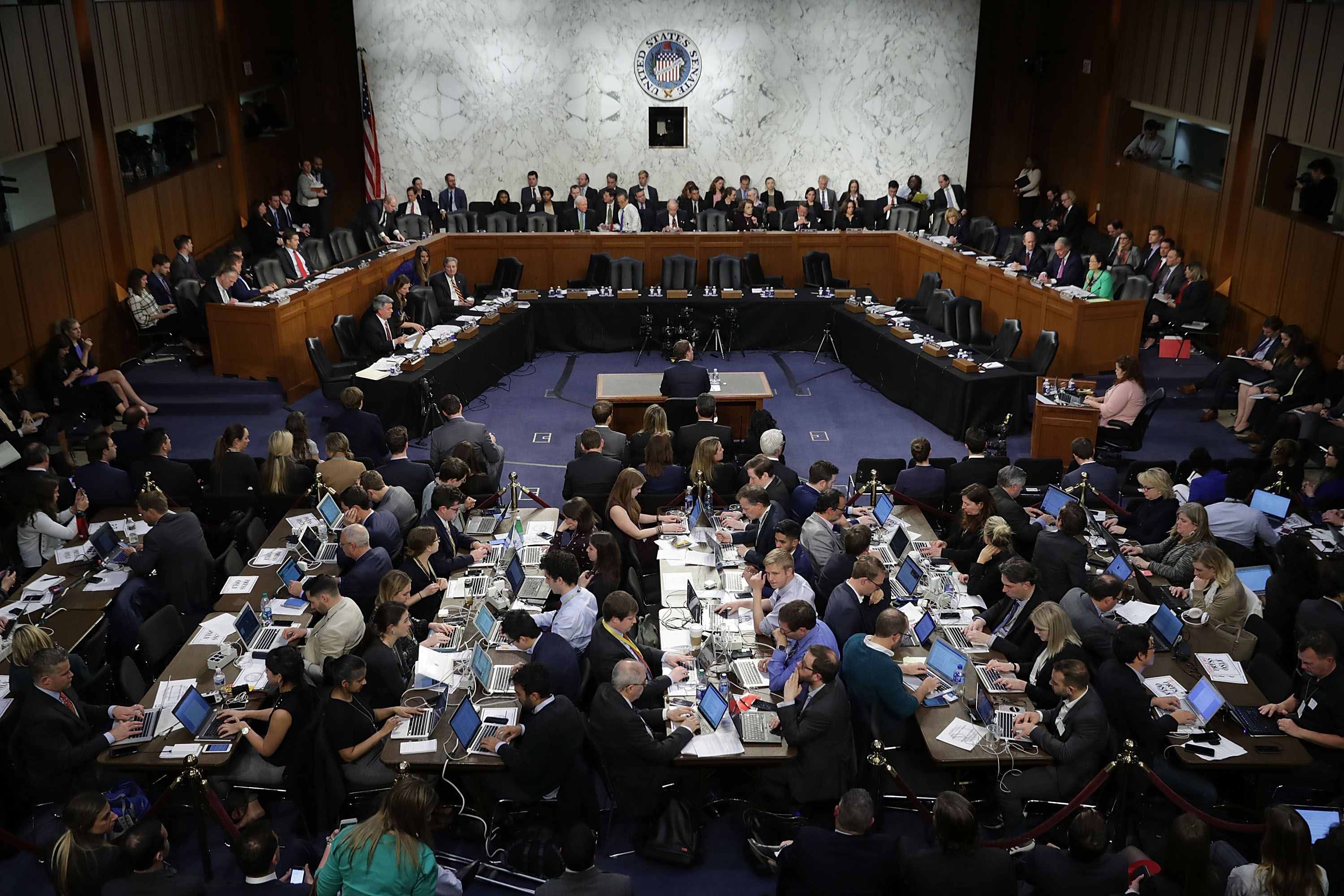 3. McConnell to worried GOP senators: Call Trump
Little by little, Senate Republicans are souring on Trump — dissing his trade moves, his Mueller threats and constant drama, Jonathan Swan reports.
What's bringing it to a head: Republican senators are extremely worried about Trump's protectionist moves on trade.
GOP senators are asking: "What are we going to do if crop prices collapse?"
At a weekly Senate Republican lunch at the Capitol yesterday, lawmakers from farm states said they're furious about Trump's threats of tariffs.
They told their colleagues that the resulting Chinese threats to crops like soybeans are already driving down crop prices. 
Kansas Sen. Pat Roberts is hopping mad about this. He got up and delivered a "stemwinder," per one source. (Though another source cautioned that most of Roberts' speeches are dramatic.)
White House trade adviser Peter Navarro was singled out for criticism. Sen. Orrin Hatch — who, as Senate Finance chair, has jurisdiction over trade — heavily criticized Navarro, according to a source familiar with the lunch. 
Senate Majority Leader Mitch McConnell (Ky.) encouraged the senators to call Trump.
One source quoted McConnell as saying: "Look, if you want to have an impact on this, call the president. Talk to him about it. Express your concerns."
But some of these red state Senators who represent farmers — think Iowans, Kansans, and Nebraskans — have already called the White House with their concerns.
And based on the conversation at the Senate lunch, these GOP senators are not feeling comforted by the response.
More juice: Word has reached Republican senators that the White House is considering subsidies to compensate farmers who are hurt by tariffs. Some senators hate the idea of a trade compensation bank, saying it's not conservative.
A White House official told Swan they had never heard of this coming up or being under consideration.
But behind the scenes: During White House trade meetings in December and January, Commerce Secretary Wilbur Ross talked about an idea that had come up in interagency process of creating a separate bank to compensate farmers to "make them whole."
Gary Cohn, then the economic adviser, trashed the idea at the time, and said Republican senators will never support subsidies, given they'd need new money to fund them, and the deficit is ballooning.
New! Where the trade fight is heading:
What the free-traders in the White House hope: They are banking on Trump cutting a deal with the Chinese before the tariffs go into effect.
Some expect the rhetoric will get even hotter in the short-term.
But China President Xi Jinping has started to build an exit ramp for Trump to claim victory on a few things (like lower tariffs on American cars) and move on.
Be smart: The free-traders hope Xi will be smart and give Trump enough "wins" to take a public relations lap and break the cycle of escalating tariffs.
Republican senators are also increasingly optimistic that the Trump administration is close to finalizing a NAFTA deal.
Bonus: Pic du jour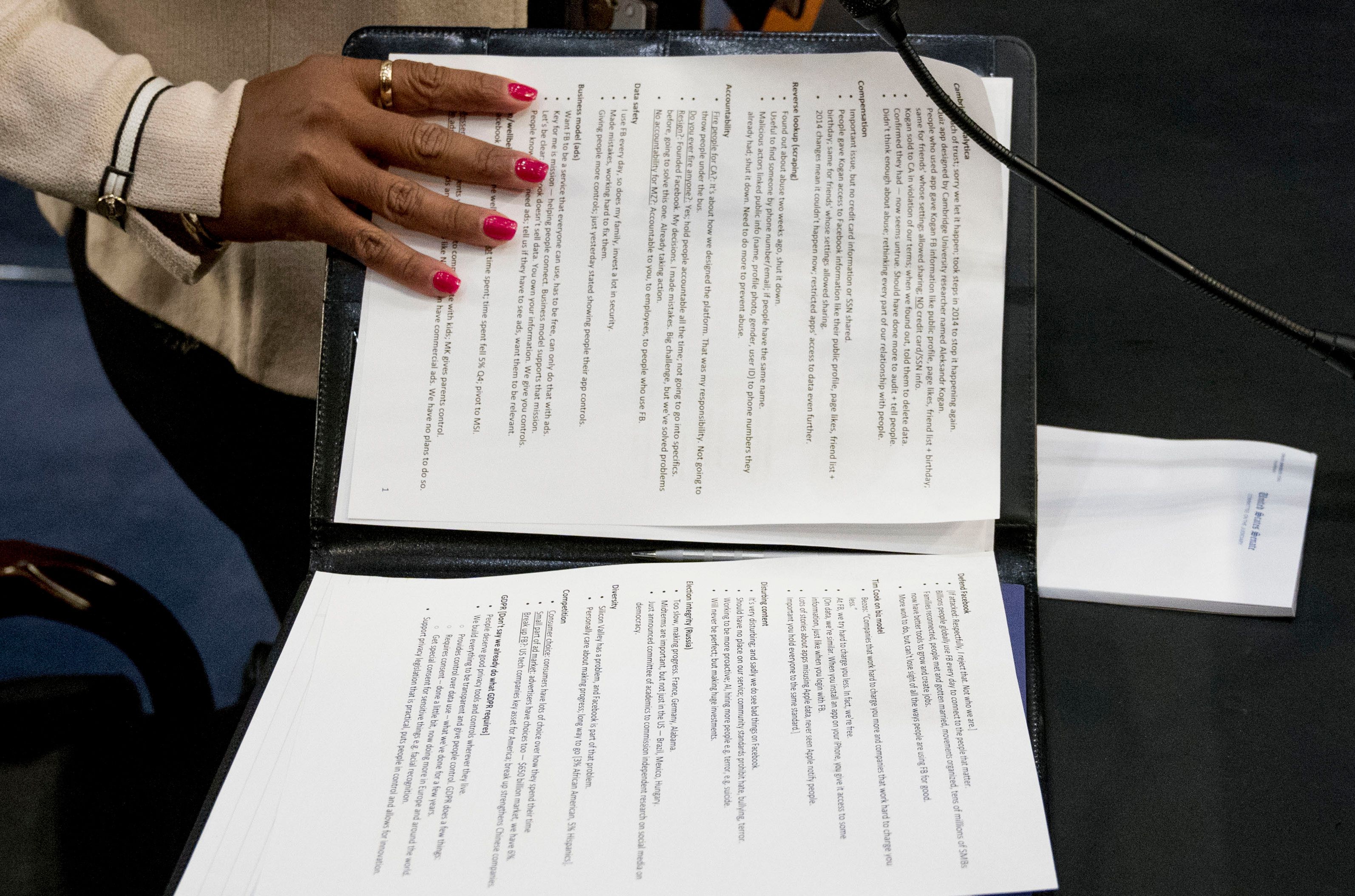 An aide to Facebook CEO Mark Zuckerberg closes a binder of notes left on the table as Zuckerberg takes a short break from testifying yesterday.
4. Behind the scenes ... ABC: Comey compares Trump to "mob boss"
A source present at the taping says James Comey's interview with ABC's George Stephanopoulos, airing Sunday at 10 p.m. as a "20/20" special, is "going to shock the president and his team."
The source said Comey's comments, in his first interview since being fired by President Trump last May, will generate headlines and "certainly add more meat to the charges swirling around Trump."
In an ABC promo, Stephanopoulos says Comey compared Trump to "a mob boss."
Comey's book, "A Higher Loyalty," is out next Tuesday. He taped the interview Monday at his Washington-area home.
According to the source:
The Comey interview left people in the room stunned — he told George things that he's never said before.
Some described the experience as surreal. The question will be how to fit it all into a one-hour show.
Comey answered every question.
If anyone wonders if Comey will go there, he goes there.
See the ABC promo, aired last night during "Roseanne."
5. White House asserts right to fire Mueller
Shot ... White House press secretary Sarah Sanders, asked yesterday if Trump believes he has the power to fire Mueller: "[W]e've been advised that the president certainly has the power to make that decision."
Chaser ... MSNBC analyst Jeremy Bash, to Nicolle Wallace on "The 11th Hour": "The regulations make clear that the removal of the special counsel can only be accomplished by the attorney general. In this case, the attorney general is [deputy] Rob Rosenstein, acting in the shoes of Jeff Sessions. ... There is some school of thought that says that because it's a regulation and not a statute, the president could actually overturn a regulation ... This could be litigated."
"Trump Said to Weigh Removal of Deputy Attorney General," by N.Y. Times' Mike Shear, Matt Apuzzo and Sharon LaFraniere:
"Besides enraging Mr. Trump, [this week's] early-morning searches ... also led him to privately wonder whether he should fire Rod J. Rosenstein, the veteran prosecutor appointed by Mr. Trump to serve as deputy attorney general."
"Rosenstein personally signed off on Monday's F.B.I. decision to raid the office of [Michael] Cohen."
Behind the raids ... "Federal prosecutors investigating President Trump's personal attorney, Michael D. Cohen, are seeking records related to two women who received payments in 2016 after alleging affairs with Trump ... Stormy Daniels and ex-Playboy model Karen McDougal," per the WashPost's lead story.
Why it matters: "The interest in Daniels and McDougal indicates that federal investigators are trying to determine whether there was a broader pattern or strategy among Trump's associates to buy the silence of women whose accounts could have harmed his electoral chances."
6. First look: Homeland Security on "foreign adversaries"
Homeland Security Secretary Kirstjen Nielsen today will outline her priorities for the first time — including protecting election security and countering foreign meddling — during a House Appropriations Committee hearing.
Nielsen's agenda, resonant with the Trump administration's "America First" theme, including keeping "foreign adversaries from stealing our trade secrets, technology, and innovation."
Nielsen will say fully enforcing immigration laws is a main priority of her department.
Nielsen will reiterate a "shared responsibility" culture of preparedness for disaster, saying local and state governments are best positioned. FEMA has moved this way, but she is doubling down and making it a department priority.
DHS priorities:
Securing and managing our borders and enforcing our immigration laws.
Protecting our nation from terrorism and countering threats: "Terrorists are adapting ... crowd-sourcing their violence through online radicalization and recruitment."
Preserving and upholding the nation's prosperity and economic security.
Securing cyberspace and critical infrastructure.
Strengthening homeland security preparedness and achieving resilience.
7. Sneak peek: "Us vs. Them: The Failure of Globalism"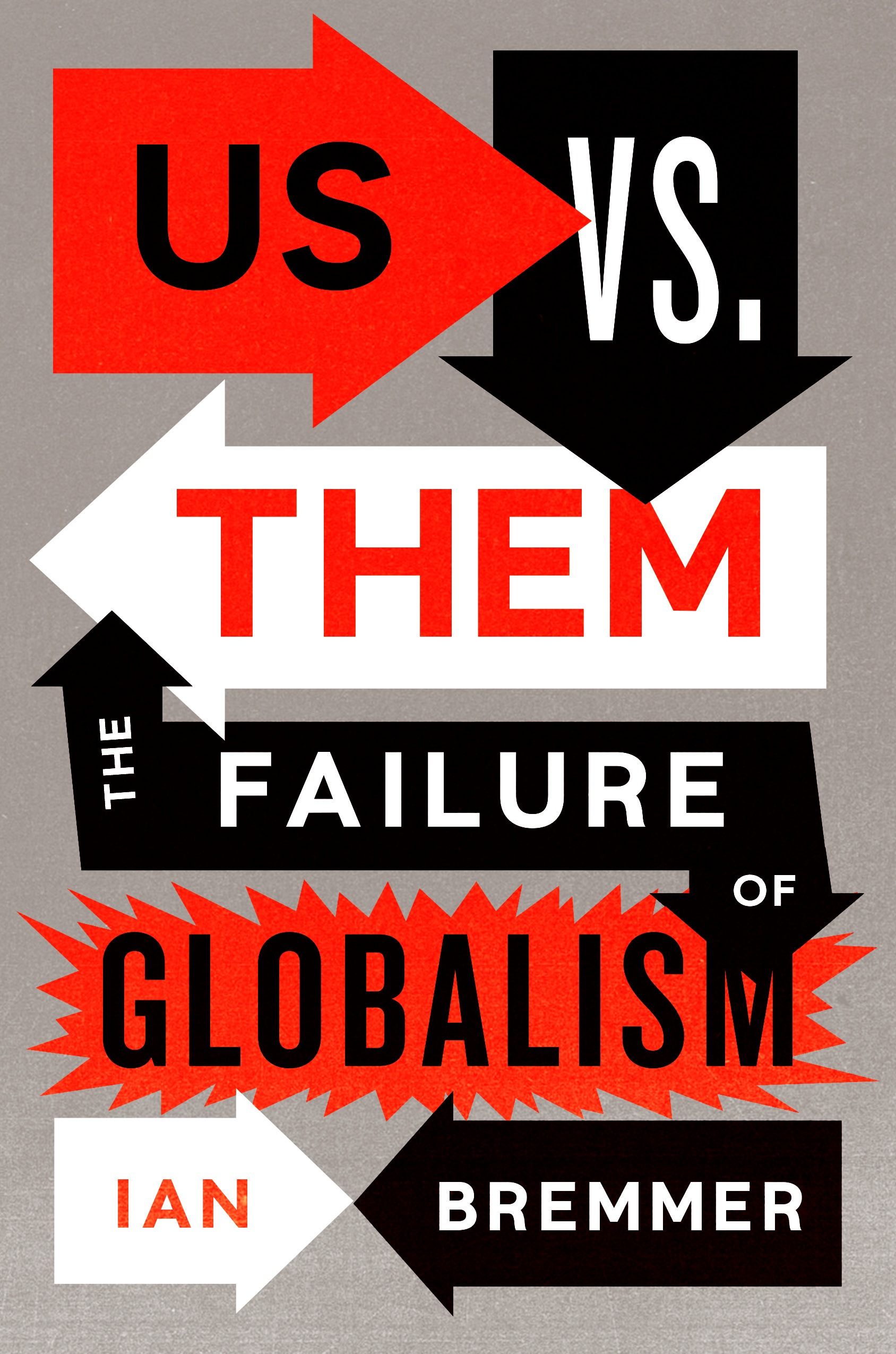 Ian Bremmer, author of "Every Nation for Itself" and "Superpower," now takes on the populist backlash against globalism with a stark warning about where this trend might be headed.
"Us vs. Them: The Failure of Globalism" will be out April 24 from Portfolio.
Ian's insight: It's not just Europe and America. Technological and economic changes, the historic flow of people across borders, and public demand for protection have empowered a whole new class of politicians with a talent for pitting one group against another.
The scale: The book goes deep on a dozen countries, including China, India, Russia, Brazil, Turkey and others.
A warning: Walls, real and virtual, are on the rise. Think repression + populism + protectionism for the digital age.
There's a hopeful vision, too:
To adapt and survive, some governments will experiment with ambitious plans to rewrite the social contract that underpins society. 
They'll remake the way children and adults are educated, how workers can be retrained, and how societies can prevent a widening of the gap between rich and poor.
Go deeper ... Read an excerpt ... Here's some video of Ian sounding the alarm.
8. Life-and-death crisis for America's black mothers and babies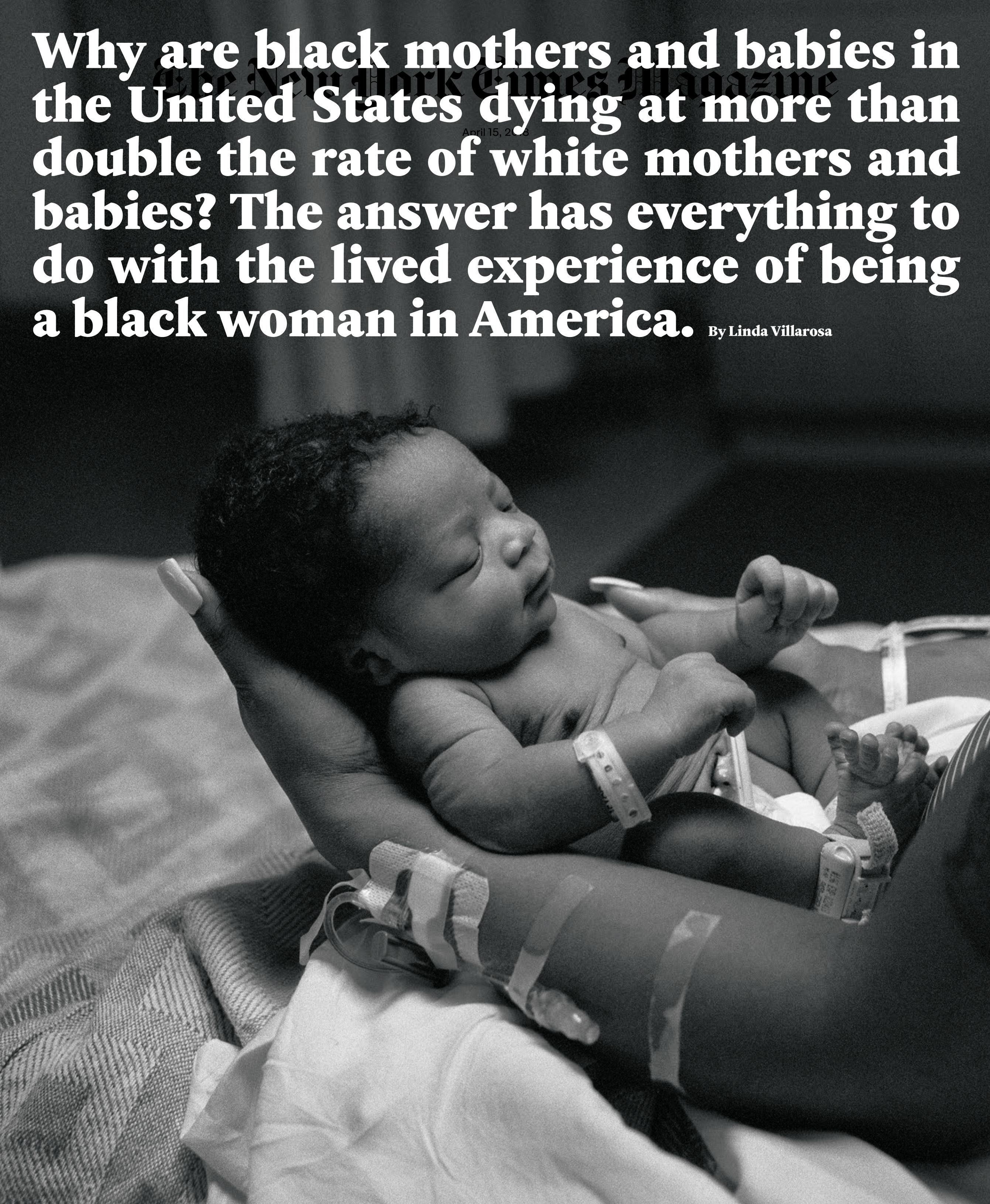 The N.Y. Times Magazine's upcoming cover story by Linda Villarosa, who directs the journalism program at the City College of New York, in Harlem, is an investigative and personal piece:
"[B]lack infants in America are now more than twice as likely to die as white infants — 11.3 per 1,000 black babies, compared with 4.9 per 1,000 white babies."
"This tragedy of black infant mortality is intimately intertwined with another tragedy: a crisis of death and near death in black mothers themselves."
"The United States is one of only 13 countries in the world where the rate of maternal mortality — the death of a woman related to pregnancy or childbirth up to a year after the end of pregnancy — is now worse than it was 25 years ago."
9. What we're watching: Katie Couric series debuts tonight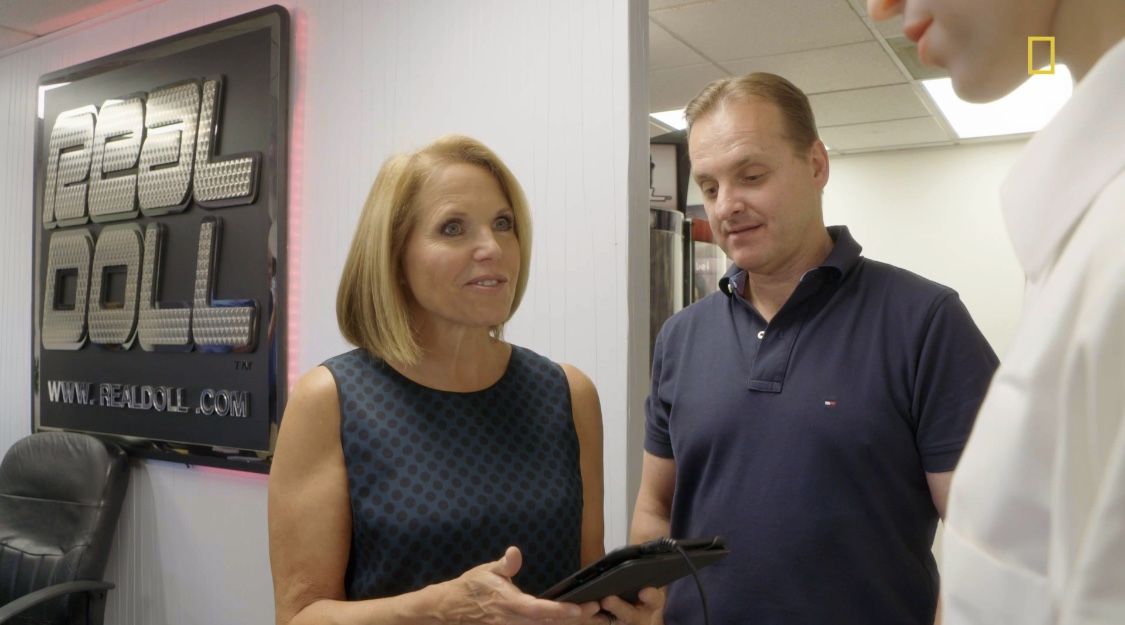 Premiering tonight at 10 p.m. on National Geographic Channel ... a new series about race, tech and more, "America Inside Out with Katie Couric":
The debut episode, "Re-Righting History," examines Confederate monuments and race in America.
10. 1 fun thing: Hot new hoops metric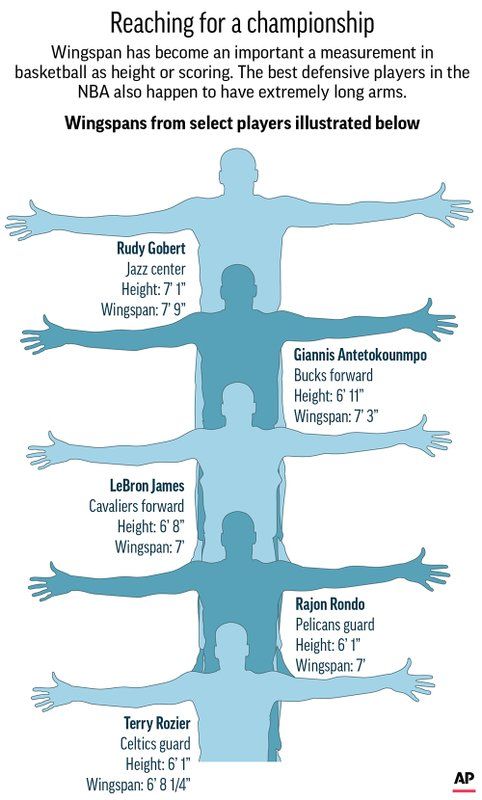 "Once limited to descriptions of birds, wingspan has become one of the most important measurements for basketball prospects," AP's Janie McCauley reports from Oakland:
"Coaches marvel at players with long arms, figuring they will more easily grab rebounds, block shots, steal passes and shoot over defenders."
"The average man has a wingspan about 2 inches more than his height."
"Jazz center Rudy Gobert, who stands 7-1 and led the NBA in blocks last season, has the longest wingspan in the league at 7 feet, 9 inches."
Why it matters: "The NBA playoffs begin Saturday, and an extra inch of reach can lead to a blocked shot or steal that might alter a series or a season."
Thanks for reading! We'll have real-time coverage of Mark Zuckerberg's second day on the Hill on Axios.com.