https://www.axios.com/newsletters/axios-am-2d698f09-21d6-4eaf-8ba0-d8a7825c1a08.html?chunk=0#story0
1 big thing: Self-debunking Keystone Cops Scenario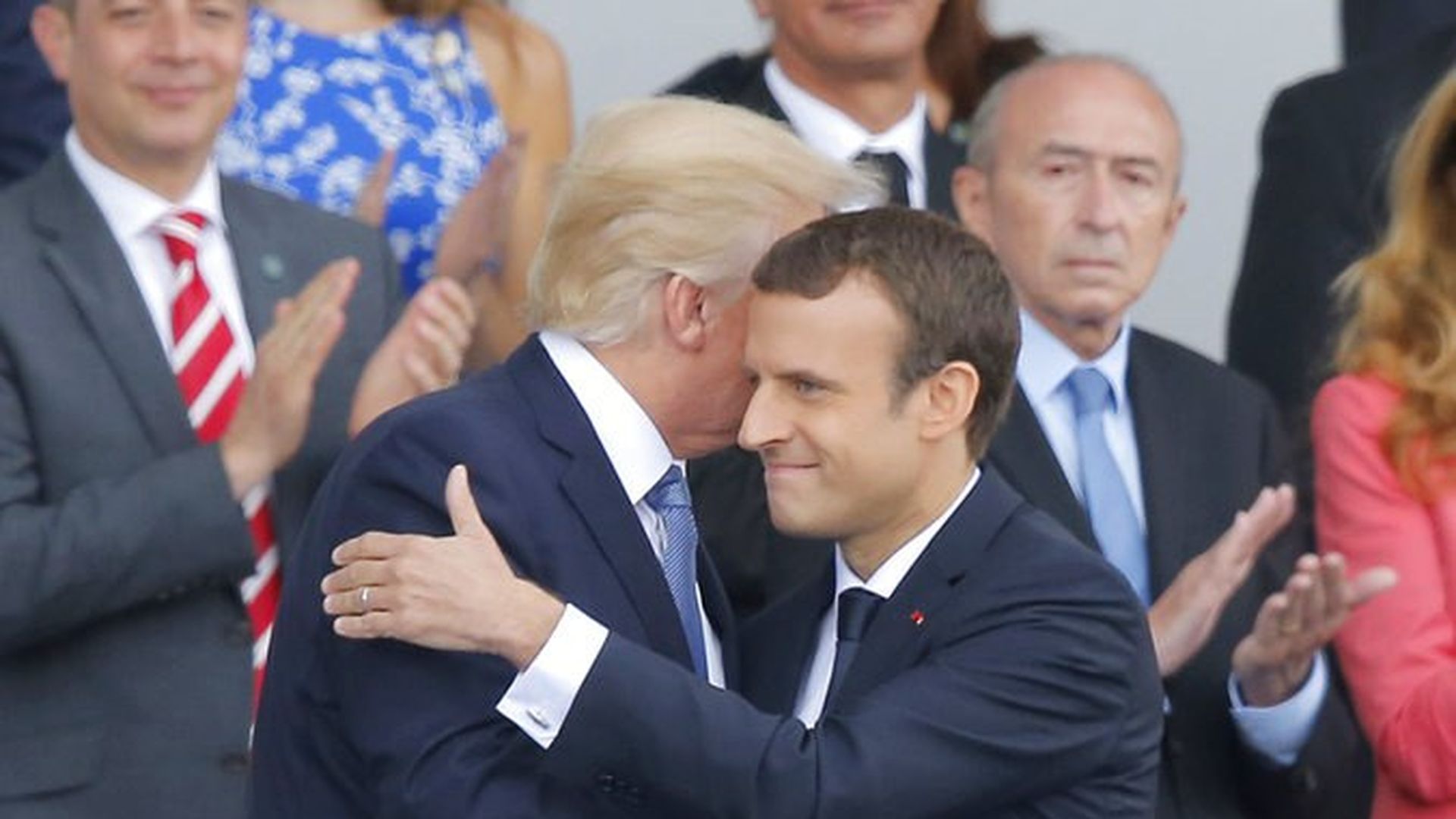 A seasoned Republican operative told me that when you're working on a campaign and you get an email that says something like "part of Russia and its government's support for Mr. Trump," the response is obvious.
"I'd stop reading right there," the operative said. "I'd print it out and walk it over to the counsel's office."
That's why so many Republicans downtown and on Capitol Hill have tried to avert their gaze from "the Russia stuff" by relying on the Keystone Cops Scenario — that this was all incompetence and inexperience: These guys just didn't know what they were doing, and were acting the way they do in business.
But the Keystone Cops Scenario fell apart yesterday. Don Jr. had told Fox's Sean Hannity on Tuesday, regarding the Russia meeting at Trump Tower: "This is everything. This is everything."
But it wasn't. As AP and others reported yesterday: "A prominent Russian-American lobbyist and former Soviet military officer said he was at [the] meeting between a Russian lawyer and ... Trump's son, son-in-law and campaign chairman last year."
Rinat Akhmetshin, the Russian-American lobbyist, "said he recognized Kushner and Trump Jr. He also said he recognized Manafort ... He said there were others in the room but he didn't know them."
Asked about the meeting on Air Force One on Wednesday night, Trump told reporters he "only heard about it two or three days ago." The N.Y. Times had broken the story the previous Saturday. That's four days.
And remember what may turn out to the be most important two paragraphs of the week, on the front page of Wednesday's Times:
"As Air Force One jetted back from Europe on Saturday, a small cadre of Mr. Trump's advisers huddled in a cabin helping to craft a statement for the president's eldest son, Donald Trump Jr., to give to The New York Times explaining why he met last summer with a lawyer connected to the Russian government. Participants on the plane and back in the United States debated how transparent to be in the statement ...
"Ultimately, the people said, the president signed off on a statement from Donald Trump Jr. for The Times that was so incomplete that it required day after day of follow-up statements, each more revealing than the last."
Last night on CNN, Anderson Cooper asked one of President Trump's lawyers, Jay Sekulow, about "the ethical kind of moral argument, is it right to have had this meeting." Sekulow replied: "I think we're making a lot about something that generally is not very significant. Whether there was eight people there or nobody."
Sekulow, who'll be on all five Sunday shows, later made a point we'll probably hear a lot of:
"You know what word I want to go on? Here is what word I want to go on. What statute is being violated here? Because at the end of the day, I keep saying this: This is interesting, and I understand why you're covering it. But the fact is no legal violation for the meeting. The meeting itself is not a violation of the law."
Be smart: The Trumps will try to move the discussion to questions of narrow legality. But when you're running for President or running the country, that's not the only standard.
https://www.axios.com/newsletters/axios-am-2d698f09-21d6-4eaf-8ba0-d8a7825c1a08.html?chunk=1#story1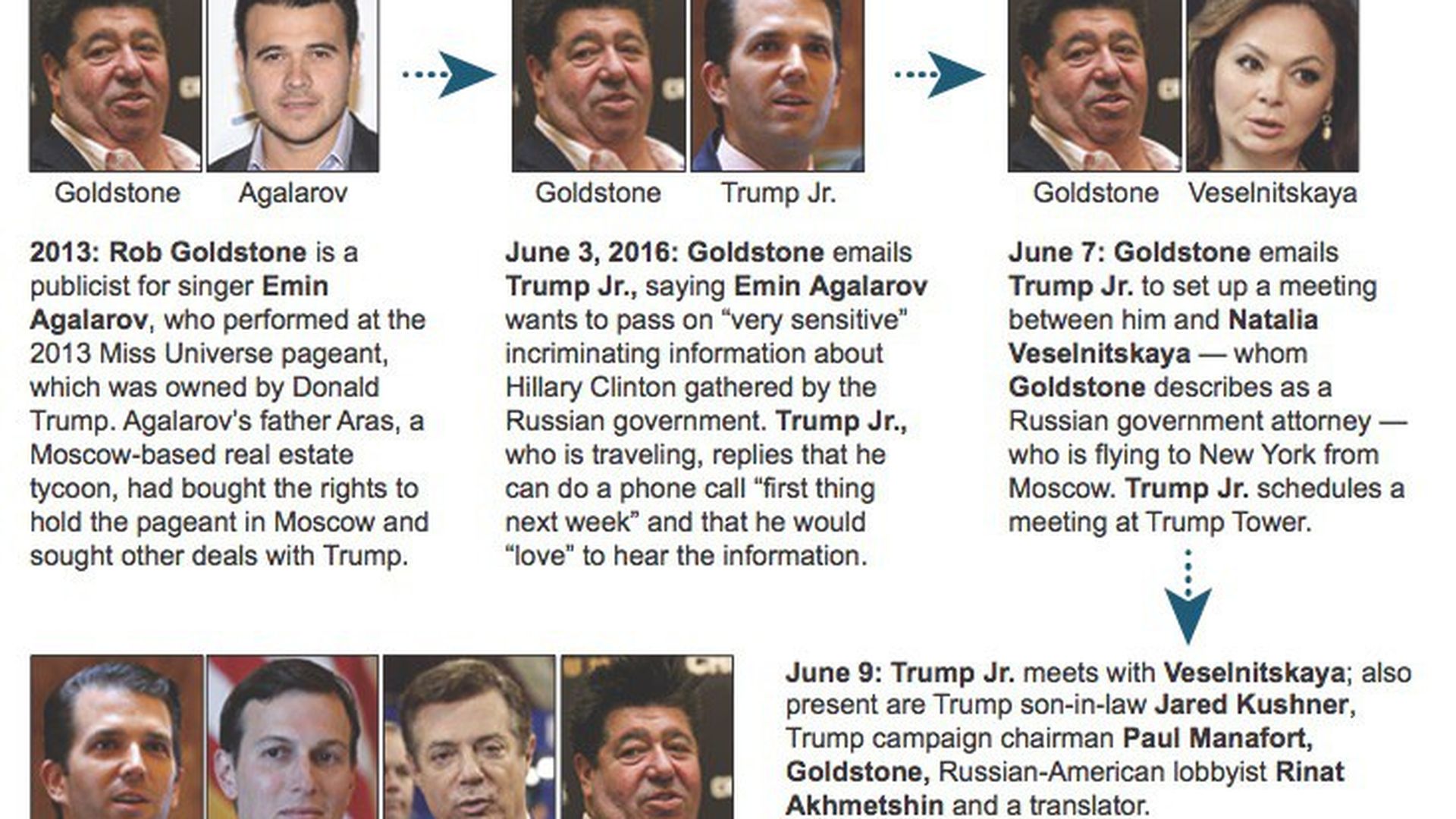 https://www.axios.com/newsletters/axios-am-2d698f09-21d6-4eaf-8ba0-d8a7825c1a08.html?chunk=2#story2
2. Number of the day
CNN: "The ... meeting ... included at least eight people."
Why it matters: That means more non-Trump people for Mueller to go after to find out what happened in the room.
https://www.axios.com/newsletters/axios-am-2d698f09-21d6-4eaf-8ba0-d8a7825c1a08.html?chunk=3#story3
3. Trump agenda is running out of time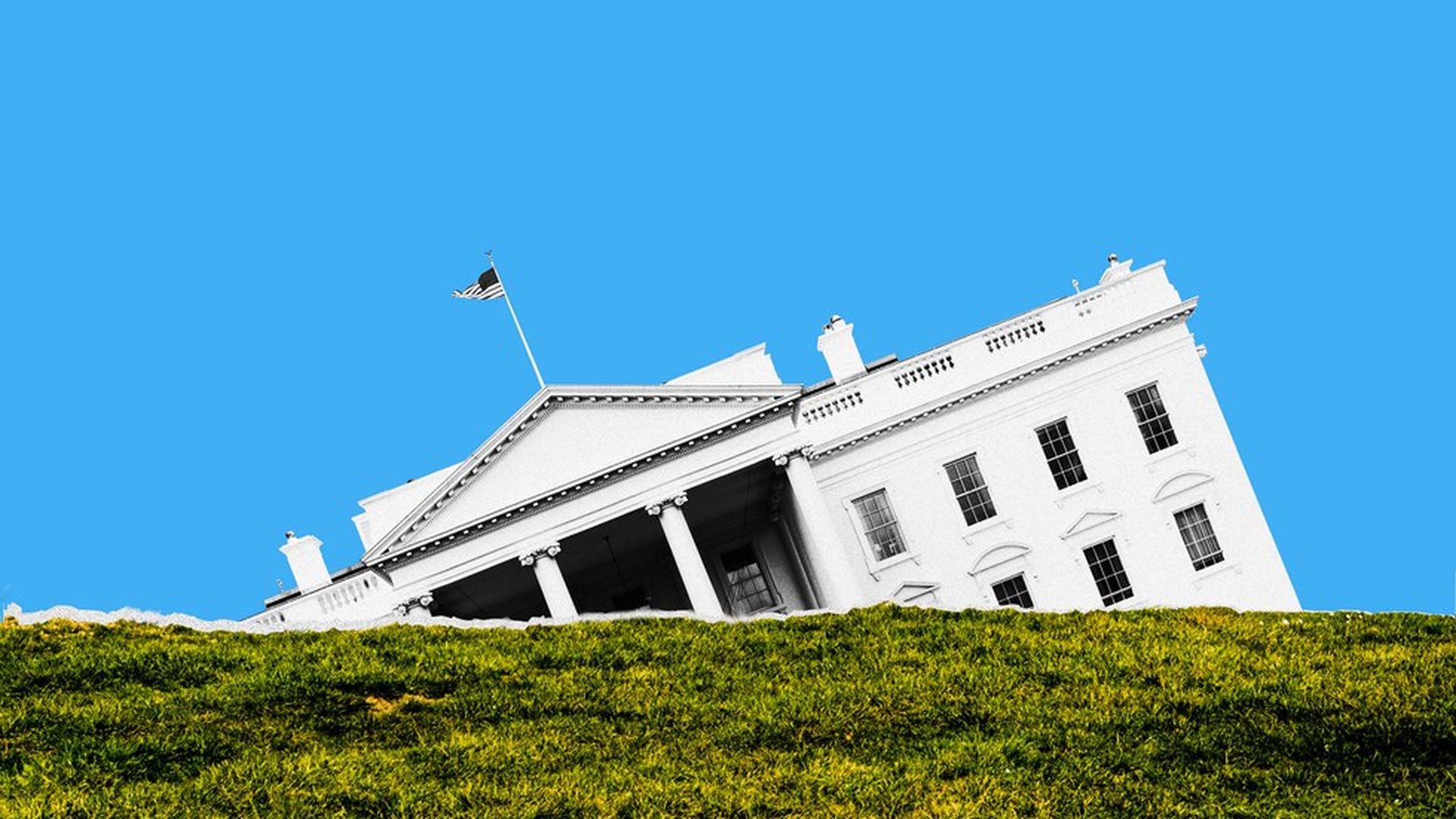 Congress has already blown through more than half of its scheduled legislative days, Axios' Alayna Treene points out. And September, which marks the end of the fiscal year, will be devoted to spending bills to keep the government up and running.
Why it matters: With Republican control of the White House, Congress and the Senate, expectations for Trump to follow through were high. But so far gridlock continues to delay his policy agenda.
https://www.axios.com/newsletters/axios-am-2d698f09-21d6-4eaf-8ba0-d8a7825c1a08.html?chunk=4#story4
4. The conversation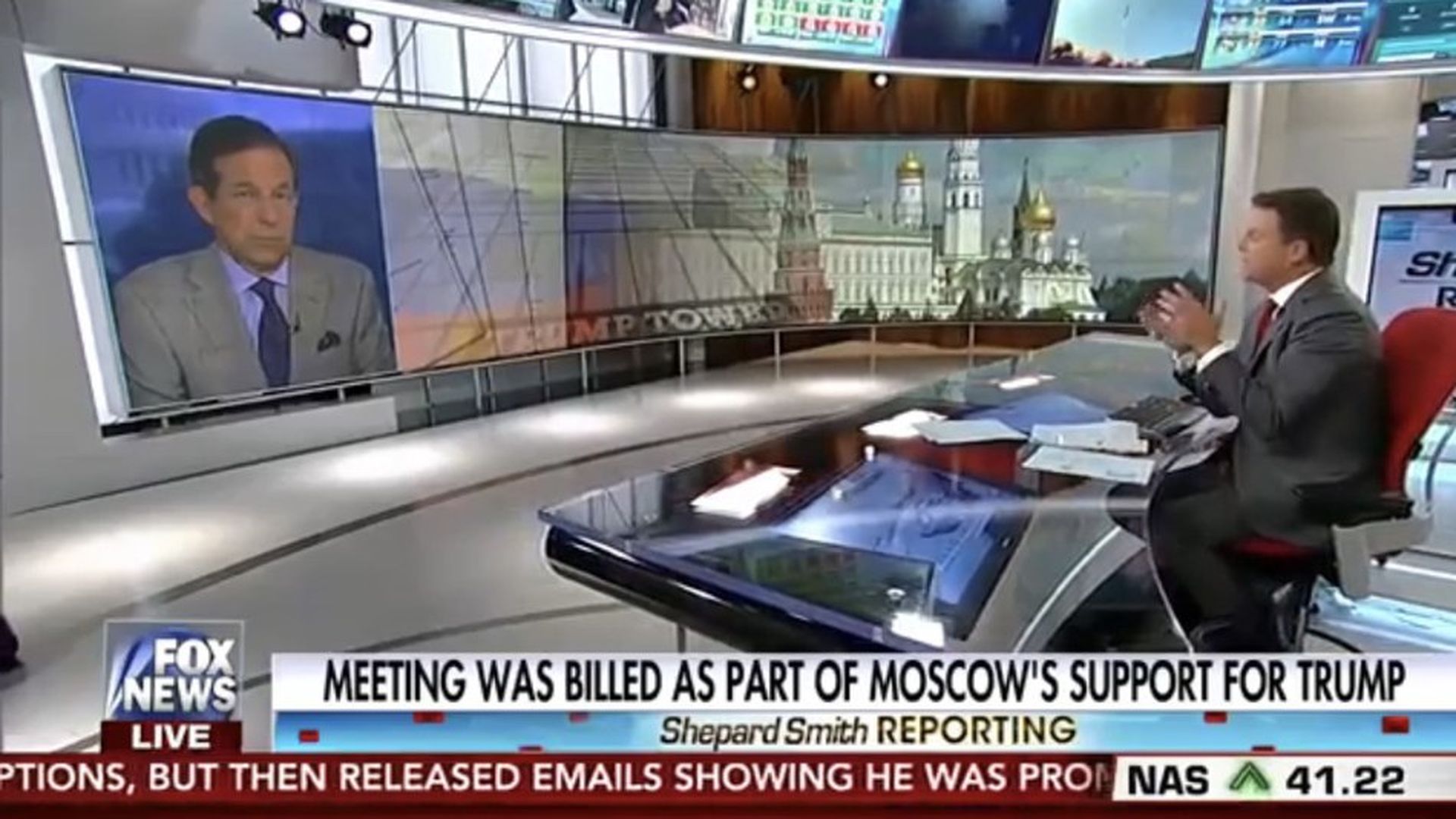 "'Lie after lie after lie': Fox News's Shepard Smith has a Cronkite moment on Russia," by WashPost's Aaron Blake:
Shep, to Fox News Sunday host Chris Wallace: "It's pilin' up. ... We're still not clean on this, Chris. If there's nothing there — and that's what they tell us: They tell us there's nothing to this and nothing came of it, there's a nothingburger, it wasn't even memorable, didn't write it down, didn't tell you about it, because it wasn't anything so I didn't even remember it — with a Russian interpreter in the room at Trump Tower?"
"If all of that, why all these lies? Why is it lie after lie after lie? ... The deception, Chris, is mind-boggling. And there are still people who are out there who believe we're making it up. And one day they're gonna realize we're not and look around and go: Where are we, and why are we getting told all these lies?"
Chris Wallace: Trump staff should be summoned and told, "from the first time you had beef stroganoff to the last shot of Stolichnaya, you put down every contact with a Russian you know about and let's get it out. It may be bad, it may be embarrassing, but we can't keep having this new information dribble out."
"Come clean! Tell it now! Let the chips fall where they may. And if, in fact, there was no crime committed, you'll survive it. It'll be embarrassing, but it'll be better than this."
New Yorker Editor David Remnick in next week's issue, "Trump Family Values": "Social-media wags delighted in reviving the Trump-as-Corleone family meme and compared Donald, Jr., to Fredo, the most hapless of the Corleone progeny. This was unfair to Fredo."
https://www.axios.com/newsletters/axios-am-2d698f09-21d6-4eaf-8ba0-d8a7825c1a08.html?chunk=5#story5
Bonus
Jonathan Karl of ABC News was elected yesterday to be president of the White House Correspondents' Association in 2019-20.
Doug Mills of the N.Y. Times and Todd Gilliman of The Dallas Morning News were reelected to 3-year terms on the board.
https://www.axios.com/newsletters/axios-am-2d698f09-21d6-4eaf-8ba0-d8a7825c1a08.html?chunk=6#story6
5. "2017's Head of Steam Evaporates"
"Market Soars as Economy Plods ... Optimism in Financial Markets Fails to Show in Real Economy," per Wall Street Journal lead story by Ben Leubsdorf:
"Stocks hit records [yesterday] and big U.S. banks reported stronger-than-expected earnings. But new government data showed consumers pulled back spending at mid-year even as markets rallied. Households also grew less optimistic about the future and inflation on consumer purchases softened."
"Trump has set out an agenda to push economic growth well beyond the roughly 2% pace that has prevailed since the recession ended in 2009, but so far there is little sign of a real breakout happening."
Be smart: "Markets—as they sometimes do— took bad economic news as good investment news."
Why it matters: "The president has suggested a number of policies to spur growth, including a tax overhaul and major infrastructure spending, but those aren't yet close to reality."
https://www.axios.com/newsletters/axios-am-2d698f09-21d6-4eaf-8ba0-d8a7825c1a08.html?chunk=7#story7
6. How we could get "much stronger growth"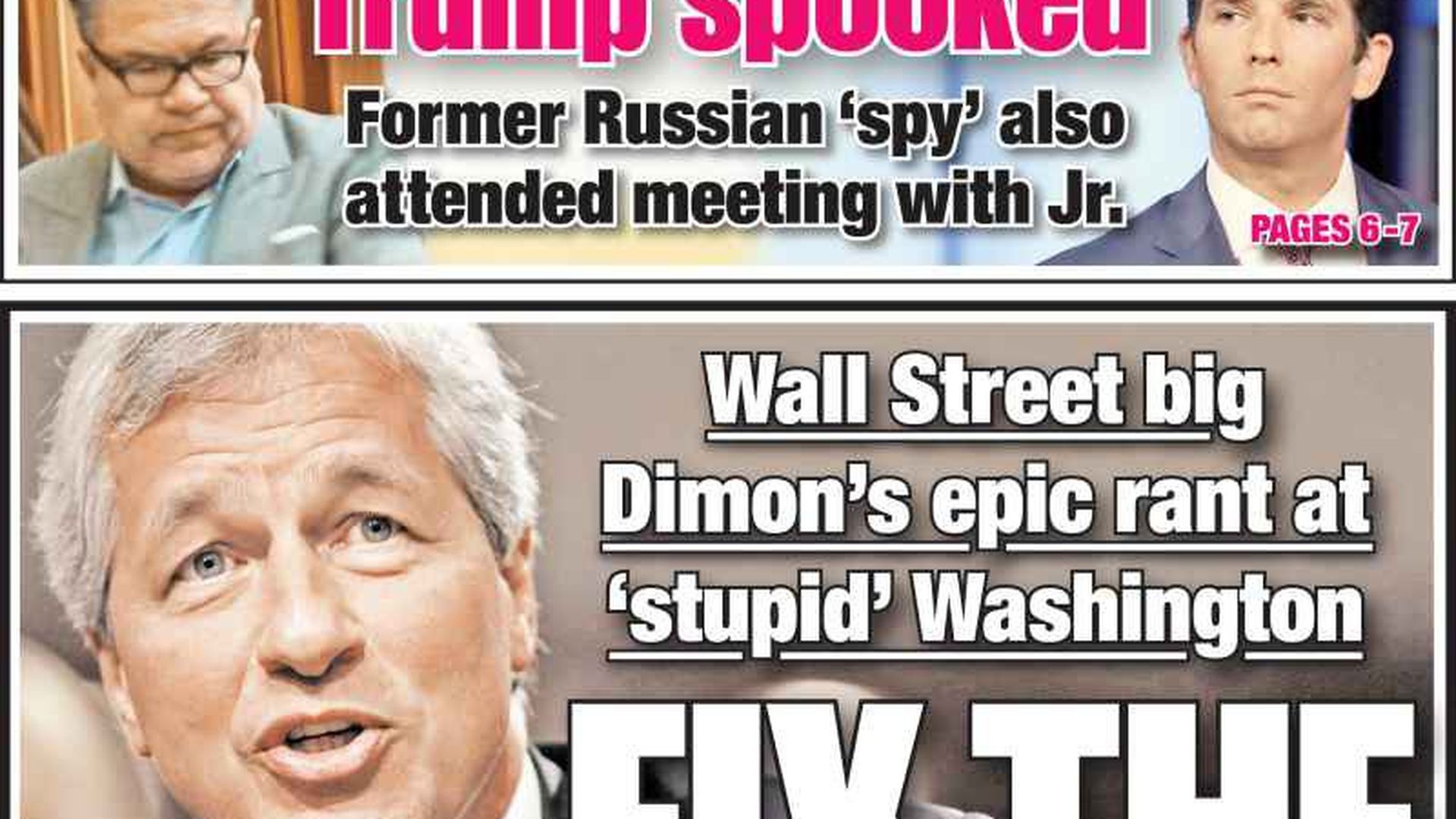 "Jamie Dimon blows up at DC's dysfunction," by CNBC's Evelyn Cheng:
"We have become one of the most bureaucratic, confusing, litigious societies on the planet. It's almost an embarrassment being an American citizen traveling around the world and listening to the stupid s--- we have to deal with in this country. ...
"Since the Great Recession, which is now 8 years [ago], we've been growing at 1.5 to 2 percent in spite of stupidity and political gridlock, because the American business sector is powerful and strong ... What I'm saying is it would be much stronger growth had we made intelligent decisions and were there not gridlock."
P.S. "Frankfurt has emerged as the biggest winner in the fight for thousands of London-based jobs that will have to be relocated to new hubs inside the European Union after Brexit," Bloomberg reports: "London could lose 10,000 banking jobs ... as clients move 1.8 trillion euros ($2 trillion) of assets out of the U.K. on Brexit, according to think-tank Bruegel."
https://www.axios.com/newsletters/axios-am-2d698f09-21d6-4eaf-8ba0-d8a7825c1a08.html?chunk=8#story8
7. Insurers call Cruz proposal "unworkable"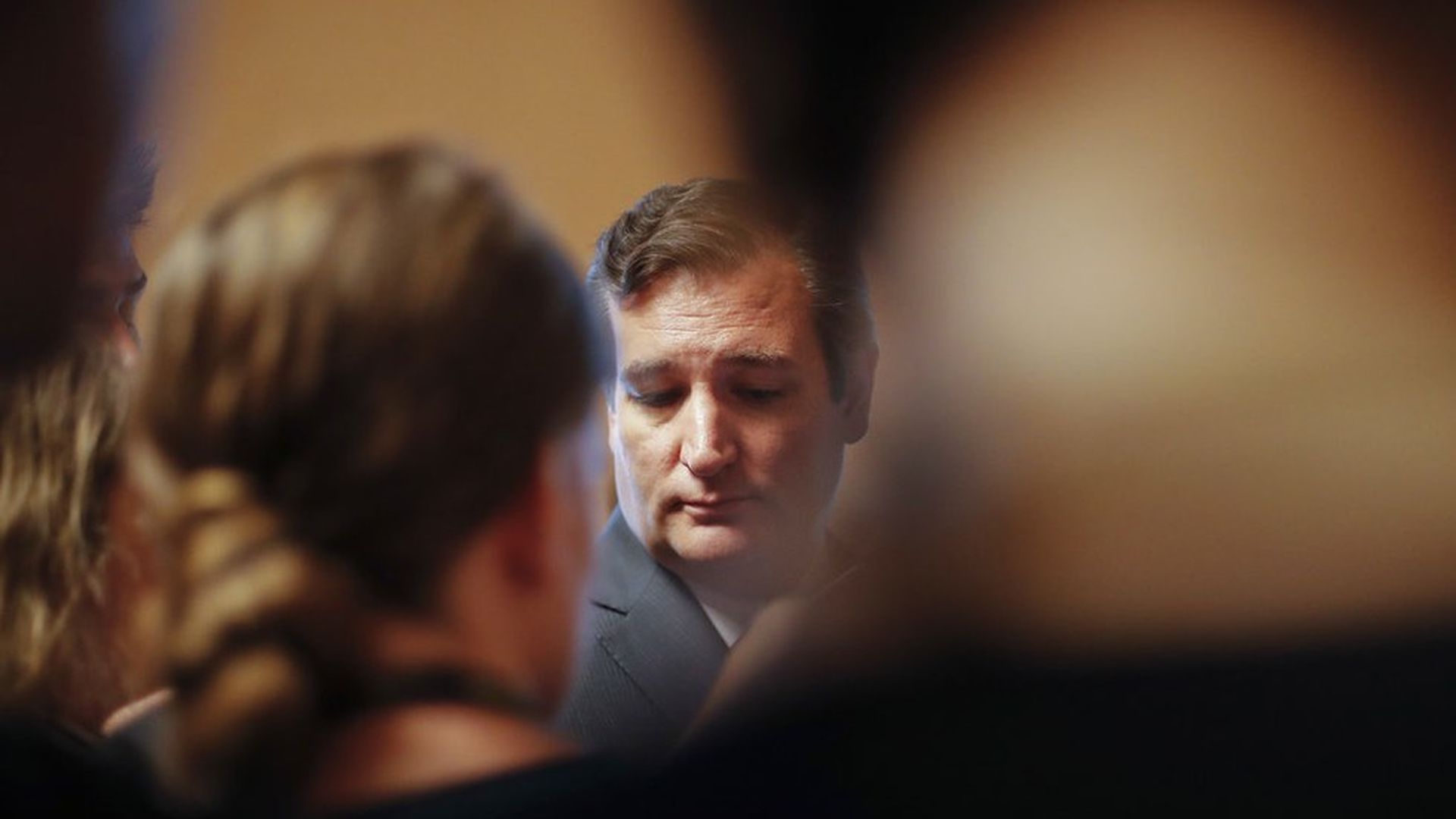 Axios' David Nather: "Two major health insurance trade groups launched an unusually direct attack on Sen. Ted Cruz's insurance deregulation proposal [last night], warning Senate Republicans that it would damage the protections for people with pre-existing conditions — the one thing they promised not to do in repealing and replacing the Affordable Care Act."
Mood music ... N.Y. Times lead story, "GOVERNORS SHUN NEW HEALTH BILL FROM BOTH SIDES."
The players ... Reuters' Yasmeen Aboutaleb: "Senate Republicans ... largely ignored key players in the debate over insuring the poor: the health insurers and hospitals charged with carrying out the law ... 'Instead, conservative groups such as Heritage Action for America won the ears of Senate Republicans."
https://www.axios.com/newsletters/axios-am-2d698f09-21d6-4eaf-8ba0-d8a7825c1a08.html?chunk=9#story9
8. New Trump plan to speed deportations
"The Trump administration is weighing a new policy to dramatically expand the Department of Homeland Security's powers to expedite the deportations of some illegal immigrants," the WashPost reports in its lead story, by Abigail Hauslohner and David Nakamura:
"Since 2004, the agency has been authorized to bypass immigration courts only for immigrants who had been living in the country illegally for less than two weeks and were apprehended within 100 miles of the border."
"Under the proposal, the agency would be empowered to seek the expedited removal of illegal immigrants apprehended anywhere in the United States who cannot prove they have lived in the country continuously for more than 90 days, according to a 13-page internal agency memo obtained by The Washington Post."
https://www.axios.com/newsletters/axios-am-2d698f09-21d6-4eaf-8ba0-d8a7825c1a08.html?chunk=10#story10
9. "The West should have spoken up"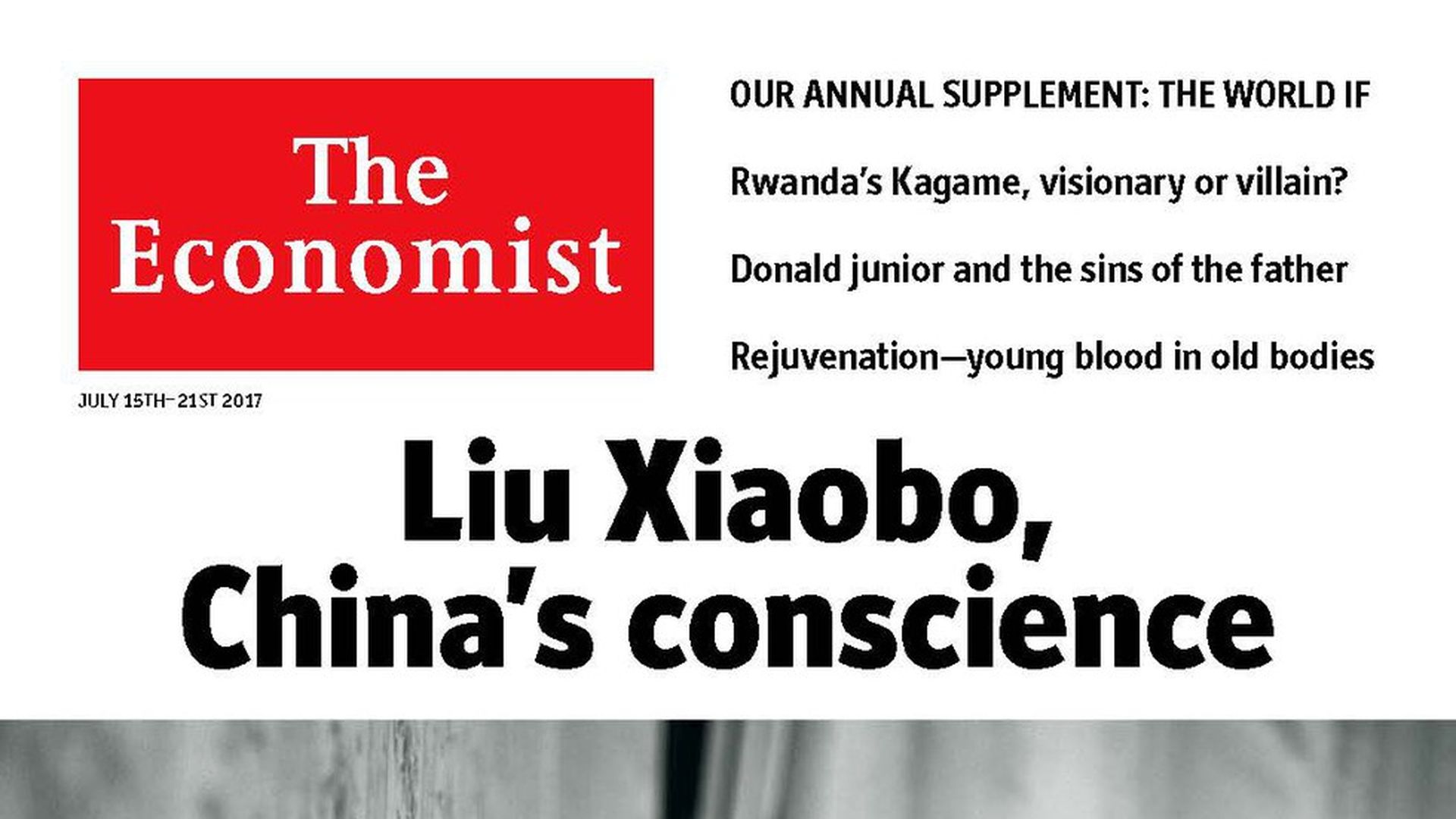 Economist lead editorial, "China's conscience: Liu Xiaobo's death holds a message for China — And for the West, too":
"Liu Xiaobo, who died [Thursday], was hardly a household name in the West. Yet of those in China who have called for democracy, resisting the Communist Party's ruthless efforts to prevent it from ever taking hold, Mr Liu's name stands out."
"His dignified, calm and persistent calls for freedom for China's people made Mr Liu one of the global giants of moral dissent, who belongs with Andrei Sakharov and Nelson Mandela — and like them was a prisoner of conscience and a winner of the Nobel peace prize."
Why it matters: "Western governments have a long history of timidity and cynicism in their responses to China's abysmal treatment of dissidents."
https://www.axios.com/newsletters/axios-am-2d698f09-21d6-4eaf-8ba0-d8a7825c1a08.html?chunk=11#story11
10. 🎶 1 lit jam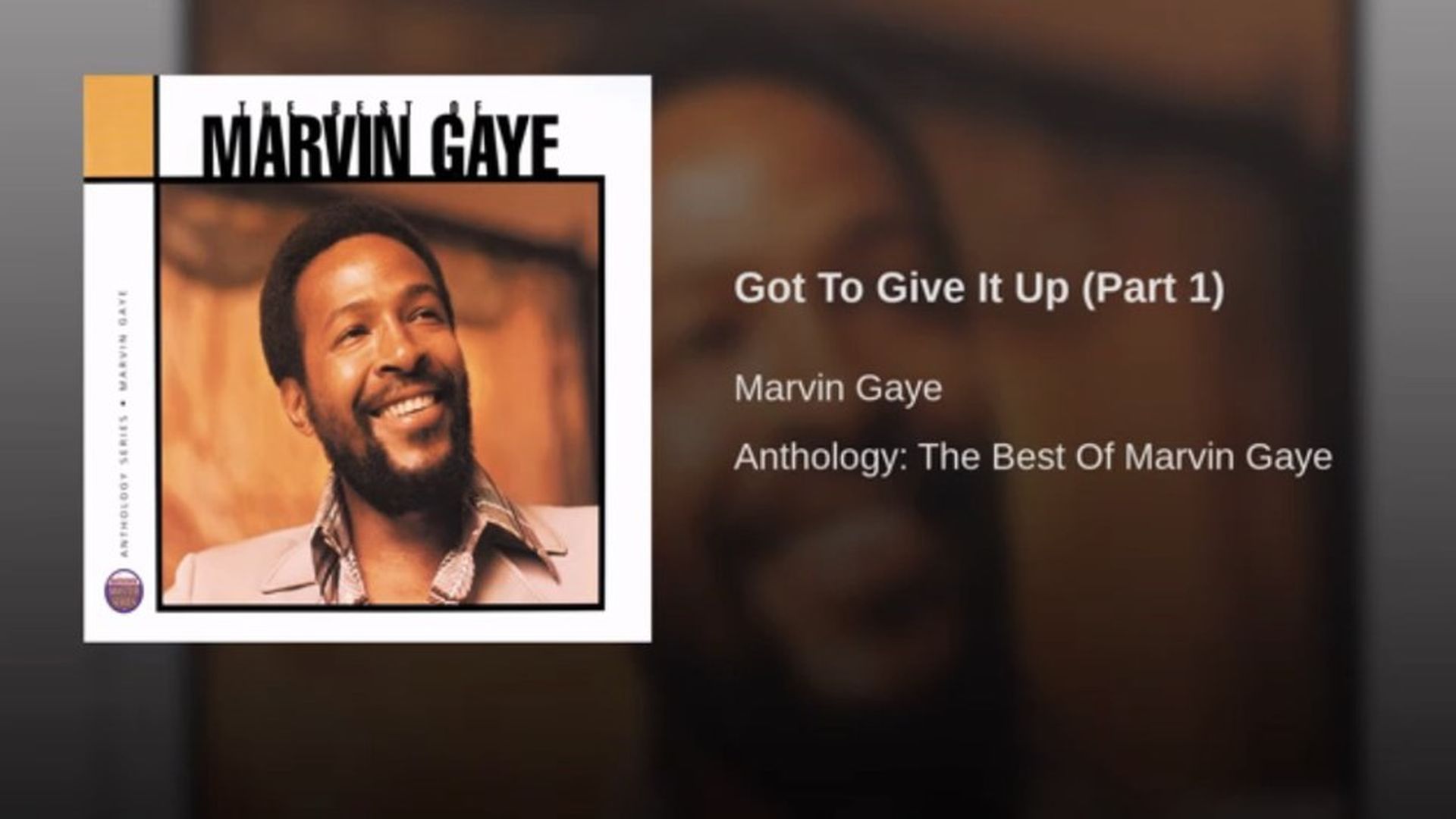 From Kendra Tucker, Axios SVP of Audience and Platforms ...
"Marvin Gaye, Got to Give it Up, Part 1"
Why she chose it: "It's the soundtrack for getting families and friends together for summer holidays. There's something about the sound of people welcoming each other as the song opens, and the happy chatter accompanying the music, that sets the beat for good conversation, lots of laughter, a guaranteed good time."