https://www.axios.com/newsletters/axios-am-2b5d6d96-baff-40cc-ba50-b2b5b6e45107.html?chunk=0#story0
1 big thing: Least popular bill in 30 years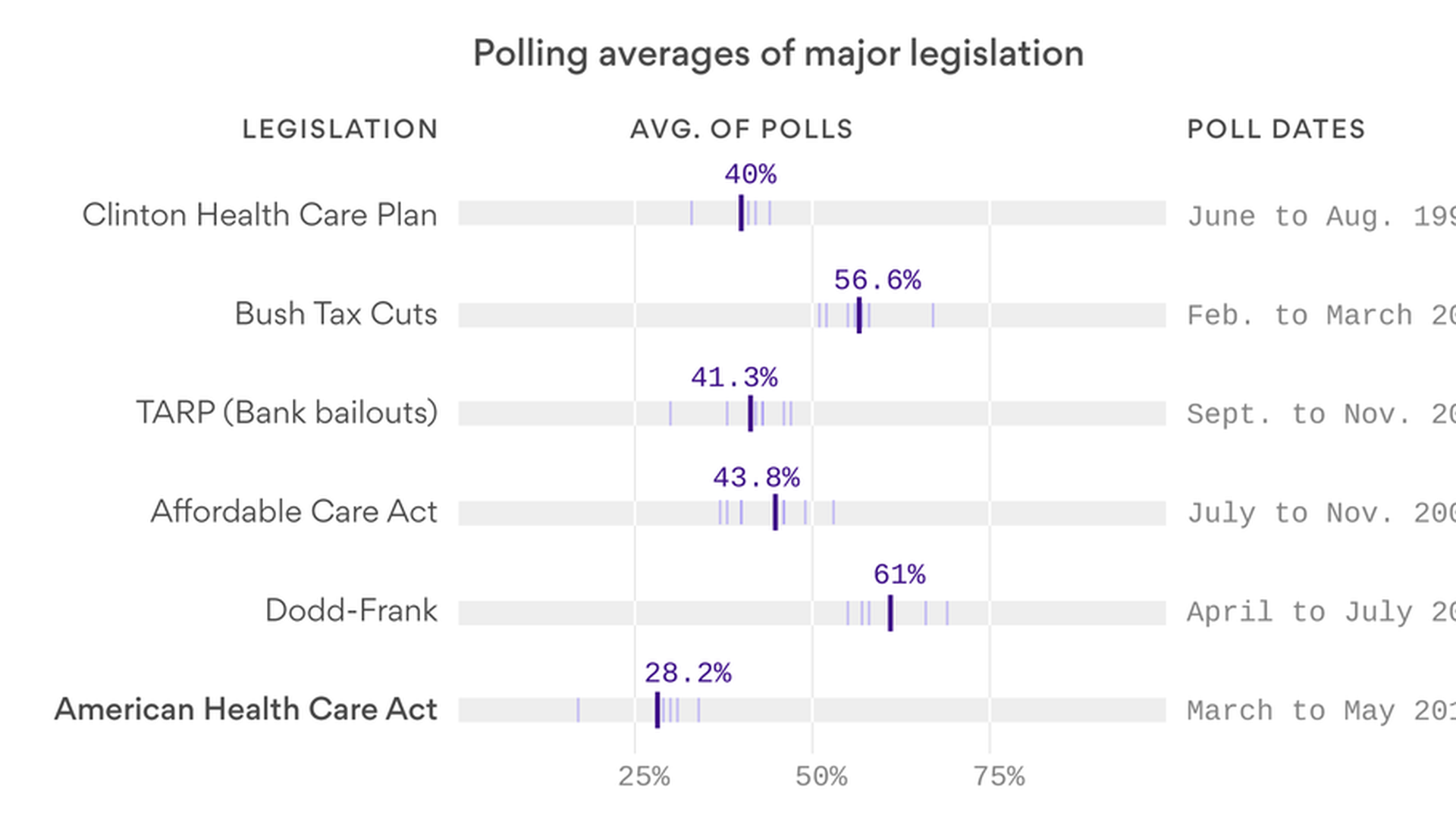 Why top Republicans are telling us the health-care bill is doomed ... Axios' David Nather, with the help of MIT's Chris Warshaw and Roper Center data, synthesized polling and found the House health-care bill is the most unpopular legislation in three decades.
It's less popular than Obama's Affordable Care Act when it was passed, than the widely hated TARP bank bailout bill of 2008, and even than President Bill Clinton's failed health-reform effort in the 1990s.
David points out why it matters: "It's rare for Congress to move ahead with legislation when the signs are this clear that the public doesn't want it."
I asked Republican pollster Frank Luntz for his take on this graphic, and he sees ominous signs for congressional Republicans:
"The reason ... this is so powerful is that the Clinton healthcare vote cost Democrats seats in Congress, as did TARP for the Republicans. The fact that the GOP legislation is even less popular tells me some Republicans will be defeated for their vote."
A Republican lobbyist who is for the bill tells me: "Senators could at least make the case the TARP bailout was going to preserve the banking system and protect the public from collapse even in the face of potent conservative ideological arguments about the dangers of socializing risk and crony capitalism."
"The health plan has never been tied to the health of individuals. [Stop; read that again.] Abstract arguments about the policy value or ideological purity of legislation rarely work in the Senate. Concrete political ends are needed to create action."
Be smart: Rather than giving senators breathing room and letting the health-care bill off the mat, the recess seems to have — if anything — added rocks to the backpack. Mitch McConnell is now talking publicly about a Plan B — hardly a sign that he's solving his Rubik's Cube.
https://www.axios.com/newsletters/axios-am-2b5d6d96-baff-40cc-ba50-b2b5b6e45107.html?chunk=1#story1
2. Facts matter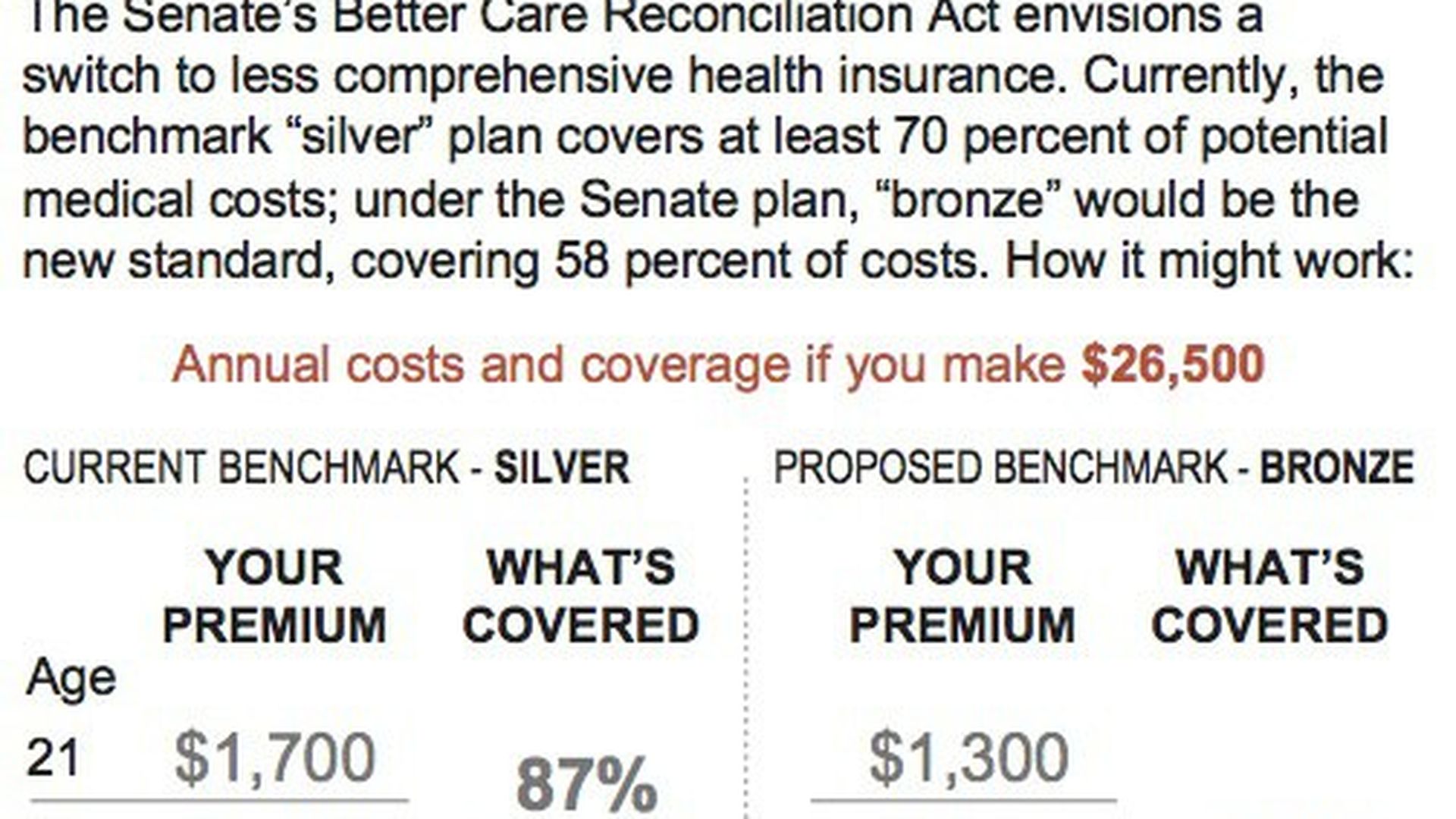 I asked David Nather, Axios health-care editor and author of our Vitals newsletter, for a "Between the lines" on this graphic:
"This is why Republicans haven't been able to make the math work out to avoid one of the most damaging attacks: that older customers will pay more for health care."
https://www.axios.com/newsletters/axios-am-2b5d6d96-baff-40cc-ba50-b2b5b6e45107.html?chunk=2#story2
3. The face-off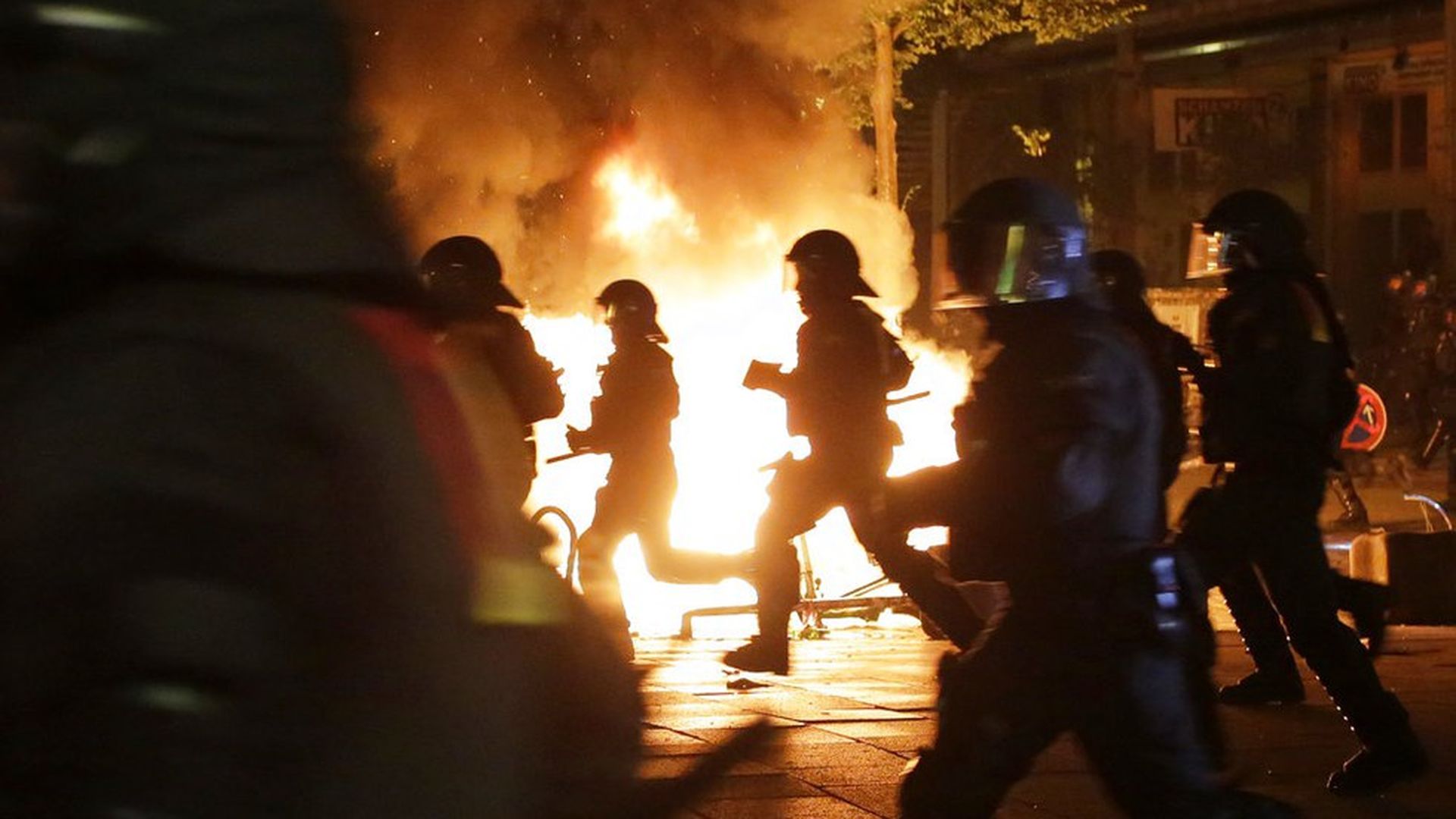 Trump and Putin meet in Hamburg, Germany, at 9:45 a.m. ET. Jonathan Swan's cheat sheet:
How world leaders deal with Trump: "Foreign officials tell us that when they ... speak with Trump they keep a set of objectives in mind but know they won't be able to stick to a script. The perceptive ones say they try to avoid scoring points against Trump. Many leaders bring gift-wrapped 'victories' to meetings with Trump — such as major investments in America and new jobs he can brag about afterwards."
What Trump is thinking: Who the heck knows?
What Putin is thinking: "Putin understands the U.S. political system is in chaos. He's quite aware that Trump wants to deal but that hardline anti-Russia members of Congress and the Democrats in particular are ... even now trying to force new and harsher sanctions on Russia. ... Putin is ... likely to be circumspect, making positive noises in their conversations and committing to nothing."
Go deeper: Check out Jim and my Trump 101 on "Dealing with Donald."
https://www.axios.com/newsletters/axios-am-2b5d6d96-baff-40cc-ba50-b2b5b6e45107.html?chunk=3#story3
4. Lead of the day
Charles Krauthammer column in WashPost, "North Korea: The Rubicon is crossed":
"Across 25 years and five administrations, we have kicked the North Korean can down the road. We are now out of road."
The meat: "How many times must we be taught that Beijing does not share our view of denuclearizing North Korea? It prefers a divided peninsula, i.e., sustaining its client state as a guarantee against a unified Korea (possibly nuclear) allied with the West and sitting on its border."
The kicker: "[T]he most likely ultimate outcome, by far, is acquiescence."
https://www.axios.com/newsletters/axios-am-2b5d6d96-baff-40cc-ba50-b2b5b6e45107.html?chunk=4#story4
5. "Trump's Defining Speech"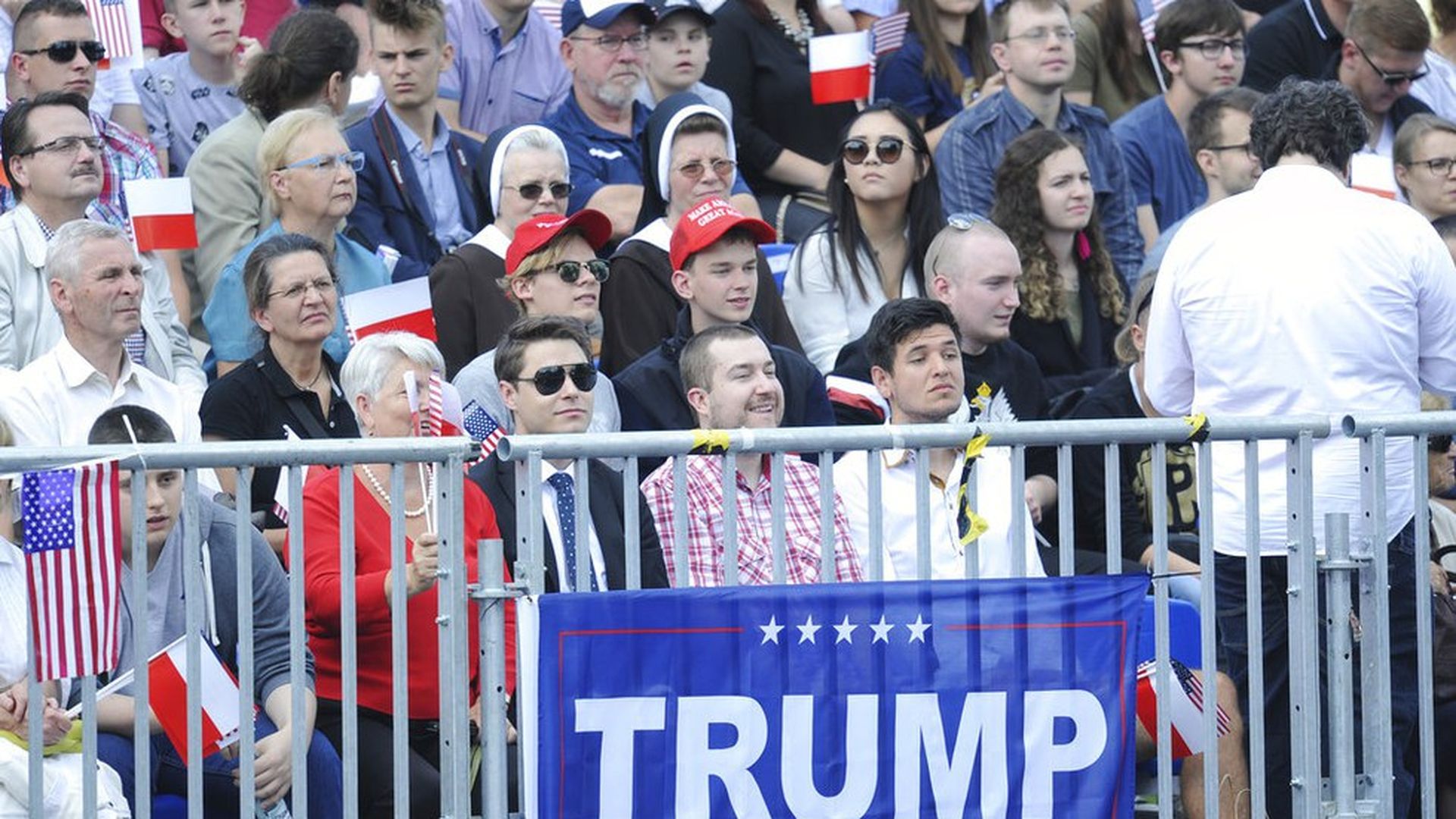 From Trump's address in Warsaw yesterday: "Our own fight for the West does not begin on the battlefield — it begins with our minds, our wills, and our souls. ... Our freedom, our civilization, and our survival depend on these bonds of history, culture, and memory."
Wall Street Journal lead editorial, "Trump's Defining Speech": "This is a warning to the West and a call to action. ... This is the speech Mr. Trump should have given to introduce himself to the world at his Inauguration.
Nicolle Wallace on "Morning Joe": "I think it's all about the professionals — the Mattises, the staff — overriding his circuitry. ... [H]is impulses, and all of his wiring, is what we see on Twitter."
https://www.axios.com/newsletters/axios-am-2b5d6d96-baff-40cc-ba50-b2b5b6e45107.html?chunk=5#story5
6. A "Trump Show" cancellation
"Office of Government Ethics Director Walter Shaub Jr. [resigned following] months of clashes with the White House over issues such as President Trump's refusal to divest his businesses and the administration's delay in disclosing ethics waivers for appointees." See his letter.
NPR's Peter Overby: "Shaub, an attorney, has accepted a job with the Campaign Legal Center, a nonpartisan organization of election-law experts."
Shaub to CBS News Correspondent Julianna Goldman: "[T]here's an appearance that the businesses are profiting from his occupying the presidency." (Video)
N.Y. Times Quote of the Day ... Shaub: "There isn't much more I could accomplish at the Office of Government Ethics, given the current situation."
https://www.axios.com/newsletters/axios-am-2b5d6d96-baff-40cc-ba50-b2b5b6e45107.html?chunk=6#story6
7. Stat du jour: "The capital of national dissent"
WashPost, top of Metro section, "Poll: 1 in 3 in D.C. has protested Trump," by Paul Schwartzman and Emily Guskin: "One out of every three Washingtonians has marched in protest against President Trump or his policies at least once since January, making the District the capital of national dissent, a new Washington Post poll finds."
"53 percent of white residents participated in a march or demonstration in opposition to Trump's policies since the start of the year, compared with 16 percent of African Americans and 36 percent of Hispanics and those of other racial and ethnic groups."
https://www.axios.com/newsletters/axios-am-2b5d6d96-baff-40cc-ba50-b2b5b6e45107.html?chunk=7#story7
8. Today's lean-back read — that'll make you sit up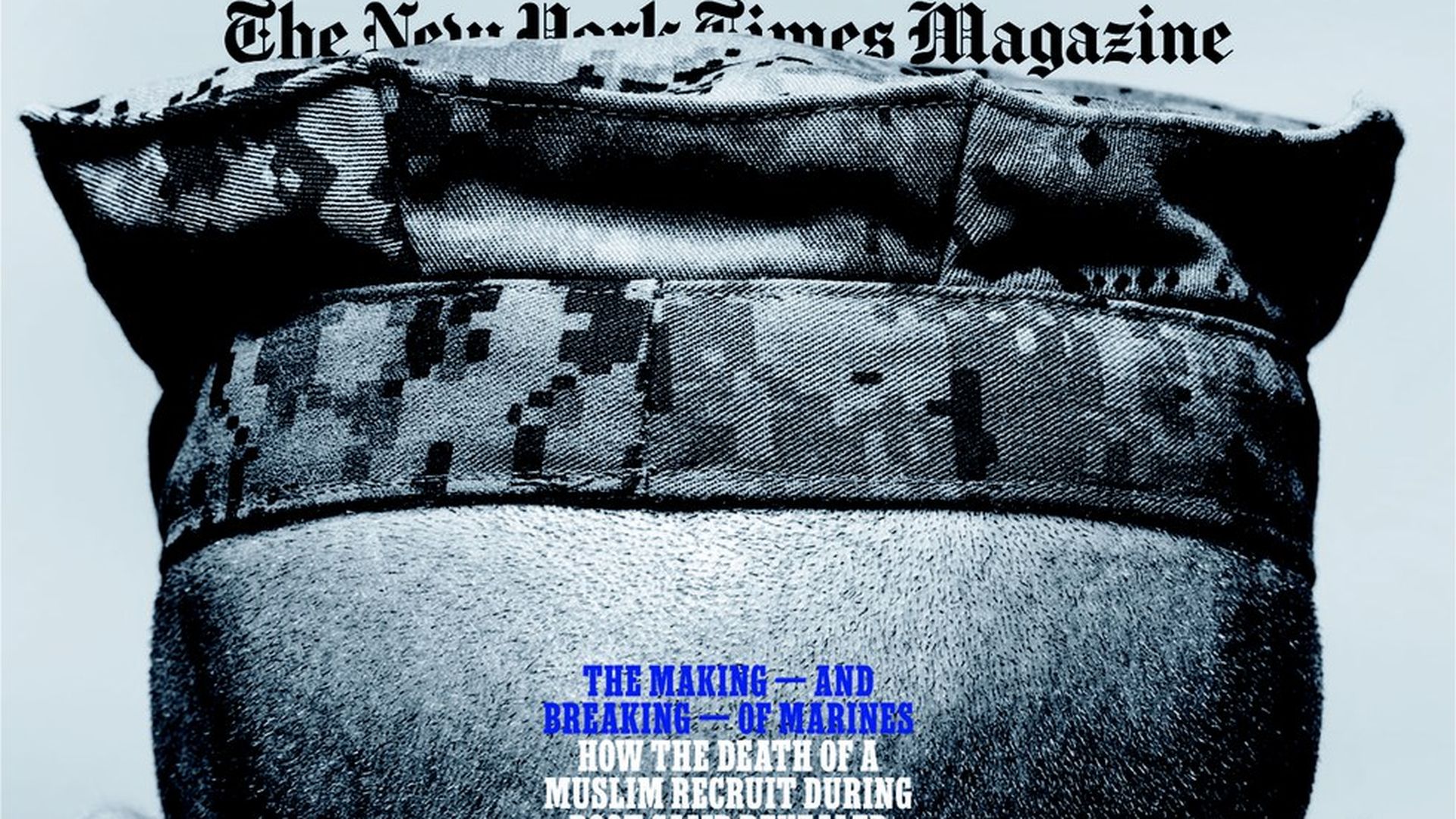 Cover story of the forthcoming N.Y. Times Magazine, "How the Death of a Muslim Recruit Revealed a Culture of Brutality in the Marines: Recruits at Parris Island [S.C.] have been subjected to severe hazing, far beyond that experienced in other U.S. military boot camps. Is this really the only way to create a warrior?" by investigative journalist Janet Reitman:
"[T]he post-Sept. 11 generation doesn't see military service as particularly prestigious, the corps's longtime advertising agency, J. Walter Thompson, concluded after conducting a study in 2012 on how to sell the Marines to millennials. Continuing to sell the corps as gung-ho warriors wouldn't entice recruits beyond the Marines' traditional base of white, evangelical, Southern conservatives, they found.
"Presenting the Marines instead as global do-gooders attracted kids across the political, racial and socioeconomic spectrum. Thompson described its new marketing strategy as the merging of 'Rambo and Bono.'"
https://www.axios.com/newsletters/axios-am-2b5d6d96-baff-40cc-ba50-b2b5b6e45107.html?chunk=8#story8
9. The talk of tech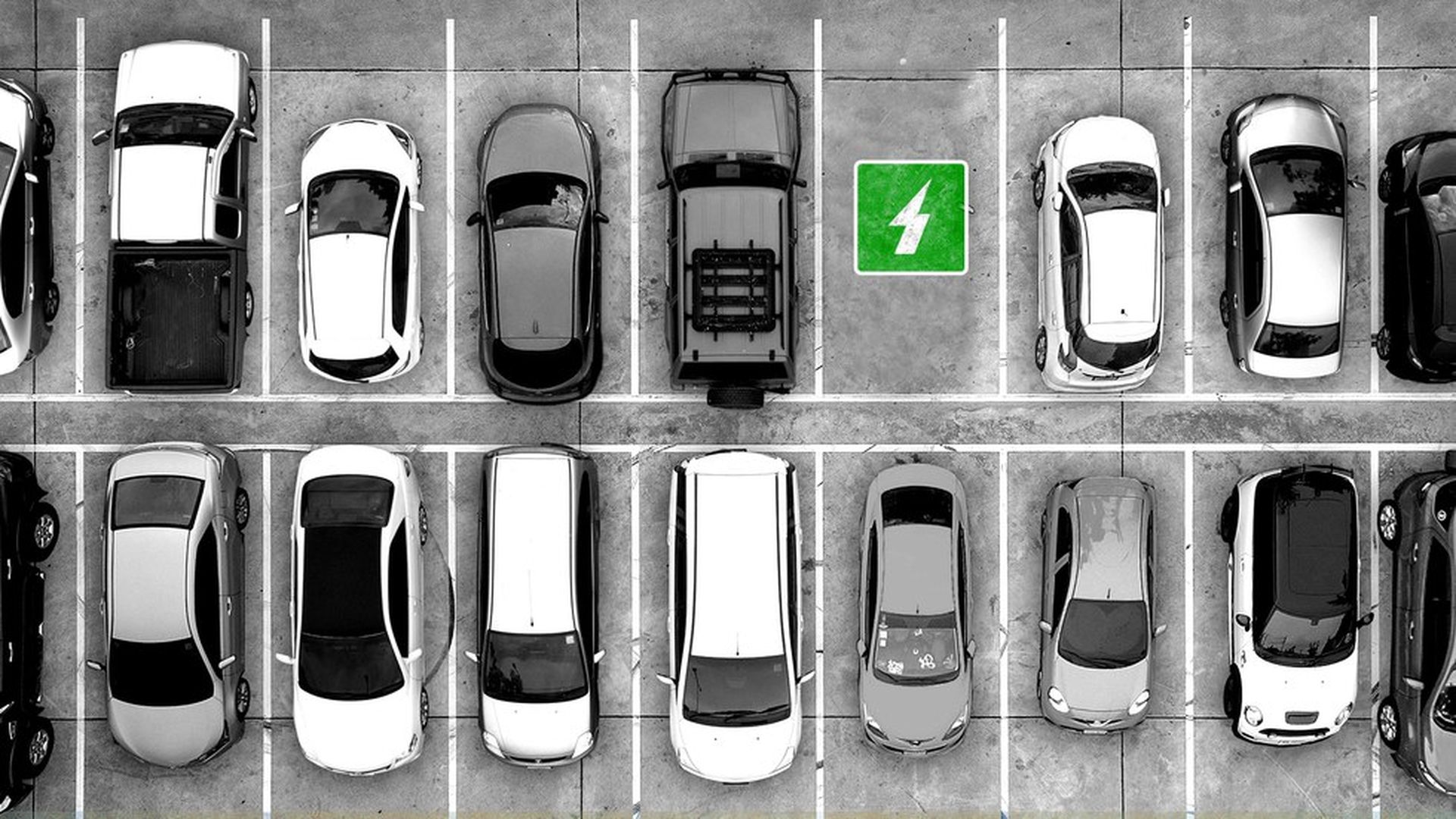 Today's a landmark day for Tesla. Axios' Chris Matthews narrates:
"Tesla will complete ... its very first Model 3 vehicle today. ... Not only is the car sleek and desirably cool, it's equipped with hardware that will soon enable fully autonomous driving."
"[O]f the dozens of electrics to reach the global market in the coming five or so years, the Model 3 probably stands the best chance of popularizing a new mass-market electric car age.
"Rappers are penning verses about no other electric."
"A level deeper: Rarely has a piece of commercial transportation been so anticipated — perhaps the Concorde super-sonic airliner in the 1970s."
P.S. "Silicon Valley is setting its sights on the 2018 midterm election," by Recode's Tony Romm: "Some of the region's most politically active executives — including Eric Schmidt, the executive chairman of Google's parent company, Alphabet; and Elon Musk, the founder of Tesla and SpaceX — have contributed generously to Republicans in recent months in a bid to maintain steady relationships with both parties."
Unlike in presidential races, "With congressional races, the likes of Amazon, Facebook and Google always have sought to apply an even political hand. In the 2016 election, ... internet giants donated about $1.8 million to Republican campaigns, compared to $1.5 million on Democratic candidates."
https://www.axios.com/newsletters/axios-am-2b5d6d96-baff-40cc-ba50-b2b5b6e45107.html?chunk=9#story9
10. 1 fun thing: Intern culture comes to big screen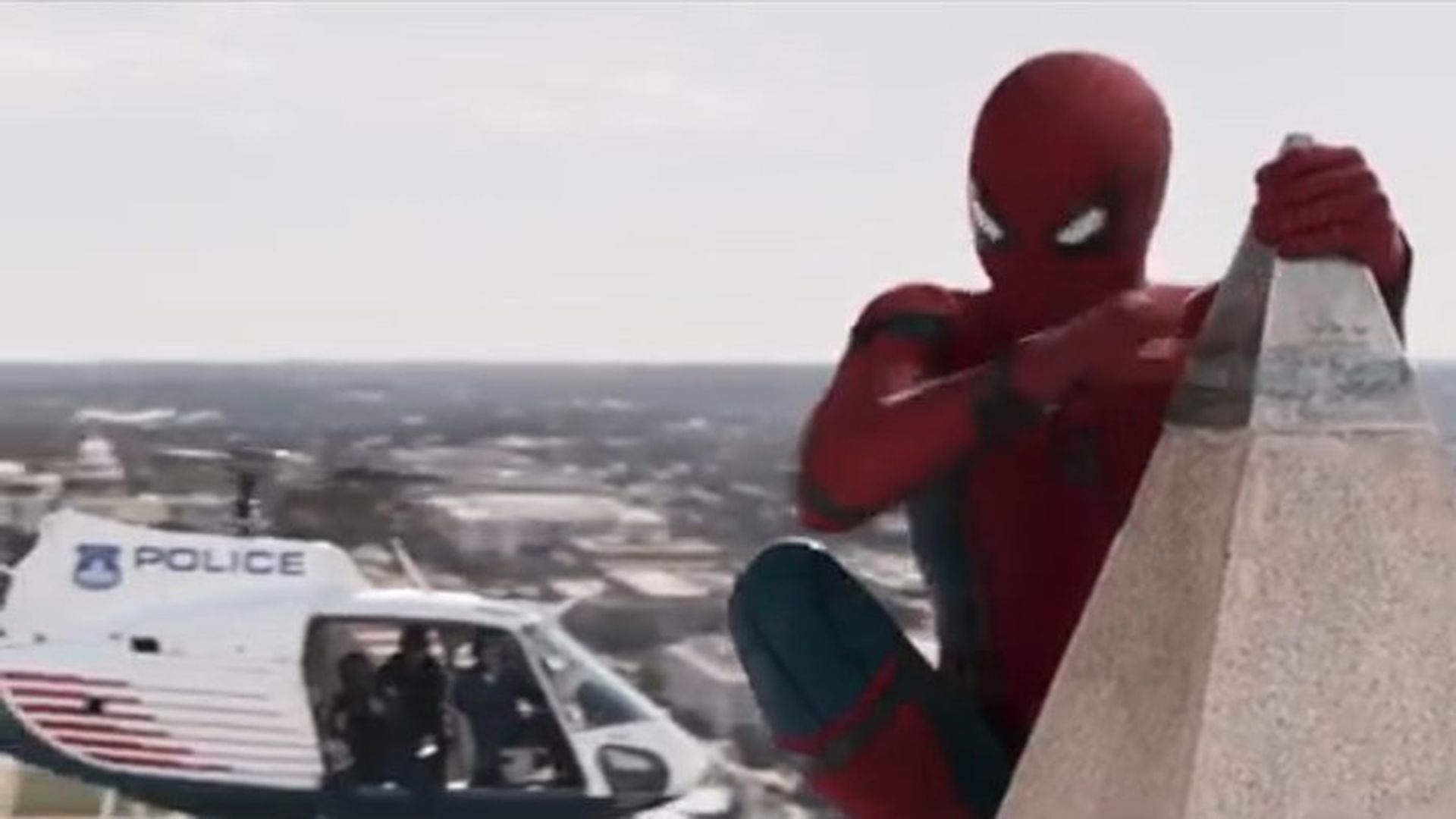 In theaters today: "Spider-Man: The Homecoming" ... L.A. Times review by Ken Turan:
"Hollywood has been in the Spider-Man business for just about as long as teen protagonist Peter Parker has been alive ... 'Spider-Man: Homecoming' is the sixth film to focus on the 15-year-old superhero with age-specific anxieties and uncertainties since the series, which has grossed in the neighborhood of $4 billion worldwide, began in 2002. And Tom Holland is the third actor (following Tobey Maguire and Andrew Garfield) to pull on the suit. ...
"[T]he stunt work, which includes the inevitable flying through the air and extends to a climb up the Washington Monument and an attempt to save a beleaguered Staten Island Ferry, is strong. ...
"Tony Stark ... partners with the government's newly created Department of Damage Control."
Classic exchange from the official trailer:
"I'm sick of Mr. Stark treating me like a kid."
"But you are a kid."
"Yeah, a kid who can stop a bus with his bare hands."