Axios AM
March 09, 2017
Axios events launch next week in D.C.:
You're invited to join Axios EVP Tim Berry on Tuesday at 8 a.m. for The Journey from Route 66: A Discussion on America's Infrastructure, with Virginia Gov. Terry McAuliffe, House Transportation Chair Bill Shuster and Emil Frankel of the Eno Center for Transportation. Click here to RSVP.
On Wednesday at 8 a.m., I interview Mark Cuban, Sen. Cory Gardner (R-Colo.) and Mayor Stephen Benjamin of Columbia, S.C., at Get Connected: The Future of Communication. RSVP here.
1 big thing: High-touch Trump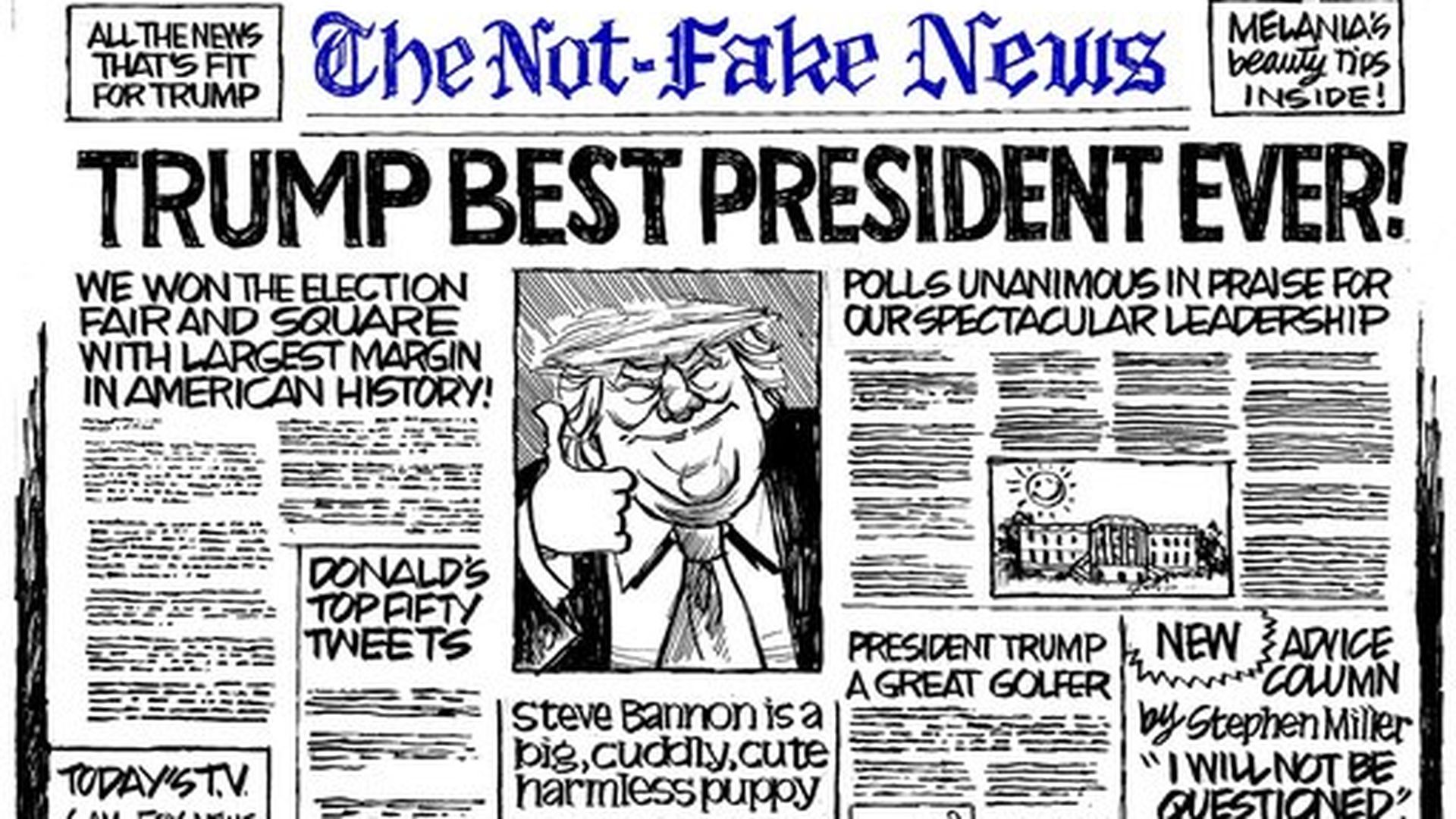 With wiretapping, WikiLeaks and a rebellion on the right over Trumpcare specifics, the president has mostly had a terrible-horrible-no-good-very-bad week in the media. But even Democrats who have visited the White House tell us that behind the scenes, he's coming into his own with the art of the schmooze:
Trump played Good Cop in a meeting yesterday in the Roosevelt Room (which friends say he calls "the Board Room") with conservative groups that have been skeptical or critical of the House GOP repeal-and-replace package. Some participants issued more positive statements afterward. A White House official said: "There's a big change in tone from a day or two ago. I think we're getting there."
Trump loves building things, and attendees at a Cabinet Room lunch on infrastructure yesterday said that while he's still learning many policy subjects, he talked confidently about airports, roads and rural broadband as components of the public-private package he plans to push (probably next year, for reasons of both calendar and politics).
The Boston Globe's lead story today is "Former Trump foes get charm treatment: Senators invited to meals, flights," by Annie Linskey: Marco "Rubio scored a seat on Air Force One Friday, [Lindsey] Graham shared a private lunch with the president Tuesday, and [Ted] Cruz, along with his family, accepted an invitation to dine with Trump at the White House" last night.
This morning, Trump welcomes the CEOs of community banks from as far as Missouri, Texas and New Mexico "to discuss how excessive regulation has adversely impacted their businesses."
Vice President Pence is holding weekly dinners with senators, and hosted five Republicans last night at his residence at the Naval Observatory.
Chaser: It'll take more than charm ... Lead story on WSJ.com, "Opposition Mounts as GOP's Health Bill Undergoes Review: Groups representing hospitals, doctors and seniors are urging House GOP leaders to put the brakes on their plan to overhaul Obamacare."
2. Stat of the day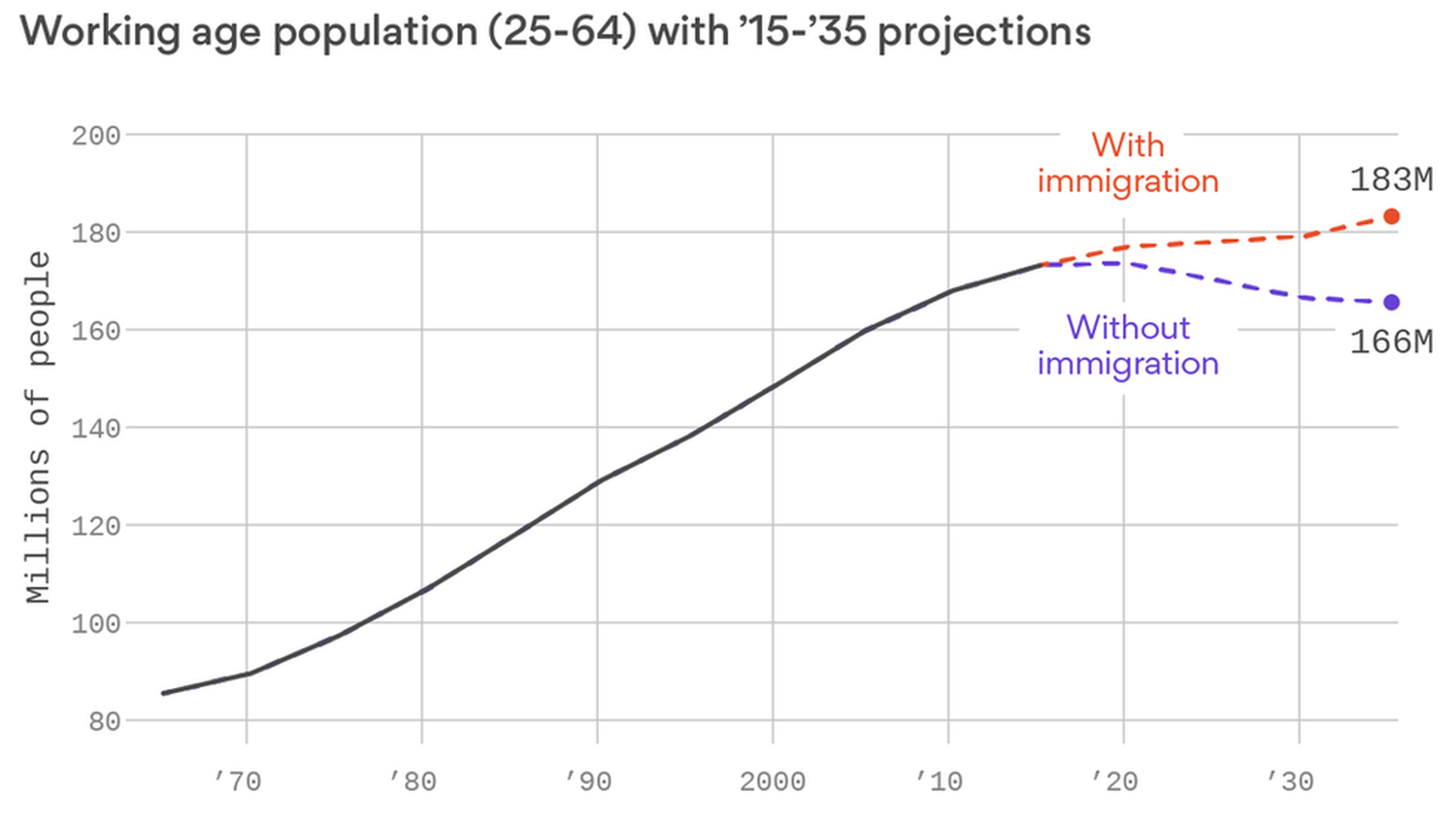 The American workforce is shrinking, except for immigrants, Axios' Chris Matthews writes from New York:
The native-born U.S. workforce is began to shrink last year, and the entire projected growth between today and 2035 will be driven by immigration, according to a new analysis by the Pew Research Center.
Why it matters: To get a sense of how an economy with a shrinking workforce performs, look no further than Japan. The size of its workforce peaked in 1998, and it has suffered through six different recessions since, compared to the United States' two. Not only is it harder to produce more wealth with fewer people, but the incentive for corporations to invest is reduced when they know they'll have fewer potential customers tomorrow than they have today.
3. Bull market turns 8 today
"No matador in sight as bull market in U.S. stocks turns 8," by Reuters' Chuck Mikolajczak and Rodrigo Campos in N.Y.:
"The run of gains on Wall Street turns 8 years old on Thursday and ... is expected to rage on, with perhaps a few hiccups, based on a combination of stronger company earnings, lower taxes and a corporate-friendly administration in Washington."
"Strategists ... warn that a correction of as much as 10 percent should be expected as the market is richly valued. The bull case for equities relies on analysts seeing little chance of recession in the short term."
"The current run is nearly three years older than the average bull and more than a year shorter than the longest one: the rally from Oct. 11, 1990 to March 24, 2000."
Key stat: "The unemployment rate at the start of the bull market was 8.3 percent, on its way to a high of 10 percent in October 2009. The most recent payrolls report showed an unemployment rate of 4.8 percent."
4. White House, Cabinet war over personnel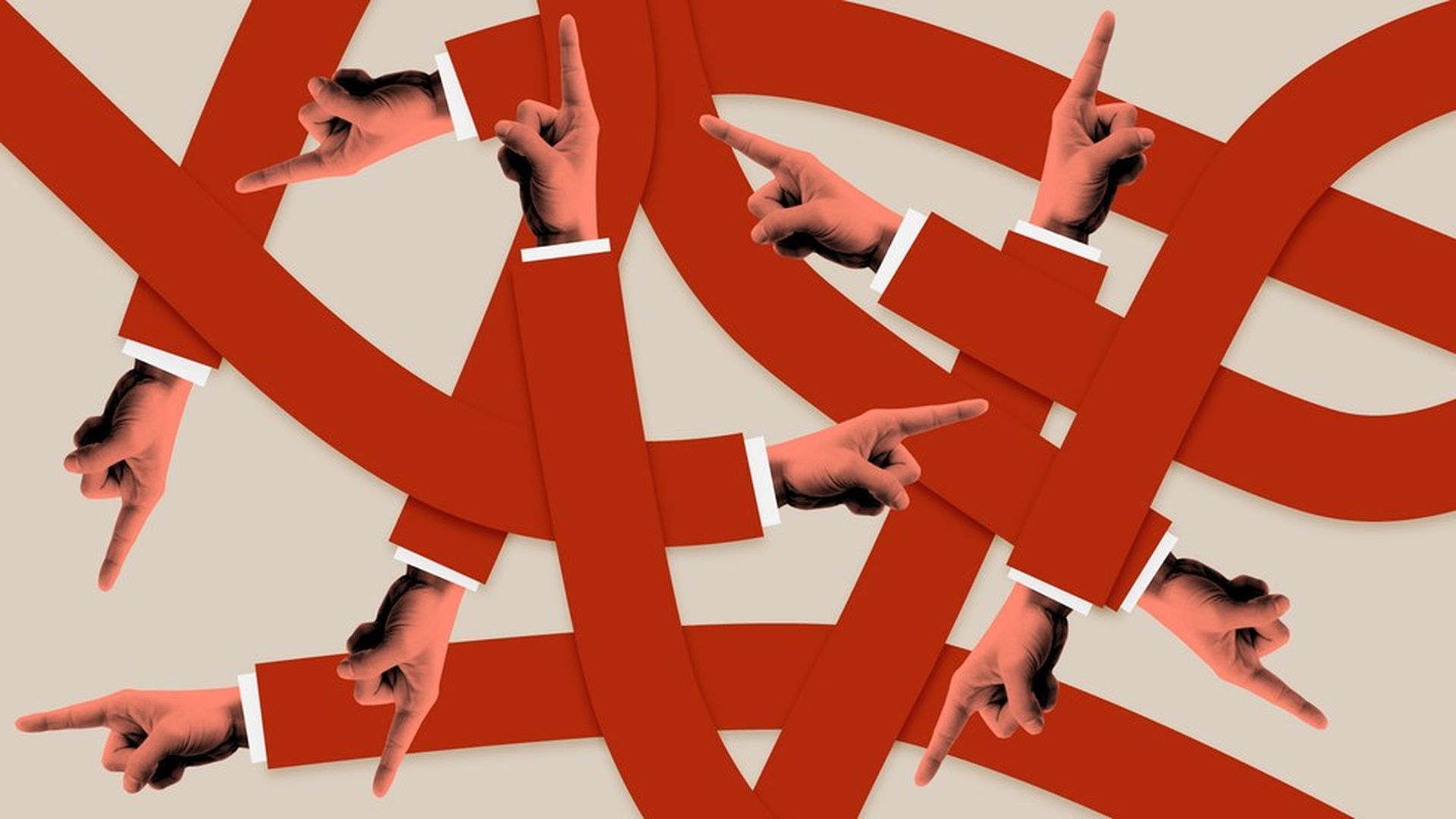 Multiple government agencies are in a state of staffing gridlock, with Cabinet secretaries having their chosen employees routinely returned by the White House, according to Axios' Jonathan Swan:
Among those who have had choices rejected are Secretaries Mnuchin at Treasury, Tillerson at State and Mattis at Defense.
Why this matters: The failure to fill lower-level staff directly impacts the ability of government to function. Career people are working away, but senior political appointees lack their own staff. They're less effective — and operating in a climate of distrust — until they've got their team around them.
Interior Secretary Ryan Zinke, who was only confirmed a week ago, has already taken his complaints directly to the President. According to a source briefed on the incident, Zinke went to Trump and demanded his staff be approved. Trump replied that Zinke will get his people 'as long as they're our people.'"
"The White House has been irritated that Mnuchin has been asking for people viewed as liberals or in one case a Hillary Clinton donor."
5. FBI probes WikiLeaks' CIA dump
Wall Street Journal lead story, "Contractors Seen As Focus In CIA Leak," by Shane Harris:
"More than a dozen companies work for the CIA formulating and testing hacking tools ... [T]he bulk of that work is done at a facility in Dulles, Va., not at the CIA's headquarters in Langley, Va."
"The possibility that a contractor may have been to blame for such a potentially damaging leak is sure to renew scrutiny of the use of outside experts to conduct highly classified work."
"The risks from the leak are substantial for companies such as Apple, Alphabet Inc's Google, Samsung Electronics Co., and Microsoft."
6. For some uninsured, GOP penalty higher than Obamacare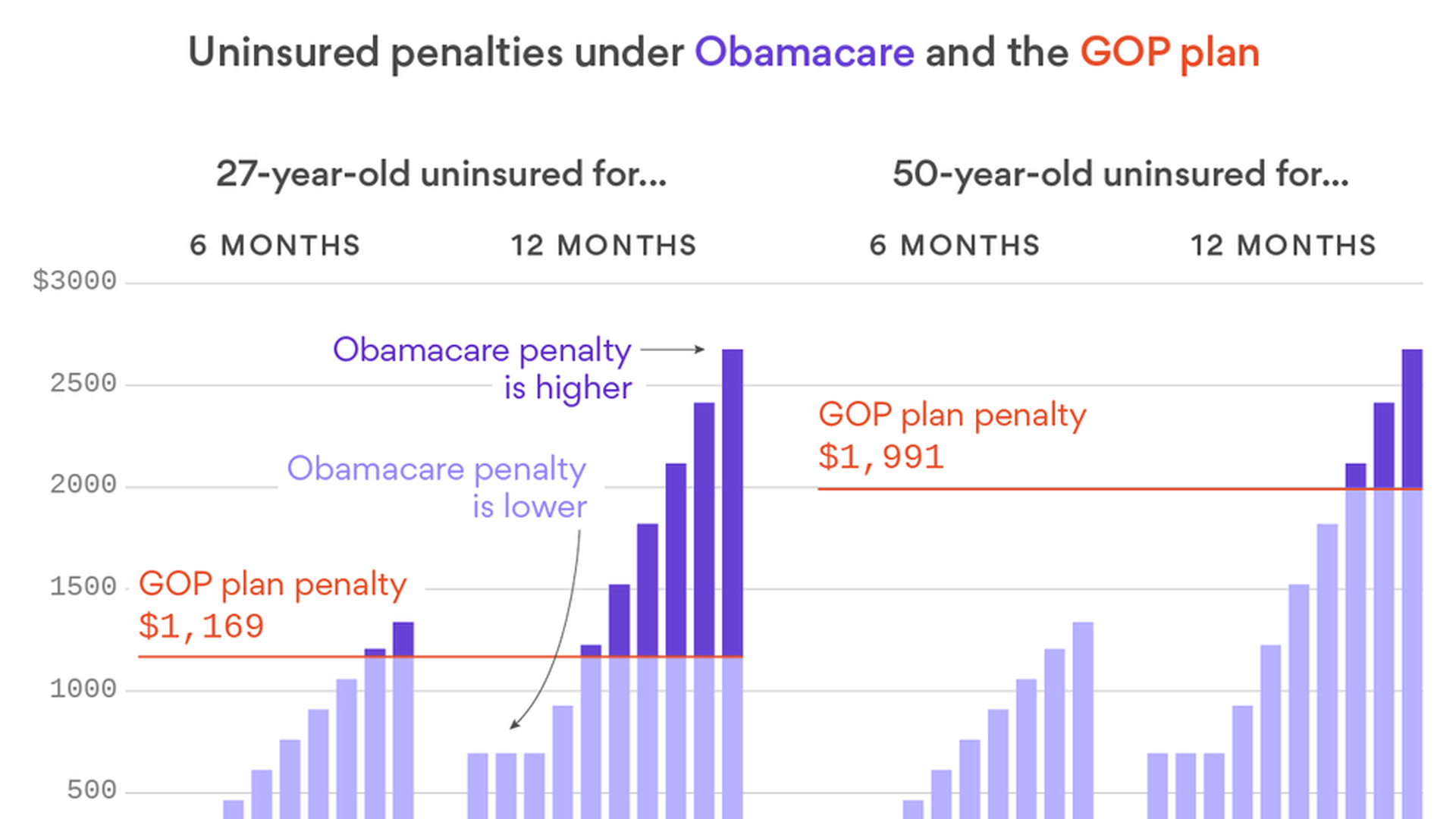 Axios' Caitlin Owens isolates a key provision of the Trumpcare plan:
A key part of the GOP health care plan is repealing Obamacare's much-hated individual mandate, which requires people to pay a fine if they're uninsured for longer than three months over the course of a year.
The GOP plan replaces it with a continuous coverage provision, which charges a 30 percent premium penalty for a year if an enrollee goes longer than 63 days without coverage.
Winners and losers: Generally, low-income, older people and people who are uninsured for a short period of time will pay bigger penalties under the GOP health plan. The penalty would be lower for young people, some wealthier people and the long-term uninsured.
7. "Purple America Has All But Disappeared"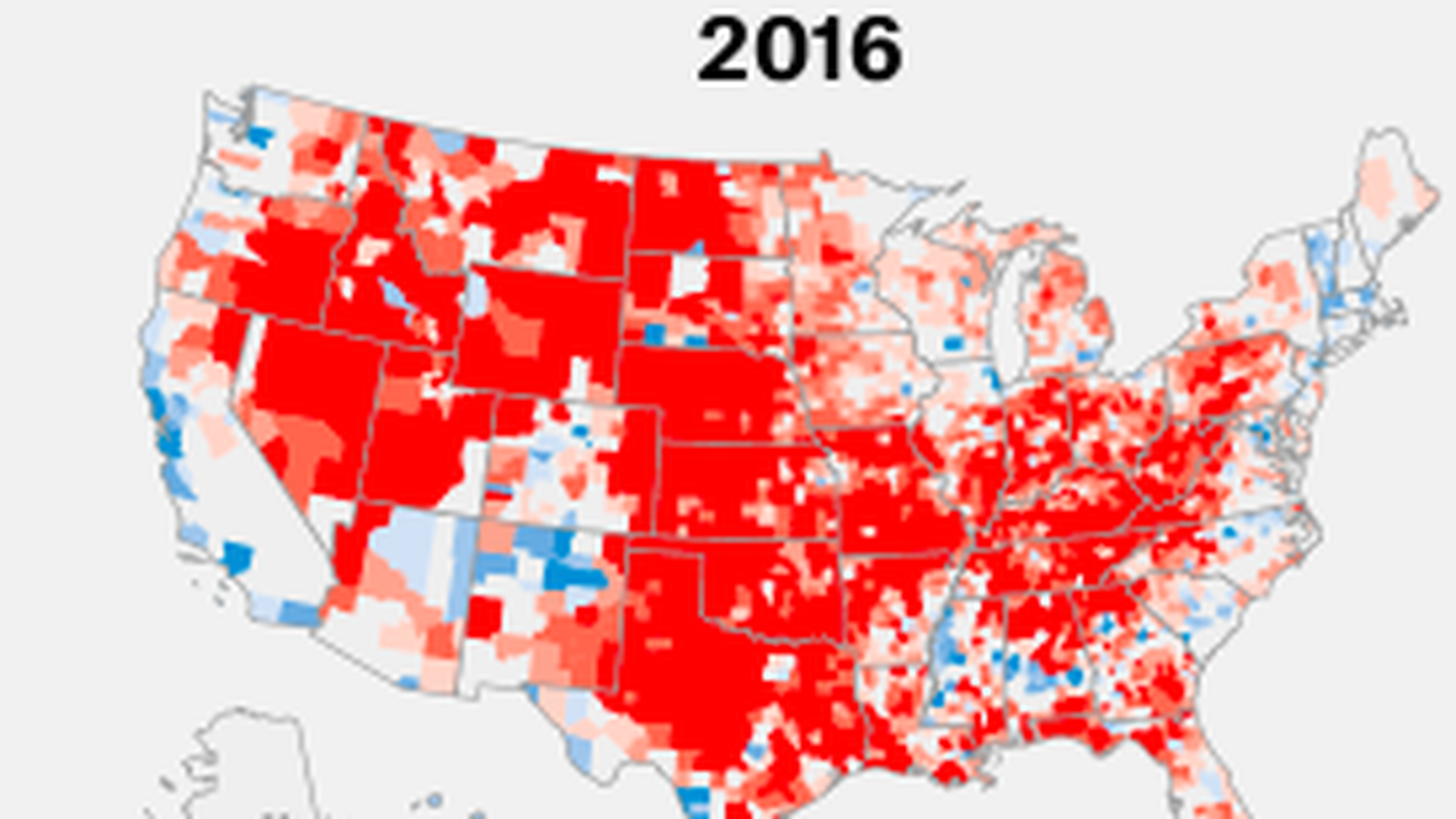 "Counties are increasingly super red or super blue, with less and less in between," by David Wasserman of Cook Political Report, on FiveThirtyEight:
"Of the nation's 3,113 counties (or county equivalents), just 303 were decided by single-digit margins — less than 10 percent. In contrast, 1,096 counties fit that description in 1992."
8. 2020 coalition for Rs
Tom Edsall on NYTimes.com, "Trump's Political Stew: The president's electoral coalition has been 50 years in the making. It may prove to be enduring":
"Trump's impact on voting patterns was not to increase the [GOP] share of the white vote ... Both Trump and Mitt Romney carried whites by the same 20-point margin. The big shift Trump wrought was to change the type of whites who voted Republican. ... [N]on-college whites [were] the majority, 55.1 percent, with college -educated whites becoming the minority at 44.9 percent."
"Trump has oriented the party toward heightened anger, intensified racial resentment, animosity to immigrants and opposition to trade. This is an exceptionally volatile mix. Trump is fanning rather than quelling the flames — everything he has done so far has been to raise, not lower, the heat. The next question is whether the Republican Party will be able to continue to exploit this mix or whether it will boil over in ways that cannot be predicted."
9. 2020 coalition for Ds
The Atlantic's Ron Brownstein, "Can Millennials Save the Democratic Party? The 2020 election is projected to mark the first time in more than 40 years that baby boomers aren't the largest generation of eligible voters":
"[T]here's no guarantee Democrats can reap big benefits from Millennial mistrust of Trump. ... [T]urnout among Millennials remained mediocre in 2016 — and, based on historic patterns, could decline more substantially in the 2018 midterm election than among older voters.
"[W]hile Trump faces grim numbers among Millennials overall, he has displayed strength among them with the same groups that responded to him most in older generations: evangelical, non-urban, and blue-collar whites."
"But the large minority presence in the Millennial generation ... means those blue-collar whites seem destined to shrink as a share of the future electorate."
10. 1 astonishing thing
This surfaced on N.Y. Times' Upshot in 2015, but returned on the social medias yesterday for International Women's Day ("Be Bold for Change"). It's still true, and still eye-opening ...
"Fewer Women Run Big Companies Than Men Named John," by Justin Wolfers:
"Among chief executives of S.&P. 1500 firms, for each woman, there are four men named John, Robert, William or James. ... Jims, Bobs, Jacks and Bills — combined — outnumber the total number of women, including every women's name, from Abby to Zara."