Good Tuesday morning!
Situational awareness: "The U.S. Commerce Department announced ... that it will restore a question about citizenship to the 2020 census questionnaire. ... The last time a question about citizenship was included in the census questionnaire was 1950." (NPR)
https://www.axios.com/newsletters/axios-am-29f36bcb-5ac1-4703-bd27-08765e2820d1.html?chunk=0#story0
1 big thing: D.C. escalates demands on Big Tech
Washington is amping up its demands on Big Tech, with Senate Intelligence Committee Vice Chairman Mark Warner saying last night that CEOs specifically must be held accountable.
Warner, who is helping lead the committee's probe of Russia's role in the 2016 election, also said that Capitol Hill's interest in Facebook and other tech platforms extends beyond political advertising, which had been lawmakers' initial focus.
"I am ... flabbergasted that the CEOs of these companies seem to be happy to answer questions from their shareholders, but not from the lawmakers who represent all Americans," Warner said at the awards dinner for the Robin Toner Prize for political reporting, to an audience of elite journalists.
"Companies like Facebook and Twitter and Google are American icons," Warner added. "I don't have any interest in regulating them into oblivion. But as they've grown from dorm-room startups into media behemoths ... they haven't acknowledged that that kind of power comes with responsibility."
Warner's comments came on the same day that Senate Judiciary Committee Chairman Chuck Grassley (R-Iowa) officially invited — by name — Facebook CEO Mark Zuckerberg, Google CEO Sundar Pichai and Twitter CEO Jack Dorsey to an April 10 hearing on "the future of data privacy in the social media industry and how to develop 'rules of the road.'"
Also yesterday, the Federal Trade Commission confirmed an investigation into "the privacy practices of Facebook."
And the states are getting involved: A bipartisan coalition of 37 state attorneys general yesterday sent a letter demanding answers from Zuckerberg about Facebook's "business practices and privacy protections."
The bottom line, from Axios' Sara Fischer: The biggest threat of any real penalties will likely come from the FTC, which is responsible for the enforcement of privacy standards, mostly through big fines.
While analysts don't think the body will fine Facebook out of business, it does put pressure on Facebook and its competitors to be transparent about any past data privacy abuses and to comply with Europe's sweeping privacy regulations that take effect in May.
A House Republican leadership aide told me that this is now being treated as a consumer issue, in addition to the earlier national security concerns:
"Facebook should expect the same scrutiny [as] any other major company that has deceived its customers has faced from Congress."
"We are probably a ways away from any type of action that gets 60 [votes in the Senate] or 218" in the House.
"[B]ut a bad testimony or two would only turn the heat up hotter."
The good news for Facebook, per The Wall Street Journal (subscription):
"Facebook's shares edged up 0.4% on Monday amid a broader market rally, stabilizing after a rout of the company's stock that began a week earlier and had knocked nearly $75 billion off its market value through Friday."
Be smart: Meaningful action before the November midterm elections is unlikely. This will require due process — hearings, etc. But the past 10 days have brought a massive increase in Washington's appetite for confrontation with Silicon Valley.
https://www.axios.com/newsletters/axios-am-29f36bcb-5ac1-4703-bd27-08765e2820d1.html?chunk=1#story1
2. Amid all this ...
"CNN Poll: 42% approve of Trump, highest in 11 months ... highest level since the 100-day mark."
Yes, but: "Trump's approval rating remains below that of all of his modern-era predecessors at this stage in their first term."
"Wall Street's three major indexes jumped to their greatest one-day gain in two-and-a-half years, ... led by the tech sector, as trade war fears eased on reports that the United States and China were willing to renegotiate tariffs and trade imbalances." (Reuters)
https://www.axios.com/newsletters/axios-am-29f36bcb-5ac1-4703-bd27-08765e2820d1.html?chunk=2#story2
3. Trump expulsions leave Moscow stunned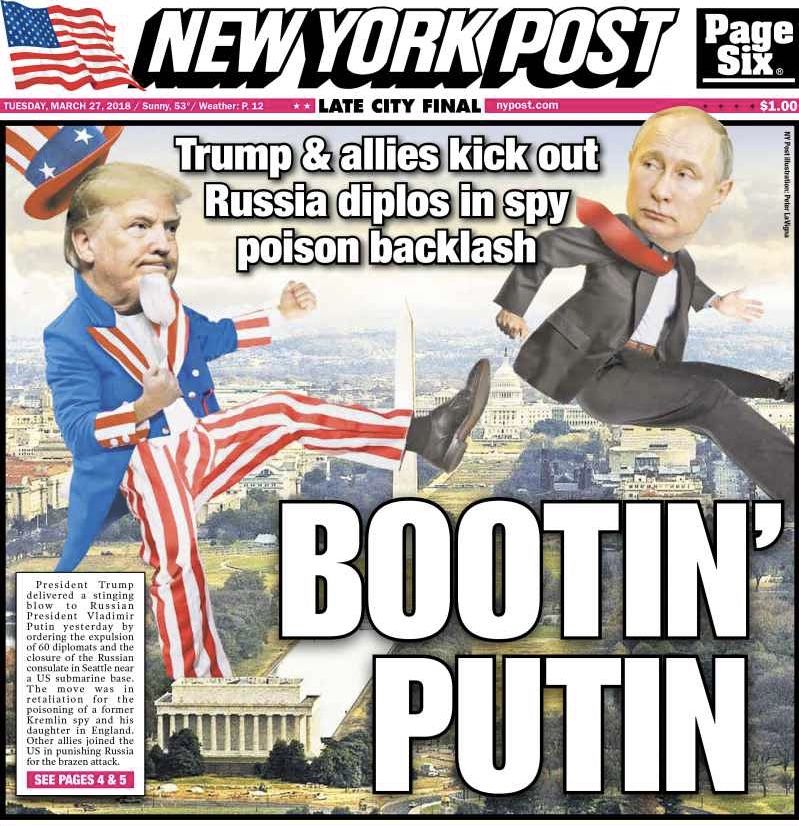 Courtesy N.Y. Post
Synchronized expulsions ... "Trump ... expelled 60 Russian diplomats considered spies from the U.S., the most since 1986, demonstrating united resolve with Europe after the U.K. blamed Vladimir Putin's government for a March 4 nerve-agent attack on a former Russian spy living in England," Bloomberg reports:
"All told, more than 100 Russian envoys will be sent home from capitals across Europe and North America."
Why it matters: "The attack on the former spy ... and his daughter was so brazen that Trump probably had little choice but to agree to retaliation. "
https://www.axios.com/newsletters/axios-am-29f36bcb-5ac1-4703-bd27-08765e2820d1.html?chunk=3#story3
4. Tweet du jour
https://www.axios.com/newsletters/axios-am-29f36bcb-5ac1-4703-bd27-08765e2820d1.html?chunk=4#story4
5. Happening today: lower-priced iPad?
Apple plans to announce a renewed emphasis on education at 11 a.m. ET today at a Chicago high school, likely with a lower-priced iPad and services tailored for students ranging from kindergarten through high school, AP reports:
Why it matters: Apple is trying to regain classroom ground lost to rivals Google and Microsoft during the past few years.
"Google has emerged as the education leader in the U.S. market, thanks largely to laptop computers running on its Chrome software."
"Some ... Chromebooks sell for $200 to $250 while the cheapest iPad currently costs $329."
https://www.axios.com/newsletters/axios-am-29f36bcb-5ac1-4703-bd27-08765e2820d1.html?chunk=5#story5
6. "He's more than a secretary of defense"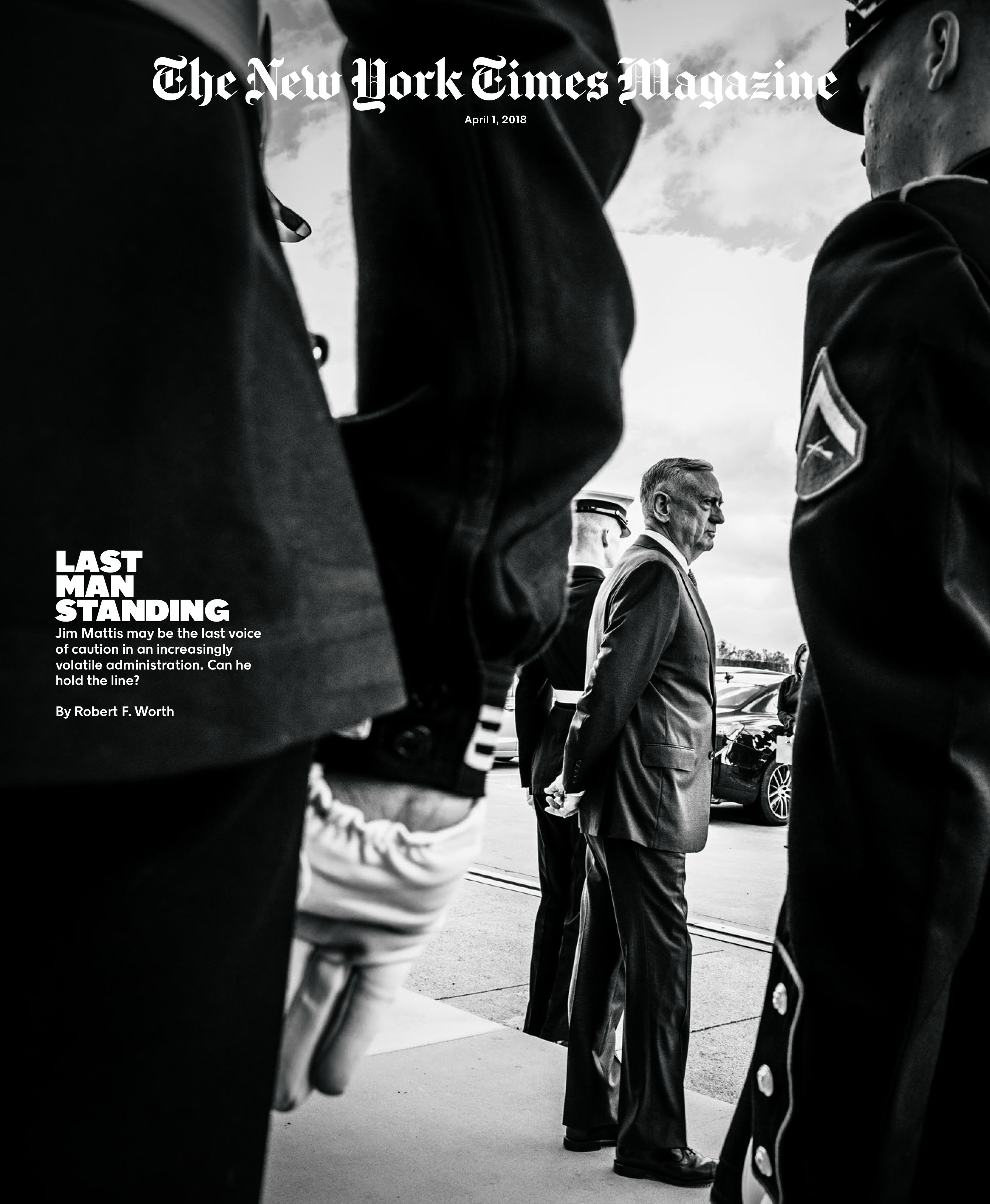 Courtesy The New York Times
Cover story in next weekend's N.Y. Times Magazine ... "Can Jim Mattis Hold the Line in Trump's 'War Cabinet'? Dismissed as a warmonger during the Obama presidency, the defense secretary may be the only reliable voice of caution left in an administration inching closer to the brink," by Robert F. Worth:
Why he matters: "A year into Trump's tenure, Mattis has become a quietly central figure in an administration of near-constant purges. He may be the lone cabinet member to have survived with his status and dignity intact, and in the process his Pentagon — perhaps the one national institution that is still fully functional — has inherited an unusually powerful role in the shaping of American foreign policy."
"The removal of Tillerson and the national security adviser, Gen. H.R. McMaster, has further reduced the core of the group once known as the 'committee to save America.'"
https://www.axios.com/newsletters/axios-am-29f36bcb-5ac1-4703-bd27-08765e2820d1.html?chunk=6#story6
7. New tech for human drivers
Self-driving cars get the headlines. But car and tech companies are rolling out new safety features for human drivers, including cameras that can read speed limit signs, and systems that slow cars ahead of curves and construction zones, AP's Tom Krisher reports from Detroit:
"When a driver activates a turn signal, an 8-inch screen behind the steering wheel on Hyundai's new Nexo hydrogen fuel cell vehicle shows everything on that side of the car."
"Mercedes' new S-Class cars have advanced navigation and global mapping, and cameras that read speed limit signs. ... The system also recognizes upcoming construction zones, curves or roundabouts, and can slow the car ahead of when a driver would."
"Volvo has a similar system."
"Audi plans to introduce a front-facing laser in the grille of the A8 sedan this fall as part of a limited self-driving system that takes control of the vehicle in freeway traffic jams below 37 miles per hour."
"[S]ome Audi A4 cars and Q7 SUVs in Las Vegas have been linked to traffic light computers. They get a dashboard countdown telling them when lights will change. This can prevent drivers from running lights."
https://www.axios.com/newsletters/axios-am-29f36bcb-5ac1-4703-bd27-08765e2820d1.html?chunk=7#story7
8. Guns, Stormy bring new angst to GOP in suburbs
Lots of anger toward Trump in areas around Democratic cities, per WashPost:
"If Republicans want to hold onto the House, they will have to compete in communities that had little to do with the working-class regions that sent Trump to the White House in 2016: affluent, white-collar suburbs of Democratic cities."
"Many of the most competitive House seats this year are in the tony bedroom communities of Los Angeles, Chicago, Denver, Houston, Philadelphia, New York and Washington."
The Catch-22 for Republican candidates, per N.Y. Times' Jonathan Martin and Alex Burns:
"If they stay faithful to Mr. Trump they risk incurring the wrath of many in the political center during the general election, likely dooming their campaigns. But if they disavow the president, they risk depressing turnout from their core Republican voters and watching their pool of volunteers evaporate overnight."
https://www.axios.com/newsletters/axios-am-29f36bcb-5ac1-4703-bd27-08765e2820d1.html?chunk=8#story8
9. A worthy life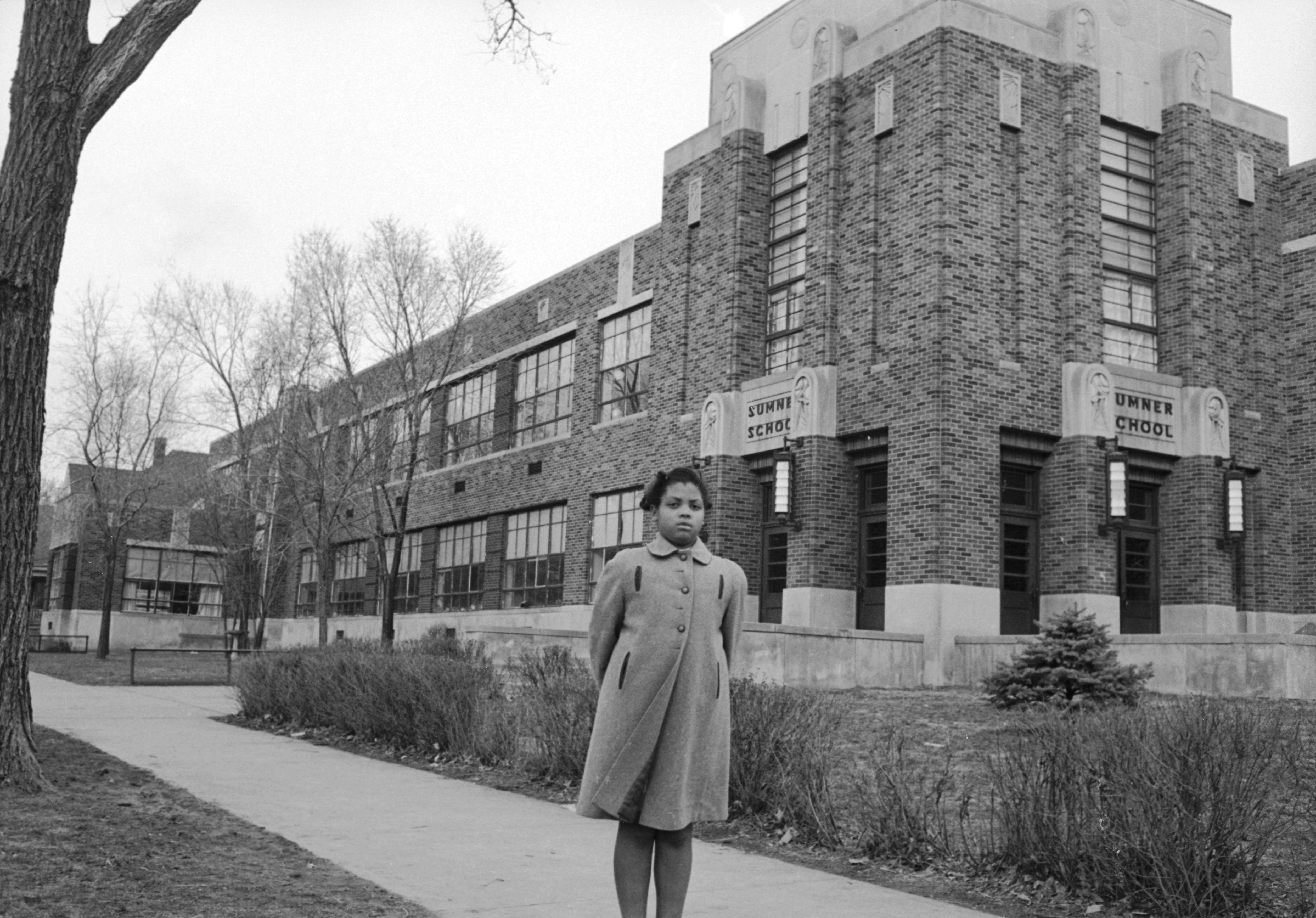 Linda Brown, 9, outside Sumner Elementary School in Topeka, Kan., in 1953 (Carl Iwasaki / LIFE Images Collection / Getty Images)
"Linda Brown, whose father objected when she was not allowed to attend an all-white school in her neighborhood and who thus came to symbolize one of the most transformative court proceedings in American history, the school desegregation case Brown v. Board of Education, died on Sunday in Topeka, Kan.," at 75, per N.Y. Times' Neil Genzlinger:
"It is Ms. Brown's father, Oliver, whose name is attached to the famous case, although the suit that ended up in the United States Supreme Court actually represented a number of families in several states."
Why she matters: "In 1954, in a unanimous decision, the court ruled that segregated schools were inherently unequal. The decision upended decades' worth of educational practice, in the South and elsewhere, and its ramifications are still being felt."
https://www.axios.com/newsletters/axios-am-29f36bcb-5ac1-4703-bd27-08765e2820d1.html?chunk=9#story9
10. 1 sports thing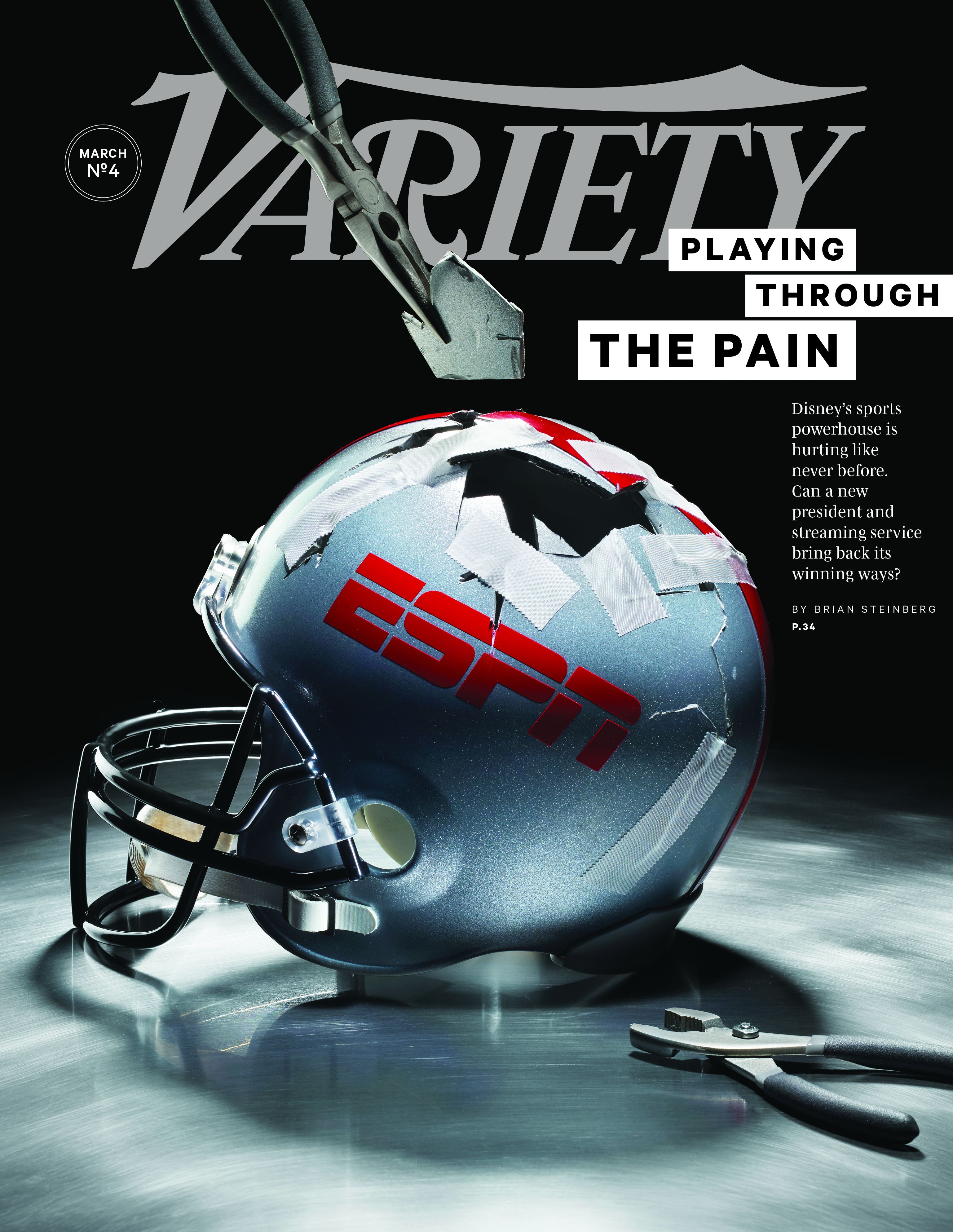 Courtesy Variety
Transforming ESPN from linear-TV kingpin to a direct-to-consumer digital outlet ... "Can a New President and Streaming Service Help ESPN Win Again?" Variety cover story by Brian Steinberg:
"[T]he perfect storm brewing in Bristol these days is bigger than any that Disney's most valuable asset has ever faced. The network's newly installed president, Jimmy Pitaro, will be put to the test immediately in April with the launch of an app, ESPN+, that will charge fans a monthly fee for even more events coverage."
"The app is a gambit aimed at securing the future for ESPN at a time when its present couldn't seem more precarious. Its core business — its cable networks — is expected to shed 14 million subscribers between 2010 and the end of 2018."
"With the four major pro sports leagues all featuring dedicated channels that provide a flood of content, it has turned its attention to luring aficionados of niche sports."