https://www.axios.com/newsletters/axios-am-27b5eaf3-c1a2-492f-b307-462ec1a40d83.html?chunk=0#story0
1 thing thing: Trump's cascade of crises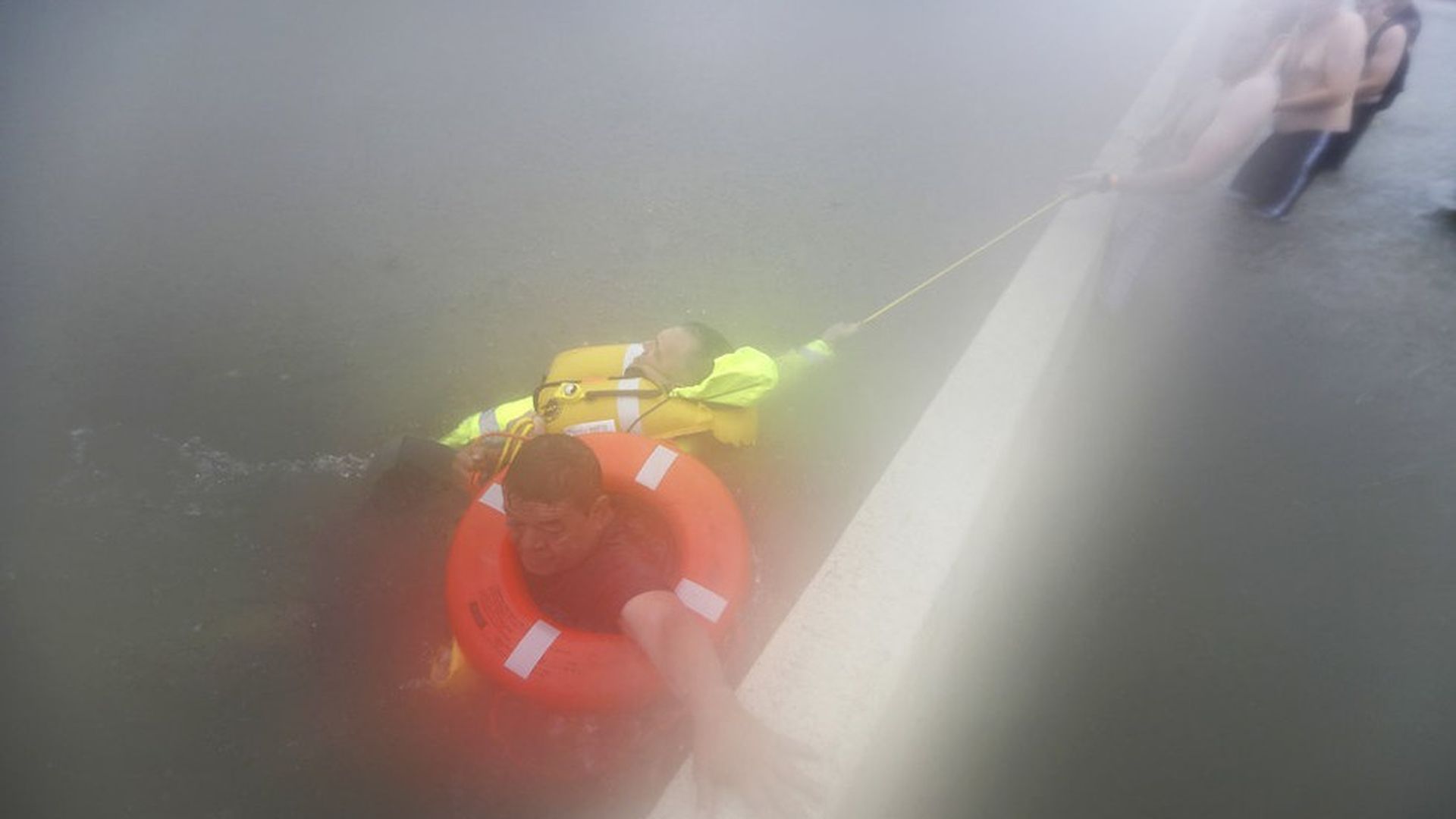 https://www.axios.com/newsletters/axios-am-27b5eaf3-c1a2-492f-b307-462ec1a40d83.html?chunk=1#story1
2. Is Rex next?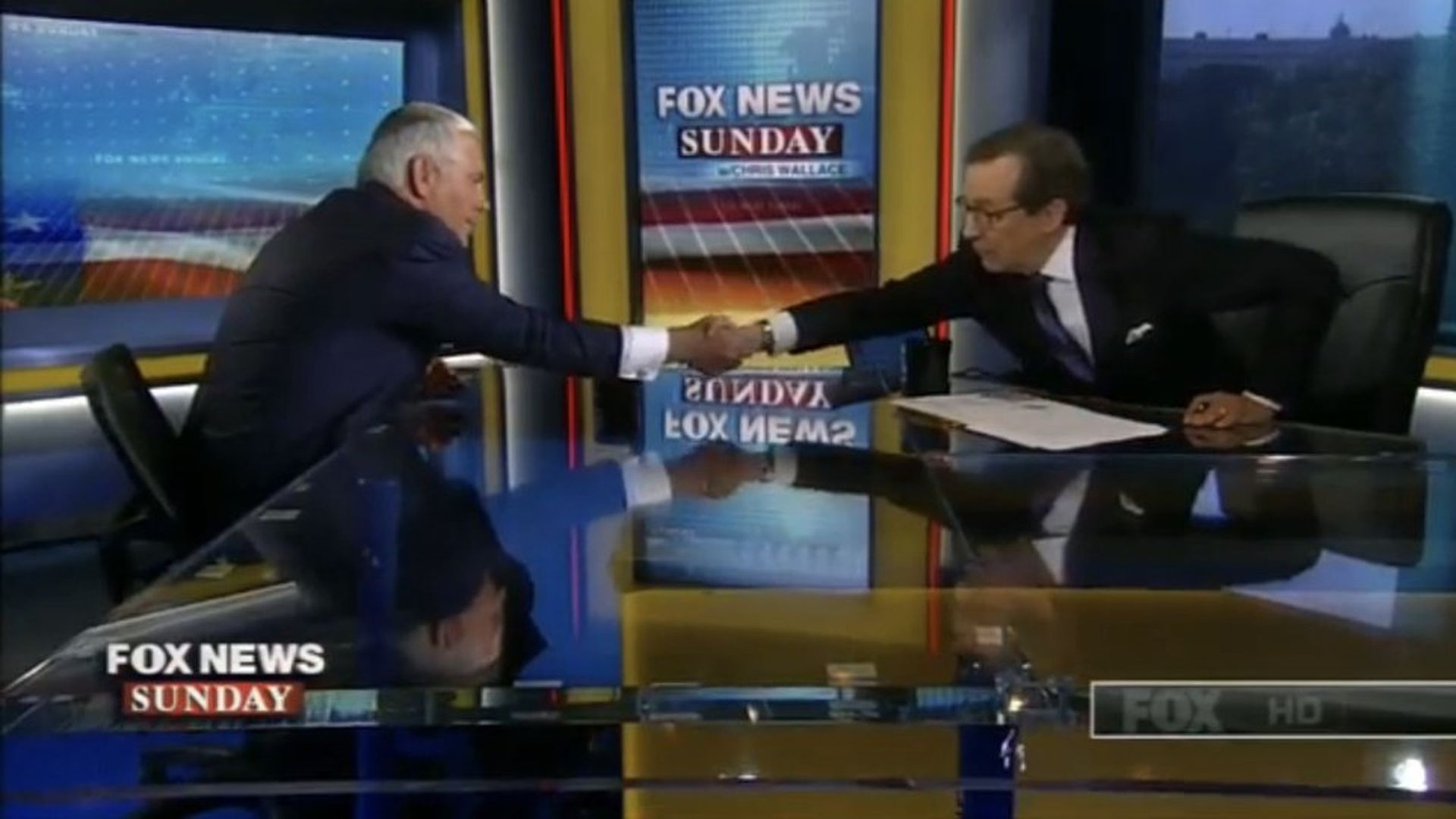 As of last night, we were told that no replacement of SecState Rex Tillerson is imminent. But some switcheroo may happen sooner than expected, given the jaw-dropping reporting by Axios' Jonathan Swan last evening in his weekly Sneak Peek newsletter:
Trump is getting more and more fed up with Tillerson and recently said: "Rex just doesn't get it, he's totally establishment in his thinking."
On "Fox News Sunday," Tillerson became the second top Trump official in three days (after economic adviser Gary Cohn) to distance himself on-record from Trump's Charlottesville response:
Tillerson: "I don't believe anyone doubts the American people's values or the commitment of the American government or the government's agencies to advancing those values and defending those values."
Chris Wallace: "And the president's values?"
Tillerson: "The president speaks for himself, Chris."
Wallace: "Are you separating yourself from that, sir?"
Tillerson: "I've made my own comments as to our vales as well in a speech I gave to the State Department this past week."
Responding to Swan's article, Philippe Reines, a top State Department official under Hillary Clinton, tweeted: "Going out in a limb here but I don't think Rex gives a damn anymore what the President & White House thinks of him."
One possible scenario for replacing Tillerson: U.N. Ambassador Nikki Haley moves to Foggy Bottom. Then Deputy Secretary National Security Adviser Dina Powell could be promoted to Haley's job in New York, where Powell's family lives.
https://www.axios.com/newsletters/axios-am-27b5eaf3-c1a2-492f-b307-462ec1a40d83.html?chunk=2#story2
3. Houston "1-in-1,000 year event"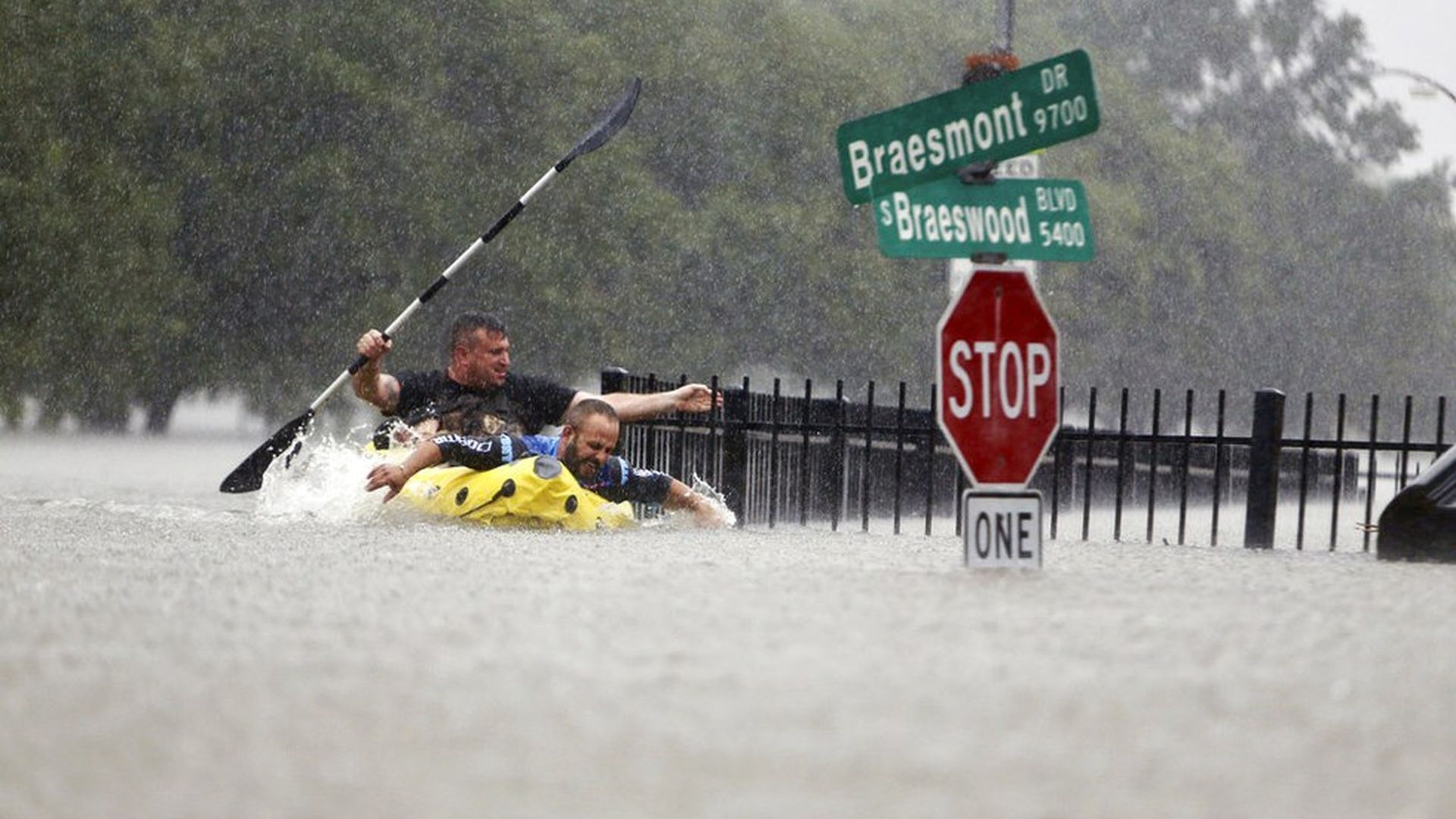 That's how CNN meteorologist Tom Sater described the hell Harvey has unleashed on Houston. Catch up quick:
FEMA says recovery will take "years."
Tragedy of epic proportions: "Rain may last days with some areas seeing as much as 50 inches ... Storm disrupts flights, ports, railways and oil refineries." (Bloomberg)
"Harvey [is] the most powerful hurricane to hit Texas in more than 50 years." (Reuters)
"Nearly a quarter of Texas' population lives in areas covered by a federal disaster declaration ... Gov. Greg Abbott says 18 counties are now covered by the disaster declaration approved by President Donald Trump. There are nearly 7 million people in those counties, including the nation's fourth-largest city of Houston. Texas has a population of 27.8 million."
"[H]undreds of people ... [w]eary and carrying little more than what was in their pockets ... arrived ... by boat, by bus, and by foot [at] Houston's showcase convention center downtown, transformed by volunteers with few hours' notice into a shelter." (AP)
"[V]olunteers served food, handed out towels and set up tables with donated clothes for a long line of evacuees. Some people huddled around a projection screen showing television coverage of the storm. Others collected bowls of pasta with parmesan cheese and cups of black coffee." (AP)
Houstonian goes fishing inside his house. (Video)
Houston Chronicle banner: "SWAMPED BY HARVEY." (Read the digital paper free.)
How we can help:
https://www.axios.com/newsletters/axios-am-27b5eaf3-c1a2-492f-b307-462ec1a40d83.html?chunk=3#story3
4. Pic du jour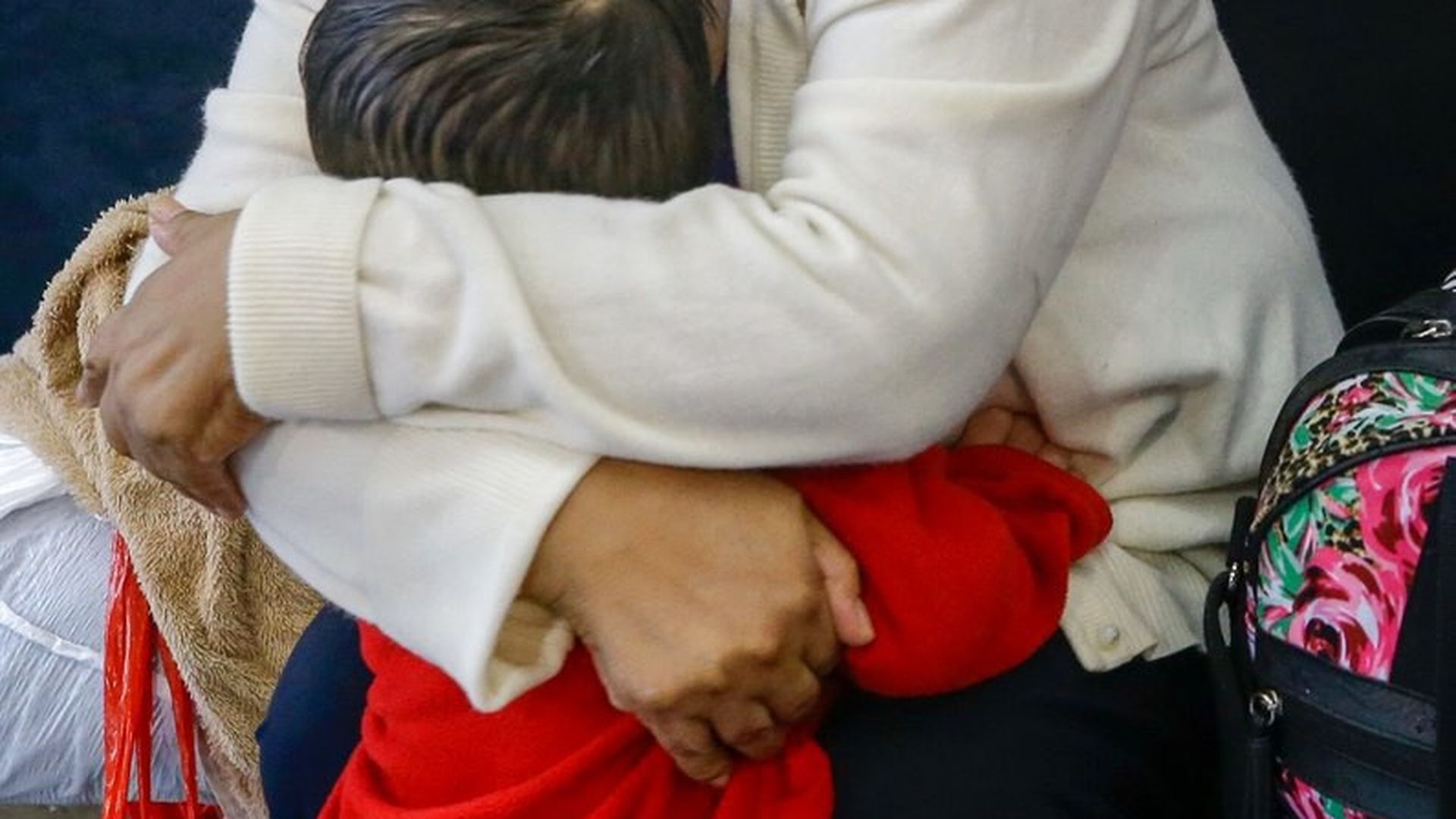 Neri Sanchez cries as she hugs her grandson, Jonathan Sanchez, 1, after being reunited at a rescue boat pickup area along Edgebrook, Texas, yesterday.
https://www.axios.com/newsletters/axios-am-27b5eaf3-c1a2-492f-b307-462ec1a40d83.html?chunk=4#story4
5. What the president is reading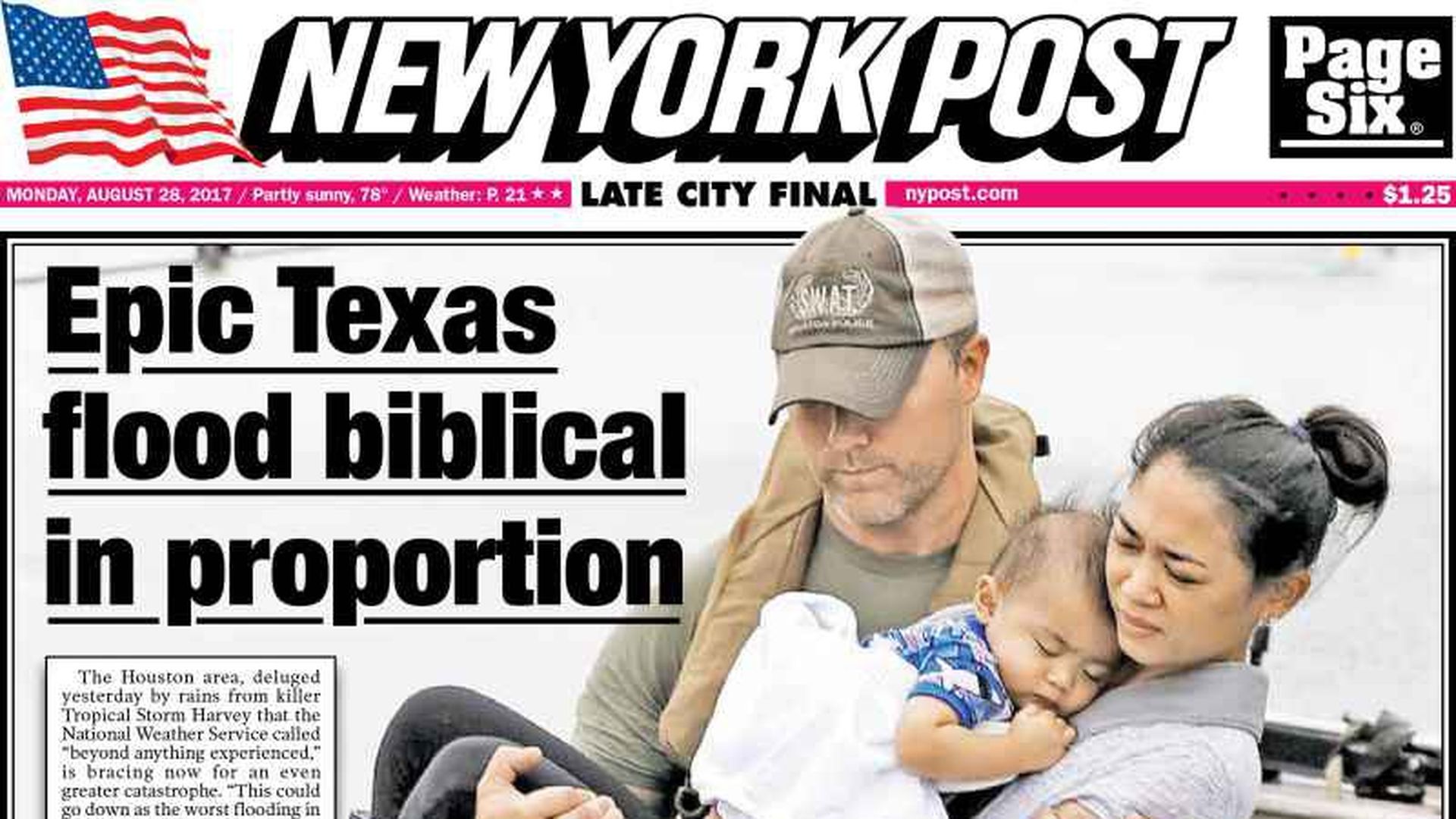 https://www.axios.com/newsletters/axios-am-27b5eaf3-c1a2-492f-b307-462ec1a40d83.html?chunk=5#story5
6. Trump to Texas on Tuesday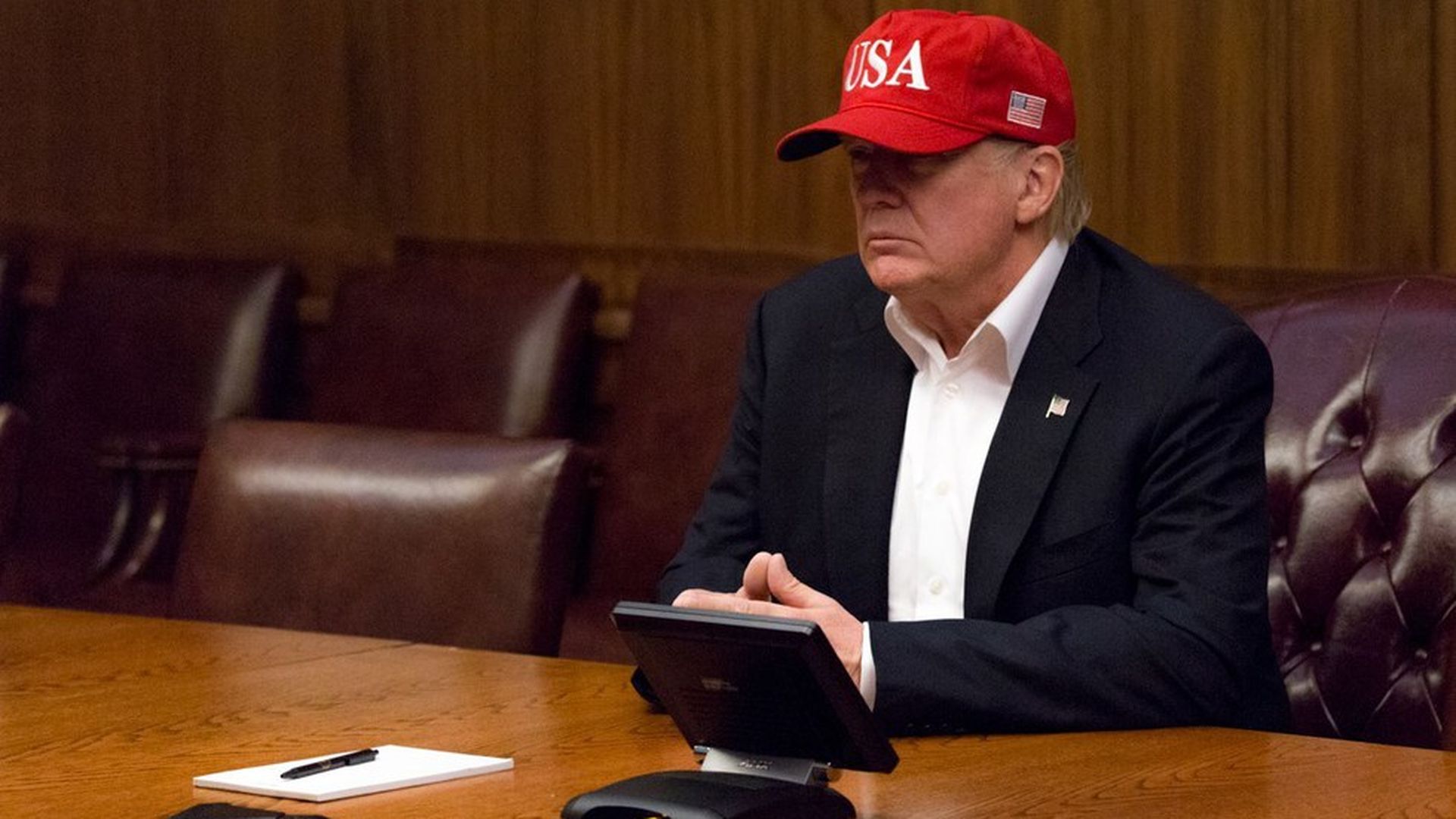 President Trump, on a video teleconference on Harvey from a conference room at Camp David yesterday. Also on the call was Vice President Pence, joined in the Situation Room by Cabinet and staff.
White House Press Secretary Sarah Sanders announced: "The President will travel to Texas on Tuesday. We are coordinating logistics with state and local officials, and once details are finalized, we will let you know. We continue to keep all of those affected in our thoughts and prayers."
https://www.axios.com/newsletters/axios-am-27b5eaf3-c1a2-492f-b307-462ec1a40d83.html?chunk=6#story6
7. Now emails dog Trump
WashPost top of col. 1, "Moscow Trump Tower was proposed," by Carol Leonnig, Tom Hamburger and Roz Helderman:
"While Donald Trump was running for president in late 2015 and early 2016, his company was pursuing a plan to develop a massive Trump Tower in Moscow."
"Trump never went to Moscow."
Why it matters: "[T]he details of the deal ... provide evidence that Trump's business was actively pursuing significant commercial interests in Russia at the same time he was campaigning to be president — and in a position to determine U.S.-Russia relations."
"[E]mails, which are scheduled to be turned over to congressional investigators soon, ... point to the likelihood of additional contacts between Russia-connected individuals and Trump associates during his presidential bid."
https://www.axios.com/newsletters/axios-am-27b5eaf3-c1a2-492f-b307-462ec1a40d83.html?chunk=7#story7
8. Uber picks Expedia boss as CEO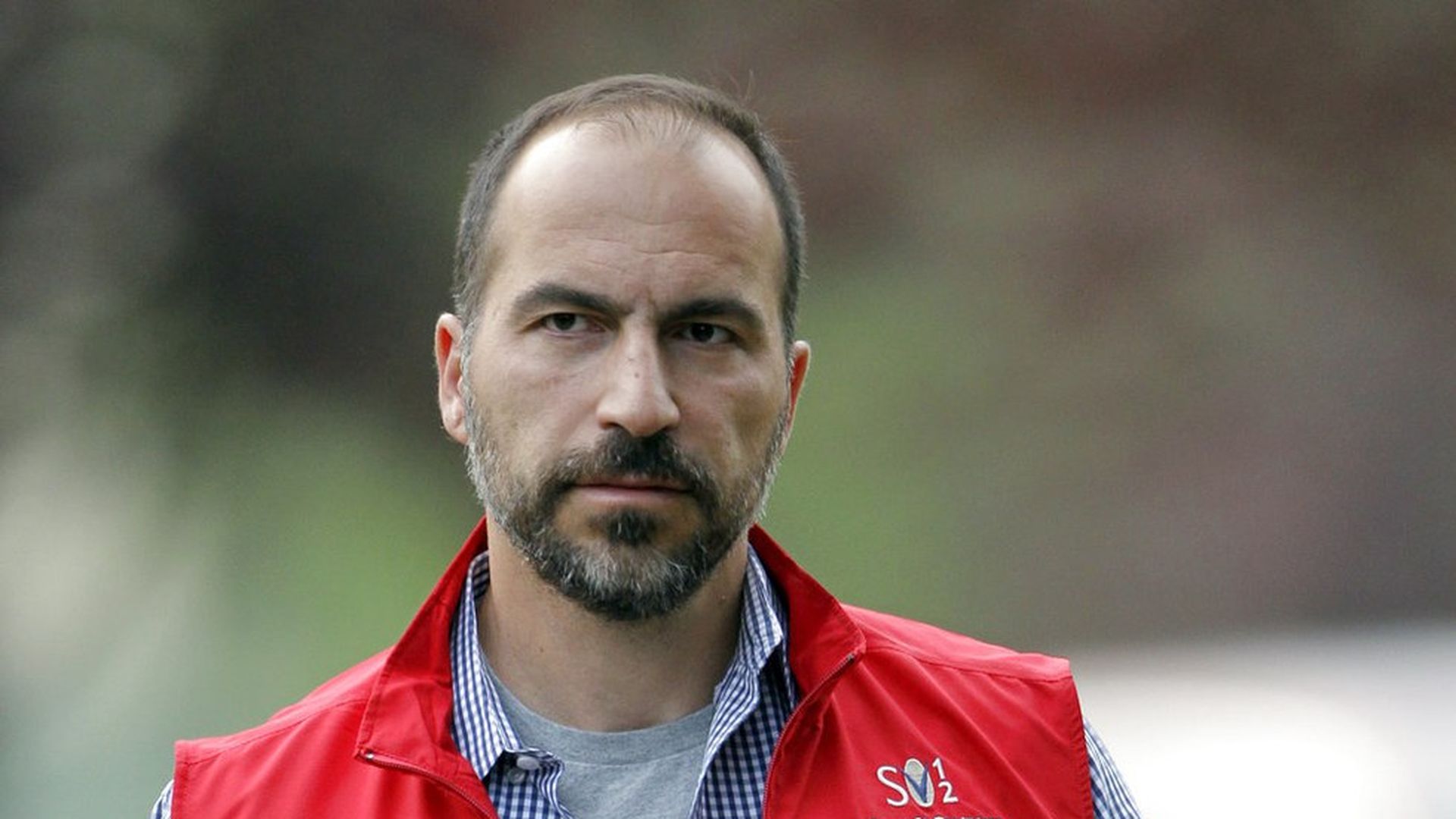 Uber has picked Expedia CEO Dara Khosrowshahi as its next chief executive, as first reported by Recode and confirmed by Axios, Dan Primack and Kia Kokalitcheva report:
A formal announcement could come as early as today.
Why it matters: Uber is the most highly-valued, pre-IPO tech startup in history. It also has become one of Silicon Valley's most contentious corporate soap operas, while continuing to generate billions in revenue by having helped revolutionize global transportation.
Backstory: Coming into the weekend, there were two official finalists: Khosrowshahi and General Electric chairman Jeff Immelt. Hewlett-Packard Enterprise CEO Meg Whitman reemerged as a serious contender.
Bio: Khosrowshahi has been CEO of Expedia since 2005, most of which time the travel site was part of IAC/InterActiveCorp (it spun out independently in 2005). Before that he served in other executive roles with IAC, and also spent time as an investment banker with Allen & Co. He currently sits on the boards of Fanatics and The New York Times Co.
https://www.axios.com/newsletters/axios-am-27b5eaf3-c1a2-492f-b307-462ec1a40d83.html?chunk=8#story8
9. What both sides get wrong about climate change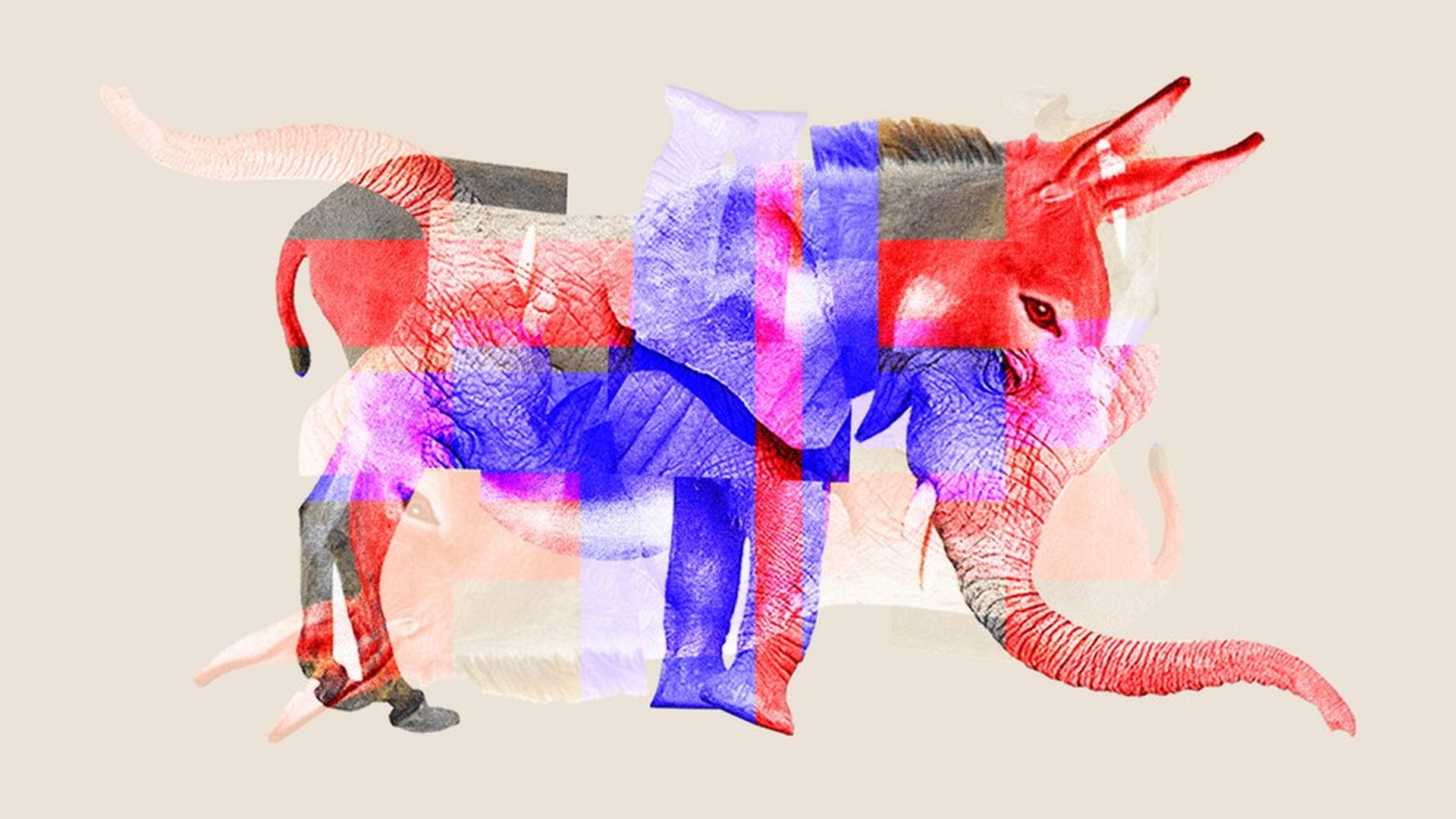 Axios' Amy Harder, in her weekly "Harder Line" energy column: "The right says action on climate change will wreck the economy. The left says the clean-energy revolution will be an economic boon. Both sides are overplaying their hands. Most policies Washington considers to cut carbon emissions will have a relatively small impact on the broader economy, studies not pushed by one side or another have shown."
Read on for the reasons misleading arguments could make this more expensive down the line.
https://www.axios.com/newsletters/axios-am-27b5eaf3-c1a2-492f-b307-462ec1a40d83.html?chunk=9#story9
10. 1 fun thing: Fall movies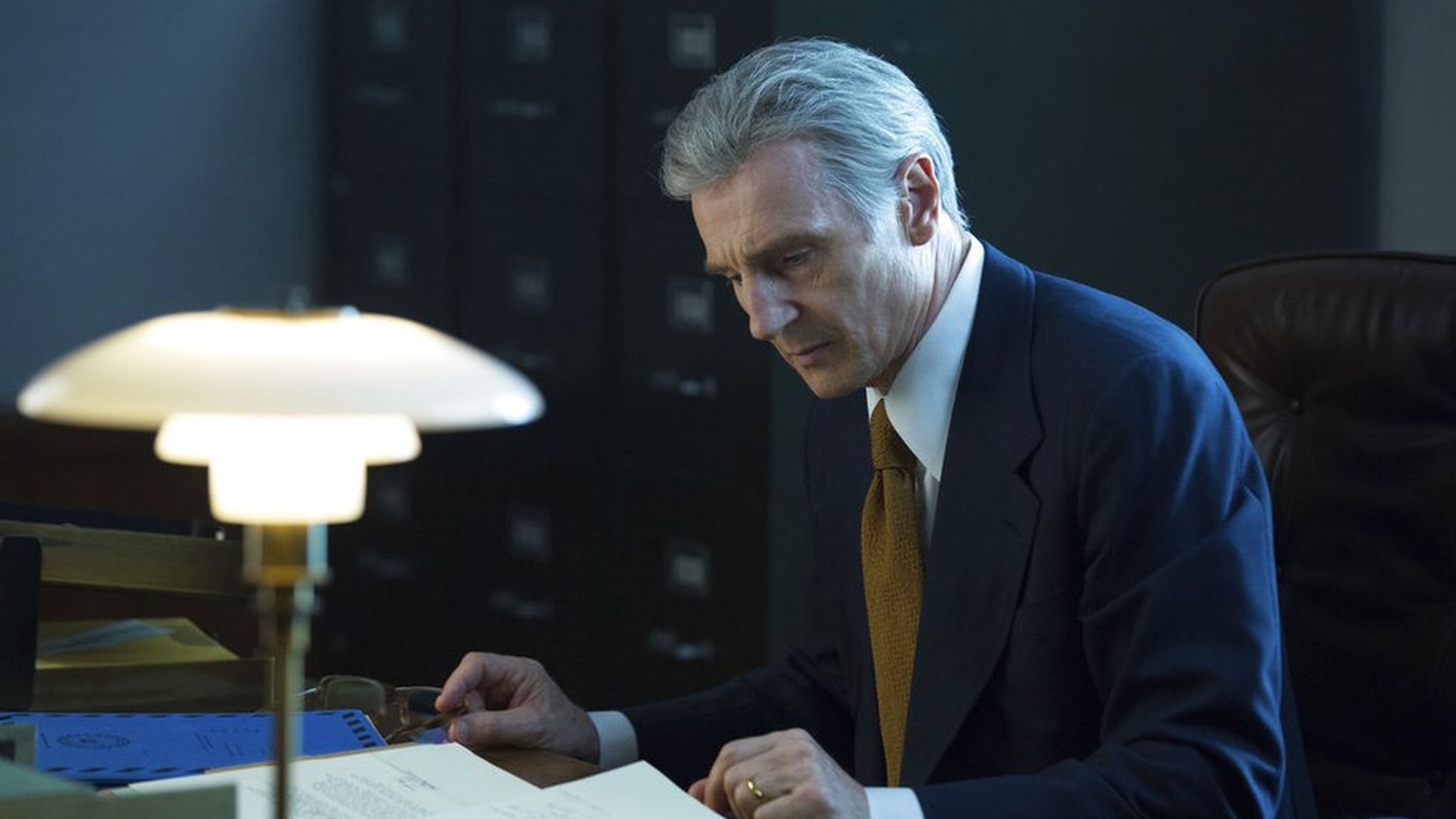 "Fall Movie Preview: Hollywood confronts the Trump era," by AP Film Writer Jake Coyle:
"FBI battles with the White House. Revelatory government leaks on the front page. Soldiers haunted by unwinnable wars. Courtroom clashes over civil rights. Movies take years to make, but many of this fall's films may feel almost preternaturally programmed for the President Trump era."
"Writer-director Peter Landesman ('Concussion') found himself making a film about the FBI battling White House interference while a curiously similar conflict played out between Trump, James Comey and the FBI."
"His movie, 'Mark Felt: The Man Who Brought Down the White House' tells the story of Felt (played by Liam Neeson), the legendary Watergate source known as Deep Throat, who was the No. 2 official at the FBI during the scandal. It's been in the works since 2005."
"The film, [out] Sept. 29, gives a close-up to the man previously seen ... as the shadowy figure in the parking garage of 'All the President's Men.'"
"Similar parallels may also follow Steven Spielberg's keenly awaited 'The Post,' (Dec. 22). Spielberg's drama is about The Washington Post's 1971 publishing of the classified Pentagon Papers, which revealed many of the government's lies about the Vietnam War."
"The film, starring Meryl Streep and Tom Hanks, is like an all-star team assembled as Hollywood's response to Trump."
"Clint Eastwood, who has previously voiced support for Trump, is prepping 'The 15:17 to Paris' about the 2015 Thalys train attack in France, with the real-life heroes playing themselves."
"'Thank You for Your Service' (Oct. 27) ... is about three soldiers returning from Iraq, adjusting to civilian life and fighting post-traumatic stress disorder.""
"'Marshall' (Oct. 13), stars Chadwick Boseman as a young Thurgood Marshall defending a black chauffeur in 1941 against his wealthy socialite employer in a sexual assault and attempted murder trial."
"Rob Reiner's 'LBJ' (Nov. 3) stars Woody Harrelson as the 36th president, taking office after the assassination of John F. Kennedy and passing the Civil Rights Act."