Axios AM
December 22, 2017
Good Friday morning. Situational awareness: "Congress has once again forestalled a government shutdown — with a short-term funding measure through mid-January — and temporarily extended funding for health insurance for children from low-income families." (USA Today)
1 big thing: 2018 collisions, foretold
Two weeks of insight: Between now and New Year's Day, Axios CEO Jim VandeHei and I will bring AM readers our year-end thoughts on the topics that matter most ...
Robert Mueller isn't the only one hot on the trail of the Russians' election interference and Facebook manipulation.
Sen. Mark Warner (D-Va.), vice chair of the Intelligence Committee, tells us that based on witness testimony and documents that he has seen behind closed doors, the Russia probe is "the most important thing I will ever work on."
Warner told me yesterday at an Axios News Shapers event: "I feel that more strongly today than even a year ago. And we don't even have near the tools that Robert Muller has in his investigation."
In TV interviews over the past year, Warner has been candid as he vacillated between thinking there's more smoke or more fire. Now, he clearly sees fire.
The committee plans to go hard after Facebook to cough up more about Russia-sponsored ads, and after Trump's inner circle to spill more about connections to Putin people.
Up first: Calling back Jared Kushner, Donald Trump Jr. and other "principals involved in some of these activities" for more Intelligence Committee questioning.
When those witnesses came to the committee before, they were interviewed by staff. This time, they'll be questioned by the senators themselves.
Warner: "We could debate whether they come back in public or private. I would lean more towards public."
What's next for Facebook: Warner said that Facebook still hasn't been fully candid, and plans to require more information about what happened in 2016, and more transparency on future political ads.
Warner wants independent experts to have access to the Russia targeting data, to provide "a third‑party, almost academic, analysis."
Warner on Facebook: "I would like to have a higher confidence they've really done the investigation of all possible Russian [connections]. And some of the Russian sites were actually ... started or activated outside of Russia but are were still controlled by them."
Why this matters: President Trump believes this investigation is wrapping up, and he'll soon be cleared. But few others agree.
Mueller, Warner and others plan to make sure that the same story that dominated the end of 2016 — and all of 2017 — is the story of 2018, too.
Go deeper: Axios Sourced videos on my News Shapers conversations yesterday with Sen. Mark Warner (YouTube) and Senate Majority Leader Mitch McConnell (YouTube).
2. Russian hackers targeted 200+ journalists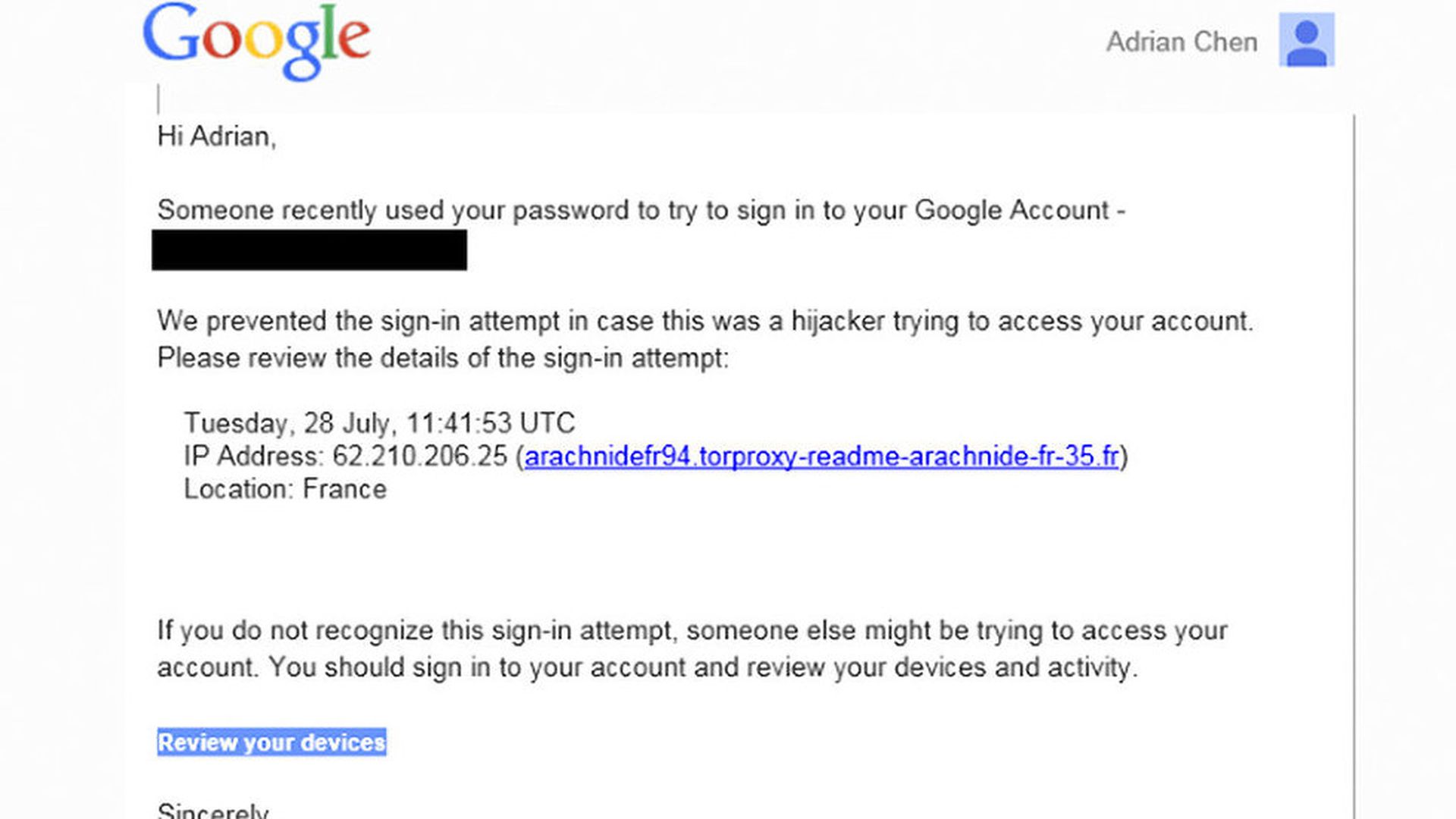 At least 200 journalists, publishers and bloggers were targeted by the hacking group known as Fancy Bear, which has been linked to the Russian government, AP reports from Paris:
"The AP identified journalists as the third-largest group on a hacking hit list obtained from cybersecurity firm Secureworks, after diplomatic personnel and U.S. Democrats."
"About 50 of the journalists worked at The New York Times."
"U.S.-based journalists targeted include Josh Rogin, a Washington Post columnist, and Shane Harris, who was covering the intelligence community for The Daily Beast in 2015."
Why it matters: "The list of journalists provides new evidence for the U.S. intelligence community's conclusion that Fancy Bear acted on behalf of the Russian government when it intervened in the U.S. presidential election."
3. 2018 warning
Hours after President Trump's tax-cut celebration on Wednesday, "aides and outside advisers had a spirited, and at times tense, discussion with him about the political outlook ahead of next year's midterm elections," the WashPost's Josh Dawsey and Bob Costa report:
"The gathering saw tempers flare as aides vented their frustrations with electoral defeats this year and concerns about the 2018 political map."
"Complaints about the president's political operation and the Republican National Committee boiled over."
"The late-afternoon meeting — attended by White House Chief of Staff John F. Kelly, counselor Kellyanne Conway, political director Bill Stepien, marketing and data specialist Brad Parscale, communications director Hope Hicks and political consultant and confidant Corey Lewandowski, among others — quickly became a griping session for Lewandowski and others about the way the White House manages the GOP."
Others are detecting the same sense of foreboding:
"Those closest to Trump are bracing for a possible bloodbath in the 2018 midterms, which could obliterate the Republican congressional majorities and paralyze the president's legislative agenda," Politico's Alex Isenstadt writes.
N.Y. Times' Maggie Haberman: "'A lot of people' have been telling the president that his White House team needs improvement."
Steve Bannon has "remarked on the toll the office has taken on Trump, telling advisers his former boss has 'lost a step.' 'He's like an 11-year-old child,' Bannon joked to a friend in November," Vanity Fair's Gabe Sherman writes.
Be smart: Recent generic polls show Republicans down double digits to Dems, a tough way to start a midterm year that's traditionally harsh on new presidents.
Bonus: Pic du jour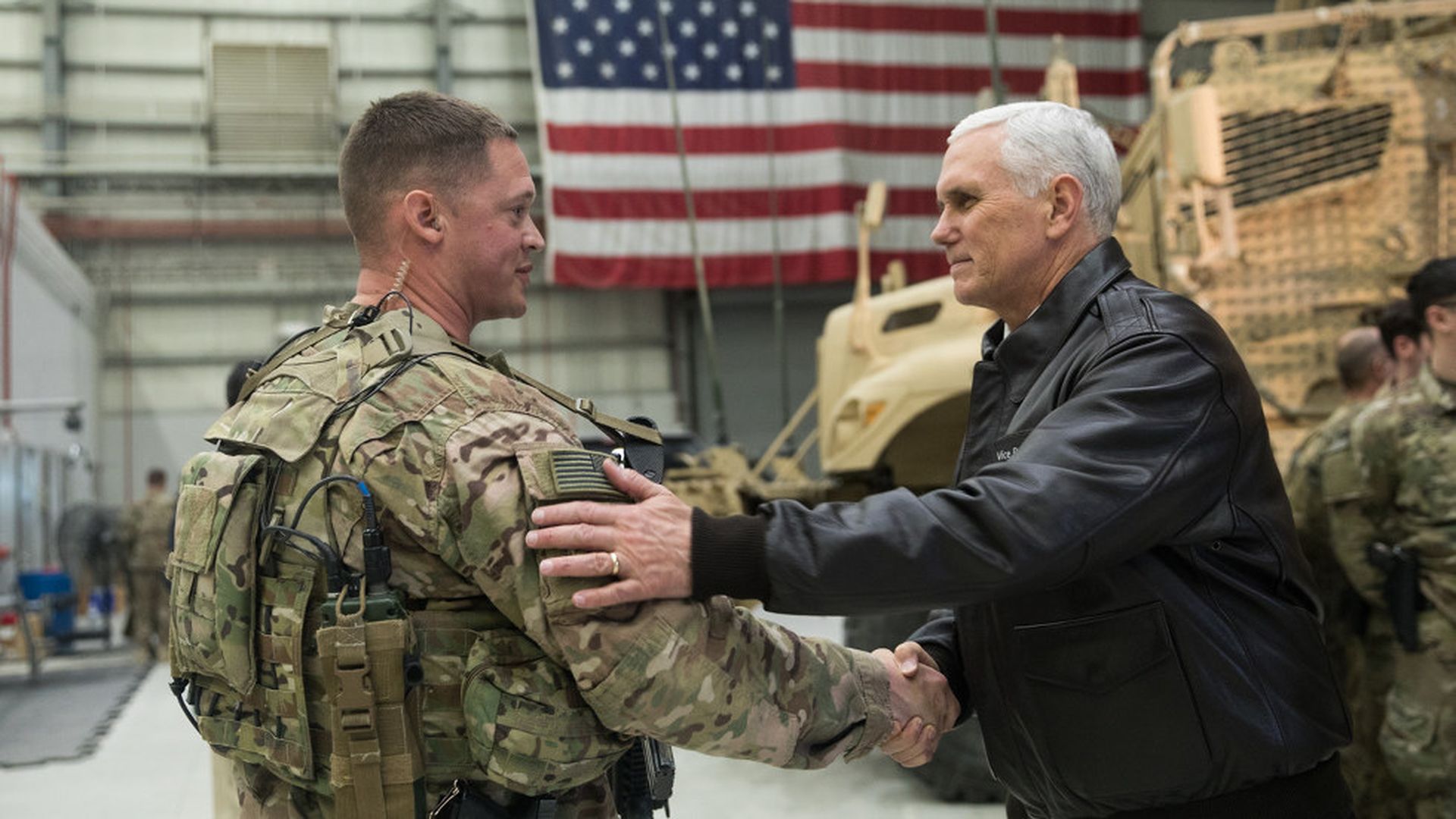 Vice President Pence makes unannounced visit to Afghanistan — Pool report by Andrew Beatty of Agence France-Presse:
"A trip embargo was put in place throughout the duration of the journey and for the first five and half hours he was on the ground."
"We landed in Bagram Air Field ... After the tax event on the South Lawn of the White House on Wednesday afternoon and a quick trip to the residence to change, VPOTUS slipped out of Washington and headed to Joint Base Andrews."
"At around 6:03 PM Washington DC time he climbed aboard an unmarked C-17 at the far end of the airstrip, where your pool was prepositioned."
"Dina Powell, Jarrod Agen and Nick Ayers are among the staff traveling. VPOTUS's family is not on the trip."
"VPOTUS came back to say hello ... He then headed into an Airstream 'Silver Bullet' — a 1950 trailer-like contraption that dominated the center of the aircraft. Inside it had reclining seats, carpet and all mod cons."
Double bonus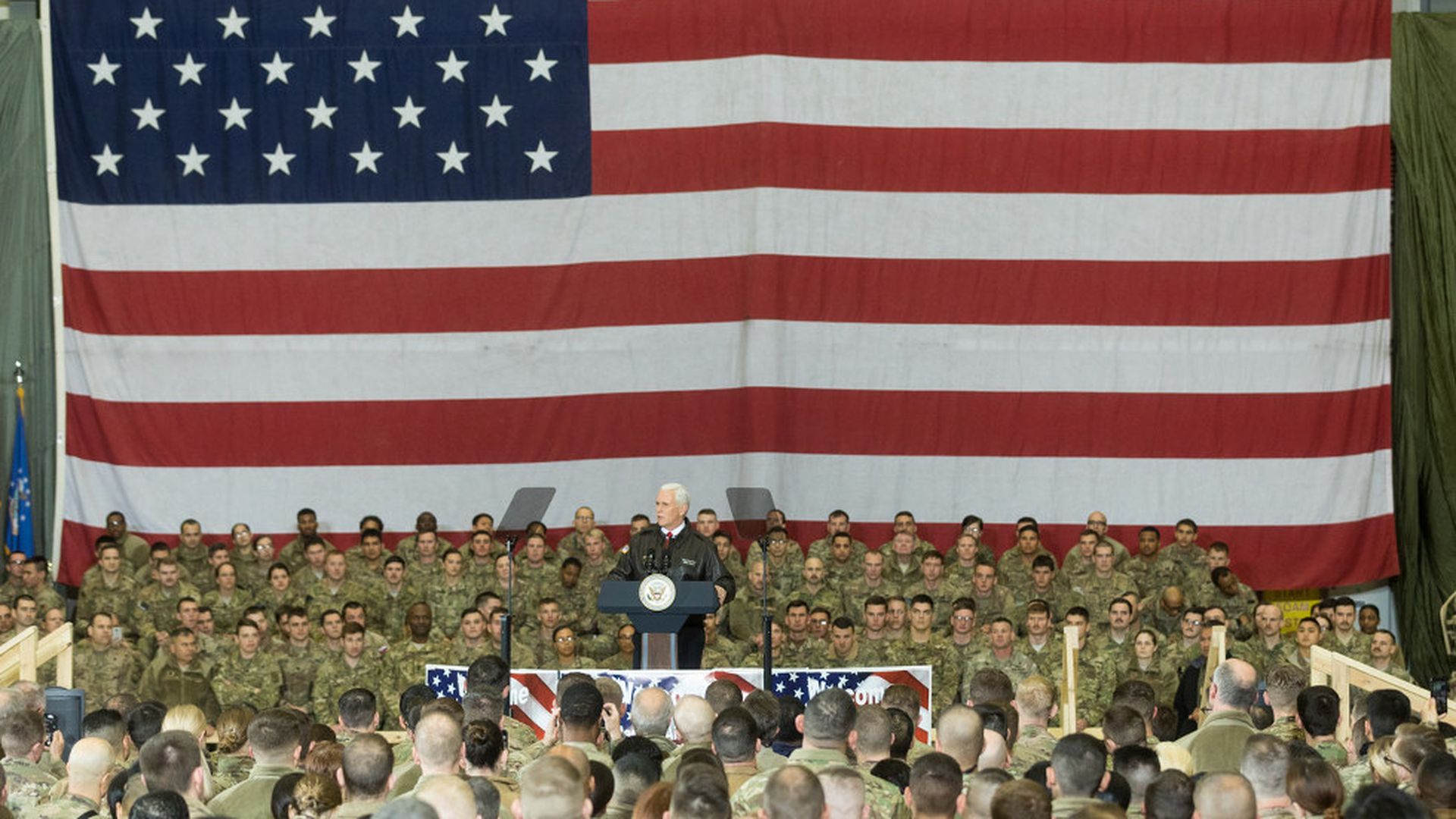 Reuters' Jeff Mason: "Pence flew by helicopter to Kabul, where he met President Ashraf Ghani and Chief Executive Abdullah Abdullah at the presidential palace. Pence told the leaders he hoped his presence there was tangible evidence that the United States was 'here to see this through.'"
4. The president's paper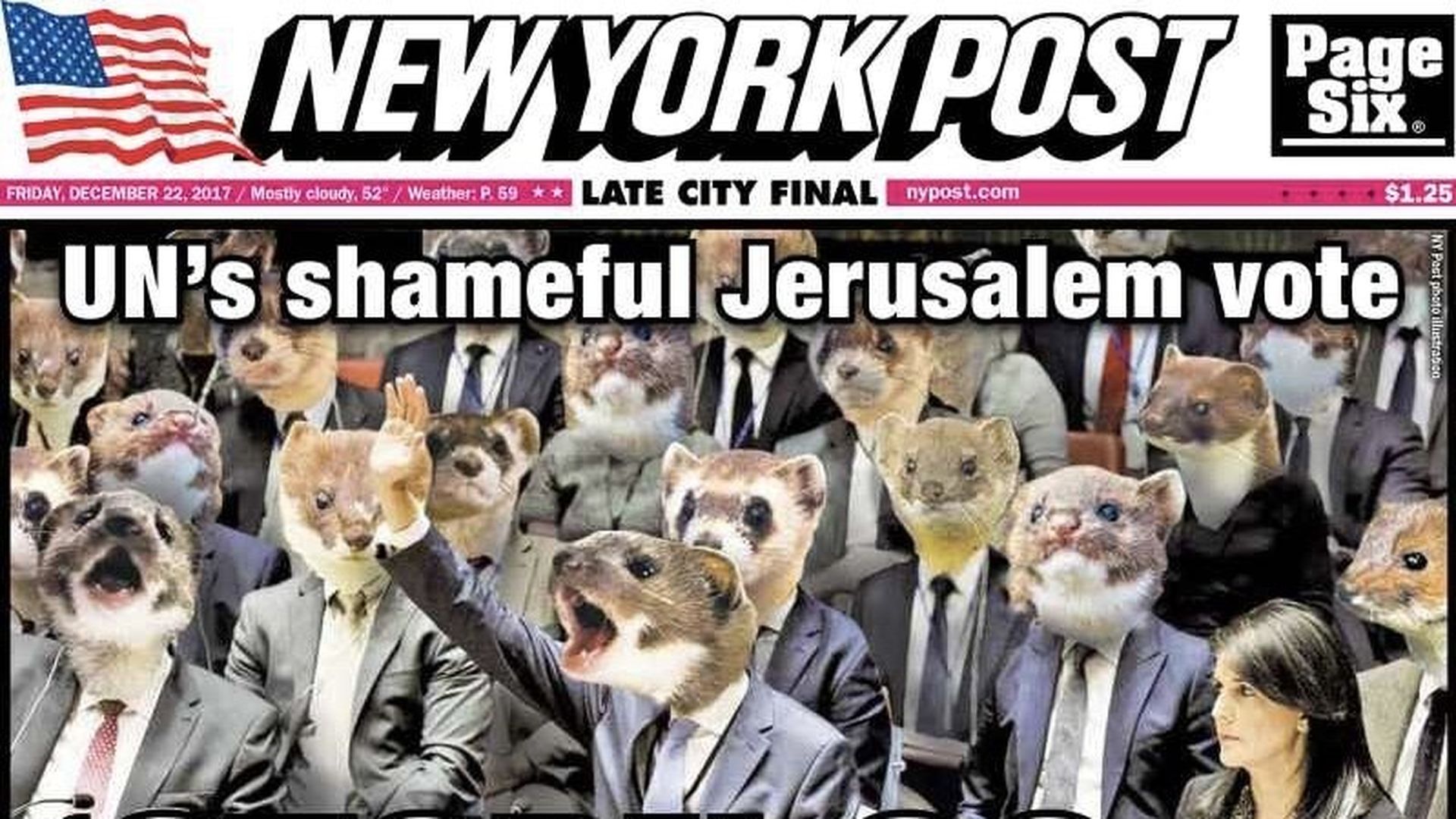 "The United Nations General Assembly overwhelmingly backed a measure critical of President Donald Trump's decision to recognize Jerusalem as the capital of Israel," per Bloomberg:
Why it matters: The vote came "despite U.S. Ambassador Nikki Haley's warning that the move could put funding for their nations and the global body at risk."
Haley, from the podium ahead of the vote: "This vote will be remembered."
"The nonbinding UN resolution passed ... 128-9, with 35 nations abstaining.
"Key U.S. allies backing the measure over Trump's threats included the U.K., France, Italy, Japan and Germany. The U.S. was joined in opposition by countries including Guatemala, Nauru and Micronesia. Abstentions included Australia, Canada and Argentina."
5. Schmidt exit marks end of era at Google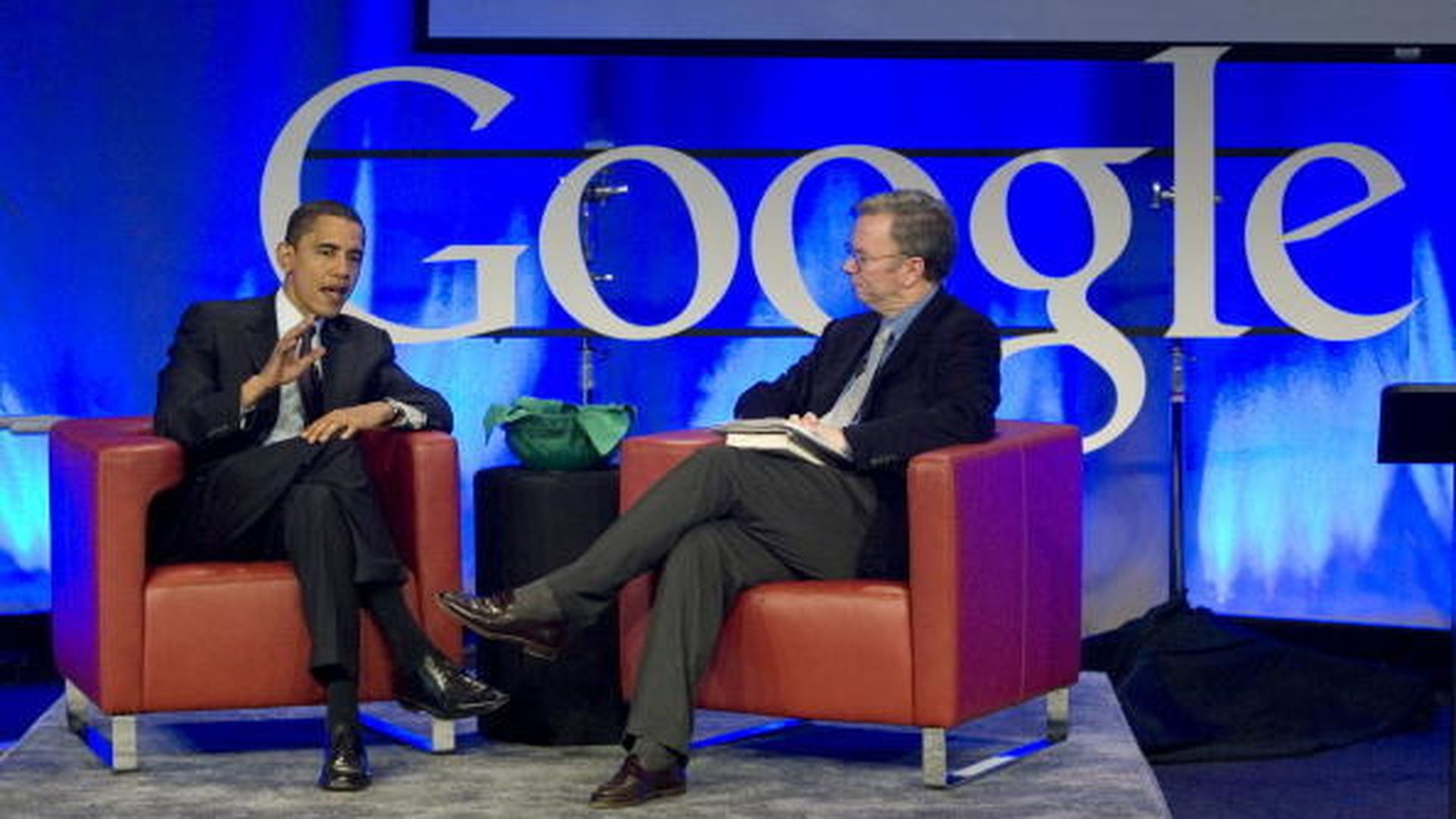 Alphabet Inc., the parent of Google, announced: "[A]s of its next regular board meeting in January 2018, Eric Schmidt will be transitioning from his position as Executive Chairman of the Board of Directors, becoming a technical advisor to the company while continuing to serve on its board."
Axios' Ina Fried reads between the lines in her Login newsletter (Sign up here):
Why he matters: Schmidt brought experience and structure to the young Internet company. In recent years, he served as an elder statesman on the global stage and wielded political influence in Washington, especially under President Obama. But Schmidt had been a less central figure in recent months.
Just how small was Google when Eric Schmidt joined it in 2001? Here are a few stats:It had a few hundred employees ... ... and 13.6 million monthly unique visitors.It had just had its first profitable year, though as a private company it didn't have to disclose financials.
Schmidt said in a statement that the decision was a mutual one he made, along with co-founders Larry Page and Sergey Brin and Google CEO Sundar Pichai.
What wasn't said: His face might not be the face Google wants front and center during a time of heightened scrutiny over sexual misconduct issues. As the New York Times noted, the married Schmidt was known for being seen publicly with other women at his side.
6. #MeToo toll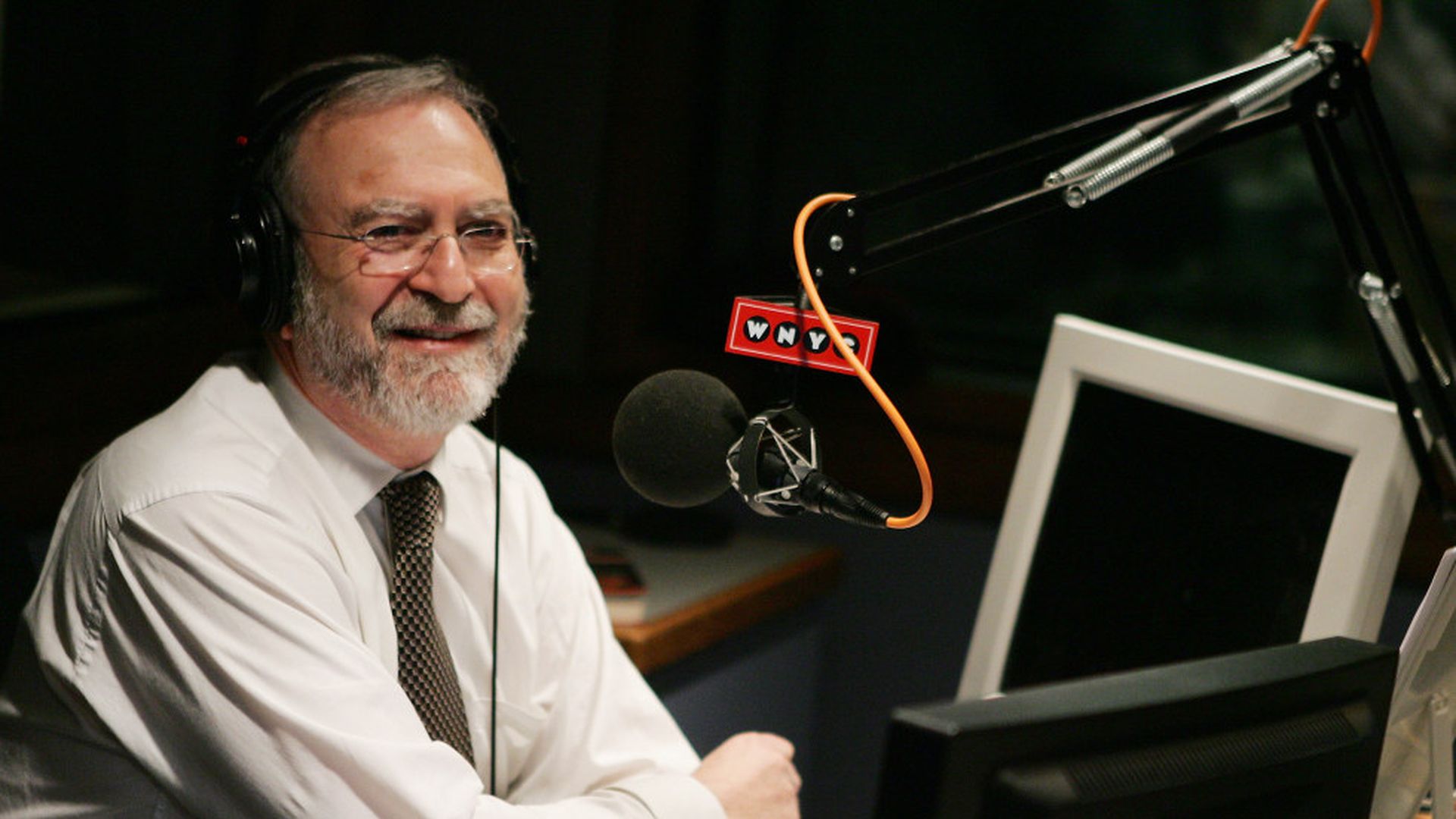 #MeToo continues to clean out media and sports:
Amazing Axios graphic ... "82 high-profile-men accused of sexual misconduct since Harvey Weinstein."
7. New owner for Washington City Paper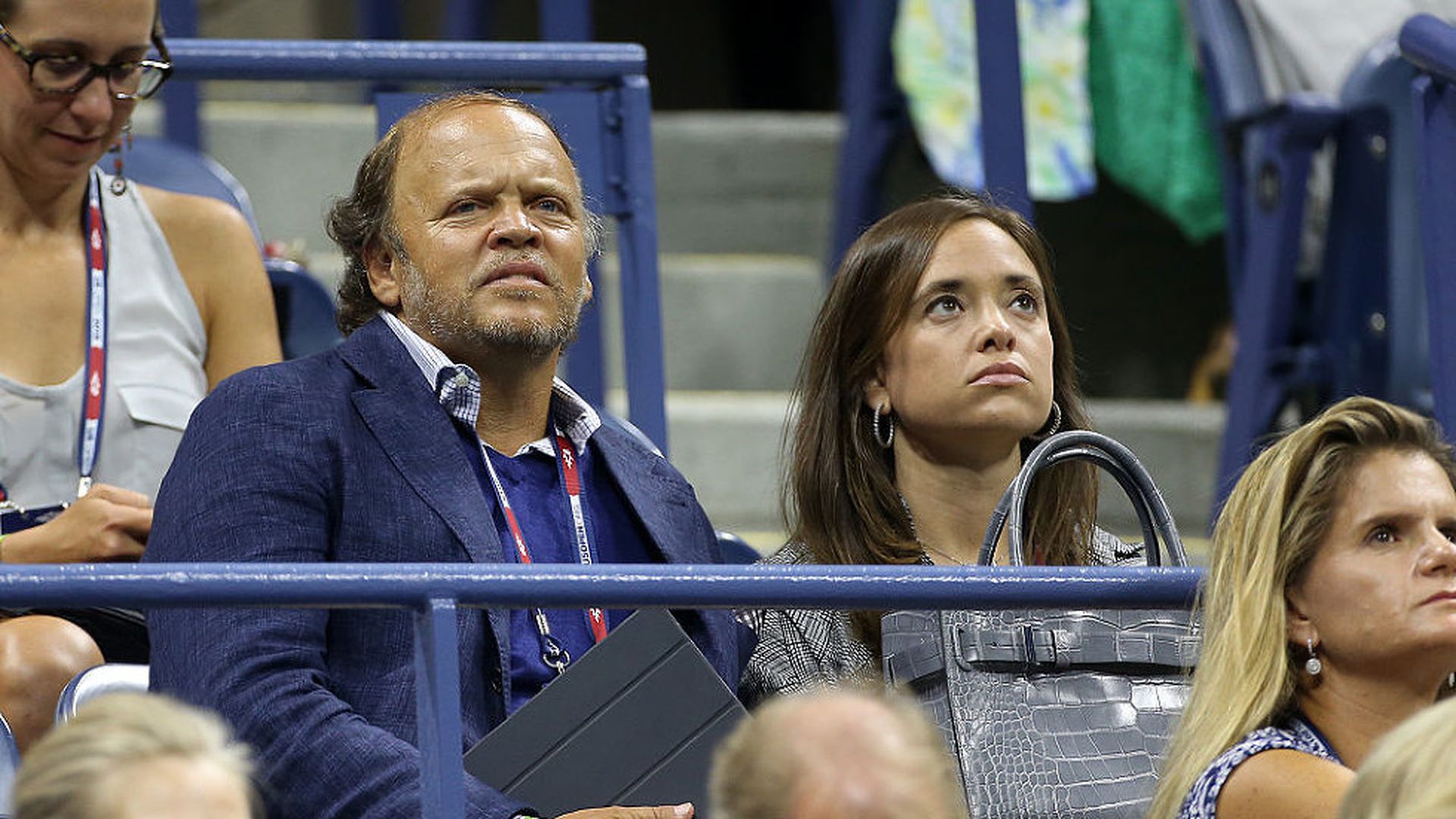 Mark Ein (pronounced "eyen") — a Washington-area investor, entrepreneur and philanthropist who controls the Kastle Systems building-security company and founded the Washington Kastles tennis team — is buying the floundering Washington City Paper, a 36-year-old alt-weekly.
Why it matters ... Ein told me in a phone interview: "I truly believe journalism is saving the world."
Ein told me the deal was speeded up after the current owner, SouthComm, told employees Monday that their salaries would be cut 40% starting Jan. 1.
Ein said the City Paper loses less than $1 million a year. He said he wants it to break even or better so it's sustainable, but added: "This doesn't fall into the profit part of my life."
He said he didn't pay "a huge amount of money," but assumed the liability and burn rate.
Ein plans to keep the print edition, which is important to the major arts organizations that are key advertisers.
Ein said he likes the arts and entertainment, food and local politics coverage, and would like to see the addition of local sports, and perhaps coverage of life outside the District, in the near-in suburbs. (He lived in D.C. much of his life, but now is in McLean.)
Ein formed a Washington City Paper Journalist Alumni Group to help re-energize the paper. Members include CNN anchor Jake Tapper, author Ta-Nehisi Coates and Pulitzer-winning journalist Kate Boo. Recode executive editor Kara Swisher was a City Paper editor.
8. Remembering Dick Enberg, Janet Elder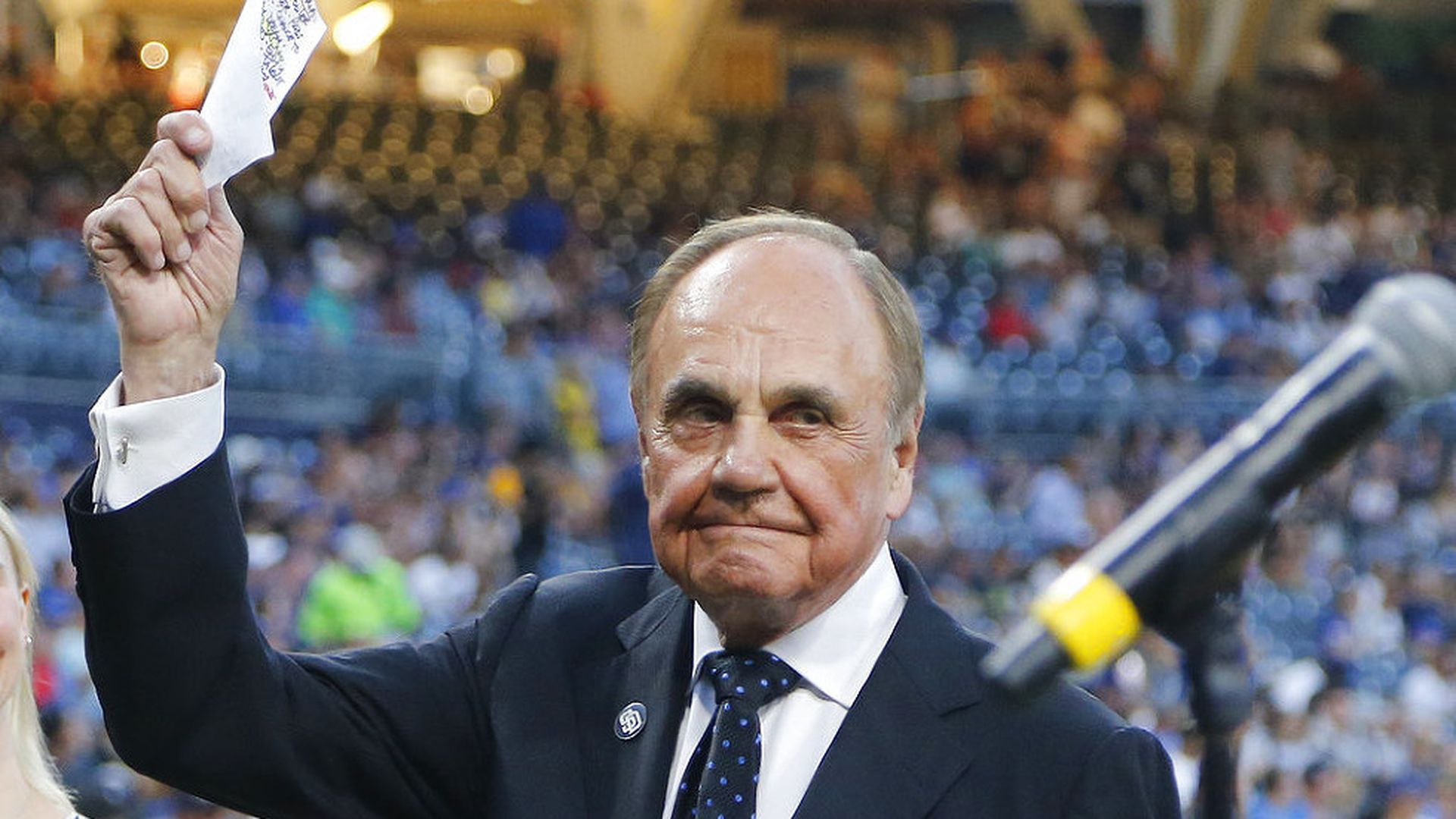 "Legendary sports broadcaster and former Padres play-by-play announcer Dick Enberg died [yesterday] at his La Jolla home, said his wife, Barbara. He was 82," the San Diego Union-Tribune reports:
"Barbara Enberg said the family found out ... after Dick Enberg failed to get off a flight in Boston, where they were scheduled to meet. She said her husband appeared to be waiting for a car that was set to shuttle him to San Diego International Airport for a 6:30 a.m. flight.
"Enberg defined versatility as a broadcaster, covering 28 Wimbledon tournaments, 10 Super Bowls and eight NCAA basketball title games as the play-by-play voice of the UCLA Bruins during their dynasty-building run."
Why he mattered: "He cared as much about calling a water polo match as a rising star in Los Angeles as the Super Bowls, Rose Bowls, Olympics and Breeders' Cup spotlights that followed."
"Janet Elder, who in a three-decade career at The New York Times rose from reporter to deputy managing editor, along the way spending many years as the editor of news surveys and election analysis, died on Wednesday in Manhattan. She was 61," The Times' Neil Genzlinger writes:
"Elder ... had been undergoing treatment for cancer and died at NewYork-Presbyterian Hospital.
"Elder became one of the highest-ranking women in the Times newsroom, in charge of the administrative side."
Why she mattered: "[C]olleagues cited an unofficial role as well, as chief counselor, hand-holder, fixer and sympathetic ear ... Her office was a place to come to gripe, gossip, ask for guidance and more, said Matthew Purdy, another deputy managing editor."
9. An epic year: 20 of 30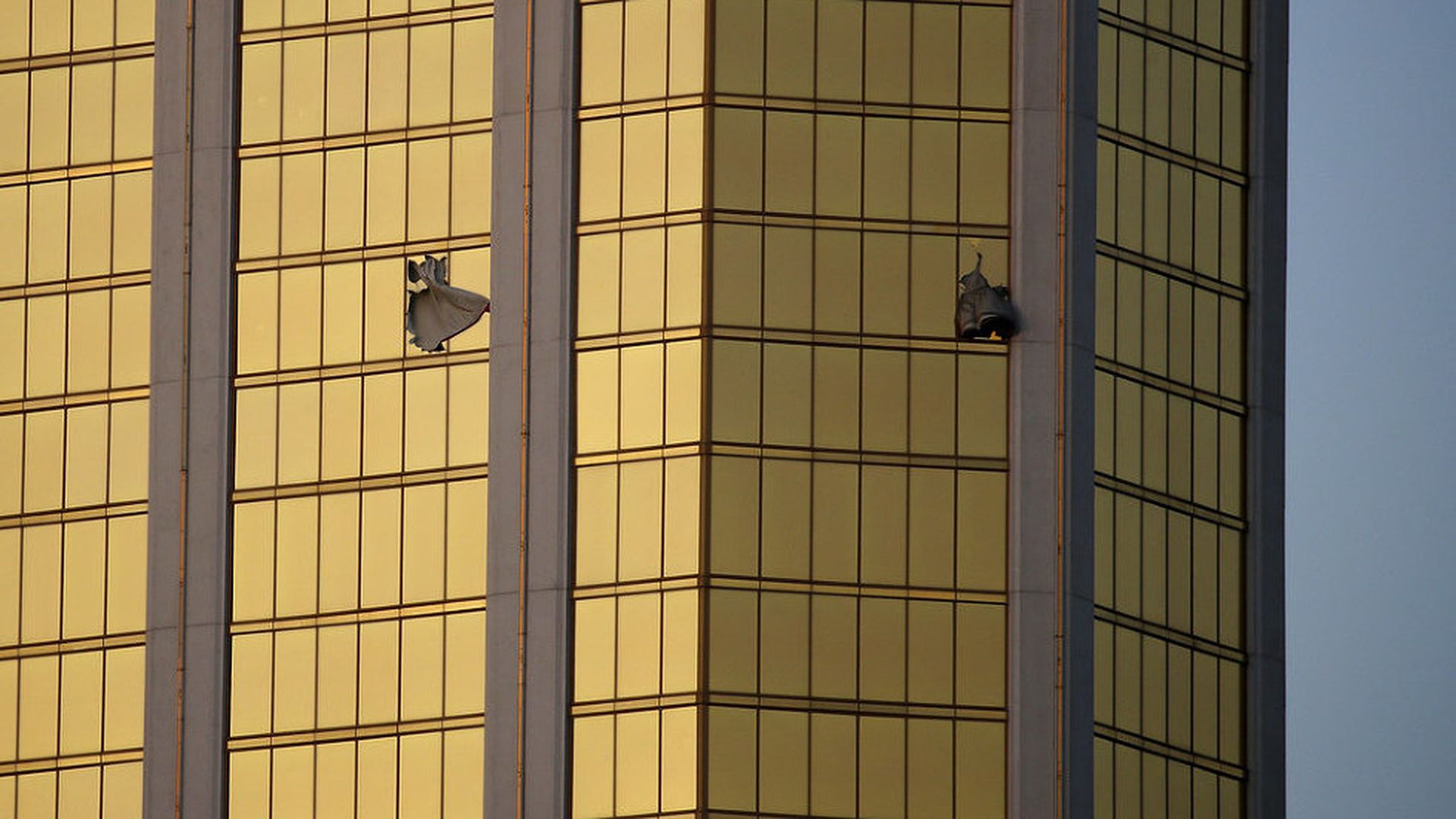 Remembering 2017 in 30 images ... Drapes billow out of broken windows at the Mandalay Bay resort and casino on the Las Vegas Strip, following the worst mass shooting in U.S. history. The gunman broke the windows and began firing into a music festival with a cache of weapons, killing 58.
AP's Top 10 ... "The wave of sexual misconduct allegations that toppled Hollywood power brokers, politicians, media icons and many others was the top news story of 2017, according to AP's annual poll of U.S. editors and news directors," first conducted in 1936 (abdication of Britain's King Edward VIII was #1):
Sexual misconduct scandals
Trump's first year
Las Vegas mass shooting
Hurricane onslaught
North Korea
Trump-Russia probe
Obamacare
Tax overhaul
Worldwide terror attacks
Islamic State.
10. 1 lingo thing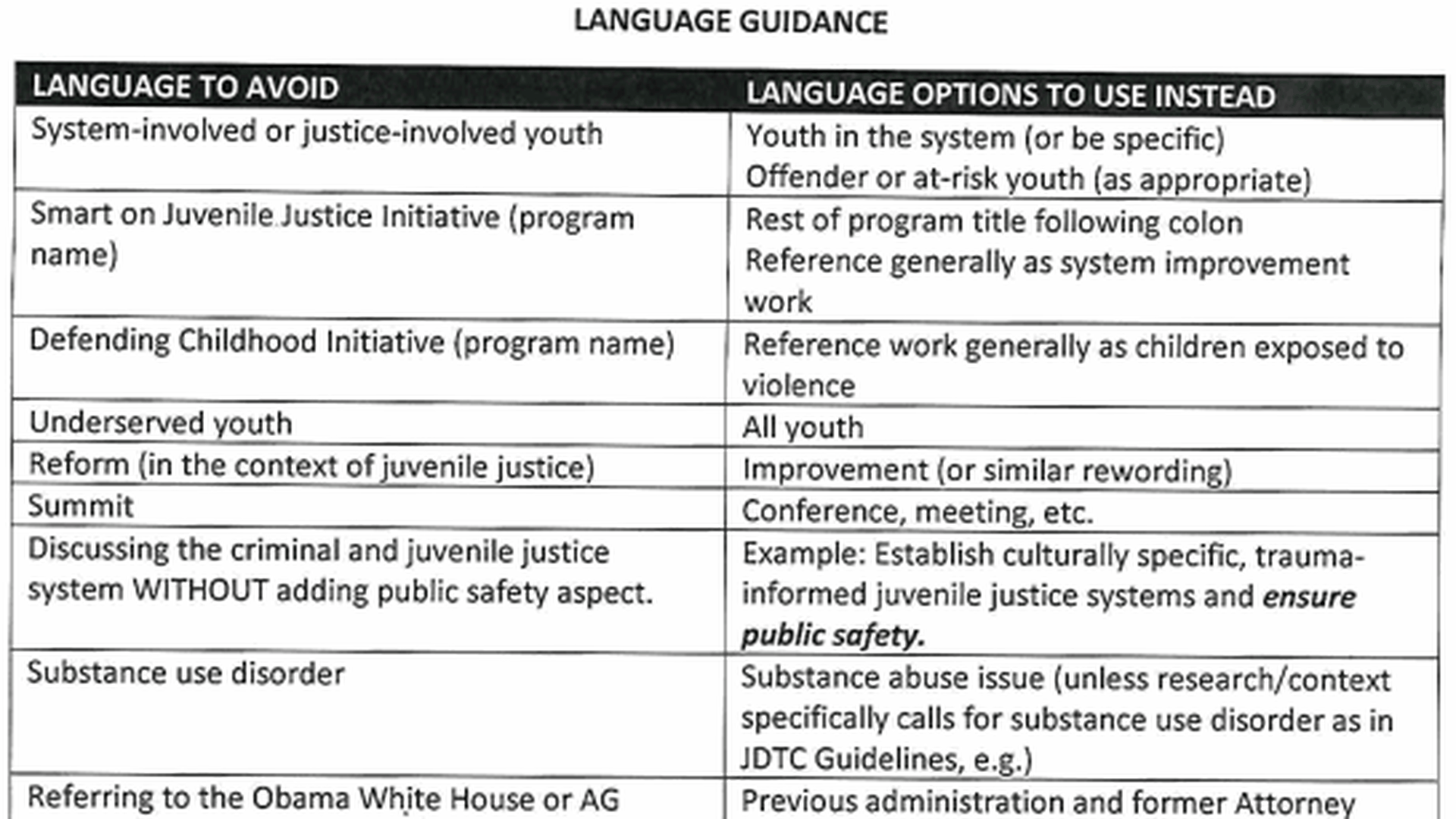 "The Trump administration is waging a linguistic battle across official Washington, seeking to shift public perception of key policies by changing the way the federal government talks about climate change, scientific evidence and disadvantaged communities," the WashPost's Juliet Eilperin and Lena Sun report on A1:
"[I]n late summer, the [Justice Department's] Office of Juvenile Justice and Delinquency Prevention issued a 'language guidance' document to employees and contractors bearing a column of words and phrases to be avoided."
"The desire to literally change the conversation in Washington is nothing new ... President Barack Obama dropped George W. Bush-era references to the 'global war on terror,' creating a new budget category labeled 'overseas contingency operations.'"
Go deeper: "'Words to avoid' become vocabulary of resistance."