Axios AM
November 08, 2018
☕️ Good Thursday morning.
1 big thing: Trump's ominous loyalty demands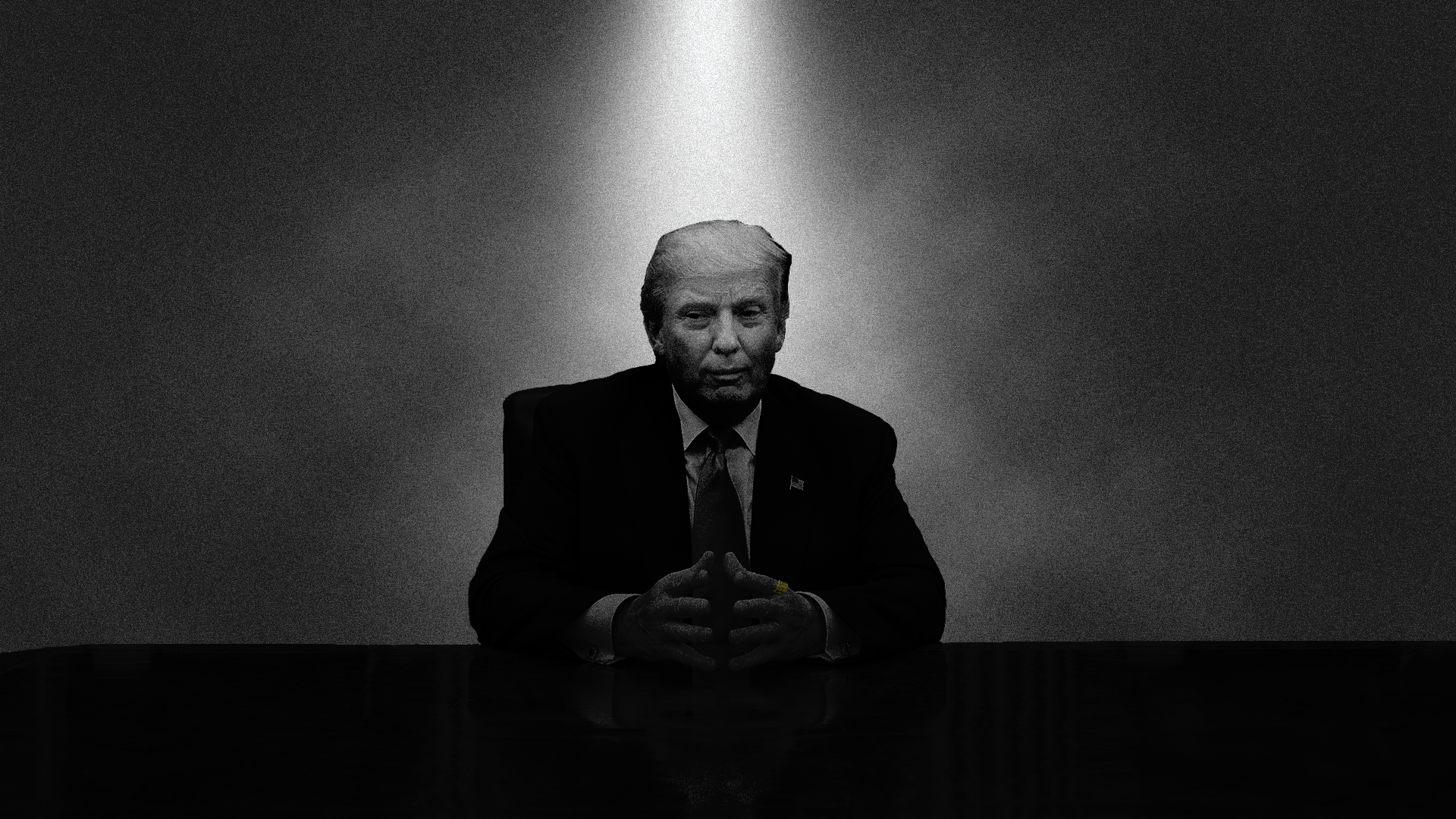 President Trump increasingly demands, solicits and gets the loyalty of Republicans, big and small. 
You saw this in the midterms, when he hand-picked the governors-elect of Florida and Georgia because they expressed their loyalty to him. 
You also saw this in the midterms when he grew his Senate majority by helping candidates who were loyal to him and to his Supreme Court nominee, Brett Kavanaugh.
You saw this in yesterday's press conference when he publicly shamed — by name — disloyal House Republicans who lost re-election races. 
You saw this an hour after the press conference when he forced Attorney General Jeff Sessions to quit. Sessions' offense was that he wasn't sufficiently loyal. And Sessions' acting replacement was his own chief of staff, Matt Whitaker, a Trump loyalist. 
You saw this two years ago, one year ago and still today in the vast majority of Republican voters having his back through good times and bad. 
Why it matters: Soon this could matter in consequential — and constitutional — ways.
With Democrats taking the House, Trump can anticipate impeachment proceedings — and knows that all it takes to save him is the loyalty of Senate Republicans, regardless of the evidence. 
The chance of Trump needing the Senate — and perhaps the Supreme Court — to side with him on big legal matters flowing from various investigations is high. It certainly won't hurt that he put two justices on the court, and a lot of men in the Senate. 
What we're watching ... Jonathan Swan points out the potentially colossal implications of Trump getting rid of Sessions, and replacing him with a loyalist and Mueller critic.
Democrats want Matt Whitaker, the acting attorney general, to recuse himself from overseeing the Mueller probe.
But if he stays in charge and does anything to challenge or curtail Mueller, we'll be in a high stakes political and legal battle just days after an election.
Be smart, from Cliff Sims, Trump's former White House director of message strategy:
"Trump instinctively understands ... the power of 'self-preservation' and 'fight or flight' as a political weapon. He wields it constantly. Most people back down. He makes an example of those who don't. Everyone else tries to stay out of the line of fire. Fear breeds loyalty, at least until it's gone."
2. Trump acts on longtime fantasy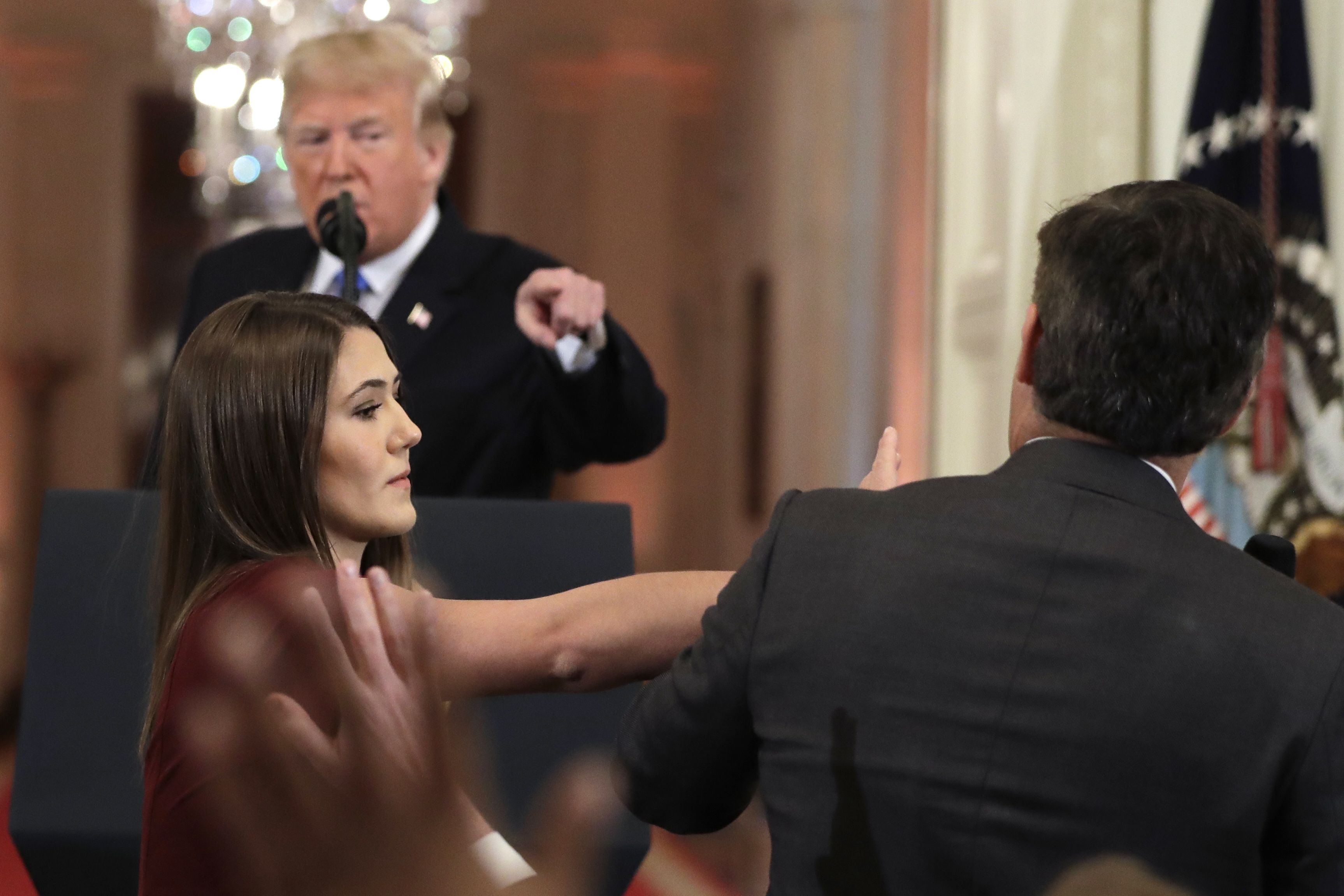 Sources with direct knowledge tell Jonathan Swan that since the earliest days of his presidency, Trump has mused about revoking press credentials for reporters who infuriate him.
But press staff have often successfully counseled him against doing so, telling him it would only elevate the reporter involved and would result in damaging stories about him cracking down on press freedom.
Yesterday, Trump went ahead and did it anyway, with Sarah Sanders announcing that the White House had removed the "hard pass" of CNN's Jim Acosta, who had tangled with Trump at his midday press conference.
Be smart: Despite the White House accusing Acosta of "placing his hands on a young woman just trying to do her job as a White House intern" when she was taking a microphone from him at the presser, the video clearly shows Acosta didn't do anything physically threatening to the intern.
Axios media trends expert Sara Fischer tells me that the video tweeted by the White House apparently is edited to shift speeds of footage where Acosta and the staffer make contact, possibly making his gesture look more aggressive.
As Trump made clear in his interview with "Axios on HBO," he has no interest in de-escalating his fights with the press, because he thinks it works for him politically and his crowds demand it.
But until now it had all been rhetoric. This is the first time the Trump White House has revoked the credentials of a mainstream reporter.
The reaction from White House reporters made it clear that a new line had been crossed:
The N.Y. Times' Peter Baker called the White House explanation a "[f]alse predicate to punish a reporter. This is what the president wants. If he really thought @acosta was unfair, then why did he call on him? Because he wants the confrontation."
Olivier Knox, president of the White House Correspondents' Association, said the group "strongly objects to the Trump Administration's decision to use US Secret Service security credentials as a tool to punish a reporter with whom it has a difficult relationship."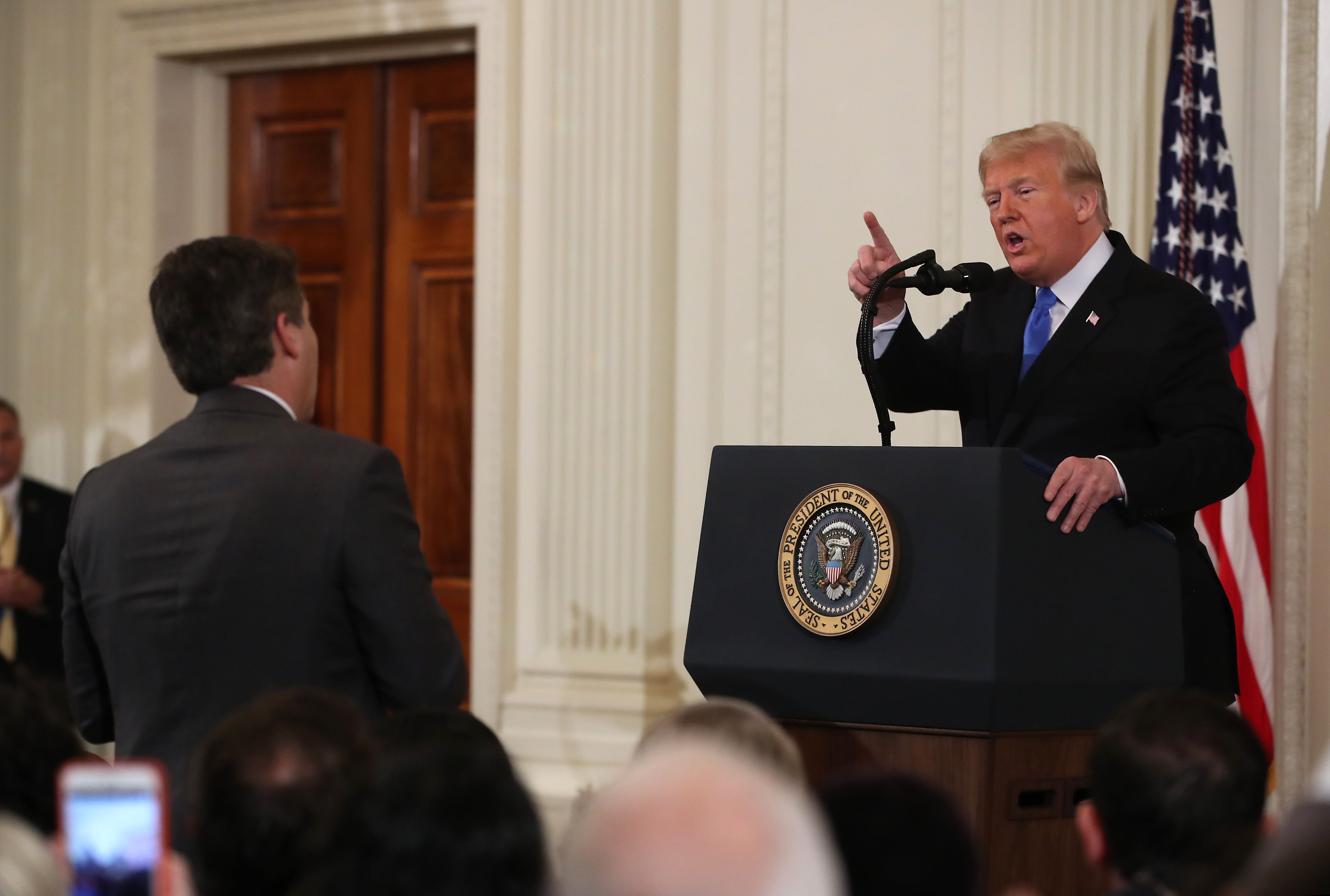 3. Midterm mega-takeaway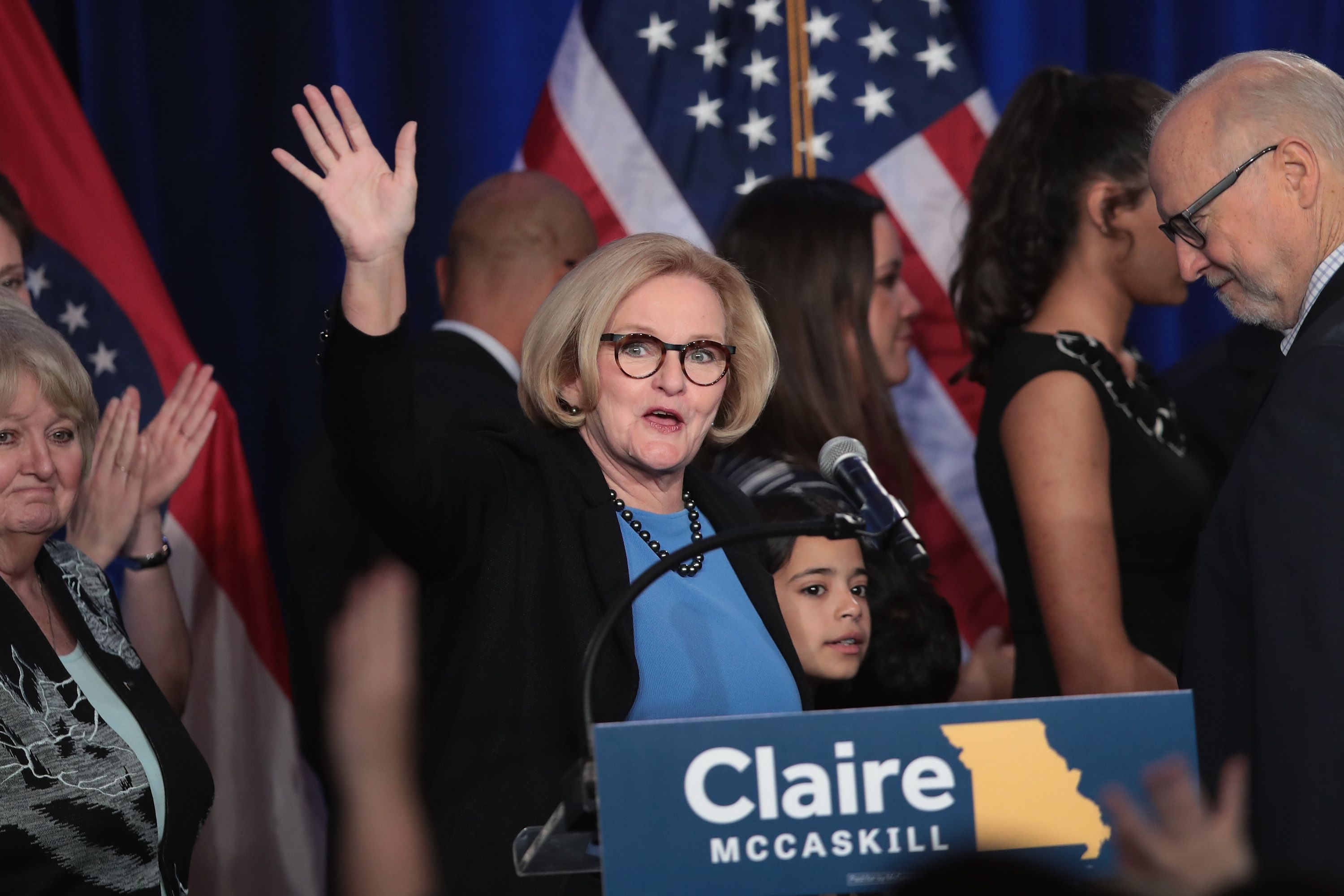 The midterms "laid bare the growing chasm between urban and rural America," the N.Y. Times' Jonathan Martin and Alex Burns write in "A Political Realignment Without a Clear Winner":
That leaves "Republicans deeply concerned about their declining fortunes in the metropolitan areas that extinguished their House majority."
And Democrats are "just as alarmed about their own struggles to win over voters in states that strengthened the G.O.P.'s grip on the Senate."
Why it matters: "Democrats took control of the House not merely by making gains in coastal states that supported Hillary Clinton, but also by penetrating deeply into suburban corners of traditionally conservative states in the South and across the Plains, like Georgia, Texas and Oklahoma."
"The House results made clear that the Trump-induced difficulties Republicans are suffering with once-reliable voters are hardly limited to blue states and could make it substantially harder for the president to remake his upscale-downscale coalition in 2020."
N.Y. Times Quote of the Day ... Sen. Claire McCaskill of Missouri, one of three red-state Senate Democrats swept out of office (along with Joe Donnelly of Indiana and Heidi Heitkamp of North Dakota), when rural counties she relied on 12 years ago largely broke for her Republican rival, Josh Hawley:
"The further you get from metropolitan areas, the more powerful Donald Trump is and the more allegiance there is to whatever he says and does."
4. Living history
5. What the losers have in common
The congressional incumbents who lost were mostly a) House Republican incumbents in districts Hillary Clinton won in 2016 and b) red-state Democratic senators in Trump country, Axios' Alexi McCammond writes.
By the numbers: 30 House Republican incumbents lost their seats to a Democrat. Of those, 19 were in Clinton-won districts, while nine were incumbents who Republicans had previously said were in competitive, coin-flip races.
And two were genuine surprises — Mia Love in Utah, who appears headed for a loss, and Dan Donovan in New York, who has officially been defeated.
The takeaway: Trump focused most of his time on Republicans running for Senate and governor, leaving many House GOP incumbents out to dry in 2018.
And national events (especially the Supreme Court fight) were too big to overcome for Democrats in red states.
6. Dem House candidates outperformed Clinton
Midterm voting patterns shifted slightly to the left of the 2016 election, Axios senior visual journalist Chris Canipe reports.
But as this graphic shows, Democrats picked up 28 House seats in districts that President Trump won in 2016 — a big part of the reason they'll be in charge of the House next year.
How to read this chart: Democrats in the upper left won in districts that Trump carried in 2016; Republicans in the bottom right won in districts carried by Hillary Clinton.
For races above the diagonal line, Democrats won by larger margins and Republicans won by smaller margins compared to the 2016 presidential vote.
7. Tech skeptics have rising clout in new Congress
Democrats focused on privacy and conservatives who are suspicious of the platform companies are moving into more prominent positions at a time when Big Tech is a bigger target for concrete regulation than ever before, Axios' David McCabe reports.
What to watch: Expect more frequent hearings, especially on issues such as consumer data practices and market competition issues.
While sweeping legislation won't materialize anytime soon, narrow measures uniting concerns from both sides of the aisle could be more feasible.
In the House, a new era of Democratic leadership has major implications for Silicon Valley and Washington.
Likely House Speaker Nancy Pelosi has mentioned a desire to produce an infrastructure package that would include broadband.
The Big Tech companies may also face tough scrutiny from a Democratic House.
In the Senate, a key committee's leadership is in play and several tech skeptics won seats for the first time.
The Senate Commerce Committee, which will take a key role in crafting privacy legislation, is likely losing its chairman, Sen. John Thune (S.D.), to a higher position in GOP leadership.
Rep. Marsha Blackburn (R-Tenn.), who has accused web platforms of conservative bias and previously introduced internet privacy legislation, won a Senate seat. So did Missouri Attorney General Josh Hawley (R), who has been investigating major tech firms.
P.S. "Silicon Valley startups are continuing to negotiate deals with Saudi Arabia and take its capital through its partner SoftBank, ... amid the controversy over the killing of journalist Jamal Khashoggi that has clouded the kingdom's role as a global technology investor," The Wall Street Journal's Eliot Brown reports.
8. Tesla's new chair
"Tesla Inc. chose Robyn Denholm [a director since 2014] to succeed Elon Musk as board chair, selecting an independent director to contend with the carmaker's mercurial chief executive officer following his run-ins with regulators and investors," per Bloomberg.
"Denholm, 55 — one of two women on Tesla's nine-member board — will assume the role of chair effective immediately."
"[S]he will leave her position as chief financial officer and head of strategy at Australian phone company Telstra Corp."
Why it matters: "The appointment marks the end of an era for Musk, 47, who became chairman when he led a $7.5 million initial investment in Tesla in April 2004. ... Musk will remain CEO and a board director."
P.S. "Google is gearing up for an expansion of its New York City real estate that could add space for more than 12,000 new workers, an amount nearly double the search giant's current staffing in the city," The Wall Street Journal reports.
9. New research explains the placebo effect
"What if the Placebo Effect Isn't a Trick? New research is zeroing in on a biochemical basis for the placebo effect — possibly opening a Pandora's box for Western medicine," reports the N.Y. Times' Gary Greenberg.
Harvard Medical School's Ted Kaptchuk "and his colleagues have begun to elucidate an ensemble of biochemical processes that may finally account for how placebos work and why they are more effective for some people, and some disorders, than others."
"But Kaptchuk also has a deeper unease ... 'Once you start measuring the placebo effect in a quantitative way,' he says, 'you're transforming it to be something other than what it is. You suck out what was previously there and turn it into science.' Reduced to its molecules, he fears, the placebo effect may become 'yet another thing on the conveyor belt of routinized care.'"
10. 1 ⚾️ thing
"The Washington Nationals offered Bryce Harper the biggest free agent contract in the history of the four major North American sports in late September, and he and his agent turned it down," the WashPost's Chelsea Janes reports:
"They offered Harper $300 million for 10 years in a deal that included no opt-outs."
"The biggest free agent deal in pro sports history by total value had been Alex Rodriguez's 10-year deal worth $275 million with the New York Yankees in 2007. Giancarlo Stanton's 2014 deal, which guaranteed him $325 million over 13 seasons, was an extension."