🦃 🍽 🍖 Happy Thanksgiving to you and yours from Portland, Ore., where I'm visiting Mom and fam. Thank you for making AM part of your life, routine and holiday.
I'm thankful for all my talented, dedicated Axios colleagues, in the newsroom and across our growing company, who help make AM worthier every single day.
Readers often ask if there are days when I just don't feel like writing AM. Never! It's such a privilege to win a slice of your mindshare, and I love our conversations.
How may I serve you better? Just hit "reply," or drop me a line: mike@axios.com.
1 big thing: The rise of Friendsgiving
More than half a million people were invited to a Friendsgiving party this year, and searches for Friendsgiving ideas have tripled since 2015, according to Evite and Google Trends data served up by Axios' Stef Kight.
Friendsgivings, popular with young adults away from their hometowns, reach beyond the traditional family circle and include close friends in a potluck-style gathering, typically in the days leading up to Turkey Day.
Why it matters: Changes to Thanksgiving celebrations reflect broader American transformations — booming cities and social media, a growing foreign-born population, delayed marriage and family building, and young adults relying on "urban tribes" of friends instead of kin.
Friendsgiving is more common in urban areas.
The average size of each party is 21 people, per Evite.
Almost a quarter of hosts ask guests to sign up to bring something.
Use of "Friendsgiving" started rising in 2007, according to Merriam-Webster.
Friendsgivings often are just a pre-party to a family-centric holiday, but the trend also mirrors shifting lifestyles and demographics in the U.S.
Many young, single adults move to cities where they work, make friends, pay off college debt, date on apps and wait longer to settle down.
Journalist Ethan Watters has argued that tight-knit friend groups of young adults — or "urban tribes" — are replacing family.
Some city-dwelling adults prefer to spend Thanksgiving with their tribe rather than relatives.
"Lots of people who live in cities moved away for a reason," University of Toronto professor and urban theorist Richard Florida told Axios. "Maybe they can't 'go home.'"
With the immigrant share of the population rising significantly, several Friendsgiving participants who work at Axios, or responded to an Axios Instagram question, said sharing the iconic American holiday with friends can be a special experience for foreign-born guests with different points of reference.
2. Trump delights Hong Kong demonstrators, enrages Beijing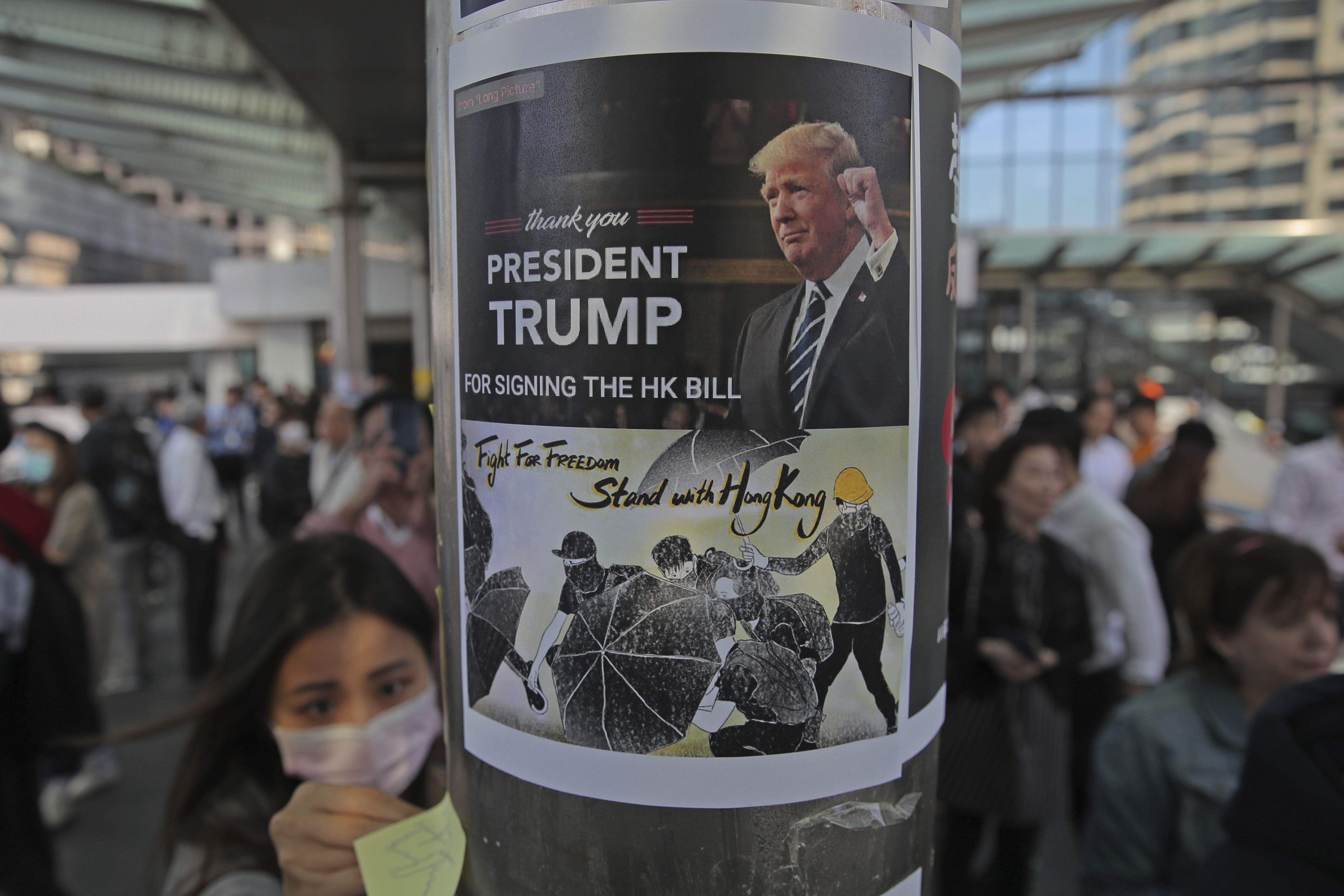 A pro-democracy protester sticks a poster featuring President Trump on a pillar in the Hong Kong financial district today. Photo: Kin Cheung/AP
President Trump thrilled China hardliners in the U.S. yesterday by signing two bills backing human rights in Hong Kong, provoking a threat of "firm counter measures" from Beijing.
The bills had been approved nearly unanimously in the House and Senate, but it was unclear if Trump would sign them.
Why it matters: Trump signed the bills knowing that they would complicate trade negotiations. That suggests that he thinks he has a winning hand, based partly on weak economic data from China and stronger signs in the U.S.
The expected signing of the United States-Mexico-Canada Agreement (USMCA) helps provide political cover.
Between the lines: Trump chose not to take the easy way and let the legislation go into law by default on Tuesday.
China had threatened retaliation for weeks, so this was seen as thumbing his nose at Xi.
The latest: China reacted furiously, summoning the U.S. ambassador to protest, and warning the move would undermine cooperation with Washington. (AP)
Protesters in Hong Kong staged a "Thanksgiving" rally, "with thousands of people, some draped in U.S. flags, gathering in the heart of the city." (Reuters)
3. ⚖️ Trump is successfully running out the clock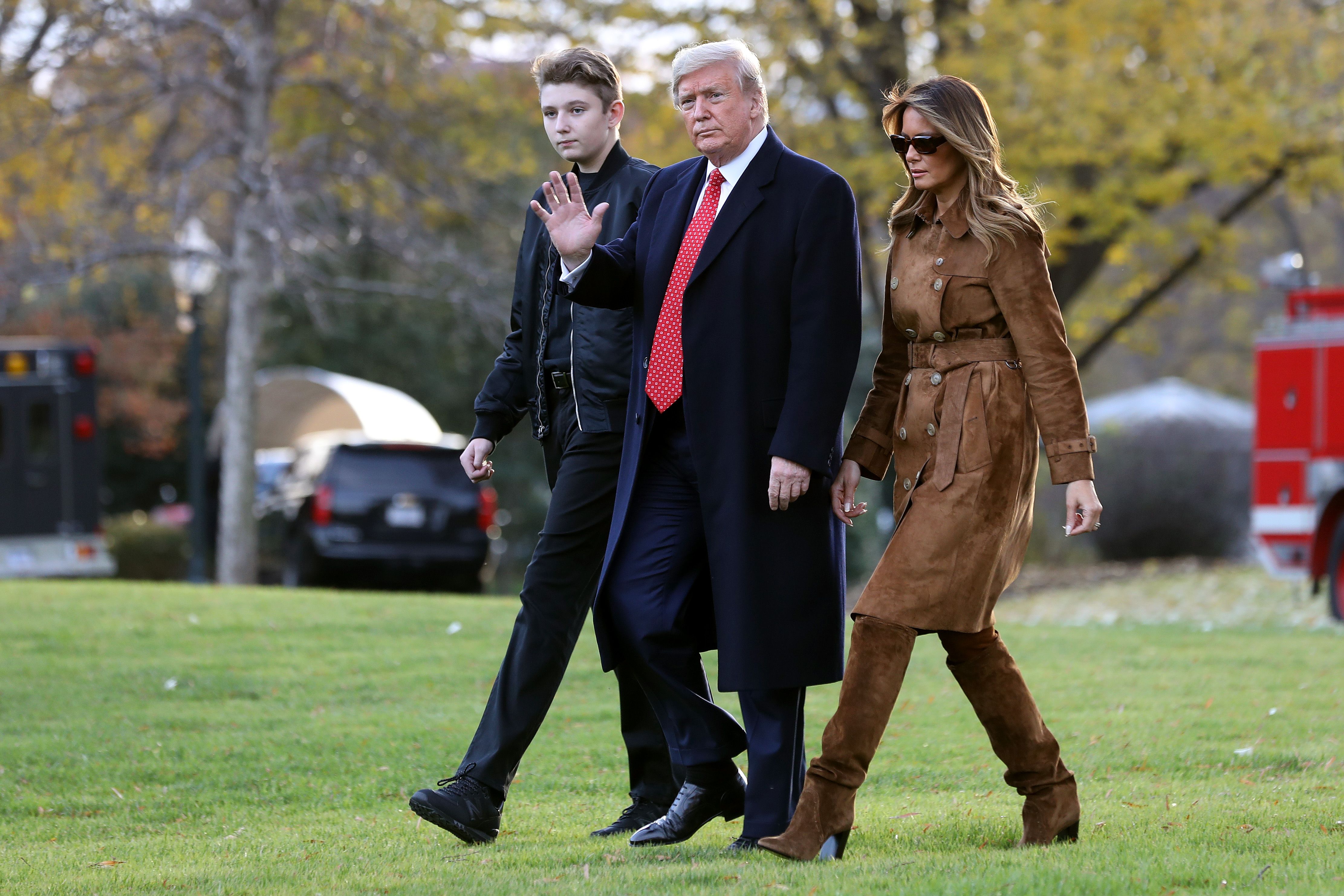 President Trump, First Lady Melania Trump and their son Barron, 13, leave the White House for Mar-a-Lago on Tuesday. Photo: Chip Somodevilla/Getty Images
President Trump keeps losing in court, but his legal strategy is winning as he plays for time, the N.Y. Times' Charlie Savage writes in a front-page analysis:
"Trump is winning despite losing" as court fights play out over impeachment testimony by former White House counsel Don McGahn, Trump's financial records and grand-jury evidence in the Russia investigation.
Why it matters: "As fights over the president's stonewalling of Congress play out slowly in courts, he is reducing the prospect that voters learn new damaging facts about him before the 2020 election."
Also for your radar:
The WashPost reports "serious questions about the accuracy" of Ambassador Gordon Sondland's account of a phone call in which Trump told him there was no quid pro quo: "[N]o other witness testimony or documents have emerged that corroborate Sondland's description of a call that day."
"The Justice Department's inspector general found no evidence that the F.B.I. attempted to place undercover agents or informants inside Donald J. Trump's campaign in 2016," people familiar with a draft of the report told the NYT.
Bonus: Pic du jour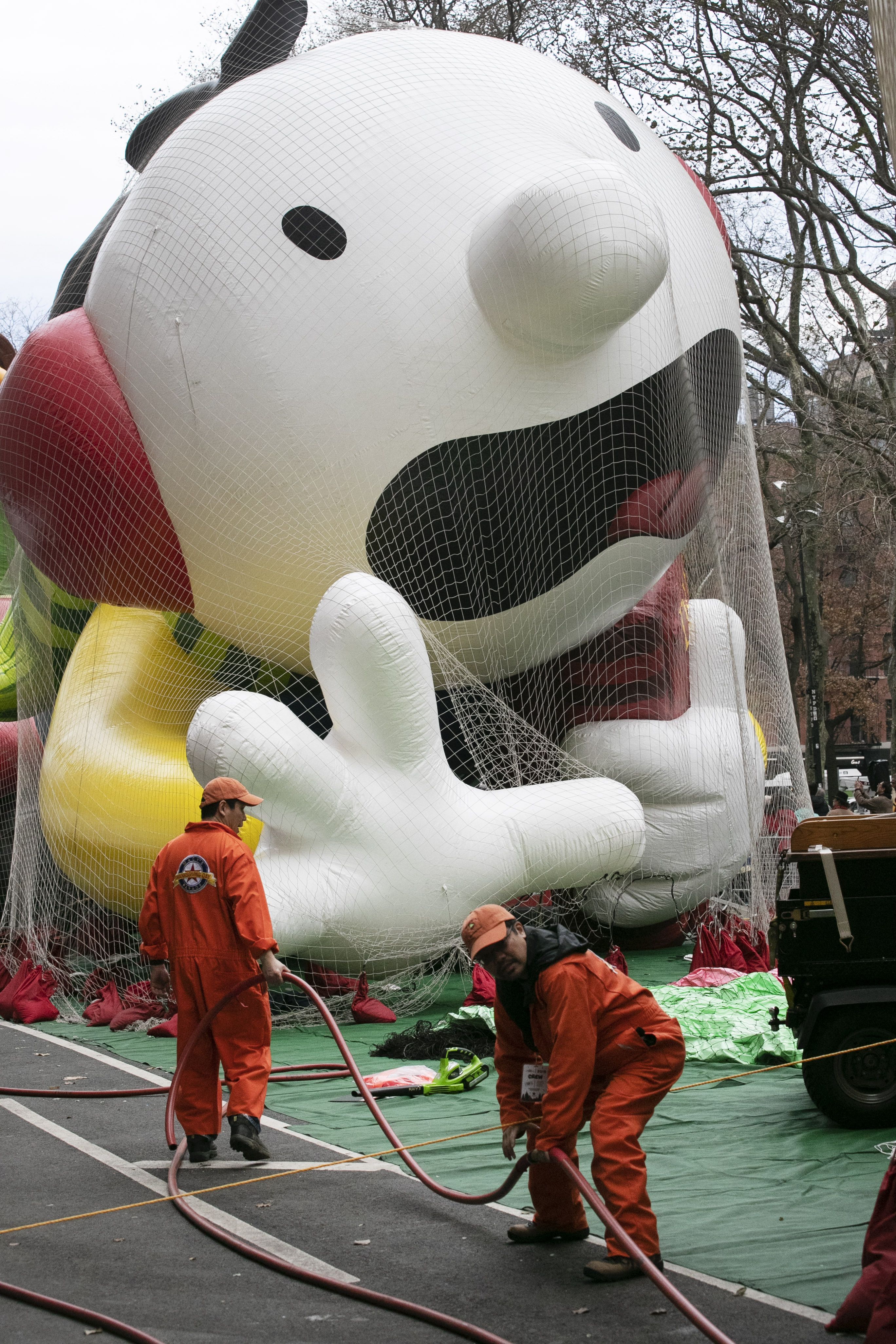 Photo: Mark Lennihan/AP
Workers use a helium hose to inflate the "Diary of a Wimpy Kid" balloon yesterday, ahead of today's Macy's Thanksgiving Day Parade.
Balloons flew at a lower level than usual after wind threatened the parade.
4. A funny turkey-tastrophe
A classic tale from the Butterball Turkey Talk Line, as told by veteran call-taker Nicole Johnson to the inflight magazine American Way:
We had a flustered dad who was on turkey duty and called in the early evening about thawing his bird. One of our safe and acceptable methods is the cold-water bath. It's perfect for those who don't have refrigeration space or are short on time. You leave the wrapper on the turkey, put it in a cold-water bath in the kitchen sink and change the water every 30 minutes.
Now when we say bath, we don't mean in the bathtub, but this father really took that term seriously. He decided he was going to thaw his turkey with his toddler twins in the bathtub. ... We could hear splashing and laughing, children singing and the dog barking.
5. Now recipes are in the cloud, not on cards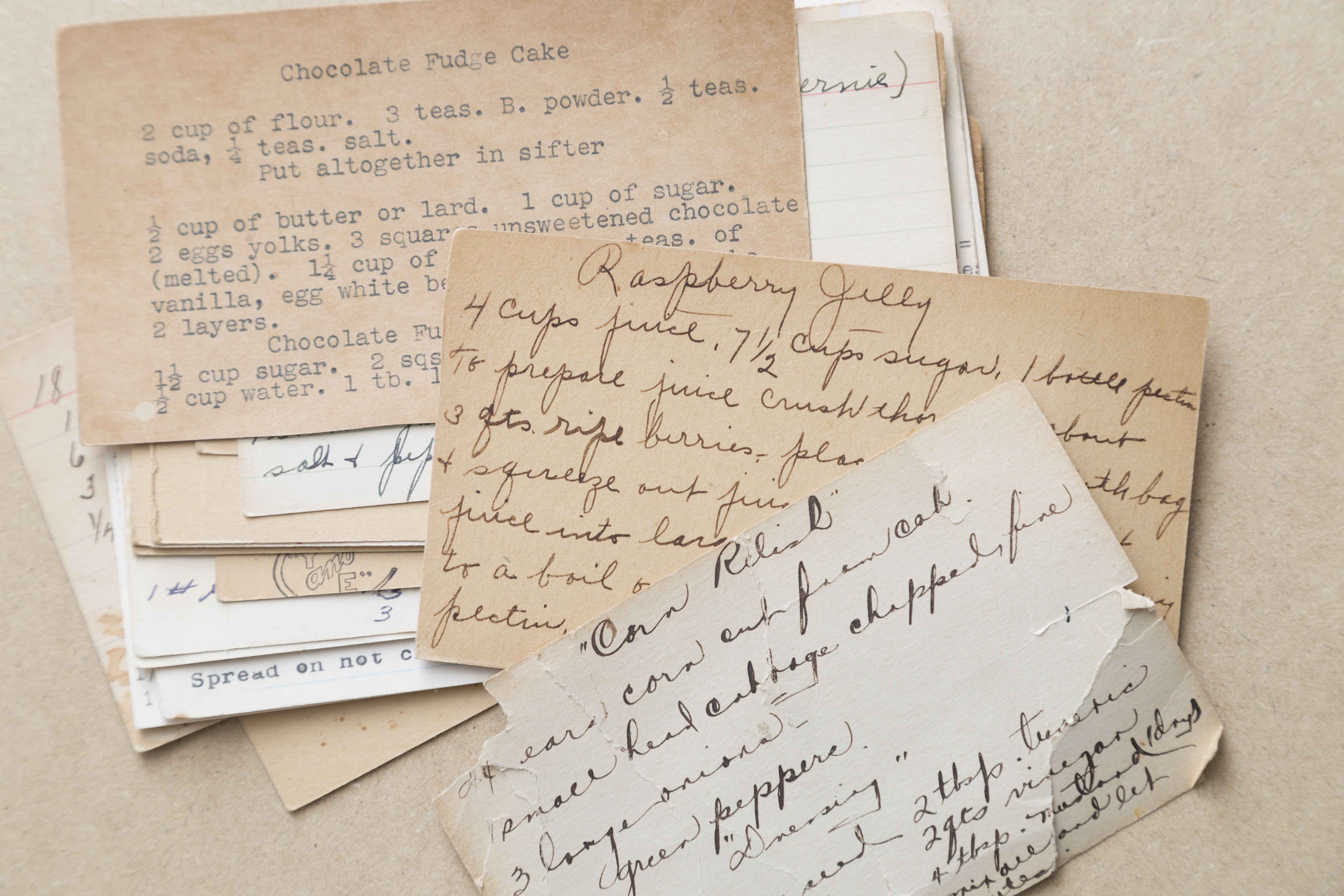 Photo: Getty Images
"For so long, we were a nation of recipe cards, handwritten or typed, splattered from family meals gone by, carrying instructions from long-gone grandmas and great aunts. Voices from the grave telling you to double the cinnamon or that it's OK if the batter is a little lumpy," The Boston Globe's Beth Teitell writes.
"But increasingly they're becoming the stuff of eBay sales or culinary curriculums, brought out only at Thanksgiving or for Christmas, no longer living documents," but rather family history.
Merry White, an anthropology professor at Boston University, told The Globe that her aunt's box includes wartime recipes that "involved getting around the rationing problem. Mayonnaise or margarine instead of butter. Canned pears and brown sugar. Stretching eggs with cornstarch."
6. 1 cub thing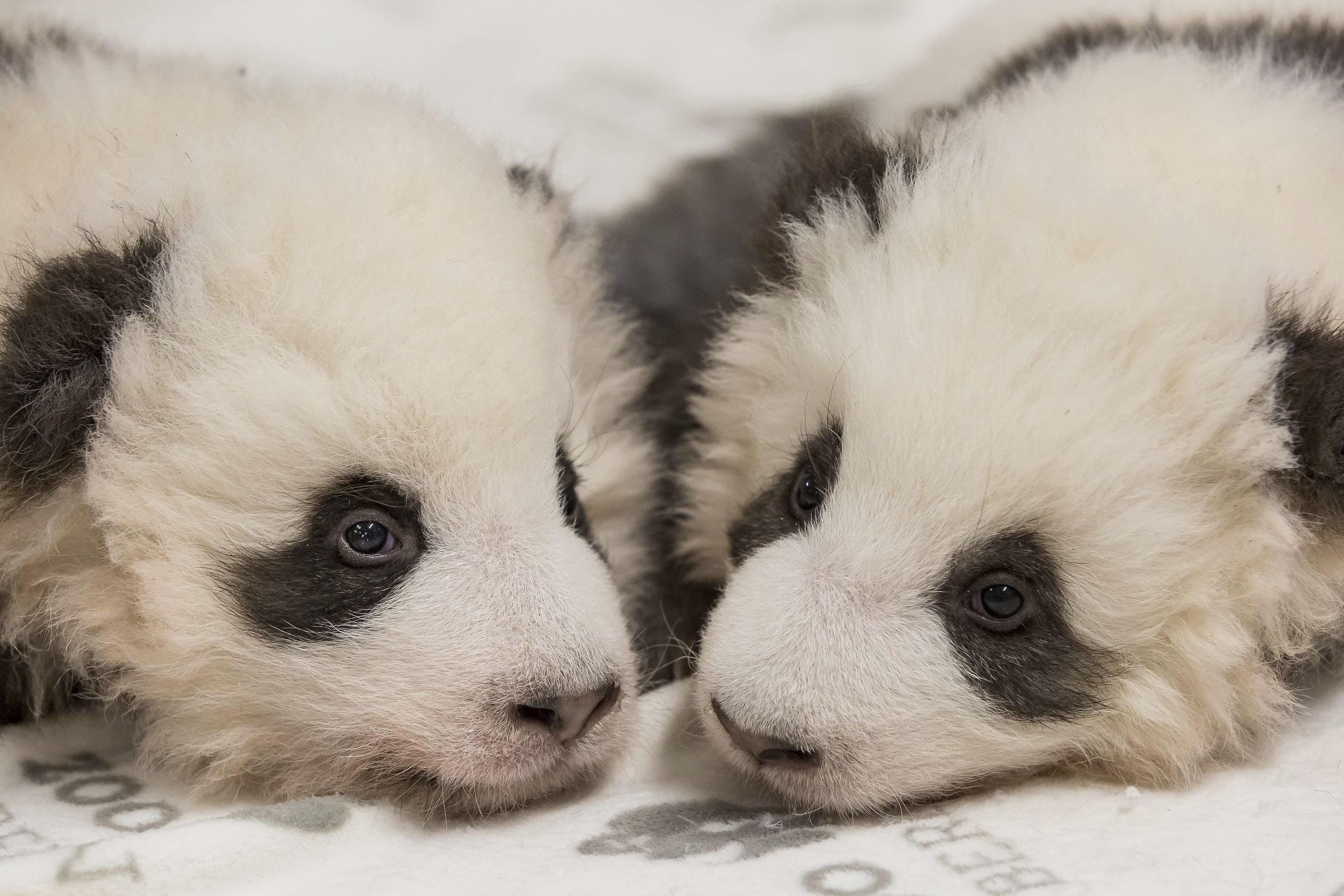 Photo: Zoo Berlin via AP
Berlin's zoo released new photos of twin panda cubs that were born Aug. 31 and now weigh 11 pounds — up from their birth weight of 6.56 ounces and 4.8 ounces.
Zookeepers initially hand-fed the cubs with bottles of milk pumped from mother Meng Meng. But they now feed on their own, AP reports.
Fewer than 2,000 of the endangered pandas are alive in the wild today.
🍂 Thanks for making AM part of your holiday! I'm most grateful for this AM family.