1 big thing: The public case against Trump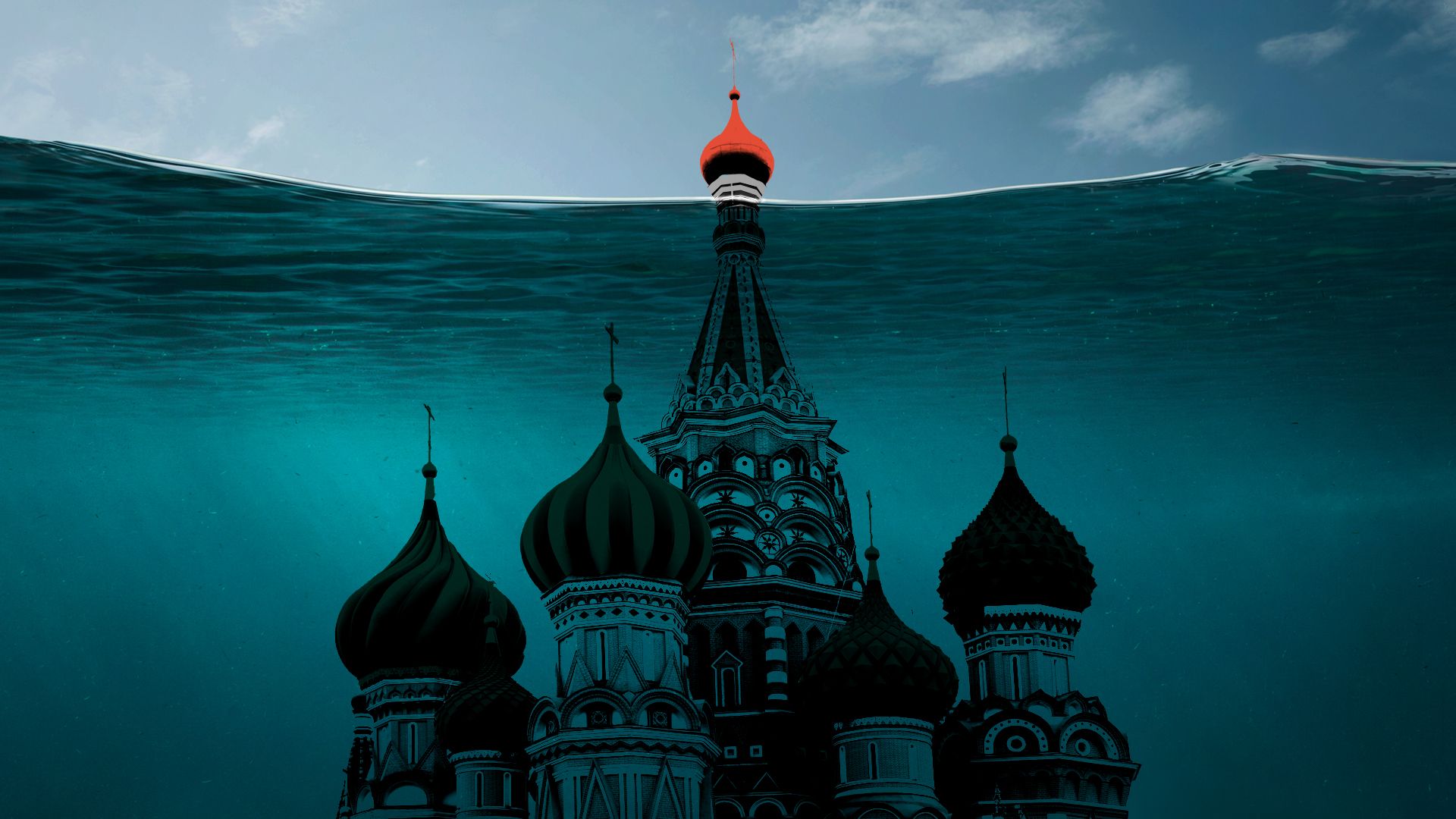 One thing is true of all major political scandals: What we know in the moment is but a tiny, obscured, partial view of the full story later revealed by investigators.
That's what makes the Trump-Russia drama all the more remarkable.
Forget all we don't know. The known facts that even Trump's closest friends don't deny tell a damning tale that would sink most leaders. 
Here's a guide that Jim VandeHei and I put together to the known knowns of Russia:
Be smart: The undisputed known knowns about Trump, Russia and his associates are damning and possibly actionable. But the known unknowns of how much more Robert Mueller knows that is publicly unknown is what spooks Trump allies most. 
Remember: No one in the media saw Mueller's indictments of Russian oligarchs coming until the second they were announced, and no one knew until this week that Mueller's team questioned AT&T five months ago about its payments to Cohen.
Mueller has every incentive to keep the public and Trump himself in suspense. 
2. Russian ads focused overwhelmingly on race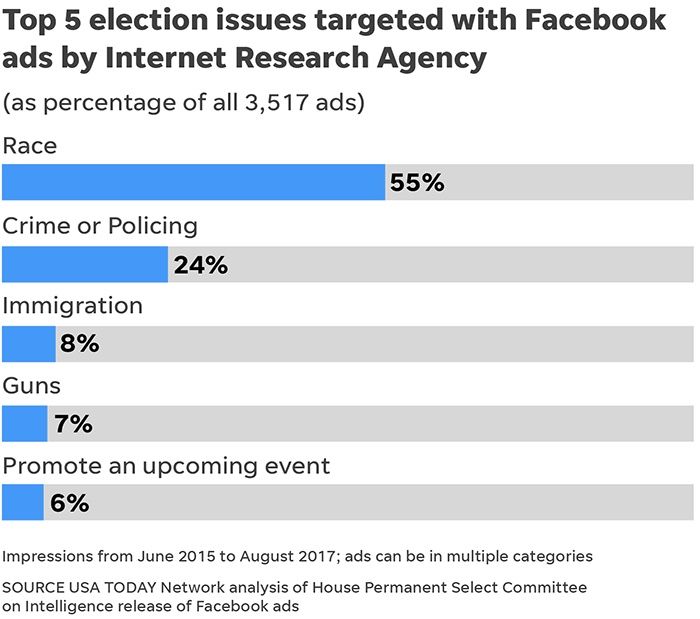 George Petras/USA Today (Used by permission)
"We read every one of the 3,517 Facebook ads bought by Russians. Their dominant strategy: Sowing racial discord" — USA Today's Nick Penzenstadler, Brad Heath and Jessica Guynn:
"Of the roughly 3,500 ads published this week [by the House Intelligence Committee], more than half — about 1,950 — made express references to race. Those accounted for 25 million ad impressions — a measure of how many times the spot was pulled from a server for transmission to a device."
"At least 25% of the ads centered on issues involving crime and policing, often with a racial connotation. Separate ads, launched simultaneously, would stoke suspicion about how police treat black people in one ad, while another encouraged support for pro-police groups."
"Divisive racial ad buys averaged about 44 per month from 2015 through the summer of 2016 before seeing a significant increase in the run-up to Election Day."
This is interesting: "An additional 900 [race-related spots] were posted after the November election through May 2017."
"Only about 100 of the ads overtly mentioned support for Donald Trump or opposition to Hillary Clinton."
3. The collision: D.C. and business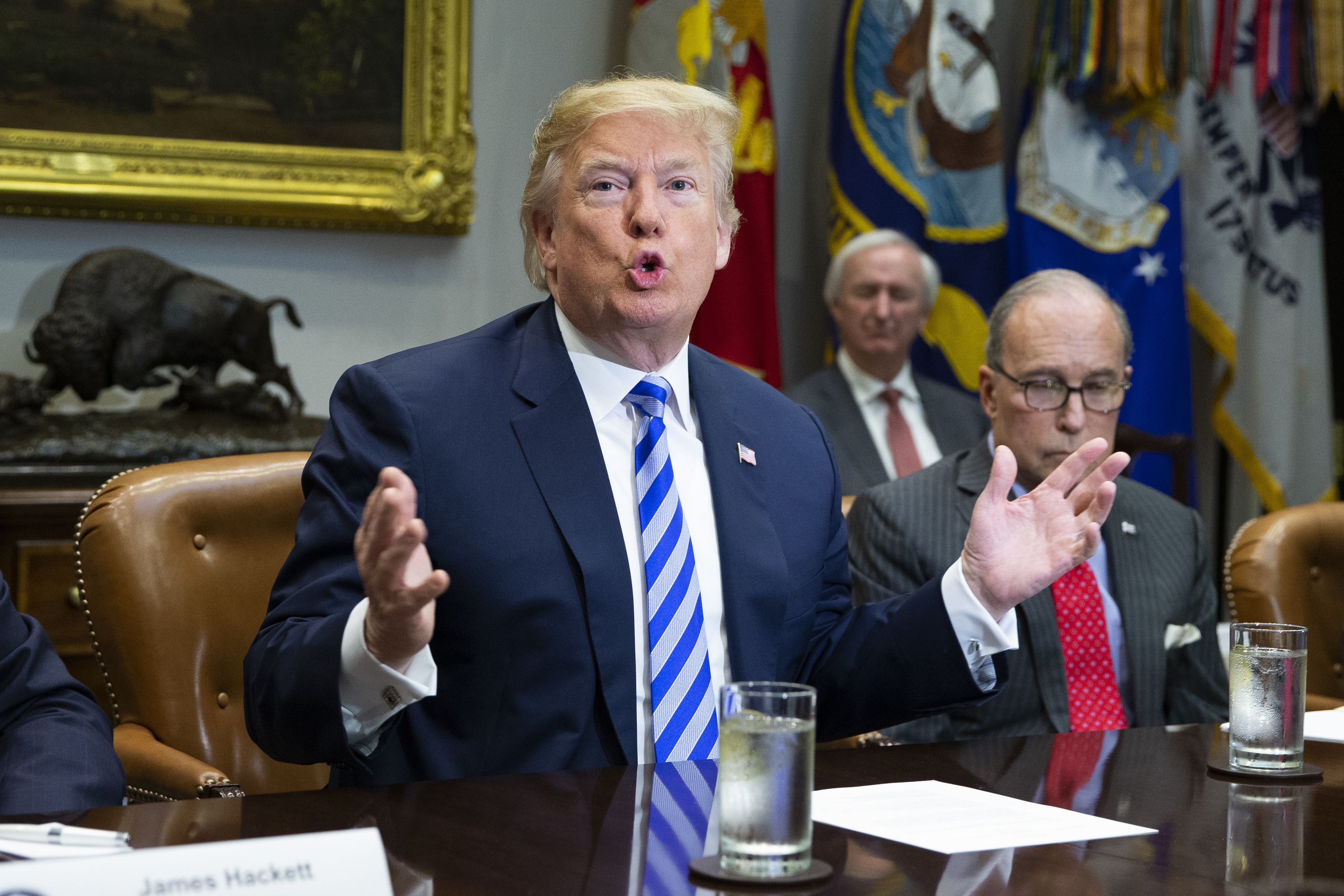 President Trump meets with auto execs in the Roosevelt Room yesterday. (Alex Edelman/Pool/Getty Images)
Bonus: Pic du jour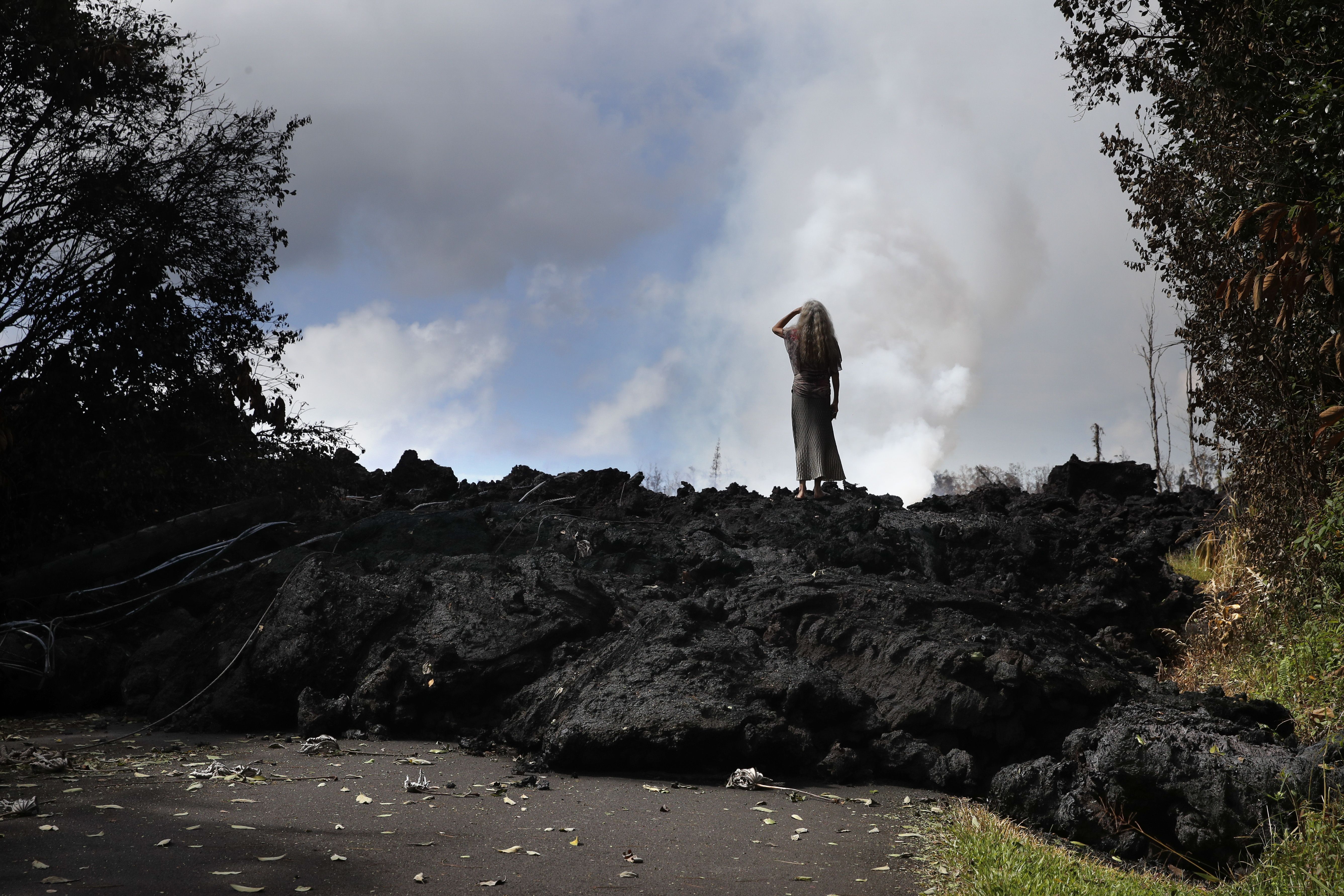 AP's Jae C. Hong
Hannique Ruder — a 65-year-old resident of the Leilani Estates subdivision, near Pahoa, Hawaii, hard hit by the eruption — stands on the mound of hardened lava.
Below, smoke and volcanic gas rise as lava cools yesterday in Leilani Estates.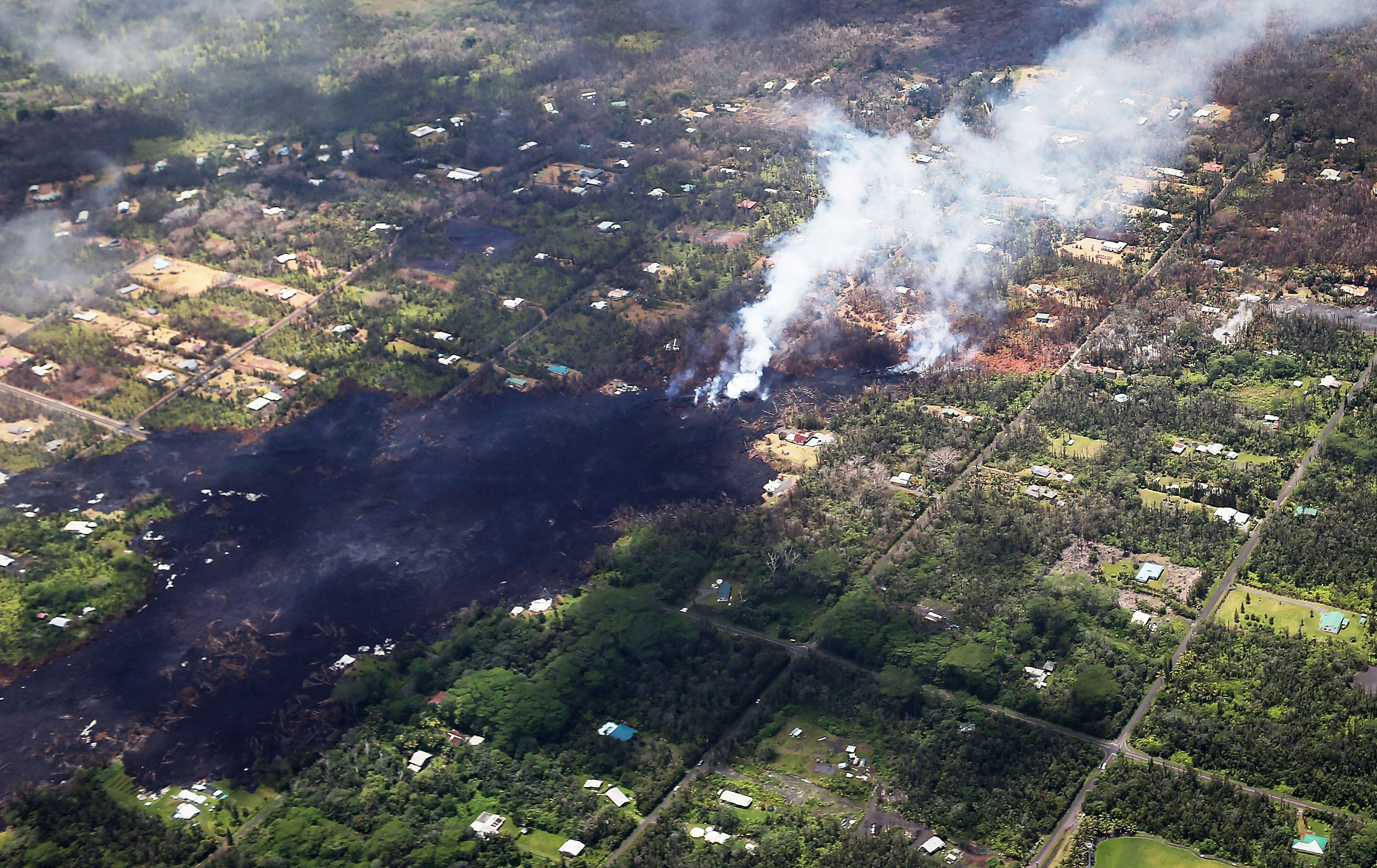 Mario Tama/Getty Images
4. Eye-opening California stat
Gov. Jerry Brown said yesterday that as few as 15,000 tax filers in the state provide one-quarter of all income taxes.
—
Los Angeles Times
5. The downside of D.C. being suddenly hip
Tomorrow's WashPost Magazine cover story, "The downside of cool: How Washington's emergence as a hip city threatens American democracy," by David Fontana of George Washington University Law School, who's writing a book on the lost history and current merits of placing federal officials outside of D.C.:
Why it matters: "The fear is not just that cool Washington will increasingly struggle to relate to America, but also that America will struggle to relate to it."
"Ben's Chili Bowl defined the Washington of old, but the new Washington was rated by Zagat as the nation's hottest dining city in 2016. The capital received its first stars from Michelin that same year."
"Cool Washington has so far survived the Trump siege. Washington has neither featured an exodus of govsters nor the closure of places that govsters frequent. The progressive cool are out of government but still in Washington, and are spearheading the resistance."
6. 1 film thing: Gary Hart movie coming this fall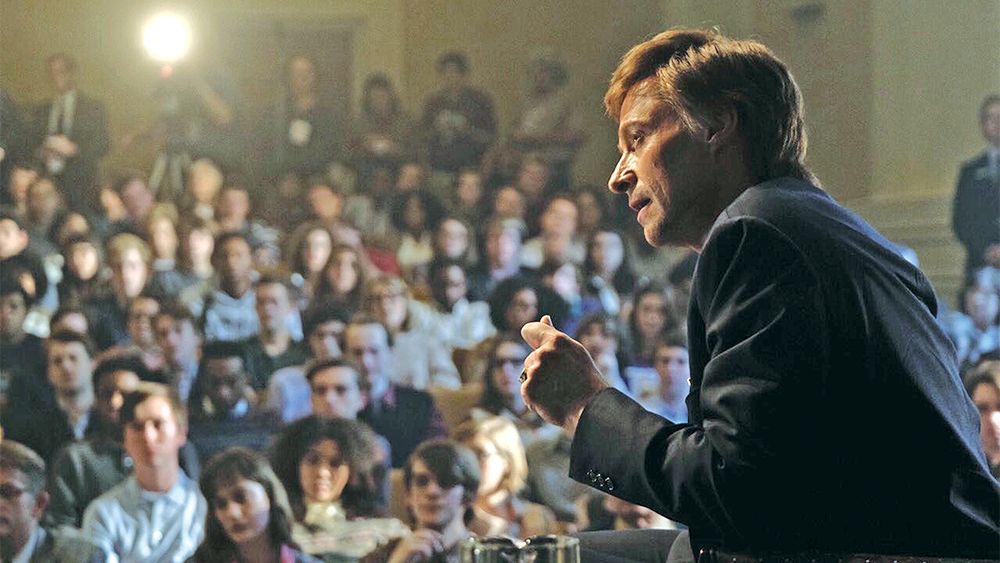 Sony Pictures
"Sony Pictures has secured worldwide distribution rights to Jason Reitman's political drama The Front Runner and is planning a fall release to coincide with film awards season as well as the fall election cycle," per Deadline:
"Starring Hugh Jackman as Gary Hart as well as Vera Farmiga, and J.K. Simmons, the film details the rise and fall of Hart, considered the frontrunner for the 1988 Democratic presidential nomination."
"The film is based on veteran political journalist Matt Bai's book All the Truth Is Out, which was adapted for the screen by Bai, former Hillary Clinton press secretary Jay Carson, and Reitman." (hat tip: Howard Wolfson)
Thanks for reading, and happy Mother's Day weekend.