Good Sunday morning. Situational awareness: About 100 million people were caught in yesterday's East Coast deep freeze, per AP. Temperatures this morning could hit record lows from South Carolina to Maine, but the wind won't be as punishing. Then the thermometer will begin inching up.
JFK airport in New York was so jammed that some punches were thrown in the jostling, and one traveler told the Daily News: "It was like I was in a basketball arena."
https://www.axios.com/newsletters/axios-am-2097fe38-f493-471c-ac77-070abbd80cd6.html?chunk=0#story0
1 big thing ... Exclusive! Bannon: I'm sorry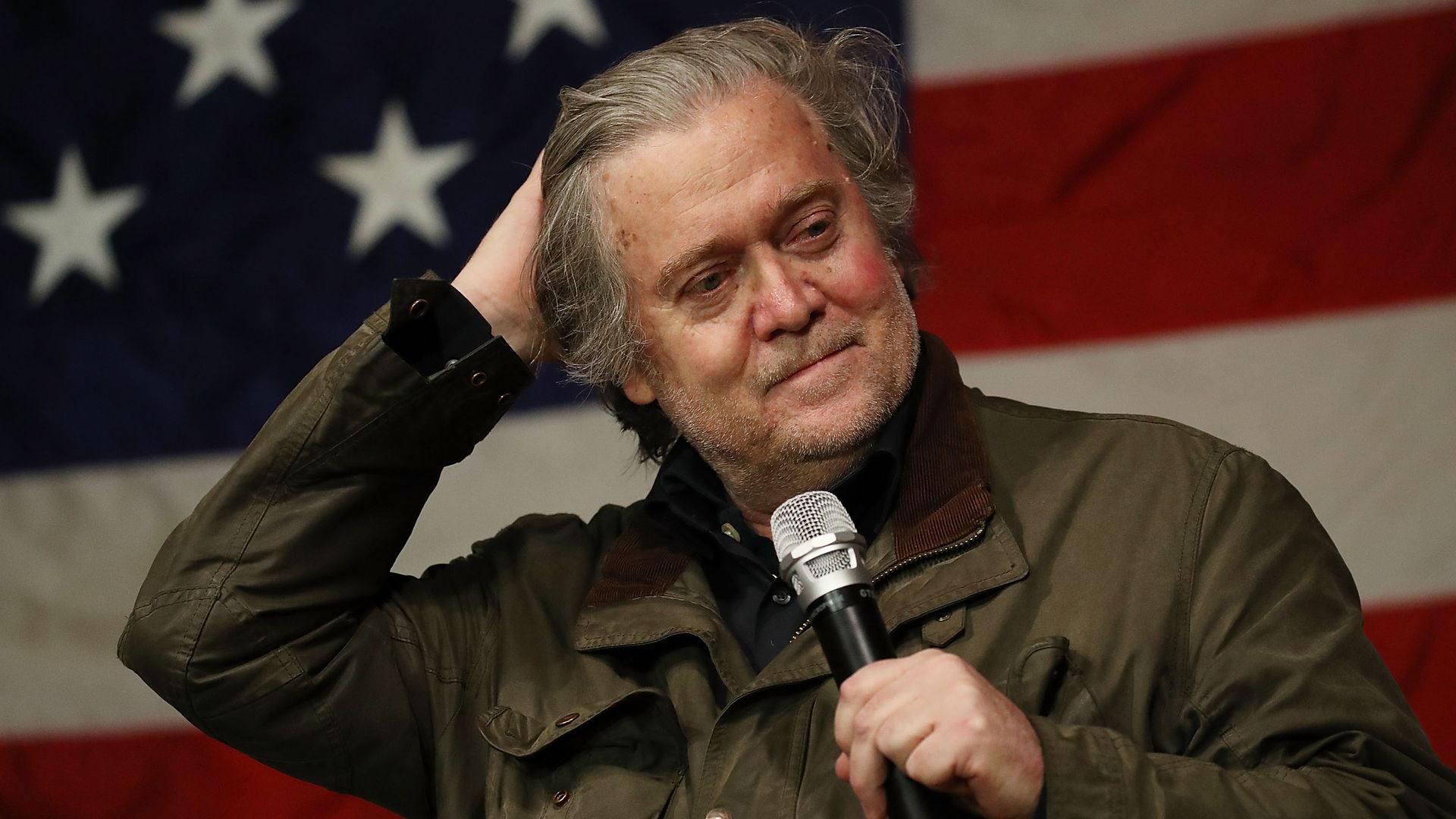 Exclusive: Battered by the backlash from Michael Wolff's book, Steve Bannon is trying to make amends with the Trump family, providing a statement to Axios that expresses "regret" to President Trump and praises his son, Donald Trump Jr.
"Donald Trump, Jr. is both a patriot and a good man. He has been relentless in his advocacy for his father and the agenda that has helped turn our country around."
"My support is also unwavering for the president and his agenda — as I have shown daily in my national radio broadcasts, on the pages of Breitbart News and in speeches and appearances from Tokyo and Hong Kong to Arizona and Alabama."
"President Trump was the only candidate that could have taken on and defeated the Clinton apparatus. I am the only person to date to conduct a global effort to preach the message of Trump and Trumpism; and remain ready to stand in the breach for this president's efforts to make America great again."
"My comments about the meeting with Russian nationals came from my life experiences as a Naval officer stationed aboard a destroyer whose main mission was to hunt Soviet submarines to my time at the Pentagon during the Reagan years when our focus was the defeat of 'the evil empire' and to making films about Reagan's war against the Soviets and Hillary Clinton's involvement in selling uranium to them."
"My comments were aimed at Paul Manafort, a seasoned campaign professional with experience and knowledge of how the Russians operate. He should have known they are duplicitous, cunning and not our friends. To reiterate, those comments were not aimed at Don Jr."
"Everything I have to say about the ridiculous nature of the Russian 'collusion' investigation I said on my 60 Minutes interview. There was no collusion and the investigation is a witch hunt."
"I regret that my delay in responding to the inaccurate reporting regarding Don Jr has diverted attention from the president's historical accomplishments in the first year of his presidency."
The backstory ... In Wolff's book, Bannon is quoted as saying of Mueller's prosecutors: "They're going to crack Don Junior like an egg on national TV.'"
Be smart: While Bannon's statement may seem like a baby step, he's as stubborn as Trump when it comes to apologizing and admitting he has made a mistake. He views any concession as a sign of humiliating weakness.
What's next: Look for Don Jr. to accept the statement graciously. But Bannon has further to go with President Trump: Axios has learned that POTUS has said that he wants surrogates who appear for him on TV to "bury Steve."
Axios' Jonathan Swan reported last night: Trump has been working the phones over the past several days, telling allies they need to choose between him and Bannon.
P.S. "Fake book" ... Trump tweets as he leaves Camp David: "I've had to put up with the Fake News from the first day I announced that I would be running for President. Now I have to put up with a Fake Book, written by a totally discredited author."
"Ronald Reagan had the same problem and handled it well. So will I!"
https://www.axios.com/newsletters/axios-am-2097fe38-f493-471c-ac77-070abbd80cd6.html?chunk=1#story1
2. Congress likely to do less in '18 than in '17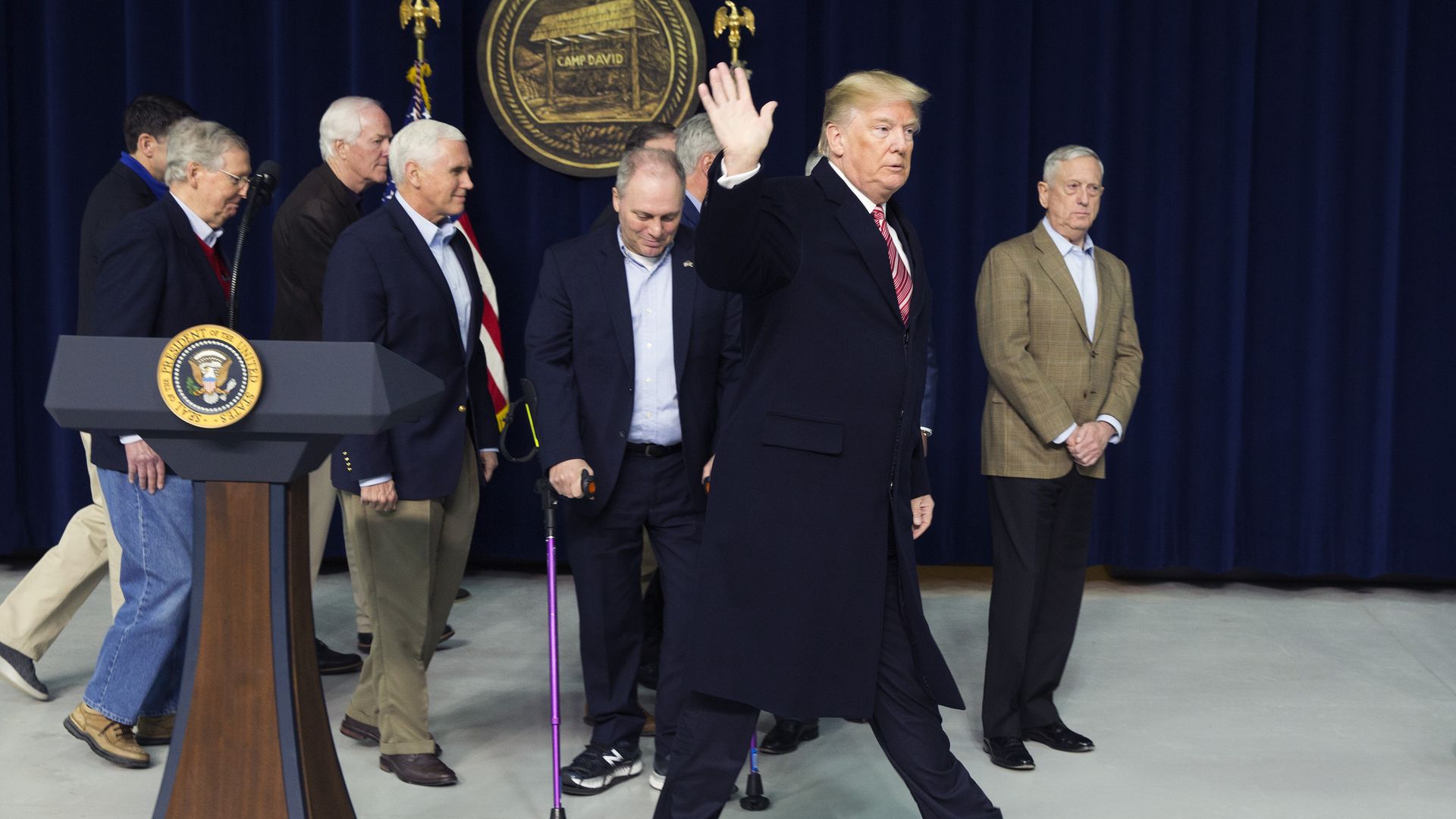 White House and Republican congressional officials are trying to set modest expectations for what they can accomplish on the Hill in an election year.
Be smart: Considering the legislative calendar and the midterm elections, Congress is likely to get even less done this year than it did last year.
Taking his cue from Senate Majority Leader Mitch McConnell, Trump has cooled on welfare reform, which was to be one of the big White House priorities this year.
At a presser yesterday that ended a two-day retreat with GOP congressional leaders at Camp David, when a reporter asked why welfare reform hadn't been mentioned for the '18 agenda, POTUS said: "We'll try and do something in a bipartisan way. Otherwise we'll be holding it for a little bit later."
An administration official said of the agenda in general: "What we do get done will have to be done in a bipartisan fashion. So what are Democrats willing to do?"
A Republican congressional aide gives us this readout from the retreat:
"A good part of 2018 will be to remind folks how 2017 ended. Selling taxes is almost as important as passing tax reform. From employee bonuses to announced investment [by companies] to next month's withholding changes, that puts more money in people's paychecks."
Why it matters: "Can't underscore enough how important communicating that is for November '18 prospects. The WH gets that as well."
What's next: "Immediate priority is budget deal. Obviously [DACA, the extension of 'Dreamer' protections'] is hanging over that. That should get worked out."
https://www.axios.com/newsletters/axios-am-2097fe38-f493-471c-ac77-070abbd80cd6.html?chunk=2#story2
3. Trump, in his own words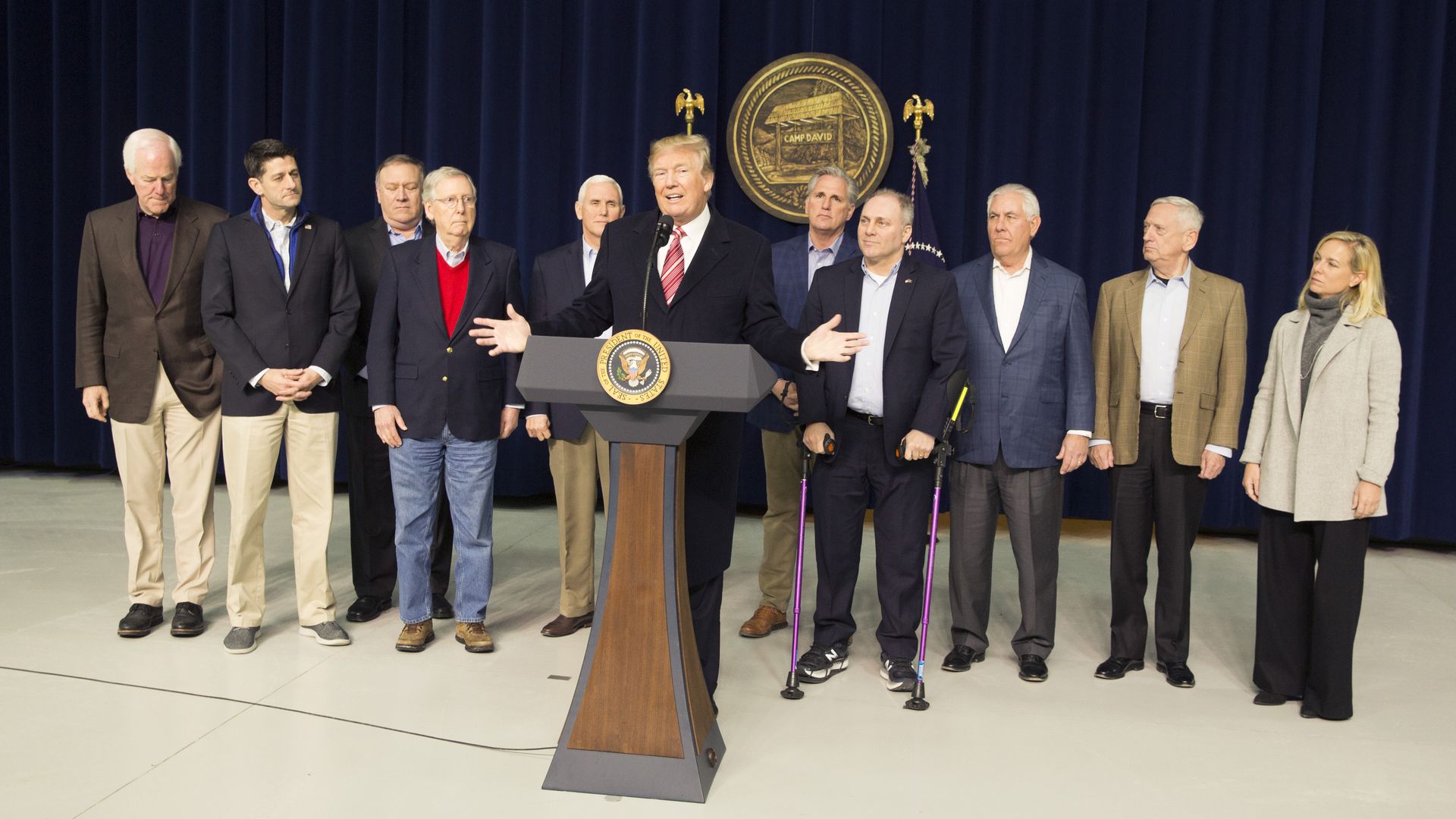 President Trump, at the Camp David presser, saying libel laws should be stronger:
Michael Wolff "did a book on Rupert Murdoch. It was a terrible exposé and it was false.  So much of it was false.  I consider it a work of fiction and I think it's a disgrace that somebody is able to have something, do something like that."
"The libel laws are very weak in this country.  If they were strong, it would be very helpful.  You wouldn't have things like that happen where you can say whatever comes to your head."
On the wall: "Mexico will pay.  In some form, Mexico will pay for the wall."
On why he felt the need to defend his mental state: "Well, only because I went to the best colleges for college. ... I was a very excellent student.  Came out and made billions and billions of dollars. 
"Became one of the top businesspeople.  Went to television and, for 10 years, was a tremendous success, as you probably have heard.  Ran for President one time and won. "
https://www.axios.com/newsletters/axios-am-2097fe38-f493-471c-ac77-070abbd80cd6.html?chunk=3#story3
Bonus: Pic du jour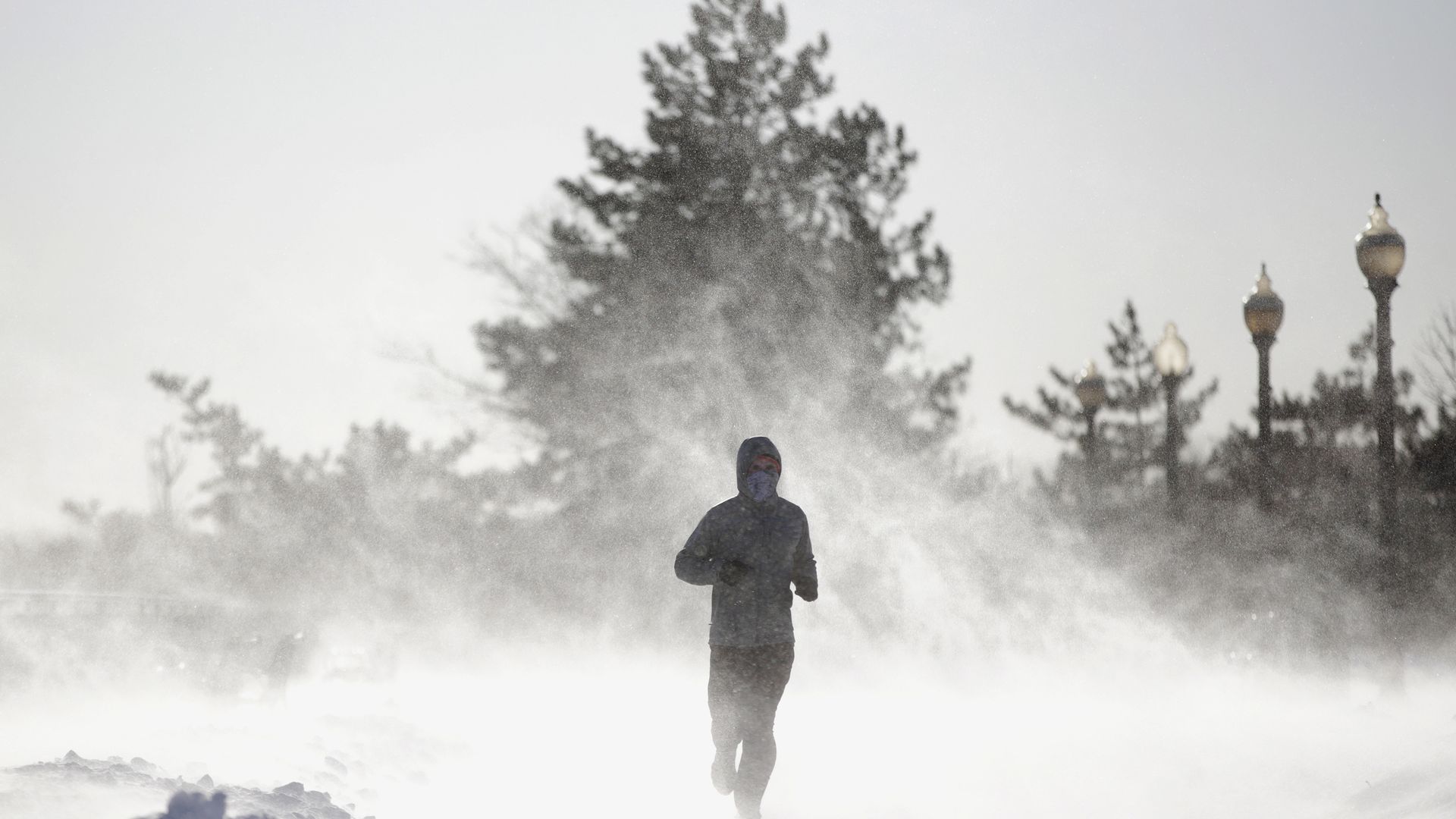 Gusty wind blows snow as Jesse Sherwood jogs at Liberty State Park in Jersey City yesterday.
https://www.axios.com/newsletters/axios-am-2097fe38-f493-471c-ac77-070abbd80cd6.html?chunk=4#story4
4. What we're reading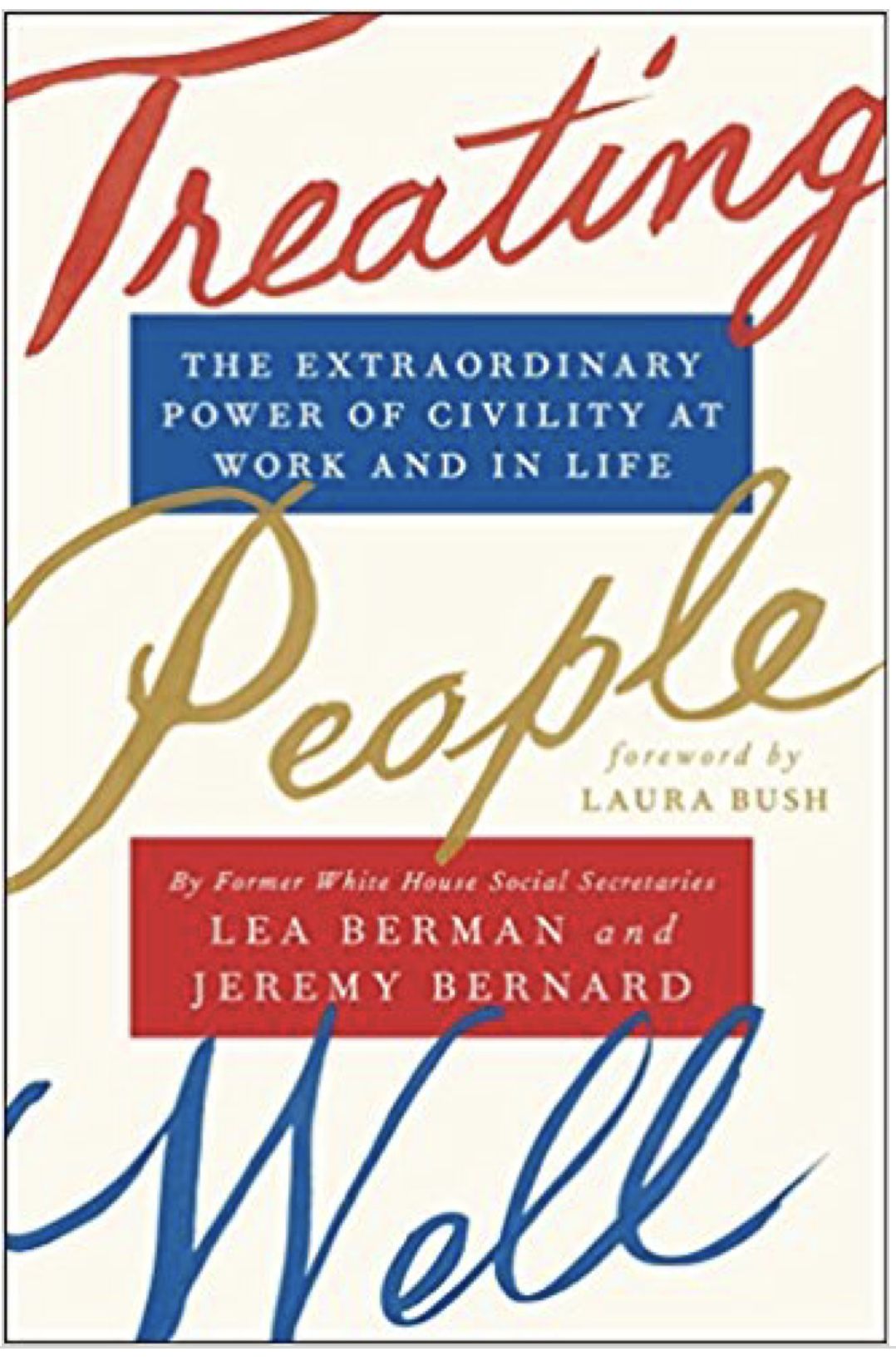 Scribner
Out Tuesday ... "Treating People Well: The Extraordinary Power of Civility at Work and in Life," by Lea Berman, White House social secretary for President George W. Bush, and Jeremy Bernard, White House social secretary for President Barack Obama.
"Once, when Bush overheard Berman's 14-year-old daughter nervously admit she was failing high-school algebra, he rushed to her defense: 'You shouldn't worry about it ... I didn't do very well in school either, and things turned out all right for me.'"
"Bernard was not only the first male social secretary — he was the first openly gay one, too. ... Bernard felt a hand on his shoulder at the post-inaugural ball. 'I don't want to be rude,' Obama said. 'But I gotta say ... For a gay man, you really are a bad dancer.'"
"One afternoon, when [Michelle Obama] was scheduled to do a taping with Jimmy Fallon, Bernard was tasked with showing the late-night host around the White House. When they arrived at the Diplomatic Reception Room, Bernard says Fallon took in the modest spread — mostly bottled water and apples — and joked he was less than impressed. Bernard was quick with his retort: 'We do a little better for Leno when he's here.'"
https://www.axios.com/newsletters/axios-am-2097fe38-f493-471c-ac77-070abbd80cd6.html?chunk=5#story5
5. Sarah Sanders' week foretold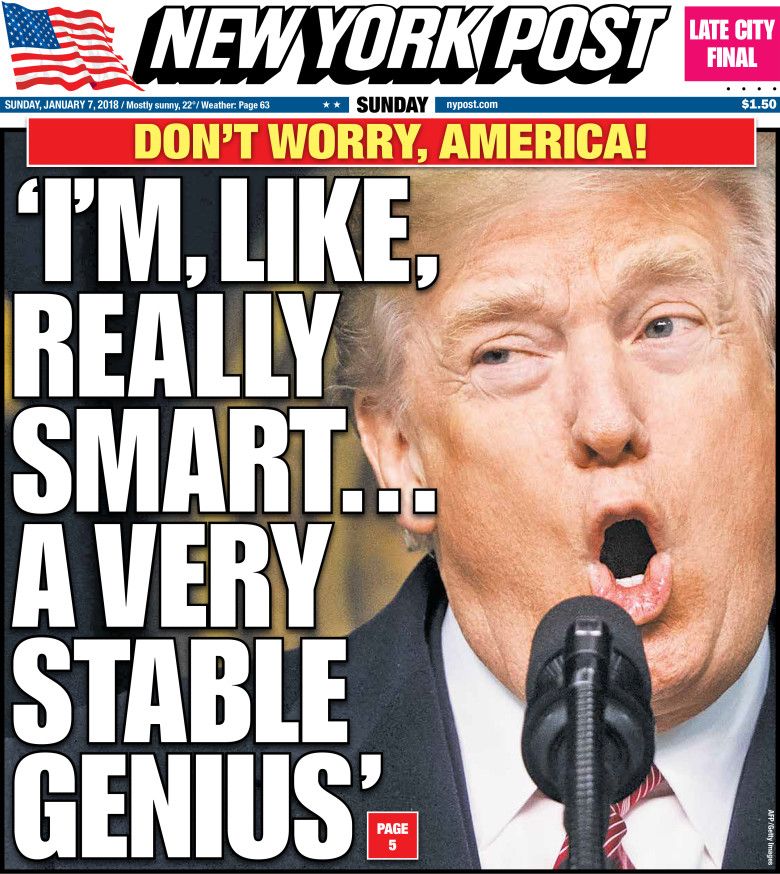 Courtesy N.Y. Post
N.Y. Times: "Trump is due for his annual physical examination on Friday, but the White House would not say whether it would include mental acuity tests."
"Some psychiatrists have said it is irresponsible to throw around medical terms without an examination."
https://www.axios.com/newsletters/axios-am-2097fe38-f493-471c-ac77-070abbd80cd6.html?chunk=6#story6
6. Article of the day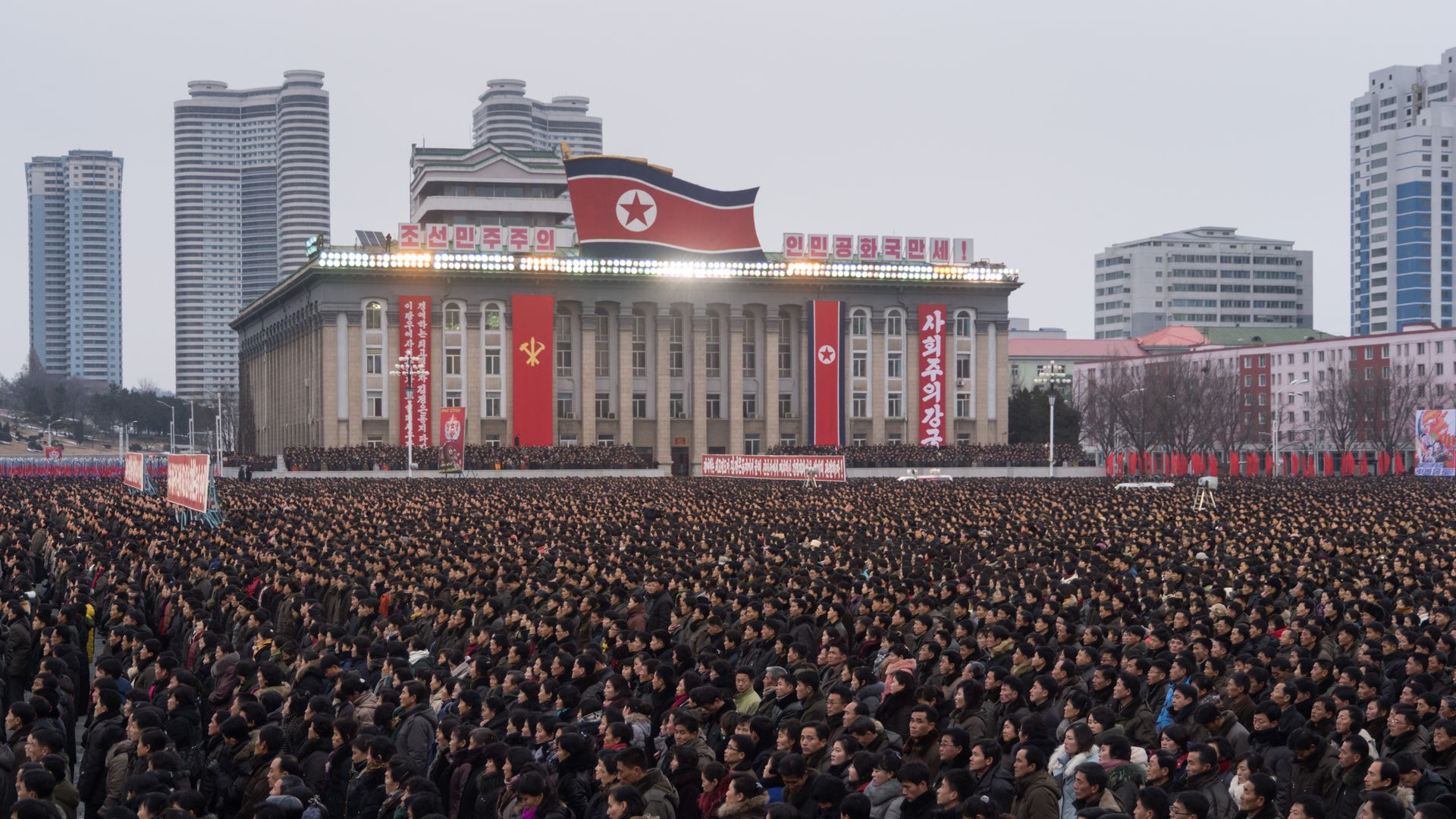 "U.S. Miscalculated the Nuclear Progress of North Korea by Years," by N.Y. Times' David E. Sanger and William J. Broad:
What happened: "For decades, they accurately projected the broad trajectory of North Korea's nuclear program. Yet their inability to foresee the North's rapid strides over the past several months now ranks among America's most significant intelligence failures, current and former officials said in recent interviews.
Why it matters: "That disconnect — they saw it coming, but got the timing wrong — helps explain the confusion, mixed signals and alarm that have defined how Mr. Trump's untested national security team has responded to the nuclear crisis."
https://www.axios.com/newsletters/axios-am-2097fe38-f493-471c-ac77-070abbd80cd6.html?chunk=7#story7
7. Stat of the week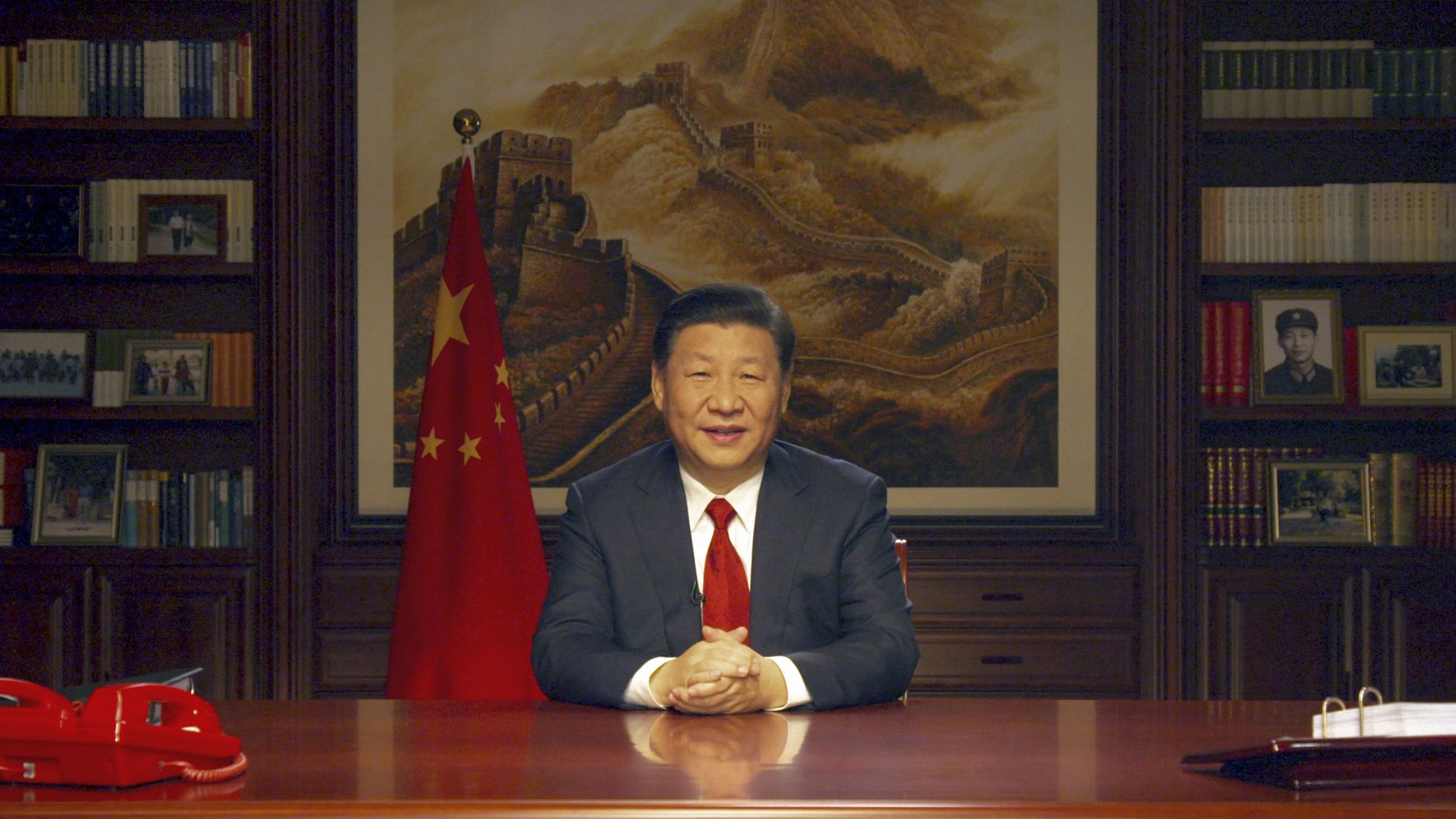 Evan Osnos in The New Yorker, "Making China Great Again":
"China has embarked on history's most expensive foreign infrastructure plan. Under the Belt and Road Initiative, it is building bridges, railways, and ports in Asia, Africa, and beyond."
"If the initiative's cost reaches a trillion dollars, as predicted, it will be more than seven times that of the Marshall Plan, which the U.S. launched in 1947, spending a hundred and thirty billion, in today's dollars, on rebuilding postwar Europe."
P.S. Edward Wong, in N.Y. Times Sunday Review, after a 10-year assignment in Beijing that ended last year:
"From trade to the internet, from higher education to Hollywood, China is shaping the world in ways that people have only begun to grasp. Yet the emerging imperium is more a result of the Communist Party's exercise of hard power, including economic coercion, than the product of a gravitational pull of Chinese ideas or contemporary culture."
"From 2009 onward, Chinese power in domestic and international realms has become synonymous with brute strength, bribery and browbeating — and the Communist Party's empire is getting stronger."
https://www.axios.com/newsletters/axios-am-2097fe38-f493-471c-ac77-070abbd80cd6.html?chunk=8#story8
8. Merkel in rare duress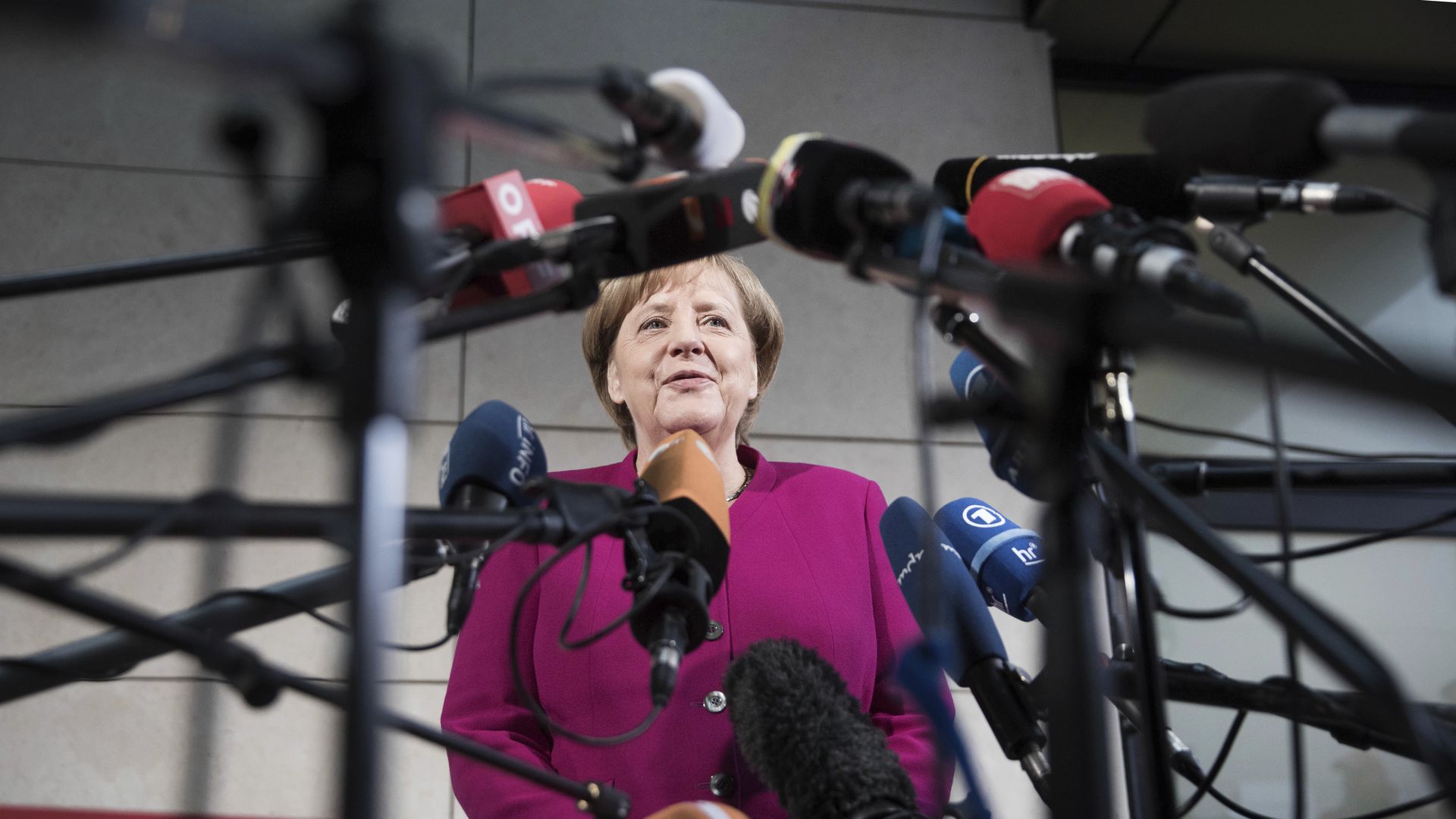 German Chancellor Angela Merkel "once seemed invincible. Now her time may be running out," the WashPost's Griff Witte writes from Berlin:
What happened: Merkel's troubles started with a bitterly disappointing election result in September. They grew when her first attempt at forging a new government collapsed in November. And they have been compounded in recent days, as polls have shown German voters tiring of her leadership."
Why it matters: "Her rapidly diminishing political stock threatens to leave a void not only in Germany but also across the West, just as she had emerged as the most robust internationalist counterpoint to Trump-style nativism."
What's next: "Merkel now has what many regard as a last shot to cobble together a coalition and ward off an embarrassing electoral do-over that could see her lose her grip on power."
https://www.axios.com/newsletters/axios-am-2097fe38-f493-471c-ac77-070abbd80cd6.html?chunk=9#story9
9. Bill Gates: "The world is getting better"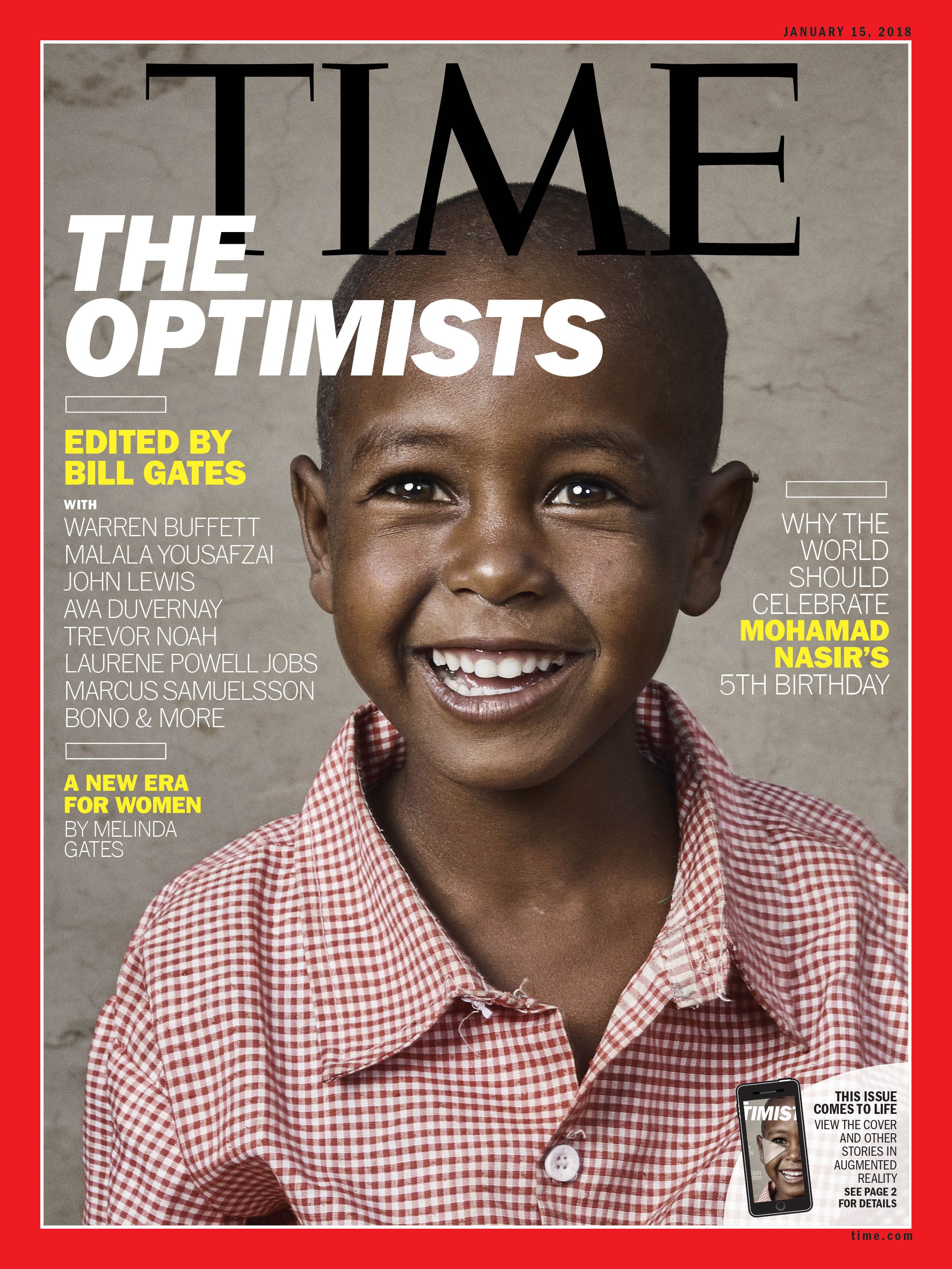 Courtesy TIME
Bill Gates is guest editor of TIME's "The Optimists" issue, featuring a cover portrait of 5-year-old Ethiopian Mohamad Nasir, whom Gates had met in 2012, less than a month after birth.
What happened: "Thirty years ago, 1 in 5 children in Ethiopia didn't live to their fifth birthdays. Ethiopia wrestled down its mortality rates for children under five by two-thirds from 1990 to 2012. Mohamad is a reminder of how his fate, and the world's, have changed.
Why it matters: "Around the globe, child mortality rates are falling, and children have hopes of brighter futures."
Gates writes: "Reading the news today does not exactly leave you feeling optimistic. Hurricanes in the Americas. Horrific mass shootings. Global tensions over nuclear arms, crisis in Myanmar, bloody civil wars in Syria and Yemen ... But these events ... have happened in the context of a bigger, positive trend. On the whole, the world is getting better. "
Gates to Nancy Gibbs, on what makes him optimistic about the role of technology in the future of work: "There are many problems that we haven't solved. Obesity, diabetes, Alzheimer's: These are gigantic problems that there are solutions for. And I do expect that advanced software — AI software — will help us understand the biology, understand how to intervene and improve lives very dramatically."
Warren Buffett on the economy: "I have good news. First, most American children are going to live far better than their parents did. Second, large gains in the living standards of Americans will continue for many generations to come."
https://www.axios.com/newsletters/axios-am-2097fe38-f493-471c-ac77-070abbd80cd6.html?chunk=10#story10
10. One Globe thing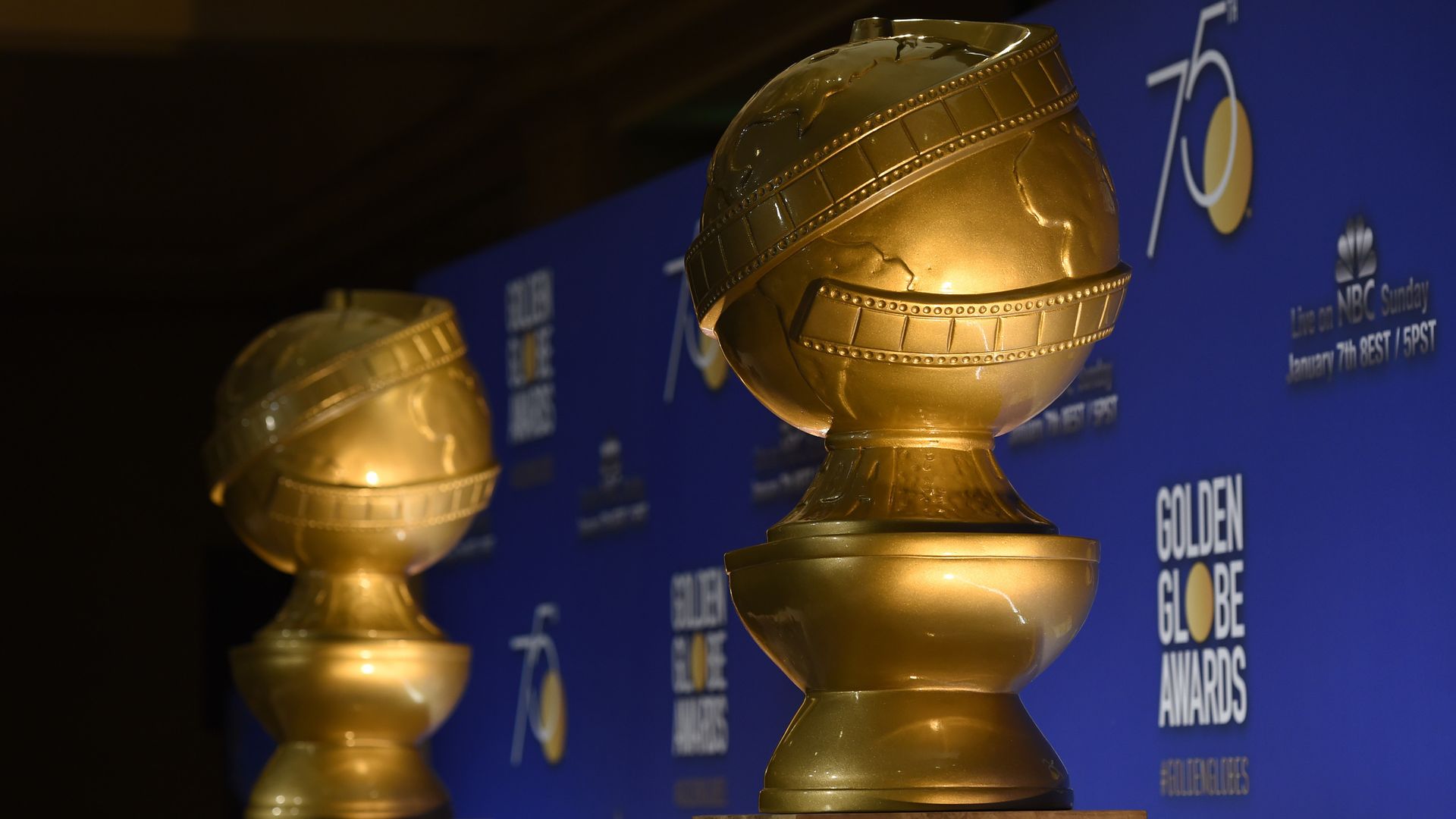 "[W]ith the cloud of sexual harassment hanging over Hollywood's annual round of self-congratulations, the Golden Globe ceremony [tonight] marks the first test of how the industry will handle live on the world's stage a scandal that has rocked show business," Reuters reports:
"Celebrities and filmmakers who were once major players during awards season have been shunned, written out of shows or snubbed in nominations."
"Women are planning to wear black on the Golden Globes red carpet to signal support of sexual harassment victims; a major talent agency has canceled its annual Golden Globes party to instead fund legal defense for victims; and the Screen Actors Guild Awards later in January will feature all female presenters."
What's next: "The mood ahead of the Oscars on March 4 ranges from nervousness to eagerness to take a stand."
P.S. Rosario Dawson, as part of the Time's Up campaign, uses an Instagram video to urge women to wear black even if they're not at the Globes: "Please join us in blacking out Sunday."