Good Tuesday morning ... CNBC's "Squawk on the Street" is live from the U.S Capitol, with a parade of lawmakers and Cabinet members all morning. Catch me at 6:10 a.m. ET.
https://www.axios.com/newsletters/axios-am-201f0409-90f1-4327-b0d8-817f69afb993.html?chunk=0#story0
1 big thing: Trump's make-it-go-away guy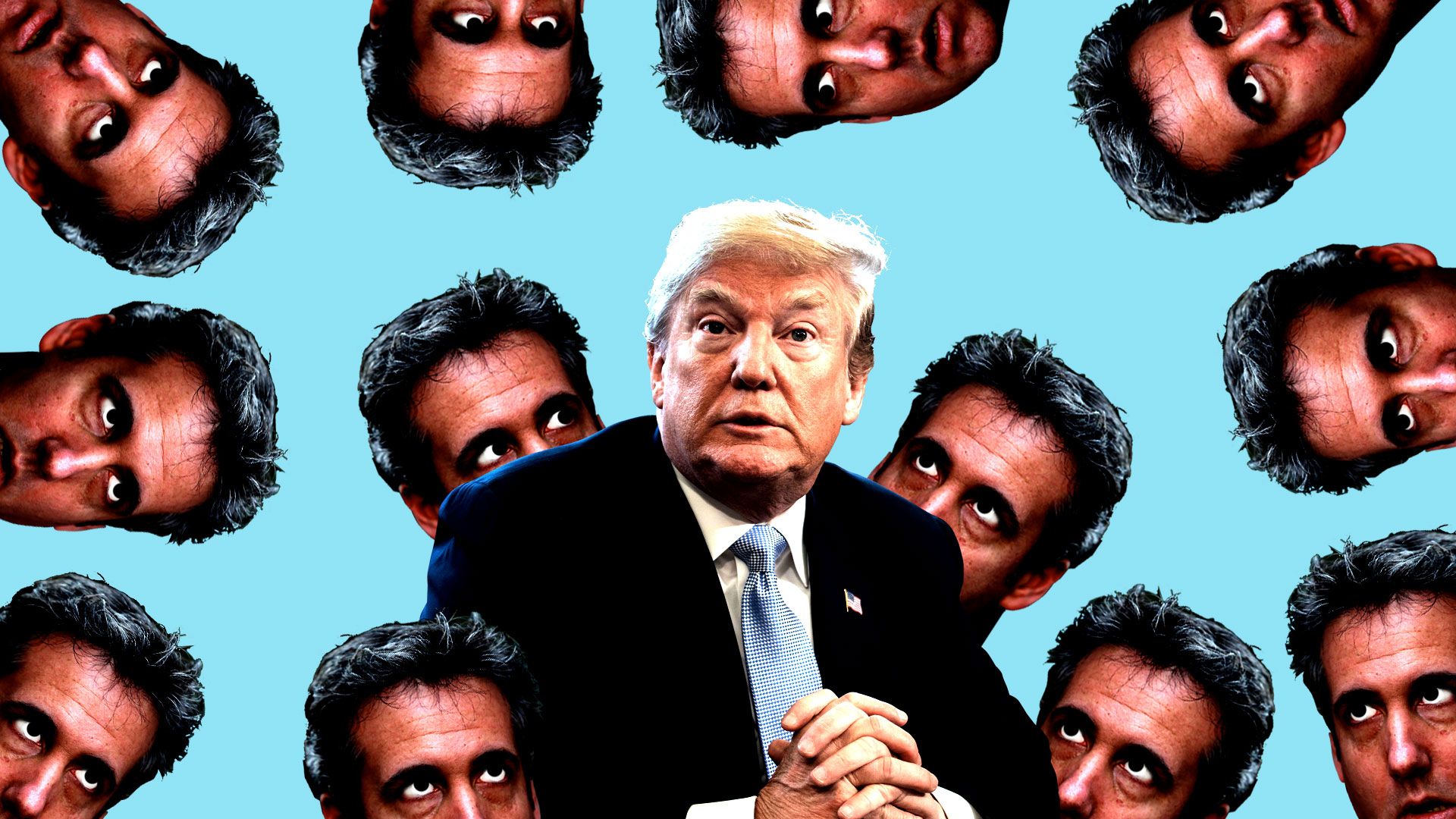 Michael Cohen has spent his career making Donald Trump's problems disappear. Now he's the problem Trump can't possibly make vanish. 
Cohen, unlike Ivanka or the other kids, is the only person on earth intertwined in Trump's professional, political, personal, legal and family life — the man with secrets few others hold.
And, thanks to a court ruling yesterday, many of those secrets, reportedly recorded and emailed, are — or soon will be —in the hands of federal investigators. 
N.Y. Times: "A federal judge in Manhattan [Kimba Wood] indicated ... that she was not prepared to grant President Trump exclusive first access to documents seized in F.B.I. raids on the office of his personal lawyer, and said that she was considering appointing an independent lawyer to assist in reviewing the seized materials."
During his decade of work for the Trump Organization, Cohen — a 51-year-old Long Island native — had a tiny 26th floor office within sight of Trump's sumptuous corner domain:
When Jim VandeHei and I interviewed the president-elect in his Trump Tower office the week before the inauguration, Michael Cohen caught us on the way to the elevator, and ushered us into his lair to kibitz.
For years, Cohen was reporters' personal connection to his boss — the person who called with complaints and would connect you with Trump.
So the court decision is devastating: As we have told you, Cohen is a potential Rosetta stone to Trump's final decade in private life.
Cohen knows more about some elements of Trump's life than anyone else — because some stuff, Ivanka doesn't want to know.
Why Cohen matters, from a former Trump campaign official:
"The guys that know Trump best are the most worried. People are very, very worried. Because it's Michael [effing] Cohen. Who knows what he's done?"
"People at the Trump Organization don't even really know everything he does. It's all side deals and off-the-books stuff. Trump doesn't even fully know; he knows some but not everything."
"Cohen thinks he's Ray Donovan [the Showtime series starring a fixer for Hollywood's elite]. Did you see the photos of him sitting outside on the street with his buddies smoking cigars? [Saw it in Axios AM!] Makes it look like a Brooklyn social club."
"I'll tell you who's worried. The principal."
Be smart ... A source who's in frequent contact with the West Wing told me: "POTUS' worries about Cohen are reflected in his dark moods."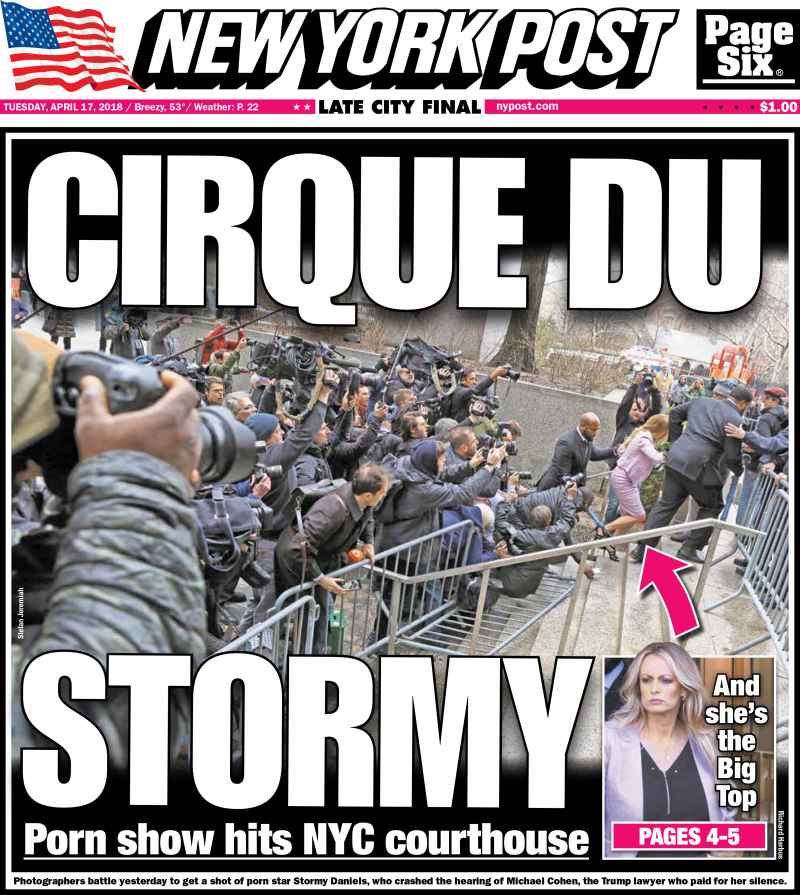 Courtesy N.Y. Post
https://www.axios.com/newsletters/axios-am-201f0409-90f1-4327-b0d8-817f69afb993.html?chunk=1#story1
2. The Sean Hannity collision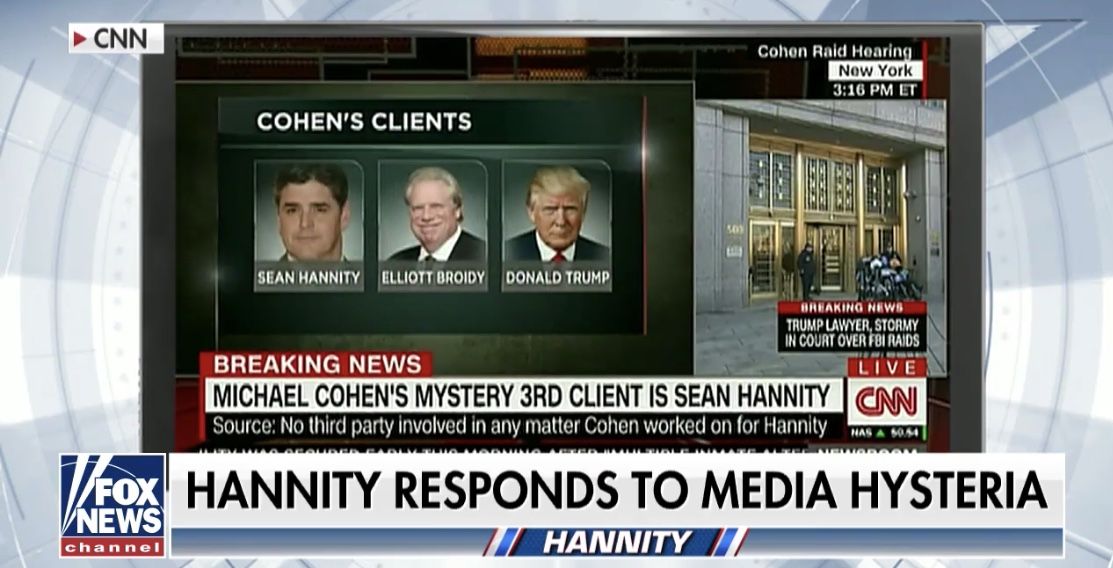 Last night's "Hannity." Screenshot: Fox News
Axios is about collisions — how the worlds of business, tech, media and politics are increasingly and inextricably intertwined.
It's hard to imagine a more emblematic, evocative collision than the revelation in court yesterday that Fox News star Sean Hannity — Trump adviser, kibitzer and cheerleader — was an undisclosed client of Michael Cohen's.
This week is already so crazy that MSNBC's Brian Williams last night began an interview with a guest on "The 11th Hour": "Comey. Cohen. Hannity. Trump. Start anywhere you want."
Hannity's relevance, if any, to the feds' interest in Cohen is unknown. Here's what happened, per The Times:
"In court papers filed before the hearing, Mr. Cohen's lawyers had said that he had represented three clients on legal matters in the last few years.
"Two of them, the lawyers said, were Mr. Trump and a Republican donor, Elliott Broidy, who recently resigned" as RNC deputy finance chair over a

$1.6 million payment Cohen helped arrange to a former Playboy model

who became pregnant during an affair.
"The lawyers refused to name the third client, suggesting he did not want to be associated with Mr. Cohen at this point — until, that is, Judge Wood forced them to identify him as Mr. Hannity."
What Hannity said on his Fox show last night (video):
"[T]he media went absolutely insane — wall-to-wall, hour-by-hour coverage of yours truly." [Plays video montage.]
"Michael Cohen never represented me in any legal matter. I never retained his services, I never received an invoice, I never paid Michael Cohen for legal fees."
"I did have occasional brief conversations with Michael Cohen — he's a great attorney — about legal questions I had where I was looking for input and perspective."
"My discussions with Michael Cohen never rose to any level that I needed to tell anyone that I was asking him questions."
"My questions exclusively almost focused on real estate. I have said many times on air, I hate the stock market — I prefer real estate. Michael knows real estate."
https://www.axios.com/newsletters/axios-am-201f0409-90f1-4327-b0d8-817f69afb993.html?chunk=2#story2
3. Trump halts plan for new sanctions against Russia
This is an especially big deal in light of the WashPost's report Sunday night that President Trump is a "reluctant hawk" on Russia, baffling his staff with a recent tantrum when he thought the U.S. had overreacted to Moscow ...
"President Trump on Monday put the brakes on a preliminary plan to impose additional economic sanctions on Russia, walking back a Sunday announcement by U.S. Ambassador to the United Nations Nikki Haley" on CBS's "Face the Nation," the WashPost reports in its lead story:
What happened: "Trump conferred with his national security advisers later Sunday and told them he was upset the sanctions were being officially rolled out because he was not yet comfortable executing them."
What's next: "Administration officials said Monday it was unlikely Trump would approve any additional sanctions without another triggering event by Russia, describing the strategy as being in a holding pattern."
Why it matters: "In the absence of a permanent secretary of state, Haley has been the face of American diplomacy."
https://www.axios.com/newsletters/axios-am-201f0409-90f1-4327-b0d8-817f69afb993.html?chunk=3#story3
4. Pic du jour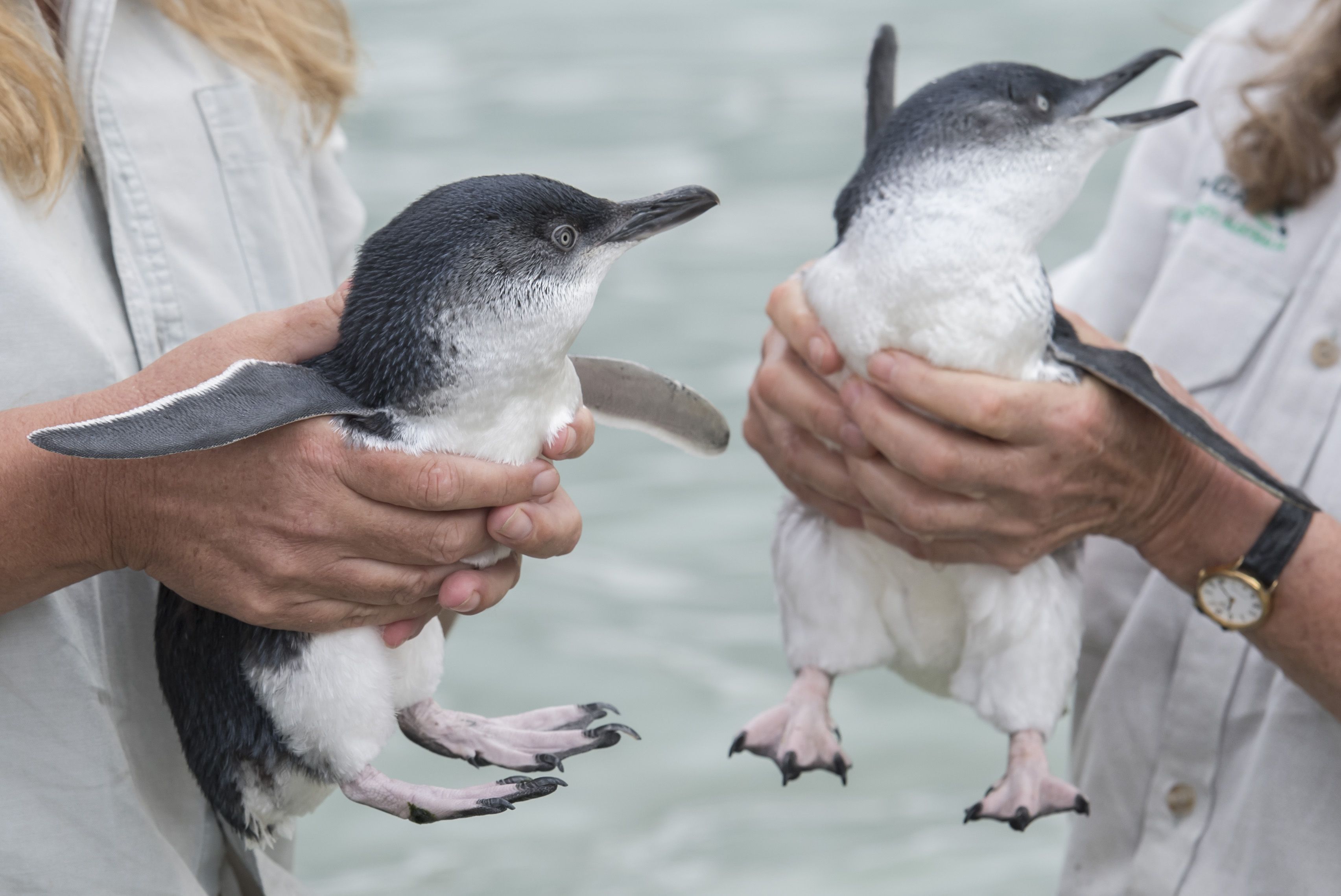 Photo: James D. Morgan/Getty Images
Two penguins are released back into the water today at Shelly Beach in Sydney, Australia, after Taronga Wildlife Hospital veterinarians nursed them back from dehydration, a fishing hook injury and a broken foot.
https://www.axios.com/newsletters/axios-am-201f0409-90f1-4327-b0d8-817f69afb993.html?chunk=4#story4
5. Comey day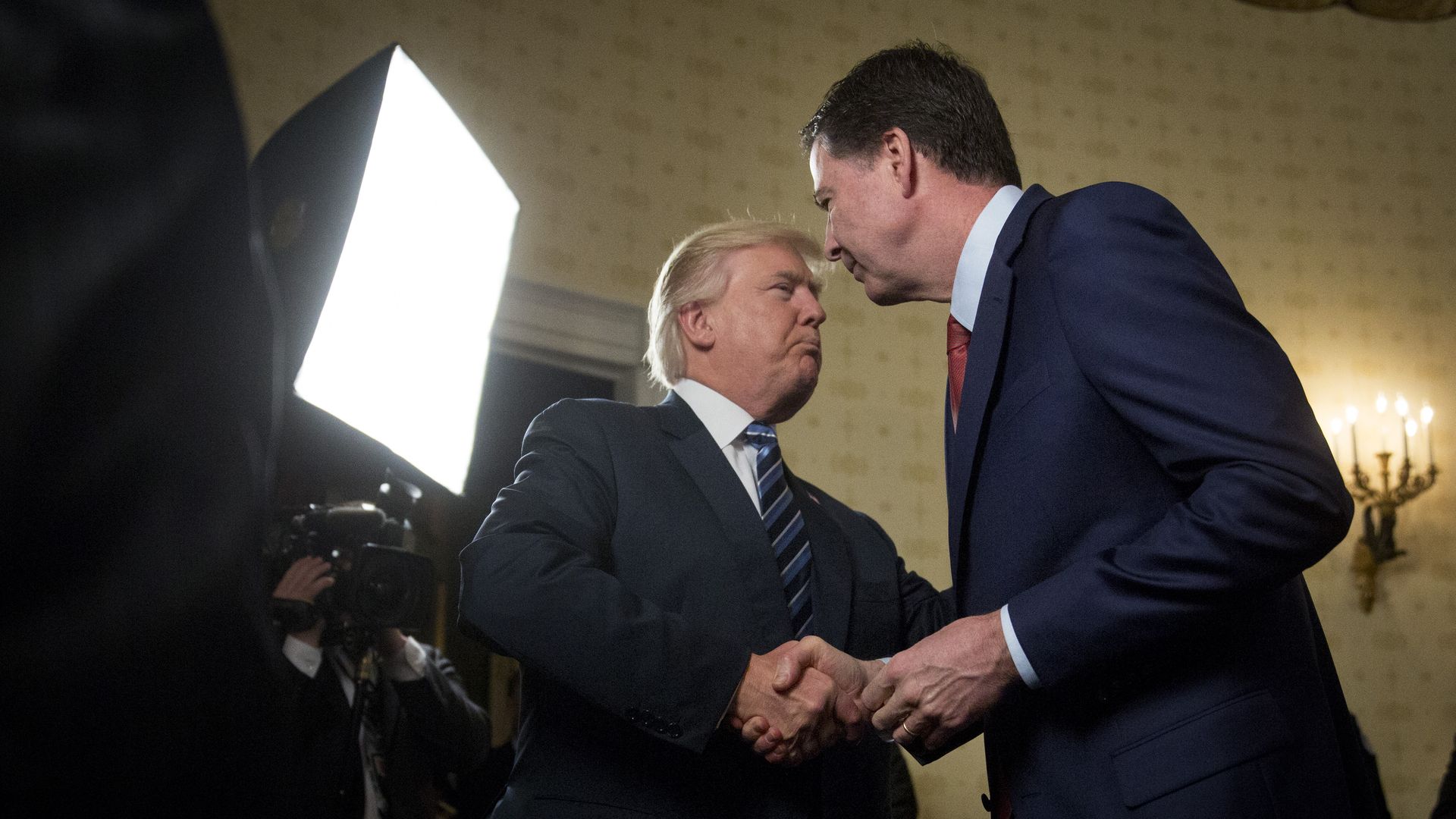 As James Comey's "A Higher Loyalty" goes on sale today, NPR's Steve Inskeep and Carrie Johnson ask him on "Morning Edition" about his criticisms of President Trump's appearance, including his penchant for long neckties:
"I'm not making fun of the president. I'm trying to be an author, which I've never been before in my life. While I'm typing, I can hear my editor's voice ringing in my head: 'Bring the reader with you,  show them inside your head.'"
"And by the way, not that this matters,  but I found his hands to be above average in size."
About Trump's tweets over the weekend suggesting Comey could face jail for giving up classified information and lying to Congress:
"The president of the United States just tweeted that a private citizen should be jailed. And I think the reaction of most of us was: 'Meh, it's another one of those things.'"
"This is not normal. This is not OK. There is a danger that we will become numb to it and we will stop noticing the threats to our norms."
Terry Gross of "Fresh Air" asked Comey, who as deputy attorney general appointed special prosecutor Patrick Fitzgerald in the Scooter Libby case, if he sees Trump's pardon of Libby as a personal attack:
"I don't ... but that doesn't mean it's not an attack on the rule of law. There's a reason that President George W. Bush, for whom Scooter Libby worked, refused to pardon him."
"The Libby case was incredibly important, and justified by overwhelming facts. To pardon now, is an attack on the rule of law."
https://www.axios.com/newsletters/axios-am-201f0409-90f1-4327-b0d8-817f69afb993.html?chunk=5#story5
6. A two-year project
After more than two years of exploring why American politics is so broken, Jon Ward of Yahoo News today posts his conclusion: weakened political parties, driven by "the deeper issue of a loss of understanding even of what institutions are and why they exist."
"Populism is popular these days, and many Americans want to make the political system more fair. ... But ... anti-party reforms have gone too far and are now having a multitude of negative impacts."
"People blame dysfunction on the establishment and call for more reform. The reform further weakens the ability of parties and party leaders and increases dysfunction and chaos."
"Democrats are resisting empowering their own party officials as they head into the 2018 midterms and toward a 2020 showdown with President Trump. They are going to reduce their number of superdelegates in the primary."
Why it matters: "Anti-establishment thinking has been one of the most constant and dominant trends of the last half-century. ... Yet ... institutions can protect us from the abuse of power."
https://www.axios.com/newsletters/axios-am-201f0409-90f1-4327-b0d8-817f69afb993.html?chunk=6#story6
7. First look: Has democratic dominance ended for good?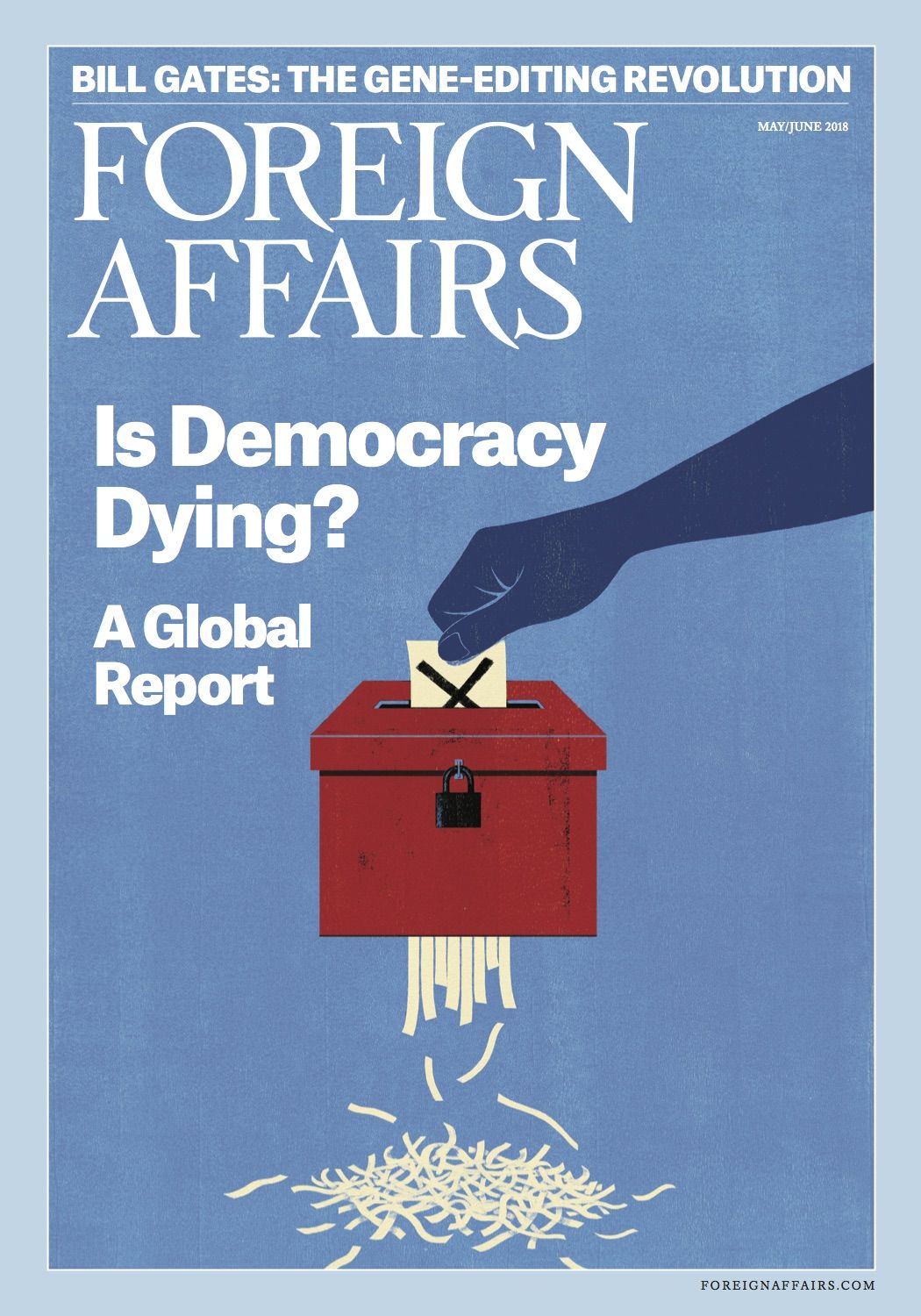 Courtesy Foreign Affairs
"Some say that global democracy is experiencing its worst setback since the 1930s and that it will continue to retreat unless rich countries find ways to reduce inequality and manage the information revolution," Foreign Affairs editor Gideon Rose writes in his introduction to the new issue:
"Those are the optimists. Pessimists fear the game is already over, that democratic dominance has ended for good."
"As a Latin American friend put it ruefully, 'We've seen this movie before, just never in English.'
https://www.axios.com/newsletters/axios-am-201f0409-90f1-4327-b0d8-817f69afb993.html?chunk=7#story7
8. Tax Day shot-chaser
Shot .... President Trump op-ed for USA Today: "On this Tax Day, America is strong and roaring back. Paychecks are climbing. Tax rates are going down. Businesses are investing in our great country. And most important, the American people are winning."
Chaser ... USA Today lead story: "GOP groups and candidates have run nearly 17,800 spots this year that tout tax reform, according to a USA TODAY analysis of television advertising. The barrage has forced Democrats to retaliate with commercials that slam the tax cuts."
https://www.axios.com/newsletters/axios-am-201f0409-90f1-4327-b0d8-817f69afb993.html?chunk=8#story8
9. France's culturally attuned president
Ahead of next Tuesday's White House state dinner for French President Emmanuel Macron, Vanity Fair's The Hive posts an interview by Tom Sancton, with photos by Annie Leibovitz, from the May issue:
At Élysée Palace, "Macron occupies a vast office, the same one where de Gaulle sat when he founded the Fifth Republic, in 1958 ... Louis XVI armchairs upholstered in gold-colored satin, an enormous crystal chandelier."
"Macron, at 40, is a sophisticated and highly educated aesthete who quotes Hegel in his speeches; Trump, 71, is more at home with reality TV. One sleeps four hours a night and, more or less, works the other 20. The other watches four hours of television a day. One married a teacher 24 years his senior. The other married a model 24 years his junior."
"On policy questions, they have some sharp differences: Macron has criticized Trump's decisions to pull out of the Paris agreement on climate change and clamp stiff tariffs on steel imports, as well as his threats to tear up the nuclear deal with Iran."
Macron: "I have always been very clear and straightforward about our disagreements ... Our strong bilateral relations actually enable us to address our divergences in a constructive way."
https://www.axios.com/newsletters/axios-am-201f0409-90f1-4327-b0d8-817f69afb993.html?chunk=9#story9
10. 1 rap thing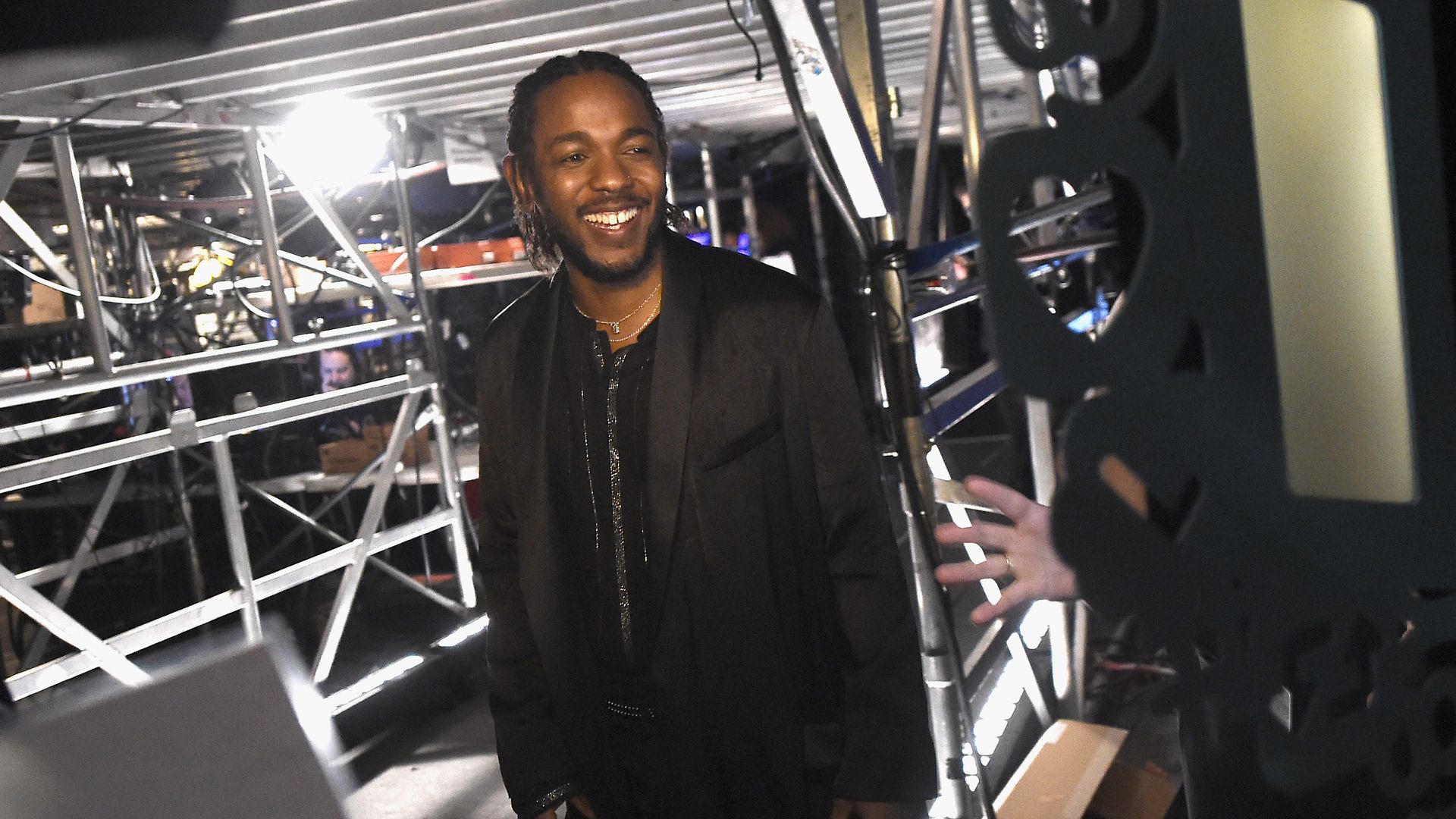 "On Monday, the Pulitzer Prize Board awarded Kendrick Lamar the Pulitzer Prize for Music for his 2017 masterpiece DAMN. ... DAMN. is the first non-classical, non-jazz album to win the award in its 75-year history," Billboard reports. From their interview with Pulitzer Prize Administrator Dana Canedy:
"[T]hey were considering a piece of music they felt had hip-hop influences and said, 'Well if we're considering a piece of music that has hip-hop influences, why aren't we considering hip-hop?' And someone said, 'That's exactly what we should do.' And then someone said, 'We should be considering Kendrick Lamar' and the group said 'absolutely.'"