March 13, 2019
☕ Good Wednesday morning.
1 big thing: What Tesla knows about you
Every mile, every block, every inch of pavement driven by a Tesla vehicle generates a trove of information that can reveal as much about you as about your car, Axios autonomous vehicles correspondent Joann Muller writes from Detroit:
Why it matters: Tesla is more of a tech company than a car company. And because data is critical to self-driving cars, it has designed its vehicles from the outset to be sophisticated rolling computers.
As all cars get smarter and more automated, the data they collect will unlock new conveniences for drivers — but also rob them of privacy.
Most modern vehicles have a cellular wifi connection that transmits basic telematics data from the car to the cloud.
The data could include your vehicle's location and your personal settings, such as contacts you've synced from your phone, addresses you've plugged into the navigation system and even your favorite radio stations.
Automakers use that information to suggest pre-emptive maintenance, or to offer remote help such as unlocking doors or roadside assistance.
Carmakers often share that information with business partners who provide services like navigation or real-time traffic.
But Tesla collects more information than most.
It knows your speed, your mileage and where and when you charge the battery.
It monitors airbag deployments, braking and acceleration, which helps in accident investigations.
And it knows when Autopilot, Tesla's assisted-driving feature, is engaged or disengaged, and whether you have your hands on the wheel as you should.
Teslas are constantly in record mode, using cameras and other sensors to log every detail about what they encounter while driving, even when Autopilot is turned off.
This includes short video clips from the car's external cameras to learn how to recognize lane lines, street signs and traffic light positions.
Tesla says the video snippets are not linked to the car's vehicle identification number, and there is no way to search its database for clips associated with a specific car.
But with 500,000 vehicles on the road globally, information collected by one vehicle can easily be shared with others.
This "fleet learning" capability is an advantage that Tesla CEO Elon Musk says will help the company develop self-driving cars faster.
Tesla uses data from its vehicles to crowdsource advanced technology features like high-precision maps and improvements to Autopilot.
What you can do:
You can contact Tesla to stop sharing basic data, but that could affect your car's operation, prevent software updates and disable some features, Tesla says.
You can also opt out of sharing location-related data, including video clips.
But bystanders whose images are captured by Tesla's cameras don't have any ability to opt out.
Tesla says its customers' privacy is of the highest importance to the company. It recently joined a host of American companies and government agencies to help define a new international standard for consumer privacy.
2. The Biden 5-point plan
With signs pointing increasingly to a 2020 presidential run by former Vice President Joe Biden, here's the case he'd make, based on our conversations with current and former advisers:
The great white (voter) hope: I can bring back the rural, white, mostly male voters who sealed the presidency for Donald Trump. Think Wisconsin. 
I'm liberal — just not that liberal. And too liberal won't win.
Been there, done that: In this dangerous chaotic world, we need a steady hand — not someone who's playing or practicing president.
Remember last year when I said: "If we were in high school, I'd take him behind the gym and beat the hell out of him." Well, game on: Trump won't intimidate or bully me.
If you're looking for a rising star, there's a low-risk place on the ticket — next to me.
What Biden is thinking, according to friends: I have never been more confident of anything in my life that I can beat Trump, and beat him convincingly. And after all, isn't that what 2020 is all about?
I can recapture the party from the socialist left. Primary voters want to win, not just make a point.
Truth bomb: Biden's biggest fear is clearly that the Democratic Party isn't what it was even two years ago — that the politics, ideology and energy might have zipped by him.
If so, he'd be a three-time loser at presidential races.
3. College admissions rigged for the rich
The Varsity Blues twist: Instead of paying recruits to attend schools, coaches and top athletic officials at some of America's finest universities were selling spots on their rosters, AP sports columnist Tim Dahlberg writes.
How it worked: "In college athletics, volleyball, water polo, sailing, tennis and soccer are relatively small-time affairs [lacking] formal rankings or general knowledge about who might be good," the N.Y. Times explains.
"[C]oaches in the so-called Olympic sports are generally allowed to reserve several slots each year for students who might not otherwise gain admission."
Two glimpses of "side door" admissions scams, via The Boston Globe:
"One father allegedly bought water polo gear on Amazon and hired a graphic designer to help fabricate a photo of his son as a water polo player to help him get into the University of Southern California."
"[A]nother father allegedly agreed to have his son's face Photoshopped onto the body of a football player after being told his chances of being admitted would improve if he could pass as a kicker."
Go deeper: Operation Varsity Blues
Bonus ... Pic du jour: "Super bloom"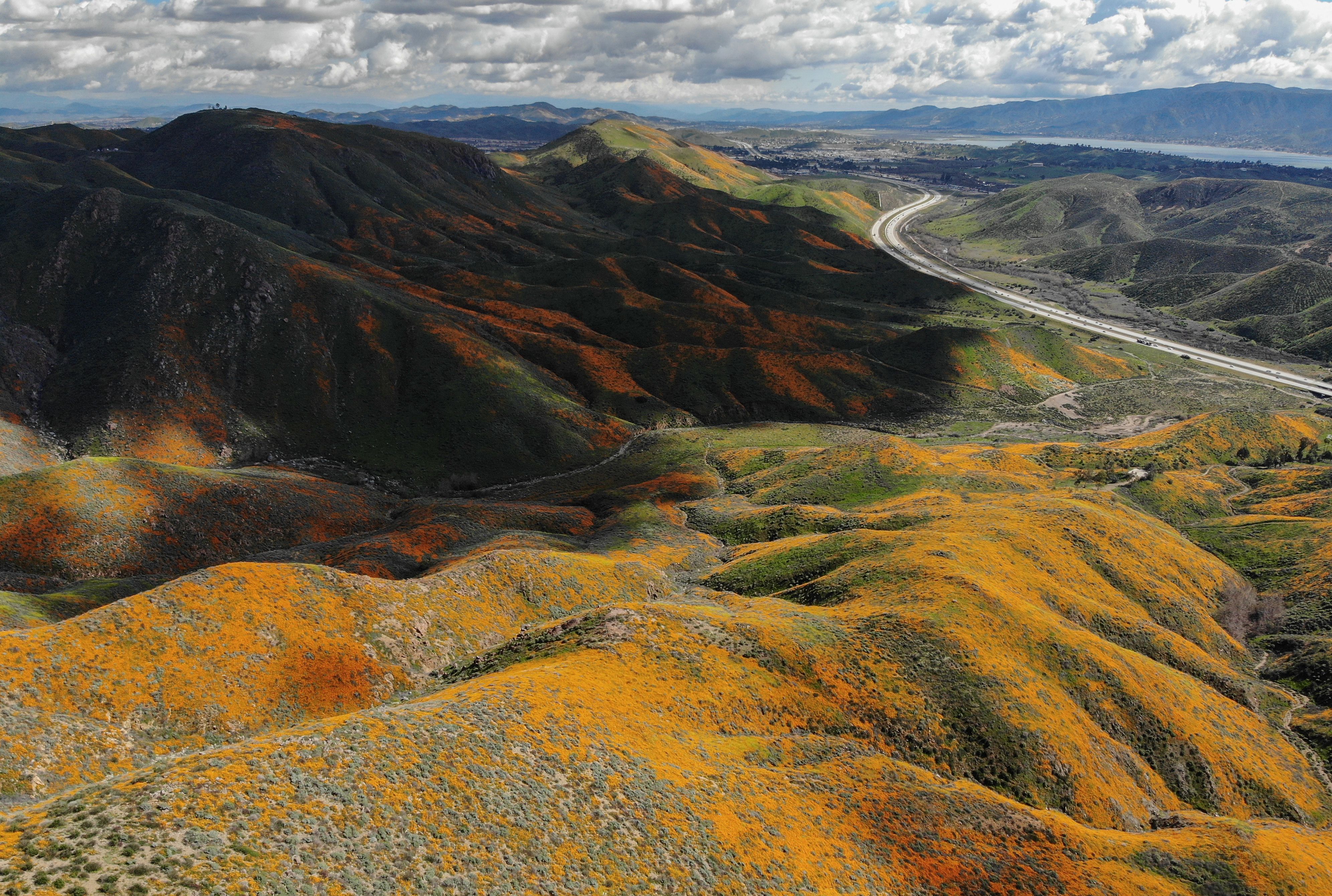 Heavy winter rains in California have produced a "super bloom" of wildflowers around the state, including these wild poppies blanketing the hills of Walker Canyon near Lake Elsinore, Calif.
4. Exclusive excerpt: Oops, wrong printer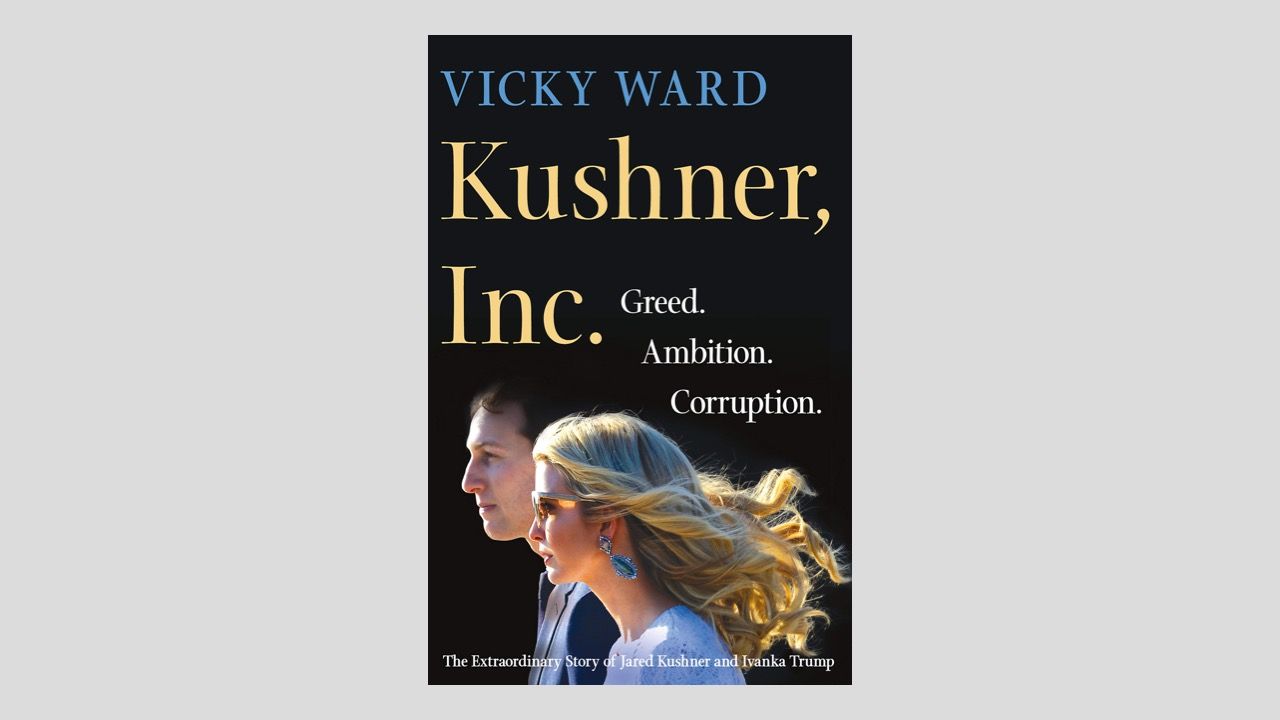 Here's a sneak peek for Axios readers at "Kushner, Inc.," by investigative reporter Vicky Ward, out next Tuesday from St. Martin's Press:
[I]n early May [2017], an aide to Gary Cohn, who had an office on the second floor of the West Wing, noticed a document on his printer. It appeared to be a letter from Trump, firing Comey. It also appeared to have been sent to the wrong printer. ...
Trump was livid about the attention the FBI investigation was attracting, but to fire the head of the FBI while it was investigating him was an extraordinarily risky move. ...
Cohn told his aide to take the letter straight to [then-White House counsel] Donald McGahn, who also had an office on the second floor of the White House (and whose printer it had clearly been meant for). Upon receiving it and realizing it had been printed in the wrong place, McGahn said, "Oh, [email protected]#!"
5. Amazon's wide Washington reach
Amazon lobbied more federal entities last year than any other public U.S. company, pressing its case throughout the government when its power and reach were under a magnifying glass, Axios' David McCabe and Erica Pandey report.
Why it matters: Amazon's sprawling lobbying operation reflects its vast business. What began as an online retailer is now a behemoth that touches health care, cloud computing, media and transportation.
The bottom line: In its filings last year, Amazon disclosed lobbying 40 different federal entities on 21 major issues, according to data compiled by the Center for Responsive Politics.
Besides lobbying on traditional tech and telecom issues, Amazon has been locked in a battle over a Pentagon cloud computing contract, and has interests in food, drugs, self-driving cars and drones.
Amazon's statement: "Amazon provides a wide range of products and services for our customers, and we're always looking for ways to innovate on their behalf."
"Our Washington, D.C. team is focused on ensuring we are advocating on issues that are important to policymakers, our employees and our customers."
6. Boeing CEO talks to Trump
With the U.S. nearly alone among major countries in allowing 737 Max 8 jets to keep flying, Boeing CEO Dennis Muilenburg, made a personal appeal to President Trump, the N.Y. Times reports in its lead story.
Calling from Boeing HQ in Chicago, Muilenburg expressed his confidence in the safety of the planes.
"Boeing reiterated ... that it had 'full confidence' in the 737 Max 8. It noted that the F.A.A. had taken no action and 'based on the information currently available, we do not have any basis to issue new guidance to operators.'"
Two U.S. airlines — Southwest and American — fly the 737 Max 8 aircraft and both said they planned to keep flying, per The Times.
"The airlines ... said they have analyzed data from their thousands of flights with the jets and found no reason to ground them."
7. Undersea battle with China
Huawei is embedding itself into cable systems that ferry nearly all of the world's internet data, The Wall Street Journal reports (subscription):
"The Chinese company ... has worked on some 90 projects to build or upgrade submarine cables around the world ... gaining fast on the three U.S., European and Japanese firms that dominate the industry."
Why it matters: U.S. and allied security officials "say the company's knowledge of and access to undersea cables could allow China to attach devices that divert or monitor data traffic — or, in a conflict, to sever links to entire nations."
"Such interference could be done remotely."
8. Inside the crackup of an American city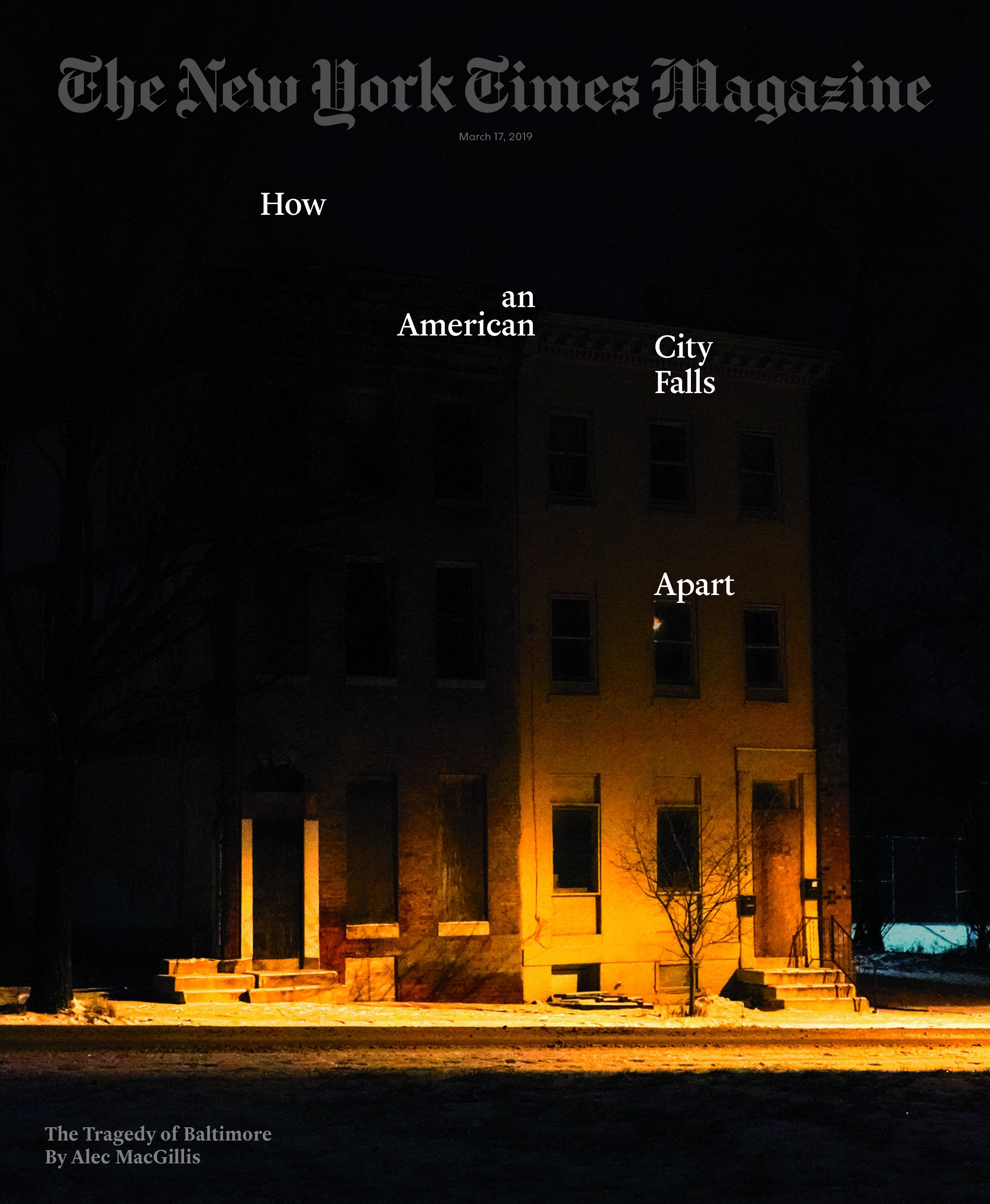 Since Freddie Gray's death in Baltimore police custody in 2015, violent crime has spiked to levels unseen for a quarter century. Alec MacGillis, who has lived in Baltimore for 11 of the past 18 years, spent more than a year reporting Charm City's unraveling for the cover story of The New York Times Magazine:
If you live in, say, New York or Boston, you are familiar with a certain story of urban America. Several decades ago, disorder and dysfunction were common ... Then came the great urban rebirth ...
Until 2015, Baltimore seemed to be enjoying its own, more modest version of this upswing. ... Because of the Johns Hopkins biomedical empire, the city's busy port and its proximity to Washington, metro Baltimore enjoyed higher levels of wealth and income — including among its black population — than many former manufacturing hubs.
The subsequent regression has been swift and demoralizing. ... I have grown accustomed to scanning the briefs column in The Baltimore Sun in the morning for news of the latest homicides; to taking note of the location of the latest killings as I drive around town for my baseball coaching and volunteering obligations.
In 2017, the church I attend started naming the victims of the violence at Sunday services and hanging a purple ribbon for each on a long cord outside. By year's end, the ribbons crowded for space, like shirts on a tenement clothesline.
9. Cover du jour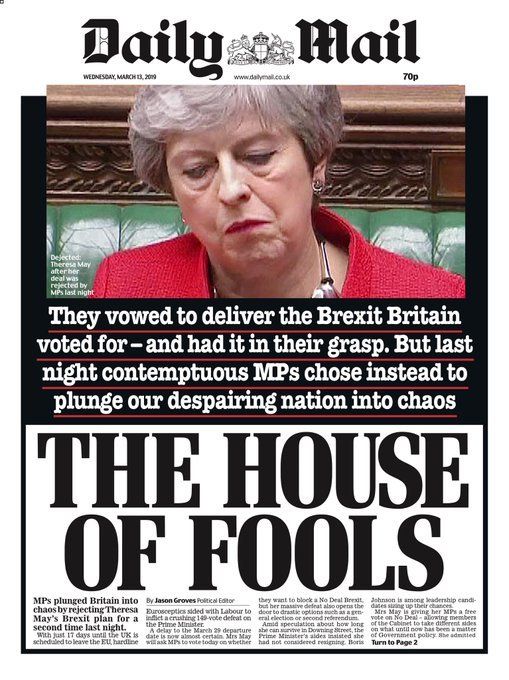 Smart Brevity from Financial Times commentator Robert Shrimsley: "All Brexit outcomes remain possible: no-deal, a referendum, a softer Brexit."
Two weeks from the March 29 deadline, "A delay now looks certain."
10. 1 fun thing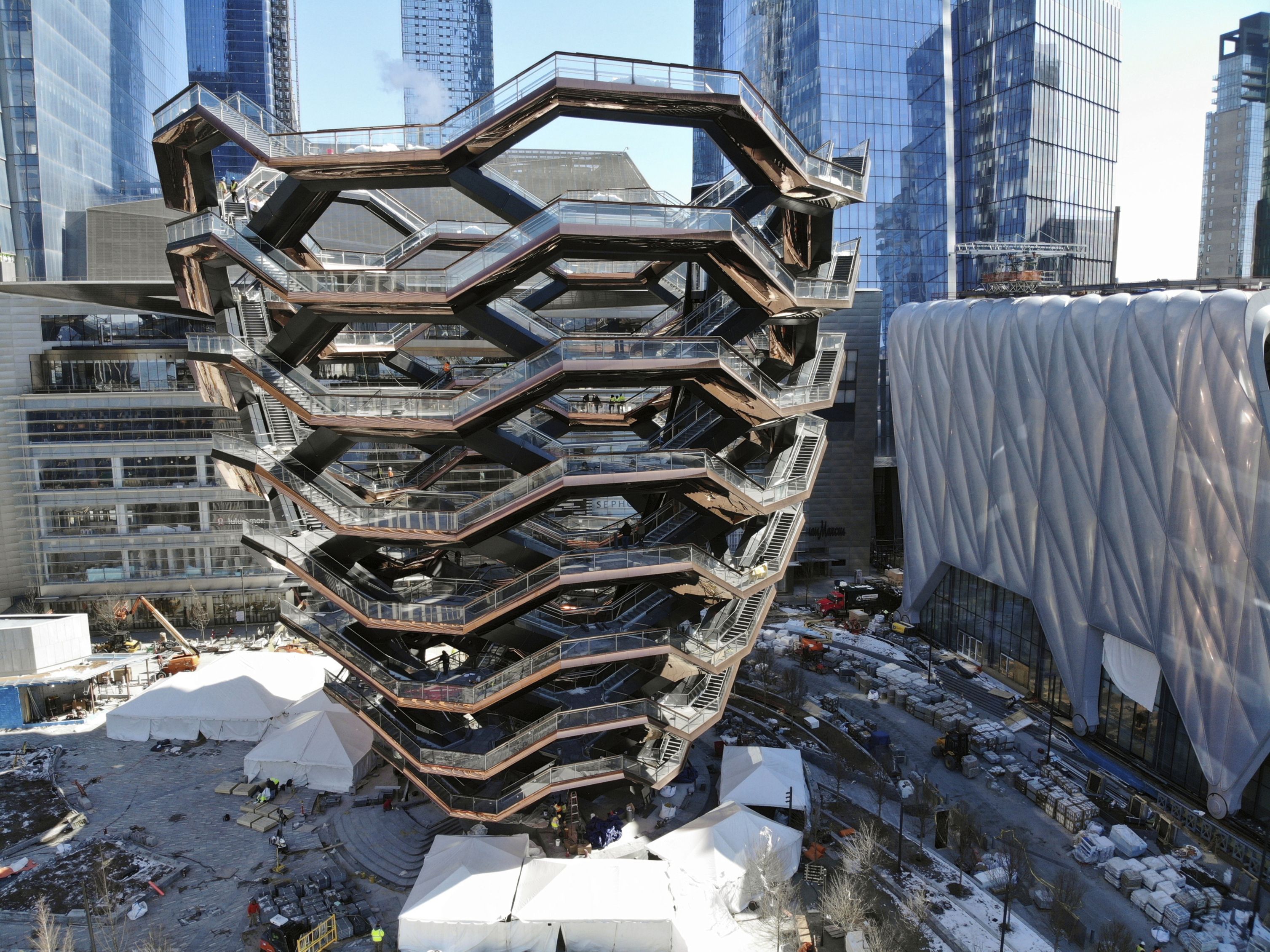 Something new to see in NYC (and get in 2,500 steps)
"A colossal sculpture that will give people more than 150 interconnected stairways to climb is opening to the public as part of New York City's Hudson Yards development," AP reports.
"Vessel is a metal structure shaped like the bowl of a wine glass that will open Friday as part of the first phase of the project on Manhattan's west side."
The latticed network of 154 intricately interconnecting flights of stairs — almost 2,500 individual steps and 80 landings — have a vertical climb of nearly one mile above the Public Square and Gardens.