https://www.axios.com/newsletters/axios-am-1caa9e24-3589-4b29-9dd2-d9c0e5e61eb0.html?chunk=0#story0
1 big thing: When the smoke is the fire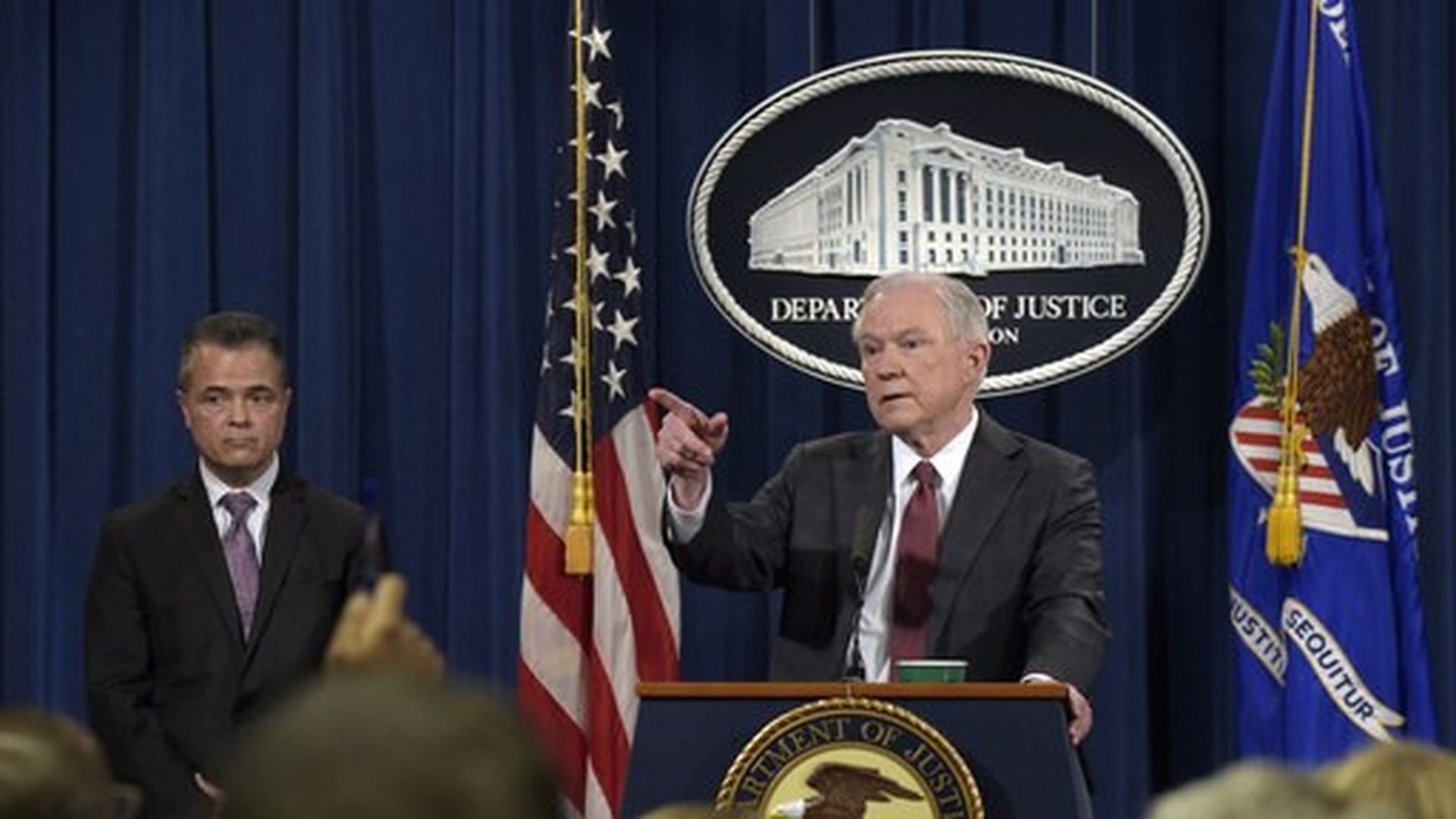 https://www.axios.com/newsletters/axios-am-1caa9e24-3589-4b29-9dd2-d9c0e5e61eb0.html?chunk=1#story1
2. 30-second catch-up on Russia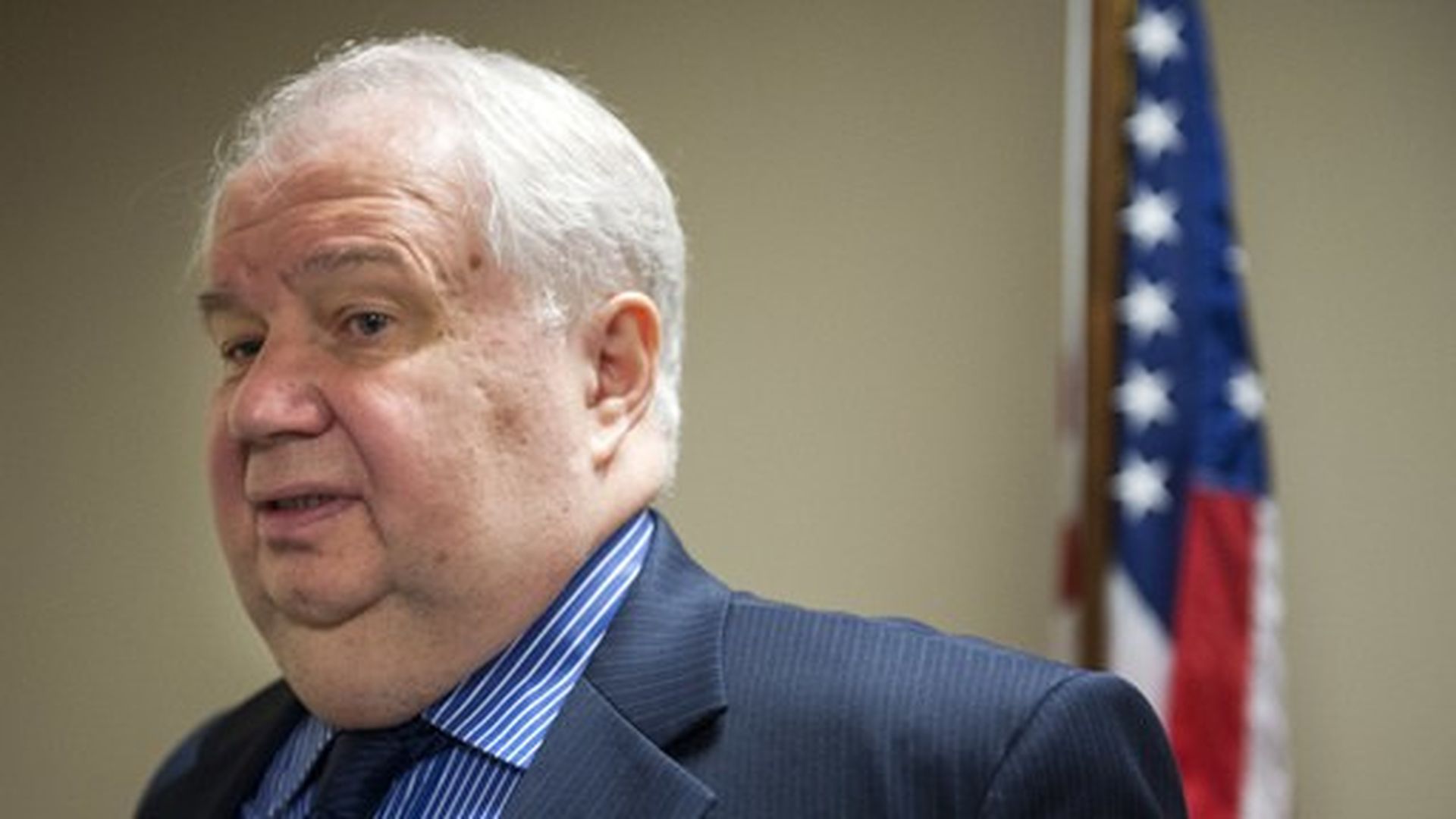 N.Y. Times lead story, "Sessions Recuses Himself From Russia Investigation": The attorney general "insisted there was nothing nefarious about his two meetings with the Russian ambassador, Sergey I. Kislyak, even though he did not disclose them to the Senate during his confirmation hearing and they occurred during the heat of the race between Hillary Clinton ... and Mr. Trump, whom Mr. Sessions was advising on national security."
"Sessions' decision to recuse himself ["from any existing or future investigations of any matters related in any way to the campaigns for President"] was one of his first public acts as attorney general."
Trump statement last night in a tweet quartet (ellipses omitted):
"Jeff Sessions is an honest man. He did not say anything wrong. He could have stated his response more accurately, but it was clearly not intentional. This whole narrative is a way of saving face for Democrats losing an election that everyone thought they were supposed to win.
"The Democrats are overplaying their hand. They lost the election, and now they have lost their grip on reality. The real story is all of the illegal leaks of classified and other information. It is a total 'witch hunt!'"
WashPost lead story: "Sessions recuses self in Russia probe": Sessions' " "spokeswoman, Sarah Isgur Flores, said Sessions did not meet with Kislyak as a Trump supporter but, rather, in his capacity as a member of the Armed Services Committee. One meeting was in September; the other in July, when Sessions was approached after an event on the sidelines of the Republican National Convention."
Why it matters: By hanging their hat on this distinction, defenders are arguing that a flock of ambassadors were seeking out the gentleman from Alabama rather than the insider from Trump Tower.
This might all be smoke — but dang it's smokey in here.
https://www.axios.com/newsletters/axios-am-1caa9e24-3589-4b29-9dd2-d9c0e5e61eb0.html?chunk=2#story2
3. Bipartisan names call out Session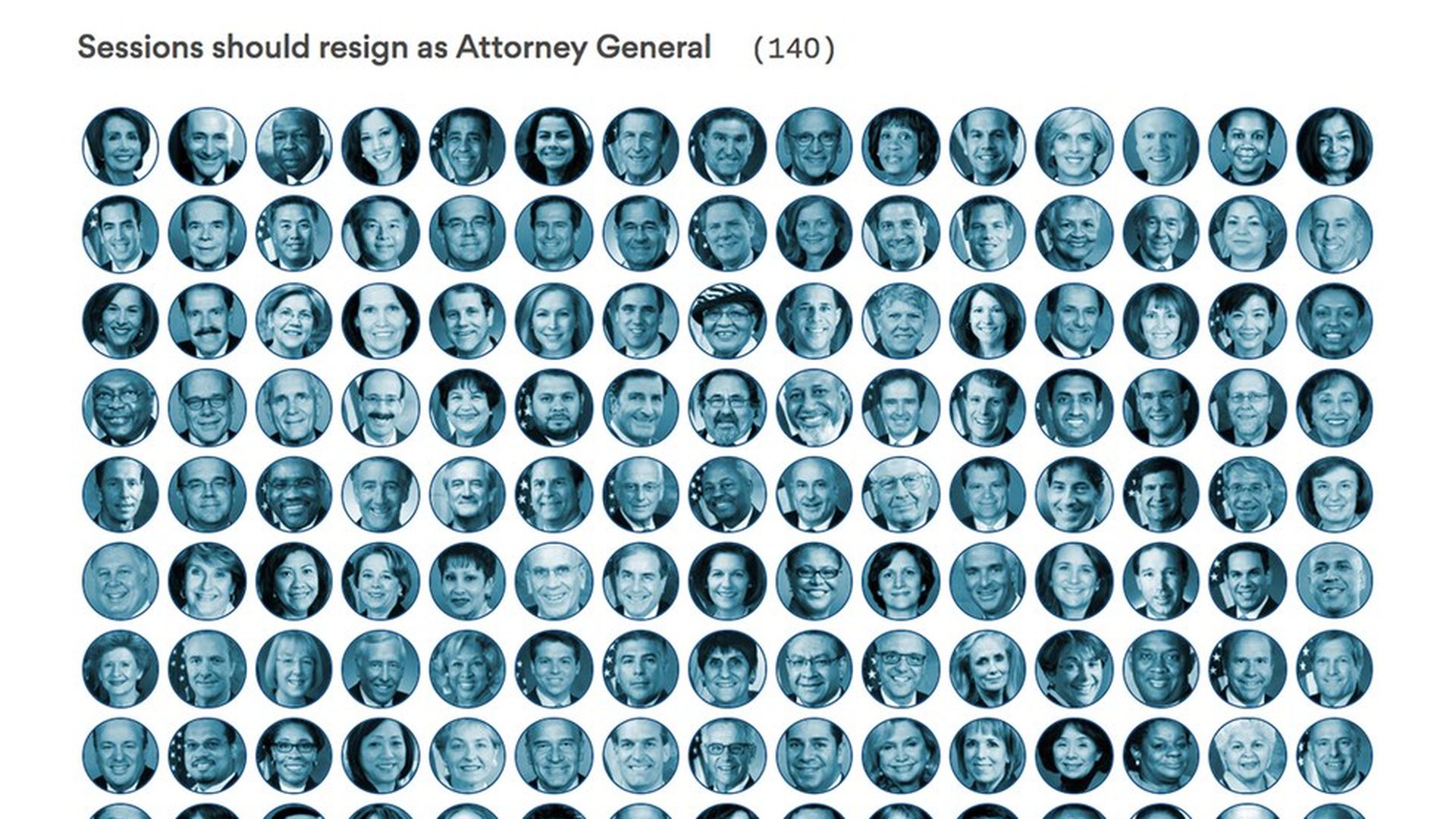 https://www.axios.com/newsletters/axios-am-1caa9e24-3589-4b29-9dd2-d9c0e5e61eb0.html?chunk=3#story3
4. Trump Week 6, in 3 grafs
Chris Krueger of Cowen Washington Research Group: "Equal parts 'Mr. Smith Goes To Washington,' 'Spies Like Us,' and 'Rocky IV.' Tuesday speech was all style, almost no new substance. Only new substance was creation of establishment of Victims Of Immigration Crime Engagement office at DHS (the mention of which resulted in audible gasps from the Democrats in attendance). Regardless, Trump played the role and will likely result in a polling bump.
"Conceptually, Trump drew a close line to Speaker Ryan's ObamaCare and tax reform plans — though no real detail on either. So the clock continues to tick with the April 7 'soft' deadline approaching for ObamaCare Repeal/Replace/Repair, then the two-week Easter/Passover Recess, and then the hard catalyst of the April 28 government funding resolution (that needs 60 votes in the Senate, i.e. at least 8 Democrats).
"Time is an increasingly valuable — and priceless — commodity in Washington for the Trump White House and Congressional GOP. Momentum begets momentum, and they have very little right now. The speech calmed GOP lawmaker nerves, but the Russian allegations have caused a new wave of heartburn — with a side of borscht."
https://www.axios.com/newsletters/axios-am-1caa9e24-3589-4b29-9dd2-d9c0e5e61eb0.html?chunk=4#story4
5. "Nice speech. What about the budget?"
Michael Gerson, top aide to President George W. Bush, writes in his WashPost column that Trump's budget plans, as revealed so far, do "little by way of outreach to Democrats, some of whom will be needed to pass appropriations bills requiring 60 votes in the Senate":
"The Trump budget outline is underdeveloped, compared with those of other presidencies; it leaves the trajectory of deficits unchanged; it imposes cruel and indiscriminate cuts in discretionary spending; it is cowardly, especially on the main drivers of future debt; it is injurious to elected Republicans who will risk the wrath of the Trump base in order to make rational budget choices; it is an indication of governing unseriousness and a preference for positioning over leadership.
"But the speech was nice."
https://www.axios.com/newsletters/axios-am-1caa9e24-3589-4b29-9dd2-d9c0e5e61eb0.html?chunk=5#story5
6. "Trumpism at Its Best, Straight Up"
David Brooks' N.Y. Times column takes the speech seriously, but it's no palate-cleanser for POTUS. Brooks says the speech "gave us a view of the political movement he represents, without the clownish behavior"
"The first thing we learned was that Trumpism is an utter repudiation of modern conservatism. For the last 40 years, the Republican Party has been a coalition of three tendencies [foreign-policy hawks, social conservatives, fiscal hawks]. ... Trump rejected or ignored all of them."
"Trump's speech ... offered those of us who want to replace him an occasion to ask the big question: How in the 21st century should government unleash initiative and dynamism while also preserving order? Trump's answer: Nationalize intimidation but privatize compassion. Don't look to government to offer a warm hand; look to it to confront your enemies with a hard fist."
https://www.axios.com/newsletters/axios-am-1caa9e24-3589-4b29-9dd2-d9c0e5e61eb0.html?chunk=6#story6
7. Get smart fast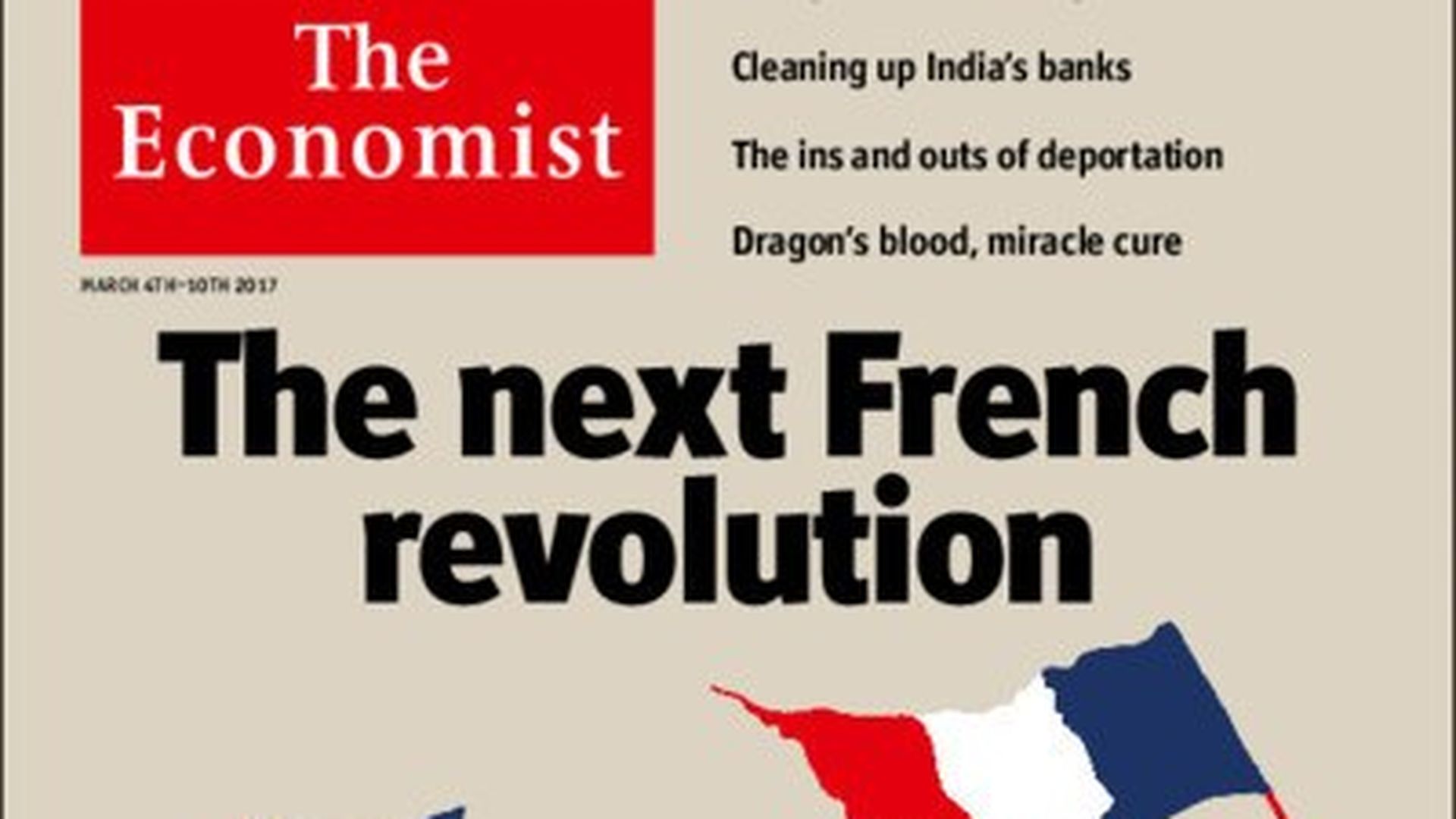 Economist cover leader, "The vote that could wreck the European Union: Why the French presidential election will have consequences far beyond its borders":
"The Socialist and Republican parties, which have held power since the founding of the Fifth Republic in 1958, could be eliminated in the first round of a presidential ballot on April 23rd. French voters may face a choice between two insurgent candidates: Marine Le Pen, the charismatic leader of the National Front, and Emmanuel Macron, the upstart leader of a liberal movement, En Marche! (On the Move!), which he founded only last year.
"The implications of these insurgencies are hard to exaggerate. They are the clearest example yet of a global trend: that the old divide between left and right is growing less important than a new one between open and closed. The resulting realignment will have reverberations far beyond France's borders. It could revitalise the European Union, or wreck it."
https://www.axios.com/newsletters/axios-am-1caa9e24-3589-4b29-9dd2-d9c0e5e61eb0.html?chunk=7#story7
8. SNAP pops on Day 1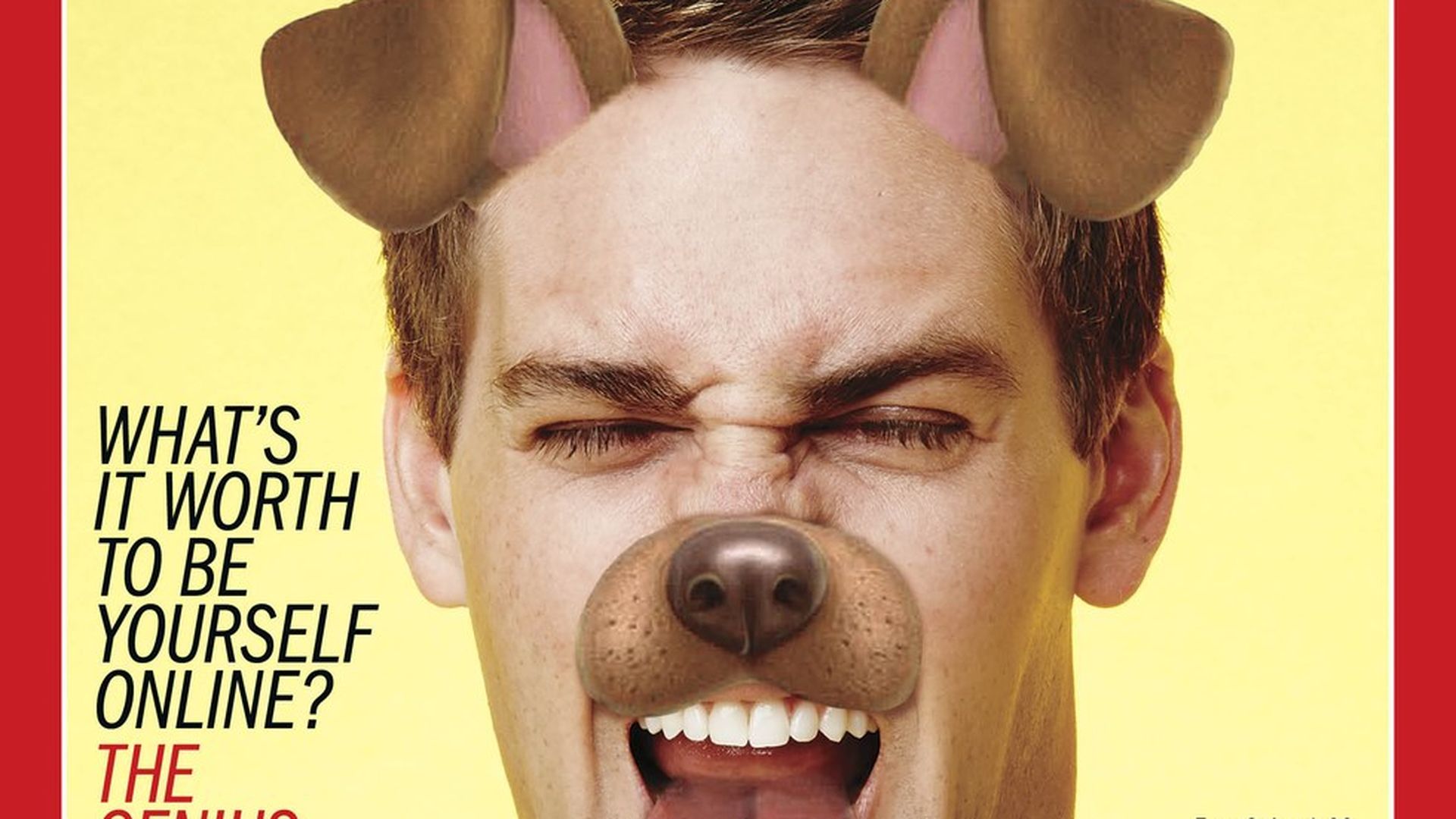 TIME cover story, "The Genius of Snapchat": "Snapchat accomplishes privacy not just through disappearing messages, which other companies had provided before, but by fully divorcing from the Internet."
"Snapchat is about sharing who you are right now. And the most effective way to do that is by seeing each other."
Wall Street Journal front page, "Snapchat Shares Surge 44% in Market Debut": "The newly public shares, trading on the New York Stock Exchange under the ticker 'SNAP,' surged 44% above their offering price to close at $24.48."
"That made for the biggest one-day pop for a U.S.-listed IPO raising at least $1 billion in more than two years."
https://www.axios.com/newsletters/axios-am-1caa9e24-3589-4b29-9dd2-d9c0e5e61eb0.html?chunk=8#story8
9. The Cabinet so far ...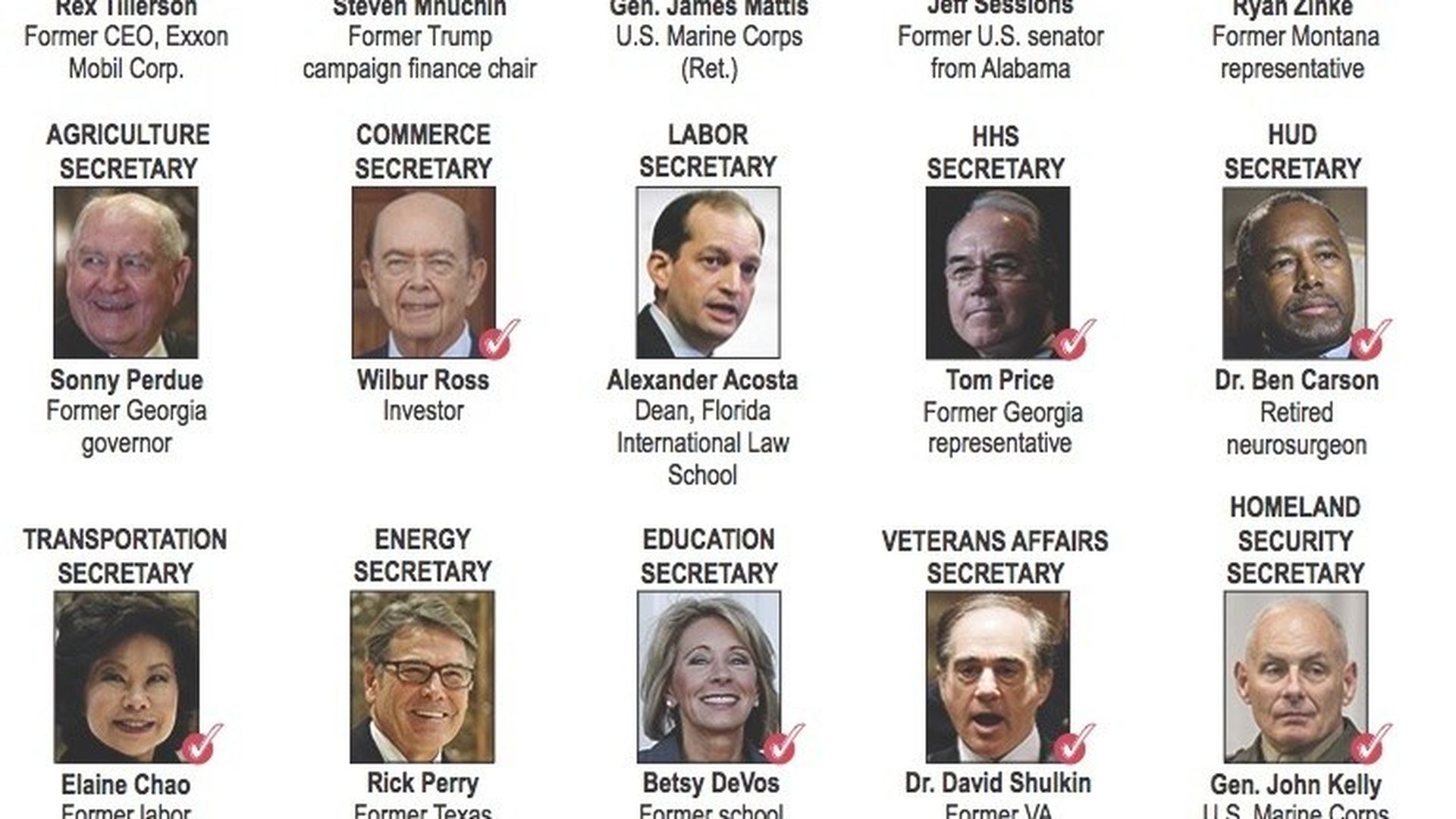 ... after yesterday's Senate confirmations of Ben Carson for housing secretary (58-41). Later, Rick Perry was confirmed for Energy (62-37).
https://www.axios.com/newsletters/axios-am-1caa9e24-3589-4b29-9dd2-d9c0e5e61eb0.html?chunk=9#story9
10. 1 fun thing: Graceland grows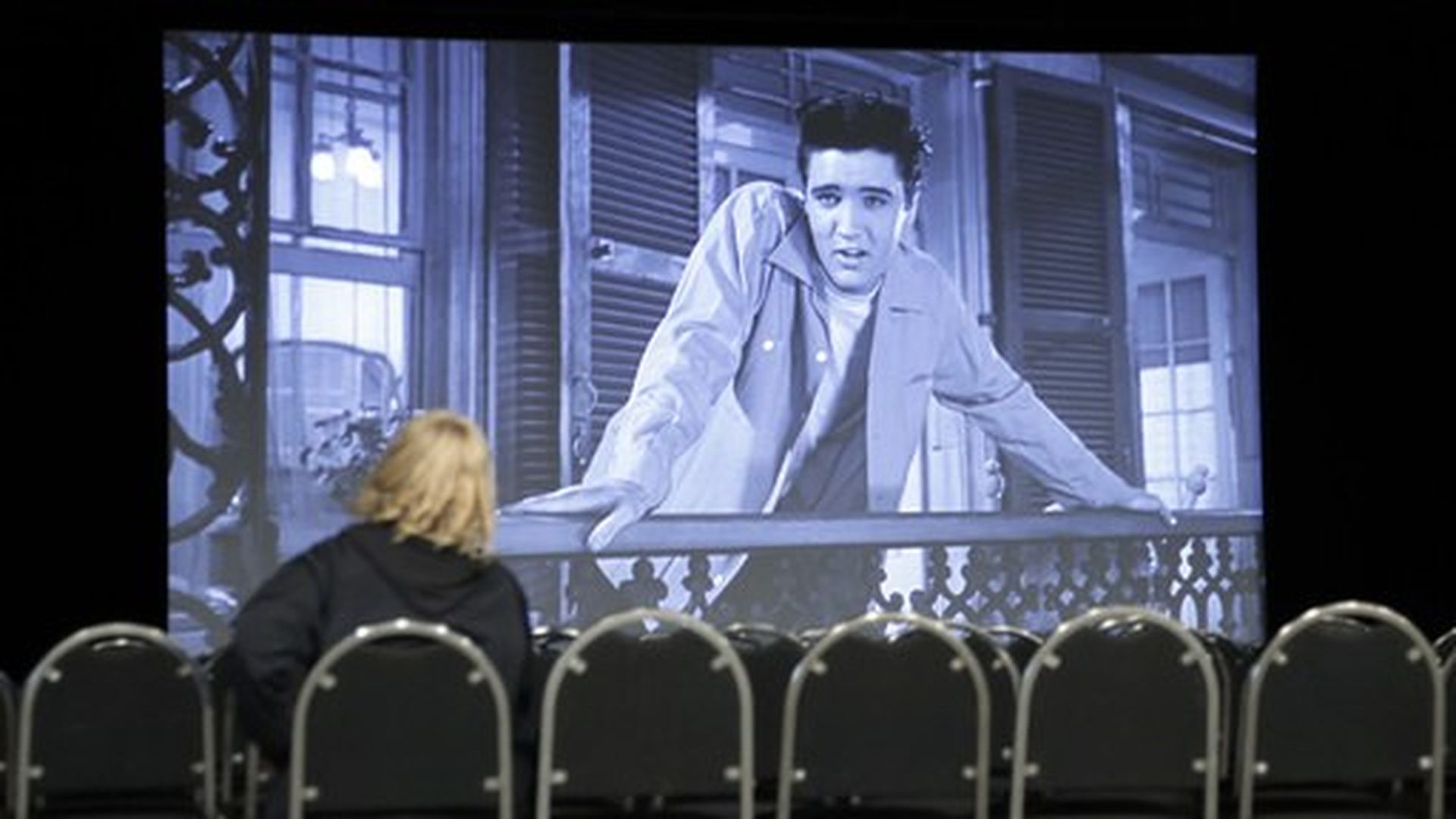 "Graceland unveils Elvis Presley's Memphis," a 200,000-square-foot, $45 million project across from Presley's mansion in Memphis' Whitehaven neighborhood — Memphis Commercial Appeal's Bob Mehr and Wayne Risher: "Elvis the Entertainer and Presley Motors exhibits anchor the complex, styled after a lifestyle retail center, and give fans expanded access to Elvis's cars, motorcycles — even a ski boat named Gladys after his mother."
"A purple, 1956 Cadillac El Dorado occupies a prominent corner facing the new ticketing center, and several items have been brought out of storage, including two ski boats, a purple 1975 Lincoln and a 1969 Mercedes two-door coupe. Sequined capes, jump suits and other performance costumes ... have been moved to the 20,000 square foot Elvis the Entertainer exhibit.
"Visitors used to have to look at the costumes from one angle, from behind a glass wall. Now they're in display cases that fans can walk around and view from all angles."