December 29, 2020
☕Good Tuesday morning! Today's Smart Brevity™ count: 1,190 words ... 4½ minutes.
1 big thing: How China won 2020
China will end 2020 as the only major country to see its economy grow, not shrink, Axios chief financial correspondent Felix Salmon reports.
Why it matters: China is operating from a position of great strength, with an economy expected to grow by 8.4% in 2021. The competition with the U.S. is likely to be fiercer during Joe Biden's presidency than at any point in history.
Columbia University historian Adam Tooze said: "However many times you hear the China growth story, it continues to have the capacity to shock and amaze. ... In scale and speed, it is unlike any previous experience."
By the numbers: China's economy is projected to grow by 2% in 2020 and by 8.4% in 2021. By the end of next year, its economy is expected to be 10.6% larger than it was at the beginning of this year.
By contrast, after shrinking by 3.6% this year and growing by a projected 4% next year, the U.S. economy is going to end 2021 just 0.25% larger than it was at the beginning of 2020.
The big picture: China managed to become a post-COVID economy within months of the virus striking.
Wuhan was the world's first big city to be locked down in an attempt to get the coronavirus under control. Today, its nightclubs are packed with revelers, none of whom feel the need to wear masks or social distance.
A Lancet study found that China made full and effective use of its centralized epidemic response system, as well as fresh memories of the SARS pandemic and a low incidence of nursing homes.
The lockdown, which lasted 76 days in Wuhan, was particularly strict, with only one member of each household permitted to leave home every couple of days for necessary supplies. It was also accompanied by an effective and efficient nationwide contact-tracing program.
China's factories are operating above their designed capacity, Sinovation Ventures CEO Kai-Fu Lee tells Axios from Beijing:
They're making up for pandemic-related reductions in manufacturing capacity in the rest of the world, as well as for the period of time they were shut down earlier this year.
The bottom line: China has never been stronger. It will take all of Biden's charm and diplomatic savvy to put together a coalition capable of constraining China.
2. Exclusive: Biden's new warning
President-elect Biden, who has vowed to be clear-eyed and straight about the pandemic, plans a renewed warning in remarks on COVID-19 in Wilmington today, a transition official tells me.
Echoing a CDC forecast from last week, Biden is expected to say that, tragically, the infection rates and the number of deaths are expected to increase in the coming weeks.
Biden plans to call out the Trump administration for falling short on the pace of vaccine distribution, and will discuss his own plan to get people vaccinated as quickly as possible.   
Why it matters: Although Americans have been getting blunt talk from their governors and from doctors on TV, President Trump has been AWOL on COVID since the election.
Biden is intentionally filling the vacuum, addressing the nation in terms that aim to balance hope and realism.
With a bluntness that has been missing from this administration, Biden talked Dec. 14 about "this dark winter of the pandemic," then said last week: "Our darkest days in the battle against COVID are ahead of us, not behind us."
Biden has said he has a plan to aim to administer 100 million vaccine shots in his first 100 days (by May 1).
Anthony Fauci, who'll be Biden's chief medical adviser on COVID, on Sunday repeated his grim "surge upon a surge" prediction for post-Christmas cases.
Fauci told Dana Bash on CNN's "State of the Union": "I share the concern of President-elect Biden that as we get into the next few weeks, it might actually get worse."
What we're watching: Straight talk is easier when it's on Trump's watch. Biden's test will be to be just as blunt after he takes the oath.
3. Changing tide: Trump could actually get $2,000 checks
A couple of days ago, it looked impossible that $2,000 COVID relief checks — up from the $600 checks for individuals in the package President Trump signed Sunday — could pass the Senate.
That has changed with Trump's final-hours advocacy for bigger checks, Republican sources tell Axios White House editor Margaret Talev and me.
It's still an uphill battle. But Republican senators are feeling more pressure from constituents — pumped by Trump — to do more.
It could be too politically risky for some Republican senators to vote "no."
If Senate Majority Leader Mitch McConnell "brings it to the floor, it might get 60. Then Trump can claim victory," said a Republican source who provided a breakdown of how the vote could go.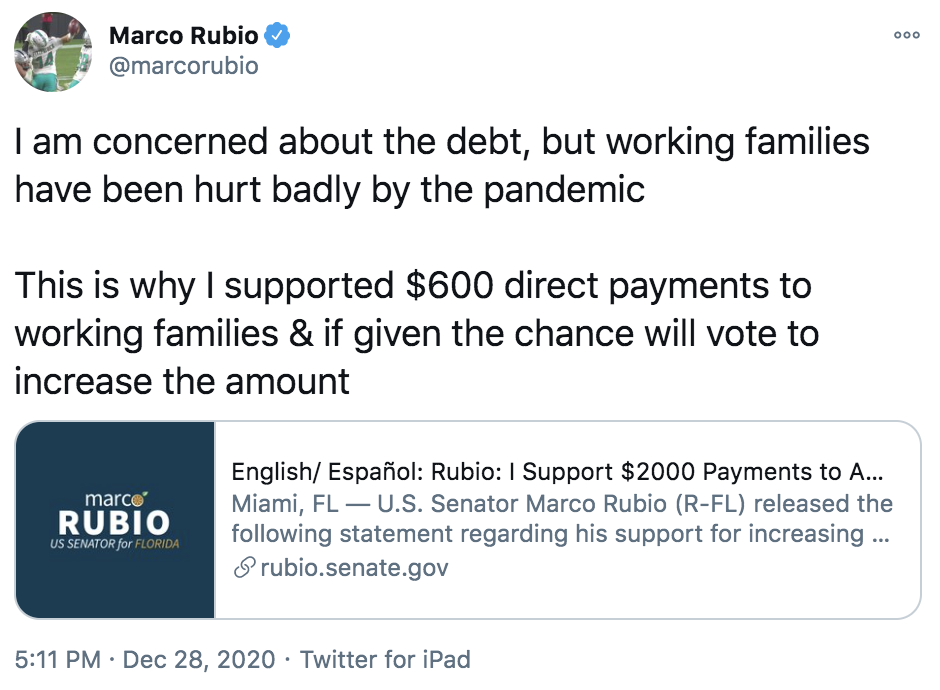 Senators to watch: Rand Paul of Kentucky and Ron Johnson of Wisconsin — with one or two other spending hardliners needed.
The House yesterday voted overwhelmingly — 275-134 — for $2,000 checks, with 44 Republicans joining almost all Democrats.
🥊 A Wall Street Journal editorial (subscription) today calls the president's push for $2,000 checks "a Donald Trump in-kind contribution to Minority Leader Chuck Schumer and Joe Biden."
If McConnell allows a vote, The Journal argues, it "would split the GOP caucus and upset fiscally conservative voters."
What's next: Senate consideration of $2,000 checks is unlikely to begin before Friday.
📄 Go deeper: New highlights from the package.
4. Pic du jour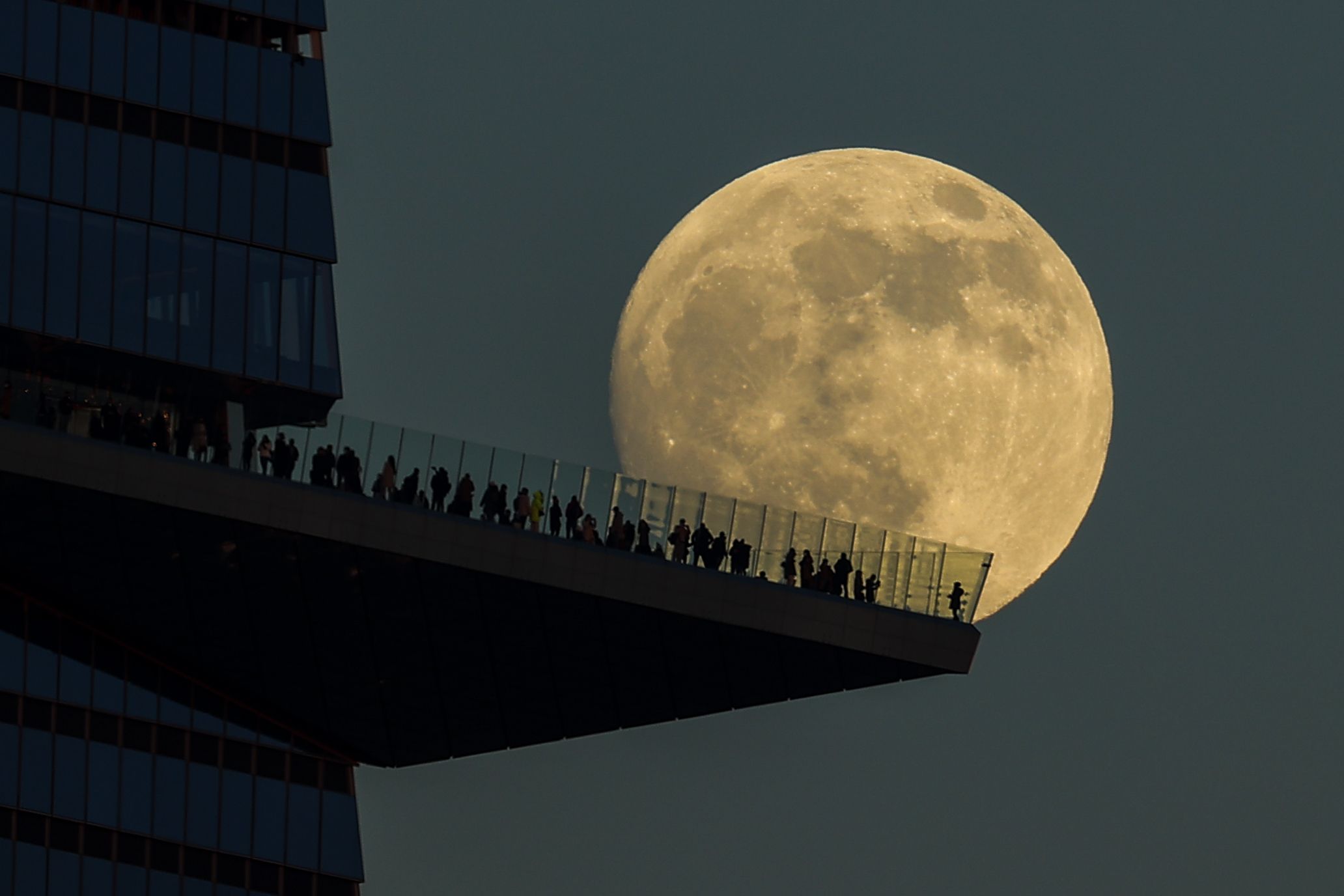 A full moon rises last evening behind people standing on the Edge, the observation deck at Hudson Yards in Manhattan.
It's billed as the Western Hemisphere's highest outdoor sky deck: 1,100 feet up, with a view 100 stories down — extending 80 feet straight out into the air.
5. New York halts most evictions
The New York Legislature convened an unusual special session between Christmas and New Year's to pass one of the country's most comprehensive anti-eviction laws, which will ban landlords from evicting most tenants for at least another 60 days, the N.Y. Times' Dana Rubinstein reports.
Why it matters: "As many as 1.2 million New York households are currently at risk of being removed from their homes, according to a database maintained by Stout, a consulting firm."
The law will also "protect some small landlords from foreclosure and automatically renew tax exemptions for homeowners who are elderly or disabled."
The big picture: "Nationally, an estimated 7 million to 14 million households are at risk for eviction, according to Stout's database. They are thought to be short between $11 billon and $20 billion in rent."
6. FAA expands drone zone
Small drones will be allowed to fly over people and at night in the U.S., the FAA said yesterday — a significant step toward use for widespread commercial deliveries, Reuters' David Shepardson reports.
The FAA said the much-anticipated drone rules require Remote ID for most drones — a digital license plate that enables identification from the ground.
7. Lingo: "vaxxies"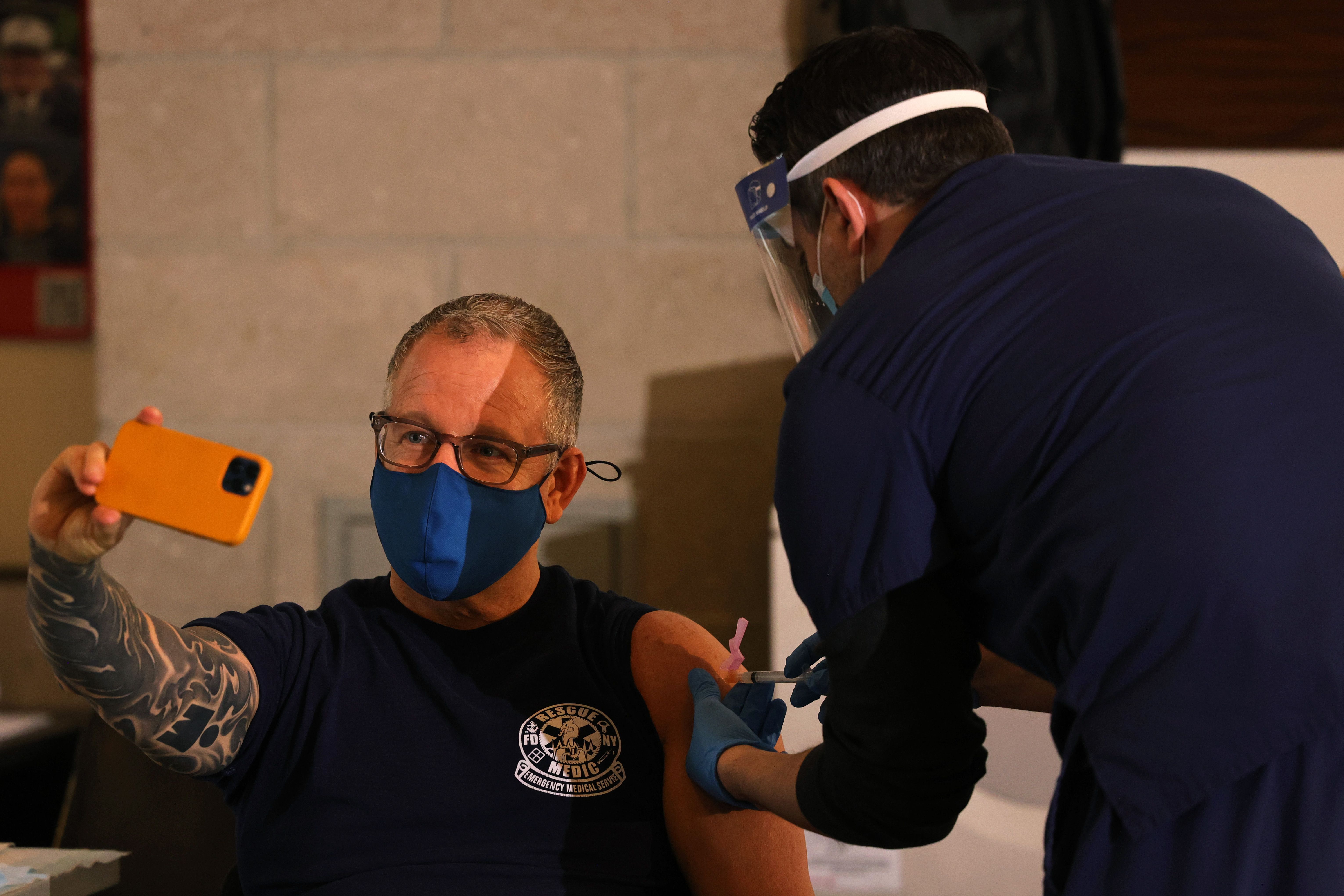 "Vaxxies" — selfies taken while getting the COVID vaccine — appeared in the N.Y Times for the first time Sunday, per the Twitter bot @NYT_first_said, which tracks words' debut in The Times. (hat tip: The Morning)
8. 1 food thing: Mallard to go? Fast food from 2,000 years ago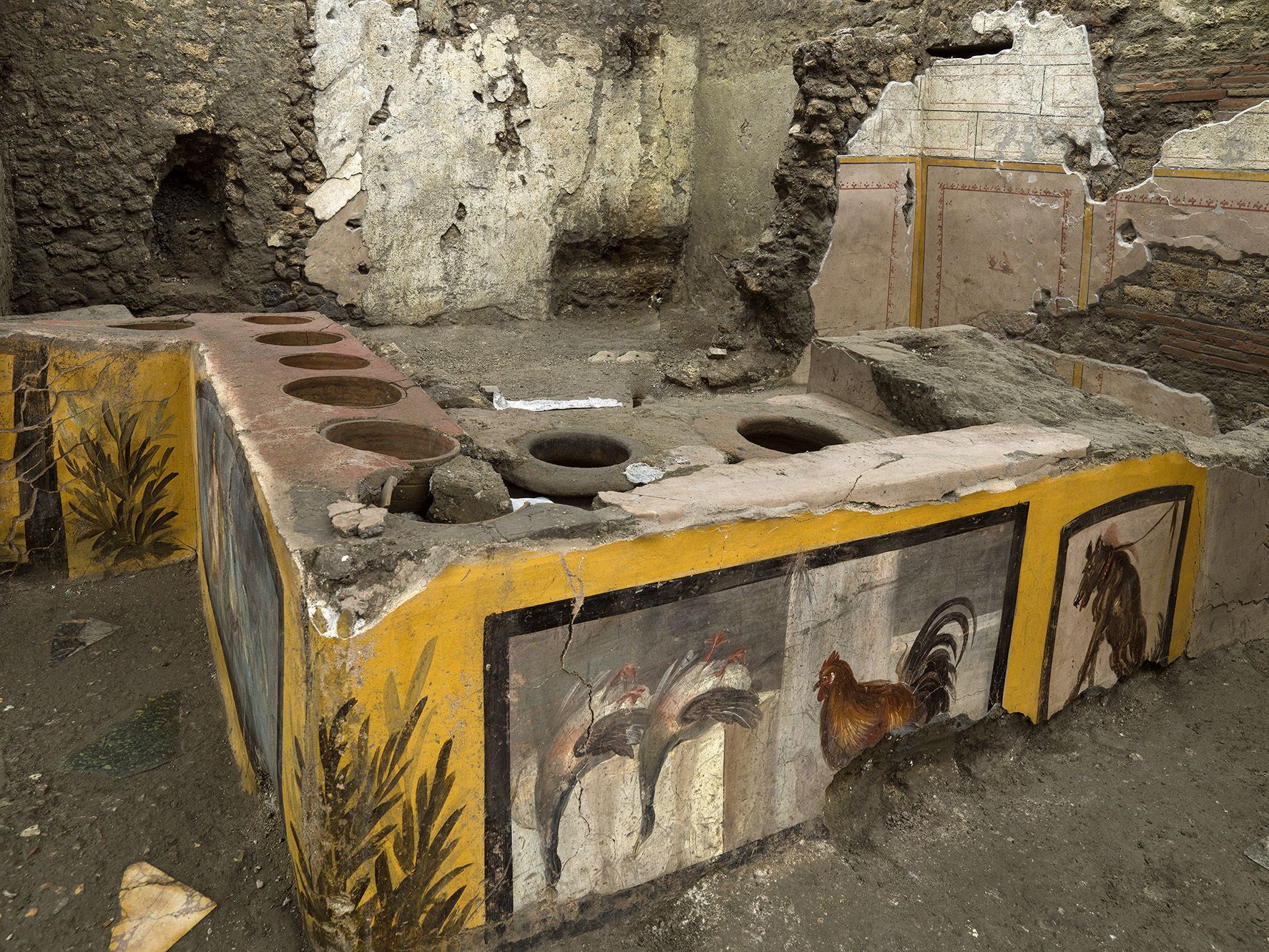 A fast-food eatery in Pompeii — a "thermopolium," frozen in time with the eruption of 79 A.D. — has been excavated, revealing dishes that were popular with citizens of the ancient Roman city, AP's Frances D'Emilio writes from Rome.
Archaeologists dug up a multi-sided-counter, with wide holes in the top to hold vessels for hot foods, like soup containers at a salad bar.
Images of two upside-down mallards and a rooster likely served to advertise the street-fo0d menu.
A fresco depicts a dog on a chain — perhaps like a modern reminder to leash pets. Vulgar graffiti is inscribed on the painting's frame.
A duck bone fragment was found in one of the containers, along with remains from goats, pigs, fish and snails.
At the bottom of a wine container were traces of ground fava beans, which in ancient times were added to wine for flavor and to lighten its color.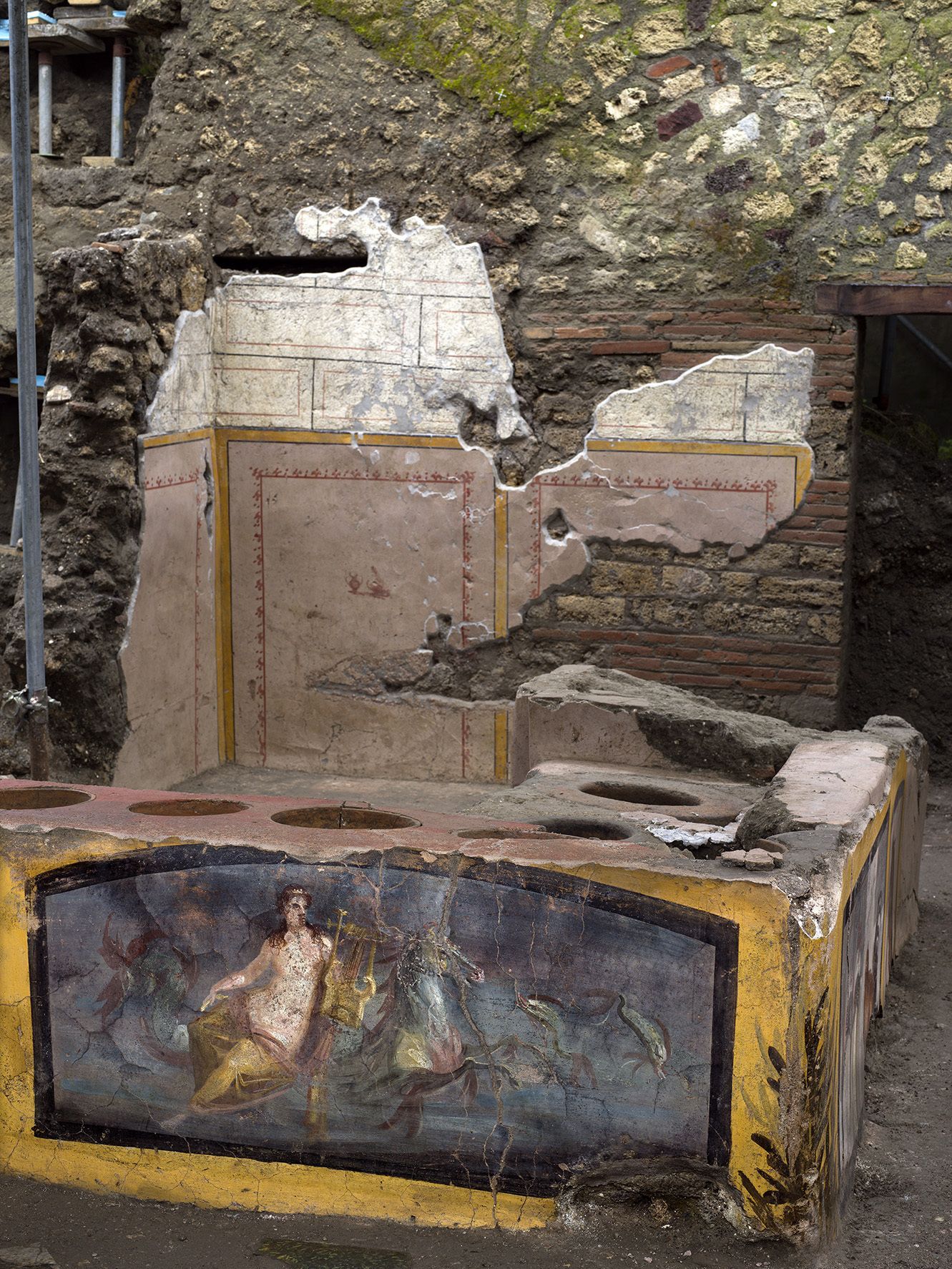 📬 Thanks for starting your day with us. Please invite your friends to sign up for Axios AM/PM.