Good Monday morning. Situational awareness: N.Y. Times health-and-medicine reporter Denise Grady and the great Robert Pear, with contribution from Dr. Larry Altman, report on p. A13: "The condition for which Senator John McCain [age 80] had surgery on Friday may be more serious than initial descriptions have implied, and it may delay his return to Washington by at least a week or two, medical experts said ... 'The recovery time from a craniotomy [opening skull to reach blood clot] is usually a few weeks.'"
https://www.axios.com/newsletters/axios-am-1bc3e04c-9c6b-4eb2-b95f-5a9743430452.html?chunk=0#story0
1 big thing: 10 Trump surprises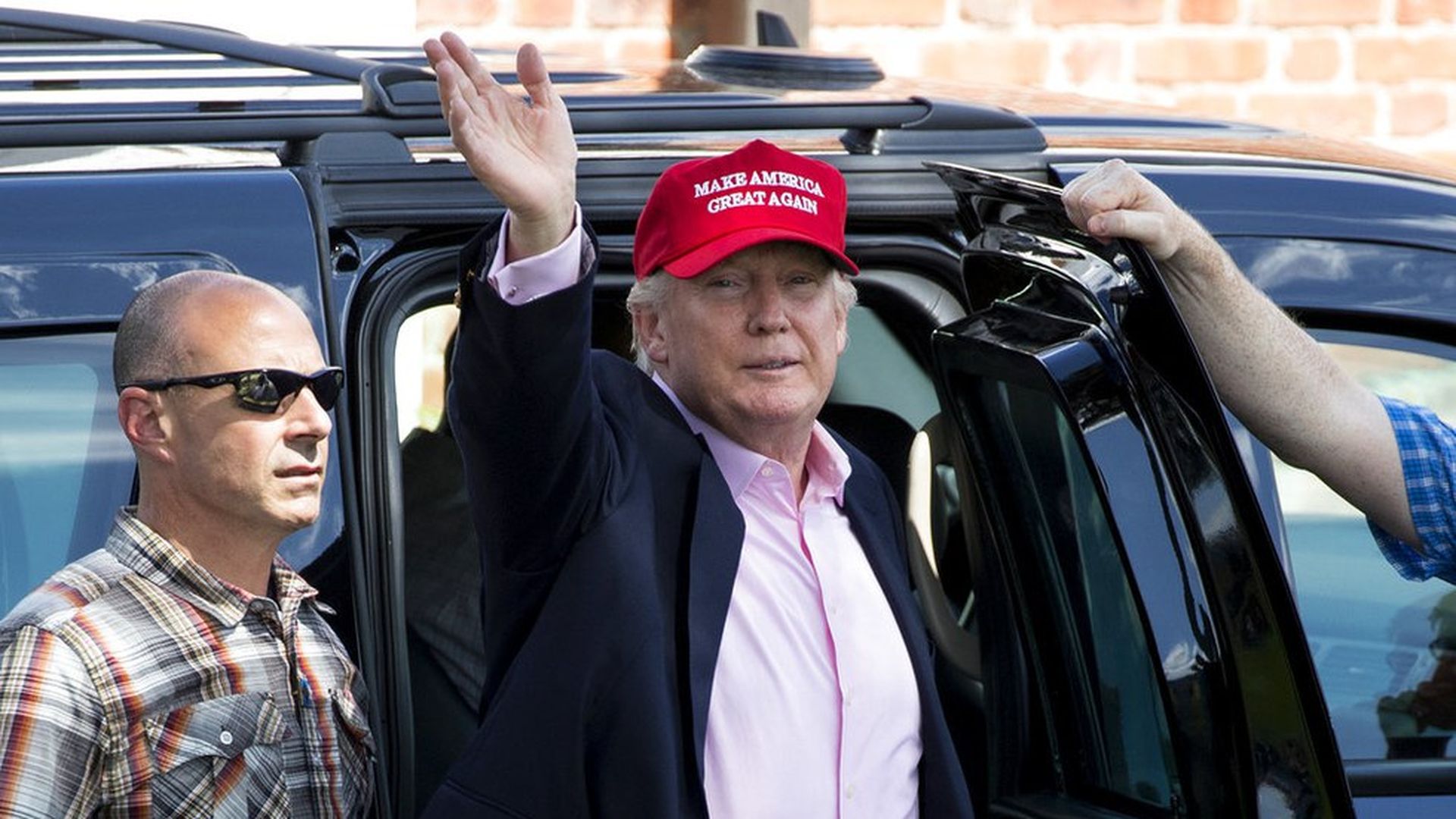 In our 100 days report card back in April, Jim VandeHei and I noted that one of Trump's "misses" was: "Little personal growth in office" — a loose style and resistance to structure that leaves White House aides insecure, and created internal inefficiencies and blind spots.
As Trump approaches the six-month mark on Thursday (Day 182, with 1,280 till the next Inauguration Day), that factor is still hampering his presidency, one-eighth of the way into this term.
We asked several top Trump-watchers what has surprised them most about the first six months. Chris Wallace, anchor of "Fox News Sunday," writes:
"What's been most surprising to me is how little Trump has changed as President. He has the same strengths and the same weaknesses he's always had. Washington certainly hasn't bent to his will. And he hasn't bent to the ways of Washington."
Other surprises:
What has surprised you? Drop me a note: mike@axios.com. If your answer surprises me, I'll share it with the AM family.
https://www.axios.com/newsletters/axios-am-1bc3e04c-9c6b-4eb2-b95f-5a9743430452.html?chunk=1#story1
2. If you read only 1 thing
The New Yorker, "Follow the Leader: How residents of a rural area started copying the President — In a small Colorado city, Trump's tone has a deeper influence than his policies," by Peter Hessler:
"[T]he lack of legislative accomplishment seems only to make supporters take more satisfaction in Trump's behavior. And thus far the President's tone, rather than his policies, has had the greatest impact on Grand Junction."
"This was evident even before the election, with the behavior of supporters at the candidate's rally, the conflicts within the local Republican Party, and an increased distrust of anything having to do with government."
"[S]upporters picked up on Trump's obsession with crowd size."
"But Trump's connection with supporters also involves a great risk. Many Presidential acts that feel satisfying— the unfiltered insults, the attacks on institutions — also make it difficult to achieve anything practical and positive. And the resulting legislative failures typically inspire more emotion."
"In a climate of intense distrust of government, it will be particularly difficult to persuade voters to approve new funding [for local law enforcement and public-safety services]. Some residents told me that they want further cuts in education—even in the high desert they were determined to drain the swamp."
"One person told me half in jest that the best way to get voters to approve new funding would be to blame everything on a lack of support by Denver élites."
https://www.axios.com/newsletters/axios-am-1bc3e04c-9c6b-4eb2-b95f-5a9743430452.html?chunk=2#story2
3. Big oil's electric fight against coal and nuclear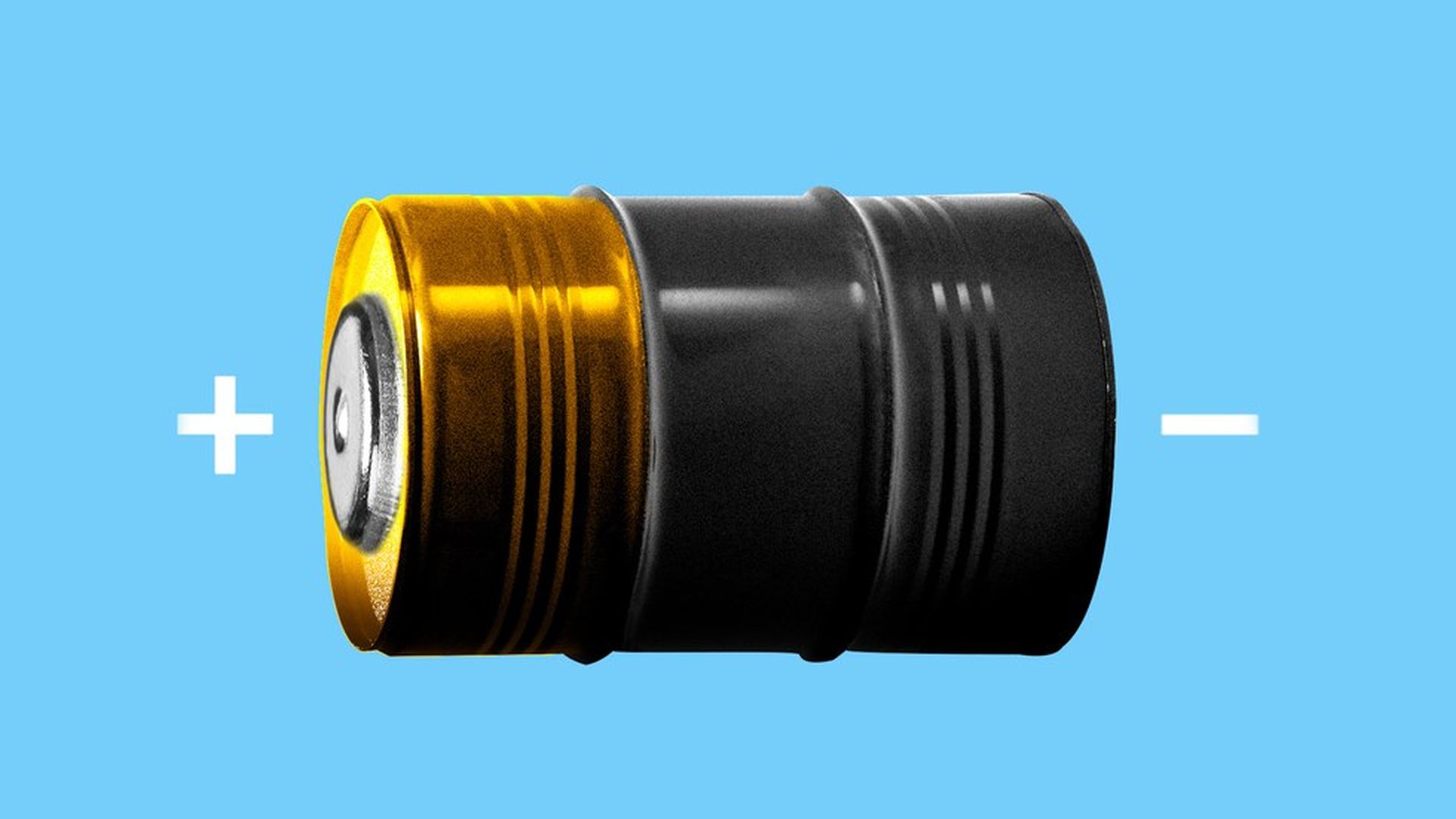 The American Petroleum Institute, the nation's biggest and most influential lobbying group for the oil and natural gas industry, is fighting nuclear power subsidies across the U.S., Axios' Amy Harder writes in her always-news-breaking Monday energy column, "Harder Line":
What's happening: API is poised to oppose any efforts to expand renewable electricity, and telling the Trump administration that its study on the power grid better not hurt natural gas in an effort to help coal and nuclear energy."
Why it matters: The entry of API into the debate over power generation is a turning point in an industry long dominated by coal and nuclear energy. API's big-oil members are increasingly producing natural gas. Now the group is fighting to make sure that fuel becomes America's dominant source of electricity.
P.S. Wall Street Journal op-ed, "Why Europeans Oppose the Russia Sanctions Bill: It imperils the Continent's energy security," by Wolfgang Ischinger, Germany's ambassador to the U.S., 2001-06, now chair of Munich Security Conference.
https://www.axios.com/newsletters/axios-am-1bc3e04c-9c6b-4eb2-b95f-5a9743430452.html?chunk=3#story3
4. Bite of the day
Sen. Susan Collins (R-Maine) — who along with Sen. Rand Paul (R-Ky.) is one of two firm nays on the health-care bill; one more Republican "no" would kill it — to CNN's Jake Tapper on "State of the Union":
"There are about eight to 10 Republican senators who have serious concerns about this bill."
N.Y. Times lead story, "AS DOUBTS GROW, TOP REPUBLICANS VOW HEALTH VOTE: Timing Is Up in the Air."
https://www.axios.com/newsletters/axios-am-1bc3e04c-9c6b-4eb2-b95f-5a9743430452.html?chunk=4#story4
5. Sign of our times: Opioid needles everywhere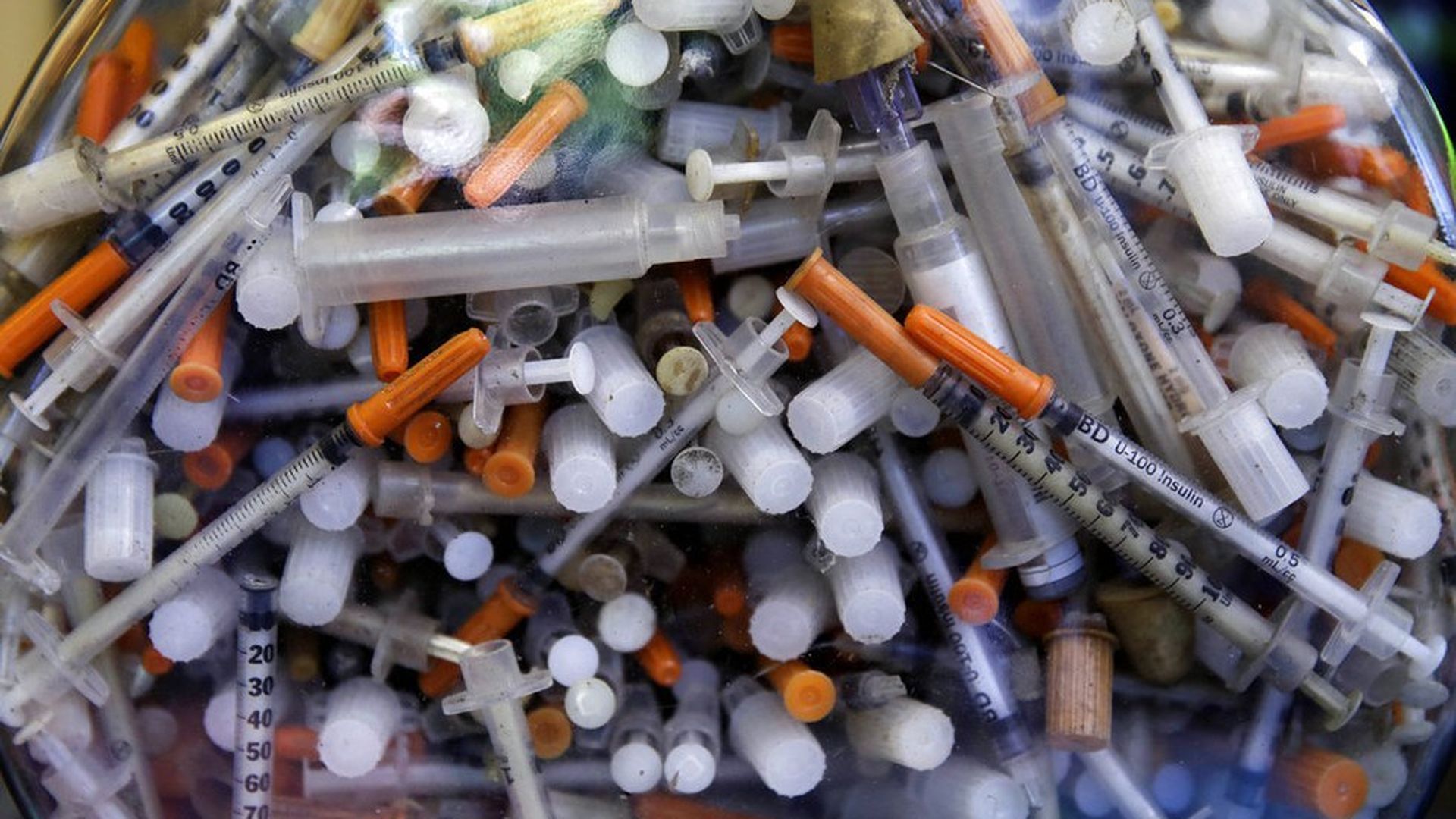 Syringes left by drug users amid the heroin crisis are turning up everywhere, AP's Michael Casey reports from Lowell, Mass., in "'It's raining needles': Drug crisis creates pollution threat":
"They hide in weeds along hiking trails and in playground grass, get washed into rivers and onto beaches, and lie scattered about in baseball dugouts and on sidewalks and streets."
"[I]solated spots where drug users can gather and attract little attention [are] often the same spots used by the public for recreation."
"The needles are tossed out of carelessness or the fear of being prosecuted for possessing them."
"One child was poked by a needle left on the grounds of a Utah elementary school. Another youngster stepped on one while playing on a beach in New Hampshire."
https://www.axios.com/newsletters/axios-am-1bc3e04c-9c6b-4eb2-b95f-5a9743430452.html?chunk=5#story5
6. Feud among Gulf monarchies
WashPost lead story, "UAE tied to hack targeting Qatar," by Karen DeYoung and Ellen Nakashima:
"The United Arab Emirates orchestrated the hacking of Qatari government news and social media sites in order to post incendiary false quotes attributed to Qatar's emir, Sheikh Tamim Bin Hamad al-Thani, in late May that sparked the ongoing upheaval between Qatar and its neighbors, according to U.S. intelligence officials."
"In a statement released in Washington by its ambassador, Yousef al-Otaiba, the UAE said the Post article was 'false.'"
"The statements attributed to the emir first appeared on the Qatar News Agency's website early on the morning of May 24 ... [T]he same false information appeared on a ticker at the bottom of a video of the emir's appearance that was posted on Qatar News Agency's YouTube channel."
https://www.axios.com/newsletters/axios-am-1bc3e04c-9c6b-4eb2-b95f-5a9743430452.html?chunk=6#story6
7. Number of the day
"President Trump's Air War Kills 12 Civilians Per Day," per Samuel Oakford for Daily Beast:
"Civilian casualties from the U.S.-led war against the ... Islamic State are on pace to double under President Donald Trump, according to an Airwars investigation for The Daily Beast. Airwars researchers estimate that at least 2,300 civilians likely died from Coalition strikes overseen by the Obama White House — roughly 80 each month in Iraq and Syria. As of July 13, more than 2,200 additional civilians appear to have been killed by Coalition raids since Trump was inaugurated."
https://www.axios.com/newsletters/axios-am-1bc3e04c-9c6b-4eb2-b95f-5a9743430452.html?chunk=7#story7
8. The Trump Show: The fish tank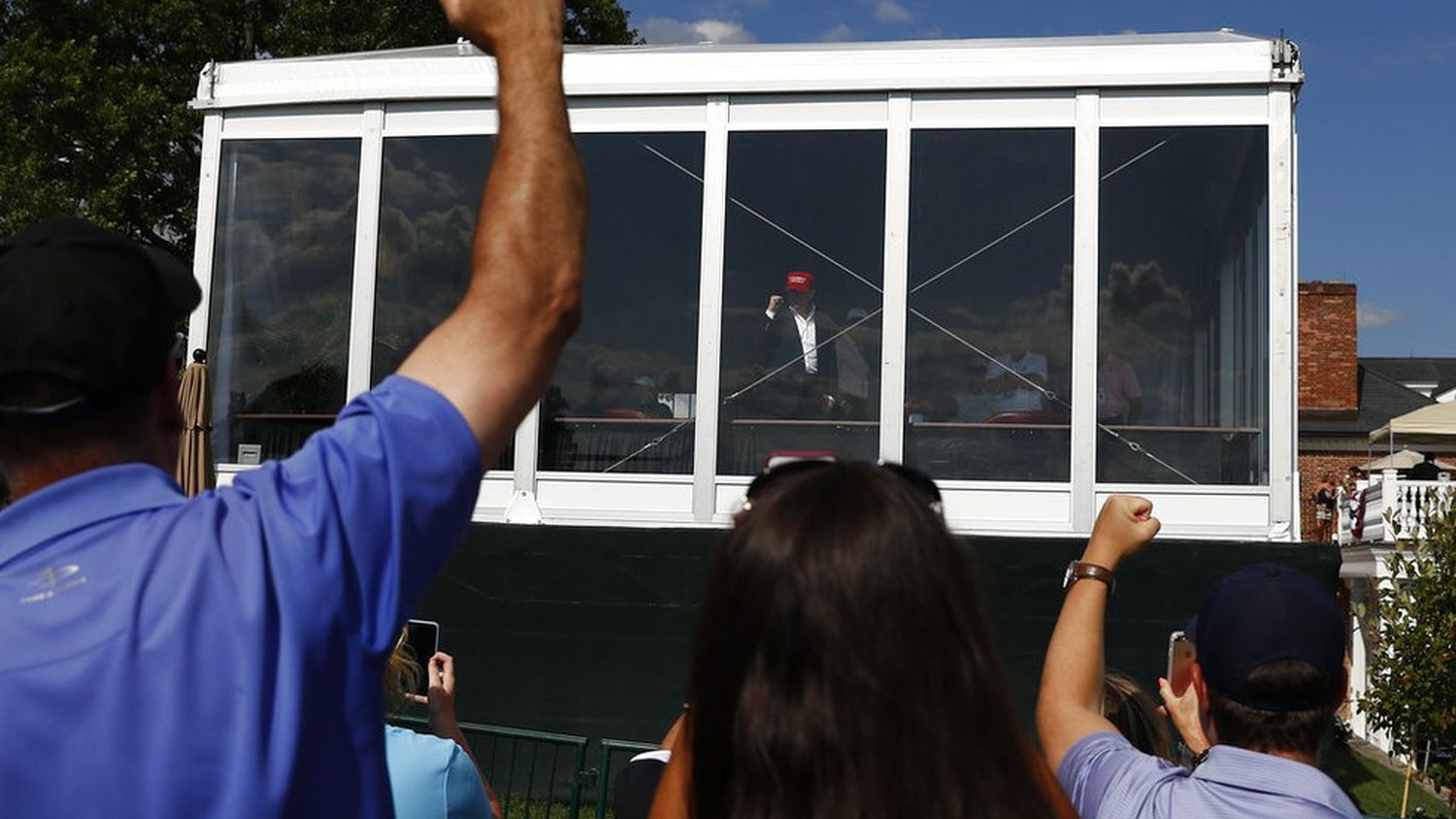 Both days this weekend, President Trump watched the U.S. Women's Open golf tournament from this presidential viewing stand at his Trump National Golf Club in Bedminster, N.J.
Pool reporter Andrew Restuccia of Politico sent his colleagues this description of the glass enclosure: "If you're having trouble picturing it, imagine a giant fish tank. ... POTUS came to the edge of the glass several times to wave, clap and mouth 'thank you' to the crowd. ... Several people popped into the enclosure to say hello, but the White House has not provided a list of his guests. ...
"Eric Trump and Lara Trump are in the enclosure as well. ... It appears that POTUS was snacking on French fries with ketchup. But your pooler can't be 100 percent sure. ...
"The crowd gawking at the president appears to have annoyed some volunteers and avid golf fans, who have repeatedly shushed those who are talking too loudly. The U.S. Women's Open continues to take place right next to the enclosure with the president."
https://www.axios.com/newsletters/axios-am-1bc3e04c-9c6b-4eb2-b95f-5a9743430452.html?chunk=8#story8
9. Probing fake news
Sen. Mark Warner of Virginia, the top Democrat on Senate Intelligence, "said he wants to look into the activities of Cambridge Analytica, a data firm that advised Trump's campaign, as well as Trump's digital efforts during the election because of the way false election stories about Hillary Clinton were circulated and targeted online," per Bloomberg.
Warner on CNN's "State of the Union": "The ability to manipulate these search engines and some of these social media platforms is real, it's out there ... We need information from the companies, as well as we need to look into the activities of some of the Trump digital campaign activities.''
Warner on CBS' "Face the Nation": "[T]here was a series of Russian trolls, paid individuals who worked for the Russian services that were trying to interfere and put fake news out. We also know they created what's called bots — in effect, Internet robots — that actually could interfere as well. The question we have is: Did they somehow get information from some of the Trump campaign efforts to target that interference?"
1 nice, de-escalating thing ... "Top Republicans Aren't Signing Up For Trump's War With The Media," by BuzzFeed's Alexis Levinson: "'I love the media!' exclaimed GOP Rep. Mark Meadows, the chairman of the conservative Freedom Caucus."
https://www.axios.com/newsletters/axios-am-1bc3e04c-9c6b-4eb2-b95f-5a9743430452.html?chunk=9#story9
10. 1 fun thing: "As entertaining as table-setting gets"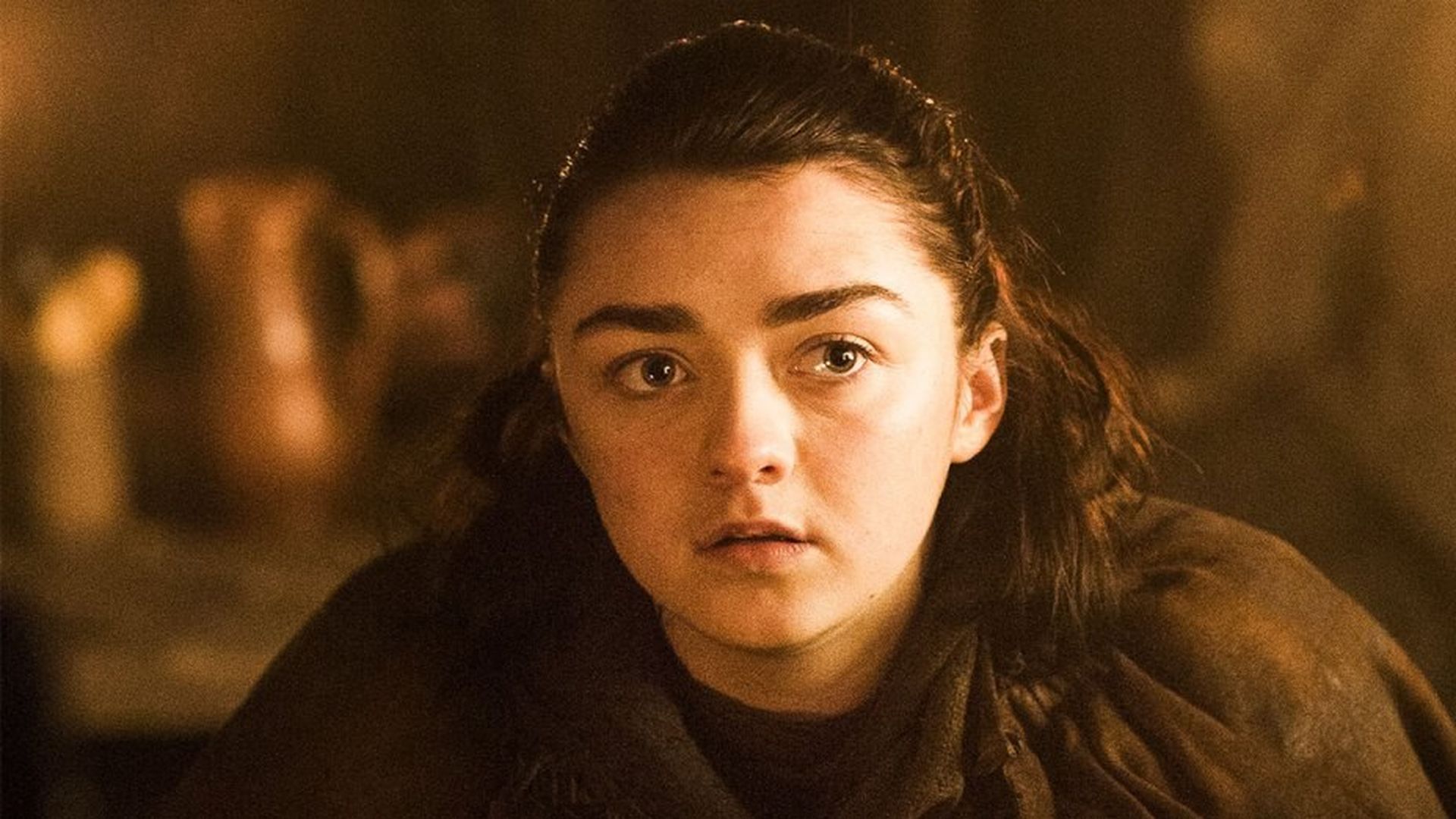 Spoilers, but not a recap ... Hollywood Reporter review of last night's "Game of Thrones" Season 7 premiere on HBO:
"As cataclysmic as we've been led to imagine that winter was, especially for those in the North, and as epic as we imagine the clash for the Iron Throne — the one we've been building to for six seasons — is likely to be, it's not going to be permanent. The Citadel will remain. Maesters will still study. Men will, presumably, remain atop The Wall protecting people to the south. Ballers will inexplicably remain Elizabeth Warren's favorite show."