Good Thursday morning. It's Day 315. Situational awareness: Jared Kushner met this month with Mueller investigators, and answered questions about interactions between Mike Flynn and Russians, per the N.Y. Times' Matt Apuzzo ... "Legendary Texas oil tycoon T. Boone Pickens has put a [$250 million] for-sale sign on his beloved Mesa Vista Ranch." (Dallas Morning News)
https://www.axios.com/newsletters/axios-am-1b812b5b-eae7-4404-b8f3-52ca22adb52c.html?chunk=0#story0
1 big thing: Trump to trump Trump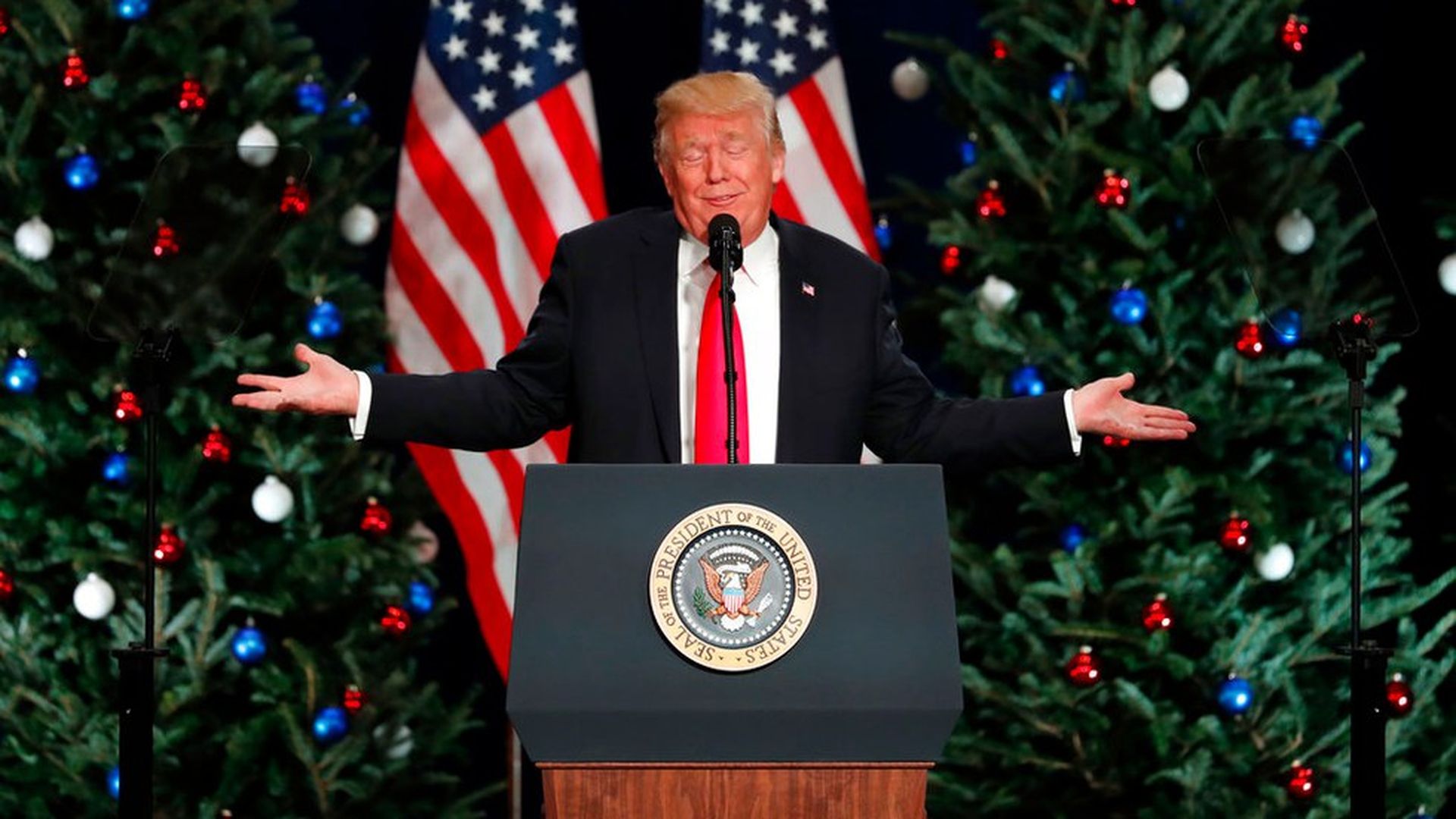 Exhausted by the Trump presidency? Brace yourself: White House officials expect Trump to be even more outrageous and cocksure in coming months.
We just witnessed the most unthinkable 96 hours of Trump's reign:
Be smart: Elected Republicans, at least in public, seem fine with it all. They chuckle and say it's simply Trump being Trump. White House Chief of Staff John Kelly and his staff seem fine with, or at least resigned to, this reality. No one who matters is doing anything but egging him on.
Go deeper: Jonathan Swan's in-the-moment tour de force, "The darkest day of Trump's presidency."
https://www.axios.com/newsletters/axios-am-1b812b5b-eae7-4404-b8f3-52ca22adb52c.html?chunk=1#story1
2. Media road to predation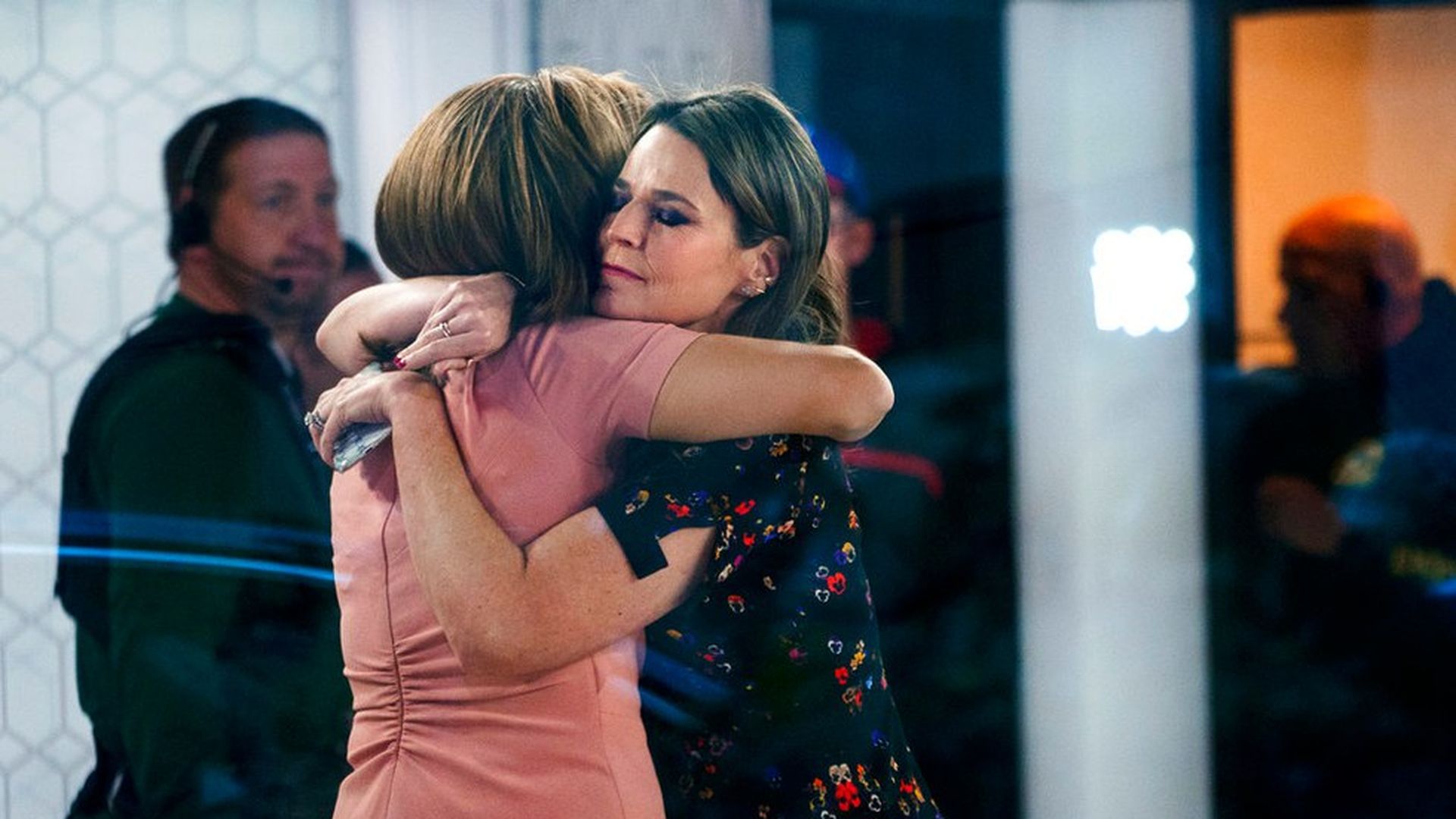 Stephen Colbert began last night's monologue: "I am one of the few men still allowed on television."
How Matt Lauer's firing went down, per N.Y. Post (cover: "DIRTY ROCK"):
"[T]he reason he was fired so quickly by NBC News is that [text] messages, saved by an NBC employee whom he approached while they were in Sochi, Russia, for the 2014 Winter Olympics, 'showed incontrovertible proof of inappropriate sexual behavior.'"
"[T]he first woman to come forward and complain about Lauer is a junior production worker who was at the 2014 Sochi Olympics as an intern, where she was first approached by Lauer."
"A source told Page Six, 'There's at least one picture [sent to her by Matt] which was a major part of the evidence, which is why the firing came so quickly … my understanding was it was so damning that it was unquestionable whether or not he should be fired.'"
TMZ posts video of Lauer in 2006, saying to Meredith Vieira as she picked up scripts during a break that was captured on-camera: "Pretty sweater. Keep bending over like that. It's a nice view." (Video)
Buzz ... Wall Street Journal: "One high-profile figure who could be a candidate to take Mr. Lauer's spot is Megyn Kelly, the former Fox News host who joined NBC in January and anchors the third hour of 'Today.'"
P.S. "Sundance Film Festival Director John Cooper says the 2018 festival will take steps to address the sexual misconduct crisis and boost awareness for both staff and attendees."
"Two allegations of assault against Harvey Weinstein occurred during Sundance."
https://www.axios.com/newsletters/axios-am-1b812b5b-eae7-4404-b8f3-52ca22adb52c.html?chunk=2#story2
3. "Closer to war"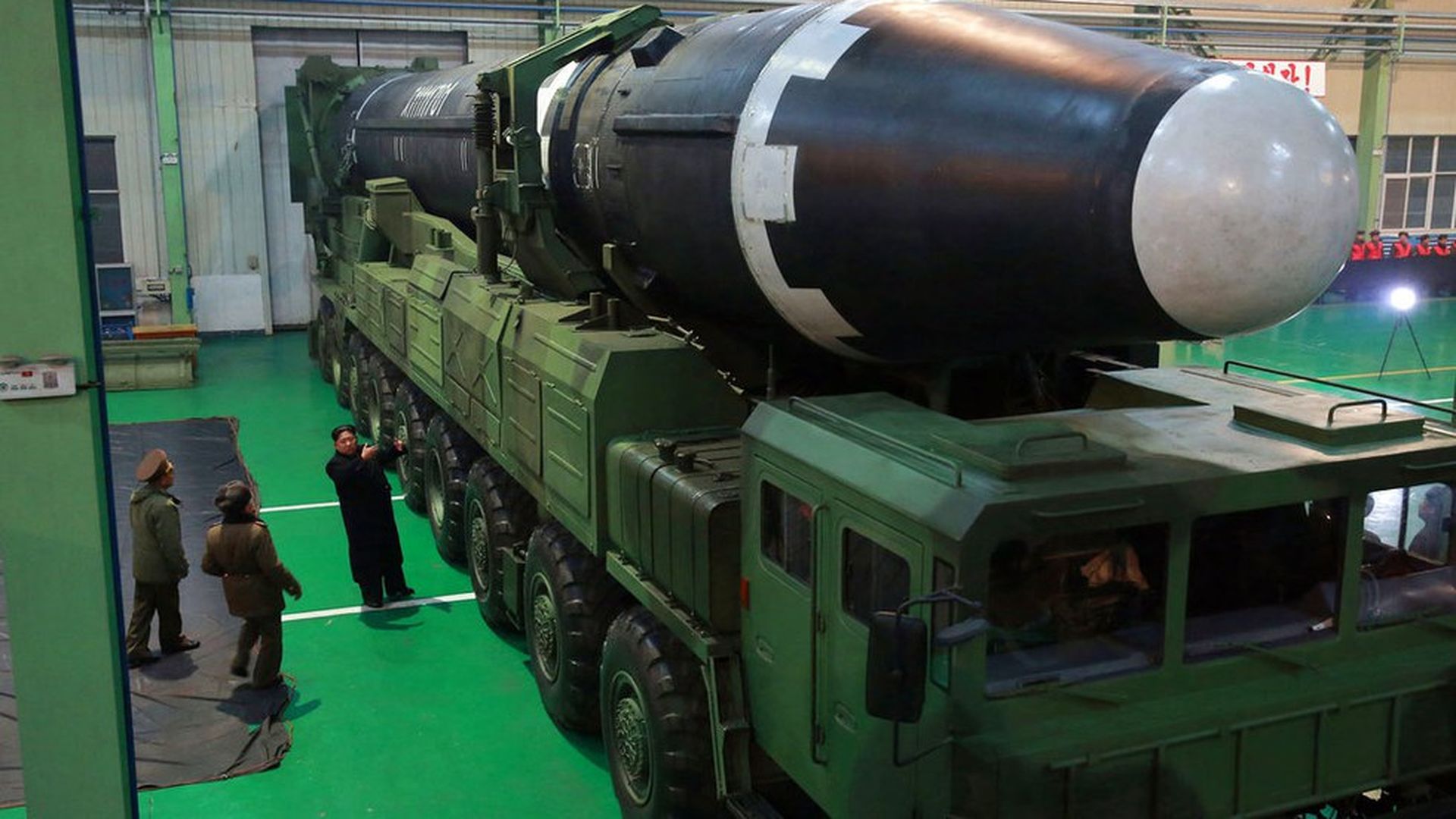 "North Korea released dozens of photos ... of the Hwasong-15, a new intercontinental ballistic missile it claims can reach any target in the continental United States. The photo dump, published in the paper and online editions of the ruling party's official daily, is a goldmine for rocket experts," AP reports:
Why it matters: The missile is "bigger, more advanced and comes with a domestically made mobile launcher that will make it harder than ever to pre-emptively destroy."
"But there's a potentially major catch: it might not have the power to go much farther than the West Coast if it is loaded down with a real nuclear warhead, not a dummy like the one it carried in its test launch."
Our thought bubble: Just the West Cost? Being able to take out L.A., the Silicon Valley and Seattle — not fine!
3 bites:
Nikki Haley, U.S. ambassador to the U.N., at the Security Council: "The dictator of North Korea made a choice yesterday that brings the world closer to war." (CNN)
Haley: "If war comes, make no mistake: The North Korean regime will be utterly destroyed." (Reuters)
Trump yesterday in St. Charles, Mo.: "[T]hese massive tax cuts will be rocket fuel — (Laughter) — Little Rocket Man! Rocket fuel for the American economy. (Applause) He is a sick puppy."
https://www.axios.com/newsletters/axios-am-1b812b5b-eae7-4404-b8f3-52ca22adb52c.html?chunk=3#story3
Bonus: Pic du jour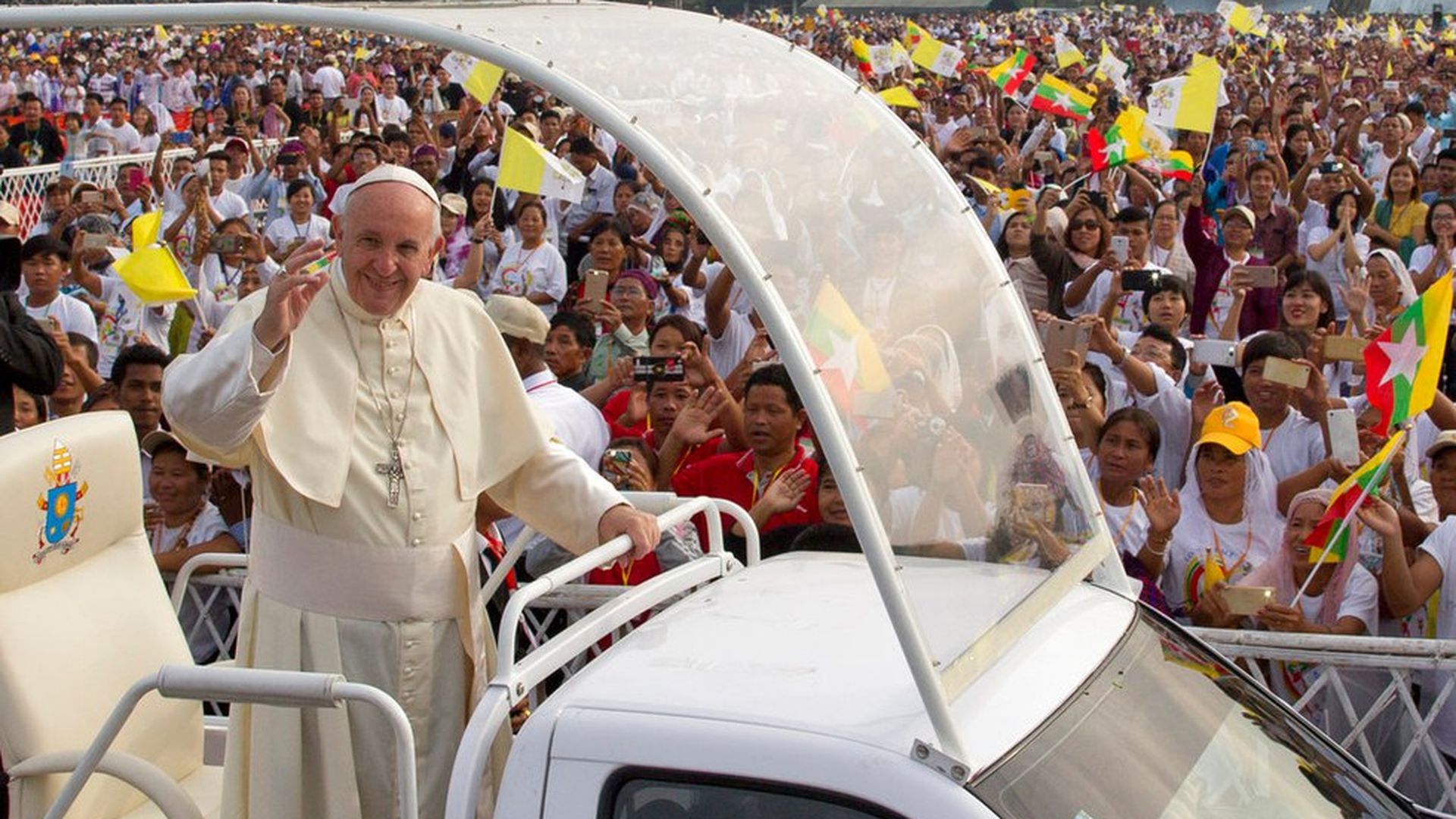 Pope Francis waves from popemobile as Myanmar Catholics wave flags ahead of the holy mass yesterday in Yangon, Myanmar.
The pontiff was in Myanmar for the first stage of a week-long visit that took him today to neighboring Bangladesh.
https://www.axios.com/newsletters/axios-am-1b812b5b-eae7-4404-b8f3-52ca22adb52c.html?chunk=4#story4
4. America wakes up to internet's dark side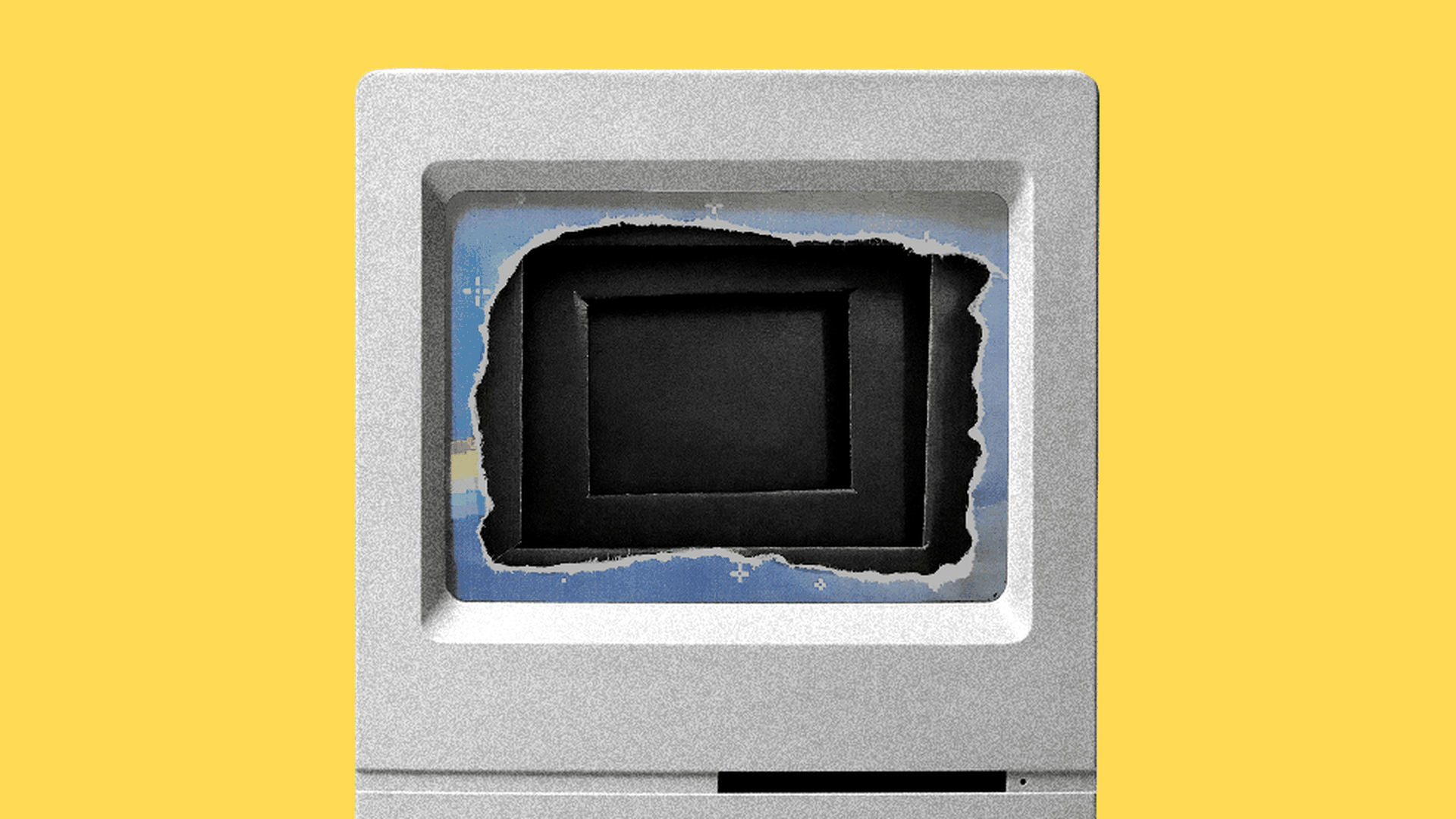 For decades, the internet has been seen by most Americans as a democratizing force that makes life easier and more enjoyable. But increasing instances of abuse on the open web is challenging our conventional notion of the benefits of the internet, according to Axios' Sara Fischer and Kim Hart:
Why it matters: Advances in technology always create unforeseen consequences, which is why laws are usually written to address broad use cases. But recent incidents show that the country is reaching a tipping point, and regulators seem eager to revisit outdated policies to protect Americans from an internet turned ugly.
A year of reckoning: Very public abuses of the Internet by bad actors became national headlines this year.
Internet users feel more vulnerable than ever, even though internet use and social media use continues to climb, per the Pew Research Center.
https://www.axios.com/newsletters/axios-am-1b812b5b-eae7-4404-b8f3-52ca22adb52c.html?chunk=5#story5
5. ⚠️ Huge warning: Trap for journalists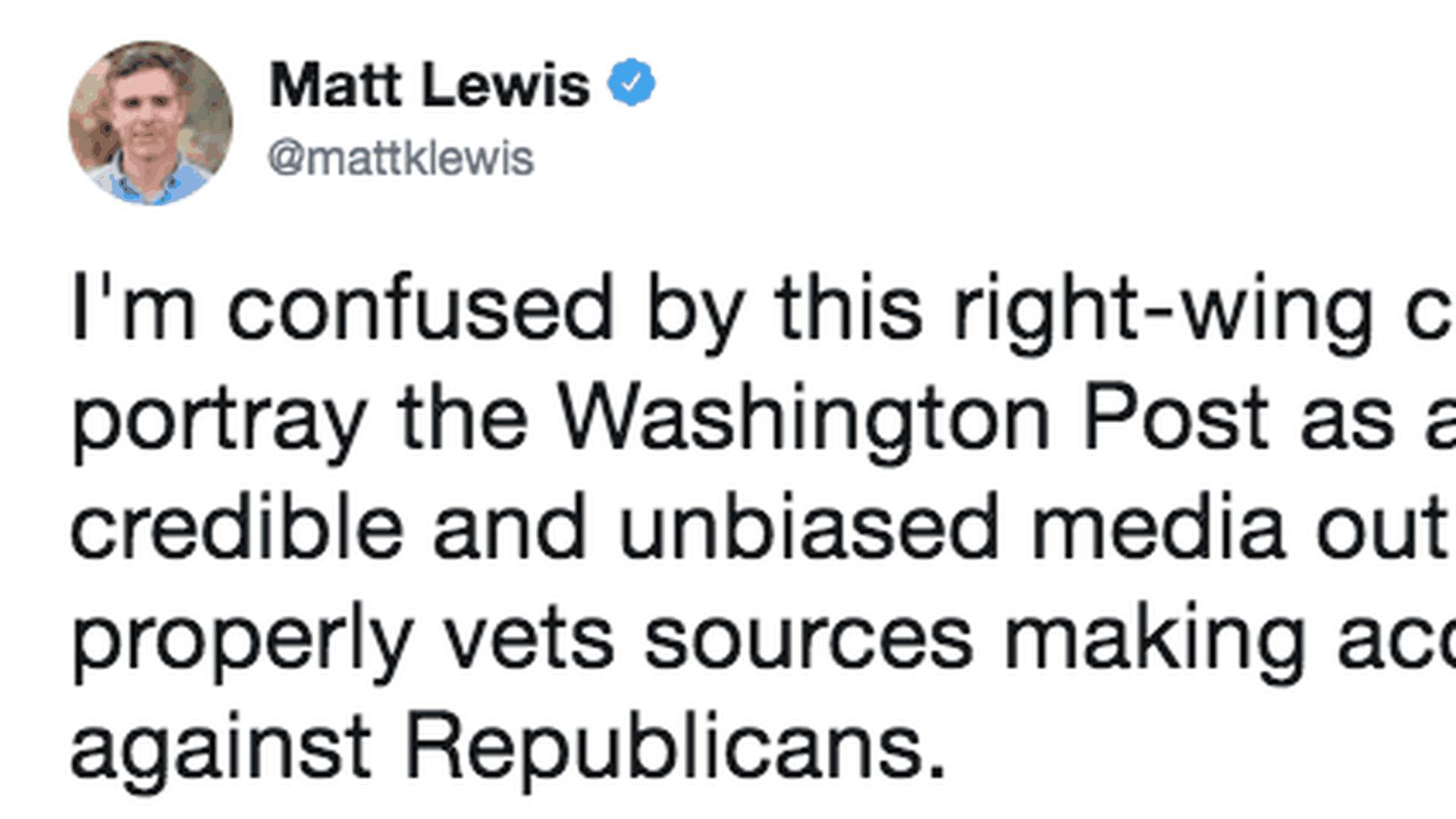 "The failed effort by conservative activists to plant a false story about Senate candidate Roy Moore in The Washington Post was part of a months-long campaign to infiltrate The Post and other media outlets in Washington and New York, according to interviews, text messages and social media posts that have since been deleted," the WashPost reports on A1:
"Starting in July, Jaime Phillips, an operative with the organization Project Veritas, which purports to expose media bias, joined two dozen networking groups related to either journalism or left-leaning politics."
"She ... appeared at least twice at gatherings for departing Post staffers."
"Phillips's encounters with dozens of journalists, which have not been previously reported, typically occurred at professional networking events or congratulatory send-offs for colleagues at bars and restaurants."
"She used three names and three phone numbers to follow up with Post employees, chatting about life in Washington and asking to be introduced to other journalists."
P.S. Project Veritas president James O'Keefe mocks Washington Post handling of hoax, speaking yesterday at Southern Methodist University in Dallas:
"The Washington Post seems to want a Nobel Prize for vetting a source correctly. Our work is sort of changing human nature and making people cautious."
https://www.axios.com/newsletters/axios-am-1b812b5b-eae7-4404-b8f3-52ca22adb52c.html?chunk=6#story6
6. What the Senate GOP tax bill does, doesn't do
The Senate voted 52-48 (along party lines) yesterday to begin debate on the tax bill, putting it "on track for a final vote later this week." Axios' Caitlin Owens takes us under the hood:
What the bill does:
Significantly reduces the corporate rate.
Boosts the economy, at least in the short run. How much is debatable.
Makes corporations more profitable.
Increases the federal deficit.
Lowers rates on pass-through income for small business owners.
Incentivizes companies to bring investment and production back to the U.S.
Moves the U.S. to a "territorial tax system" for business income like much of the rest of the world
Repeals the Affordable Care Act's individual mandate.
What it doesn't do:
Force companies bringing money back from abroad to reinvest this money at home.
Provide tax cuts for everyone.
Permanently reform the individual tax code.
Close the carried interest loophole for most private equity, venture capital or real estate investors.
Pay for itself in economic growth.
Address a growing economic shift towards automation, particularly in manufacturing and retail.
Go deeper: Caitlin's full list.
https://www.axios.com/newsletters/axios-am-1b812b5b-eae7-4404-b8f3-52ca22adb52c.html?chunk=7#story7
7. Two trends you should be aware of
"The U.S. economy is running at its full potential for the first time in a decade, a new milestone for an expansion now in its ninth year," per the Wall Street Journal's Ben Leubsdorf:
"Total economic output in the third quarter was slightly above the maximum sustainable level of output as estimated by the nonpartisan Congressional Budget Office."
Don't forget: "Every business expansion comes to an end."
"Europe's Muslim population will continue to grow over the next several decades even if all immigration to the continent should stop," according to Pew Research Center report out today, reported by AP/Berlin:
Why it matters: "Muslim immigrants have been a politically sensitive topic in Europe following the influx of newcomers in 2015 and 2016. Some countries have seen backlashes that have included populist parties campaigning on anti-Islam messages."
But, but, but: Even under the highest immigration scenario, Muslims would "still be considerably smaller than the populations of both Christians and people with no religion in Europe," the researchers concluded.
https://www.axios.com/newsletters/axios-am-1b812b5b-eae7-4404-b8f3-52ca22adb52c.html?chunk=8#story8
8. Facts matter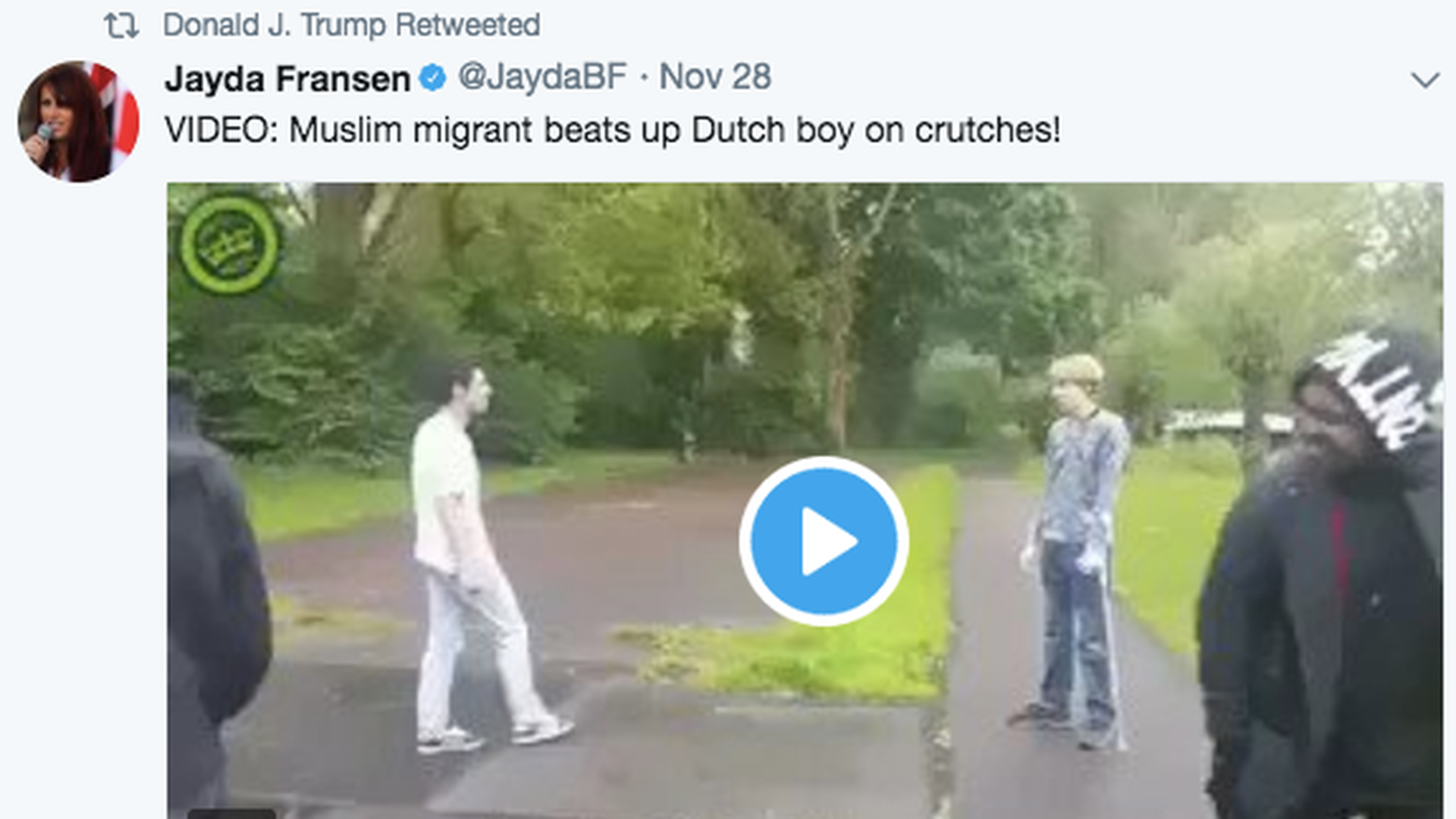 Anti-Muslim videos that were re-tweeted by President Trump include false descriptions, per an AP Fact Check by Cal Woodward:
"One video shows a young man attacking another who is on crutches, near a river bank. It was originally posted to a Dutch viral video site in May and picked up by Dutch media."
Jayda Fransen, the deputy leader of Britain First, an ultranationalist group, tweeted: "VIDEO: Muslim migrant beats up Dutch boy on crutches!" But the victim was not attacked by a Muslim migrant.
The Dutch Embassy in Washington tweeted: "Facts do matter. The perpetrator of the violent act in this video was born and raised in the Netherlands. He received and completed his sentence under Dutch law."
Behind the curtain ... N.Y. Times' Maggie Haberman, to Anderson Cooper on CNN, on how Trump found the videos:
"It's funny. His Twitter habits have actually evolved over time. ... Especially during the campaign, it was just output. And now, as one White House adviser put it to me, it's both input and output."
"So there is a lot of scrolling through his feed. And he will also look at what people have 'liked,' or retweeted of his own, or tweeted at him."
"In the old days, some members of the White House team would put suggested tweets in front of him — often Dan Scavino, the social-media director."
"But my understanding from two advisers in the West Wing is that this was not a Dan Scavino move."
https://www.axios.com/newsletters/axios-am-1b812b5b-eae7-4404-b8f3-52ca22adb52c.html?chunk=9#story9
9. Real world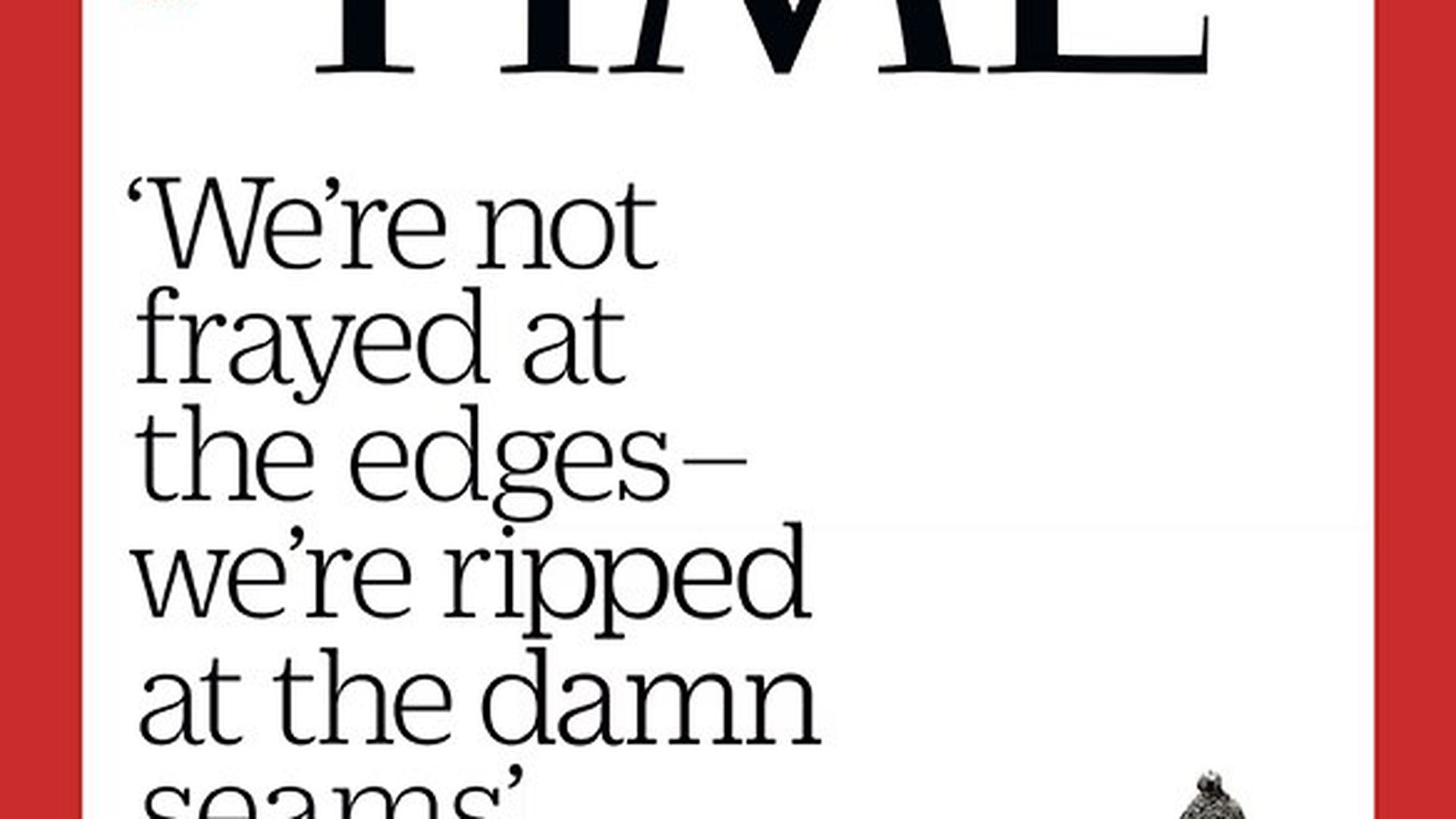 In the forthcoming issue of TIME, national security correspondent W.J. Hennigan reports on the "new American way of war ... U.S. reliance on Special Operations grows:
"Trump has been aggressive in his use of commandos, authorizing terrorist-hunting night raids since his first days in office, and has loosened constraints on everyone from top generals to field commanders."
"With typical dark humor, members of the Special Operations community joke that they've become an 'easy button.'"
Why it matters: "The presence of U.S. troops in an unstable country can attract those who want to kill Americans and serve as a recruiting tool ... Oversight of those troops is limited."
"The nonstop deployments are taking a heavy toll on the nation's toughest warriors."
https://www.axios.com/newsletters/axios-am-1b812b5b-eae7-4404-b8f3-52ca22adb52c.html?chunk=10#story10
10. 1 rap thing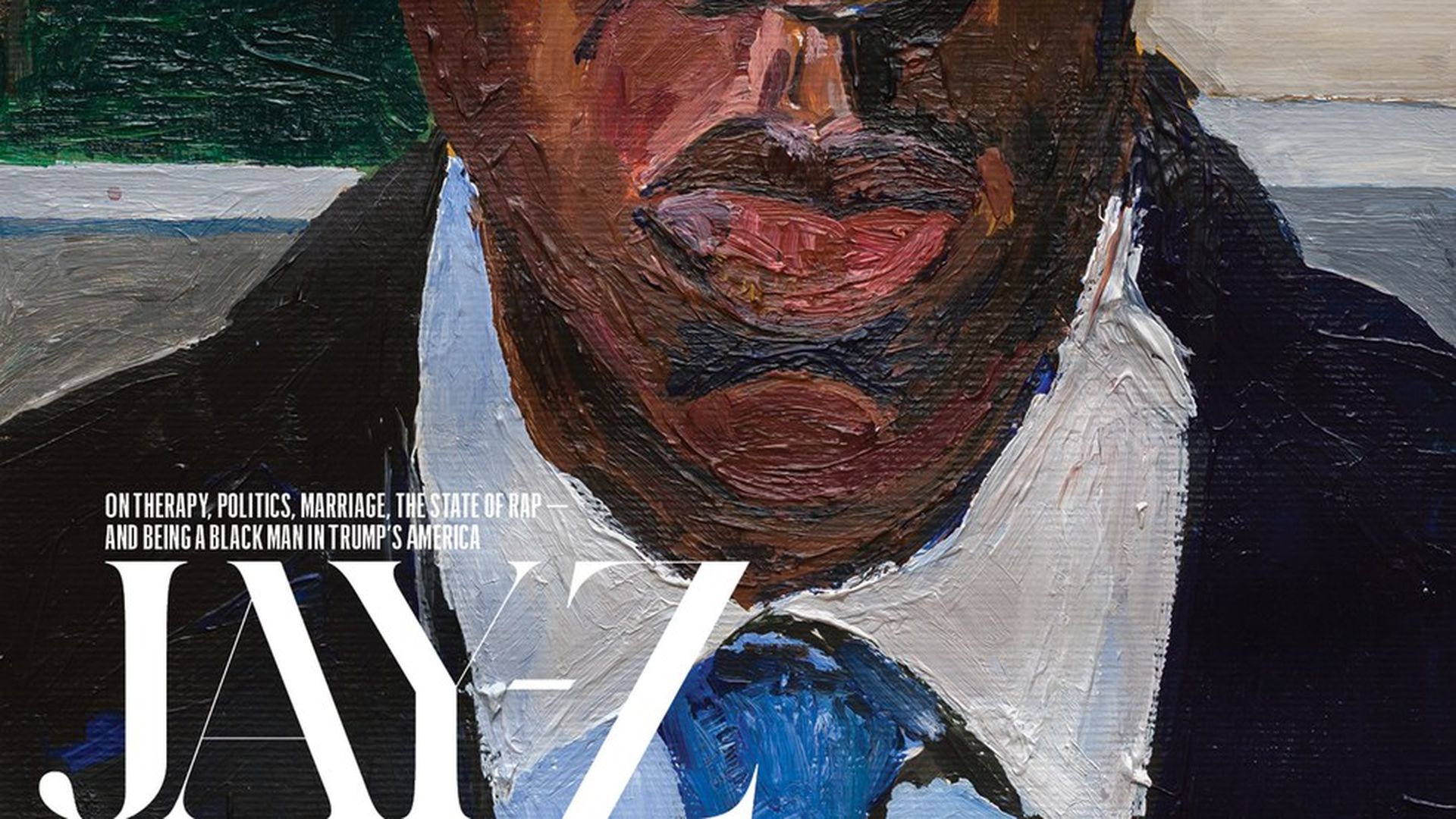 N.Y. Times Executive Editor Dean Baquet interviewed Jay-Z at The New York Times Building in September, and the conversation will appear this weekend: Baquet: "Some people think that the election of Donald Trump has revived the debate about race in America. Some people think that, in fact, there's always been racism in America; that it hasn't changed and that the debate isn't any different. It's just people are paying attention to it. What do you think?"Jay-Z: 'Yeah, there was a great Kanye West line in one of [his] songs: 'Racism's still alive, they just be concealin' it.' ... The great thing about Donald Trump being president is now we're forced to have the dialogue. Now we're having the conversation on the large scale; he's provided the platform for us to have the conversation."Keep reading: O.J. and more. P.S. "Hip-hop's time to shine," as Grammys try to stay relevant: "On Tuesday, the Recording Academy revealed nominations heavily skewed to rap, hip-hop and R&B; top categories were filled by Jay-Z, Kendrick Lamar, Childish Gambino, Luis Fonsi & Daddy Yankee and Bruno Mars." (L.A. Times)