Axios AM
March 02, 2017
1 big thing: Why we saw a new Trump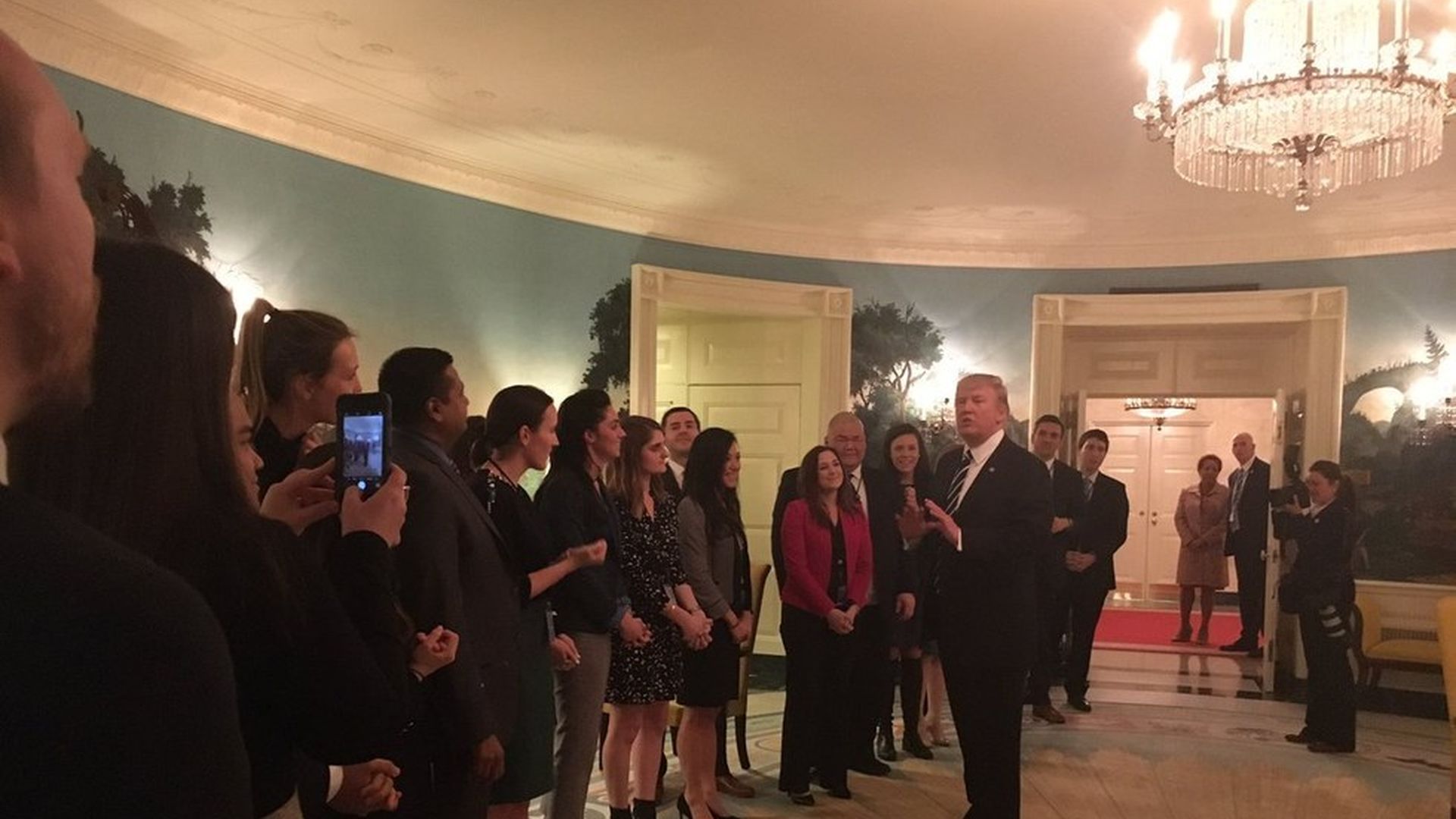 As President Trump's motorcade arrived back at the White House at 10:50 p.m. after his Capitol speech, he invited a dozen gleeful aides up to the residence for a celebration. Over Diet Cokes, they relished the reviews that were popping on their iPhones, shouting out the latest poll or pundit to go their way.
The inner circle knew that the accolades would be short-lived — Trump was in a new mode, not a new man. A top adviser said: "The question for me is: Is this a harbinger, or a one-off?"
Another Trump adviser was hopeful that this supremely image-conscious man would catch the bug: "For the first time, he saw something that he had never seen: People from the entire spectrum saying, 'That's amazing.' That's an experience he's never had before."
Several insiders credited the speech's tone to the involvement of a wider range of aides. "The Stephens" (Bannon and Miller) remained top wordsmiths, joined this time by a bigger circle that included Vice President Pence, Ivanka and Jared Kushner, Gary Cohn, Dina Powell and Hope Hicks.
Miller's first draft followed Trump's instruction to be uplifting. Later iterations got darker, then the final version came back to the light. "We got to the point where the grownups in the room no longer paid attention to command and control, and got involved for the sake of the country and the president," one aide said.
The staff's post-speech euphoria drove the decision to put off unveiling the new executive order on migrant travel, which was penciled in for yesterday, but now is expected early next week. There also were some tweaks needed, with the stakes so high for getting it right this time.
"For once, we had the wind at our sails," a top aide said. "We decided not to sh*t on ourselves."
2. Trump 101: the two sides of his brain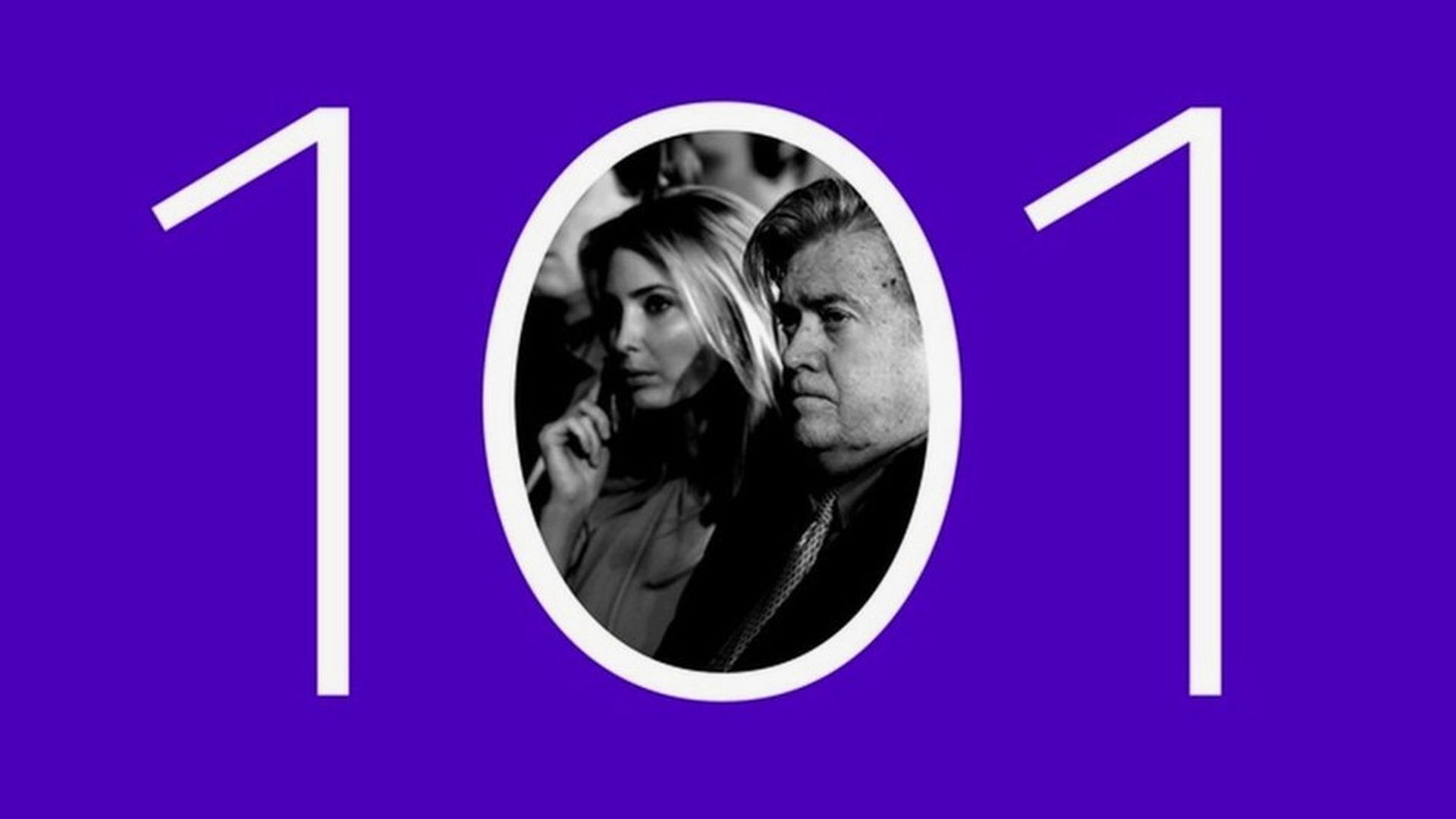 Axios' Jonathan Swan, on "the bipolar Trump presidency":
"Tuesday night's speech was the first time Trump's yin and yang was on full display. The core of the speech was the issues on which Trump built his campaign: trade, immigration and national security. On these the Trump-Bannon worldview remains unchanged and is being pursued almost to the letter. But the speech also had a softer side: the environment, childcare, women's health and female entrepreneurship. These are Ivanka's projects."
What this creates: A quiet, constant wrestle for the tone of the presidency, if not its substance. As one source close to the White House explained: "One side believes pain is necessary to alleviate the symptoms. The flip side says: 'Hold on: There are human impacts here.'"
Another split ... WashPost front-pager, "3 words in Trump's speech expose a White House divide": "Trump vowed on Tuesday that his administration is taking strong measures to protect the United States from 'radical Islamic terrorism,' slowing his cadence to enunciate the words."
3. New kindling for Russia fire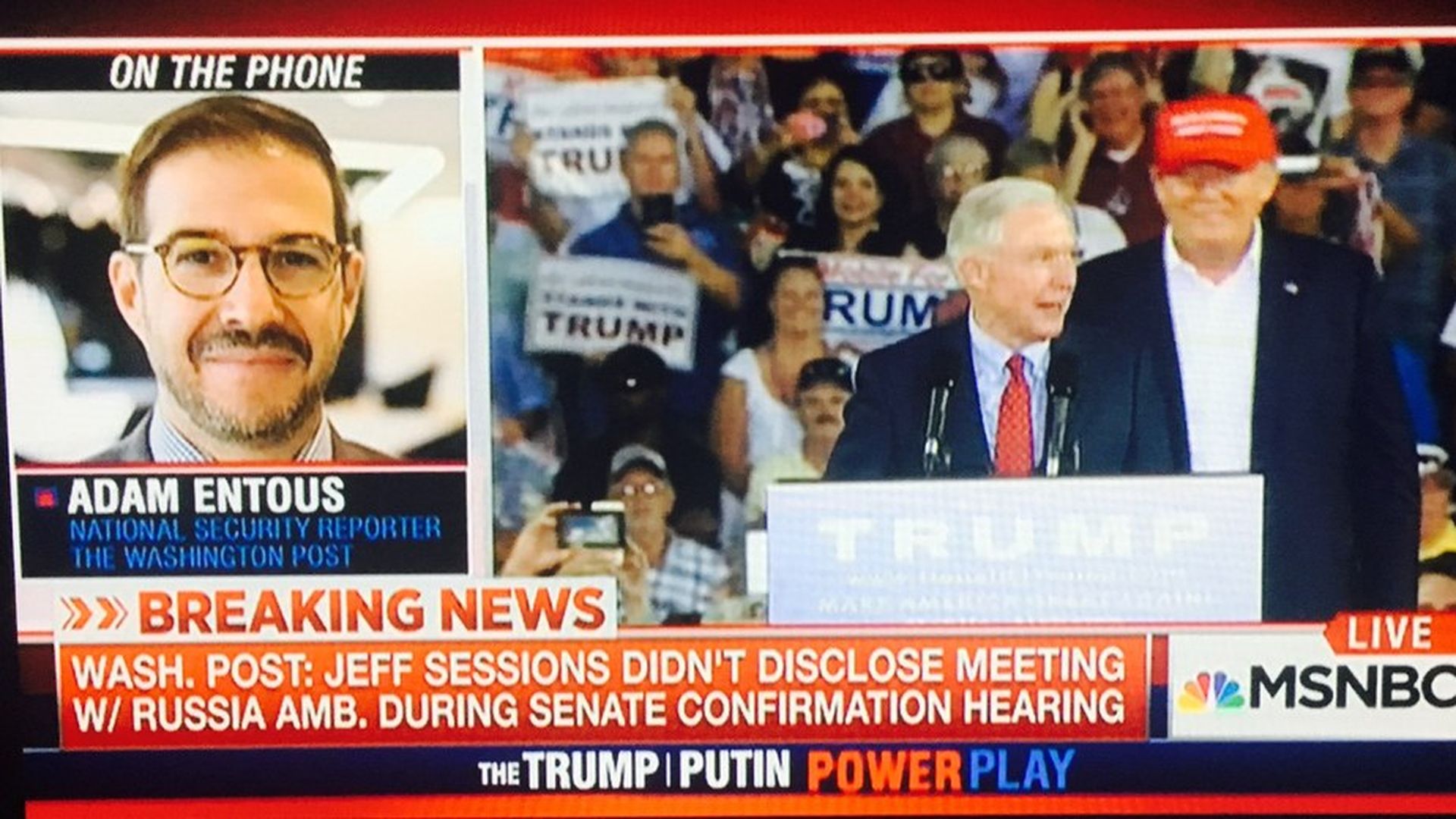 Two juicy stories about Trump and Russia popped last night, giving new ammo to Dems calling for an independent investigation, and making it more likely the topic will continue to distract the White House for month — even if, as officials maintain, there's no "there" there:
WashPost ... Attorney General Jeff Sessions spoke twice last year (when he was still a senator) with Russia's ambassador to the United States, "encounters he did not disclose when asked [during confirmation] about possible contacts between members of President Trump's campaign and representatives of Moscow ... Officials said Sessions did not consider the conversations relevant to the lawmakers' questions."
N.Y. Times, "Obama Officials Raced to Preserve Russian Trail": "In the Obama administration's last days, some White House officials scrambled to spread information about Russian efforts to undermine the presidential election — and about possible contacts between [Trump] associates ... and Russians — across the government ... to leave a clear trail of intelligence for government investigators."
Brian Williams on MSNBC, re the Sessions story: "One of the reasons this is going to be so important, so germane to the current conversation, is: Can there be an investigation headquartered inside the Justice Department structure?"
MSNBC's Chris Matthews: "The question that was raised ... with Michael Flynn [Trump's first national security adviser, who resigned]: Why would he deny having had conversations with the Russians? Because that raises the big open question: What was going on?"
And as the machinery of investigation cranks up, White House Counsel Don McGahan on Tuesday sent a memo to White House staff instructing "to preserve materials that could be connected to Russian interference in the 2016 election and other related investigations," AP reported.
A senior administration official: "It seems a little coincidental that he has his best 24 hours, then we get the Russia dump."
4. "A fine line between optimism and magical realism"
Amid the scrum of pundit love for Trump's speech, Michael Grunwald of Politico rises in dissent, arguing that POTUS "promised America could have all the cake it wants, and lose weight, too":
"In the real world, policy choices have trade-offs. ... Trump vowed to kill Obamacare's individual mandate, but he also complained that insurers are abandoning the Obamacare exchanges — a problem that would only intensify if the mandate went away, and young and healthy consumers weren't required to buy insurance.
"[E]ven though his promises to reduce the debt by slashing taxes and boosting spending may be mathematically dubious, they're as American as eight-minute abs. Most Americans aren't policy wonks. And most Americans like their politicians sunny."
5. Advertising can win elections
"Facebook says it can sway elections after all — for a price," by Adam Pasick:
"On its marketing site, the social network cited its role in Pennsylvania senator Pat Toomey's [R] extremely narrow win in ... Facebook noted that custom ads ... were able to 'significantly shift voter intent and increase favorability' for Toomey, who won by ... 86,000 votes out of about 6 million cast.'"
7. The talk of tech: SNAP debuts today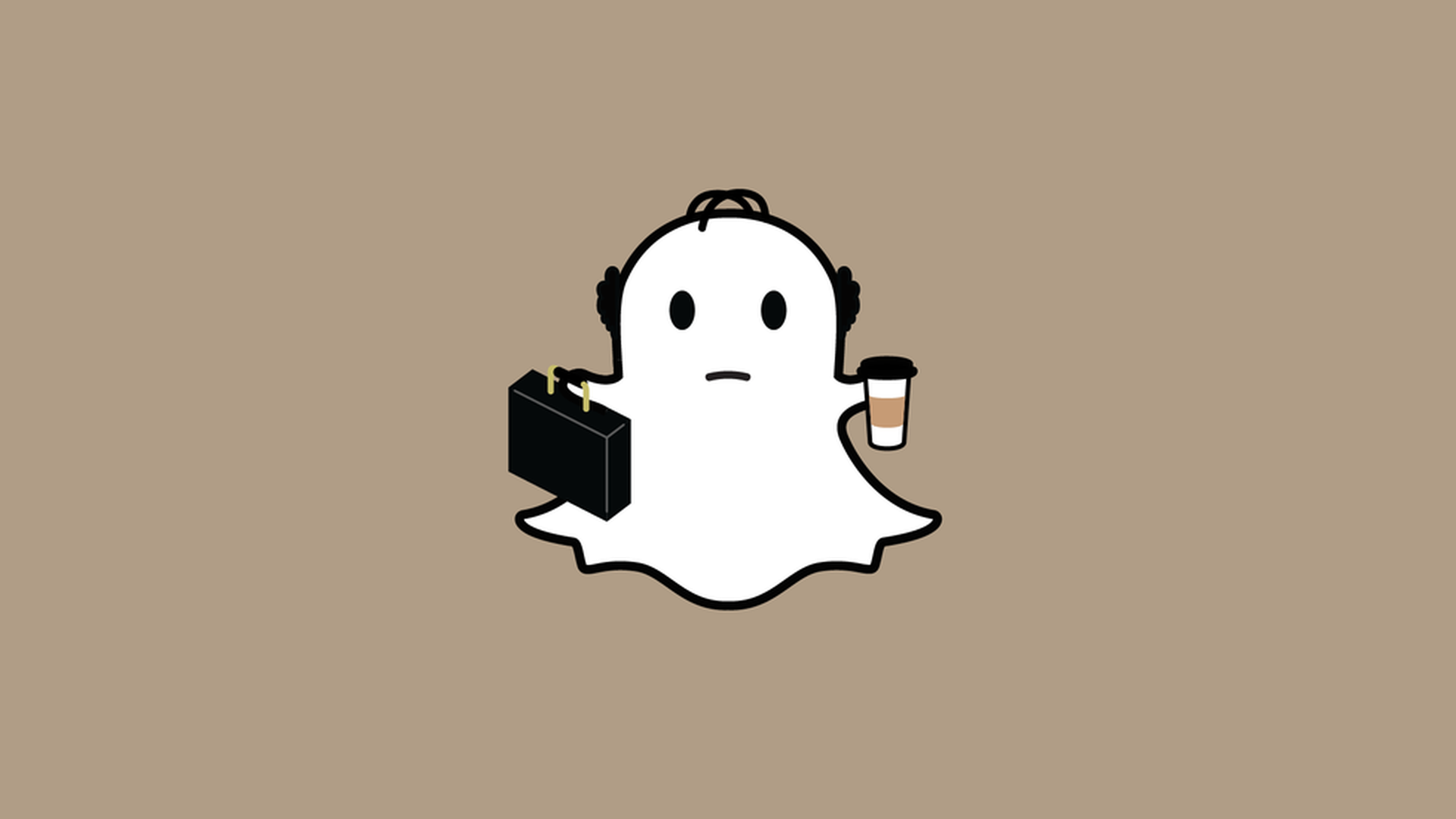 Snap Inc. has priced its highly-anticipated IPO at $17 per share, per Axios' Dan Primack: "This is slightly above its expected price range of $14-$16 per share, and would mean that the Los Angeles-based 'camera company' raised $3.4 billion at around a $24 billion valuation. Snap is expected to begin trading [this] morning under ticker symbol SNAP."
Why this matters: Snap would be the year's first tech IPO, and the largest such offering since Alibaba went public in 2014. It also is the biggest so-called "unicorn" to go public since the phrase was coined, having been valued by private market investors at $17.8 billion. Some view Snap's stock market performance as an indicator of how future tech startups will fare with their own IPOs, although more tech investors believe that the company is unique and, therefore, will not have much impact on those that follow.
"Meet Snow, Snapchat's competition in Asia," by Axios' Kia Kokalitcheva: "The app was built by Naver, a large Korean internet company whose Japanese arm operates the popular messaging app Line. ... Snow has been called a 'Snapchat clone' because its premise it undeniably similar — disappearing messages, camera filters, and even a feature for sharing videos called Stories."
"And like Snapchat, Facebook attempted to acquire Snow."
8. Tops in media trends: CNN's war for digital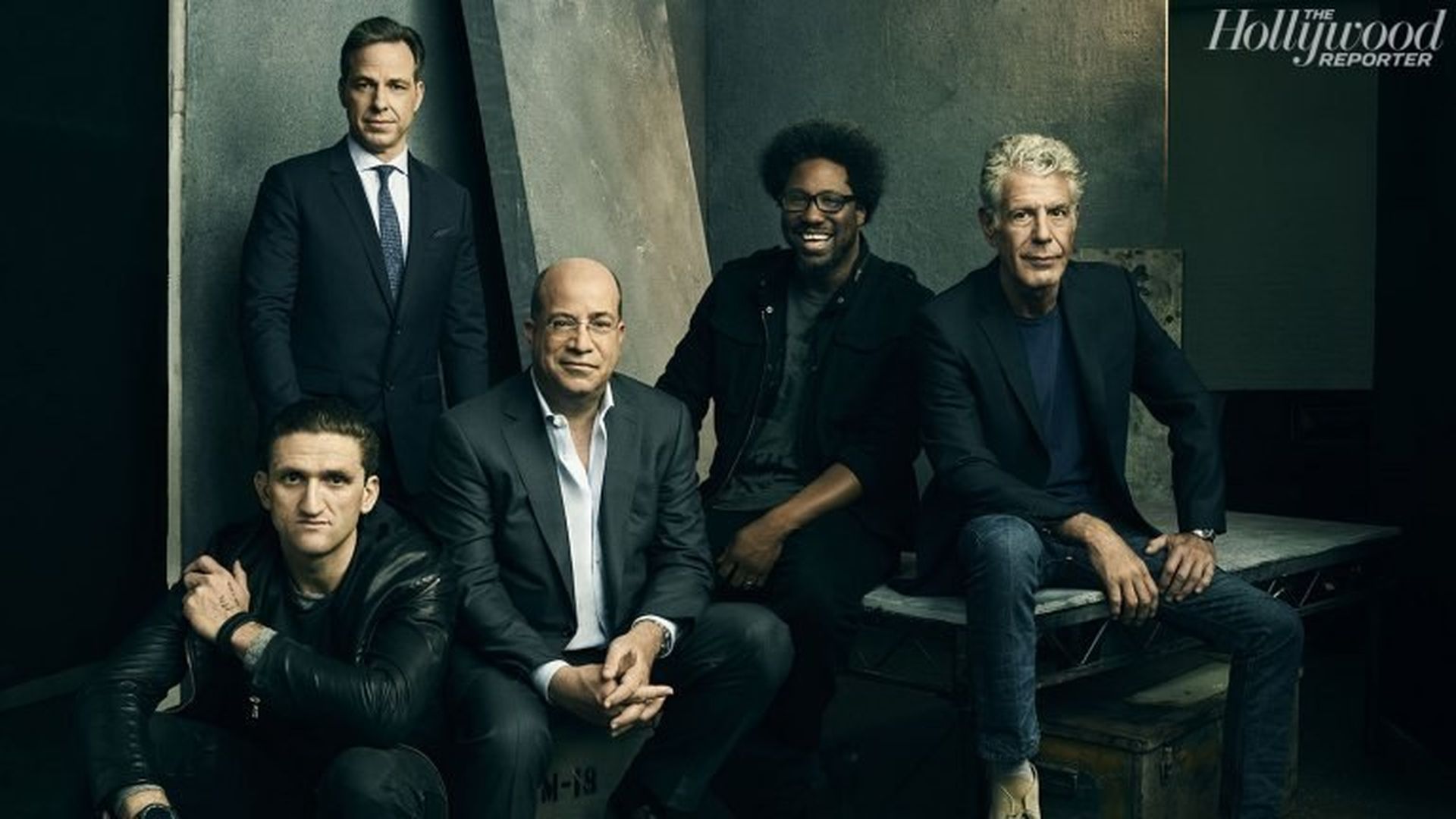 Illuminating read from Hollywood Reporter's Marisa Guthrie on CNN President Jeff Zucker's "Plan to Dominate Digital," including increasing Anthony Bourdain's online presence with a mobile-first long form journalism company, Explore Parts Unknown, and a six-episode digital-only series starring Bourdain:
"In terms of the biggest draws, digital and TV track closely: CNN's top three digital stories in 2016 were the Pulse nightclub shooting (37 million page views), the election night live blog (32 million) and the Brussels terror attack (22 million)."
"[D]igital profit at CNN was close to $150 million in 2016 [TV was near $1 billion]. With global digital ad revenue poised to surpass television as early as this year, Zucker's mandate is to grow CNN's digital revenue into a $1 billion business in five years.
Zucker hired 250 new digital staffers in the past year.
THIS is a great anecdote: "The next big iteration of CNN's stand-alone strategy will be unveiled [this month], when it will debut a live daily 5 p.m. digital show hosted by Casey Neistat, a 35-year-old filmmaker and street artist who developed the video-sharing app Beme and amassed a rabid fan base on YouTube (6.5 million subscribers) with his video diary."
"Zucker, who learned about Neistat through his children, approached him two years ago. He took his son Andrew, then 16, to the meeting. 'Jeff says to me, "You know, we have a huge news operation here; it's a global enterprise ... But my son says that you're the only person who matters in media."'
"Andrew got a selfie with Neistat. Zucker offered Neistat a TV show on CNN."
9. Rob Collins to White House
The White House is bringing in veteran inside-outside player Rob Collins as a Strategic Advisor to help with the final weeks of the Supreme Court confirmation battle for Judge Gorsuch, who this week will complete visits with 70 senators. An interesting model: Colllins, 42, will be a volunteer, working on hearing prep, etc., with the confirmation team in the Eisenhower Executive Office Building.
Who he is: Collins, a Republican lobbyist who's taking a leave from his firm, S-3 Group, is a former executive director of the National Republican Senatorial Committee, and has personal, cellphone relationships with GOP senators.
The outlook: The White House is unworried about confirmation, with a Senate vote expected before the Easter recess. A top official tells us: "The Democrats are in a tough spot on this" — no tarnishing info has emerged. Trump knows this win alone locks social conservatives in for his full term, even when he disappoints elsewhere.
10. 1 fun thing
"The Secret to Selling Manhattan's Biggest Condo Project: Raise Prices," by Bloomberg's Oshrat Carmel: "In a market brimming with luxury construction and wealthy buyers holding back amid so many choices, ... Extell is raising prices" at One Manhattan Square, "a true vertical village" being built on South Street on the Lower East Side.
"It tells the market that we're confident about our product and that we are selling well, selling fast."